Eco-friendly straws campaign in Accorhotels Central Vietnam
Eco-friendly straws campaign in Accorhotels Central Vietnam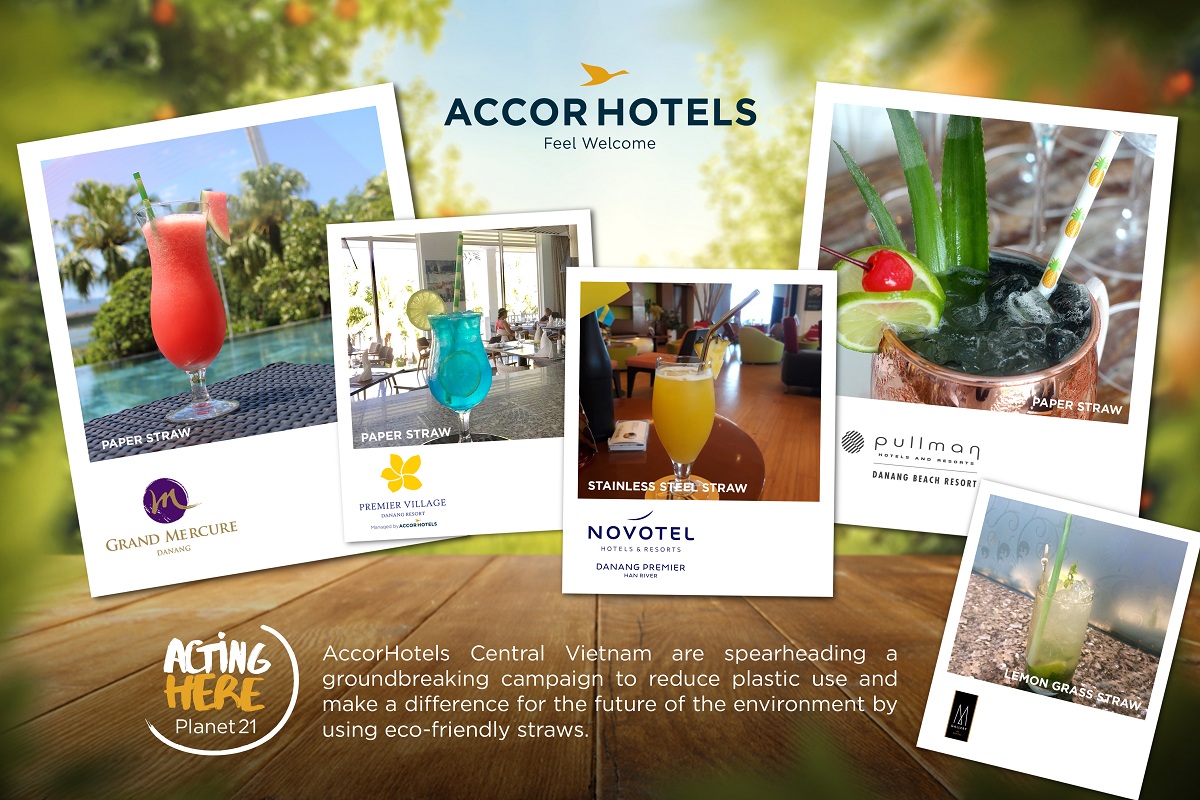 Statistics show that Vietnam produces around 18,000 metric tons of plastic waste a day, a revelation that is having a significantly devastating impact on the environment. That is why AccorHotels Central Vietnam have teamed up in a campaign to reduce plastic use and make a difference for the future of the environment.
In order to change the culture around unnecessary plastic straw use to consumers. Accor Hotels Group in Danang including Grand Mercure Danang, Premier Village Danang Resort, Novotel Danang Premier Han River, Pullman Hotels & Resorts and M Gallery Hoi An are saying sayonara to plastic straws and hello to eco-friendly paper straws. By making the switch, we hope to help set a precedent in Danang City among businesses and tourists alike to think twice about excessive plastic use. It's all about keeping our earth clean and beautiful for future generations to come!
About GRAND MERCURE DANANG
Grand Mercure Danang, a proud member of the AccorHotels, is located on the exclusive Green Island, right in the heart of Danang city, and just a short 5 minutes ride from the airport and to the beaches.
This modern hotel consists of 272 rooms all featuring breathtaking ocean, river or mountain views. Guests can discover two gourmet restaurants, relax at the outdoor swimming pool, enjoy the blissful pampering of the world-class Karma Spa venue, keep fit in a top of the line fitness center and unwind at the Privilege Lounge. Friendly staff at the 24-hour front desk can arrange for airport transfers,
 business/personal travel and complimentary shuttle bus to town and beach. Grand Mercure Danang is a perfect place where families and friends gather for leisure or business in the central coast of Vietnam. This 5-star hotel that is next to Tran Thi Ly Bridge can offer you a sophisticated hub from which to explore the many natural and cultural wonders of Central Vietnam.
If you are looking for a place to explore the local finest produce and the amazing Vietnamese authentic cuisine, Grand Mercure Danang presents the perfect place, not only for its strategic geo-location for your Central Vietnam escapade, but also for travelers who are seeking for an upscale experience in true indulgence and harmony.
The philosophy behind the Grand Mercure brand is based on honoring local customs and preserving their authenticity, while providing the highest quality services. Grand Mercure Danang combines rich Vietnamese heritage with elegant European flair to create a unique product tailored for whom who have desire to mingle with the roots of Vietnamese culture.
Grand Mercure Danang
Address: Lot A1, Green Island, Hai Chau District, Danang, Vietnam
Telephone: +84 (0) 236 379 7777
Email: [email protected]
accorhotels.com/7821
 About Grand Mercure
Grand Mercure has established itself as a distinctive upscale collection of hotels and apartment hotels in key business and resort locations under AccorHotels, the world's leading hotel operator with over 3700 hotel and over 168,000 employees in 92 countries. The Grand Mercure brand has operated in Asia Pacific for over 20 years, combining local flavor with a universal sense of hospitality. Grand Mercure is a cultural touchstone in each destination, capturing guests' imagination and bringing local stories to life. The success of this recipe has seen the network expand into the Middle East and Latin America. The Grand Mercure network consists of 44 hotels in 11 countries. 
For more information visit  www.accorhotels.com
Eco-friendly straws campaign in Accorhotels Central Vietnam