Exhibition "DA NANG – THE COASTAL CITY THROUGH ARCHIVES"
The exhibition will open at 16h30 on July 9, 2020 at Da Nang Museum – in Thanh Dien Hai campus, 24 Tran Phu street, Thach Thang Ward, Hai Chau District, Da Nang city.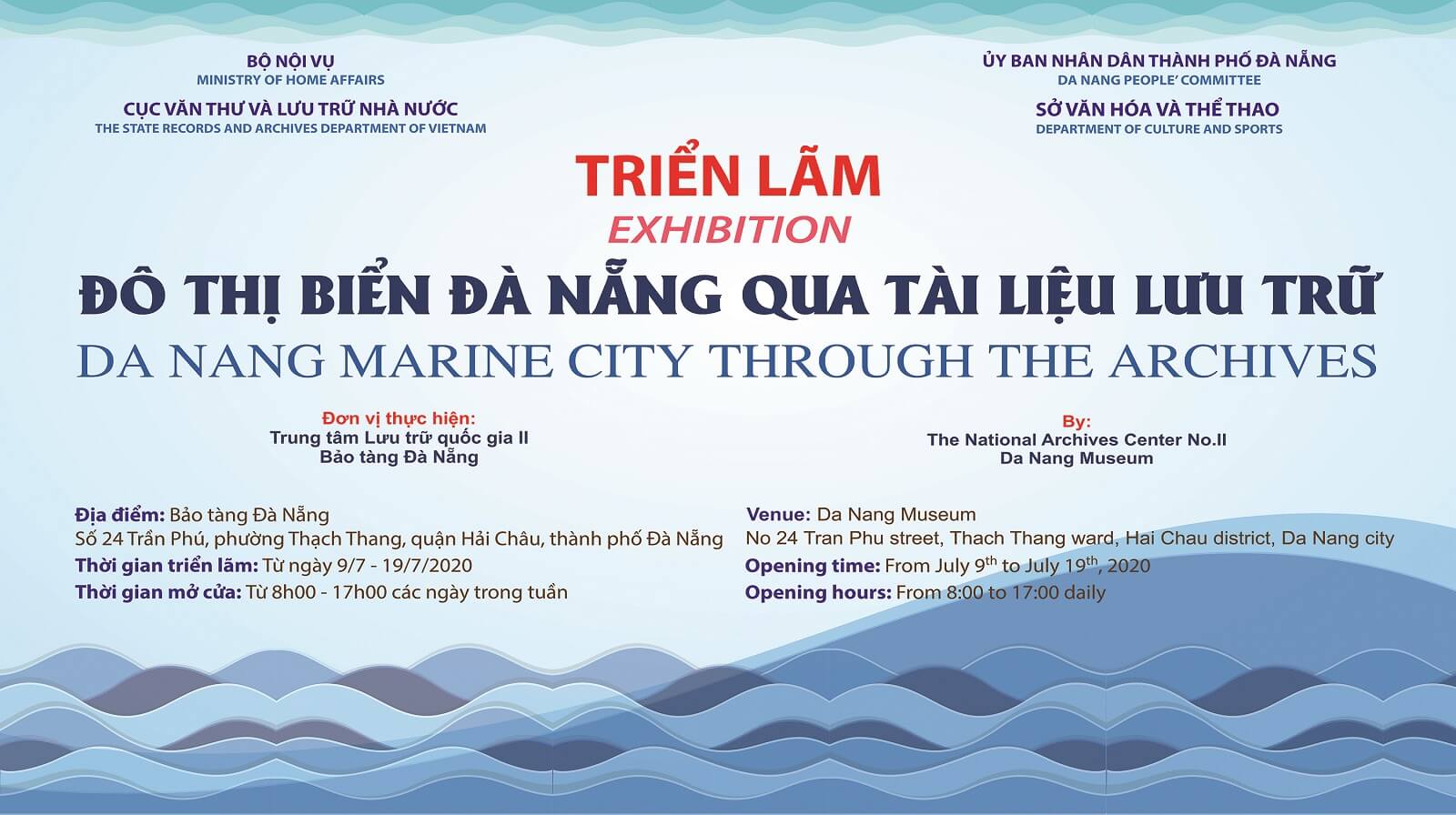 The exhibition "Da Nang – The Coastal City through archives" takes place from July 9 to July 19, 2020.
The exhibition is organized by the Department of Culture and Sports – Da Nang People's Committee in collaboration with the Department of State Records and Archives – Ministry of Home Affairs. The exhibition introduces to the public more than 200 units of documents, namely selected documents, maps and images in the national archives of Vietnam as well as collections from Da Nang Museum, Da Nang Propaganda Department and some other organizations.
The exhibit will focus on indicating a long history of more than 700 years of the formation, fight, construction and development of the coastal city of Da Nang. Particularly, of which, there are rare and precious documents that are recognized as world heritage documents, such as woodblocks and sealing documents of Nguyen dynasty.
The exhibition will be arranged in three main themes associated with each important historical landmark, including:
Part 1: Da Nang –Land and People, introducing over 80 units of documents including woodblocks, sealing documents, texts, images and maps, clearly depicting the process of formation and changes in administrative organization in Da Nang since 1306 when the name of Da Nang had not appeared until the time when Da Nang city was officially established.
Part 2: Da Nang in the process of fighting and protecting the independence of the nation (1858-1975)
– Da Nang in the resistance against French colonialism (1858-1954)
– Da Nang in the resistance against the US (1954-1975)
The whole process of arduous and tenacious fight against foreign aggressors with many activities of the people of Da Nang will be presented according to the historical progress of each phase through more than 70 units of documents and many rare black-and-white photos. In particular, the public will have the opportunity to admire the confidential and top secret documents of the French colonial government.
Part 3: Da Nang in the process of construction and development (1975 to present), introduced more than 40 images of achievements in economic growth, expanded external relations and many beautiful landscapes of the coastal city of Da Nang after 1975.
The exhibition will be a practical activity to celebrate the 45th anniversary of the liberation of Da Nang City, the 75th anniversary of the August Revolution and the Independence Day (September 2, 1945 – September 2, 2020). Meanwhile, this event also offers an opportunity for many Vietnamese people, especially Da Nang people and tourists to understand the magnificent past, historical value and great achievements of the coastal city – Da Nang on the road to construction and development.
Luong Vy
Latest Posts