Taste of Australia Da Nang BBQ
Join us for Australian cuisine, high-quality Australian produce, and refreshing Australian beer and wines at a traditional Aussie Family BBQ! All supported by leading Central Vietnam businesses. This will also be our big Aussie BBQ in Central Vietnam to celebrate 45th Anniversary Year of Diplomatic relations between Australia and Vietnam.
Relax listening to live music, and learn a few tips from celebrity Chef Luke Nguyen! Hang around for an exciting BBQ cook-off between our special guests!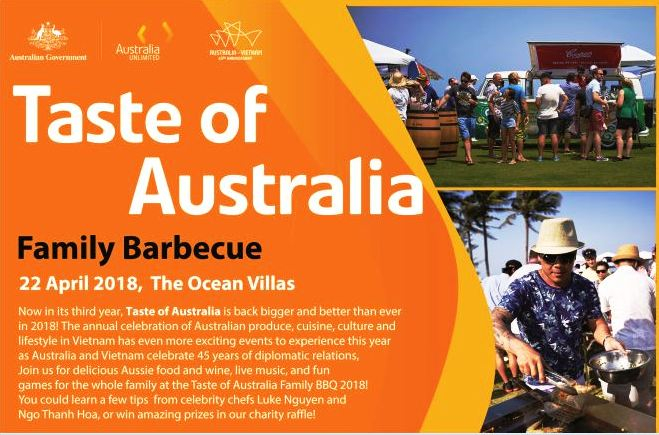 There's plenty for the kids with a bouncy castle, slip and slide, and Aussie rules football. Make it a family day! Our special guests the Australian Ambassador and Consul-General will also be drawing raffles prizes. You could win free flights, free nights at 5 Star resorts, golf rounds and wine and food vouchers!
Entry fee for adults is 200,000VND, (includes 4 food or beverage vouchers)
Entry fee for children from 6-16 is 100,000 (includes 2 food or beverage vouchers)
Kids under 6 receive free entry (no food or beverage vouchers included).
Tickets will be sold at the following venues:
The Hanged Man Bar, 55 An Thuong 2, My An
Pullman Danang Beach Resort, 101 Vo Nguyen Giap Street
Salt Pub, Cam An, Hoi An, Quang Nam Province.
William Angliss office, 8th floor, 33 Xo Viet Nghe Tinh. Tel: 0236.3551 589
Tickets will also be available for purchase on the day but are limited, so please purchase early to avoid disappointment.
All profits will be donated to charity.
Huan Nguyen – Taste of Australia Da Nang BBQ