Danang – Beach it like locals
In my opinion, Danang beach is always no.1! When foreign friends ask about the beach in my hometown, I am always excited to share the childhood memories. Those was the afternoons, after a hot and tiring day, my family was rushing to find the parking, then immediately running to the beach, playing with the sand, the water, and sea waves. Building sand castles is another game that we played after swimming. I also remember, after having shower, we found a place to sit down, enjoy cool breezes, eating corn or fried rice-cake…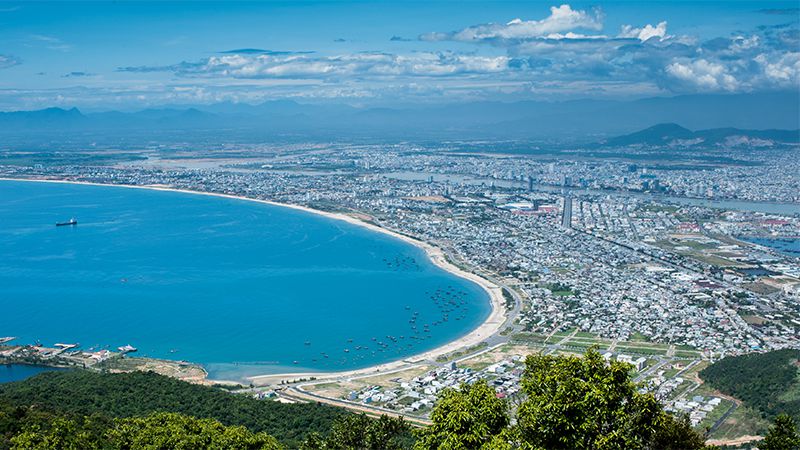 No wonder why I am very proud when sharing to my foreign friends that our hometown beach was voted by Forbes, a well-known American magazine, as "one of six most luxurious beaches in the world". But, I am a bit confused to explain this title, or to describe that luxuriousness of Danang beach
Forbes magazine has based on following 9 criteria to vote for luxurious beaches on the planet:
1. ease of access
2. free admission
3. yellow sand, good sunlight, and decent waves for sea sports
4. free from natural disasters
5. good management with clear safety regulations
6. good food with affordable prices
7. relaxing atmosphere
8. a variety of high class resorts, fashion shops, and night clubs
9. an international class gold course and yacht
As can be seen, natural conditions only play a partial role of overall results, 7 out of 9 criteria focus on beach services and facilities. These criteria will be assessed by visitors when they swim at the beach in Da Nang
Trying to find customers' feedbacks at Tripadvisors.com – a popular website for travelers, it is known that Danang beach only ranks 5th on the list of "top 20 things to do" in Danang, behind other resorts and gold courses.
Up to June 4th 2012, on TripAdvisors website, there are 37 comments about Danang beach, including 19 excellent comments, 9 very good comments, and 8 average ones, 0 poor or terrible comments. Reading further into these comments, there are few phrases that are mentioned repeatedly: "beach it like locals", "no tourists", "beautiful beach", "clean water", "quiet", "relax", "little sea activities", "easy to access", "not being annoyed by beach vendors", "safe",…
Notably, one point of differentiation at Danang beach is how foreign visitors love that 'local' feeling – they almost do not feel like tourists when visiting the beach here. Foreign visitors are impressed by seeing hundreds or thousands of local people coming here to swim, or playing some kinds of sports after a hot day. Danang people still wear their casual clothes when coming to the beach instead of bikini swimwear. I was laughing to myself: so the way how Danang people enjoy their beaches, as I still remember from my childhood memories, really attract visitors?
The friendliness of Danang beach could be a unique personality besides other essential requirements of a beautiful beach (clean water, long seaside, etc..) If visitors overlook at Da Nang beach from Ban Co peak of Son Tra peninsula, they will be impressed by this nature's masterpiece. However, being emerged with the friendly local's style at Da Nang beach is the unforgettable experience for visitors. Because of the story 'beach it like locals' or the 'weird' way of enjoying the local beach of Danang people, visitors would like to share their stories with friends and family. Hence, in Danang 's tourism promotion activities, should friendliness of Da Nang beach be focused as a unique point of differentiation among other luxurious beaches?
Author: Nguyen Thai