Da Nang leaders called for necessary precautions after more restrictions eased
Da Nang leaders on Wednesday afternoon called on authorities at local level and relevant agencies to continue to take necessary precautions as more restrictions were eased from today, September 16.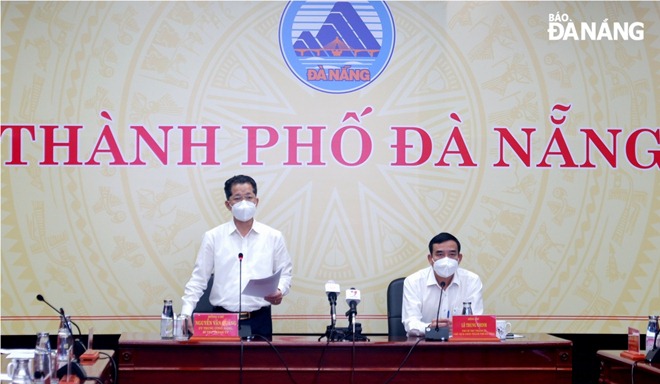 Da Nang Party Committee Secretary Nguyen Van Quang (left) and municipal People's Committee Chairman Le Trung Chinh (right) co-chaired the meeting of the municipal COVID-19 Montoring Committee on Wednesday afternoon. Photo: PHAN CHUNG
Municipal Party Committee Secretary Nguyen Van Quang directed authorities at local level to enhance surveillance on residents in their local areas in order to make sure that they are continuing to observe the recommended precautions to protect themselves from exposure to the virus while leaving their home for reasonable excuses. In addition, the heed must be paid on enhancing the monitoring of opening stores and services after resuming operations in a bid to prevent the spread of the virus, Mr Quang emphasised.
The Da Nang Party Chief demanded the taskforce to tighten controls on arrivals at entry points as well as increase checks on road users in an attempt to keep people off the streets for non-essential activity.
Mr Quang said that Da Nang is seeing a sharp fall in new infections but recent new cases were infectious while they were in the community, stating that this virus is still in the community. He remarked that the COVID-19 outbreak has been basically brought under control in the city but the risk of COVID-19 resurgence is never far away.
The Da Nang top leader highlighted need for authorities at local level to continue to take appropriate precautions against COVID-19 in line with the current direction from the municipal administration. The focus must be on ramping up mass community testing across Da Nang to find hidden infections as part of the city's virus containment strategy, Mr Quang emphasised.
Da Nang People's Committee Chairman Le Trung Chinh said that the city has recorded postive outcomes in its fight agaisnt the deadly disease with a sharp drop in new cases. The municipal government will consider lifting strict lockdown order on more areas where there have been no new cases for 14 days as well as removing quarantine facilities following a significant decline in the number of people being placed under quarantine in these venues, Mr Chinh said.
He highlighted the important role of the COVID-19 community task force in educating the public about safety protocols, including the Ministry of Health's 5K recommendations, to ensure that they are taking action to protect themselves and others from coronavirus.
Mr Chinh urged the health agency to conduct thorough investigations into new cases, and beef up tracing, isolating and testing efforts in a bid to break the chains of transmission.
Chairman Chinh emphasised the need to speed up vaccinations and ensure the rollout of mass immunization program is implemented in fast and effective practices in order to realise the city's target of vaccinating the entire population of the city.
The city leader also urged relevant agencies to take all reasonable measures to facilitate return to Da Nang of immigrant workers and students who are stranded in other Vietnamese localities due to COVID-19 with proper precautions in place to prevent the spread of the virus.
Reporting by PHAN CHUNG – translating by H.L
Latest Posts