Welcoming the 5 millionth passenger to Danang

On November 30, Da Nang International Airport has welcomed the 5 millionth passenger to the city in 2014. This is a significant milestone, marking the development of the Danang International Airport and the City tourism.
Among the passengers on the Flight VJ511 from Hanoi to Da Nang carried by Vietjet Air, the lucky 5 millionth passenger was Mr. Tran Minh Thinh (Hanoi). The next two passengers, Mr. Yasuda Takenori (Japan) and Ms. Nguyen Thi Thuy Linh (Hanoi), also received a warm welcoming ceremony.
"I was really surprised and happy to be the 5 millionth passenger. Usually flying to Danang International Airport, I am very impressive with the friendly, thoughtful and quick procedures services." said Mr. Tran Minh Thinh.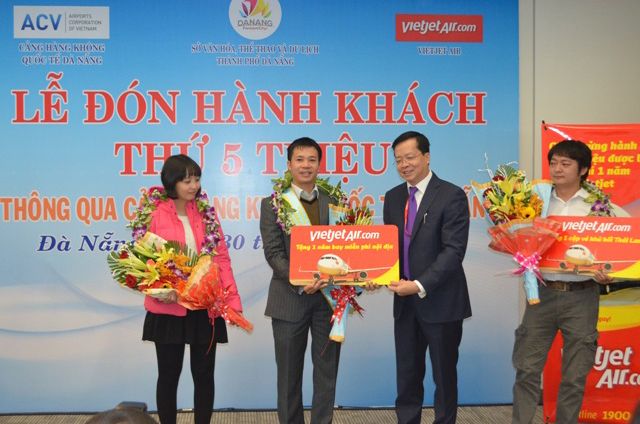 According to Mr. Phung Tan Viet, Vice Chairman of Da Nang People's Committee, 5 million passengers per year in fact is the target set for 2020 but this year, the international airport of Da Nang has achieved. This is good news for the Danang aviation industry in particular and Danang in general.
The Da Nang International Airport is the 3rd largest Airport in Vietnam. In 2014, the Port welcomed 5 million passengers, increase nearly 16% over the same period last year, while international tourists reached nearly 900,000 people, more than double compared to 2013.
The Airport serving 100 flight takeoff and landing on daily average. There are 3 airlines operate domestic flights to 9 cities in the country: Ho Chi Minh, Hanoi, Can Tho, Vinh, Da Lat, Nha Trang, Hai Phong, Buon Me Thuot, Pleiku and 7 airlines exploit international routes to the international airport: Singapore, Hong Kong, Seoul, Siem Riep, Kuala Lumpur, Tokyo and 11 airlines exploit seasonal tourists to China, Northeast Russia and Busan (South Korea).
The Da Nang International Airport has reached the designed capacity and in the near future, the airport will expand the passenger terminal to increase capacity for service 10 million passengers / year, expanding apron to the north and south, increasing the number of parking positions from 16 to 25 in 2025.
Translator: Quan Ngo