La Maison 1888: World's Top 4 Most Beautiful Restaurants

La Maison 1888 Restaurant, located inside the InterContinental Danang Sun Peninsula Resort right in the coastal city of Da Nang has reached the top four most beautiful restaurants in the world.
Two renowned e-newspaper New York Daily and The Daily Meal has announced the list of 10 most beautiful restaurants in the world.
Overcoming many famous restaurants around the world, La Maison 1888 in InterContinental Danang Sun Peninsula Resort to reach the top 4. It is also the only restaurant in Vietnam shortlisted for this prestigious rank.The criteria for selection is the charms of a unique, one of a kind space. Judgement is made based on elements of design, Michelin star and location to pick out the most amazing destinations in the world.
The chef of La Maison 1888 – the world renowned Michael Roux opened his first restaurant in Asia in the space of a French-styled luxury villas. Dedicating entire devotion to the art of luxurious culinary and delivering classical culinary experience, he is one of the chefs having most influence in Europe. His restaurant The Waterside Inn, located in the picturesque British village of Bray recently became the first restaurant outside of France to retain three Michelin stars for 29 years.
As the winner of numerous awards and critical acclaim, Michael Roux aims to conquer new heights on the career path he has succeeded. He has decided to contribute culinary talents of his master in luxury restaurants to InterContinental Danang Sun Peninsula Resort. Michael Roux bring to Vietnam endless passion for French cuisine and a deep love for Vietnamese culture which preserved many French trait.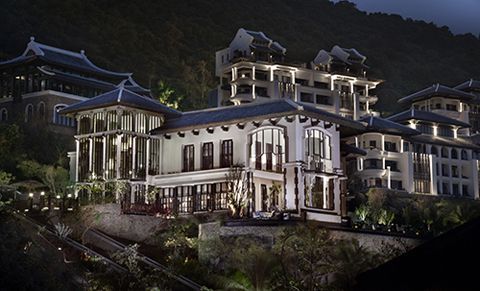 Nestled in the hillside, diners at La Maison 1888 will admire the beauty of sea and mountains at the same location. The restaurant brings together the sophistication of French cuisine with stunning views of Mount Monkey, offering diners an unforgettable culinary experience.
La Maison 1888 was created in space of ancient French mansion with a number of seperated cuisine area designed in distinctive styles, from the sensible Accountant's Room, to the thrill-seeking Traveler's Room, to the risqué Le Boudoir de La Madame.
Dining space is exquisite design, featuring lots of decorative items collected from around the world. Architect Bill Bensley designed the place based on the story of a family with three children, one have passion for travel, exploring, another an accountant and the youngest daughter with flamboyant personality. Each character, each space created for La Maison 1988 fascinating beauty with the menu is French and Asian cuisine integration, creating masterpiece dishes.
With the creativity, skill and flair of Michael Roux, a harmonious combination between food and fresh ingredients carefully selected from the best markets of the world will bring diners dishes of excellent quality and full of surprises. His dishes of essence will be a bridge "transporting"gourmets to ancient times, when the service is classic and eating is a great experience