Asia Park has been back after 4 months of temporary closure
After nearly 4 months of temporary suspension for maintenance, Asia Park is expected to welcome tourists back on July 2nd, 2020, promising to be an amazing 'comeback' with lots of new experiences to offer.
Spreading on the density of more than 800.000 m2 right at Da Nang city center, Asia Park invested by Sun Group Corporation is operated in international standard and renowned as "The theme park of Wonders"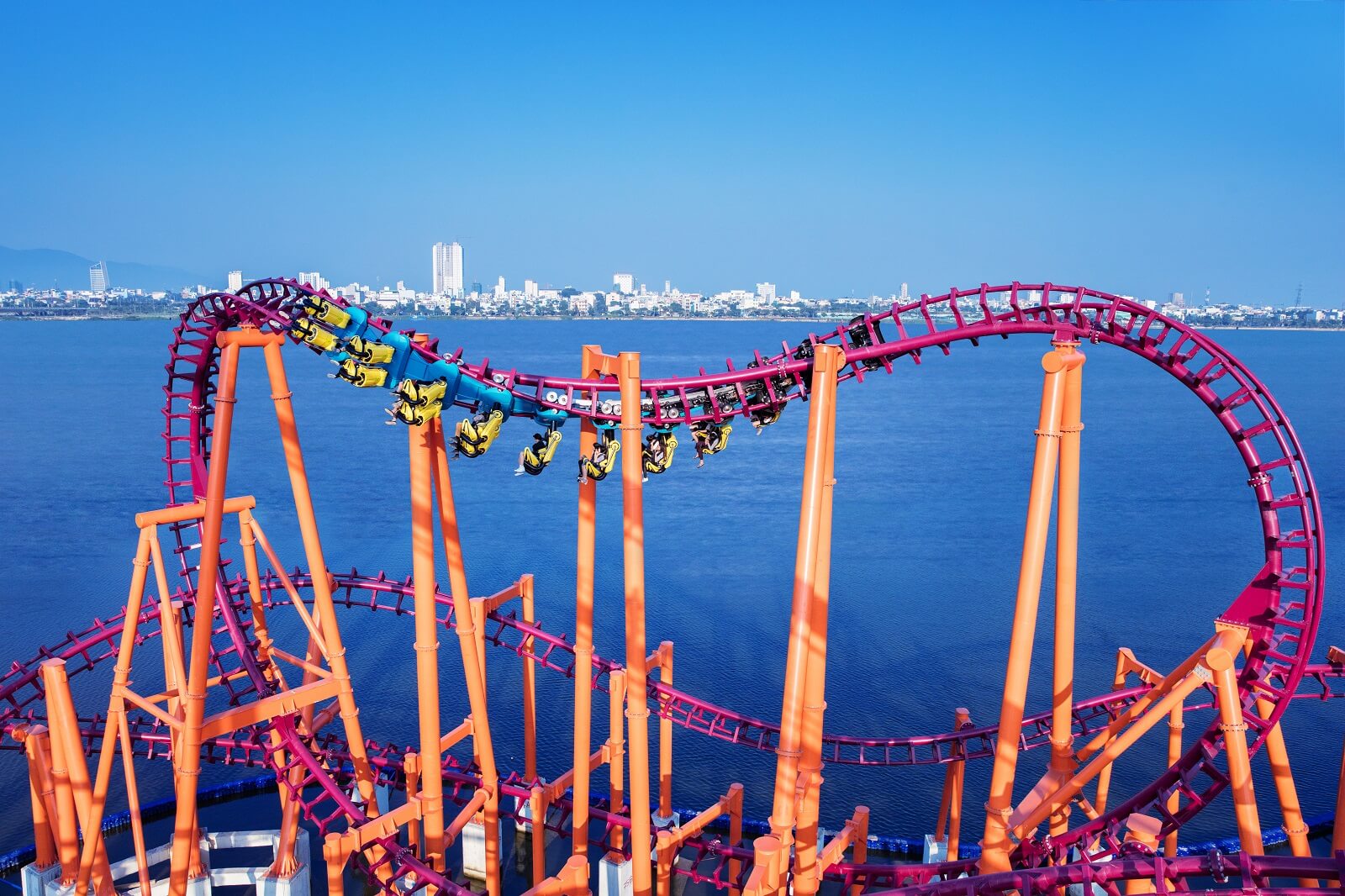 The park is the base of top-notch games such as Queen Cobra – the largest hang glider in Viet Nam, the "Wonder" Sun Wheel – the top 10 highest wheels in the world, where visitors can enjoy panoramic views of Da Nang from a height of 115m. Opened in 2014, this "trillion park" has welcomed millions of visitors every year, marking as an entertainment destination not to be missed when coming to the city along the Han River.
In the early months of 2020, despite numerous difficulties caused by the Covid-19 pandemic, with the goal of turning the park into the most attractive nightlife center in the Central region, enhancing the service and offering unique experiences for visitors to Da Nang, Sun Group is still brave to invest 100 billion to renovate and renew Asia Park.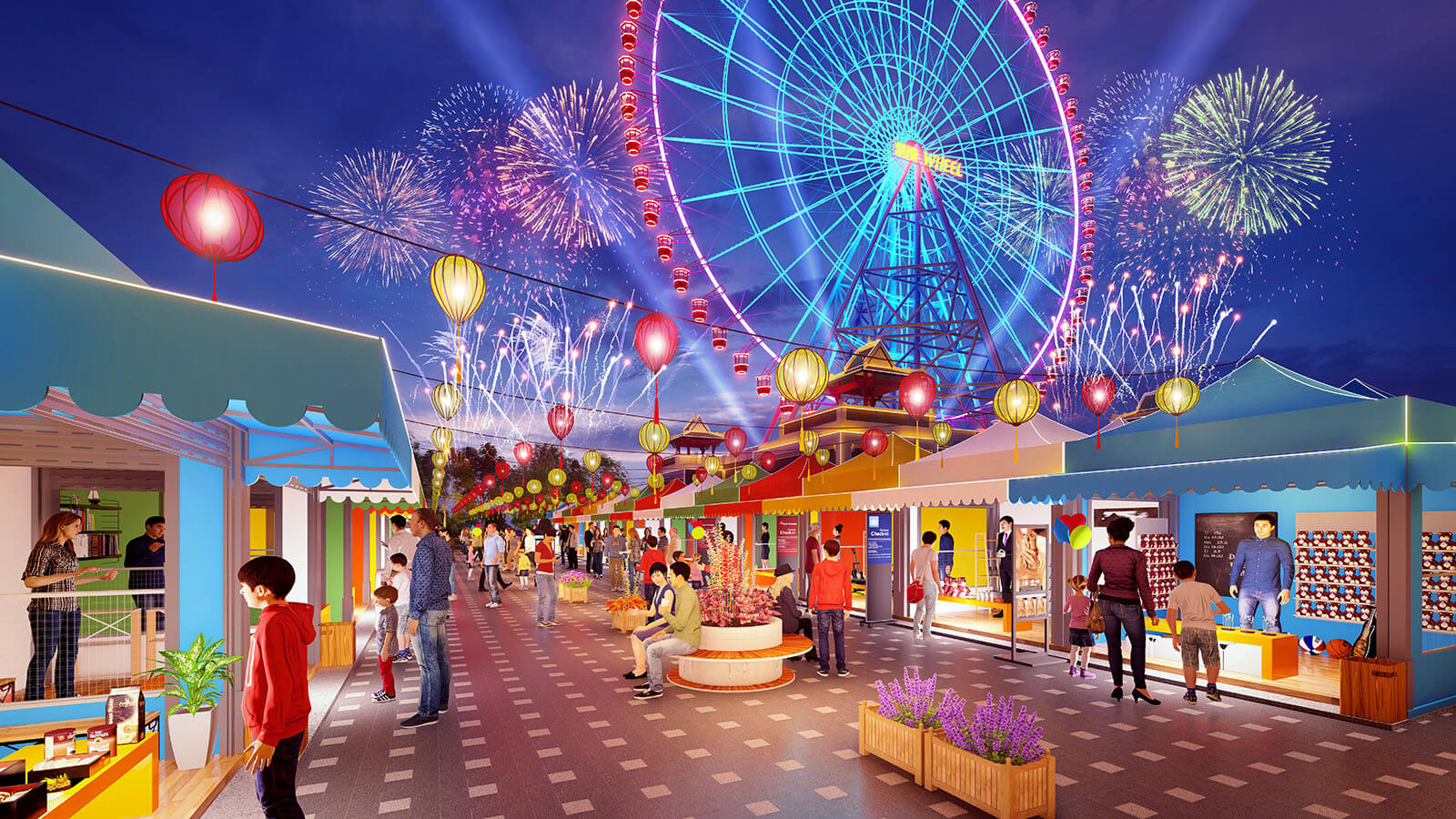 After four months of suspension, Asia Park is expected to welcome visitors from July 2, 2020, promising to bring visitors great surprises with unprecedented experiences in Da Nang. According to the representative of Sun Group, this will be the first open entertainment complex in Vietnam, combining cuisine, shopping, events, experiences and many types of services.
Thus, Asia Park will not merely be a fun spot with nearly 20 leading thrilling games in Asia as before. This will be a culinary rendezvous in which visitors can travel around Asia by tasting unique food and drinks from Japan, Malaysia, Thailand, Korea and many other countries. This will also be the largest entertainment venue in Da Nang, with lots of new attractions for the youth from the high-class bar system, the new modern prize-winning games and the shopping area with a variety of products … In particular, the Asia Park night market complex operated in Korean standards with hundreds of international food stalls and retail will surely create a great spot to visit in Asia Park. .
Many entertainment arts events will also be regularly held by the park, on the new Square with a capacity of over 10,000 people and a very large scale performance stage, promising to turn Asia Park into a fascinating destination all day and night. A vibrant "Asia" never sleep is awaiting visitors to visit.
In particular, the park has opened a new gate on the '2 thang 9' road – the area of '2 thang 9' Square, so that visitors can easily access and experience the colorful world of cuisine and new services such as night market, shopping areas and modern games system.
Sharing about the new enthusiasm for Asia Park, Ms. Nguyen Thi Lan Quyen – Director of Asia Park said: "The determination to invest VND 100 billion in upgrading and renovating Asia Park is a huge effort of Sun Group, amid the tourism industry worldwide and in Vietnam almost paralyzed due to the epidemics, the losses suffering by the businesses are enormous. Moreover, as domestic tourists are still afraid of travelling again while there was no sign when the international market would recover, we could not expect great sales performance. Still Sun Group has determined such the efforts are contributed to the tourism recovery in Da Nang after the outbreak of tourism."
"At this time, rebuilding the smoke-free industry is not merely stimulating demand and reducing prices. We must offer new products and services to inspire travelers to discover a destination they are already familiar with. The considerate investment in upgrading and renovating Asia parks aims not only to bring visitors unique and different experiences but also to raise the attractiveness for the tourism capital of Central Vietnam.", Ms. Nguyen Thi Lan Quyen emphasized.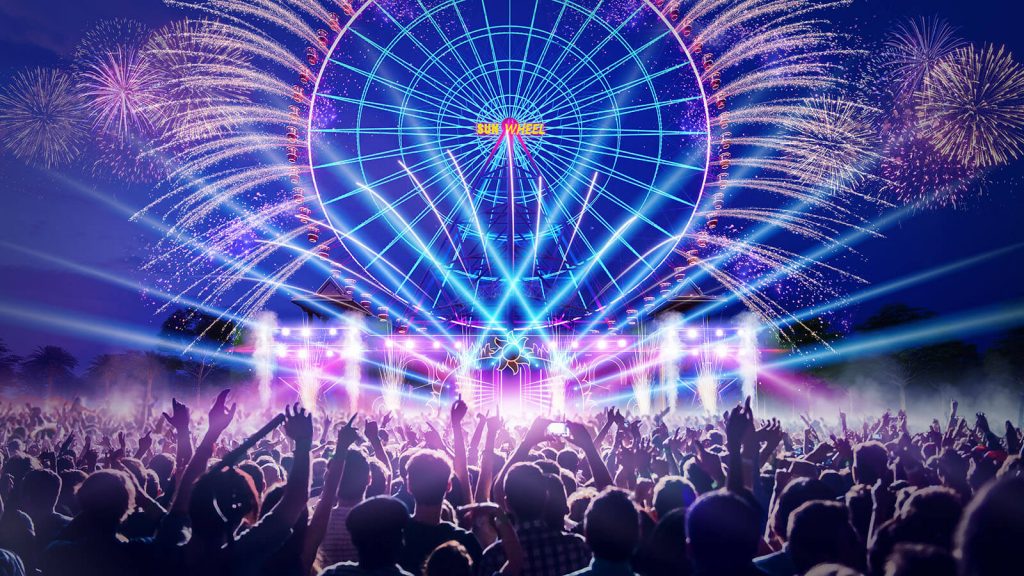 To welcome visitors back and mark the "re-boom period" of Asia Park, from July 2 to 31, 2020, visitors will enjoy preferential policies at Panda restaurant. Accordingly, the seafood BBQ buffet here is only VND 199,000/adult, free all games at the park (except for the one with prizes). In addition, visitors also have the opportunity to drink unlimited beer at only 99,000 VND/person or have unlimited soft drinks only at 49,000 VND / person.
The reopening of Asia Park right after Vietnam has successfully controlled the Covid-19 pandemic is expected to blow a new breeze into the tourism market of Da Nang, firstly to welcome the wave of domestic tourists after Da Nang launched a big tourism stimulus program, and secondly to create a springboard for Da Nang tourism to attract international tourists when the time is right. /.
Free admission to the park
Da Nang's most modern international food and shopping night market complex operated in Korean standards and opened in July.
Open the Sun Wheel stage and square accommodating more than 10,000 people with a concert at the end of July.
A series of huge works and events in the future: The fountain with the largest music show in Da Nang is expected to be completed by the end of 2020; The Danang International Fireworks Festival – DIFF is scheduled at Asia Park in 2021.
Lương Vy
Latest Posts