Danang International Terminal and Lotte Phu Khanh Duty-Free are collaborating to organize an event called "Moonlight of Harmony" from September 27 – 29, 2023, to celebrate the Mid-Autumn Festival. The program is centered around the cultural exchange between Vietnam and Korea, offering passengers a chance to participate in many exciting activities and gain a newfound cultural experience.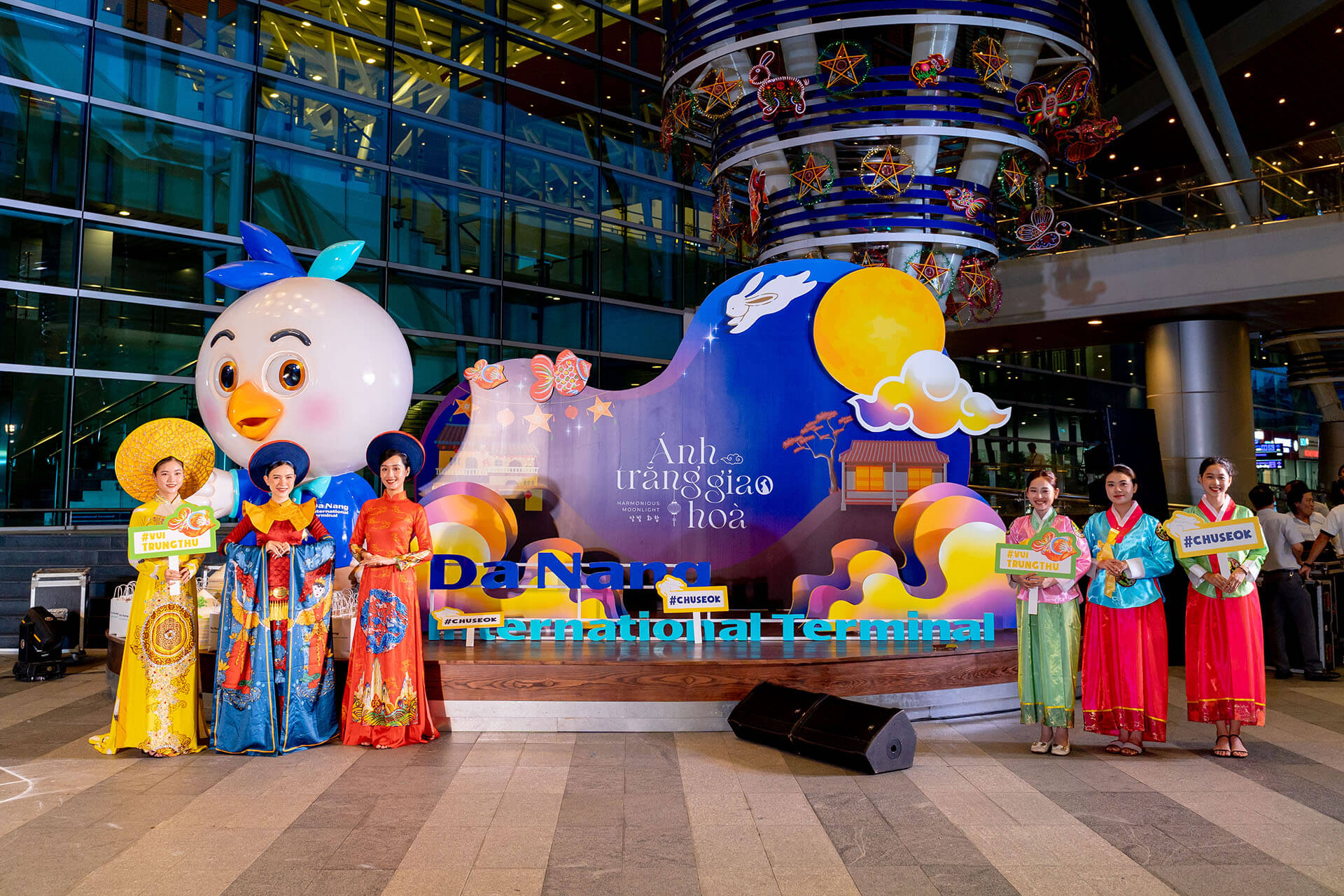 Danang International Terminal is crucial in connecting different cultures. It is dedicated to enhancing the passenger experience through investments in cultural activities. These activities bring domestic and international festival colors, renewing inspiration for all travelers. The station continuously implements cultural activities during major holidays and special events, such as Christmas, Lunar New Year, Valentine's Day, International Women's Day, International Children's Day, etc., to enhance the passenger experience and help them discover unique cultural values right from the moment they enter the terminal.
In celebration of the Mid-Autumn Festival, Danang International Terminal collaborated with Lotte Phu Khanh Duty-Free to organize a whole moon festival night to promote the typical traditional beauty of Vietnam and Korea. The station decorations included various symbols of the two countries' traditions, such as the Hoi An ancient house, the Hanok traditional house, star lights, and jade rabbits of Korea, creating a delightful Mid-Autumn Festival atmosphere for all passengers.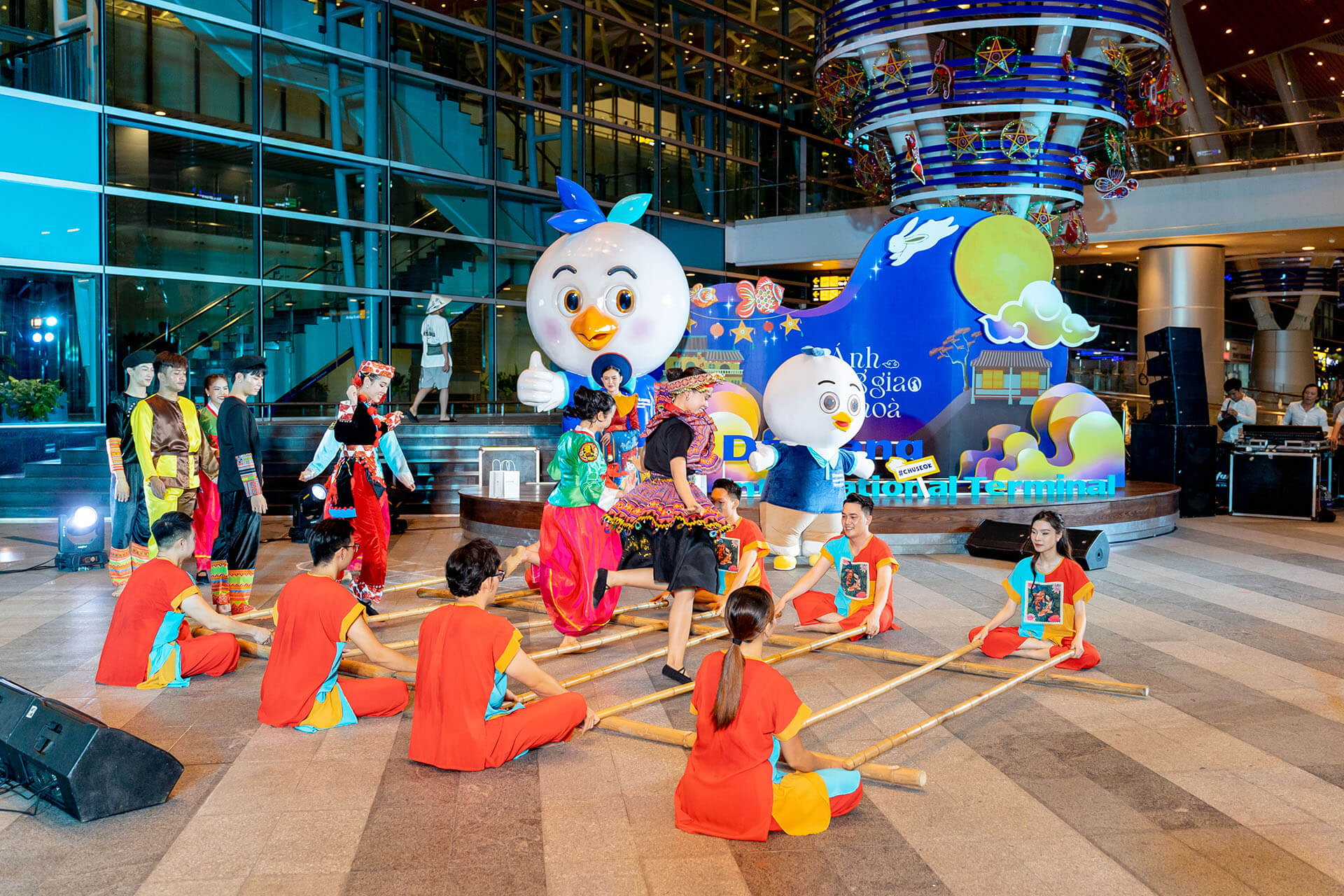 The space presents an exciting blend of two cultures
The "Harmony Moonlight" program will take place from 6:00 PM to 7:00 PM on September 27, 28, and 29, 2023, in the public area of the arrival hall. Visitors can easily participate in the event and immerse themselves in its atmosphere, whether arriving in the afternoon or leaving. The event will be graced by Mr. Kim Yong Seop, Vice-Consul at the Consulate General of the Republic of Korea in Danang.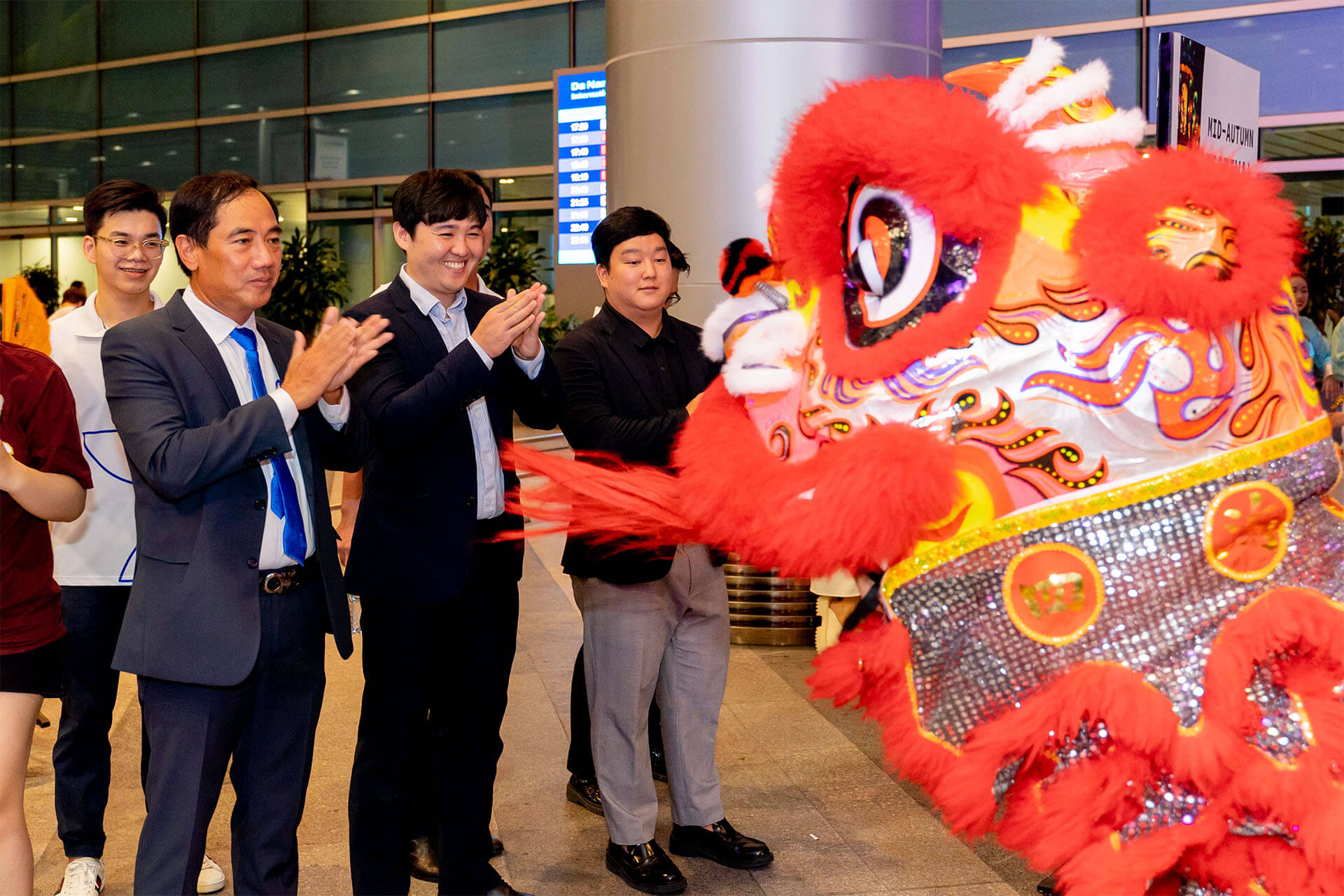 Mr. Kim Yong Seop (middle), Vice-Consul at the Consulate General of the Republic of Korea in Danang, came to celebrate with the station
The terminal management team aims to transform this location into a unique cultural hub for the Mid-Autumn Festival in Danang.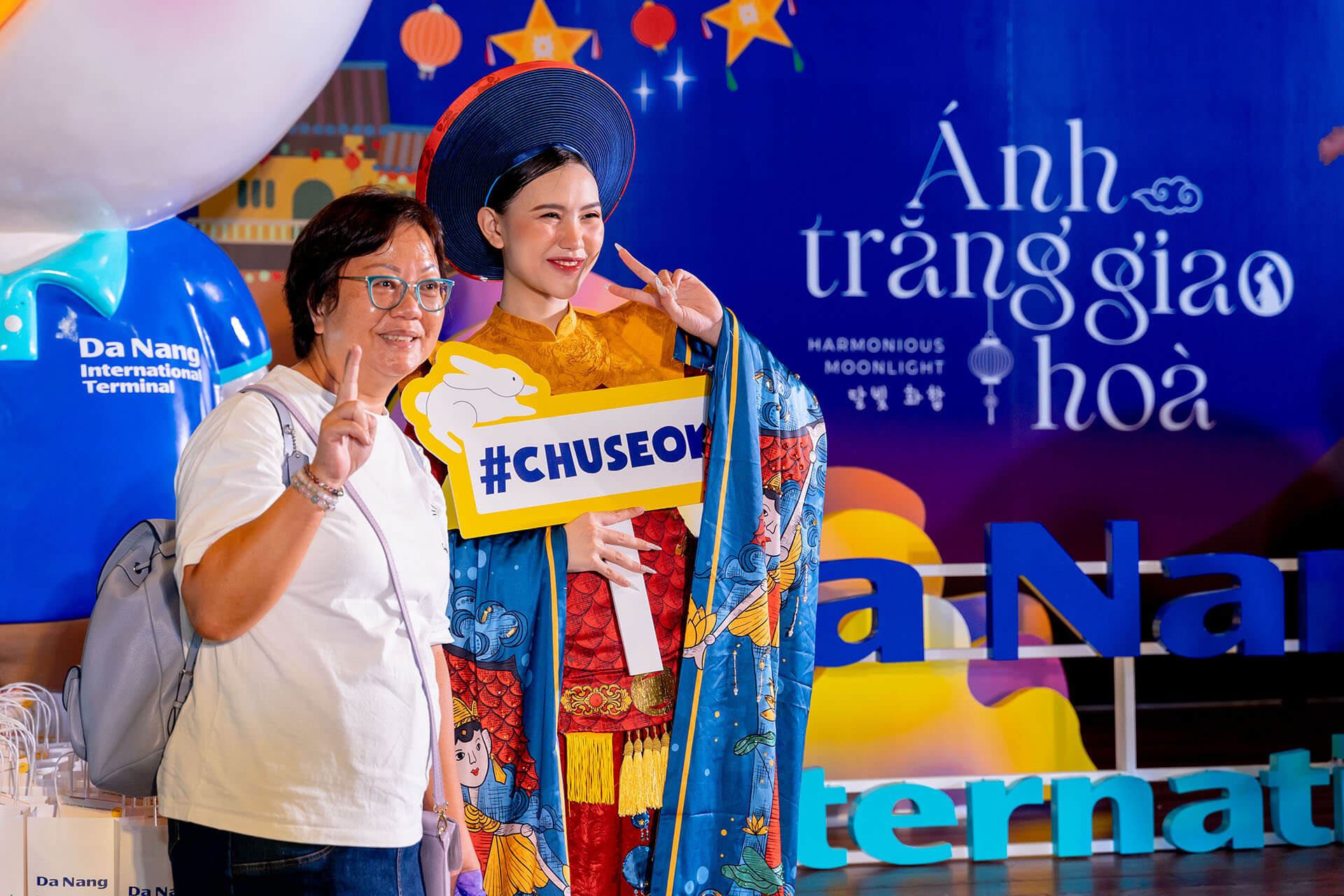 Domestic and foreign visitors are eager to participate
The booths with four different themes stood out the most at the event. Visitors were able to experience traditional activities and learn more about Vietnamese-Korean culture:
Confectionery booth with various mung bean cakes, rice cakes, sesame treats … Passengers can freely try and taste the traditional confectionery of both countries.
The "Tò he" booth directly attracts both children and adults.
The confetti booth from the 300-year-old craft village of Hue especially impresses international visitors.
Traditional mask art of Vietnamese and Korean performance booths.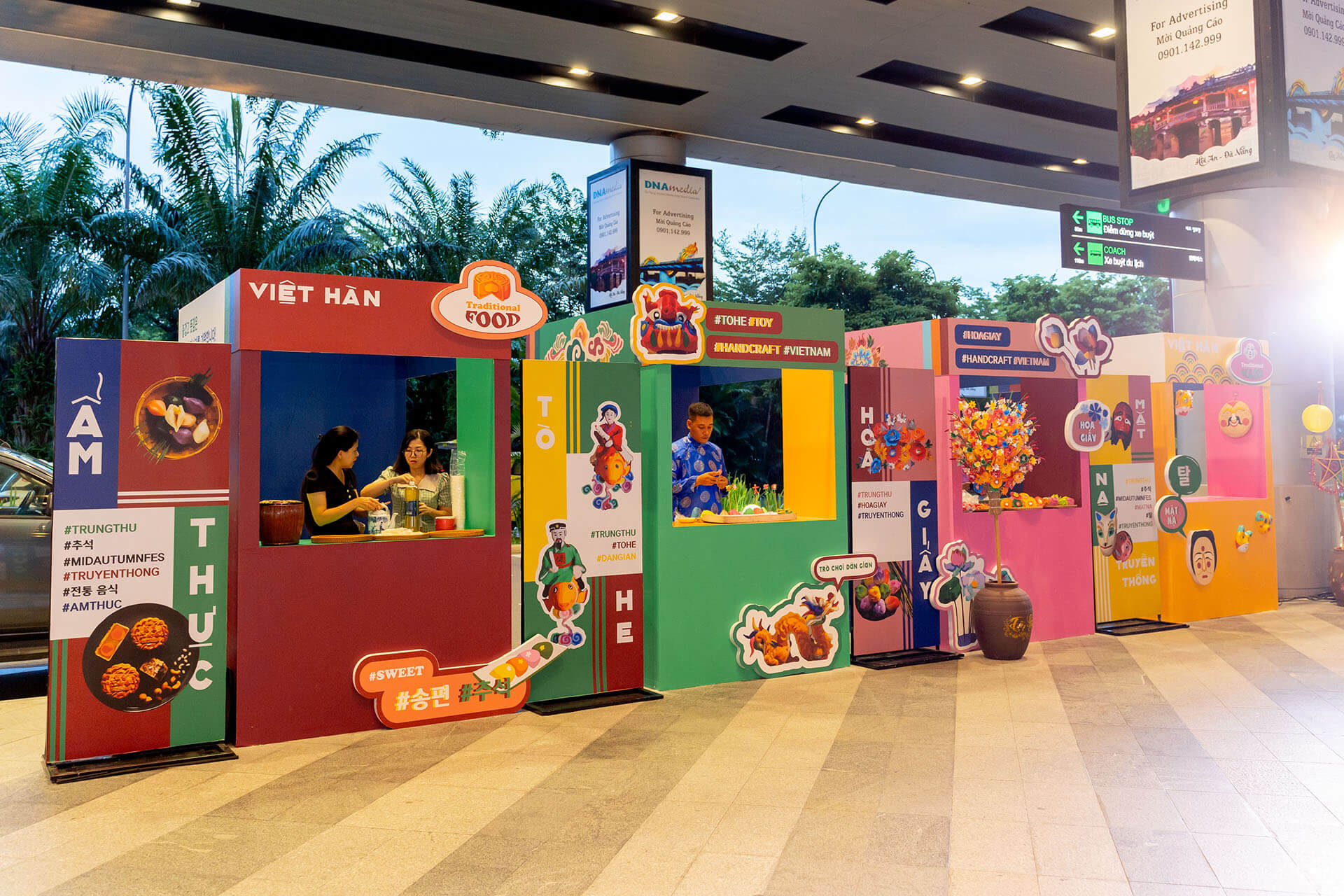 4 traditional booths with unique designs and activities
Danang International Terminal and Lotte Phu Khanh Duty-Free collaborated with Trung Vuong Theater to perform many types of performances, such as Korean fan dance, stall dance in traditional costumes, and Cuội and Hằng Nga dance. The Mid-Autumn Festival atmosphere was even more bustling with the vibrant dragon lion dance parade, making every visitor stop to enjoy.
After the traditional art performances, visitors continued to excitedly participate in folk games such as paper beating, "niêu" beating, and more and left with meaningful gifts.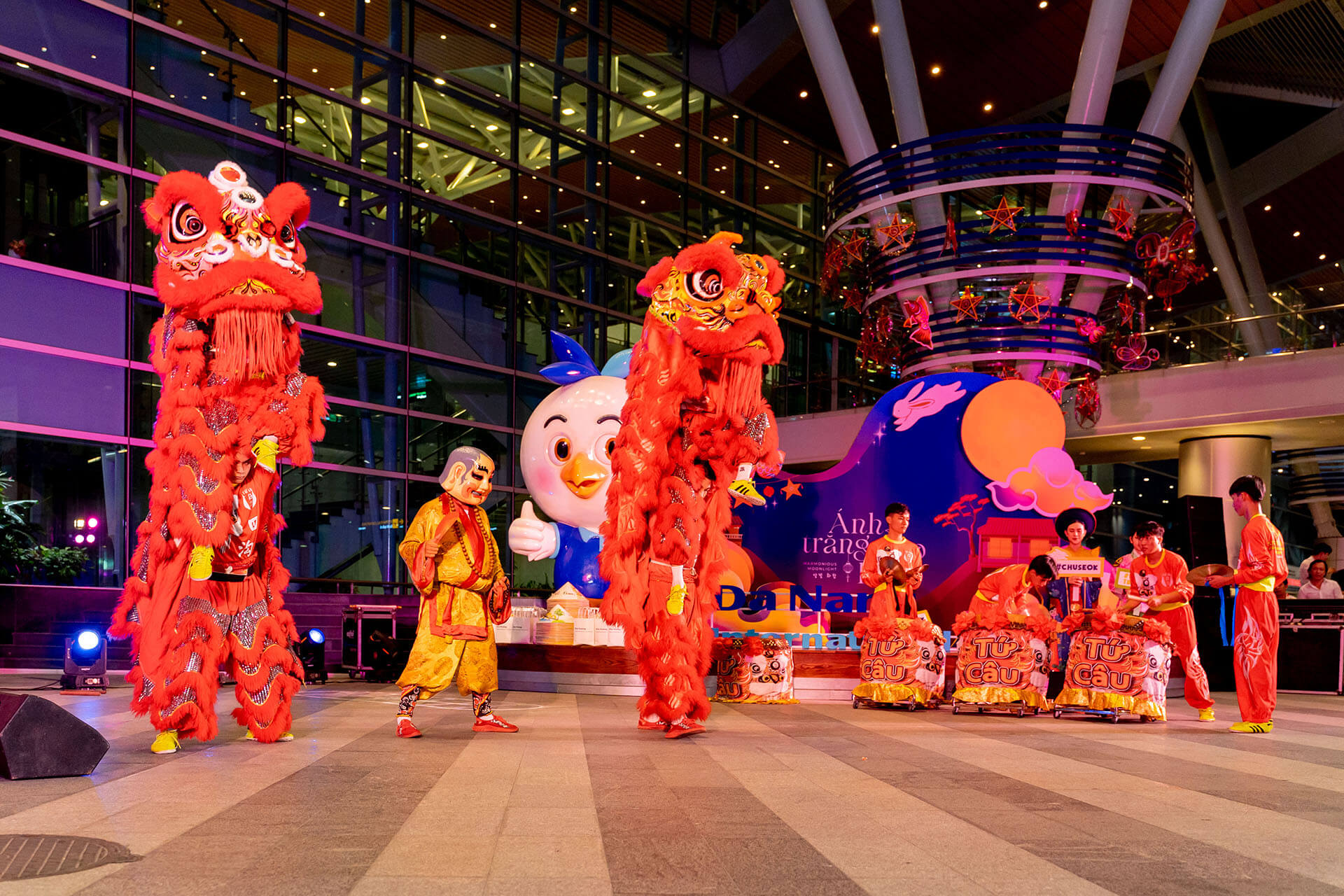 Experience traditional cultural activities upon arrival at the station.
"Harmony Moonlight" is a live interactive event that enhances the Mid-Autumn Festival experience for passengers, consistently placing them at the center of all station activities, including international tourists.
Passengers check in with Helpy, the terminal's Albatross mascot
Danang International Terminal proudly hosts special festive events and seamlessly incorporates local elements and cultural characteristics into its performance activities. Its "Heritage Road and Return to Hoi An" program is a prime example, showcasing the millennial beauties of Central Vietnamese culture through resonances, dances, and folk games.
In the future, Danang International Terminal confidently plans to continue bringing world cultural touchpoints to refresh the station experience, ensuring every moment is a time of discovery and positivity.
According to https://danangairportterminal.vn/