ENJOY SUMMER FESTIVAL 2023 "WOW DA NANG". Held from July 28, 2023 to August 1, 2023, is a special cultural and tourism event organized by the People's Committee of Da Nang City with many tourism, cultural and sports programs and activities attract thousands of tourists such as:
Vietnam – International Food Festival (July 28 – August 1)
Space to check-in, experience and create on the sand (July 28-1/8)
Sea Festival (July 28 – August 1)
International Balloon Festival – Da Nang 2023 (July 27-30).
Open Da Nang City Paragliding Tournament (July 29).
Canaval program "Dance of the Han River".(July 29)
 ZUMBA "Wow Da Nang".(July 30)
Artistic music program "Enjoy the summer"…
Food discovery tour and Da Nang with festivals in Ba Na Hill, Asia park, …
Activities are communicated visually at all central streets, big buildings, online communication via Fanpage, Tiktok, YouTube, Instagram, communication through newspapers, television VTV1, VTV8, DanangTV, HTV , THVL, Thanhnien newspaper, Tuoitre, VNexpress, Saigontimes…
Entrusted by the People's Committee and Department of Tourism of Da Nang city, Zes™️, Zin™️ and Zumba lovers are the soul representatives of Zumba in the Zumba DaNang Festival program "Wow Da Nang", carrying the message live healthy, live actively to the community and thousands of domestic and foreign tourists to follow.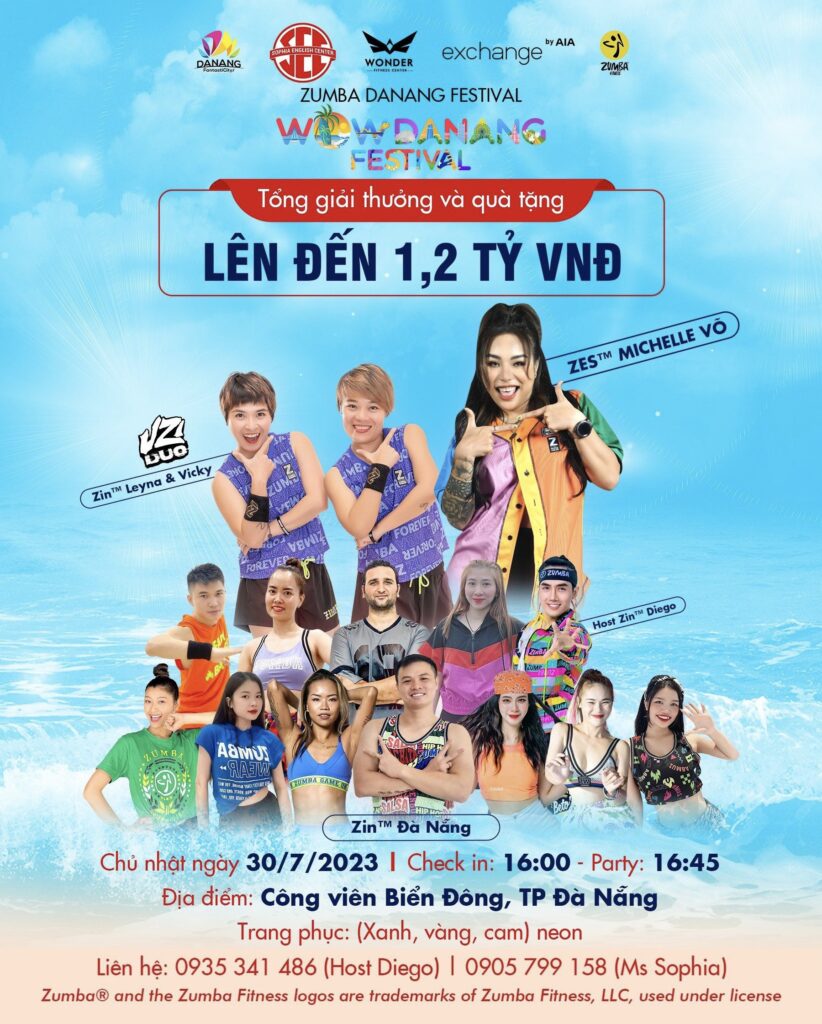 The Zumba DaNang Festival "Wow Da Nang" program is invested by the city at the outdoor main stage with more than 100 square meters of very good sea view, sound system, lighting, professional led lights freely unleashed. Around are hundreds of food stalls, shopping, traditional craft villages and folk games…
We will be rocking in the vibrant Zumba-style festival without adjustment, burning with the super leaders in the Zumba Vietnam:
International Zumba Education Specialist at Zumba Home Office 🇺🇸 (ZES™️) Michelle Vo.
The duo of Instructors with famous names, hot Tiktoker ZIN™️ Vicky Leyna.
The Zin™️ genuine guests:  Zin™️ Emma (Elite Fitness),  Zin™️ Dominic ( Kardio Fitness by Thanh Xuan), With Zin™️ young and energetic at Wonder, Zin™️ Gill (India), Zin™️ Dora, Zin™️ Tutu, Zin™️ Peony, Zin™️ Sumo,  Zin™️ MaiAnh, Zin™️ Happy, Zin™️ Alice, Coach Hanh Giss, Coach Xaxi
Venue: Main stage of Au Co mother statue, Pham Van Dong beach.
Costume: (Blue, yellow, orange) neon.
Timeline: July 30, 2023:
16:00 : Check-in.
16:25-16:40: Take a commemorative clip.
16:40-16:45: Opening.
16:45-18:00: Zumba session.
8:00-18:30: Teabreak & lucky draw.
Total lucky draw prizes worth VND 1,150,000,000 from sponsors:
Wonder Fitness:
20 third prizes: 1 month of practice at Wonder Center.
10 second prizes: 2 months of practice at Wonder Center.
1st prize: 3 months of practice at Wonder.
AIA Exchange:
20 third prizes: Voucher 3,000,000 VND
10 second prizes: Voucher5,000,000 VND
1 first prize: Voucher8,000,000 VND & 10 souvenirs.
SOPHIA English Center: Scholarship: 2,000,000 VND for 500 customers participating in the program.
Tickets and payment methods:
Before July 16: 250,000 VND/ 1 ticket; 2,000,000 VND/ combo of 10 tickets.
After July 16: 350,000 VND/ 1 ticket; 2,700,000 VND/ combo of 10 tickets.
The entire ticket price after deducting expenses, the remaining BTC will be donated to charity to help difficult situations in the city. BTC is not in the business of making money on tickets to attend.
Ticket includes 1 teabreak and 1 lucky draw code.
Discounts for Zin™️ 50% off.
DANANG CENTER FOR TOURISM PROMOTION
Latest Posts