The opening of its newly established brand, Shilla Monogram,in Vietnam's central coast marks The Shilla Hotels & Resorts' first step into the country. Situated on a picturesque, tranquil beach between Da Nang city and the UNESCO World Heritage town of Hoi An in Quang Nam province, this first and flagship property opens to guests on June 26th, 2020.
Shilla Monogram Quangnam Danang – A Destination of Perfect Balance
After Vietnam achieved success in flattening the COVID-19 curve, in an effort to restart the tourist industry, the Vietnam Tourism Association has announced a set of criteria for safe traveling, under the campaign "Vietnam, The Safe Haven of Travel."
While the travelling of large groups is discouraged, holidays for families or small groups are now the preferred options. With this in mind, after the tough times brought on by the lockdown, having an opportunity to have a well-deserved break is exactly what Shilla Monogram Quangnam Danang provides to travelers.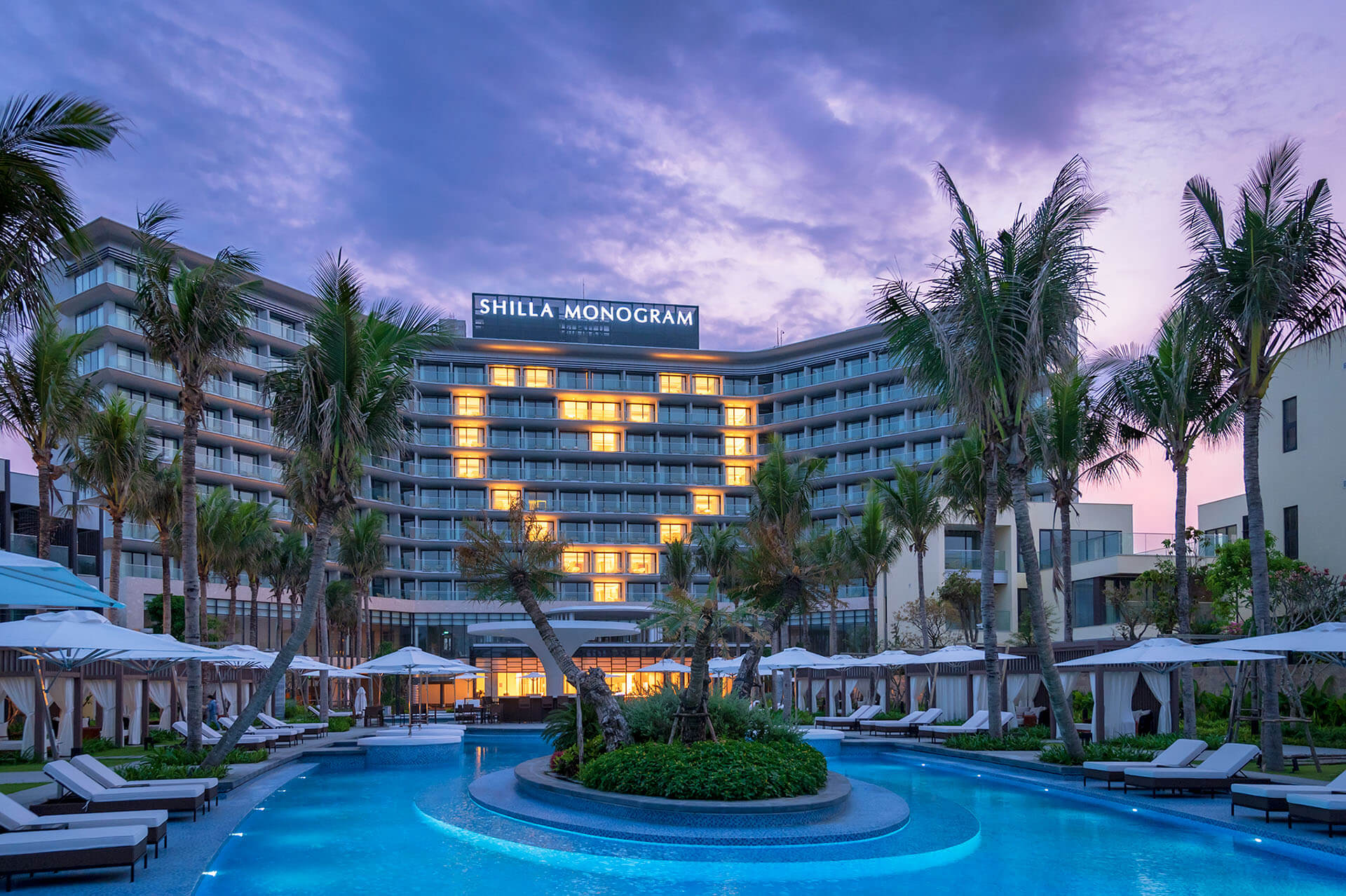 The resort's beautiful and convenient location by the tranquil Non Nuoc beach, is right in between the dynamic city of Da Nang and the Hoi An Ancient town. The whole complex at the resort itself includes: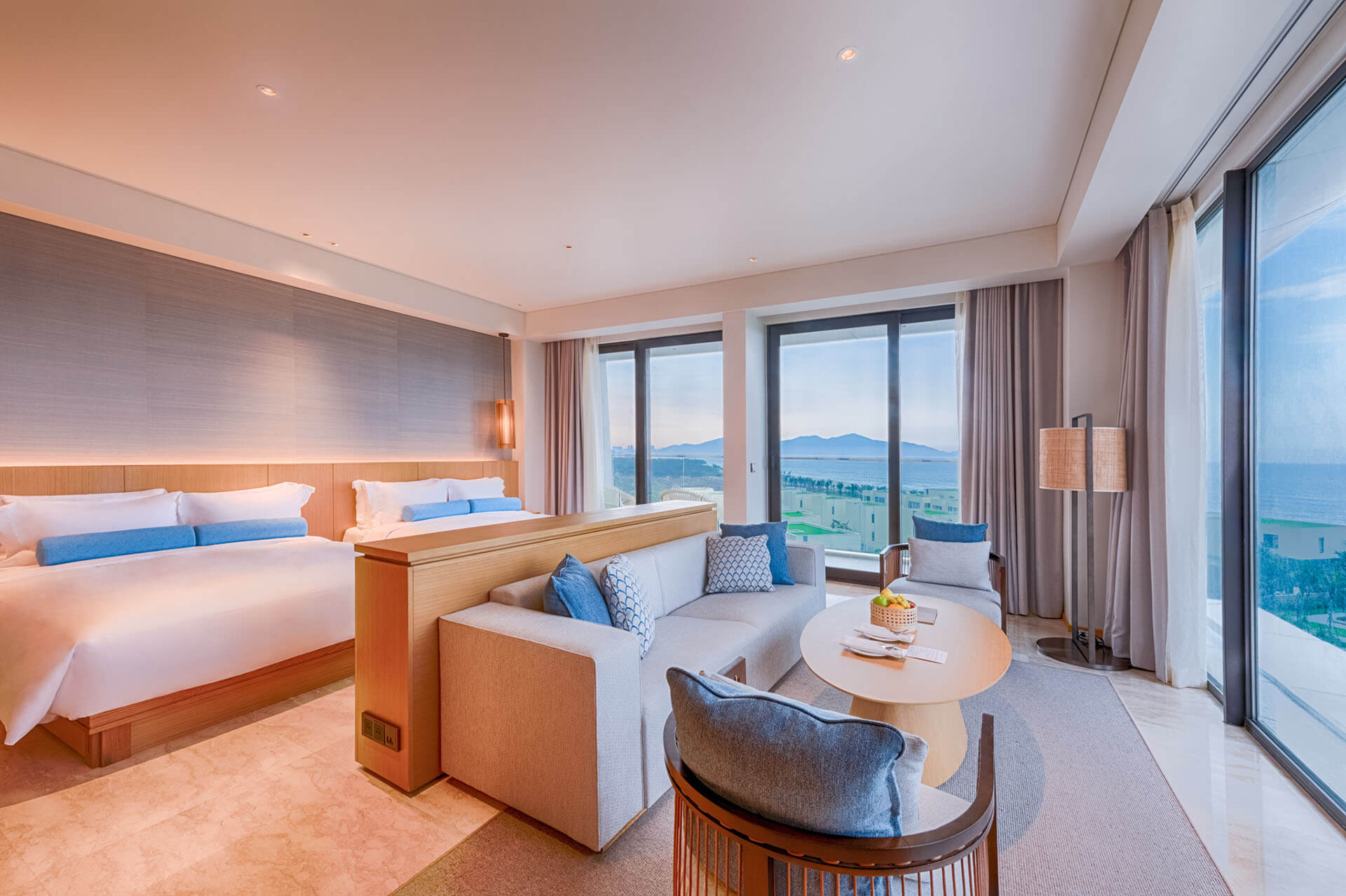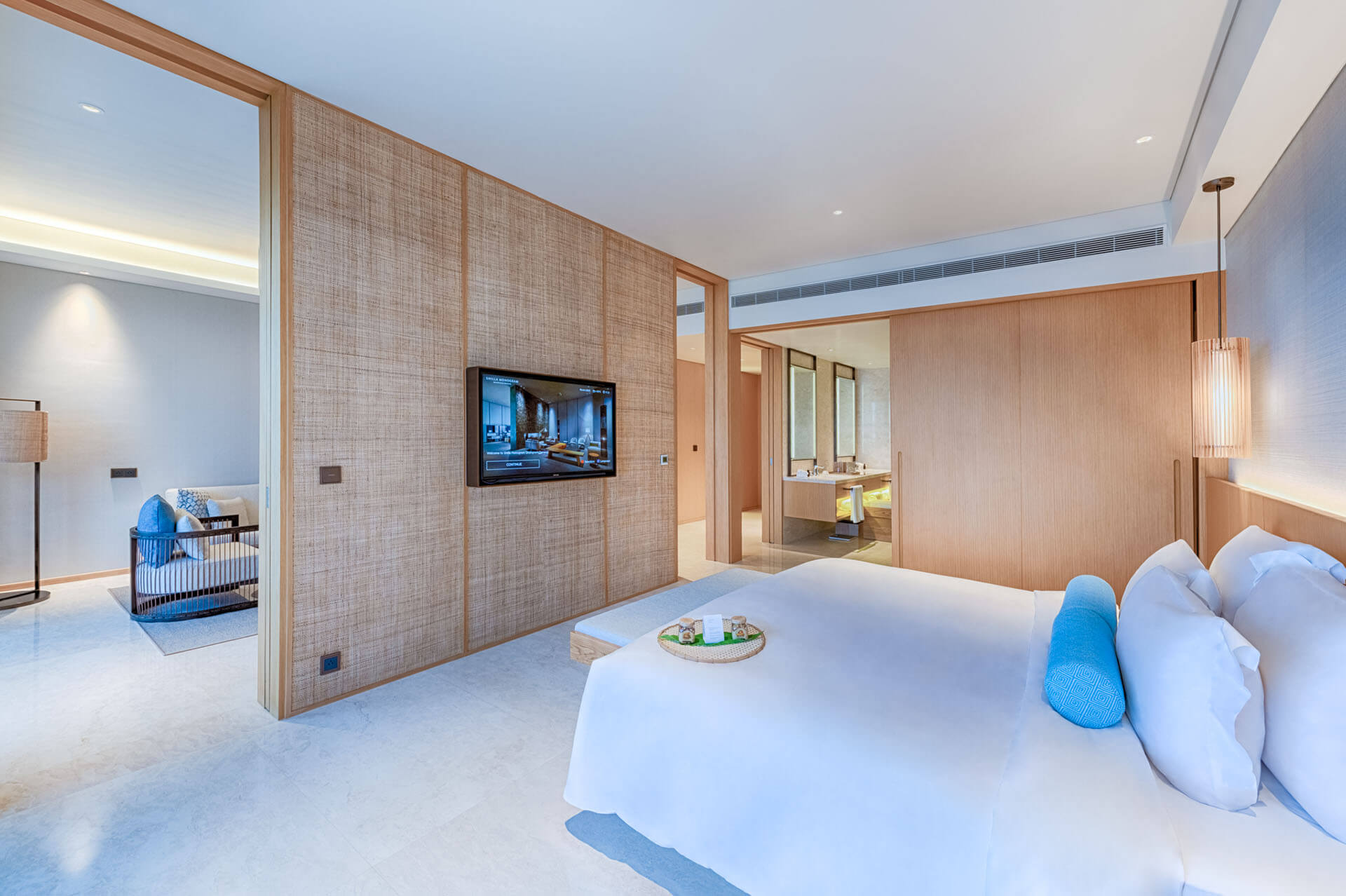 309 rooms, including 42 superior rooms, 238 deluxe and premier deluxe rooms, 20 suite rooms, 8 residences, and 1 luxurious Monogram Villa facing to the ocean. Almost all rooms own magnificent views overlooking the sea or Son Tra peninsula.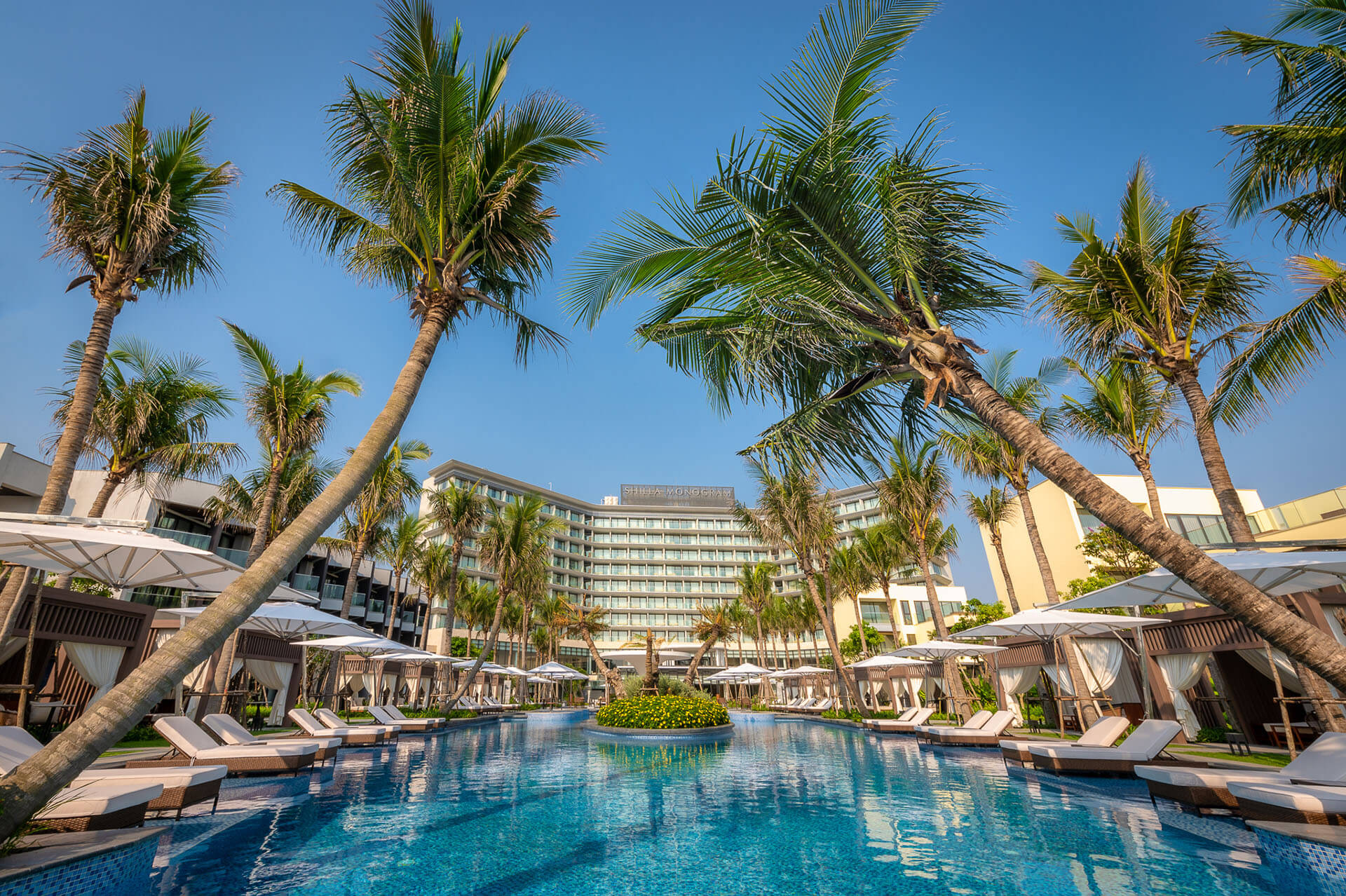 Four outdoor swimming pools of different sizes, suitable for children and adults alike.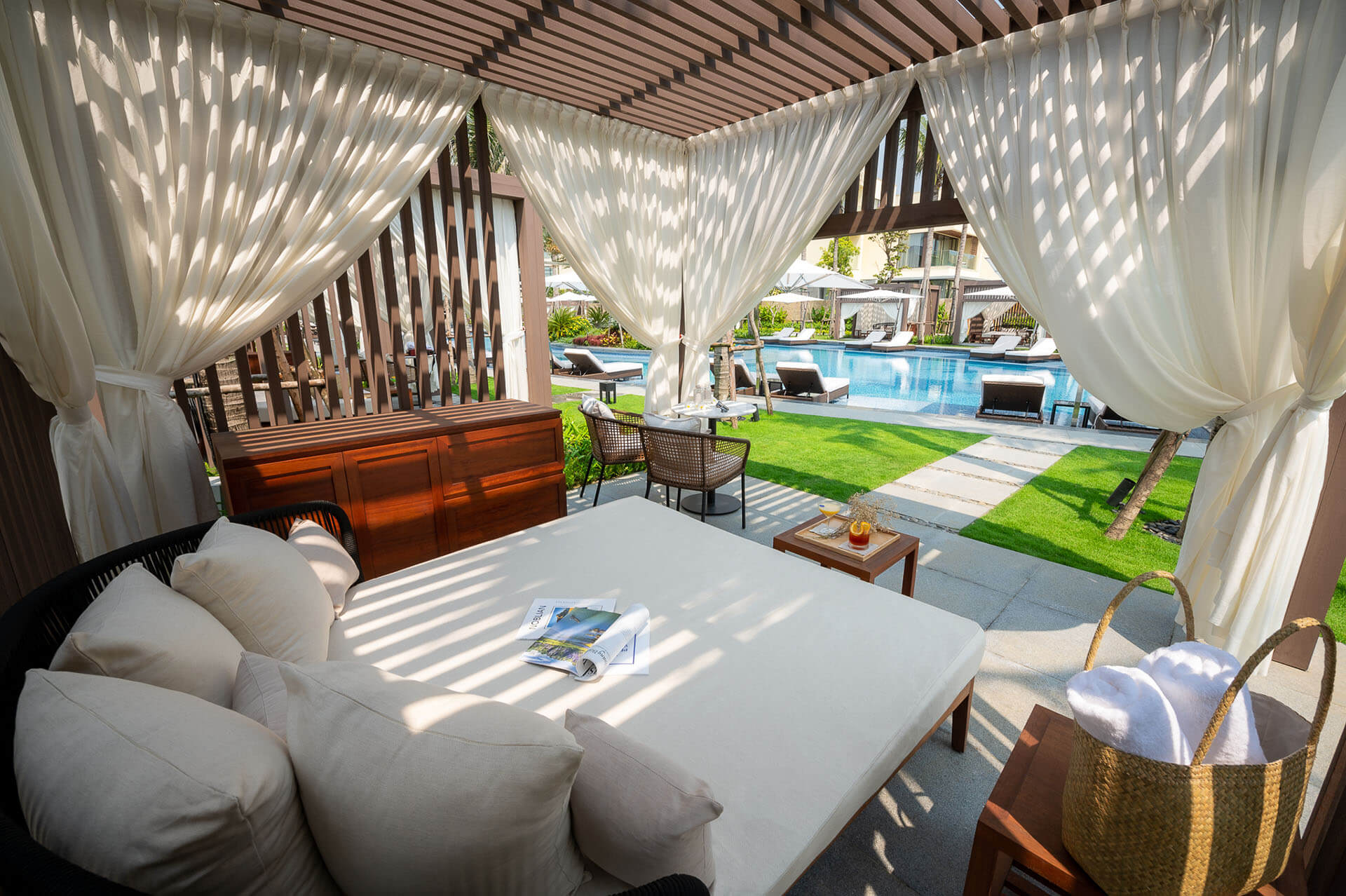 Stylish poolside cabanas, unique to Shilla Monogram Quangnam Danang, which become ideal private oases for families and couples to relax and recharge in style.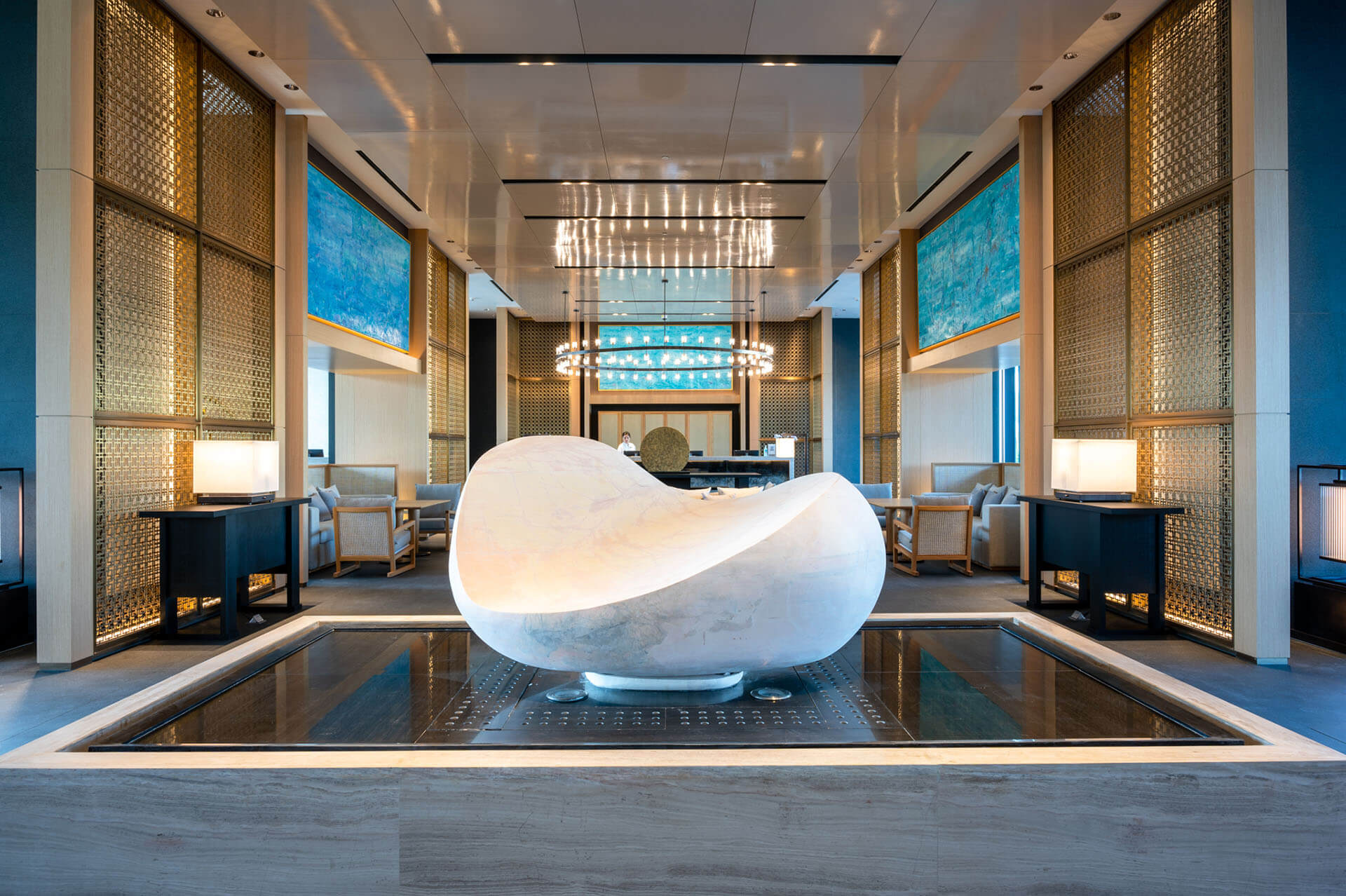 Monogram Lounge, an intimate space to indulge in local culture and treats.
The Pavilion with design inspired by lotus flower is the heart of the resort holding a panoramic view to the ocean.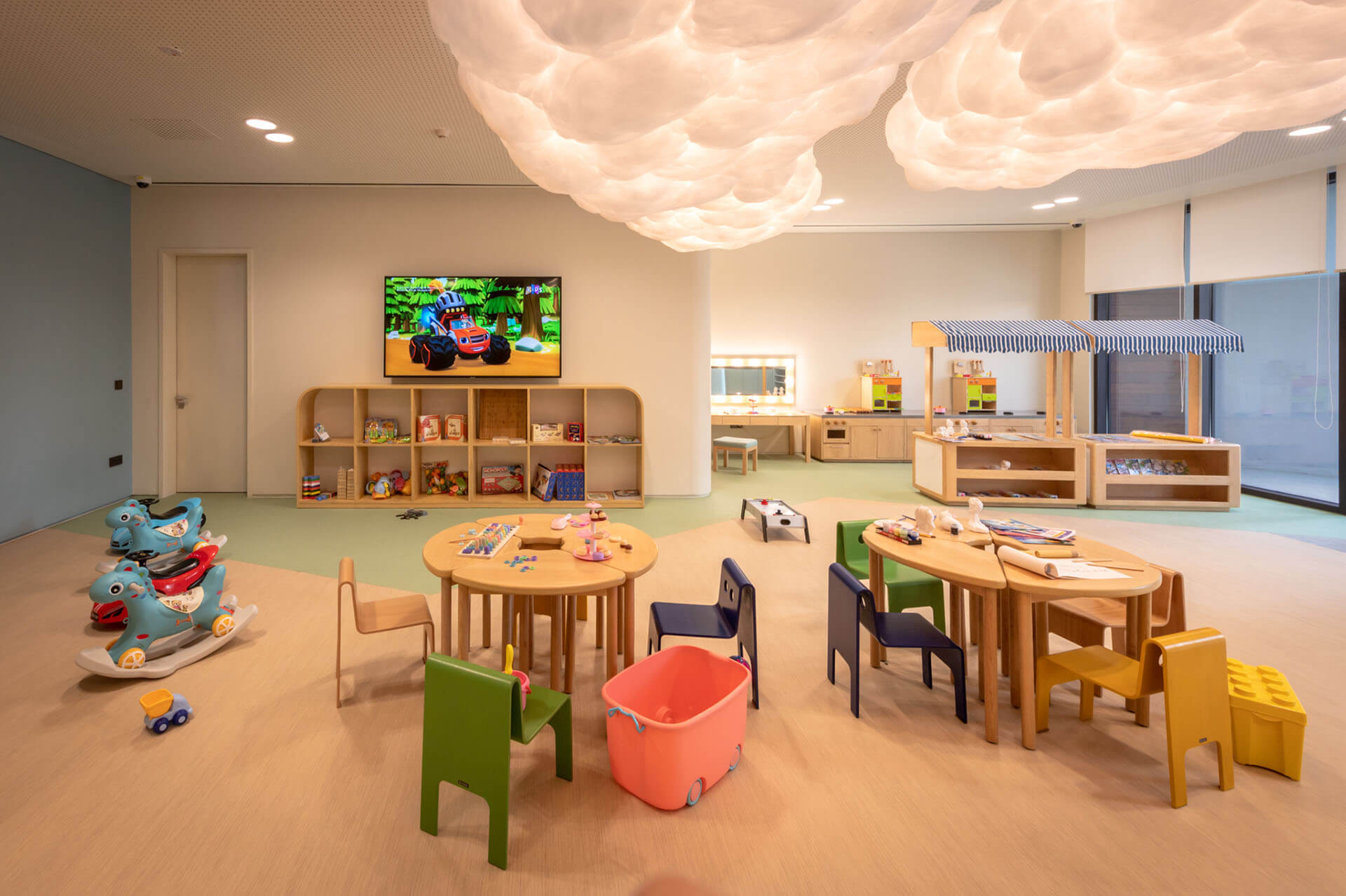 Cute Little Monogram brings a touch of fun to kids, where they can play and learn new things, enabling parents to unwind knowing their children are safe and happy with the resort's childcare team.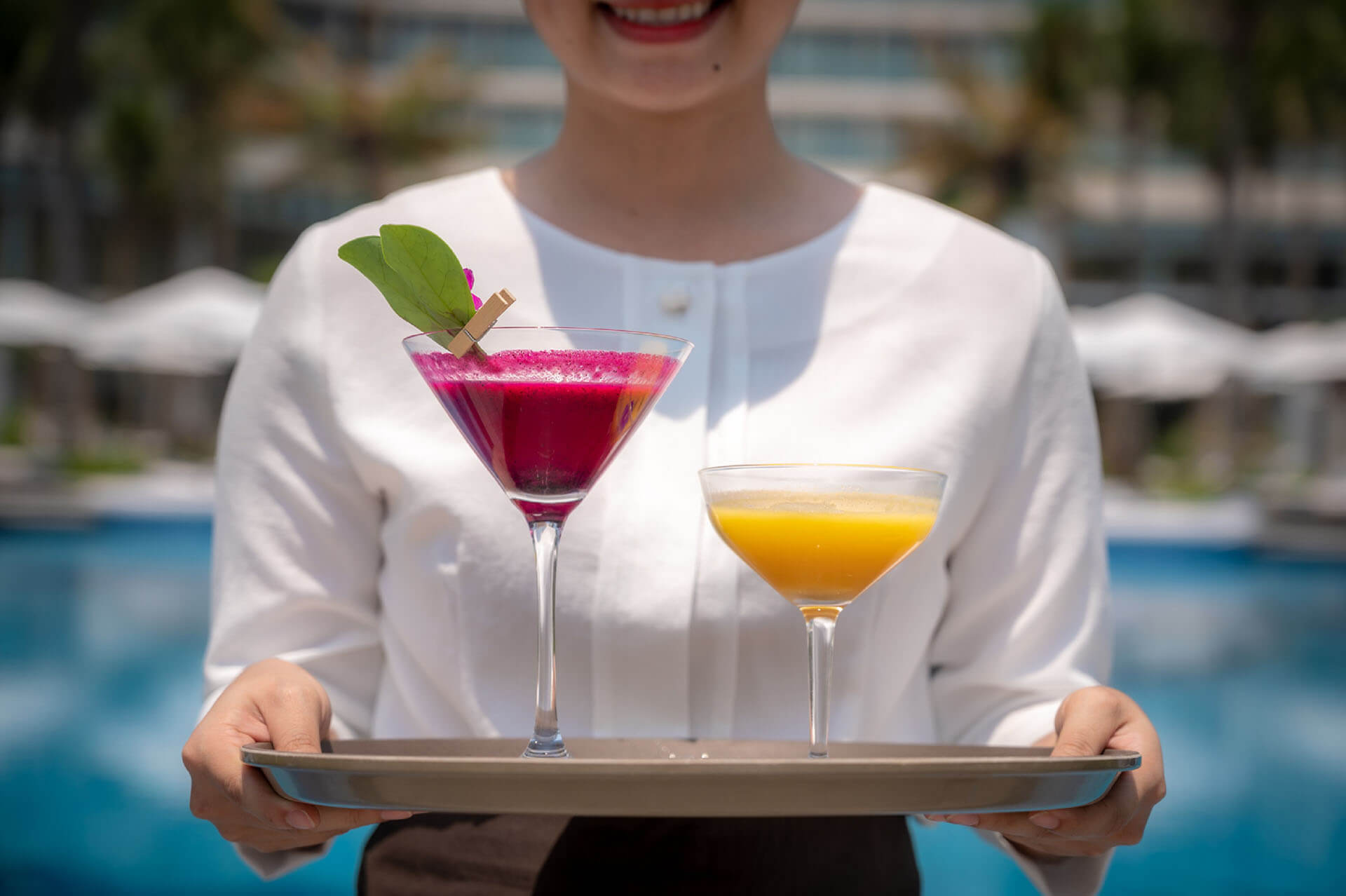 Numerous other recreational facilities such as restaurants, bars, spa, sauna, gym, and therapy garden.
Shilla Monogram Quangnam Danang is where the heritage of The Shilla meets Vietnam's Central Coast flavor. Under the philosophy of balance, the resort impresses spectators with its unique architecture, a symbol of giant sails fully embracing the natural energy of the wind, sun and sea.
The design of two bows, crossing into an X-shape,represents the symbol of balance and a unique highlight for tourism in Vietnam and in particular, Quang Nam, Da Nang. The neutral-toned interiors with earthy material and texture exude calm ambience and contemporary elegance. The resort is filled with artwork using regional materials and invites guests to discover local contemporary arts on site.
Ha Manh Thang, a young Vietnamese painter, created a bespoke collection for the Monogram Lounge. This is an ideal blend of a sophisticated and modern featured style by The Shilla with the charming fine art of local artists.
"We want to create a harmonious cultural balance by infusing the timeless and genuine values of The Shilla and embracing the local indigenous charm and beauty of Da Nang with inspirations from its local arts and culture. The cultural differences are carefully considered and respected as part of this balance; and then by harmonizing, we showcase the very best of each in our product, from the design, layout, services to what we offer through dining and entertainment. Our aim is to bring the best of Danang and Quang Nam to our customers from everywhere of the world," shared Marc Emmanuel.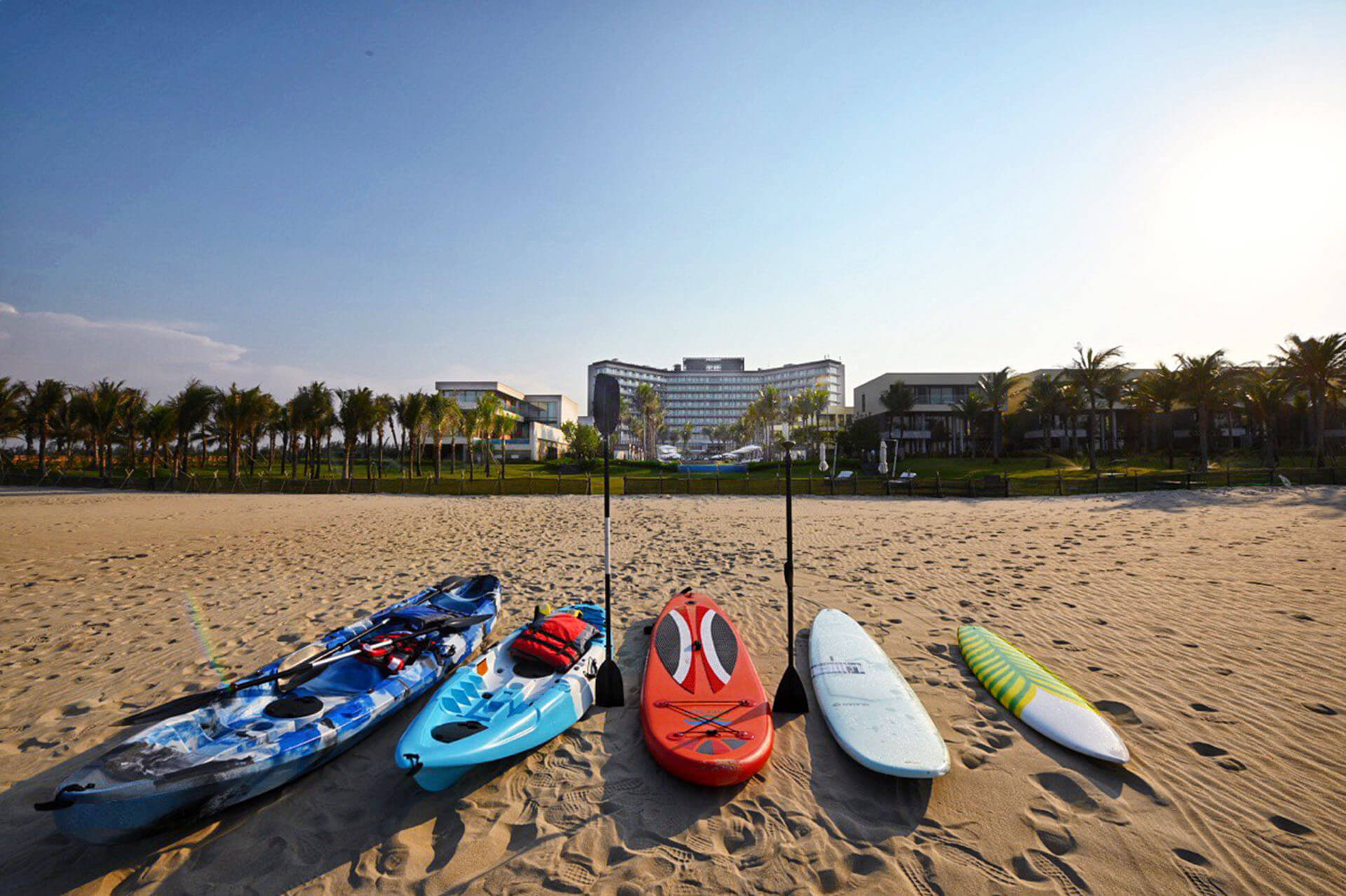 Dining services: the signature of The Shilla. Guests will have access to a range of various culinary options at the resort. These include the Dining M Restaurant which offers a range of all-day dining choices; the Bistro M, a poolside restaurant providing for a breezy Mediterranean dining experience; as well as Pool Bar and Bar M – ideal places to unwind with a selection of cocktails, coffee, tea, and snacks served all day. A sophisticated gastronomic journey has been designed by experienced chefs of The Shilla in combination with talented Vietnamese chefs and served by passionate and friendly team.
Entertainment: Guests staying at Shilla Monogram Quangnam Danang will have the unique opportunity to refresh by taking part in a wide range of activities from beach sport, wellness exercises to distinct regional cultural experiences right at the resort, like lantern making, coffee making and local arts and crafts.
Local art: As soon as guests first step into the resort, they will be welcome by local and regional artworks. This is initially seen from the fine-art pieces and ornaments decorated throughout the grounds, to dedicated areas such as Monogram Lounge, which will even hold unique art exhibitions with the attendance of local artists.
Shilla Monogram Quangnam Danang is also the nest of a team from a variety of different nations and cultures. From experienced Korean associates with a long history of working in Vietnam or at The Shilla, a General Manager with over 20 years of experience in hospitality around Europe and South East Asia, to dedicated and talented Vietnamese associates. They all share the same determination and passion to bring meaningful experience to every guest who stays at Shilla Monogram. More than a resort, Shilla Monogram Quangnam Danang is a perfect convergence of natural beauty, deep-rooted local tradition and culture, as well as contemporary chic; all are harmoniously blended with the timeless sophistication of The Shilla.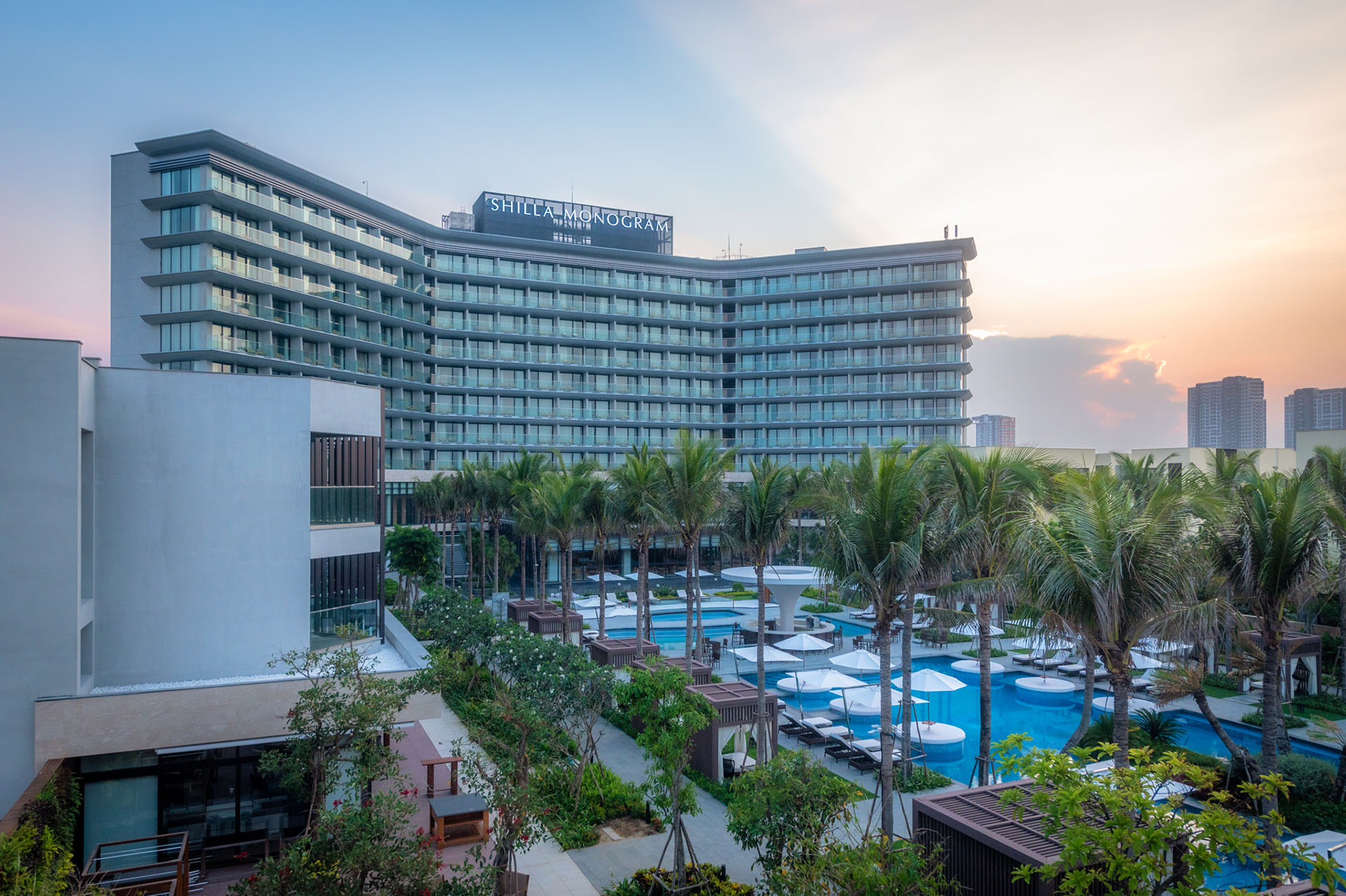 Shilla Monogram Quangnam Danang – Committed to Safety
The timing of the official launch of the resort has been placed after the necessary social distancing measures in the wake of COVID-19. While now, thanks to the country's efforts, the situation has been improved significantly, Shilla Monogram Quangnam Danang is committed to providing an experience that, not only allows tourists to feel totally relaxed, but is also completely safe.
As General Manager of Shilla Monogram Quangnam Danang, Marc Emmanuel, states "The COVID-19 pandemic has totally changed the lifestyle and habits of tourists. Now they would like to have a holiday to recharge and recuperate after the crisis. Tourists are seeking a higher service quality, sanitation standard, and overall safety from their accommodation provider. We see this as a great opportunity for us to launch our premium services inherited from a leading hospitality group well-known for their genuine care and rigorous standards. And now, in Vietnam, we are able to bring our customers an outstanding holiday made of totally relaxing moments in ultimate safety."
To ensure a coronavirus-resistant environment for the guests, the resort has implemented a range of
comprehensive virus prevention measures. These include the following:
– An international standard sanitization process is applied to all guest rooms, reception lounges, elevators, gyms, and other public areas. Room keys and other equipment throughout the hotel are also cleaned with medical disinfectant. The procedure follows the guidelines of the World Health Organization (WHO), Quang Nam Center for Disease Control (Quang Nam CDC), and The Shilla Group.
– The resort's room-cleaning process has also been upgraded with an additional final step of disinfecting high-touch areas such as door handles, switches, and desk phones in accordance with the group's guidelines.
– Ample hand sanitizer stations are set in all public areas.
– Public area disinfection processes are carried out four times per day. During peak hours, the disinfection process is conducted continuously.
– Information about the resort and any service requests are now integrated into the chatbot system (by phone) and IPTV (via smart TV set in room)to reduce the frequency of direct contact and ensure more privacy for guests.
– In the case of any suspected virus infection at the resort, Shilla Monogram Quangnam Danang has prepared a quick response emergency procedure with necessary isolation rooms and protective gear.
All resort team members receive frequent training and hands-on practice on how to apply sanitization under the supervision of the group. Shilla Monogram Quangnam Danang understands the importance of ensuring adequate protection, as only then can guests fully relax, which is our ultimate goal.
Express Your Reaction
You have reacted on

"Shilla Monogram Quangnam Danang – The pri..."
A few seconds ago
Latest Posts