Danang Tourism Roadshow in Bangkok, Thailand 2019
Danang Tourism Roadshow in Bangkok, Thailand 2019
Danang Tourism Roadshow  in Bangkok, Thailand took place on October 24, 2019 at Amari Watergate Hotel. The show is organized by the Department of Tourism of Da Nang in cooperation with Bangkok Airways to diversify the international tourist markets to Danang in the period of 2019-2021.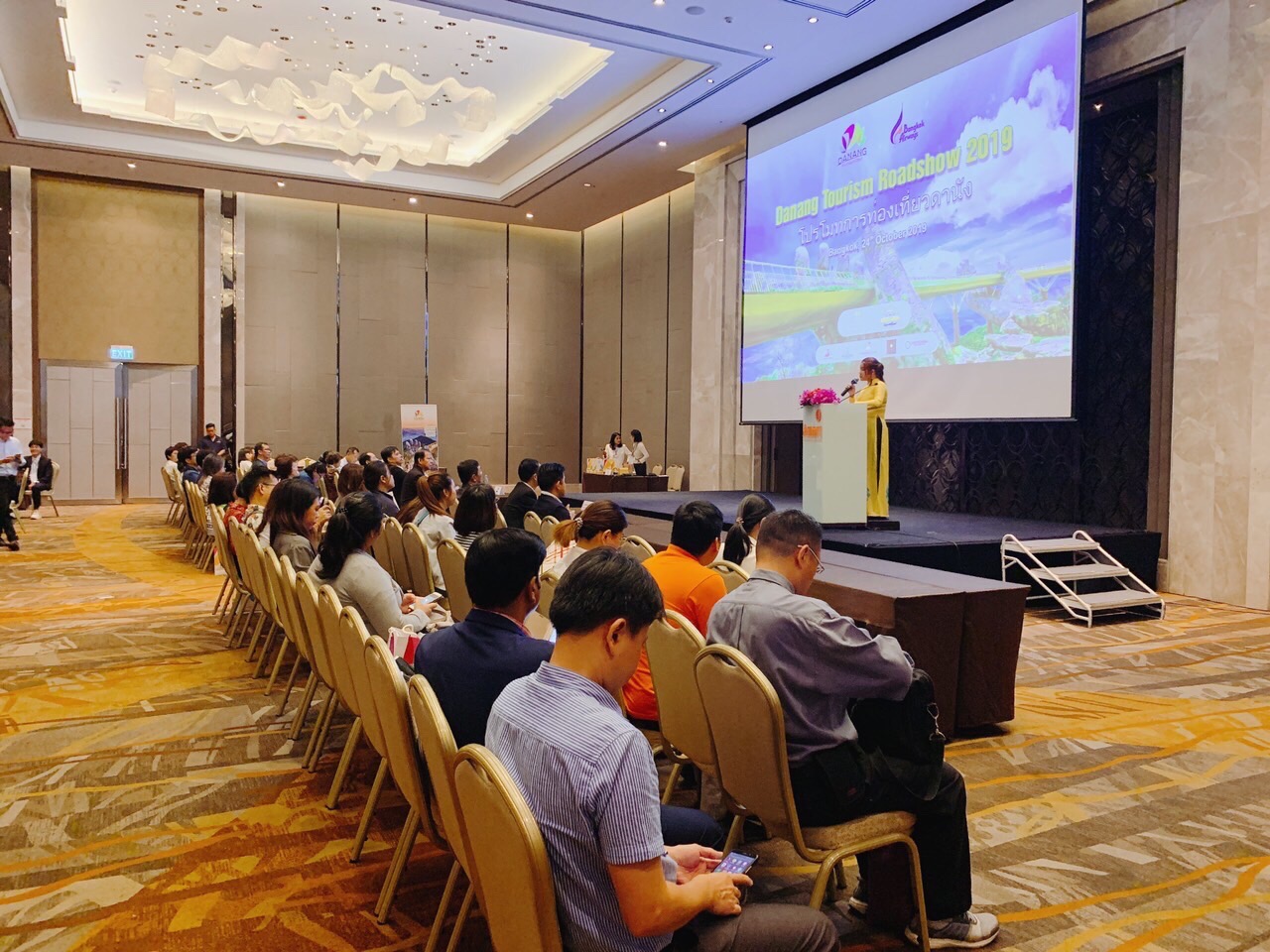 This is the second time Danang Department of Tourism hold the Danang Tourism Roadshow in Bangkok, Thailand with the aim to connect with potential tourism partners and promote economic exchange as well as tourism development between two destinations, Bangkok – Da Nang and two countries Thailand – Vietnam.
There attended Mr. Nguyen Hai Bang – Vietnamese Ambassador to Thailand, Mr. Wirote Phaimuanghung, Head of Southeast Asia, Tourism Authority of Thailand, Mr. Sittichai Udomkitthanakul, Member of Thailand International Travel Association; Mr. Kamhaeng Tankamhaeng, Advisor of the Thai International Travel Association and nearly 70 Thai outbound travel agents…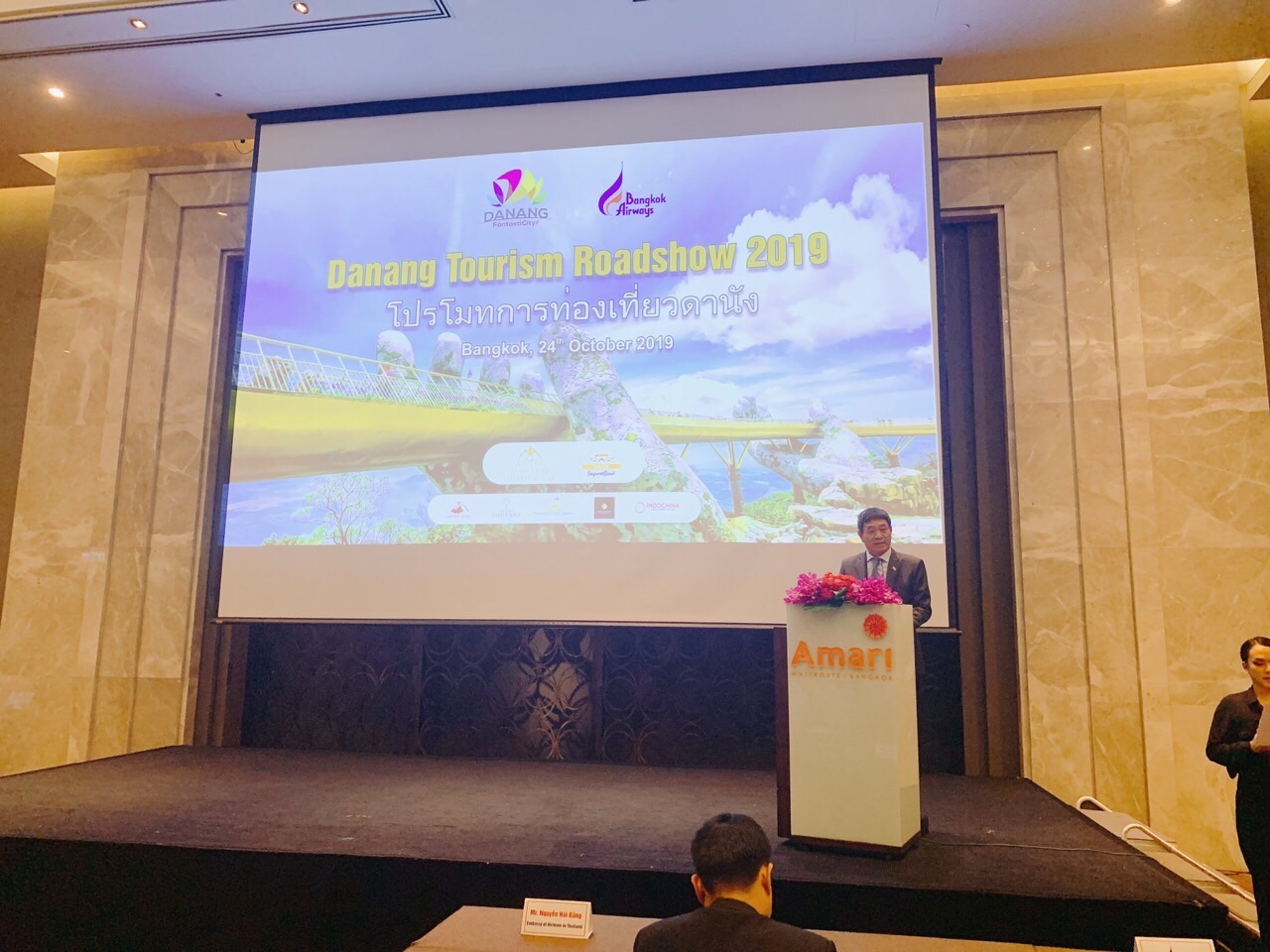 Vietnamese Ambassador to Thailand Nguyen Hai Bang spoke the welcome remarks at the Roadshow
At the welcome reamark, Mr. Nguyen Hai Bang emphasized the stable development of tourism exchange between two countries along with the strong rise of Da Nang as one of the most prominent tourism destinations of Vietnam and Asia. It has attracted increasing number of Thai tourists within the last few years. The Ambassador also expressed his delight with the opreration of direct flights from Bangkok to Da Nang by Bangkok Airways, Air Asia, Vietjet Air and soon Vietnam Airlines. He expected two destinations and two countries will enhance tourism bilateral cooperation in the future.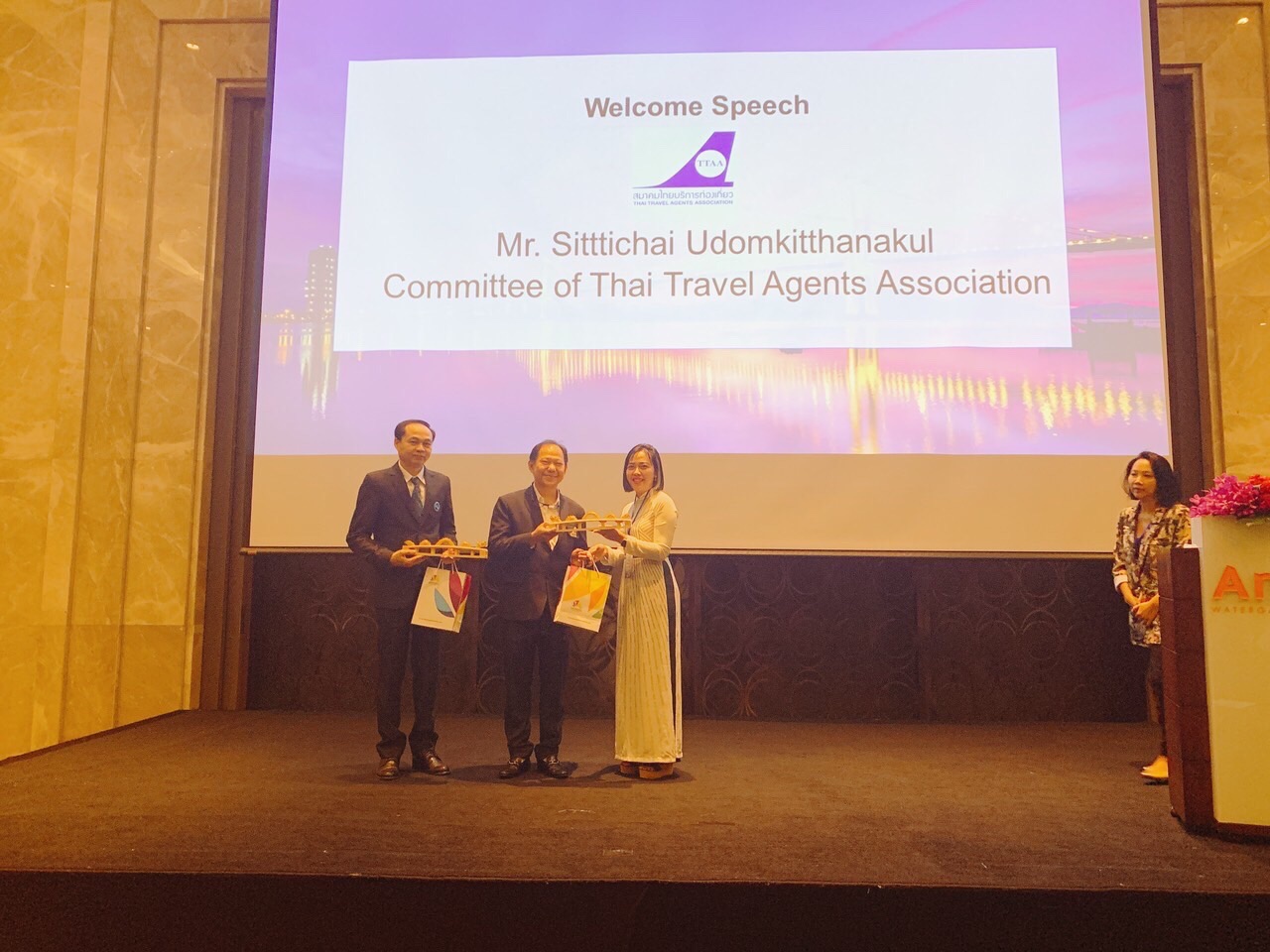 Representative of Tourism Authority of Thailand, Mr. Wirote Phaimuanghung and Commitee of Thailand Travel Agents Association, Mr. Sittichai Udomkitthanakul attended the event
Representative of Thai Travel Agents Association, Mr. Sittichai Udomkitthanakul also shared that Da Nang and Vietnam have experienced "really impressive" tourism growth in the past 3-4 years. He stated, "Da Nang leaves strong impression to tourists as a romantic Europe in Asia. Da Nang has become a popular tourist destination for Thai tourists. In 2019, there were 177,897 Thai tourists visiting this city."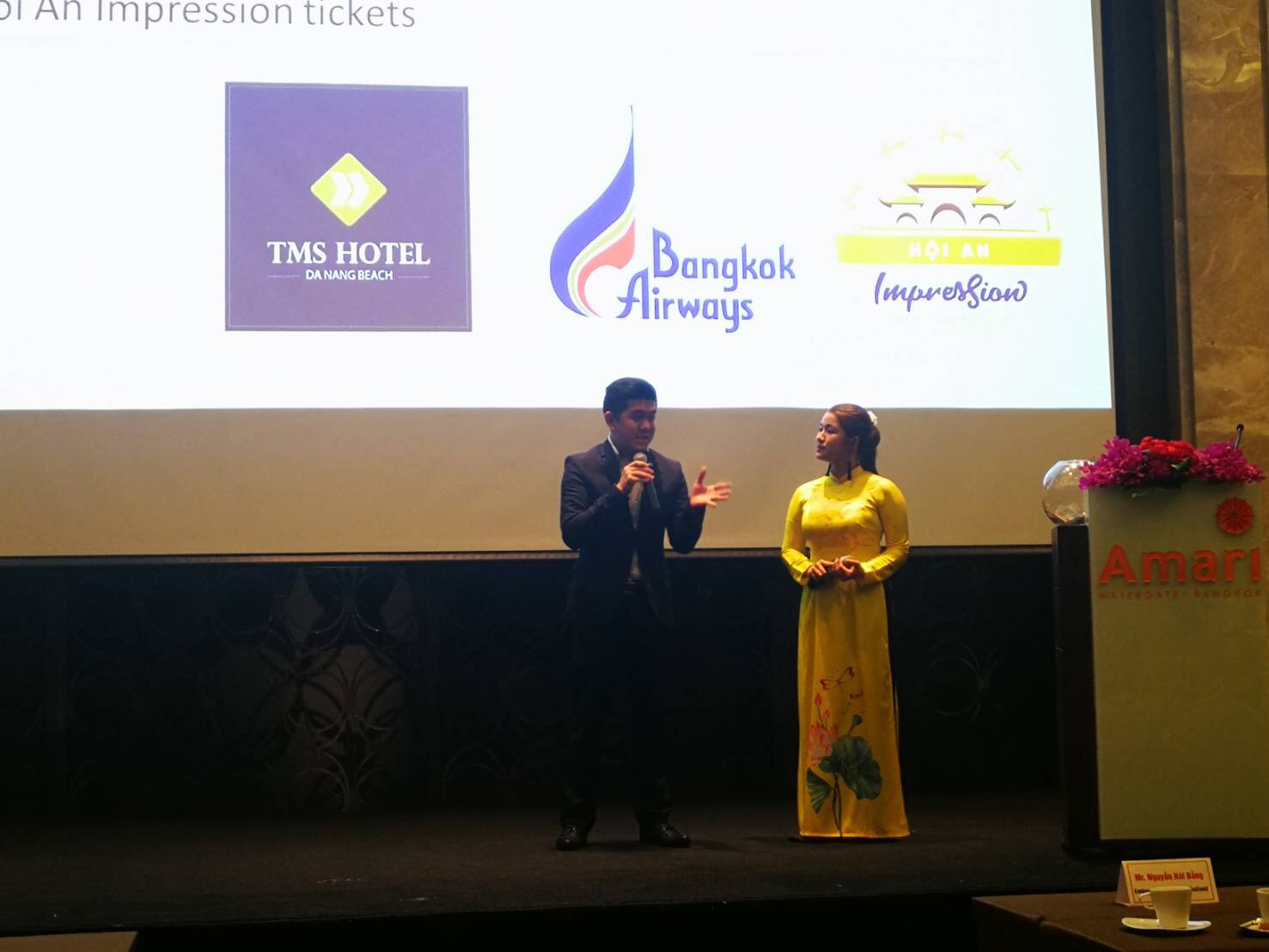 Mr. Konthi Asavaphanlert – Country Manager of Bangkok Airways in Vietnam spoke at the Roadshow
Country Manager of Vietnam from Bangkok Airways, Mr. Konthi Asavaphanlert presented that Da Nang and Central Vietnam has experienced stable growth. With two daily flights from Bangkok to Da Nang, Bangkok Airways could meet higher travel demand from two destinations.
Danang Tourism Roadshow in Thailand focuses on connecting Danang tourism businesses with outbound partners in Thailand who are looking to promote and sell package tours to Danang. In fact, the majority of Thai visitors to Danang are FTI (independent tourists); thus, the show expects to set up cooperation with Thai Tour Operators who specializes in  high-quality and business travelers.
The program has the companion of 07 hotel and tour operators that have experiences or are about to expand to Thai market, including Zion Tour Company, Transpacific Travel, Indochina Unique Tourist; Danang Golden Bay, Grand Tourane, TMS and Hoi An Impression Theme Park.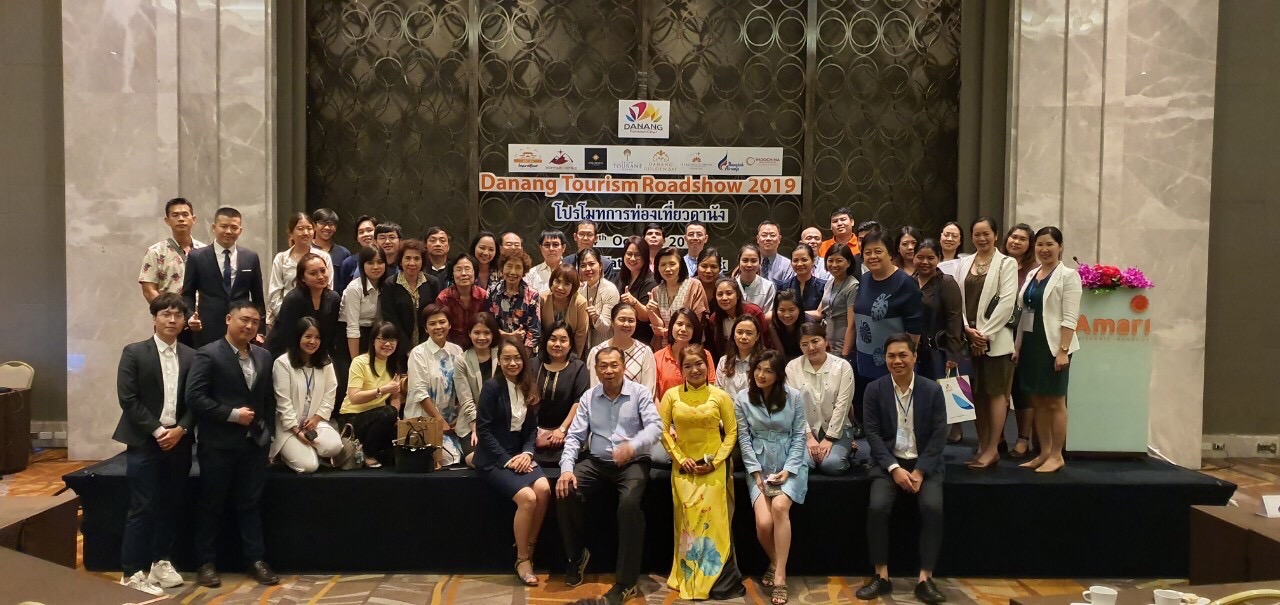 Danang enterprises highly appreciate the great potential of Thai market and expect to grow their networking with partners in Thailand.
Danang Center for Tourism Promotion – Danang Tourism Roadshow in Bangkok, Thailand 2019
Latest Posts