Thank you very much for your participation in Danang in my heart photo contest by Danang FantastiCity.
It has been 2 years since oversea travel was limited because of COVID-19. We here in Danang always remember Korean friends and wish to welcome you back soon. We are happy that you have supported our Instagram photo contest Danang in my heart and shared with us many beautiful memories of yours in Danang.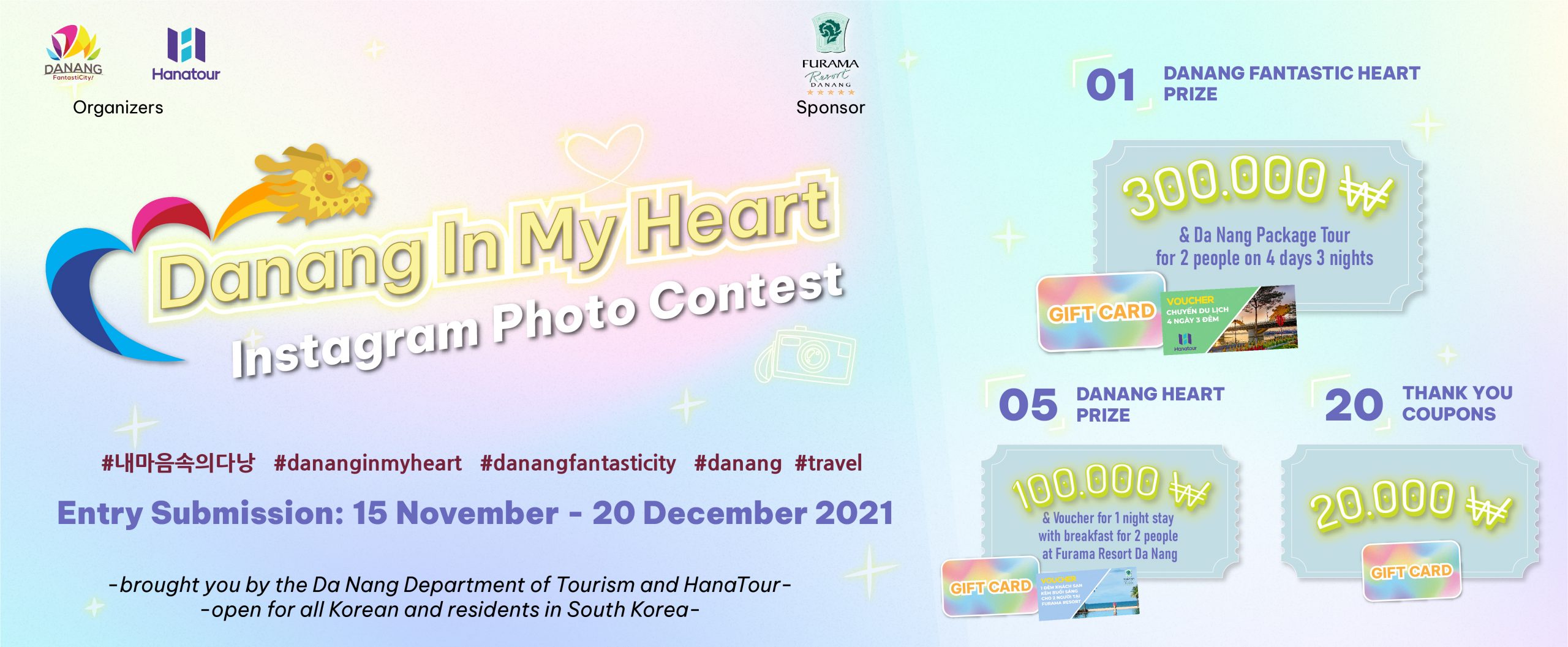 We now feel so excited to announce winners from Top 26 valid and most liked posts from the Contest.
The valid entries must be qualified by these criteria:
Valid contest entries are submitted by Koreans and residents who lives and works in Korea,
The entries are posted from official, active Instagram accounts, in the period from 15/11 to 20/12/2021;
The entries must contain relevant content and include the caption and given hashtags;
Participants must have all rights to the content of the entry;
From Top 26 most liked post, the Organization Board will select the best content for the First Prize – Danang Fantastic Heart, which is an all-inclusive trip to Danang for 2 people.
(Note: The list of winners is subject to change within 7 days after being announced if there is a complaint against the winning entry, which is confirmed to be correct by the Organization Board)
Congratulations to 20 entries winning Thank You voucher worth RW20,000
1. sooaini
2. soomnsoo
3. dongguri_p
4. parang_photo
5. ssanghhyun
6. lily_gyung
7. danang_tower
8. jjio.ning_
9. lee__ye_ryeon
10. leejusang_vallatto
11. syong.2
12. sunnypsh
13. jungeuncje
14. younjuson
15. camera_uni
16. pakudang
17. bylukenim
18. sweet_raden
19. jin_ailin
20. carpediem_0218
We would like to congratulate winners of Danang Heart prizes. The award includes KRW100,000 gift voucher and Furama Danang Resort voucher with 01-night stay and breakfast for 2 people (valid until December 2022).
1. seonae.byeon
2. jin_hyun_woo
3. jaehyeon_0610
4. hyunmins_pic
5. given.o.k.nguyen
We would like to announce the winner of the greatest prize Danang Fantastic Heart. The award includes KRW300,000 gift voucher and an all-inclusive trip in Da Nang for 02 people sponsored by Hana Tour (valid till December 2022).
1. 1004ttl
Congratulations all!
Please contact us about the prize claim at ceo@nmpkorea.com or +82.10.4035.4147
In your email, please provide us with these details:
– Your full name:
– Your phone number:
– Email:
– Address (to receive the prize):
– Your Instagram account and the link to the winning post:
– Please enclose the original photo/video of the entry.
Thank you very much!
Latest Posts