The photo contest "Danang in my heart" #내마음속의다낭 will share Da Nang moments to Instagram community in Korea to remind them about their beloved destination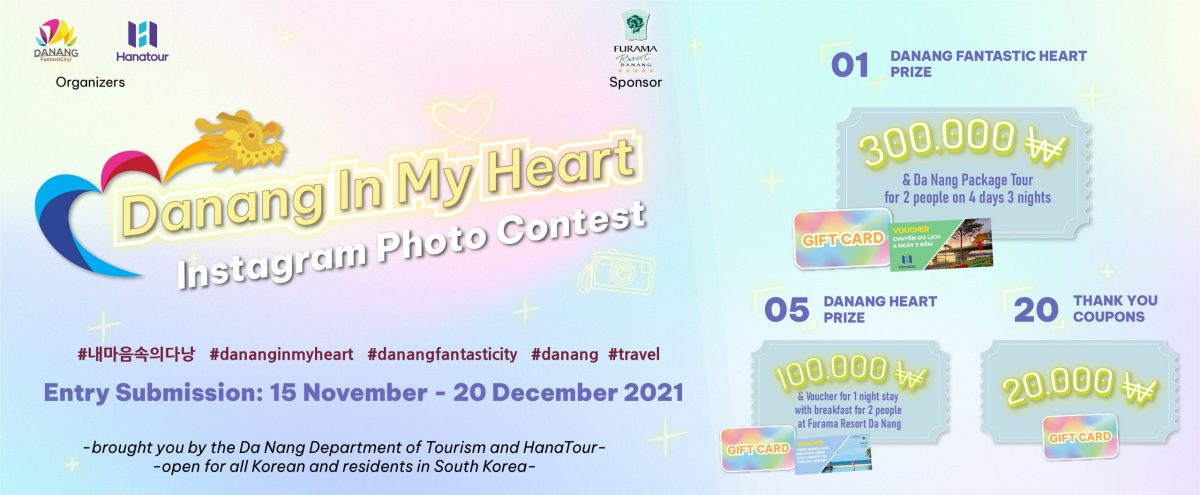 The contest, co-organized by Da Nang Department of Tourism and HanaTour from 15 November to 15 December 2021, is open for all Koreans and residents in South Korea.
The First winner will win the 4-day-3-night all-inclusive trip to Da Nang, sponsored by HanaTour. The total value of all prizes is up to 90 million Vietnam Dong.
"Korea is the leading tourist market for Da Nang. In the period from 2013 – 2019, the Korean inbound market in Da Nang has grown 30 times and accounts for 55.4% of international tourists in Da Nang. "Danang in my heart" photo contest is the social media campaign to increase the destination awareness to Korean market and boost their need of travelling", Mrs. Nguyen Thi Hoai An, Director of Da Nang Center for Tourism Promotion said.
Contest rules are simple: The participants share posts about Da Nang along with key hashtags includes #내마음의다낭 #dananginmyheart on their official Instagram account and gather "heart" (the liking expression) for their post as many as possible to win the prize.
"The Contest is introduced at the right time to activate international travel. We hope Viet Nam and Da Nang in particular will soon specify conditions for receiving inbound tourists, so that HanaTour can launch package tours to Da Nang", Mr. Ryu Bong Ki, Director of HanaTour Vietnam said.
The entry among top 26 most loved and having the best contest selected by the organizers will win Danang Fantastic Heart, including 300,000 won gift voucher and one 4-day-3-night all-inclusive trip to Da Nang by HanaTour.
Other entries in the top 26 most loved can win 05 Da Nang Heart Prizes or 20 Thank you Coupons.
Da Nang Heart includes 100,000 won gift voucher and 01 night stay with breakfast for 2 people in Furama Resort Da Nang.
For further details of the Contest, please visit: danangfantasticity.com/dananginmyheart
Chi Giao
Latest Posts