Embrace the profession of making fish sauce in Nam O – Da Nang
On July 4, Da Nang city has organized a ceremony to receive the National Intangible Cultural Heritage Certificate for the occupation of Nam O fish sauce production.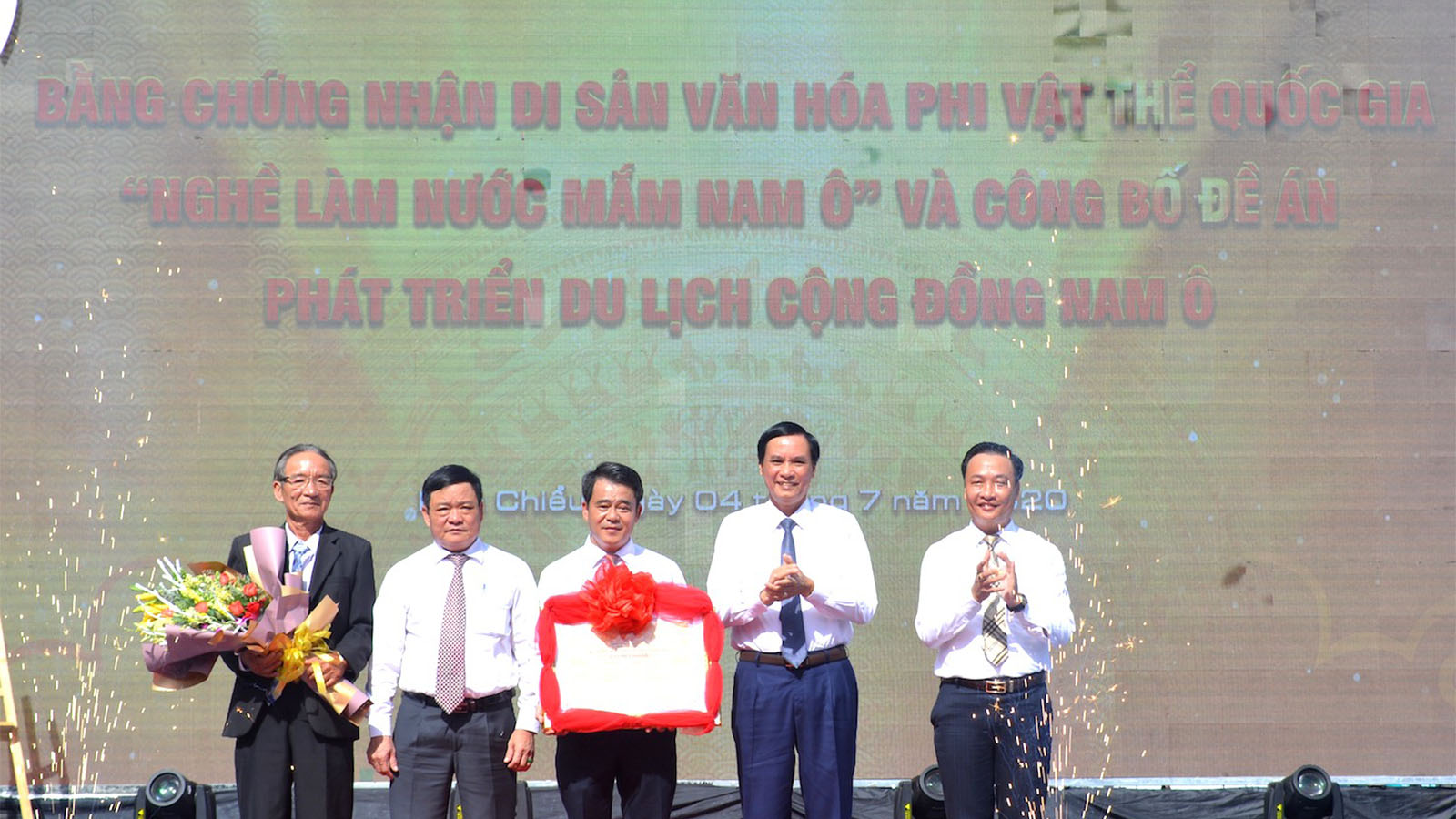 The profession of making Nam O fish sauce (Hoa Hiep Nam ward and Hoa Hiep Bac ward, Lien Chieu district) is included in the list of National Intangible Cultural Heritage in Decision No. 2974 /QD-BVHTT & DL dated August 27, 2019.
With history dated bsck to hundreds of years, with a delicious and rich taste, Nam O fish sauce used to be the "speciality" for the King. However, not only carrying a unique culinary value, this is also a signature spiritual cultural product, containing historical value, folk knowledge, expressing the identity of the local community by the sea.
Mr. Nguyen Dang Huy, Chairman of Lien Chieu District People's Committee, said that Nam O fish sauce has gone into the people's subconscious, not only pure physical value, but also a distinctive cultural and spiritual product of the village.
Nam O fish sauce tradition has been through many ups and downs, even witnessed the risk of disappearance. Hence, the certificate of "Nam O fish sauce traditional occupation" as the National Intangible Cultural Heritage is a recognition of the people's continuous efforts in preserving conventional proffession and a motivation to promote the fish sauce brand.
Nam O fish sauce trade village currently has 92 households making fish sauce, of which 54 households participate in the traditional trade village association with 10 large-scale establishments, 17 establishments registering their own brands, 3 cooperatives and 1 enterprise.
Mr. Tran Ngoc Vinh, Chairman of the Nam O Fish Sauce Association, shared over many generations, the current Nam O people still retain the secret to making traditional fish sauce and are proud when the fish sauce making career is listed as a National Intangible Cultural Heritage.
"Villagers will make great efforts in job transfer and vocational training to protect and promote the heritage, so that the heritage is always a treasure of Nam O villagers at present, an inheritance of the upcoming generations in the future," said Mr. Tran Ngoc Vinh.
On this occasion, Da Nang city announced the project "Nam O community tourism development" with a total investment of more than VND 46 billion. The project aims to promote and preserve the cultural values, practices, fishing village products, and preserve the traditional fish sauce production of Nam O region; create conditions for the local to do tourism, contributing to local socio-economic development.
According to baochinhphu.vn
Latest Posts