Da Nang tourism had a meeting with director of tourism authority of Thailand (Ho Chi Minh office)
In the afternoon of July 9, 2020, Ms. Truong Thi Hong Hanh – Director of Da Nang Department of Tourism. had a meeting with Ms. Ratiwan Boonprakhong – Director of Tourism Authority of Thailand (TAT) (Ho Chi Minh Office).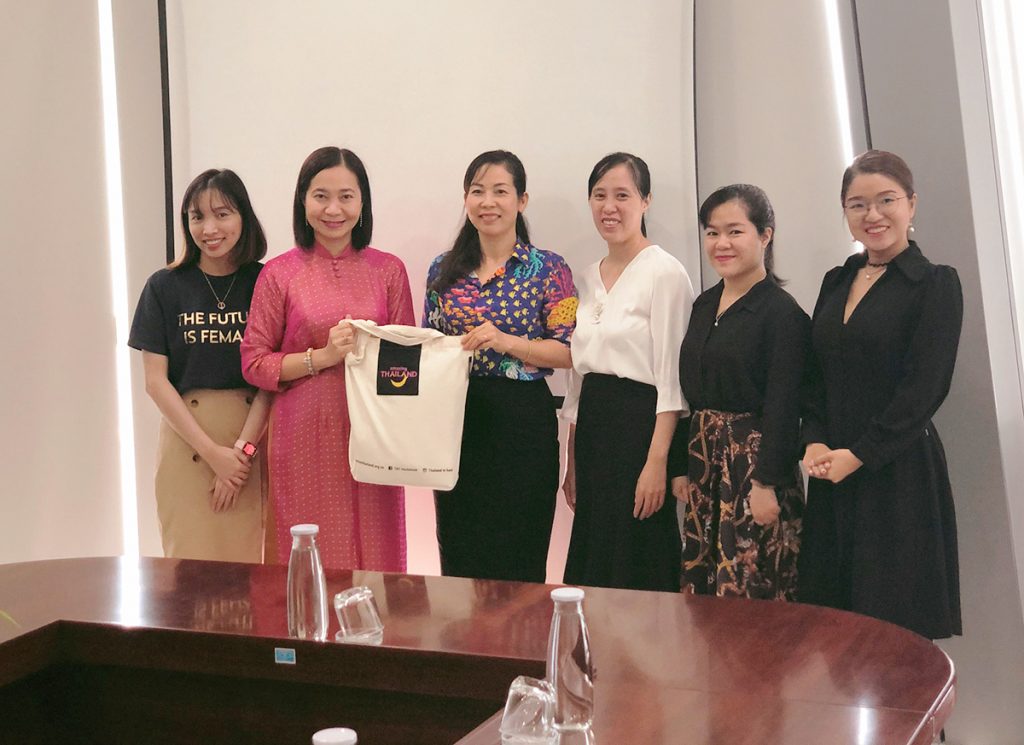 Ms. Ratiwan Boonprakhong has been working in Vietnam since February 2020. She rated Danang in particular and Vietnam in general as a favorite destination for Thai tourists in recent years. The year 2019 witnessed a record rise of visitors from Thailand (+ 45.9% compared to 2018), reaching 510.000. This is the most impressive growth among the source markets of Vietnam in 2019. In general, from 2015 to 2019, Thai visitors to Vietnam increased by 2.4 times while the average growth rate reached 24.1%/year. In particular, Da Nang is one of the most popular destinations with the highlight of the Golden Bridge – Ba Na Hills. Before the COVID-19 epidemic spread, the direct flights connecting Da Nang with Thailand increased sharply, on average, there were 10 direct flights daily from Thailand to Da Nang.
At the meeting, Ms. Ratiwan explained the COVID-19 updates and the response actions of the Thai tourism industry to the pandemic challenges. After the Thai Prime Minister issued an emergency order to prevent COVID-19, all international commercial flights to and from Thailand have ceased operations since April 4, 2020. Currently, Thailand has basically controlled the disease and has not recorded cases in the community for more than a month. However, Thailand continues to extend the period of social distancing until July 31, 2020 and only allows certain special cases (including experts, diplomats, students and Thai nationals) to enter Thailand.
Accounting for nearly 22% of the country's GDP, the global epidemic dealt a blow to tourism in Thailand. By July 9, 2020, domestic tourism in Thailand has returned. Especially, the Ministry of Health in collaboration with the Tourism Authority of Thailand has implemented a policy of financial support for people and tourism businesses, encouraging people to travel. Meanwhile, in an effort to control the epidemic, TAT has issued an SHA certification framework for tourism businesses to ensure compliance with COVID-19 epidemic prevention regulations when welcoming guests.
In response to Ms. Ratiwan, Ms. Truong Thi Hong Hanh also shared the tourism circumstances in Da Nang before, during and after the epidemic. The Director of the Department also proposed that both sides shall continue to keep in touch and update information, support each other in tourism promotion, including organizing destination introduction programs, B2B, welcoming famtrip and KOL/bloggers; Discuss solutions to promote and resume tourism between Da Nang and Thailand. Ms. Ratiwan pledged to be a hub to connect Danang travel with quality, reputable and orthodox partners from Thailand.
The two sides expect both destination tourism industry to recover soon after the return of the two-way trade route and achieve new successes in the coming future.
— Luong Vy —
Latest Posts