Besides classic locations to enjoy the fireworks such as official stands, along Han river banks, on the bridges of Danang, why don't you try a different experience this year, on the cruises on Han River?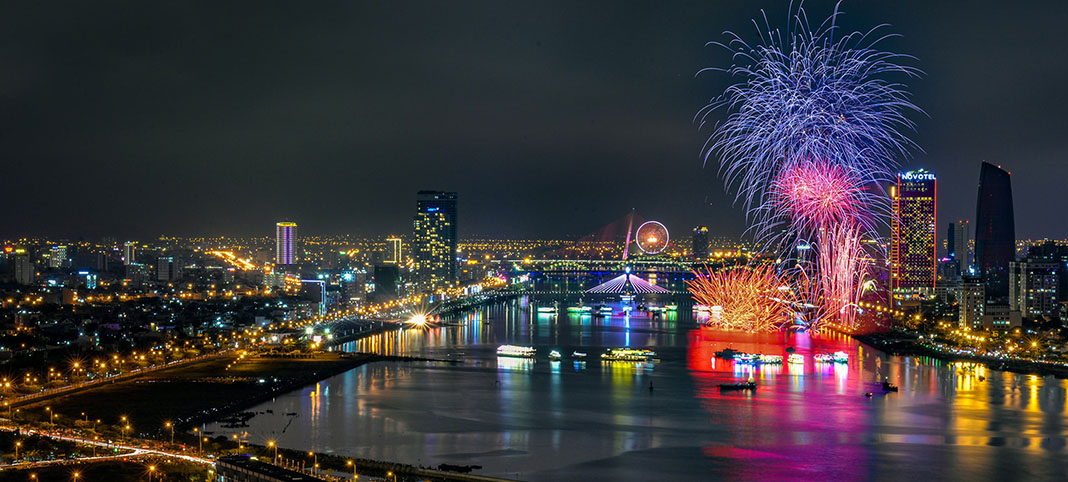 Enjoying the show from the cruises will not only bring a different angle of the performances, but also enable you to witness a romantic Han river with the attractions of Danang, the night life along the river. The cruise will show off the special architectural uniqueness of Tran Thi Ly Bridge, Nguyen Van Troi Bridge, Dragon Bridge, Han River Bridge and Thuan Phuoc Bridge…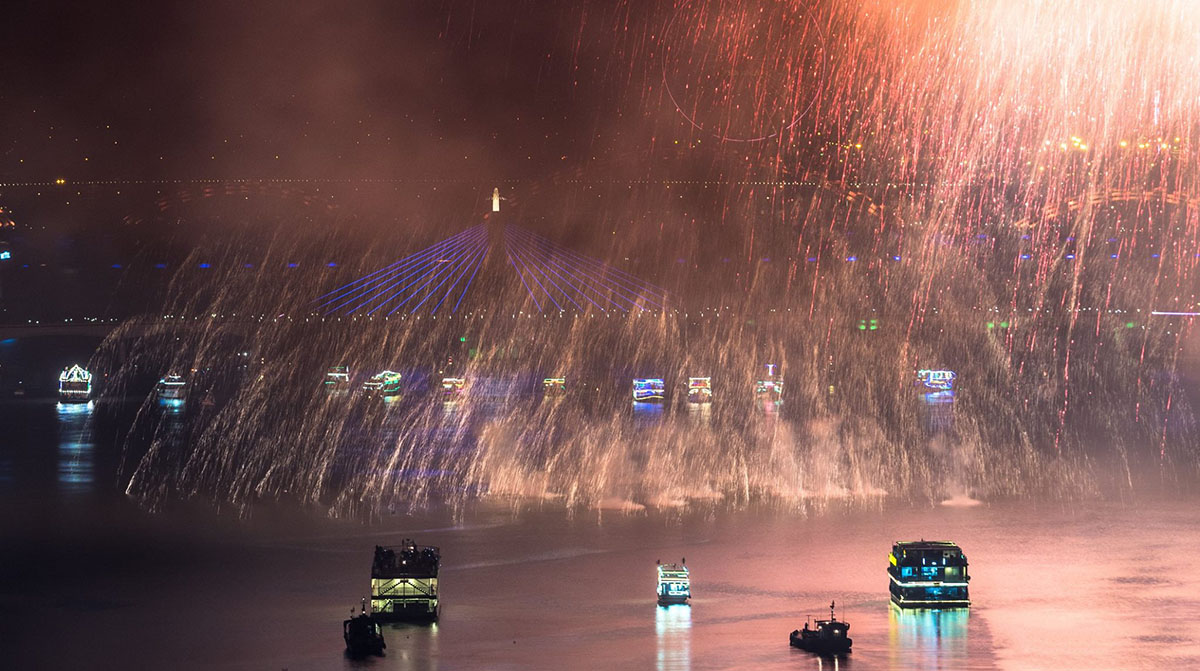 Even different from normal watching locations, the cruises will provide all services from food and beverages, to different seats and tables for tourists and locals joining the tour. This is an ideal and safe option to contemplate the fireworks on Han River.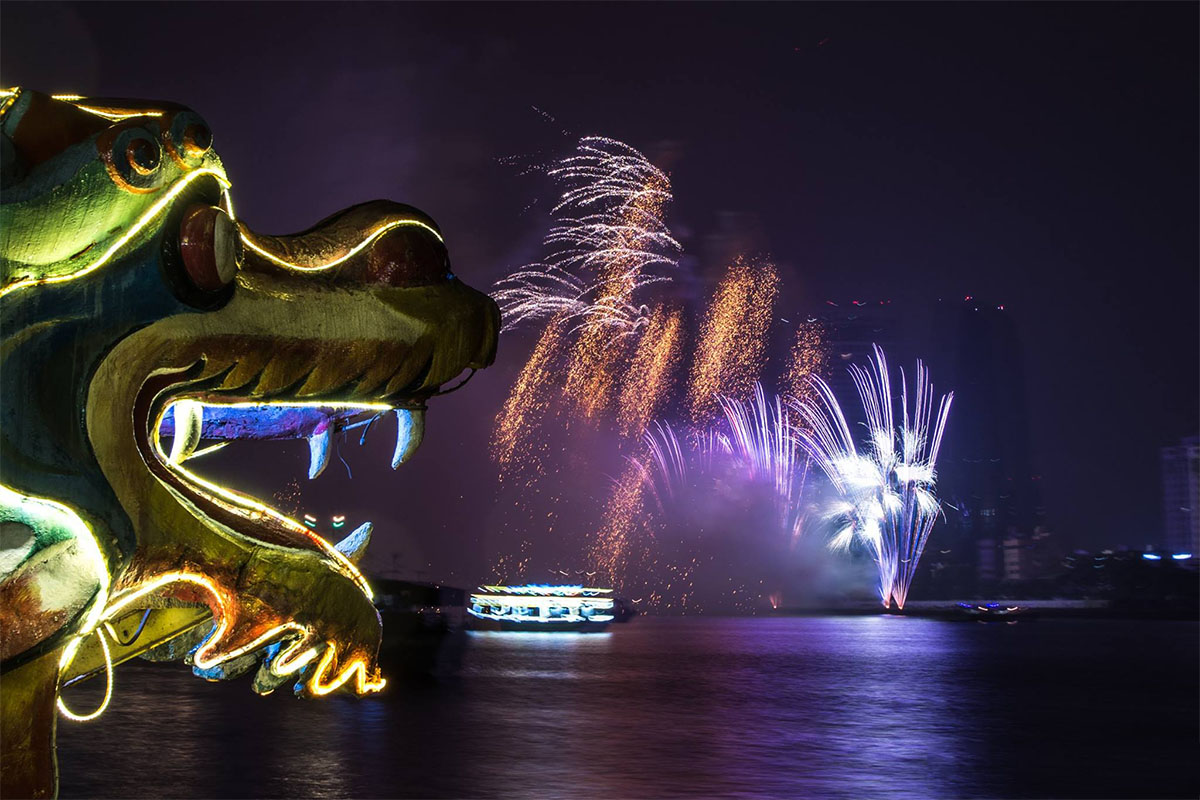 The fireworks cruise tour normally starts around 17 every night of fireworks night. The locals and tourists will gather at the cruise stop, and the staff will provide tickets and create a list of guests, at the same time complete necessary papers, ensure security and guide the guests to the cruise.
Prices for  cruises vary from 700.000 to 2.000.000 vnd/person, depending on the types of cruises and seats. You should make a reservation to secure good seats!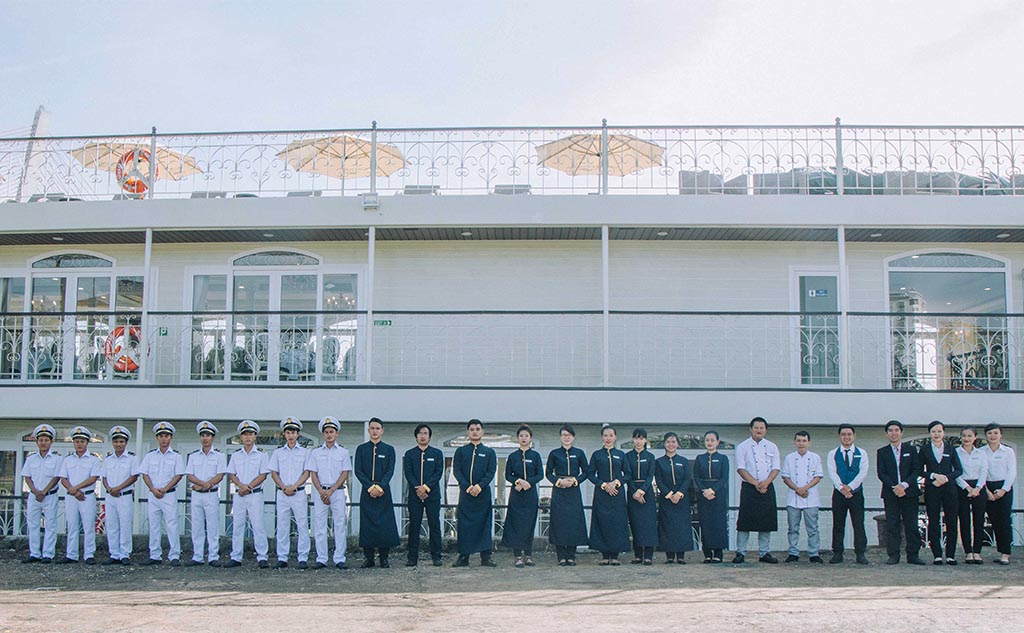 As regards security and safety, the cruise owners are equipped with trainings on security and emergencies, before receiving certificates from the authority. All guests must wear safety jackets, and the cruises have to be equipped with floating devices. The cruises also must have electricity, water and fire extinguishers according to standards.
There are 20 cruises with licenses to provide services on Han River (updates on March/2018)
No
Companies
Name of Cruise
Lincese Number
Capacity
Note
1
An Pha Son Trade & Service LTD

799 Ngo Quyen, Son Tra District, Da Nang

Phone: 0905343404.

Email: anphason@yahoo.com

Phu Quy
ĐNa-0519
45
2
Minh Tran LTD

95 Dong Du, An Hai Bac, Son Tra, Da Nang

 PHONE: 0935282449. Email: nguyenthihanhkinhdoanh@gmail.com

Minh Tran 05

ĐNa-0597

168

3
Tien Sa Cruise Services

29 Le Viet Hung, Cam Le District, Da Nang

PHONE: 0905999395.

Email: duthuyentiensa@gmail.com

Tien Sa 1

Tien Sa 3

ĐNa-0260

ĐNa-0122

24

32

4
Hoang Giang Private Company

74 Pham Cu Luong, Son Tra District, Da Nang

PHONE: 0236.3831444.

Email: danghoanhkh@yahoo.com

Han Giang 3

Han Giang 2

ĐNa-0555

ĐNa-0478

48

20

5
Cong Danh Cruise LTD

K20/4  Ngoc Han, An Hai Tay, Son Tra District, Da Nang

PHONE: 0905158615.

Email: duthuyencongdanh@gmail.com

Cong Danh 2
ĐNa-0528
48
Cong Danh 3
ĐNa-0584
36
6
Dong Vinh Thinh LTD

Floor 5, Thanh Loi Building, Da Nang

PHONE; 0985074797.

Email: dongvinhthinhdvt@gmail.com

taurongsonghan@gmail.com

Tau rong song Han
ĐNa-0360
250
8
Phuoc Luan Nguyen Private Company

40 Phan Van Dinh, Lien Chieu District, Da Nang

PHONE: 0934891548

Email: phuocluan304@gmail.com

Du lich Da Nang
ĐNa-0518
50
9
Bao Anh Cruise

To 24, An Hai Tay, Son Tra, Da Nang

PHONE: 0905212780

Email: baoanh.duthuyen@gmail.com

Bao Anh
ĐNa-0363
40
Bao Anh 02
ĐNa-0554
79
Bao Anh 03
ĐNa-0538
30
10
Vo Dinh Chinh

To 38, An Hai Bac, Son Tra, Da Nang

PHONE: 0935574231

Email: thaovo1504@gmail.com

Vo Nhat Quy
ĐNa-0347
30
11
Duy Khang Cruise

88 Le Phung Hieu, Son Tra, Da Nang

PHONE: 0905305916/ 01655431632

Email:vithao92@gmail.com

Duy Khang
ĐNa-0548
48

12

Song Han Cruise

343 Tran Hung Dao, Da Nang

email: quangduthuyensh@gmail.com

PHONE:0901998837

Song Han

Song Han

Song Han

ĐNa-0523

ĐNa-0524

ĐNa-0525

42

42

48

13
Bao Duy Cruise

Lot 12-13-14 Cruise stop at Tho Quang, Son Tra District, Da Nang

PHONE: 0905045575

Email: info@baoduy.vn dung.chauanh@gmail.com

MeryLand
ĐNa-0582
144
14
Vinh Anh Cruise

10 Truong Han Sieu, An Hai Bac, Son Tra District, Da Nang

PHONE: 0935144144

Email: info.duthuyendanang@gamail.com

Du thuyen Vinh Anh
ĐNa-0583
79
Binh Phan – Watching fireworks on Han River cruise – A DIFF 2018 experience you don't wanna miss
Latest Posts