"Project" 12,000 photos of Da Nang
Ngo Đong
With 12,000 photos taken during more than one summer month going around the city and one week for post production with a lot of sweat, passion, enthusiasm to complete the "unforgettable" project – Time-lapse (*) about Da Nang, Dinh Van Tien Thinh – a boy originally comes from Hoi An ancient town, showed his special love for the city with the Han River …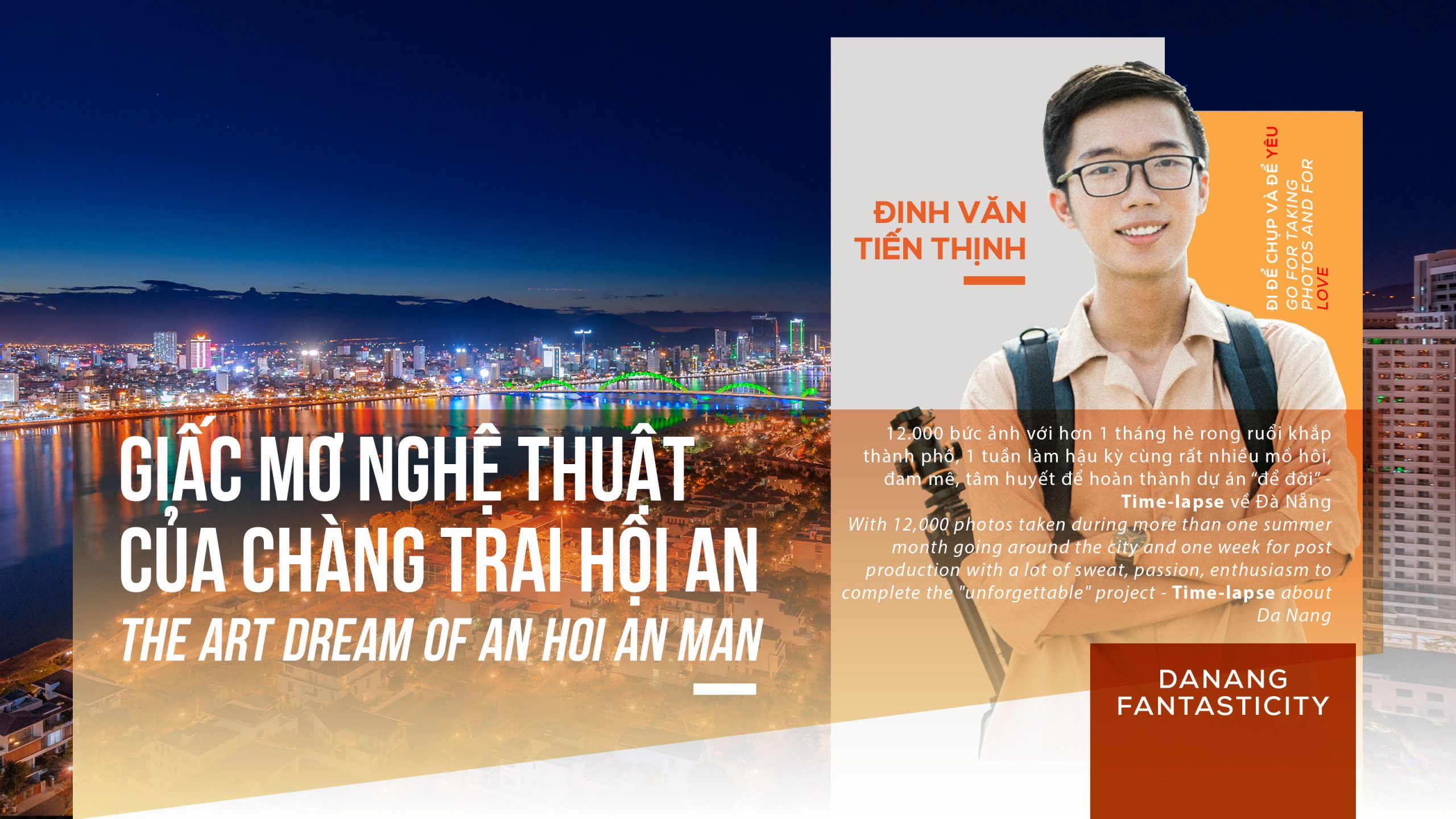 "Come with love"
There are many ways to express the love for a land, and the way that the 2000 generation boy chose was really special. Although the distance from Hoi An to Da Nang is not too far, but going hundreds of rounds between the two cities in a continuous period of time to make an art product without any orders shows the perseverance and great love that Thinh has for Da Nang.
Moreover, taking beautiful photos at a favorite destination can be normal for anyone, but taking 12,000 photos to capture the best moments and making them into an over 4 minute video needs a lot of passion and enthusiasm. "Admire you; There are no other words: Wonderful"; "Da Nang is ravishingly beautiful through your lens"; "Good work, with a clear script, the music matches the movement of the image"…are comments from online community for Thinh's Time-lapse product, including famous and experienced photographers.
While Hoi An, where Thinh was born, has an ancient beauty with mossy, serene and deep views, Da Nang is a modern and vibrant city, and everywhere of the city also has special attraction to this young man. Taking many photos of Hoi An, but his first Time-lapse is about Da Nang, with Thinh, it is both love and predestination. Thinh said: "When I went around Da Nang, I discovered that this place had many beautiful "views", from Bach Dang Street, the coffee shop at high floor of the Fivitel Hotel, from the top of Son Tra mountain, or standing on the bridges, or everywhere, just open your eyes, all the blue sky, white clouds, gentle river, the flow of people will be in your eyes, whether at sunset or dawn, it is worth shooting".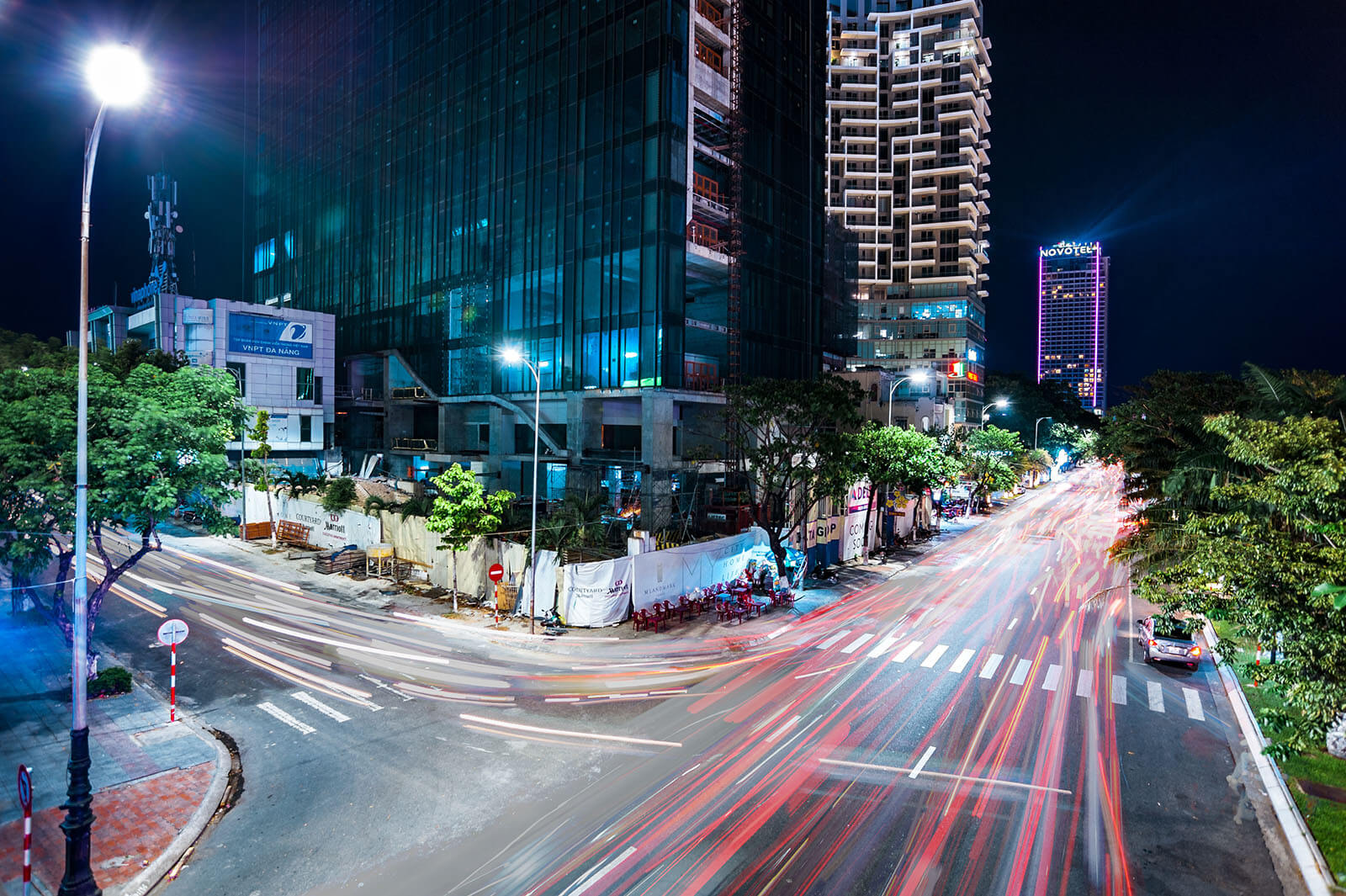 Intending to make a Time-lapse several years ago, Thinh has constantly researched and learned from the experienced photographers, acquired knowledge from the internet, social networks about Time-lapse photography, photo editing and stitching techniques. In June 2020, when watching an interesting time-lapse video about cities around the world on the channel "Michael Shainblum", Thinh decided to do something for the city he loves right after the epidemic ended, contributing to bringing a new and more modern look about Da Nang. "So I did it without thinking too much, photography was inherently my passion. During one month going around the city to take photos, I always felt excited and happy. And when I looked back, the number of photos was up to 12,000 photos with 50 different angles. Probably, the most difficulty is the expense, sometimes I thought about stopping this project, but there was a certain urge that made me determine to continue. And the reception of people for my first product is actually beyond my imagination, I feel very happy", Thinh said about the process of making the video.
Watching the video, from the deep and delicate photo angles to the gentle and emotional music, all show the maturity and deep love that he has for Da Nang. Thinh also plans to continue making other time-lapses about Da Nang, Hoi An and other destinations of Viet Nam.
Go for taking photos and for love
As a 12th grade student at Tran Quy Cap High School, Hoi An City, Thinh has "travel history" that not many other young people can do. He traveled 34 provinces and cities across Viet Nam for experience, discovery and taking photos. Born and raised in a land rich in culture, a city of tourism, Thinh has a passion for photography since childhood. When looking at the foreign visitors carrying "good" camera and taking photos everywhere, Thinh was very eager to have a good one, but at that time, his family's economic condition did not allow him to have it. Practicing taking photos with the phone, Thinh has almost not missed anything he saw, from the branches, grass, boat or every mossy roofs of Hoi An ancient town.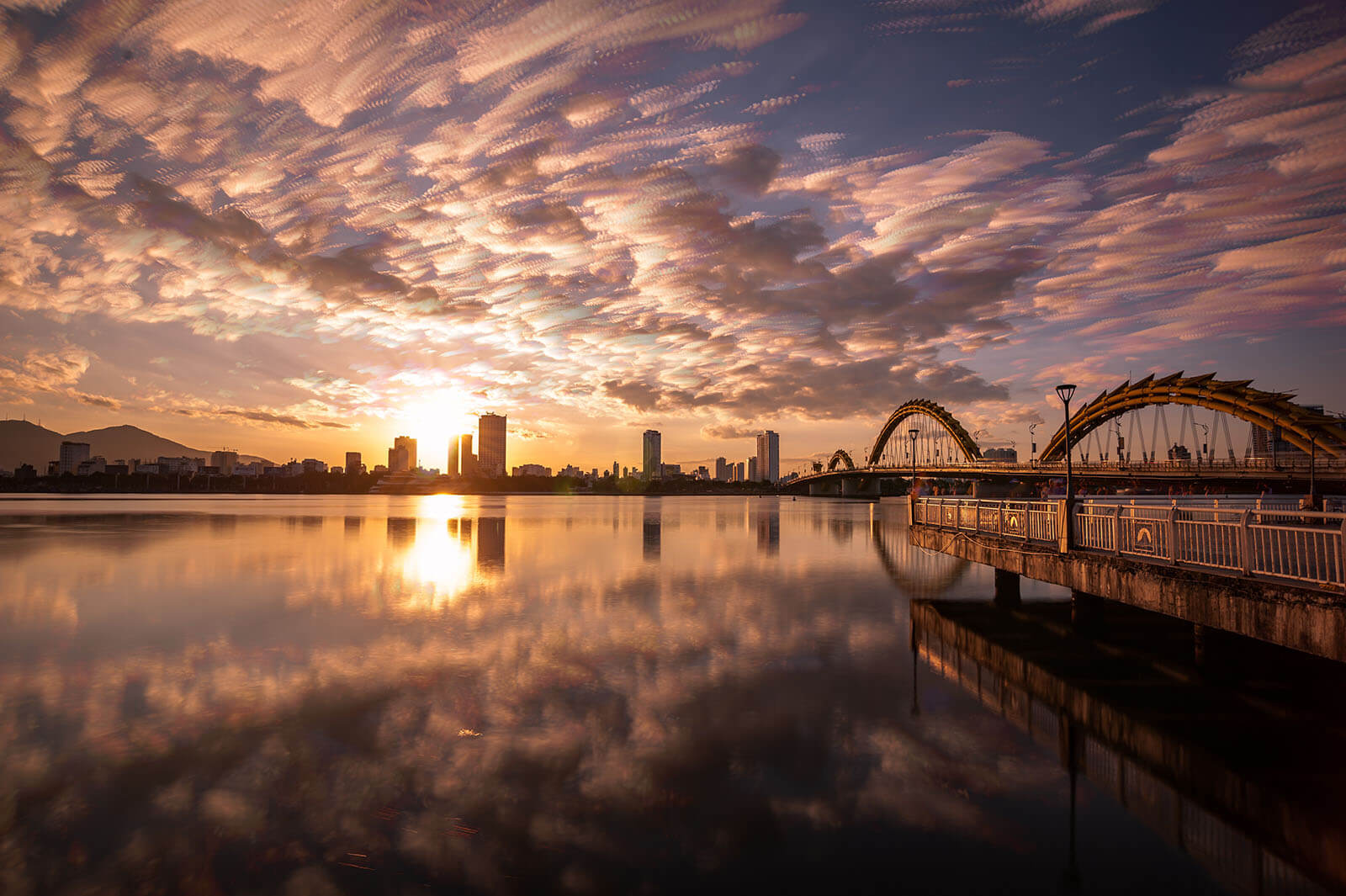 Maybe thanks to that "operation" tireless period, in 2018, when he was given the first camera by his father as well as later when using a more professional one, his artistic thinking and skills have always reached the certain "maturity" level  compared to his age. "Maybe about 50,000 photos only" was Thinh's answer when I asked about his photographic property.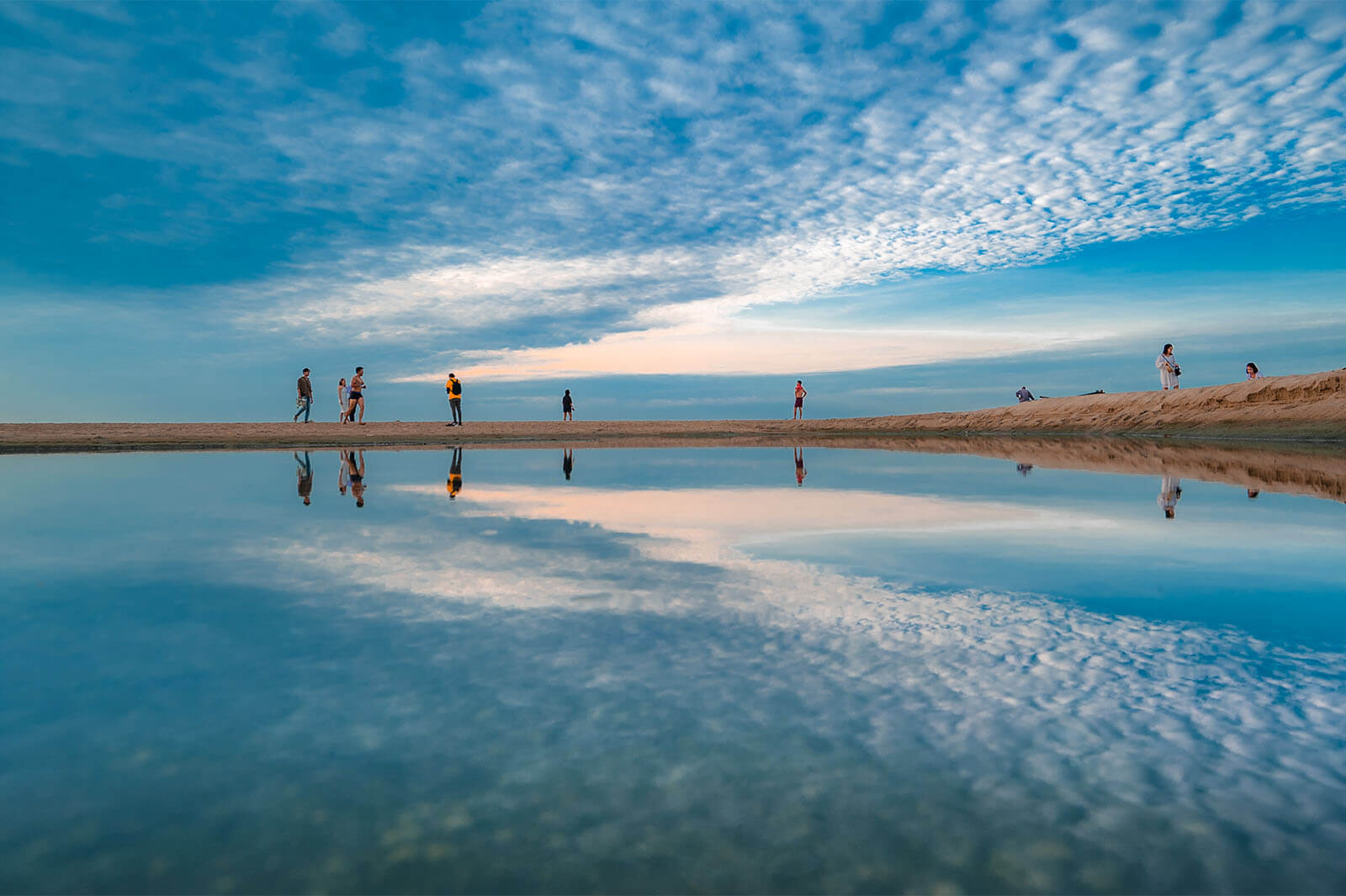 The number of trips is proportional to the number of photos, from the misty Northwest mountains to majestic Central Highland, bringing him a lot of memorable experiences and helping him strengthen the love with art. Some his photos were selected to introduce at the exhibition themed "Da Nang Art Photos – 2019". And there were two photos selected to the second round of "35award" International Photo Contest with the participation of 120,000 photos. The famous instagram sites on photography and tourism such as Nikonvietnam, sonyvietnam, hoiannow have regularly posted his beautiful photos to introduce to international friends.
* Time-lapse is the technique of stitching many photos together in succession, each photo appears in a period of time to form a complete fast-forward video. Instead of using a camcorder to record a normal video with 24 frames per second, Time-lapse is a collection of 24 frames captured by camera separately and stitching together. This is a technique of shooting "fast-forward" from several tens to thousands of times, thereby creating very special effects.
*Some photos in the set of 12,000 photos of Thinh for the Time-lapse about Da Nang.
Address: 28th Floor, Danang Administration Center, 24 Tran Phu Street, Hai Chau District, Danang City
Email: tapchidulichdanang@gmail.com
Contact: 0236.3840.019 (meet Mrs Que or Mrs Thao)
Service pack information on Magazines
Latest Posts