REQUIREMENTS FOR INTERNATIONAL TOURISTS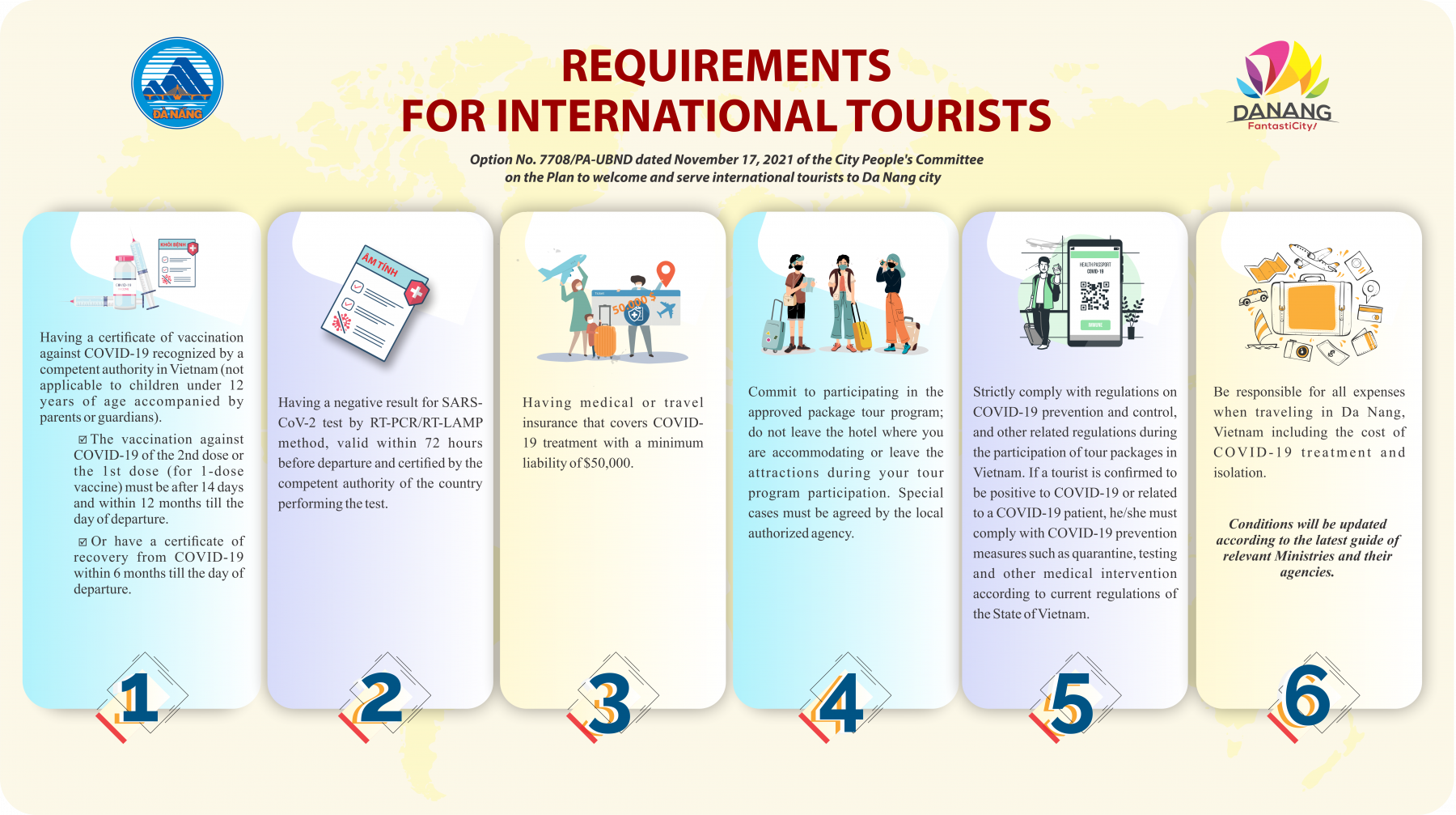 Download full Option No. 7708/PA-UBND here
The 72 countries and territories whose COVID-19 vaccine certificates and/or recovery documentation Vietnam currently accepts (according to the Consular Department): Poland, the United Arab Emirates, the Republic of Korea, Kazakhstan, Mongolia, Oman, Thailand, Romania, Japan, New Zealand, Brazil, Sri Lanka, the Czech Republic, Morocco, Saudi Arabia, Armenia, Germany, Russia, the United Kingdom of Great Britain and Northern Ireland, Ireland, Austria, San Marino, Laos, Singapore, Belgium, Spain, Denmark, the United States, Italy, Bulgaria, Slovakia, Norway, Sweden, Israel, France, Turkey, Azerbaijan, India, Switzerland, China, Pakistan, Greece, Kuwait, Colombia, the Netherlands, Australia, Finland, Chinese Taipei, Hungary, Belarus, Cambodia, Algeria, Canada, Indonesia, Nepal, Mexico, Bolivia, Croatia, Portugal, Turkmenistan, Palestine, Qatar, Libya, Egypt, Timor Leste, Ukraine, the Philippines, Malaysia, Luxembourg, Argentina, Jordan, and Brunei Darussalam.
REQUIREMENTS FOR INTERNATIONAL TRAVEL AGENCIES AND TOUR OPERATORS
Be an international travel enterprise participating in the program to welcome international guests to Viet Nam, permitted by the Ministry of Culture, Sports and Tourism.
Fully comply with financial obligations, taxes and other state budget revenues as prescribed by law.
Be responsible to the community, actively participate in activities in the prevention of COVID19.
Organize charter flights licensed by the Civil Aviation Authority of Vietnam.
Organize flights of which the entry conditions are met as prescribed in Clause 11, Article 1, Law No. 51/2019/QH14 on November 25th, 2019 and take responsibility when guests are not eligible for entry; develop treatment plans.
Develop a plan to welcome tourists, commit to ensuring the ability to welcome tourists, ensure safety for epidemic prevention and control, as well as plans to handle incidents and support guests when medical situations occur, commit to fully comply with the regulations when participating in the pilot program.
Have contracts with service providers (must be approved by the People's Committee of Da Nang), clearly delineate responsibilities for providing safe services for tourists, coordination plans to handle arising incidents.
Support tourists (with procedures, postponement or cancellation of service…) in case that the tourist is F0, F1 or unable to return home. In case the tourist does not pay the related expenses, the enterprise is responsible for payment to the relevant authorities.
INTERNATIONAL TOURISM WELCOME PROCESS
1.

Signing up for a tour program

2.

Personnel review, visa issuance

3.

Preparing before the flight

4.

Implementing the immigration process

– Tourists choose and register to participate in travel programs of international travel agencies (Travel program with the minimum of 7 days, and the maximum of 90 days).
– International travel agencies are responsible for tourists' visa application.
– Tourists monitor their health, consider canceling/postponing the trip if they have symptoms of COVID-19 infection or are identified as having close contact with a case of COVID-19 infection/suspected infection.
During the entry at the international airport, tourists need:

– Body temperature measurement

– Installing IGOVN app and PC-COVID app

– Perform the procedures for entry

– Travel businesses support and guide guests, as well as organize reception of guests after entry in accordance with regulations.

– After completing the tour program (with the minimum of 7 days), if you want to stay in Vietnam to visit relatives, you must register with the travel agency in advance.
– Tourists receive visas at Vietnam's representative offices abroad or at international border gates at the request of international travel agencies.
– Pay attention to appropriate epidemic prevention measures on means of transport before entering the country
– Self-monitor health and ensure compliance with infection prevention and control measures as prescribed.
The duration of visa is suitable for of the travel program. If guests continue to register for travel programs in local areas that are allowed to welcome international tourists, they should consider extension of temporary residence under the enterprise's guarantee.

In the cases of entry to Phu Quoc (visa-free entry according to Resolution 80/NQ-CP on May 25th, 2020), enterprises perform procedures to request a personnel check before entry.

– Prepare necessary documents according to regulations and negative RT-PCR test results which are issued no more than 72 hours before departure time
– Immediately notify the medical authority at the airport if there are abnormal signs of health

5. The process of participating in a tour program in Da Nang

  a) Day 0 – 1
b) Day 1 – 7
c) Day 7+
– Travel enterprises bring guests to accommodation facilities.
– Tourists participate in pre-registered scheduled travel activities.
Tourists registering for a tour program over 7 days:

– Get tested by RT-PCR method on the 7th day of the tour

– Be able go to other localities that are allowed to welcome international tourists under the package tour program if they have negative test result for COVID-19.

– At the accommodation, travelers can choose to be tested or to self-test for COVID-19

+ Negative results: continue to participate in the tour program;

+ Positive result: receive medical treatment as prescribed.

The cost of treatment is covered by insurance or travel enterprises.

– Self-monitoring, if you have abnormal health symptoms or have a positive result for COVID-19 during self-testing, you must immediately notify medical staff.

– Tourists self-test every 2-3 days and report the results to the accommodation facility (test kit provided by the accommodation facility)

– Travelers return to their home country according to the guidelines and procedures published by the respective country.
Latest Posts