SET MENU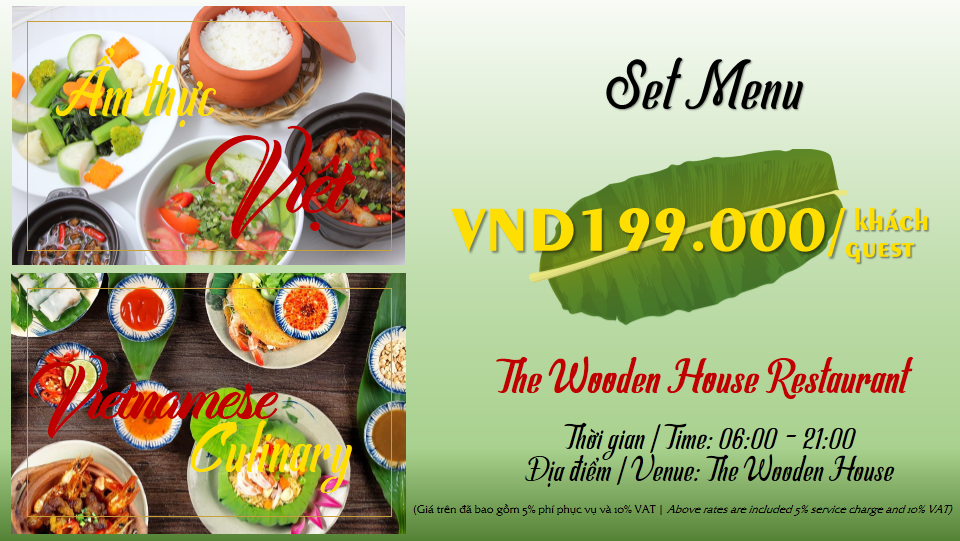 Let's Vietnamese, let's Việt Cuisine!
Food is the heart of Vietnamese culture, if you are traveling to our country, don't forget to try and enjoy one of the most popular cuisines in the world which is mixed together by a wide range of flavors and tastes.
Providing quality and authentic Vietnamese cuisine, The Wooden House at Mandila Beach Hotel should be your number 01 choice to try at very easy price VND 199,000/pax.
Let's come and try out the most interesting cuisine in the world!
SANDWICH COMBO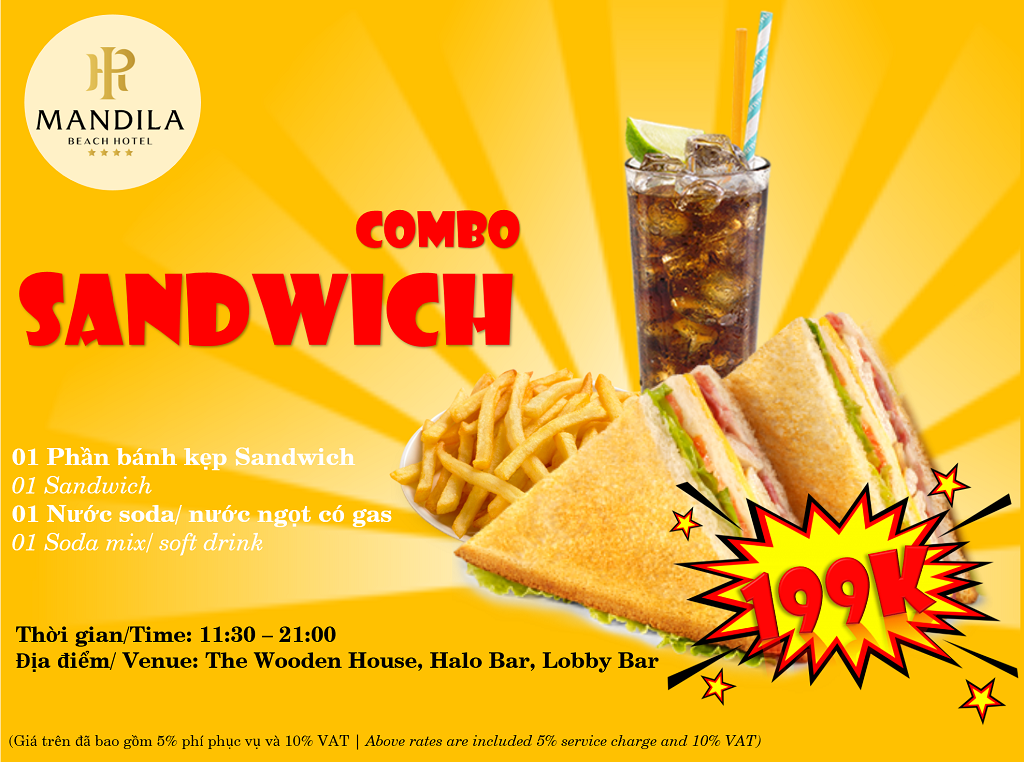 SANDWICH COMBO ONLY AT VND 199.000
Thưởng thức ngay combo siêu hấp dẫn tại Mandila Beach Hotel. Chỉ với VND 199,000 bạn đã có thể thưởng thức ngay bữa ăn xế giàu năng lượng với 01 phần bánh kẹp sandwich và 01 ly nước ngọt hoặc soda kèm theo.
—————–
Recharge yourself with a bunch of sandwich and an extremely cool freshing drink! Mandila Beach Hotel releases the big interesting combo at only VND 199.000
Let's come and enjoy!
HAMBURGER COMBO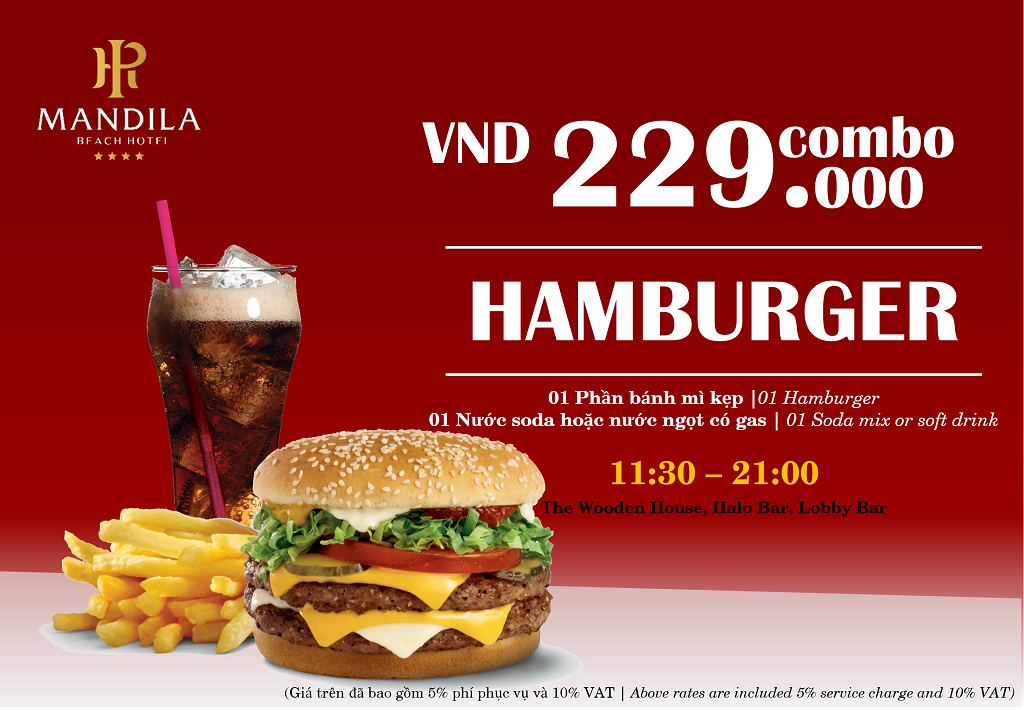 HAMBURGER COMBO + SOFT DRINK ONLY AT VND 229.000
There's nothing as tasty and energetic as a burger. Nearly everyone, young and old, love it. Don't taking any longer to come and enjoy our wonderful offer this June!
Combo 01 Hamburger + 01 soda mix or soft drink just at VND 229.000!
Contact us for reservation and further information
FRIED COMBO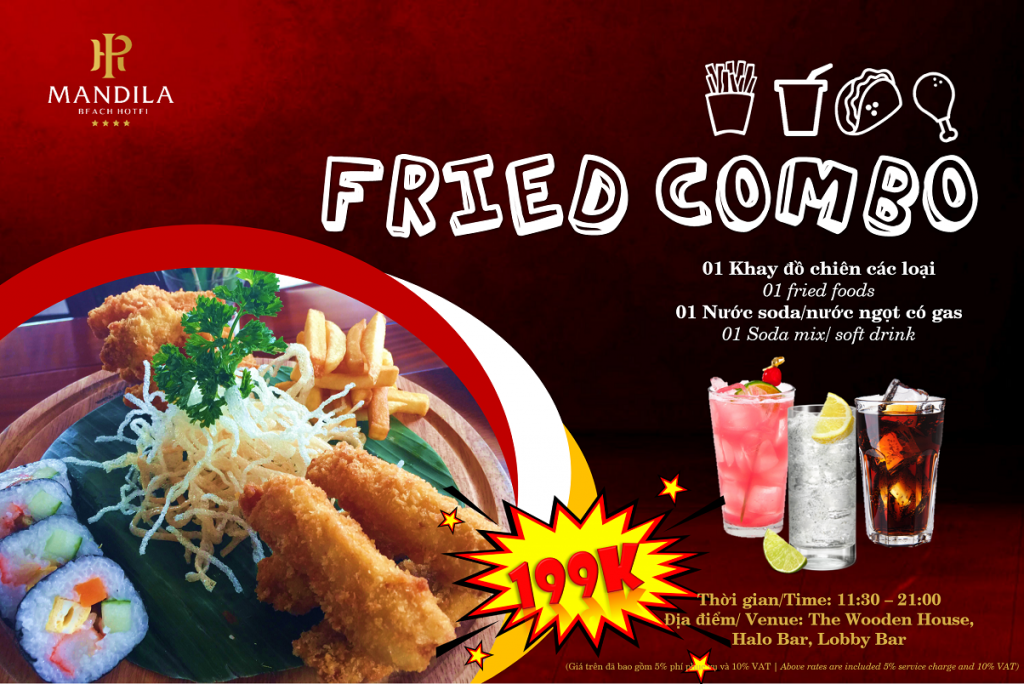 FRIED COMBO ONLY AT VND 199.000
Feast yourself with a wide range of fried food at only VND 199.000. Giving 01 free soda mix or soft drink makes your meal tastier.
Come and enjoy with us!
FAMILY DAY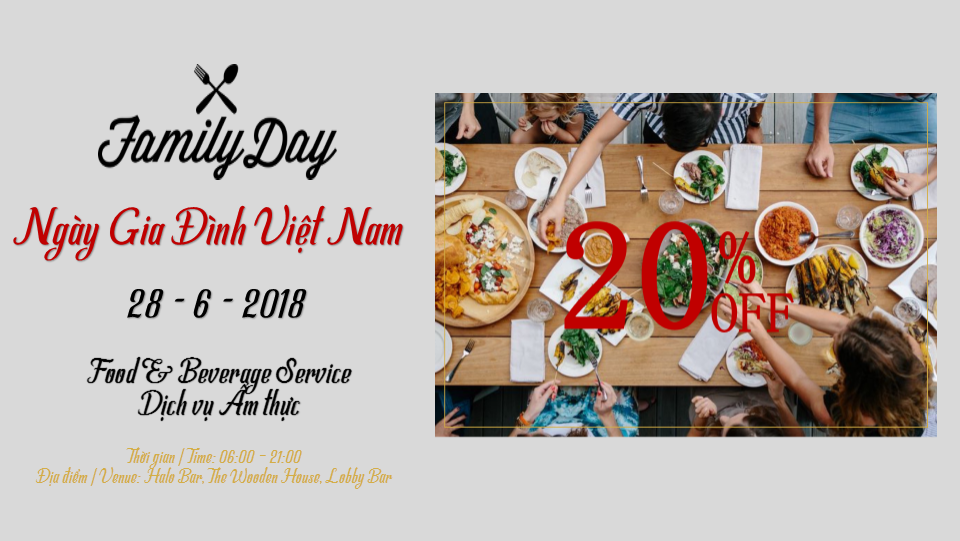 Let's celebrate a meaningful day and share the joy with your family at Mandila Beach Hotel this 26th June.
Happy Family Day – get 20% discount for Food & Beverage services!
Don't wait any longer for this most out special offer!
HAPPY FATHER DAY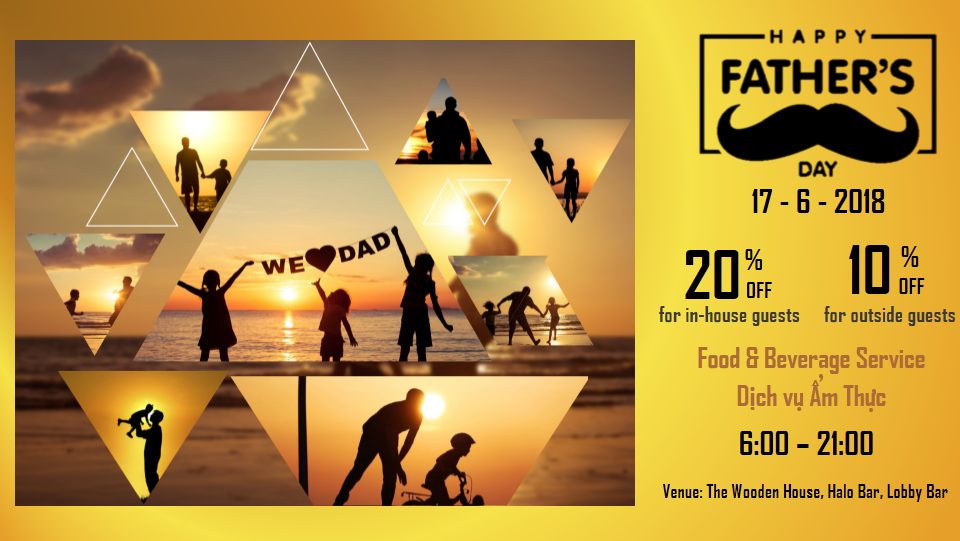 Wish your Dad a Happy Father's Day in your unique style with a cozy party at Mandila Beach Hotel. Give him special treat this day and remind him how special he was and will always be.
Happy Father's Day 19th June – get 20% off for in-house guest or 10% off for outside guest for Food & Beverage services!
Come and enjoy now!
Mandila Beach Hotel – Các gói khuyến mãi HẤP DẪN tháng 06
Latest Posts