Wood themed night will be the sharp note of DIFF 2017
Promising an eye-popping and bursting night, 'Wood' night – the finale of DIFF will be held on 24/6/2017, at Ngu Hanh floating stage on Han river bank. The best three competing teams from the UK, Australia and Italy, together with many well-known artists of great influence country-and-nationwide, are at their final preparation before the fabulous final showdown. 
The Wood program will be presented in an elegant fashion, the consistency of which will be found in both the finale music performances and the firework shows. The chosen finalists: the UK, Australia and Italy will be projecting their most original ideas into a light feast using high technology.
Intending to get inspiration from the Marble Mountains for their fireworks show which was 'designed exclusively for Vietnamese people and their love to all music genres', UK team leader Mark Kensall revealed: 'We'll put you on a sensational journey, such one that's like going on a roller coaster. Team UK will bring together various music genres, from pop to balled, rock to classical and praising songs of epic legends… into a sparkling night of color and passion in Da Nang'.
Focusing on Moc Son (Mount Wood) – one in five of the Marble Mountains and this year theme for DIFF 2017 finale, team Australia said they would 'present the audience with a much captivating party under the shades of the Marble Mountains and a lively outdoor music fireworks'. Team leader of Howard and Sons Pyrotechnics revealed: 'The music part of team Australia's fireworks show gathers many exhilarating and inspirational works of best artists in the world. Glittering colors will dance around in the night sky of Da Nang and we'd like you to clap along, tap your feet, sing along or stand up, dance and enjoy the most vibrating and throbbing music fireworks you have ever seen'.
Representing Italy, the Martarello team with 96-year experience will finalize 'Wood' night with a cinematic firework show, playing the opening soundtrack of 'Eragon' – a famous movie buster ten years back. "The start of the show will be legendary and awe-inspiring, expressing gratitude towards mother Nature and wild lives. The middle part with tranquil music will enter the audience into a charming ambience through romantic lyrics from songs such as 'Il Canto della Terra' (Sarah Brightman ft. Andrea Bocelli), Running (Sarah Brightman). The fireworks show will finish with the classic 'Nessun Dorma' (Luciano Pavarotti) – a music combination depicting not only the festival's internationality but also Italy's originality.", said team leader Ermes Martarello.
The finale Wood night will also be dotted with exclusive music performances. Each selected song depicts blooming nature: sprouting grasses, trees, flowers and leaves so full of life. The life energy lies in the rice plant bent down for bearing in the song 'Hat ve cay lua hom nay' (Singing of today's rice plant) by Dang Duong 'Meritorious Artist' performed by Danang performing crew. It also lies in the song 'Hat gao lang ta' (Our village, our rice) sung by Le Minh Son in a refreshing mix of different music genres. It one more time lies in the image of those heart-warming red azaleas in the song 'Tuyet trang va do quyen do' (White snow and red azaleas) performed by Ngu Cung rock band. Most exclusively, the theme 'Wood' will be best presented in the song 'Hat cho hanh tinh xanh' (Singing for green planet Earth) written by Huy Tuan and performed by My Linh diva with Danang performing crew.
'Wood' night also marks the reboot of 'May Trang' (White clouds) – a once famed and celebrated in their times. The band will be performing vibrating and youthful songs such as 'Tham mong anh quay ve ben em' (Wish you were by my side), 'Da Nang phao hoa khuc tinh ca' (Da Nang, fireworks and love songs), … Most noticeably, the famous Korean violist J. Mi Ko will entertain the audience with a masterpiece called 'Summer Breeze'.
Who would win the DIFF 2017 championship and a $10,000-worth prize? It is indeed hard to guess, as all three competitors for the finale are 'second-to-none' in world fireworks projecting.
Sensational, vibrant, exciting and full of surprises, the Wood night finale will be a sharp note closing Danang International Fireworks Festival 2017, which has so far created unforgettable impressions. The success of 'Wood' night and 5 other DIFF 2017 night shows in general will be the stepping stone for more vibrant and festive future fireworks seasons.
Express Your Reaction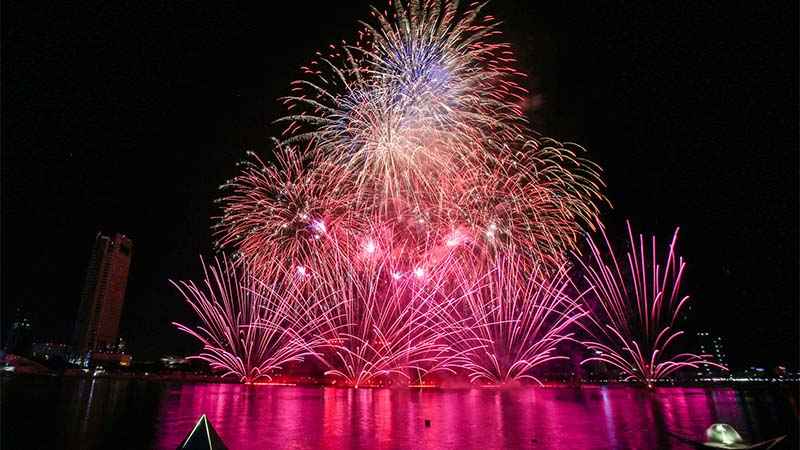 You have reacted on

"Wood themed night will be the sharp note of DIF..."
A few seconds ago
Latest Posts