According to the Organisers of the Da Nang International Fireworks Festival (DIFF) 2023, Tickets for DIFF 2023 for this year's event have already been issued for 5 performance nights, and they officially went on sale at 2:00pm on May 8.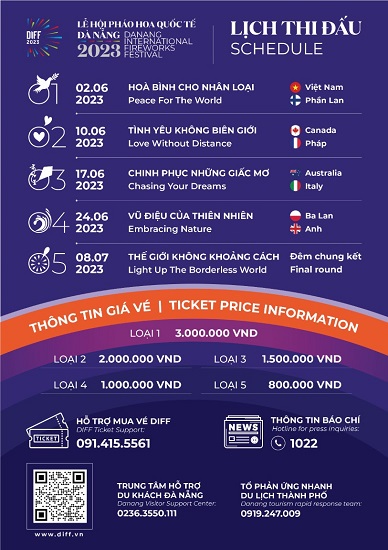 Tickets for DIFF 2023 ranging between VND 800,000 and VND 3,000,000 per ticket per person depending on viewing stands.
Please visit https://diff.vn/ to purchase tickets or call for more information at 0914.155561. You can save up to 5% off your tickets when purchased online at https://diff.vn/.
The prices of this year's tickets see a significant increase compared with previous years.
They are ranging between VND 800,000 and VND 3,000,000 per ticket per person depending on viewing stands.
In detail, tickets in the different viewing stands are as follows: B ranging between VND 800,000 and 1,000,000 VND, while A ranging between VND 1,500,000 and VND 3,000,000.
Every one-time-use ticket includes value-added tax (VAT), and it applies to an adult or a child over 1m tall.
Children under 1 metre tall enter for free, applicable for those accompanied by their parents.
Tickets for DIFF 2023 are forecast to sell out soon as the number of tickets sold for this year's event is less than previous years' figures. The viewing stands for each performance night are able to accomodate over 5,000 people.
According to DIFF 2023's organisers, this year's DIFF tickets have gained great attention from tourists and travel agencies.
Thousands of tickets were sold on the first day of the sale, hereby contributing to giving a happy signal to the city's tourism sector, as well as demonstrating the attractiveness of DIFF that has made city branding successful.
DIFF 2023 is scheduled to take place in the city from June 2 to July 8. The Han River port site will be the main location of the fireworks displays with a main stage and viewers' stands along sidewalk of Tran Hung Dao Street opposite the port.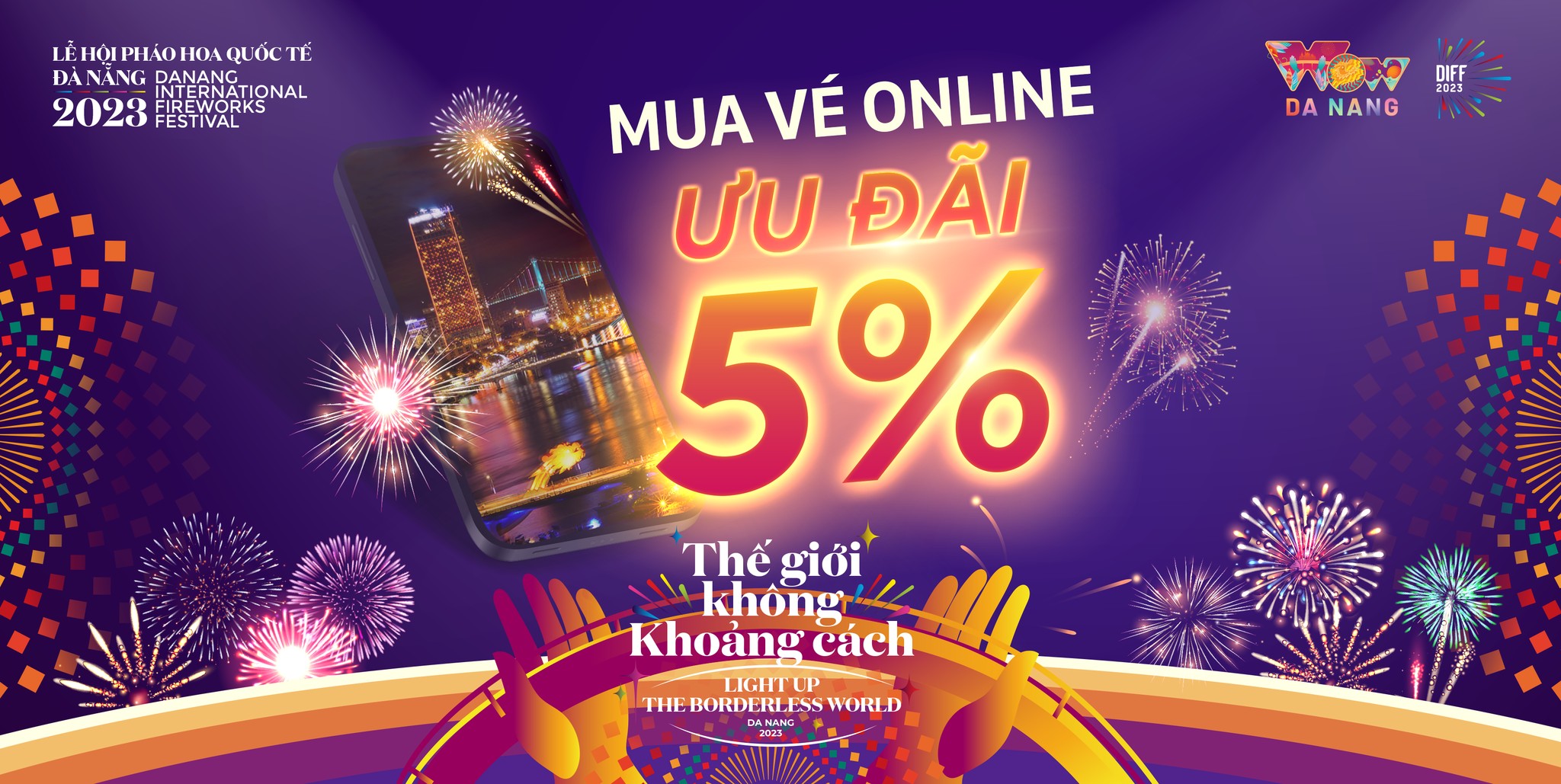 This year's event will see the participation of 8 teams, namely the UK, Italy, Poland, France, Australia, Canada, Finland and Da Nang-Viet Nam.
There will be 5 performance nights, themed "Peace for the World", "Love Without Distance", "Chasing Your Dreams", "Embracing Nature" and "Light Up the Borderless World".
The opening ceremony on June 2 will see the competition between Viet Nam and Findland, followed by Canada and Finland on June 10, Australia and Italy on June 17, Poland and the UK on June 24.
The best two teams will compete in the grand finale night on July 8.
Each fireworks performance is required to last between 20 and 22 minute (no less than 20 and no more than 22 minutes) based on the topic of each night.
The contest will include 3 rounds (short-list, semi-final, final) to select the best 4 teams to participate in the Flashmob Finale at DIFF 2023. The winner will perform on DIFF 2023 Finale night.
The opening and final performance nights of DIFF 2023 will be broadcast live at 8:30pm on Vietnam Television (VTV) 1 channel.
The fireworks will be set off at the former Han River Port near the Novotel on Bach Dang, whilst the viewing stands, offering a total of over 5,000 ticketed seats, will be set up along the eastern bank of the Han River.
The first prize winner at DIFF 2013 will be awarded with the DIFF 2023 trophy and USD 10,000 in cash, whilst the runner-up will be given USD 5,000.
All organising costs for DIFF 2023 are fully sponsored by Sun Group, not used from the city budget according to general regulations.
As part of the biggest events of the "WOW Da Nang" program and the campaign to beautify the lands of "WOW Vietnam" which has been launched nationwide by Sun Group, DIFF 2013 has "A World Without Distances" as theme with the aim of honoring the strong rebound of global tourism from the COVID-19 pandemic.
According to danang.gov.vn
Express Your Reaction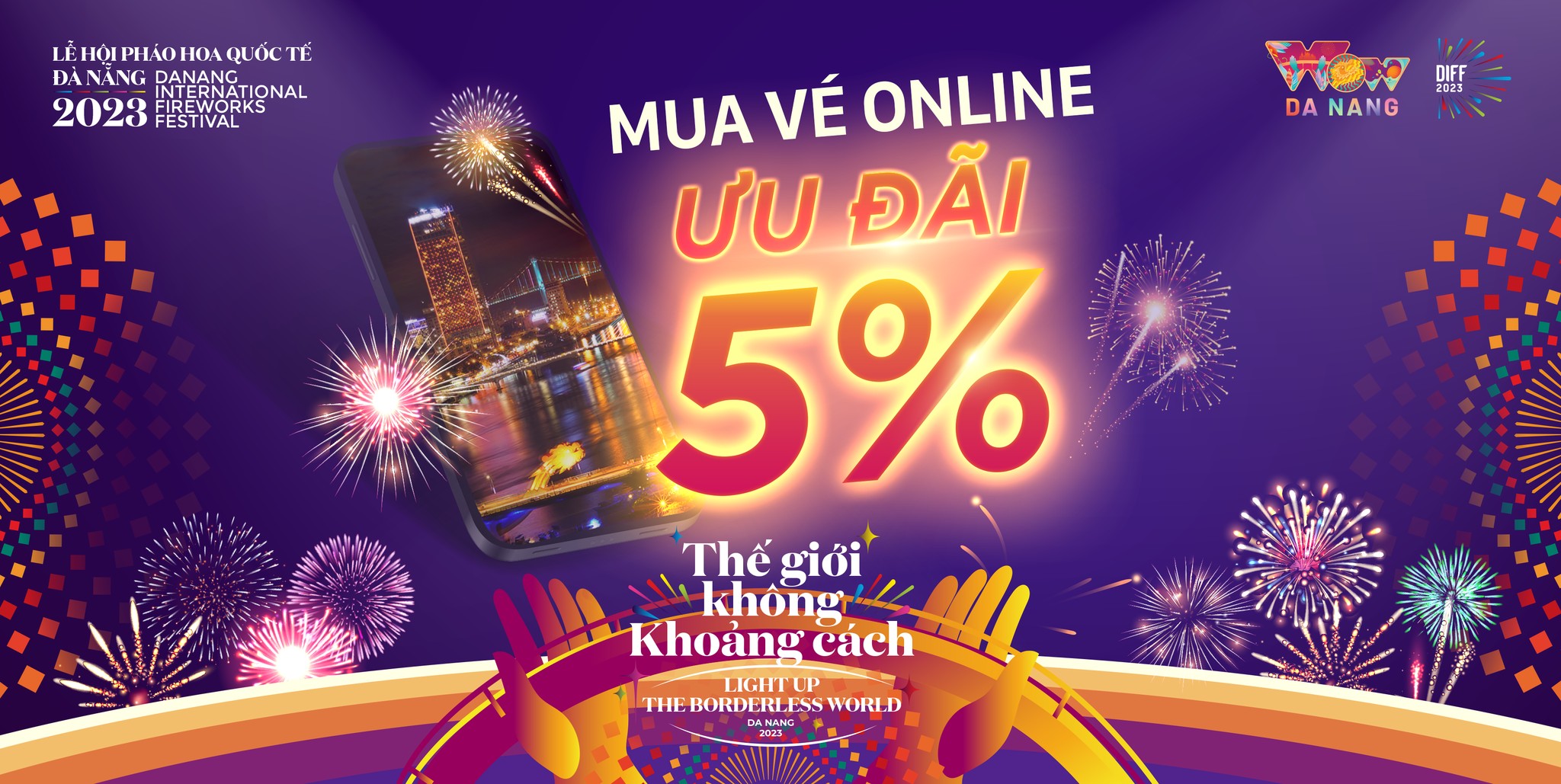 You have reacted on

"Tickets for DIFF 2023 range between VND 800,000..."
A few seconds ago
Latest Posts