Press Release Danang Tourism Photo Contest 2015
Following the success of the previous photo contest, "My Danang" is the 3rd tourism photo contest to organize. In 2011, there were 529 photos submitted and in 2013, the total photo received were 954 from 93 photographers in 11 cities and provinces throughout the country
The contest is published together with the website danangtrongtoi.com – Photo forum of Danang. Photographers and people who concern could access to this website danangtrongtoi.com to get the latest information
Therefore, contestants could submit the photos at the address 32A Phan Dinh Phung Street (Danang Center for Tourism Promotion Office), through email danangtrongtoi2015@gmail.com or follow the tab GUI ANH DU THI on website danangtrongtoi.com
The difference between the photo contest this year and the previous ones is the continuous interaction with contestants by voting activity weekly and monthly on website danangtrongtoi.com and fanpage Visit Danang.
After 2 weeks since announcement, the photos will be published on Facebook and Website to start to vote weekly to look for the top 5 voting photos. After every 4 weeks, the photo with the highest voting will win the month award.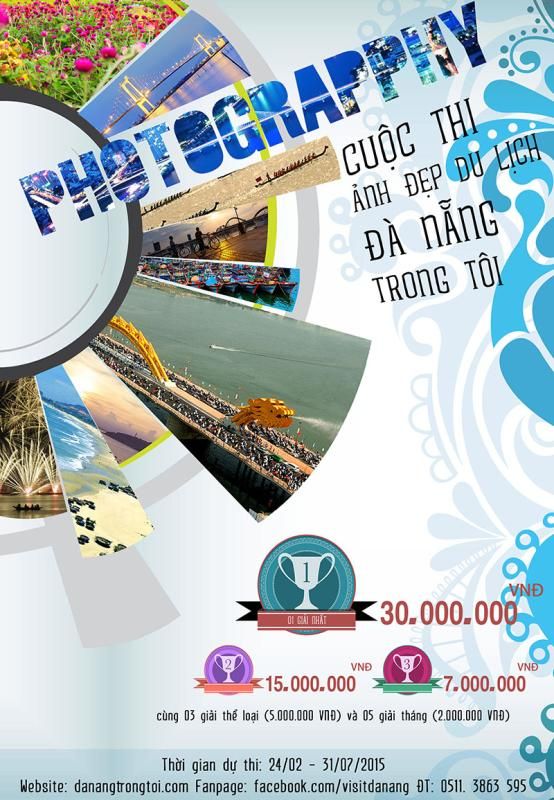 Website danangtrongtoi.com contents a lot of quality photos of Danang City, in which we content the previous photo contest winners with detail information. We expect to develop the website to be a place to introduce and exchange the high quality photos of Danang City
"Recently, the demand of using photos in tourism promoting activities has been increasing, especially the ones with impressive creativity. Those photos will create the visual impression and achieve a high communication result. The Tourism Photo Contest this year is not only held in a larger scale but also in an easier process, we hope to receive more photos from contestants and to make the Photo Contest this year become a meaningful occasion", said Mr. Tran Chi Cuong, Vice Director of Danang Department of Culture, Sports and Tourism.
Prize Winnters will receive 01 first prize 30,000,000 VND, 01 second prize 15,000,000 VND, 02 third prizes 7,000,000 VND, 03 category prizes 5,000,000 VND and 05 month prizes 2,000,000 VND
Awarding Ceremony and Photo Exhibition will take place at East Sea Park in September 2015