Things you should know before your trip to Ba Na Hills
Sun World Ba Na Hills is definitely a must-see attraction im Da Nang. You must feel missing something if you skip Ba Na Hills in your trip in Da Nang. That's why Da Nang FantastiCity will share all need-to-know tips for a fulfilling trip of newcomers to Ba Na Hills.
I. PREPARATION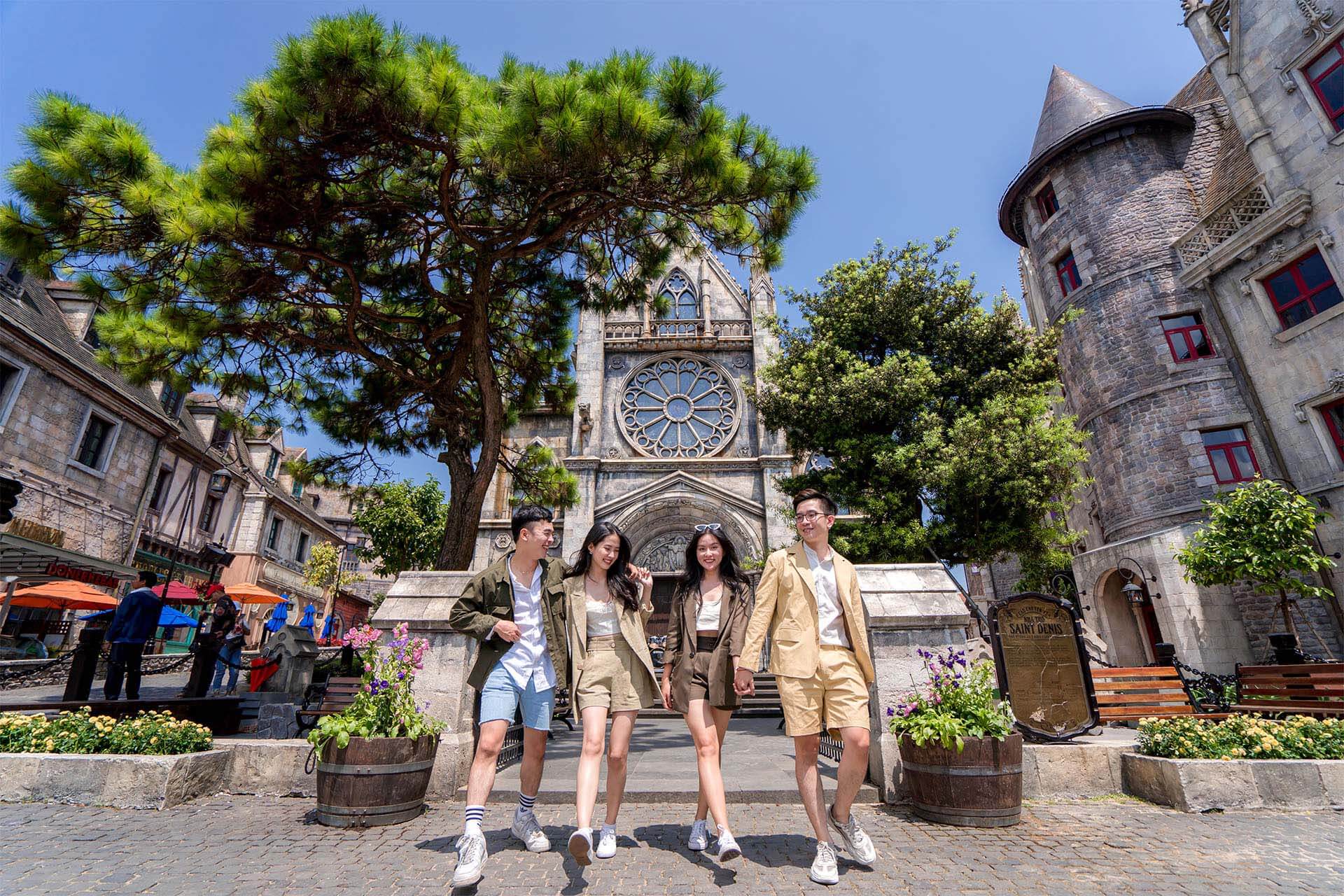 Preparing for everyone: A long-sleeved thin shirt as it is hot at midday but cold in the evening. Hats, umbrellas are a must for light rain. You should wear sneakers or low-heeled sandals (1-3cm) as you are gotta walk around quite a lot.
For ladies: beautiful dresses and wide-brimmed hats for nice photoshoot
For gentlemen: Casual clothes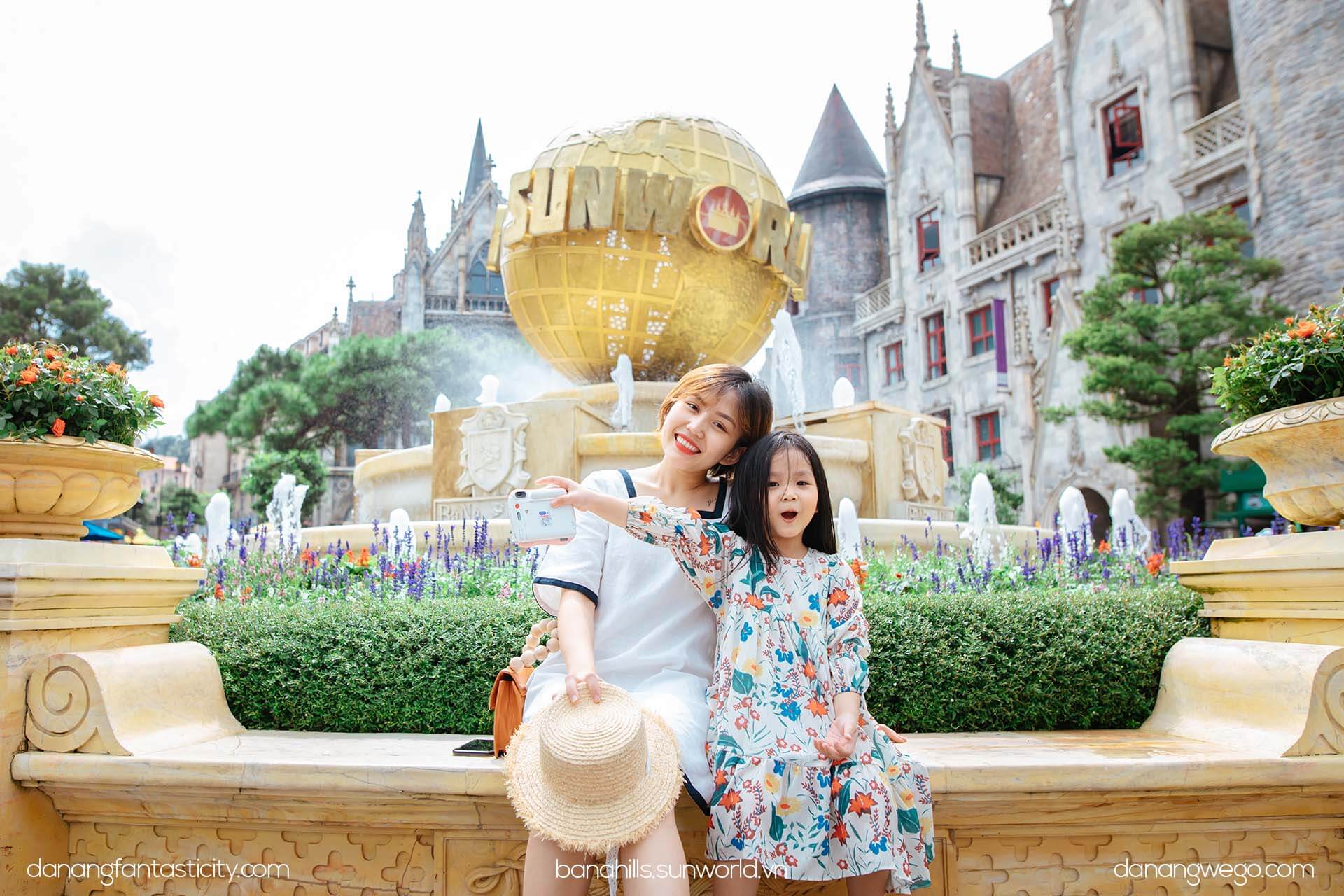 For children: Bring snacks and an umbrella, if possible, carry a stroller for children under 24 months if possible (with a portable mini fan to avoid the heat).
P/S: Under current regulations, tourists are not allowed to bring food and drinks to Ba Na Hills at the moment. (Except for baby snacks)
II. ROADS TO BA NA HILLS FROM DA NANG
Ba Na is located at an altitude of 1,487m above sea level and about 35km to the southwest of Da Nang downtown. To approach there from Da Nang, you can use the two most popular routes below:
Route
Itinerary
Ba Na – Suoi Mo

(Length: 34.1km)

Da Nang city center – Duy Tan Street – Nguyen Van Linh St. – Nguyen Tri Phuong St. – Dien Bien Phu St. – National Road 1A – Ba Na Road – Suoi Mo / Hoang Van Thai. At this point, you just need to follow the directions on the way to address Sun World Ba Na Hills resort.
Route DT602

(Length: 39,5km)

Da Nang City Center – Duy Tan Street – Nguyen Van Linh St. – Nguyen Tri Phuong St. – Le Do St. – Nguyen Tat Thanh St. – Nguyen Luong Bang / National Road 1A  – DT602. At this point, you follow the directions on the way to get to Sun World Ba Na Hills resort.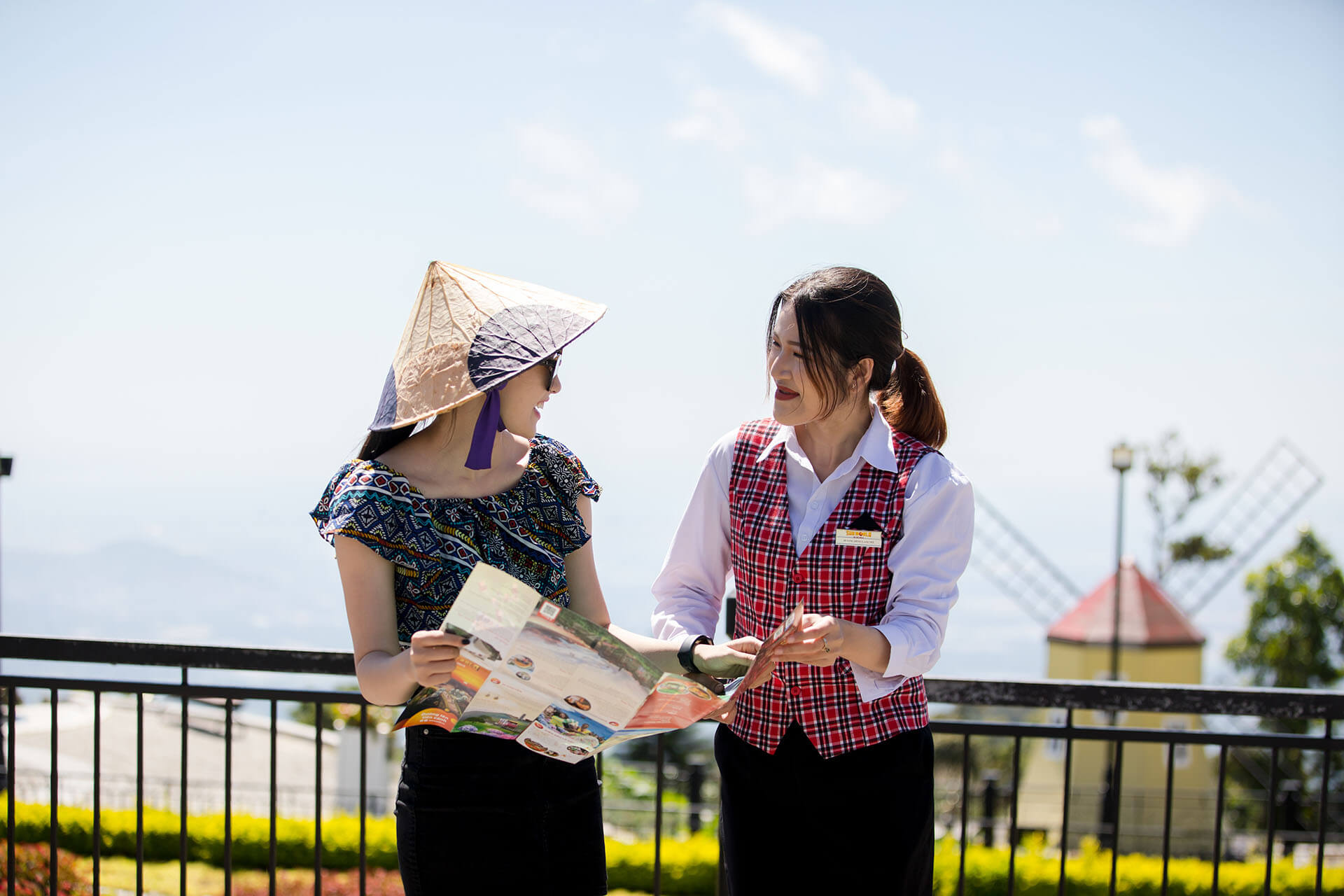 III. WAYS TO GET TO BA NA:
TAXI:With a distance of 30-40km, many travelers choose taxi to go from Da Nang to Sun World Ba Na Hills. This is considered a convenient, safer and super appropriate means of transport for groups of 4 – 7 people and families with babies.
Advantages: best choice for families with children
Disadvantage: Taxi fare is higher than the rest.
PACKAGE TOUR includes: Shuttle bus, mineral water, cable car tickets, lunch tickets, and tour guides.
Advantages: If traveling with the elderly or children who are afraid of the heat, taking a tour with a shuttle bus will be better in value than renting a car for group of over 6 people. In addition, the tour guide will take care and support you all during the trip.
Disadvantages: Must stay in joint groups, must follow the collective.
Note: If you still want some sorts of freedom while on a tour, you can separate with the group and just meet up for meal time and getting off the cable car.
MOTORBIKE: Suitable for young adults.
The distance of about 35km from Da Nang to Sun World Ba Na Hills is relatively simple to commute, so motorbikes are the vehicle of choice for many young people. For relaxing exploration, you should depart from around 7pm as the weather is cool while there are just a few people on the Golden Bridge. 16h00 is a reasonable time to get down from the cable and you can still carry on exploring other attractions in Da Nang such as My Khe beach or sunset at Thuan Phuoc bridge …
Advantages: Low price, renting a motorbike only costs 100-120k/day and about 30K of gasoline.
Cons: In this summer, it seems so far and sunny to go by motorbike.
SELF-DRIVING CAR RENTAL: Suitable for families with young children, the elderly or a large group.
Advantages: Renting a car is cool and time-flexible
Disadvantage: Price is higher than riding a motorbike, and it is even higher than traveling for a small group of people.
IV. TICKET (From 15/07 – 05/09/2020)
Tourists: VND 850,000 / adult | VND 650,000 / child (1-1m4)
Da Nang people: 670,000 VND / adult | VND 460,000 / child (1-1m4)
Tickets for Children under 1m are free of charge.
V. ATTRACTIONS NOT TO BE MISSED
Ba Na is huge and has many games, you can see a complete list of all games in Ba Na at the official Ba Na website at https://banahills.sunworld.vn. In this article, Da Nang FantastiCity will list the points not to be missed: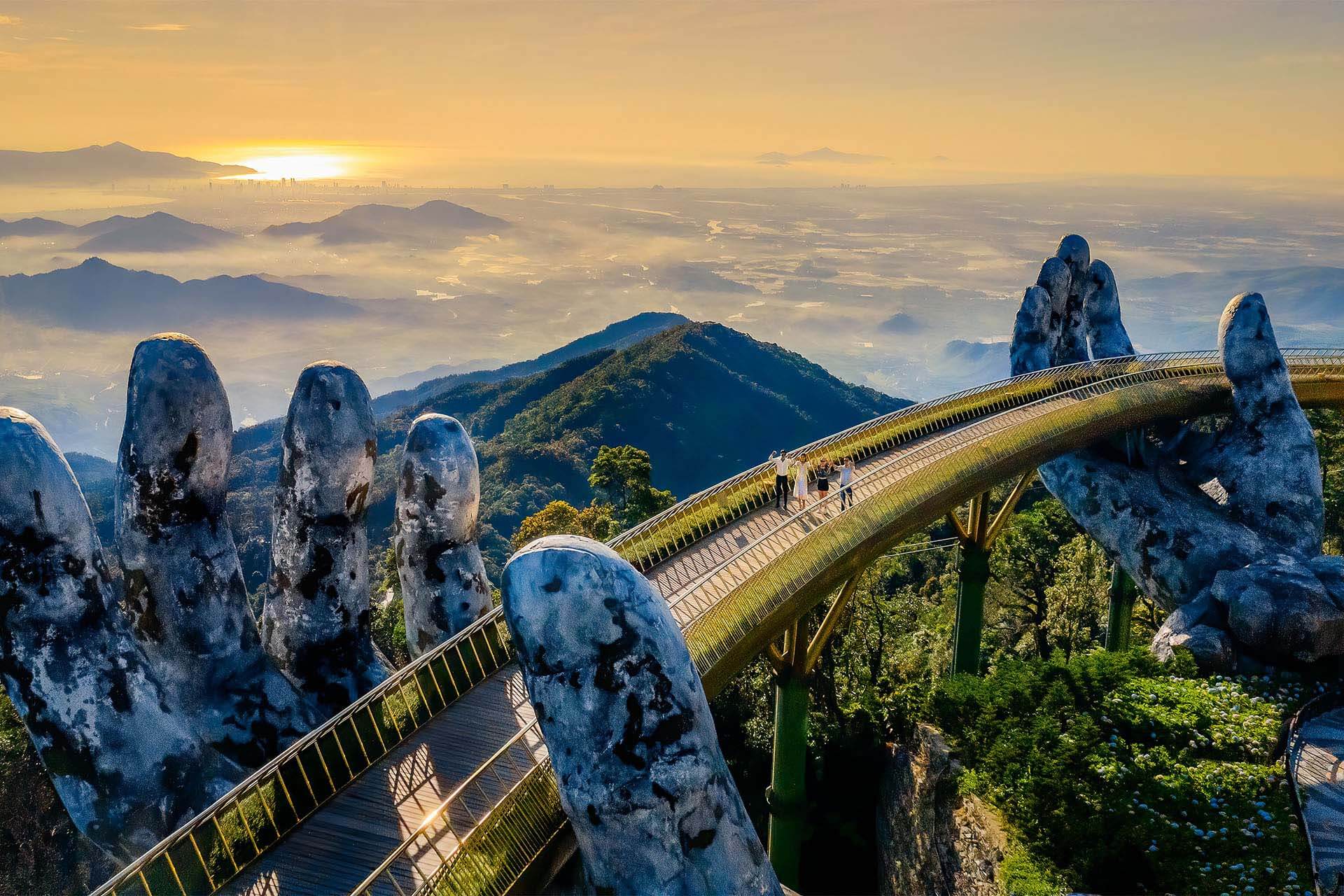 THE GOLDEN BRIDGES
The Golden Bridge has become an icon of Ba Na Hills. If people visit Ba Na, they must once set foot and check in the Golden Bridge.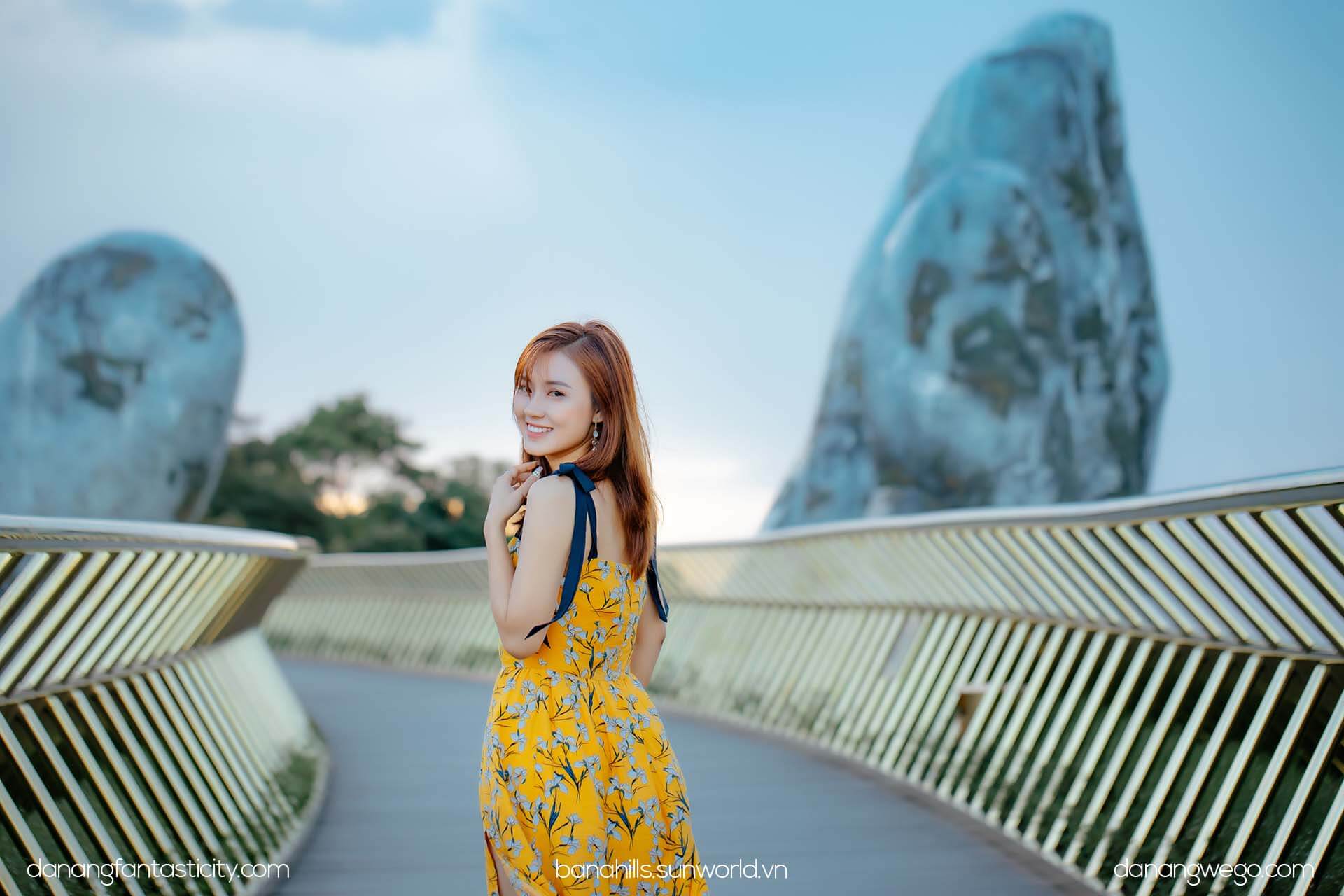 Small tips for Ba Na Hills is that you should go a bit earlier, around 7h30-8h would be great. Beyond that point, the Golden Bridge would get crowded.
Or the second way is in the afternoon from 15h-16h, when everyone has almost finished the tour, then you go to the Golden Bridge.
FRENCH VILLAGE
Of course, whoever goes to Ba Na must drop by the French Village. This is the center of Ba Na Hills with the FANTASY theme park with hundreds of thrilling games such as Free Fall Tower, Super Ferris Wheel to common games for children like Tiny Adventure House or Ferris Wheel, fairy garden …
French Village is also the place where visitors can discover many beautiful check-in locations.
And right at the French Village, a game that young people accept to line up to 30-45 minute to experience is a roller coaster, you will be able to sit on a slide and slide down from the top of the mountain, then slide from the bottom up. In this game, there is also an automatic camera, you can request to be photographed and brought back as a souvenir at a cost of about 60K / photo.
LINH UNG PAGODA
Linh Ung Temple in Ba Na is one of the three Linh Ung Temples, together with Linh Ung Pagoda in Son Tra and Linh Ung Pagoda in Ngu Hanh Son to create a stable tripod to protect Da Nang. The temple is within the Ba Na Hill tourist complex. Located on a beautiful and poetic terrain with an altitude of nearly 1500m above sea level, if you are a spiritual person, then Ba Na Hills should not be missed.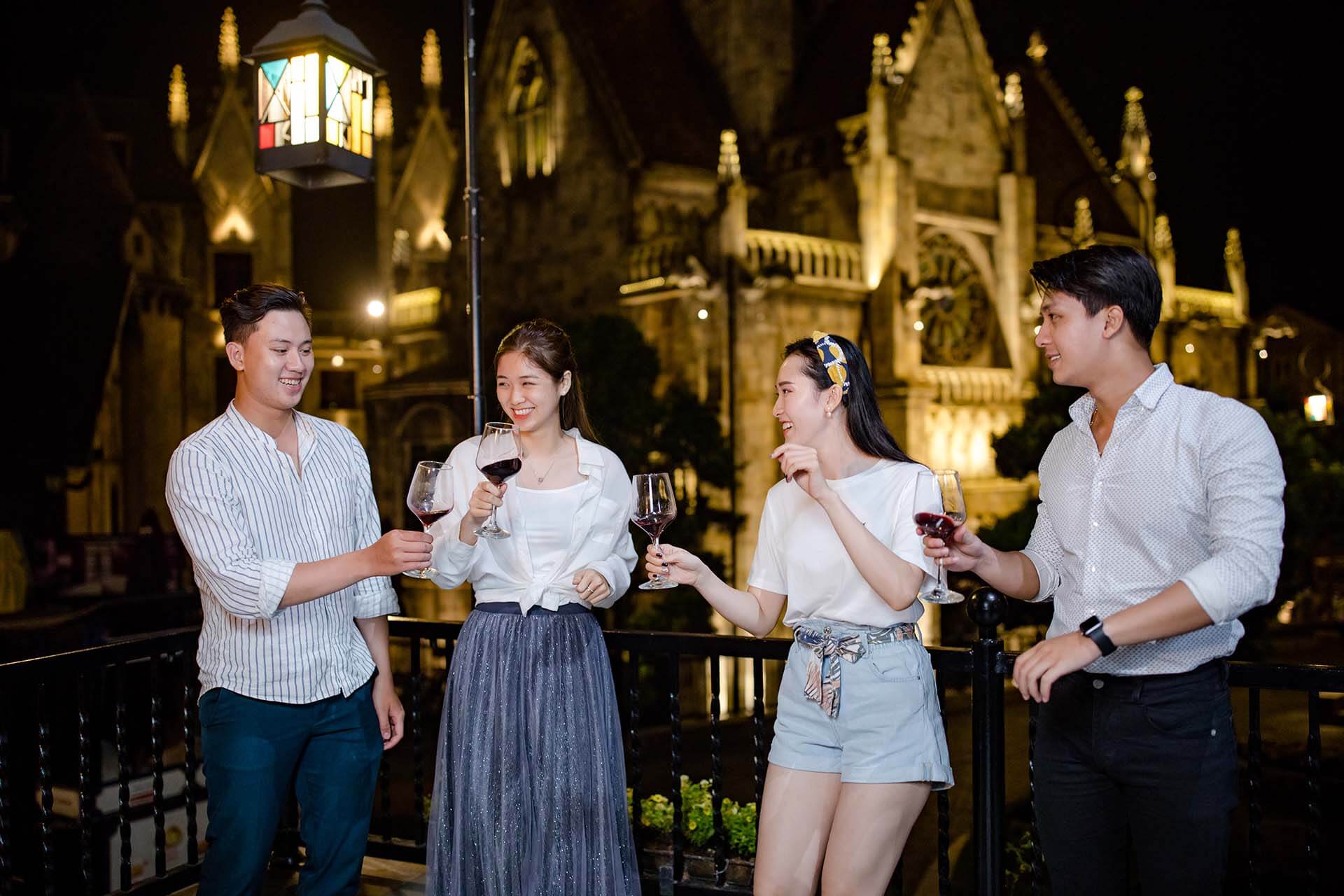 DEBAY WINE CELLAR
Debay wine cellar is a unique work built by the French, dug deep in Ba Na mountain in 1923. This is an old wine cellar with a length of 100m and always kept the ideal temperature from 16 degrees to 20 degrees Celsius. Visitors will get new experiences in a French wine cellar space when visiting Sun World Ba Na Hills.
LE JARDIN D'AMOUR
Discover the soaring and romantic Le Jardin D'Amour flower garden that every visitor cannot ignore when coming to Sun World Ba Na Hills. 9 gardens at Le Jardin D'Amour are 9 interesting stories set in 9 unique architectural styles.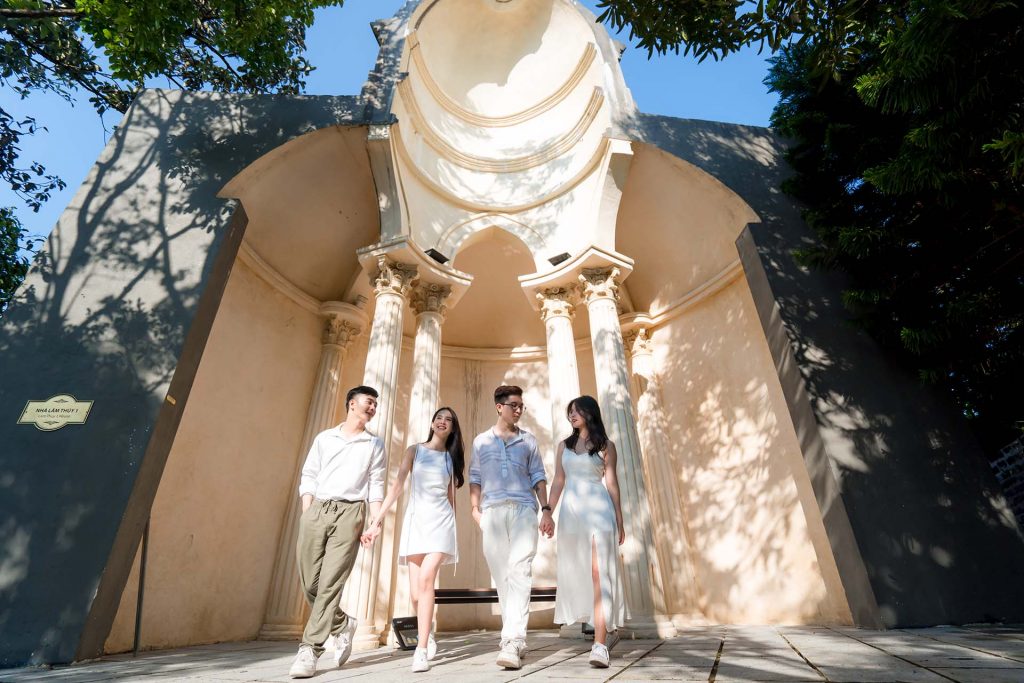 This is a place to visit and take great photos when coming to Ba Na Hills with your loved ones.
MOUNTAIN – CLIMBING TRAIN
The first climbing train in Vietnam provided by Garaventa (Switzerland) takes you to D'Amour flower garden, Debay ancient wine cellar and Linh Ung Pagoda – destinations not to be missed in your journey on Sun World Ba Na Hills.
It only takes 1 minute 30 seconds to travel on the unique train route, admire the panoramic view of the majestic mountains and forests. This will be an interesting experience for you all.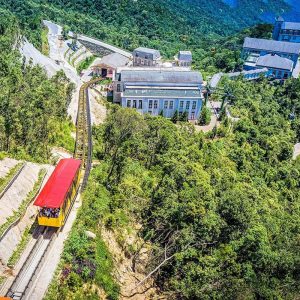 VII. HOW TO SAVE YOUR MOMENTS ON BA NA HILLS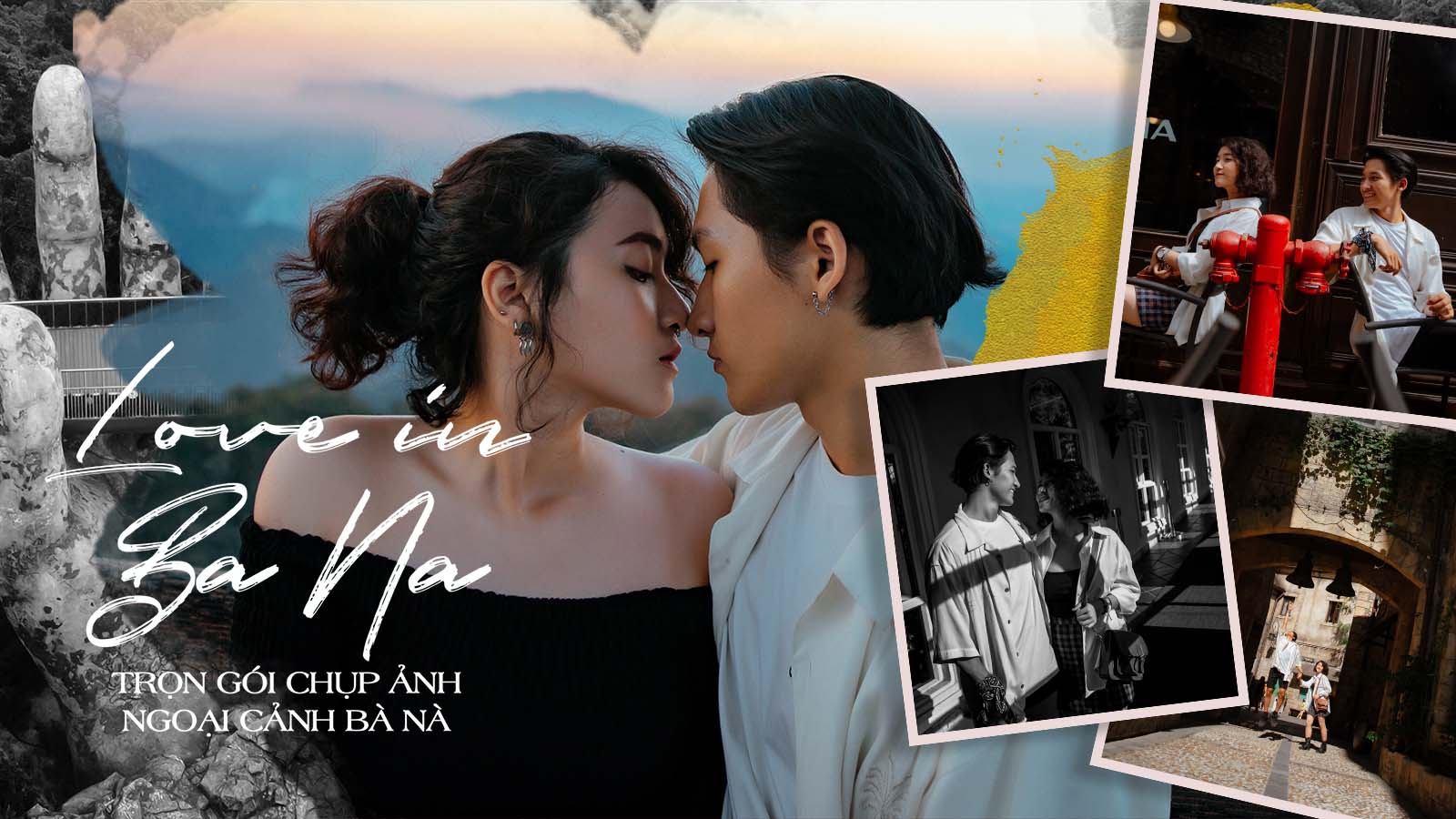 To ensure you have the best photos on Ba Na Hills, you can refer to photograph service for couple / family / group in Da Nang. Of course, everyone would go for a reputable, reliable and affordable team… Then, Team Da Nang WeGo will be a suggestion!
Whether you want to take photos in a vintage theme, an ulzzang concept, or any unique idea, but you are not comfortable at posing or inferior to the lens? No worry, Team Da Nang We Go will spend time chatting so you can be on your right mind for the photoshoot. Just be yourself, we will capture your moments!
You can book the service on our Fan page, travel forum in Da Nang or contact directly. Or Zalo/Viber/Whatsapp: 0934.778.745 and wesite danangwego.vn.
VIII. WHAT TO EATS ON BA NA HILLS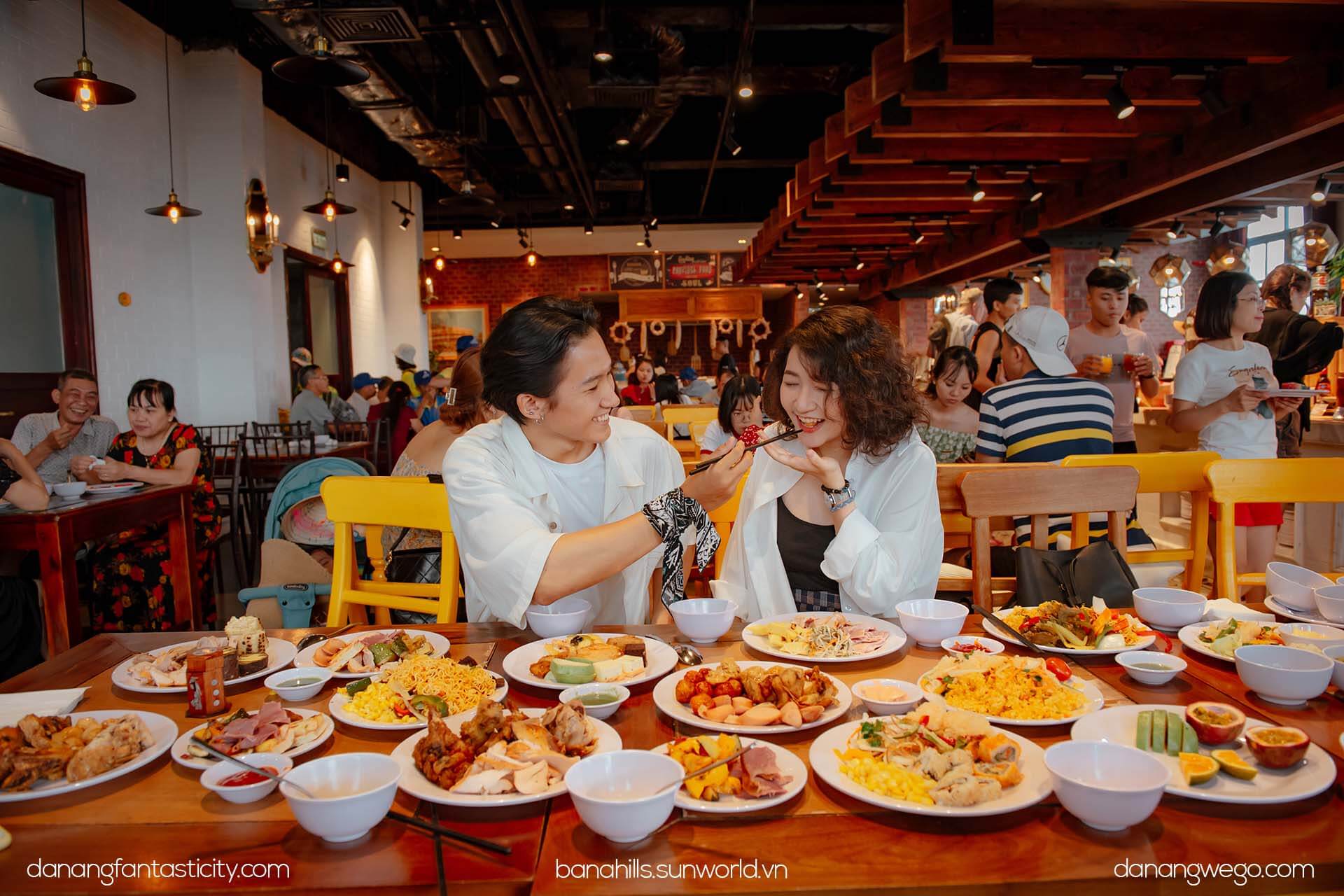 Food offerings on Ba Na Hills are various but the most common option is Buffet at Beer Plaza – Lavender – Morin – Arapang restaurant (buffet price have been included in the cable car ticket).
IX. BEER FESTIVAL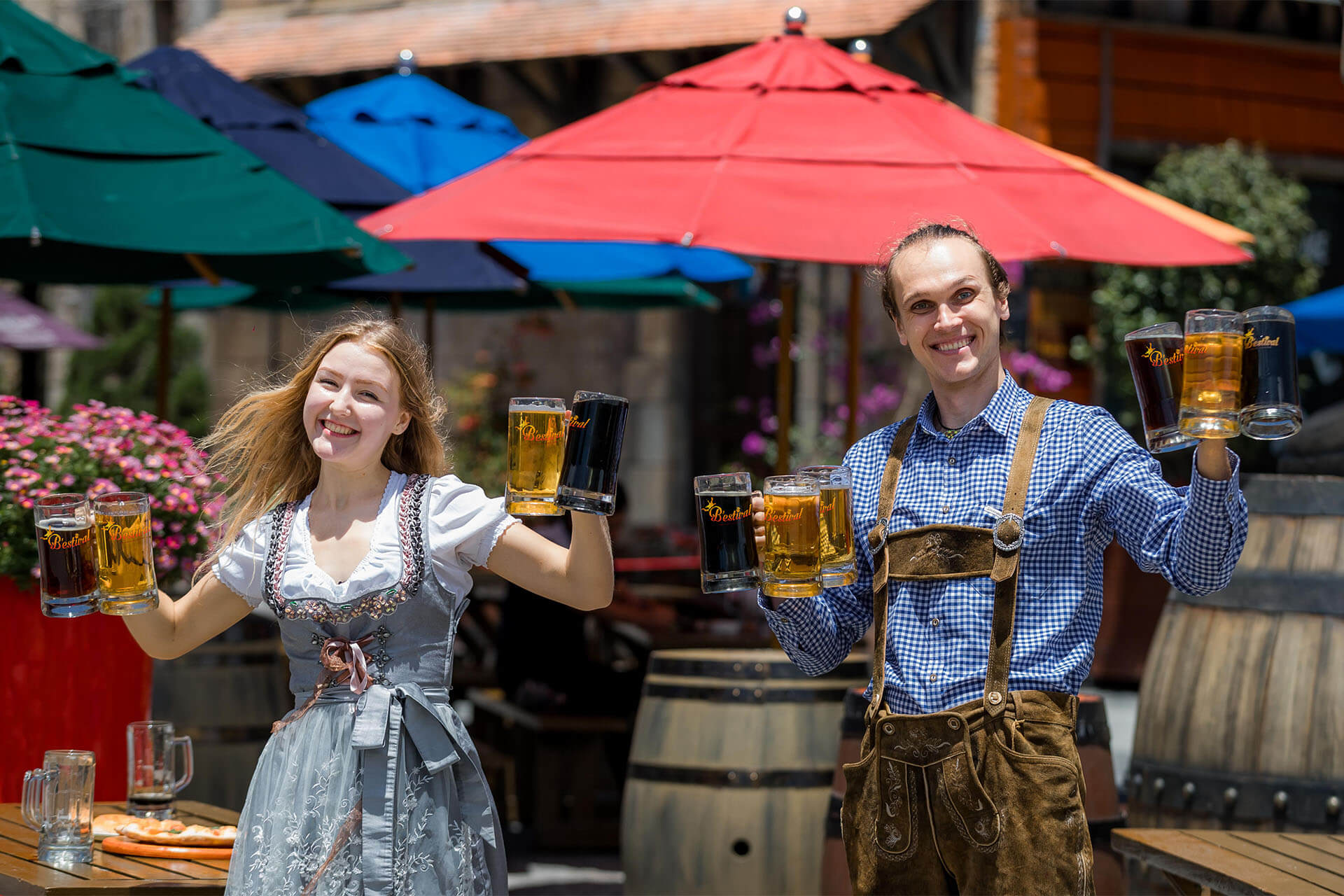 The most anticipated event in 2020, promising to bring millions of joys experience in this summer 2020 (From July 16 to September 5)
The event will bring people to immerse themselves into the festive atmosphere, enjoying the fascinating art performances of foreign artists.
Performance schedule: 9:30 – 15:00 daily
Venue: Stage Beer Plaza | Noel Plaza & Du Dome
Above are all experiences and tips for your memorable and pleasing trips to Ba Na Hills. Also don't forget to take your coolest photos there.
Lương Vy
Latest Posts