[Review] Danang Golden Bay: The best viewpoint for majestic golden sunsets in Danang
[Review]

Danang Golden Bay: The best viewpoint for majestic golden sunsets in Danang
Normally we wouldn't pay much attention to sunset in Danang, because we thought only sunrise at the sea would be nice. We couldn't be more wrong. There is a beautiful Danang so in peace when the sun goes down.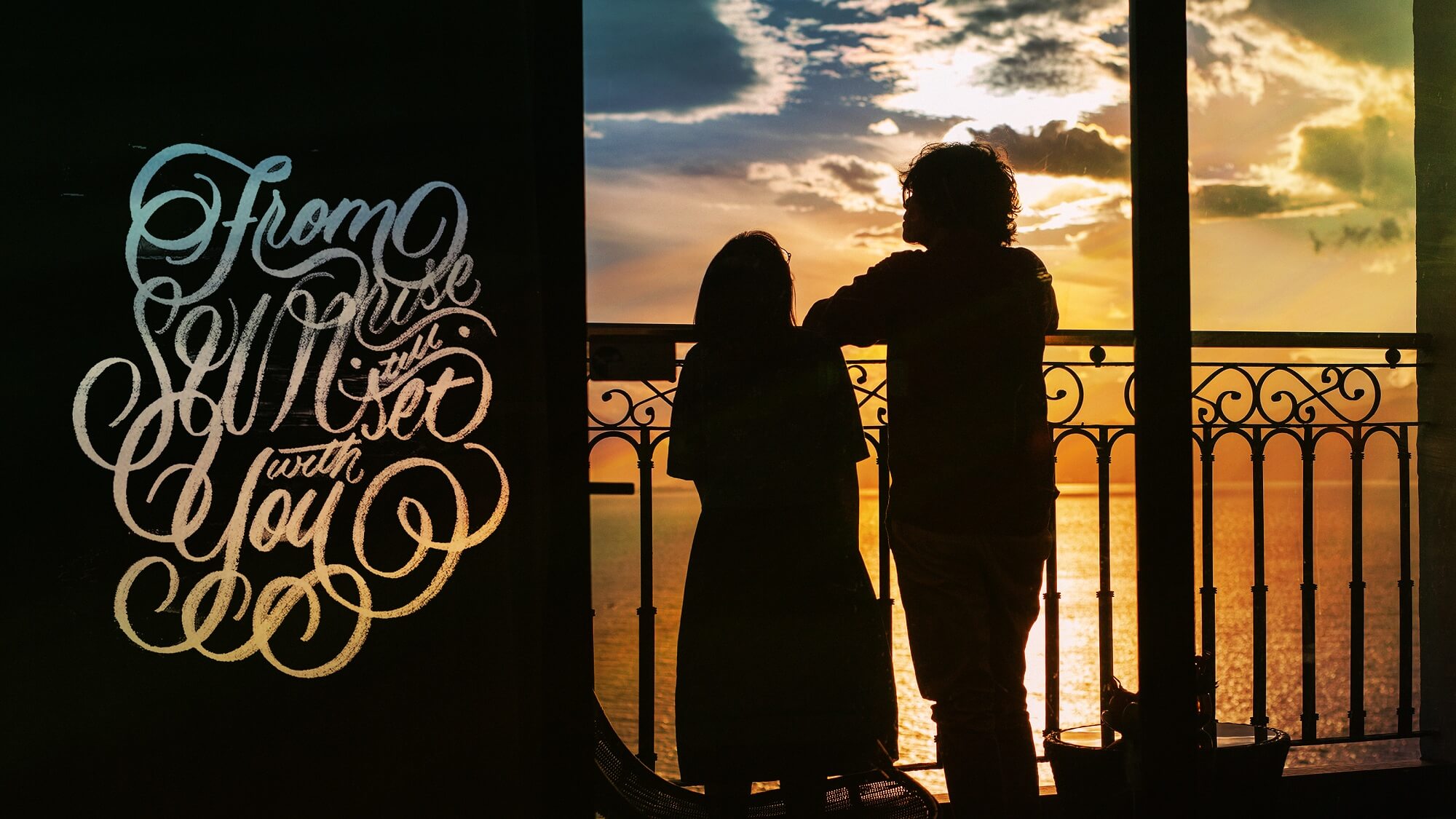 After some researching we got to know Danang Golden Bay, a hotel in the West of the city, with an overview of Danang bay, which is perfect to watch the sunset. If you are travelling with your family or as a couple, don't miss this moment to indulge in such beauty with your beloveds.
Address: 01 Le Van Duyet, Nai Hien Dong, Son Tra, Danang City
Phone: (+84) 236 3 878 999
There are many reviews of the hotel available, but here we would like to express our feelings. Honestly it is still in our minds, the first time we walked through the door and caught the bright sunlight…
Why did we choose Danang Golden Bay?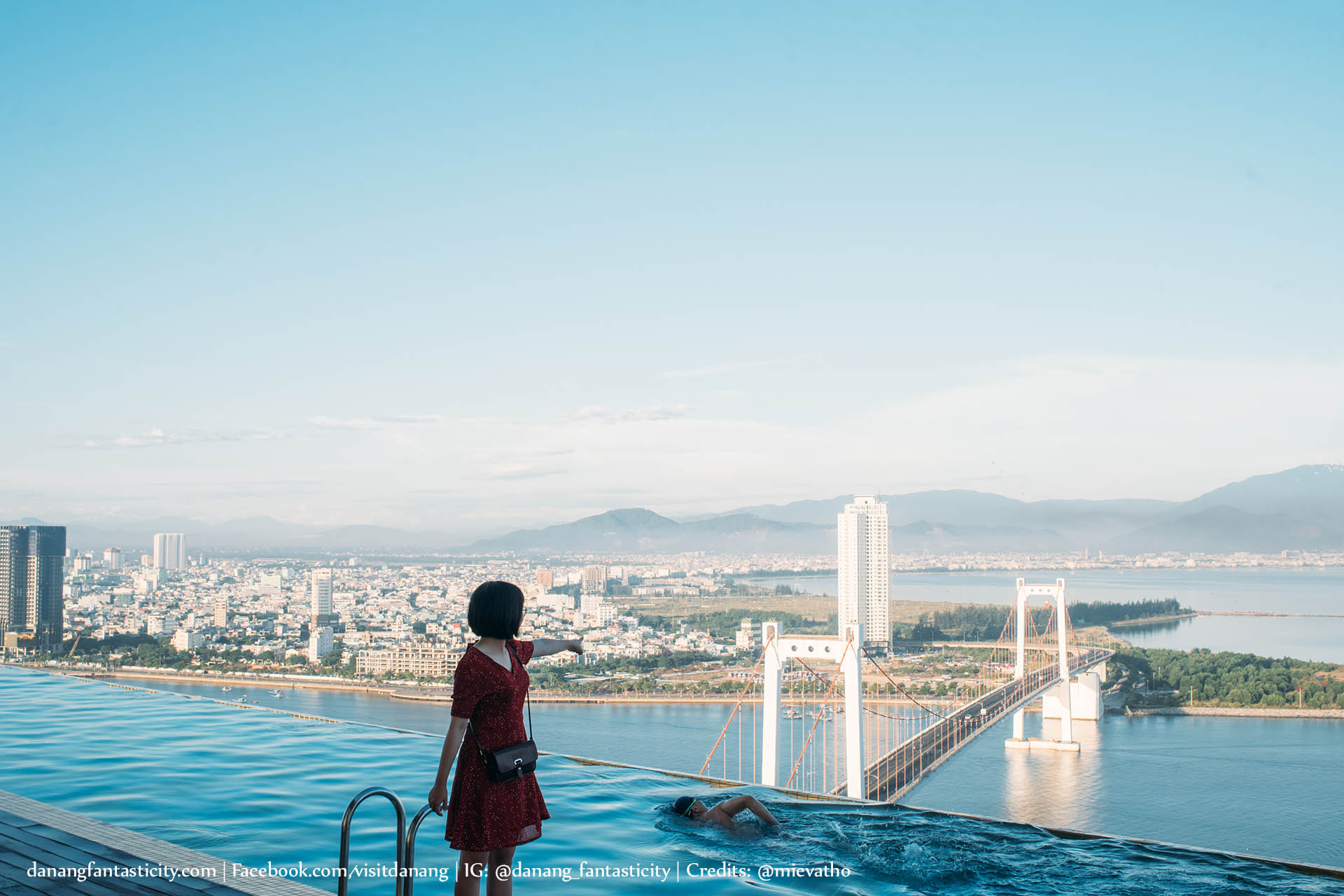 I have found so many photos of people living here, and was fascinated! The hotel overlooks to the bay of Danang, with the view of Thuan Phuoc bridge, one of the most impressive bridges in Danang.
We stayed in Deluxed Golden Bay, and from the room we could catch the whole sunset, and the big windows always brought natural light, very comfortable for us.
There are many good spots for taking photos you should check out:
Wonder Park (best time to take photos is early morning or at sunset. For early morning you should point to the bay for the best lighting effect)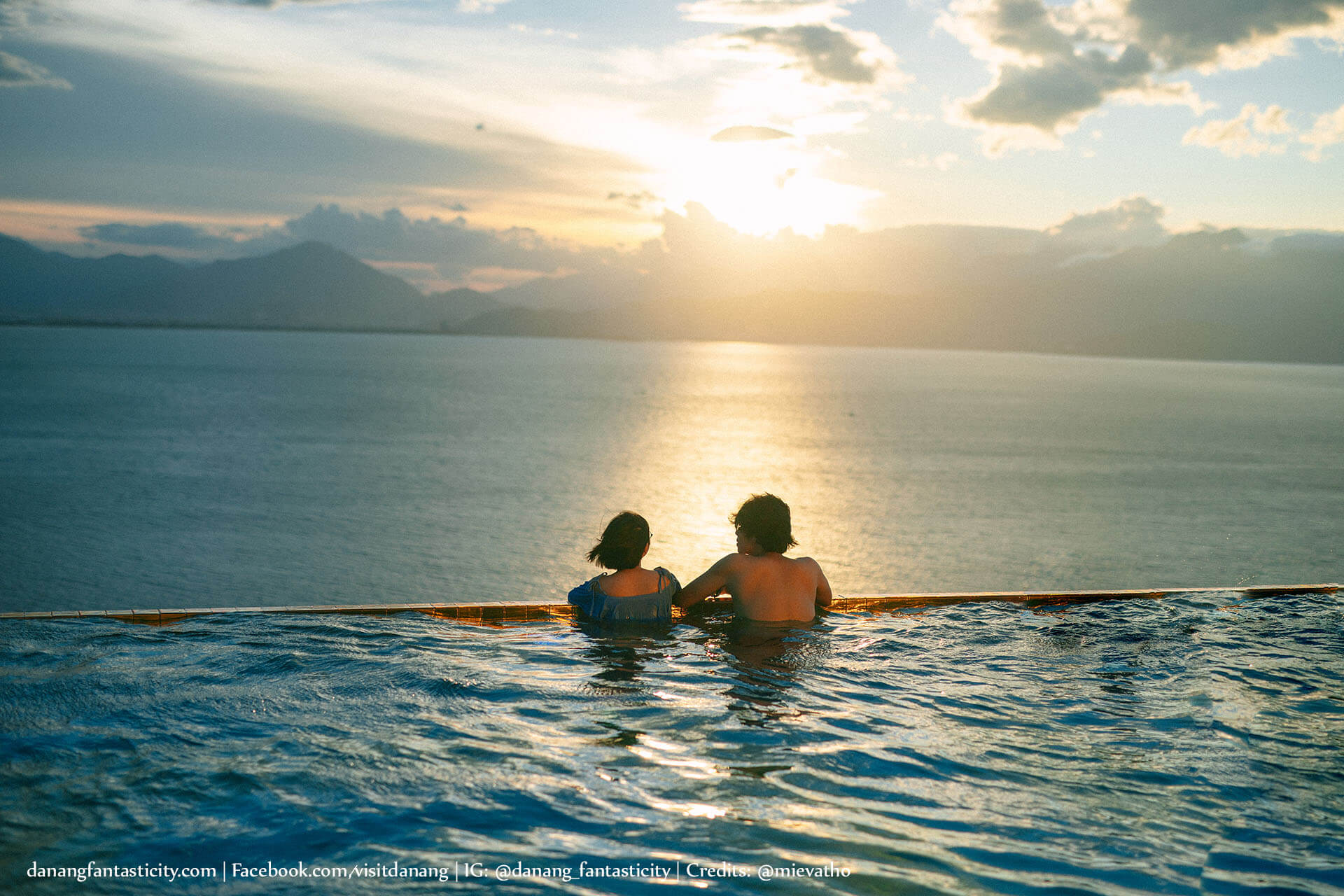 Infinity pool: There are so many nice corners: Thuan Phuoc Bridge, the city view, Son Tra Peninsula, Danang Bay
Restaurant: Almost all of the restaurants will have beautiful window views where you can take great photos
The best location in Danang for fireworks photos
From level 29, the bars and infinity pool of the hotel offer a panoramic view of Danang city.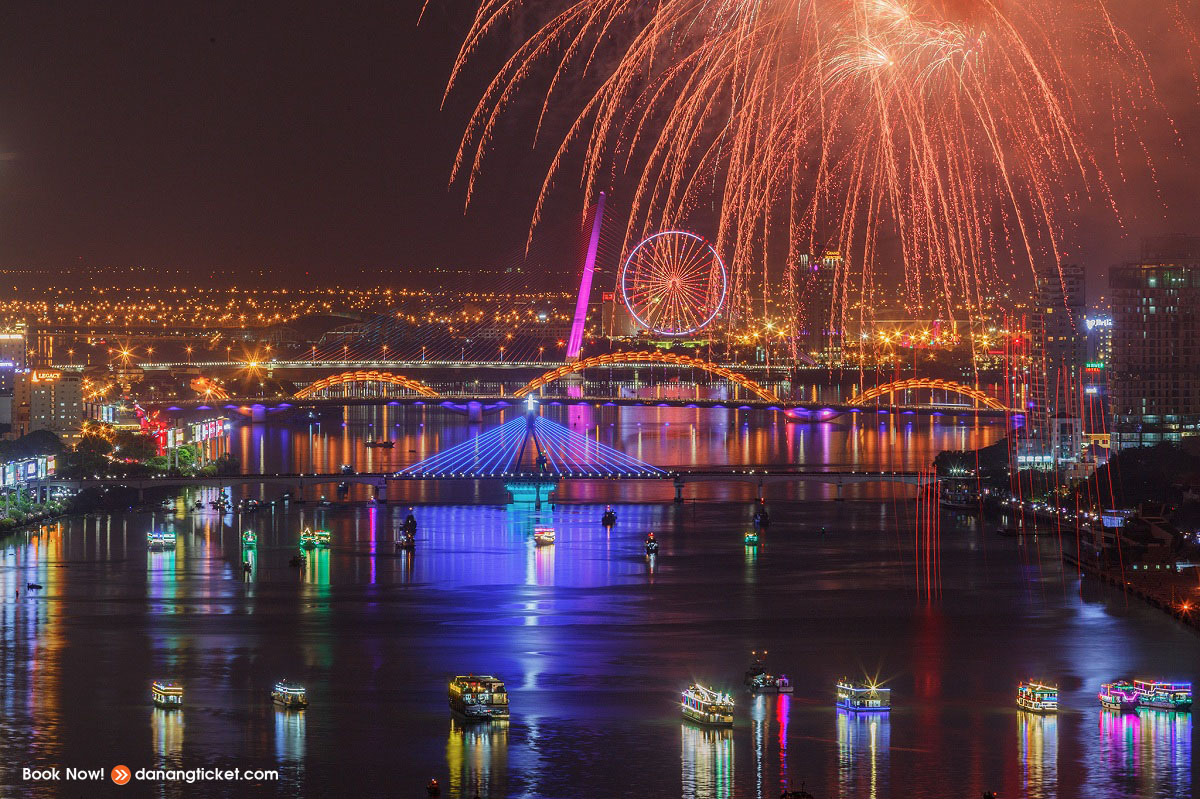 I have seen great photos of Danang International Fireworks Festivals here. Next year I'm coming back with my family!
Great value of money for our experience
The room price has included infinity pool, and gym… The services and drinks are very reasonable, with great value for your wallet.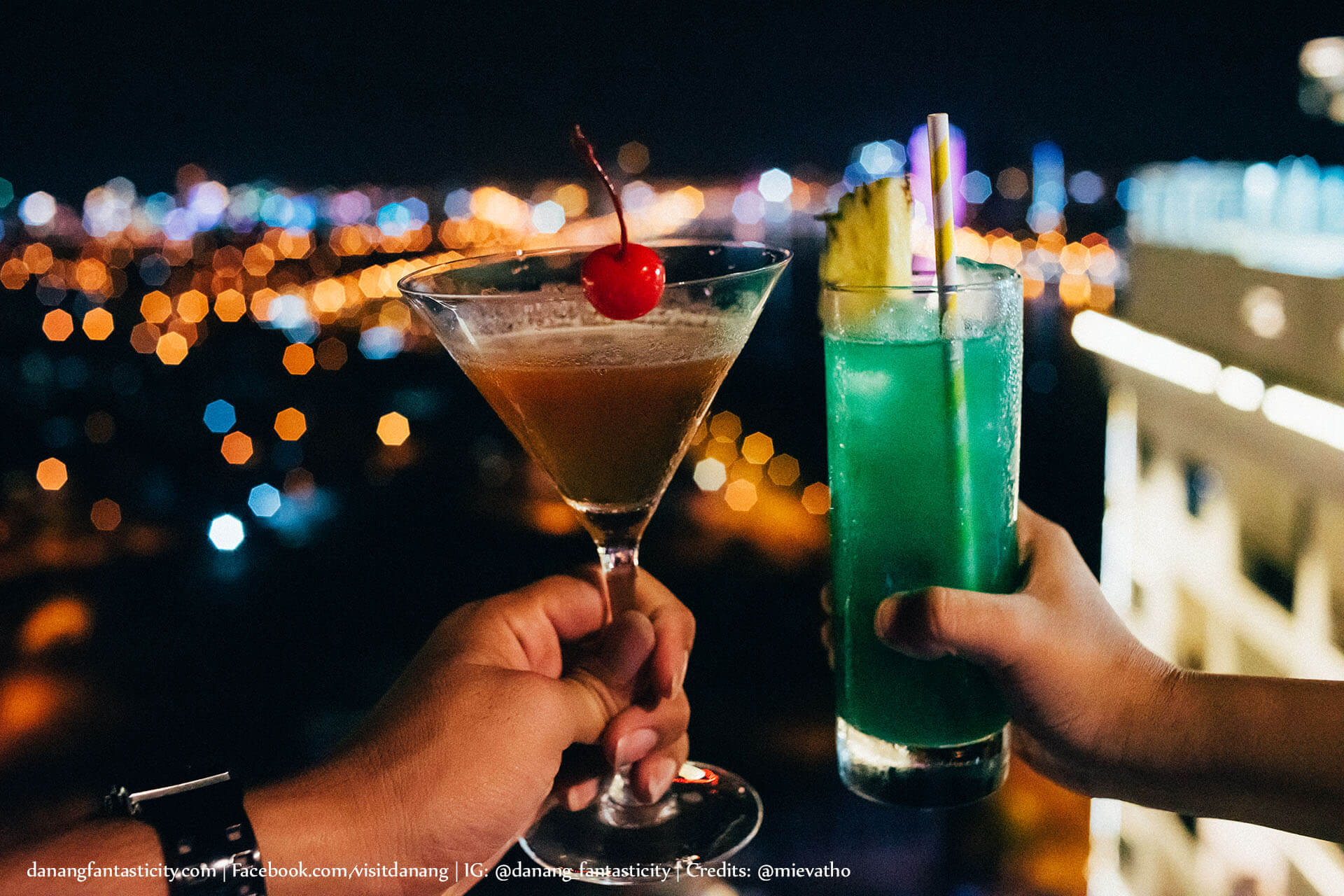 After swimming, we enjoyed a Manhattan cocktail and a Blue Ocean.
The mocktails here are amazing!! We were enjoying the drinks and the views of the city, it was magical.
Our reviews
The reception area is huge and glamorous, from the front door to the right you will find SUGAR LOUGE restaurant. This is a perfect check-in location of you are looking for nice sunset photos, you can even see the sunshine going through the windows and on the tables.
The Horizon Restaurant on level 3 serves breakfast buffet, which is also a great place for taking your fancy photos. The windows offer a view to the bay, where you can enjoy breakfast with the view to Thuan Phuoc bridge, sometimes you can even see many ships.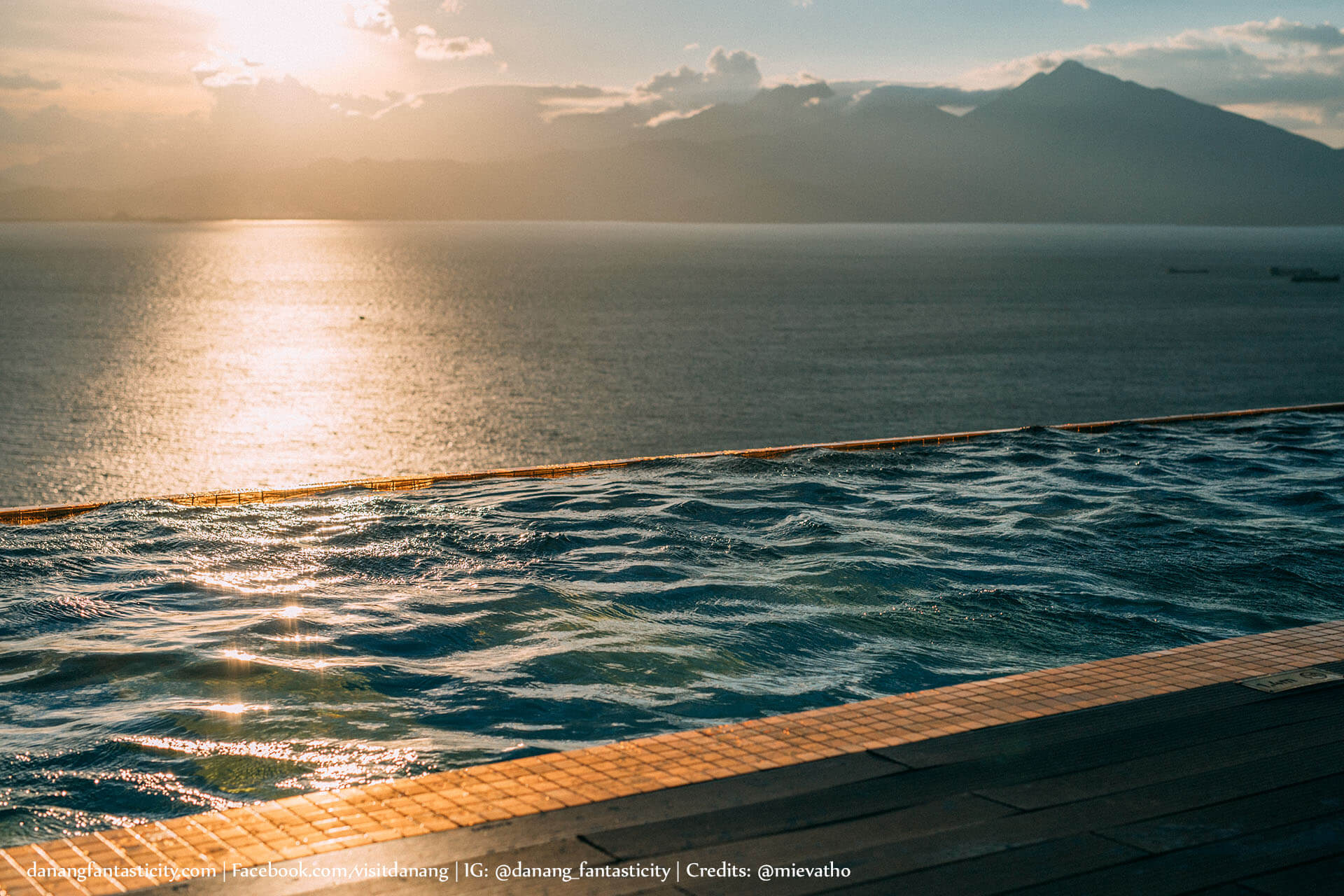 The golden infinity pool is the jackpot of this trip. Especially the water is not filtered with clo, so my hair did not get dry and frizzy. There was some wind when we were there, and the pool could automatically lower the water level so we could stand on the pool to enjoy the view without getting wet.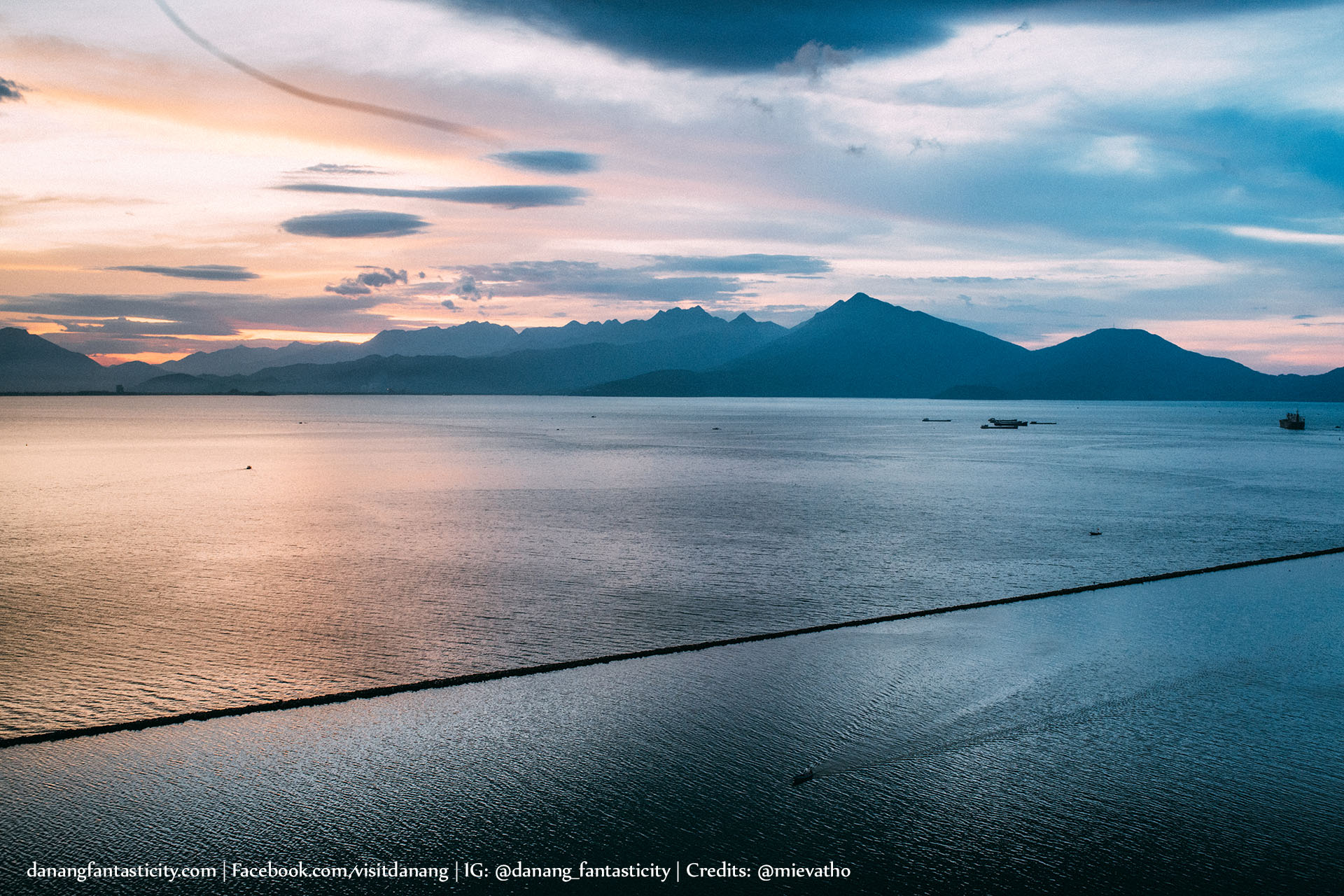 The pool is open from 6am to midnight, you can come whenever you want! The pool is huge so you don't need to worry about overcrowding, you will have your own space!
About interior room design
I'm particularly impressed with the fact that all the details in the hotel are plated with 24k gold. Also there is great color harmony in our room.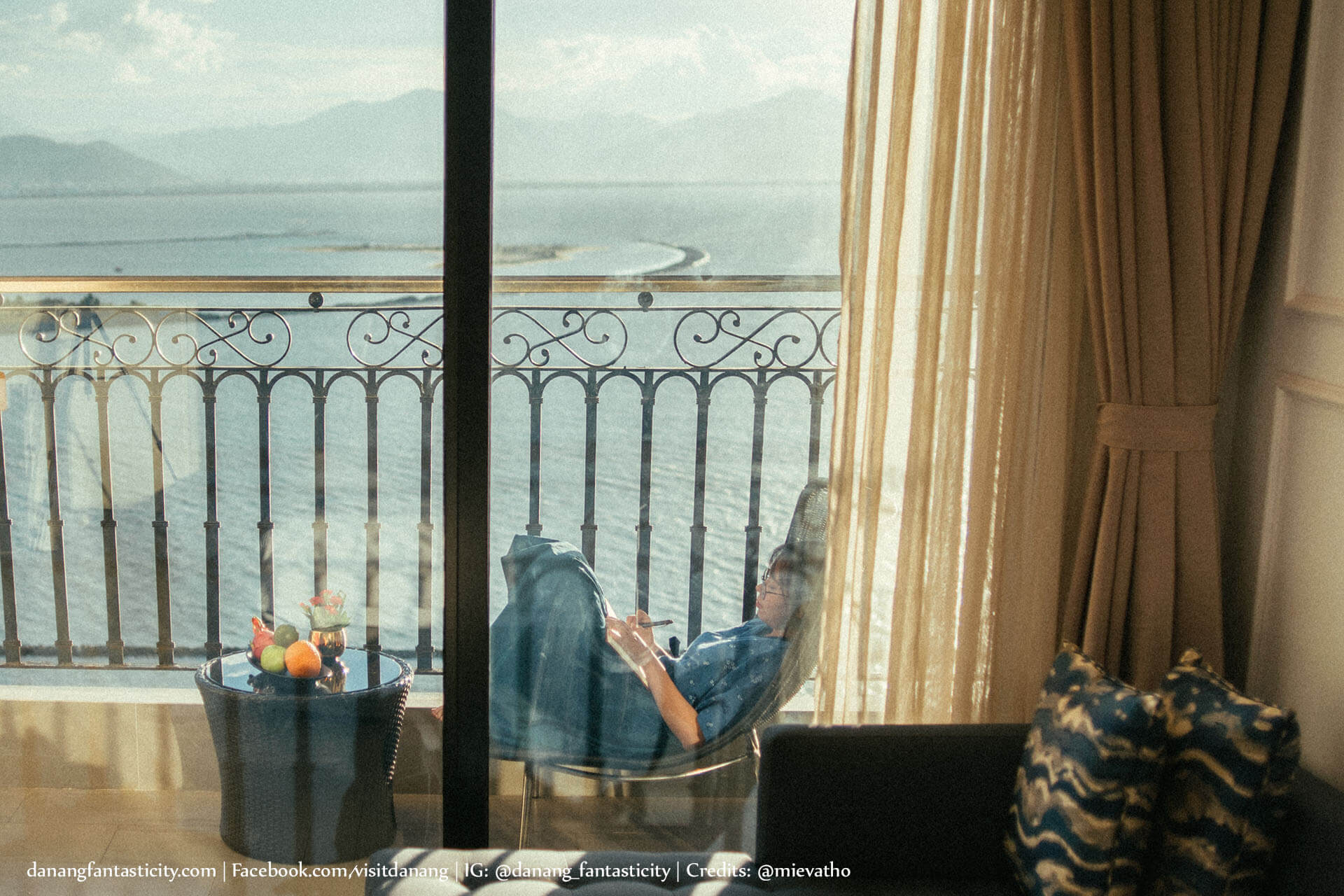 There is a balcony in our room, and every early morning we can watch Danang Bay, with beautiful clouds flying on the foot of the mountain. He woke me up and insisted that I look at the beautiful views!
I particularly like the pillows of the hotel. Normally I pay a lot of attention to pillows and the softness of those made me fall in love.
The hotel is only for leisure tourists?
Maybe from the experience, you already have your own answer. If you love adventures but still want to have relaxing, romantic moments, Danang Golden Bay is an ideal option.
We had a complete different experience. Unlike previous times, when we move a lot and did not have much time to enjoy and relax. This time, we contemplated the sunset on infinity pool, feeling so refreshed after a long day of exploring.
I'm sure that this style of combining exploring and leisure is perfect for young travelers like us. And if you are wondering how to travel for couples, definitely explore Danang by motorbike.
The hotel has a parking space for your motorbikes, and especially you can go to Vom Don Ca or Son Tra Peninsula.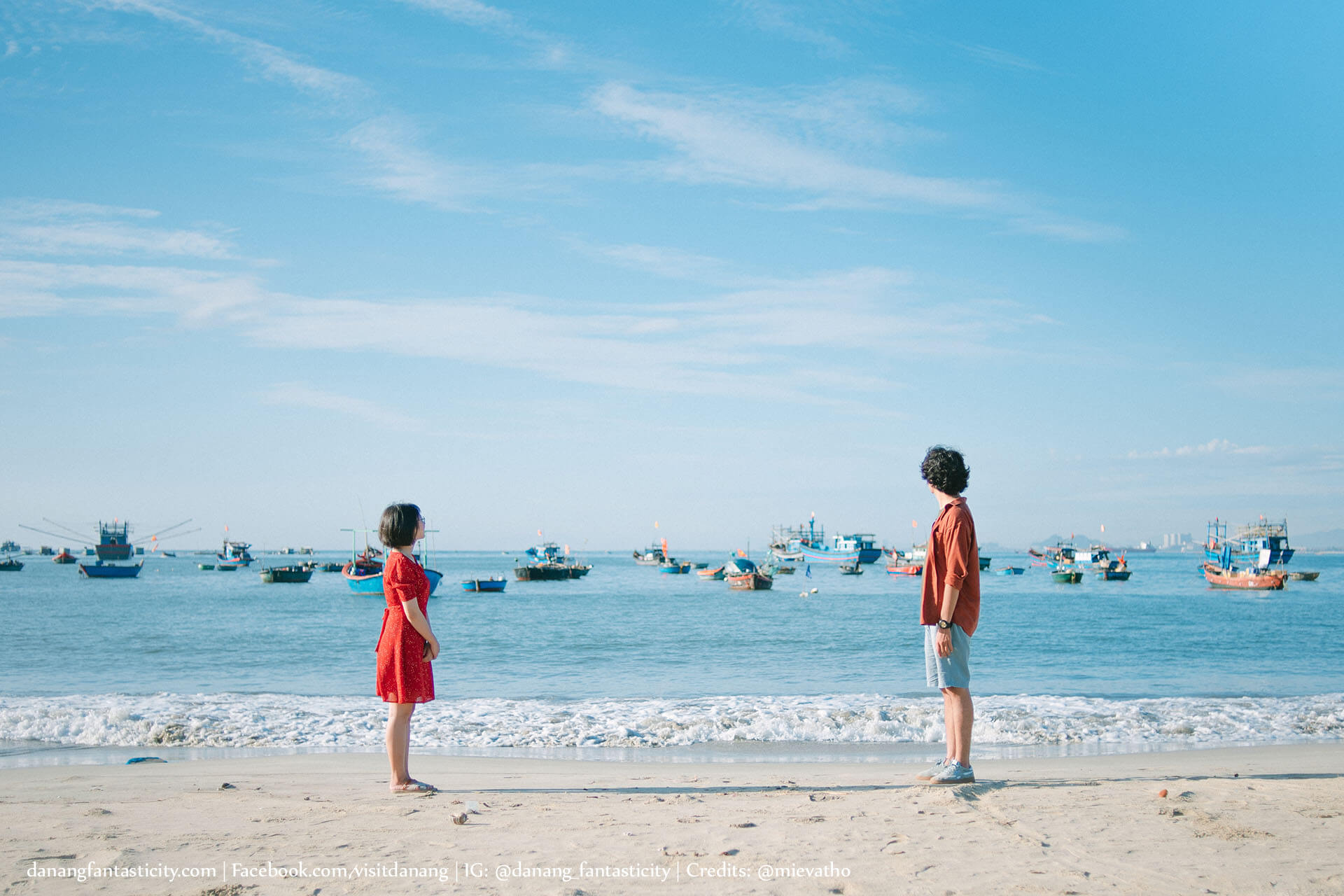 Do you need to go far to enjoy Danang dishes?
If you are a foodie, you wouldn't mind going out of the hotel for some great dishes, would you? We have some great recommendations for you:
Nem lui Ba Trai: You only need to go over Thuan Phuoc bridge, turn left at the roundabout to 3/2 street, turn right at roundabout to Dong Da street, at number 194 there is a great nem lui (grilled pork) place. Especially try 3 dishes: nem lui (grilled pork), bun thit nuong (vermicelli salad with grilled pork) and grilled beef.

Also on Dong Da treet (number 231) you can enjoy my Quang Mrs Mua. Try Quang noodles with shrimp and pork and the rice paper rolls with pork here
Long Café (123 Le Loi): different from huge cafes in Danang, Long Café is an old, street-style café in Danang, which fascinated us. Pass by and enjoy Danang your way!
Apart from the food, Danang also has another treat, the beach. Don't worry about the hotel being far from the beach. The hotel offers shuttle to the beach, you only need to prepare your swimming suit!
In conclusion
Our trip to Danang was like a dream. We didn't visit many attractions, but we did experience a different way. It was an impression of a modern leisure city, where you travel to enjoy. If you are stressed and tired with your work, why not reward yourself with leisure trips? Sometimes travelling far away helps you find yourself…
The copyright of content and images belongs to danangfantasticity.com & Vu Kim Ngan, Thang Nguyen Tu (IG: @mievatho) – [Review] Danang Golden Bay: The best viewpoint for majestic golden sunsets in Danang
Latest Posts