Get ready for a buffet dinner full of ocean flavors this Saturday. Feast your stomach and eyes with the amazing performances from our open kitchen. Up to 20% discount for early bird bookings.
OPEN UP YOUR PALATE TO THE TASTIEST WONDERS OF THE SEA AT RADISSON SEA FEAST NIGHT DINNER BUFFET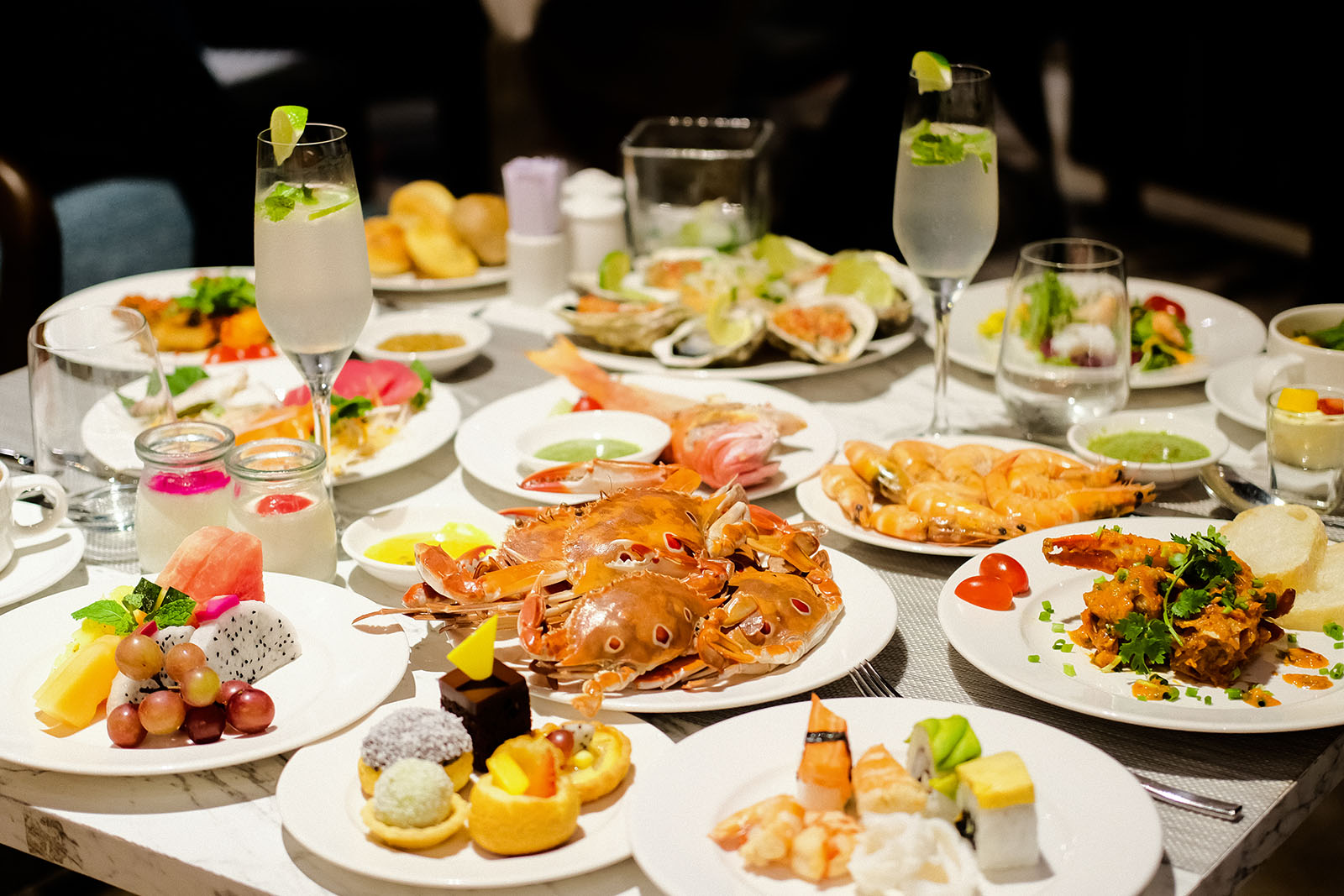 Sea Feast Night – A seafood buffet full of delectable choices from the sea every Saturday night.
Boasting next to the beautiful My Khe beach, the international branded hotel – Radisson Hotel Danang, is an ideal stopover, giving you a wonderful and comfortable stay in the picturesque beach city. With thoughtful extra touches, Radisson Hotel Danang will always help you make lasting memories every time you visit.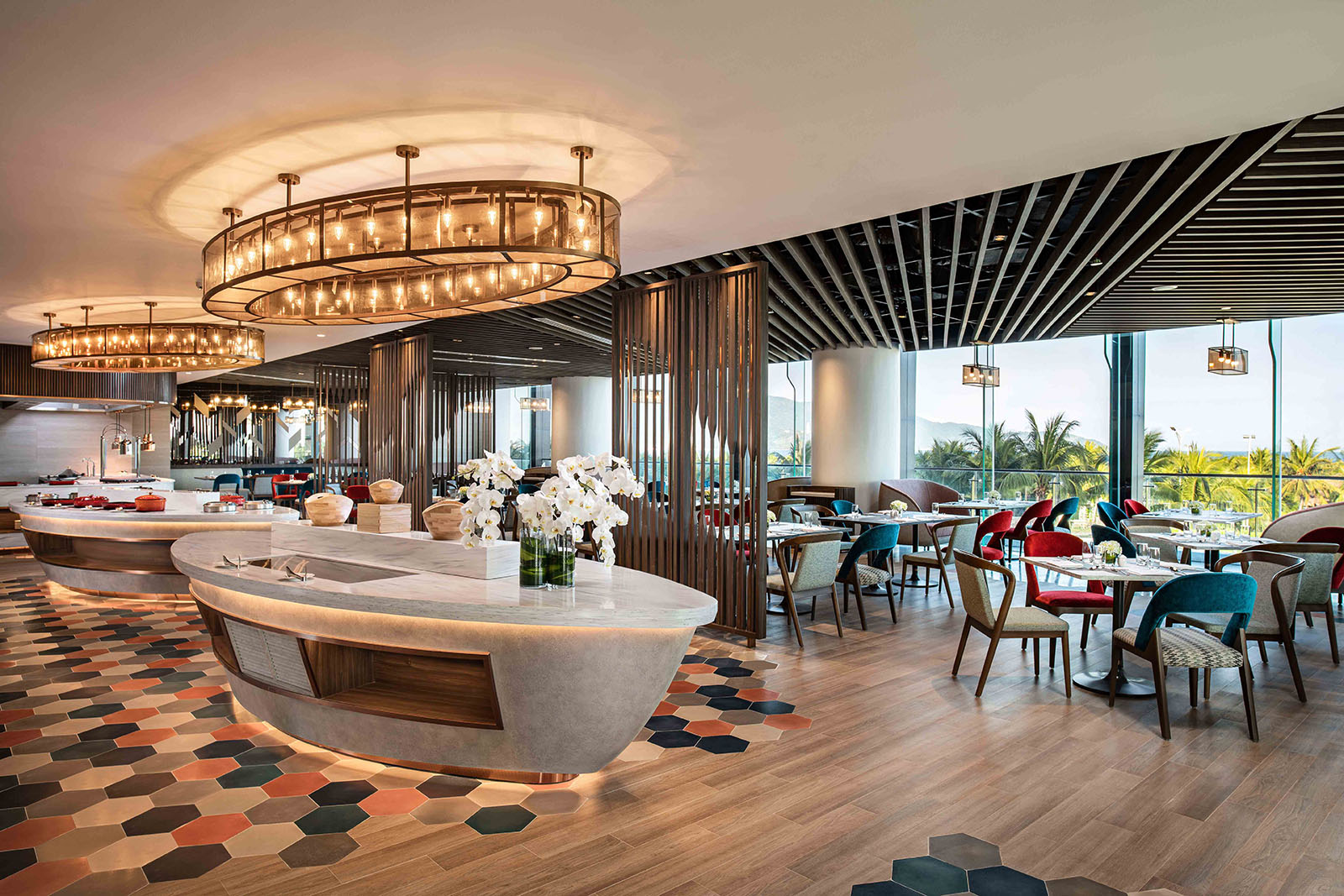 The Market Place restaurant of Radisson is located on the 2nd floor with a design inspired by the sea.
The hotel's food service will also bring diners a unique culinary experience with local and international dishes, most notably the Sea Feast Night every Saturday night. Sea Feast Night offers an impressive culinary journey with a variety of fresh and premium picks, prepared by the talented Radisson chefs.
Ticket price: VND 699,000++/adult and VND 350,000++/child
Time: 18h00 – 21h00 every Saturday night
Location: the Market Place restaurant – 2nd floor Radisson Hotel Danang
20% off for the first 10 bookings
10% off in August for all bookings
(Prices above do not include VAT and service charge)
TASTE THE BEST OF THE SEA WITH AN EXTENSIVE MENU
At Sea Feast Night, guests can enjoy live cooking performances and fresh seafood, as well as carefully selected ingredients. This is the perfect dining experience in the space overlooking the beautiful My Khe beach.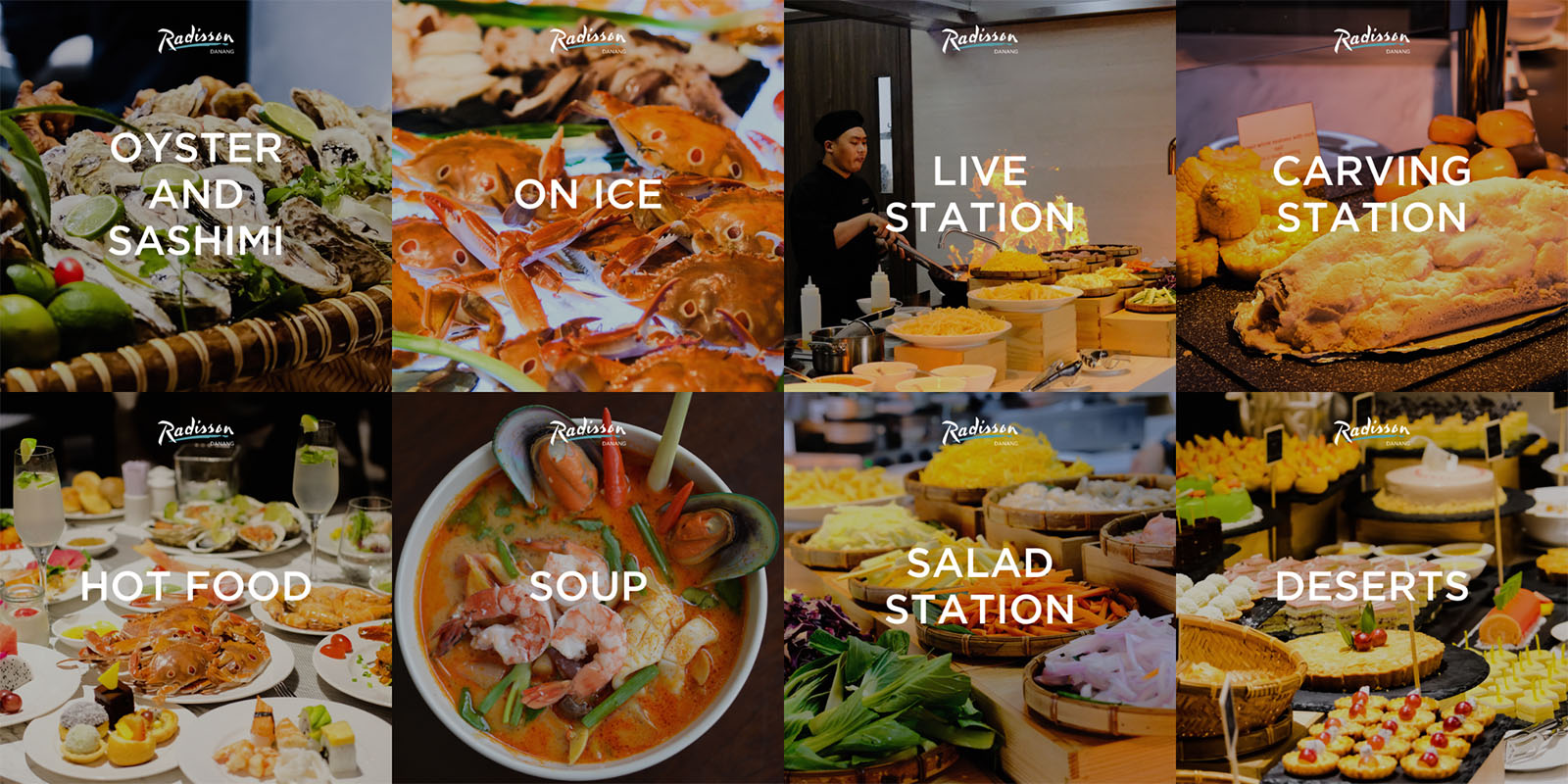 Diverse cuisine with many buffet stations at Sea Feast Night.
Feast your stomach and eyes with the amazing performances from our open kitchen with lines: Oysters and Sashimi, Seafood on ice, Fresh Seafood and Live Station, Carving Station, Hot Food, Soup, Salad Station, Deserts.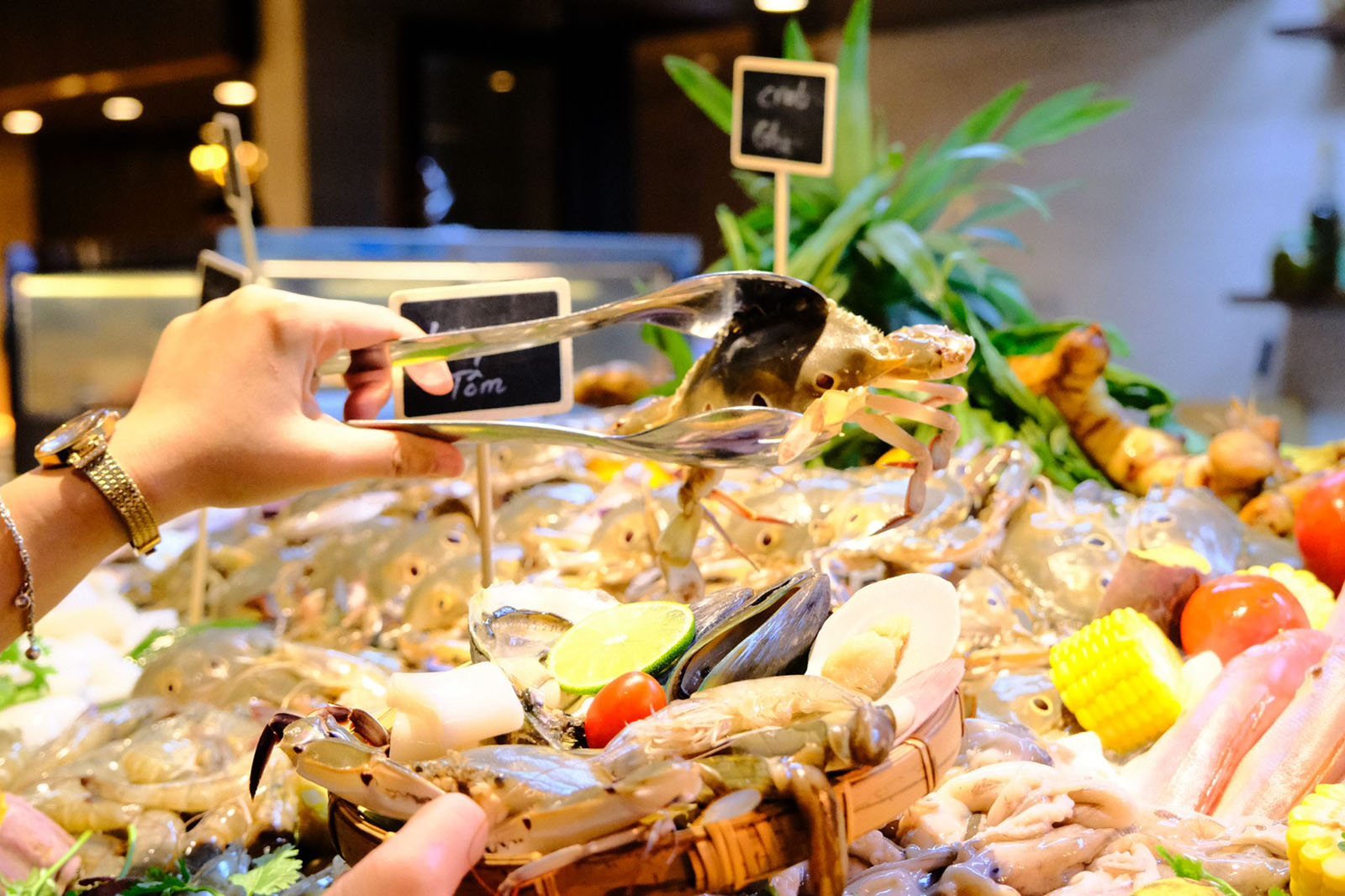 Take your fresh picks and watch the chef's cooking performance
The menu is diverse with more than 80 delicious and nutritious dishes, made from dozens of fresh seafood caught on the day. Diners can choose their own ingredients from the open seafood counter, and enjoy the processing process and impressive performances from Radisson's chefs.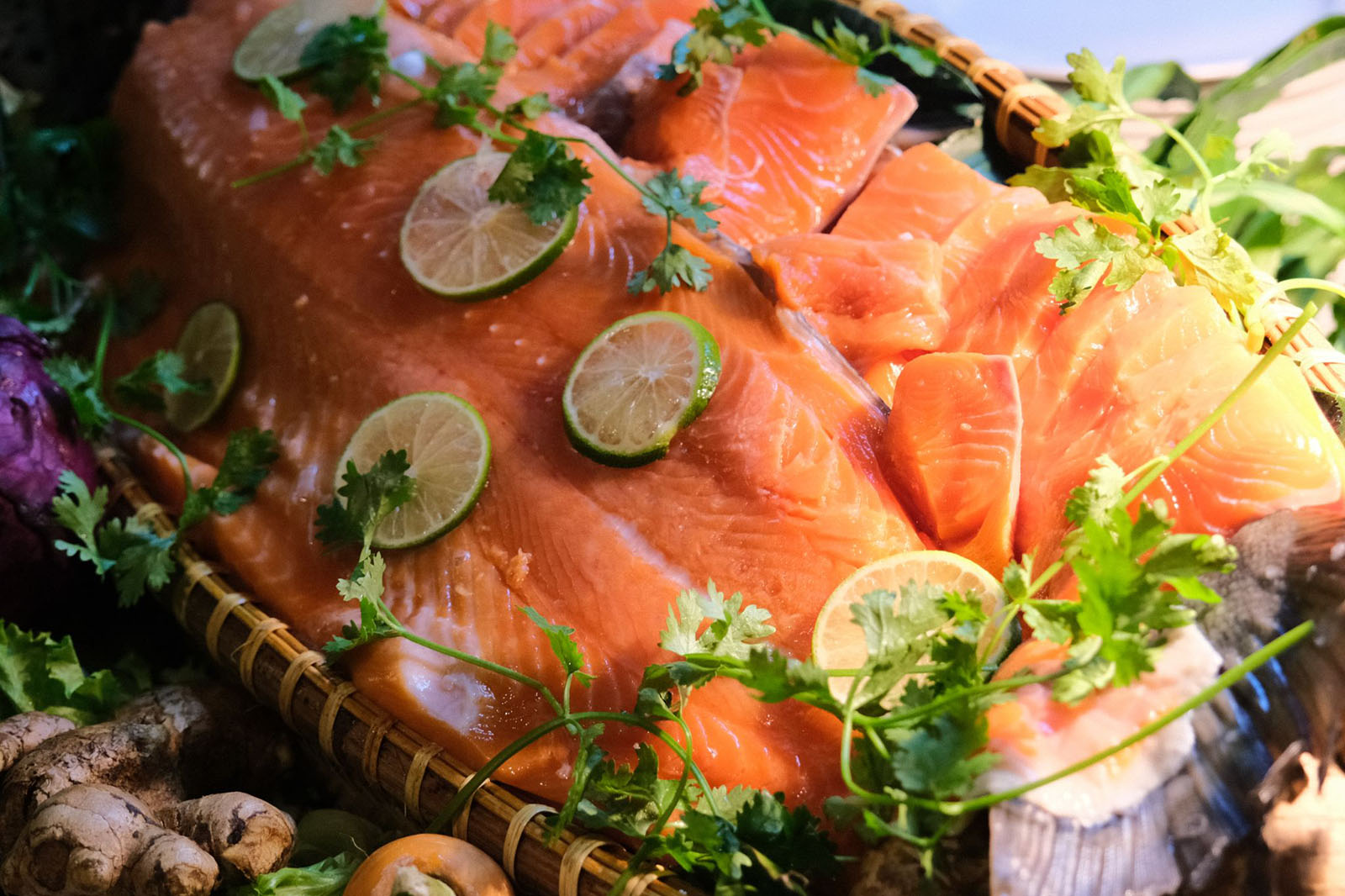 Enjoy the natural freshness of fresh sashimi and seafood.
As the focal point at Sea Feast Night, the fresh seafood station including oysters, sashimi, and seafood on rocks such as crab, octopus, squid,… cook, bake, fry, steam, etc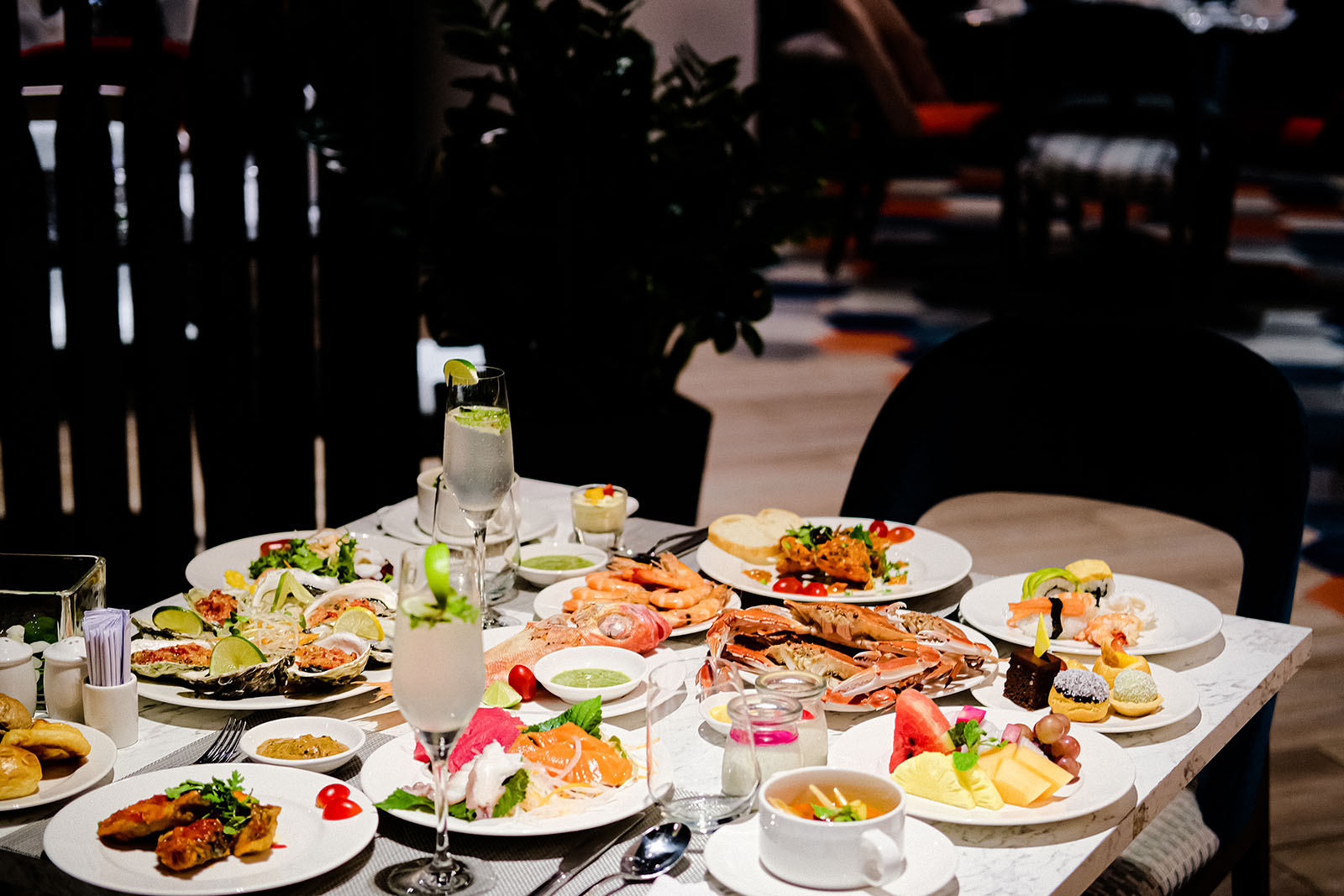 Diners can enjoy hot dishes available while waiting for fresh seafood to be prepared.
Carving Station, Hot Food, Soup, and Salad Station are always hot and ready to be served with 20 prepared seafood dishes such as Singaporean chili blue sea crab, seafood fried rice, baked whole sea bass with rock salt, Tom yum Goong, etc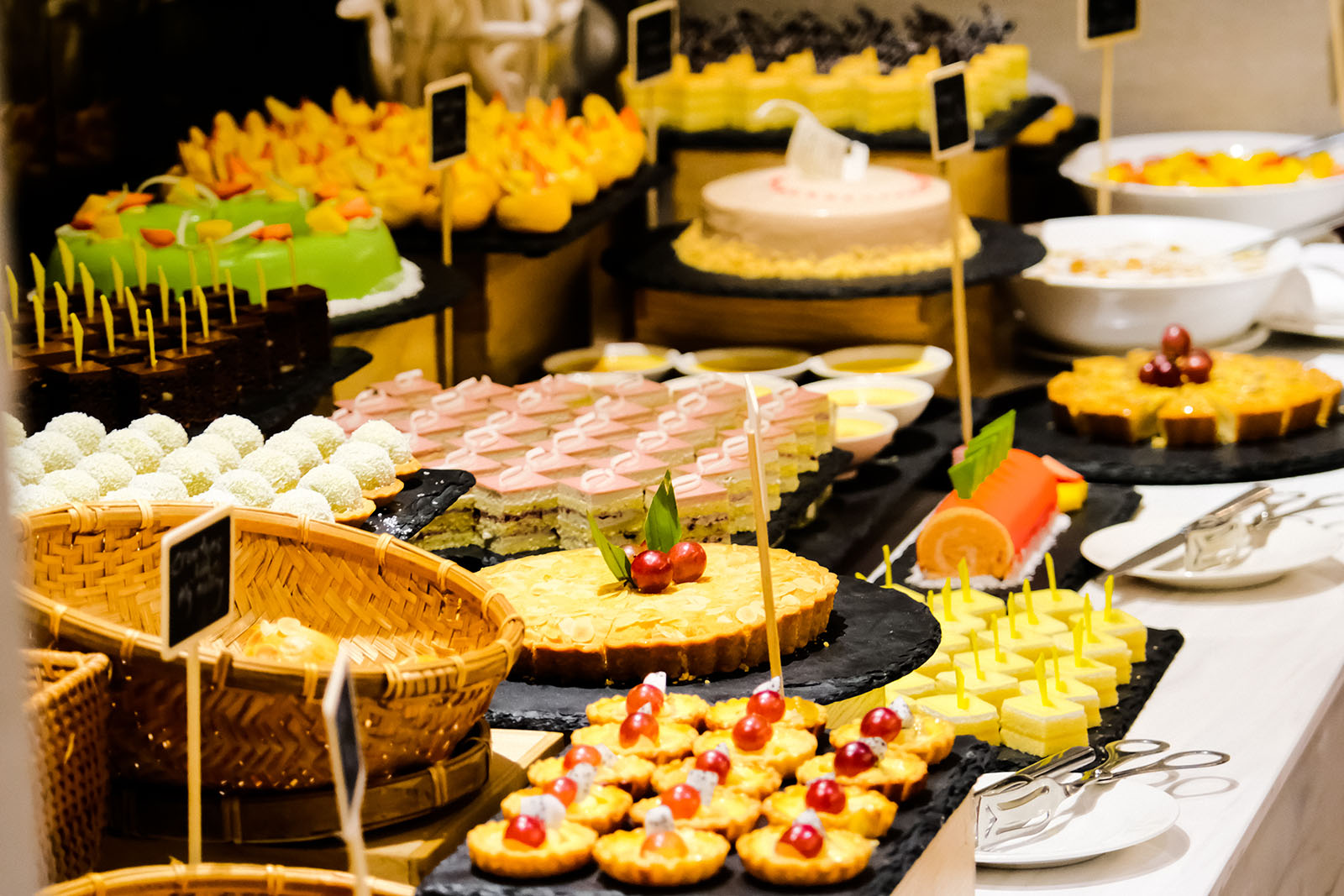 In addition to seafood, Sea Feast Buffet also offers cakes and fresh bread produced on the day such as coconut cream Brulee, chocolate brownie, caramel cheese mouse, etc. to be a sweet ending to your meal at Radisson Danang.
In pursuit of bringing the perfect holiday to customers, Radisson Hotel Danang always tries to put our full attention on each service, including The Market Place restaurant and the Sea Feast Night. Join the culinary journey with Radisson Danang to satisfy your culinary passion, attentive service style, and memorable moments.
Let every meal be a kind of cuisine adventure which leads you from this surprise to another pleasantness. Experience Radisson Buffet to enjoy the unique culture through excellent performances of flavor and taste.
—
Radisson Hotel Danang
Address: 170 Vo Nguyen Giap, Phuoc My Ward, Son Tra District, Da Nang
Hotline: 0236 3898 666
Website: www.radissonhotels.com/en-us/hotels/radisson-da-nang
Danangfantasticity
Express Your Reaction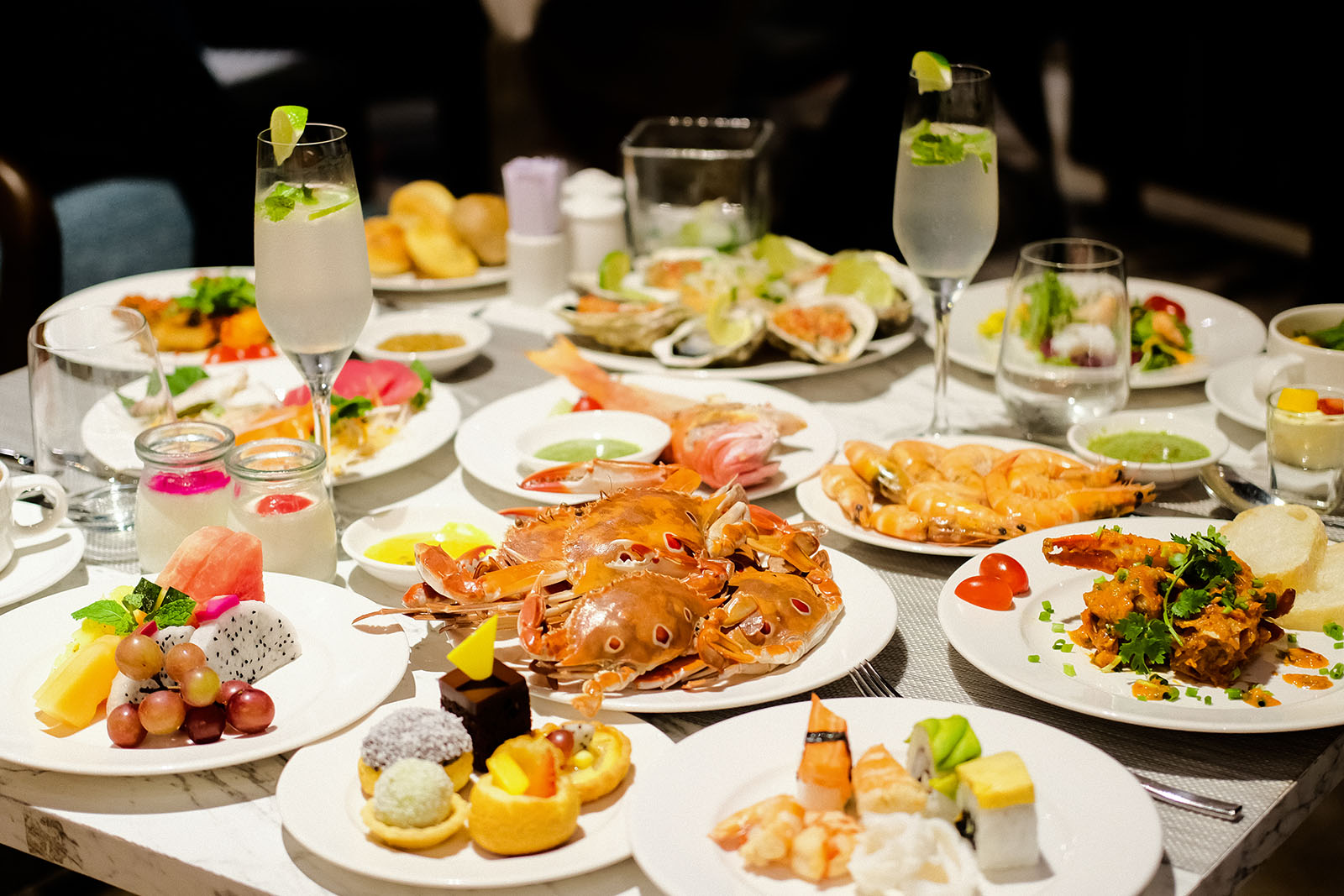 You have reacted on

"Open up your palate to the tastiest wonders of ..."
A few seconds ago
Latest Posts