Enjoy 5-star service and enjoy the best firework performances at Danang Golden Bay.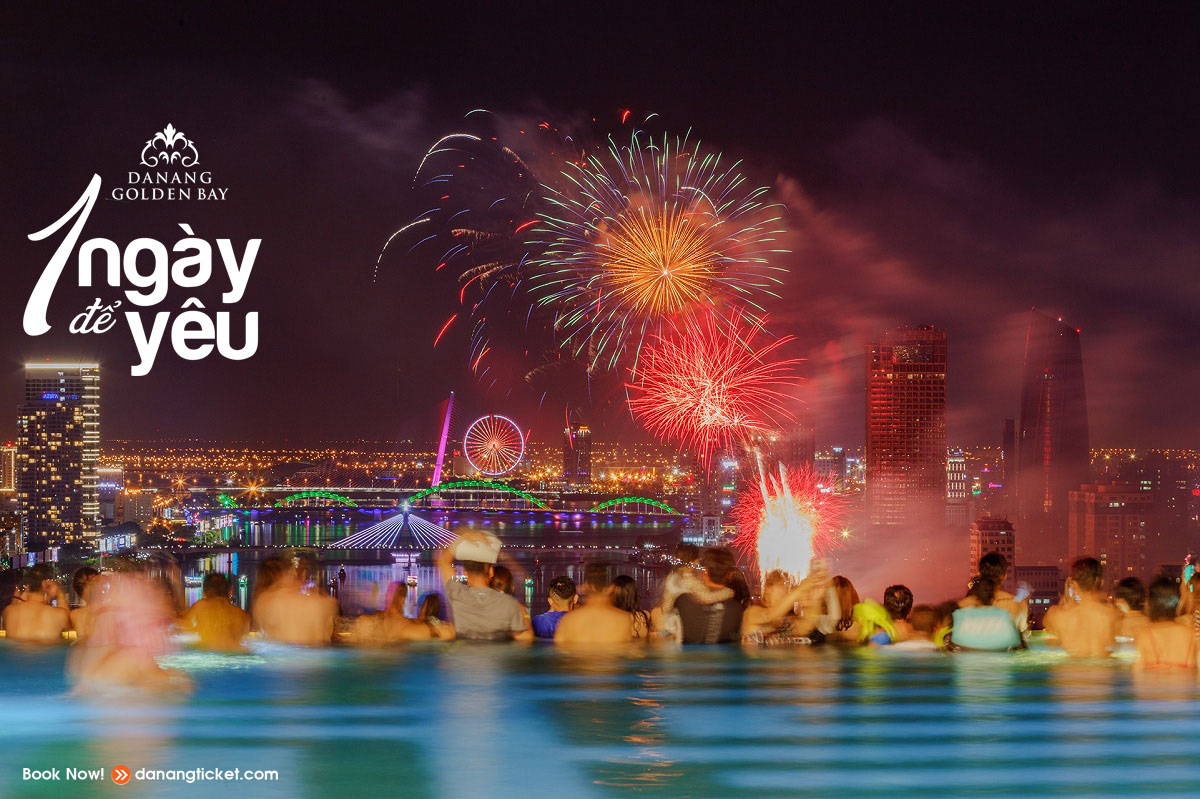 Nothing is greater than experiencing 5-star services and enjoy a colorful beer party, while swimming and enjoying the best view of fireworks skies in Danang!
During Danang International Fireworks Festival (from 01/06 to 06/07), why not treat yourself some moments of relaxation with your friends and family at Danang Golden Bay !?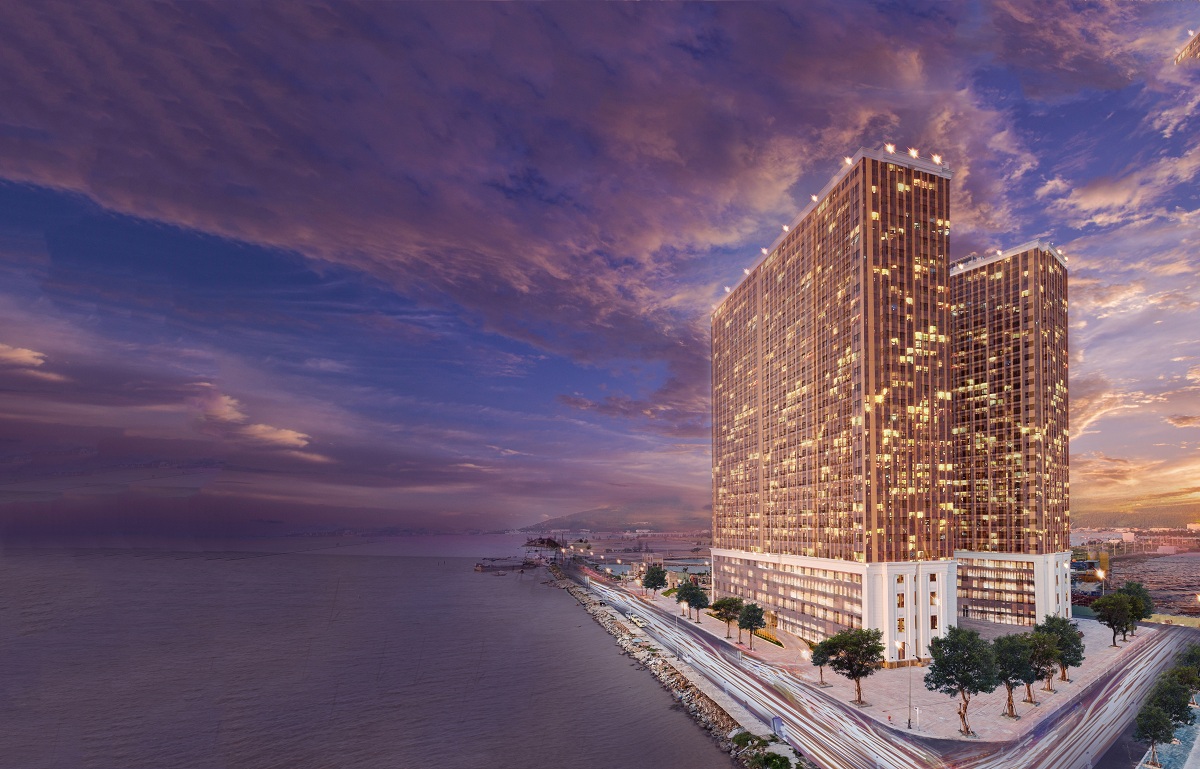 With an ideal location where the romantic Han River meets the blue ocean and the magnificent Son Tra Peninsula, Danang Golden Bay is known as the first 24K gold-inlaid hotel in Vietnam.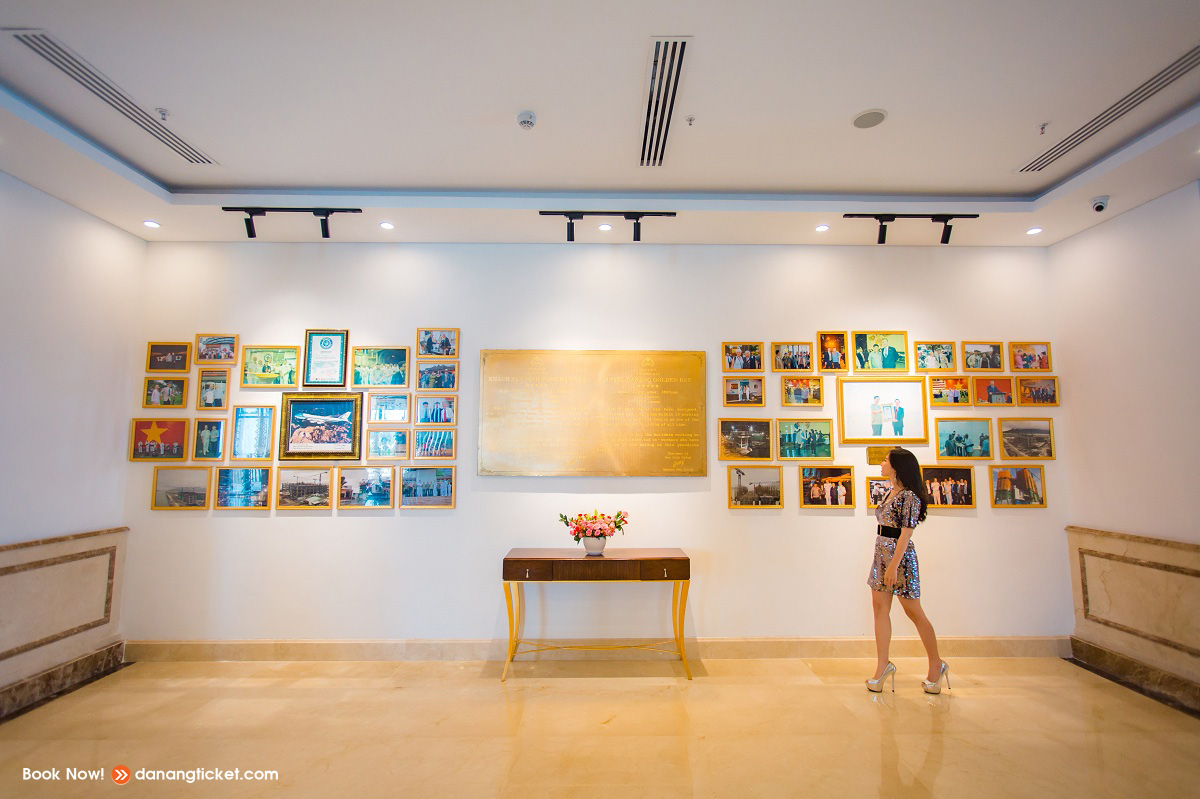 Entering the hotel at the fancy check-in area, you will be overwhelmed by the scale and elegance of such unique architectural style.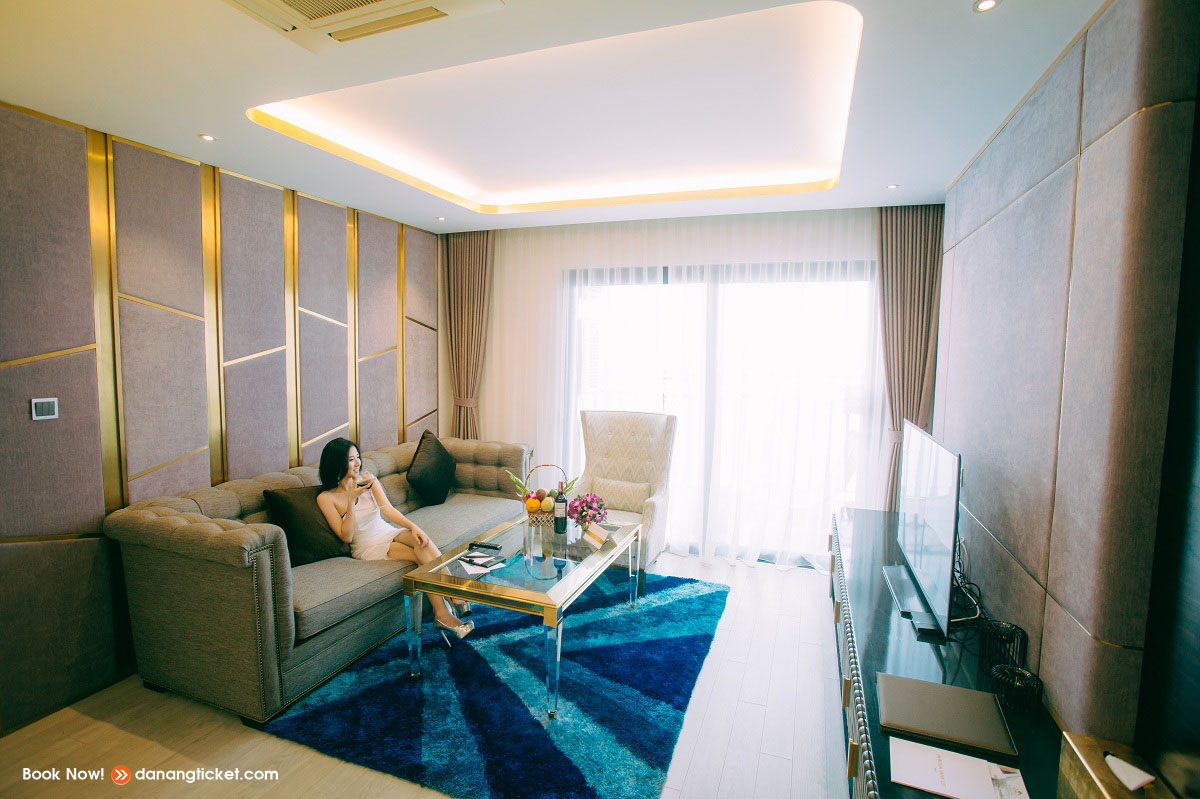 After checking in, you can experience a modern, spacious room system with views to the romantic river, the skyline of modern buildings in Danang or Danang bay.
Inspired by the world's wonders, Danang Golden Bay creates an ultimate relaxing and entertaining atmosphere, with a harmony between Asian and modern architectural atmosphere.
The hotel has 949 rooms fully inlaid with 24K gold and equipped with the top modern facilities.
DELUXE KING 
*2 nights stay in Deluxe room (for 2 persons): 4,000,000 VNDD – Apply for stage of fireworks: 01, 08, 15, June 22, 2019, July 6, 2019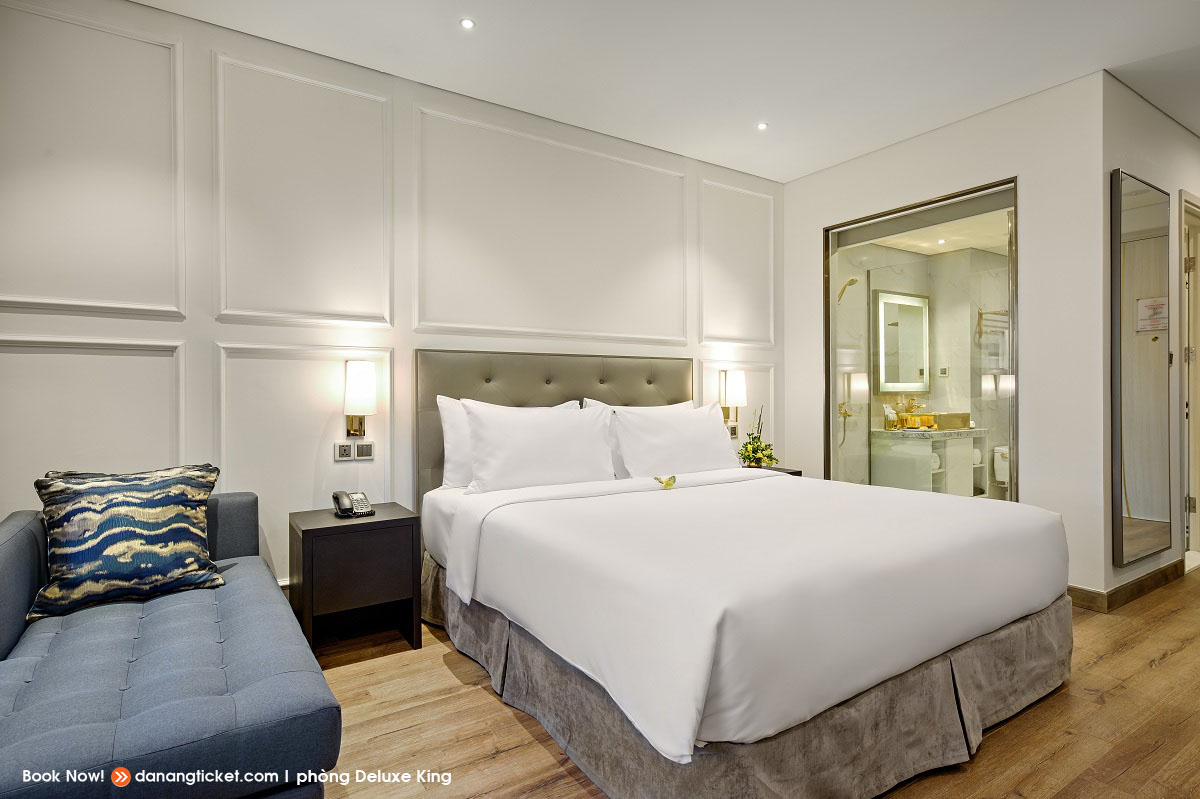 DELUXE TWIN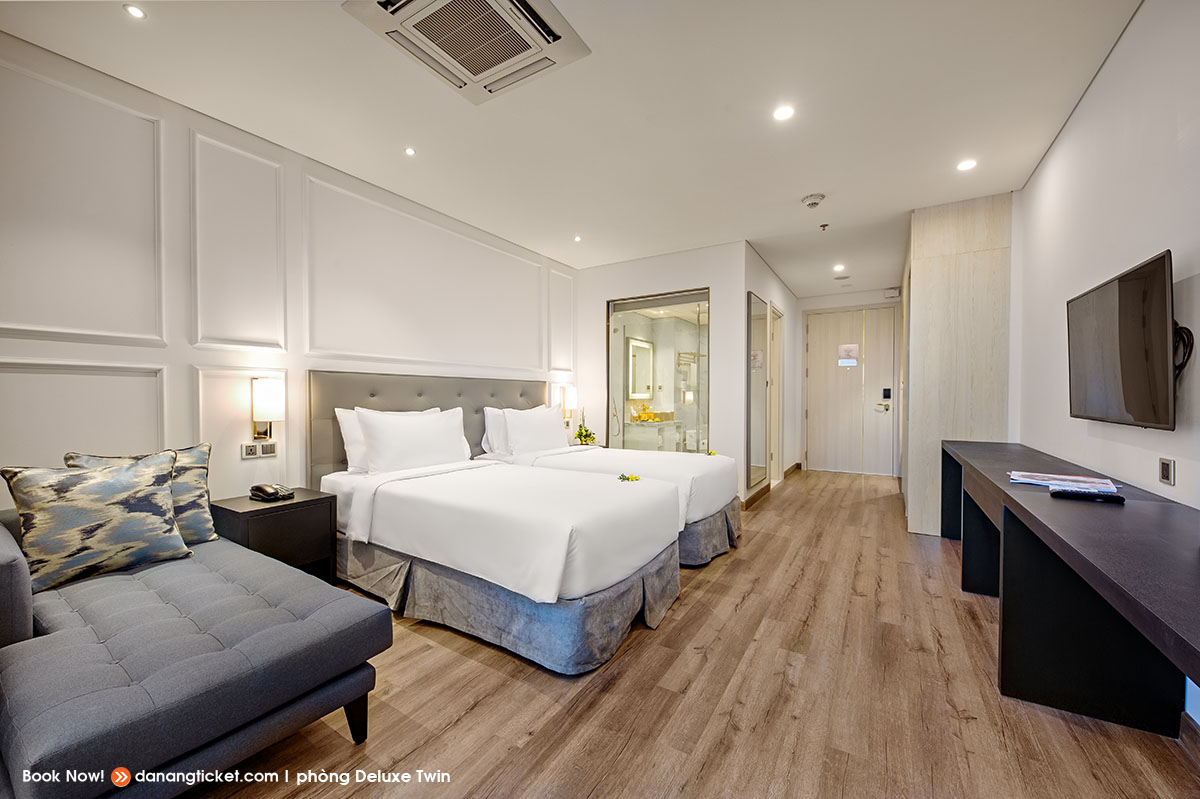 CORNER SUITE 
*2 nights stay at Corner Suite (for 4 people): 6,000,000 VNĐ – Apply for stage of fireworks: 01, 08, 15, June 22, 2019, July 6, 2019
Each room has the most comfortable bed and modern facilities, specifically with elegant design and setting to capture the best views of Danang bay and the city. The equipments are gold-inlaid with refined color tones, which make the rooms more exquisite than ever.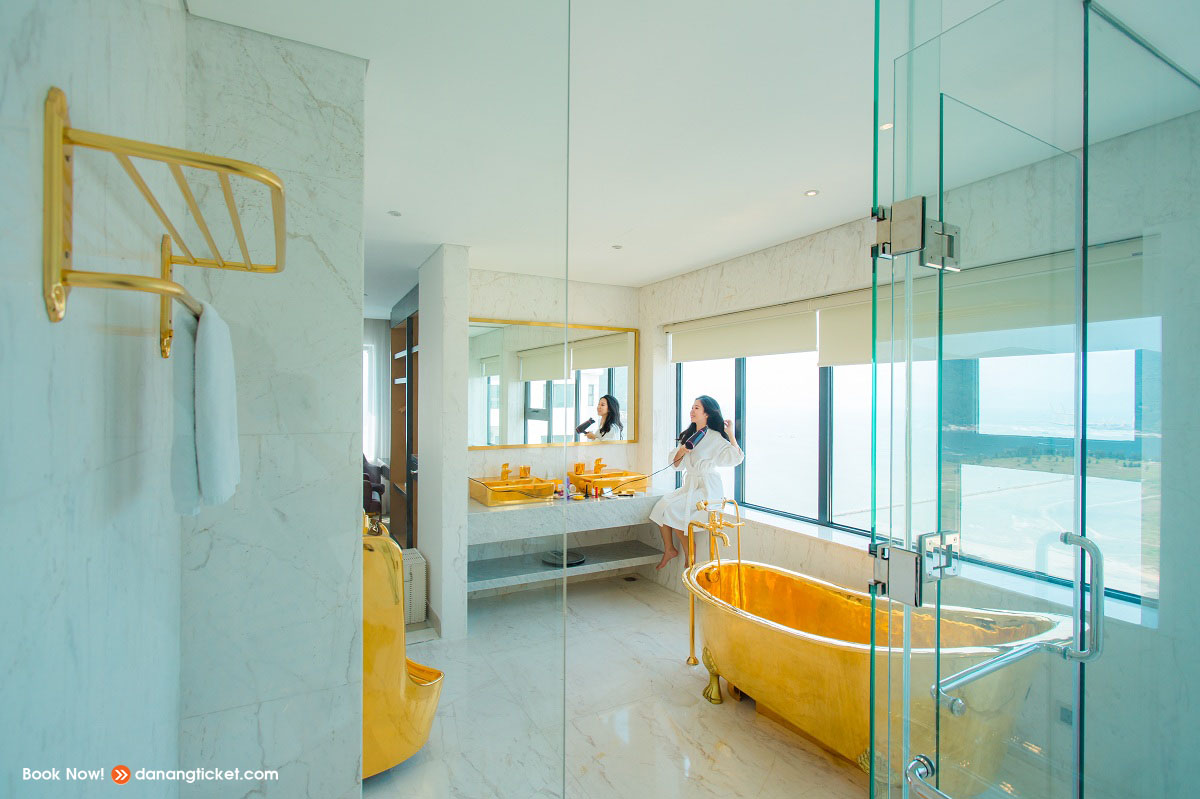 You may have forgotten how important the bathroom is until you experience the relaxation in the gold-inlaid bathrooms in Danang Golden Bay.
Don't forget to spend some of your own time at the balcony of the hotel to indulge in the view of the sky, the clouds, the mountain, the bay and the sea – breathtaking as ever.
The Wonder Park is also a golden check-in spot when coming to Danang and staying at Danang Golden Bay. There are many statues and models of the world's wonders, carefully crafted to the details by the most talented artists of the country.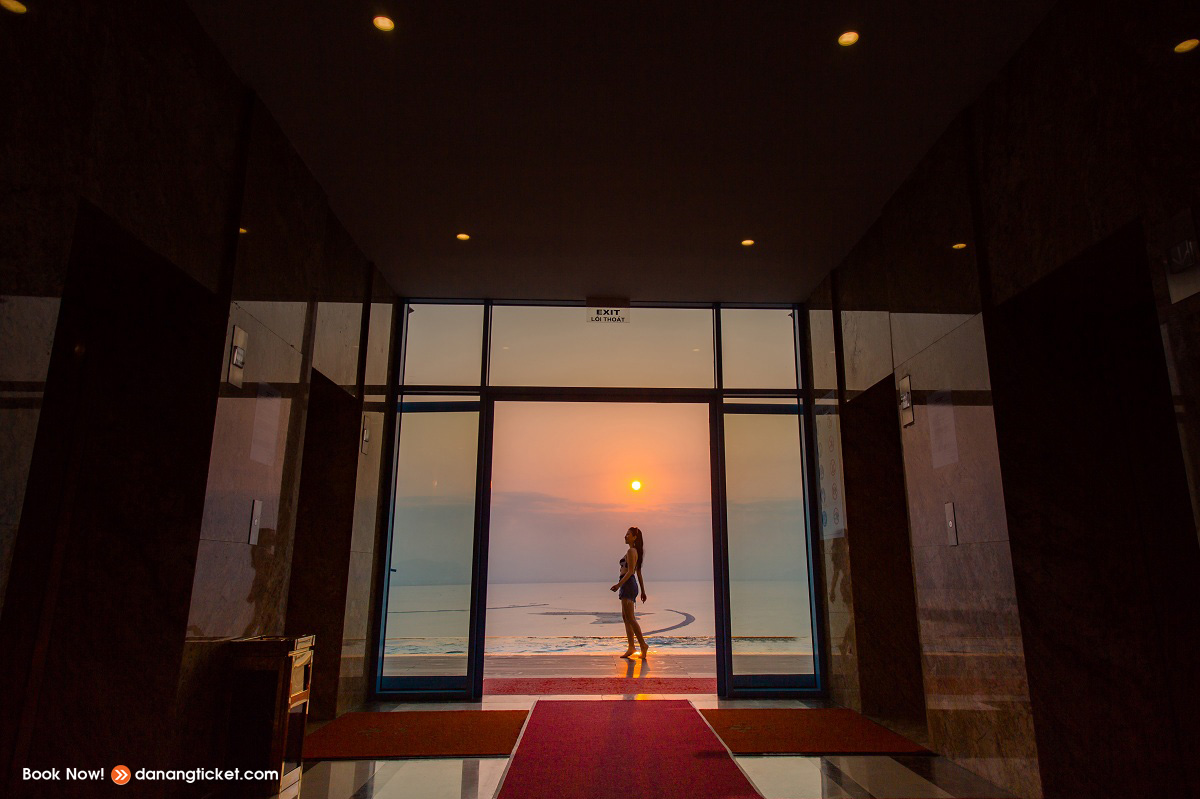 Located on level 29 of Danang Golden Bay Hotel, the gold-inlaid infinity pool is an ideal place to enjoy the city's sunset.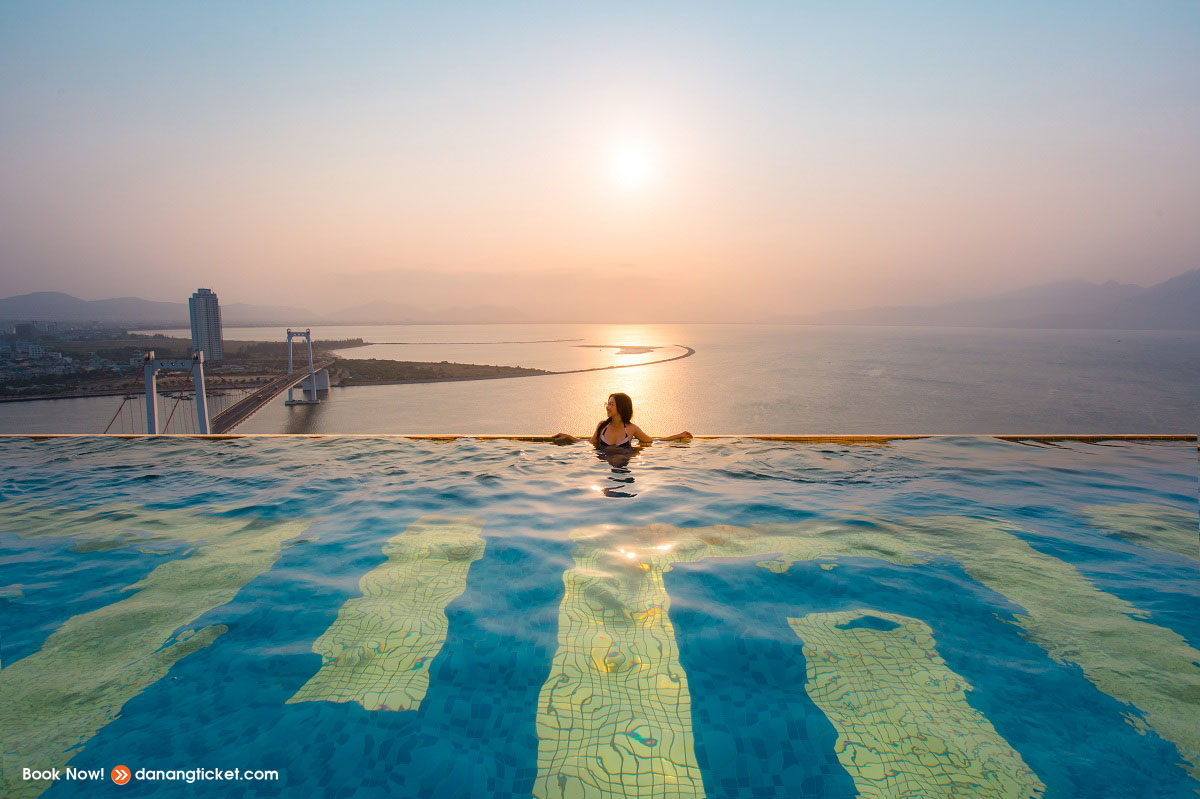 The pool is specifically designed to let the water overflowing the pool, creating a mirror-like surface.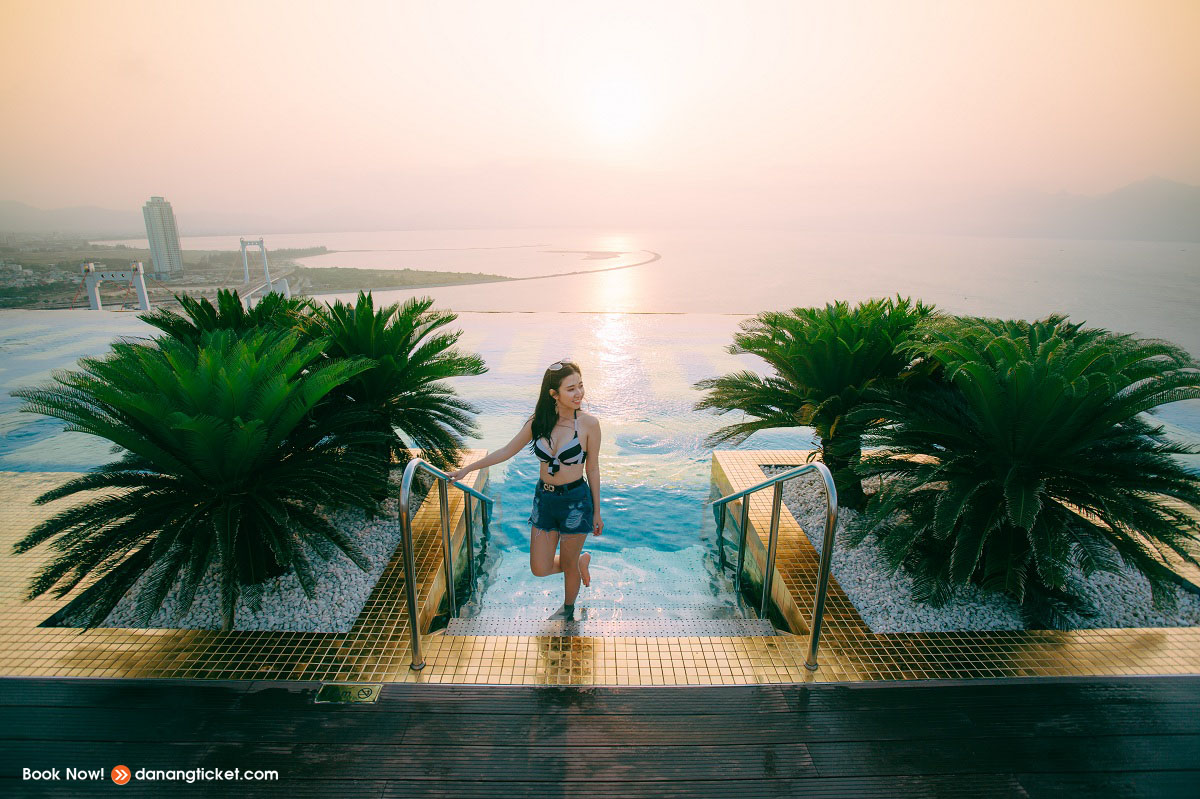 68 meters long and 12 meters wide, this work is not only unique in Vietnam, but also honored by World Records Association as the highest and biggest 24 gold inlaid pool in the world.
Especially, Danang Bay Hotel organizes BEER POOL PARTY during the fireworks dates of DIFF (01, 08, 15, 22/06; 06/07) at the infinity pool.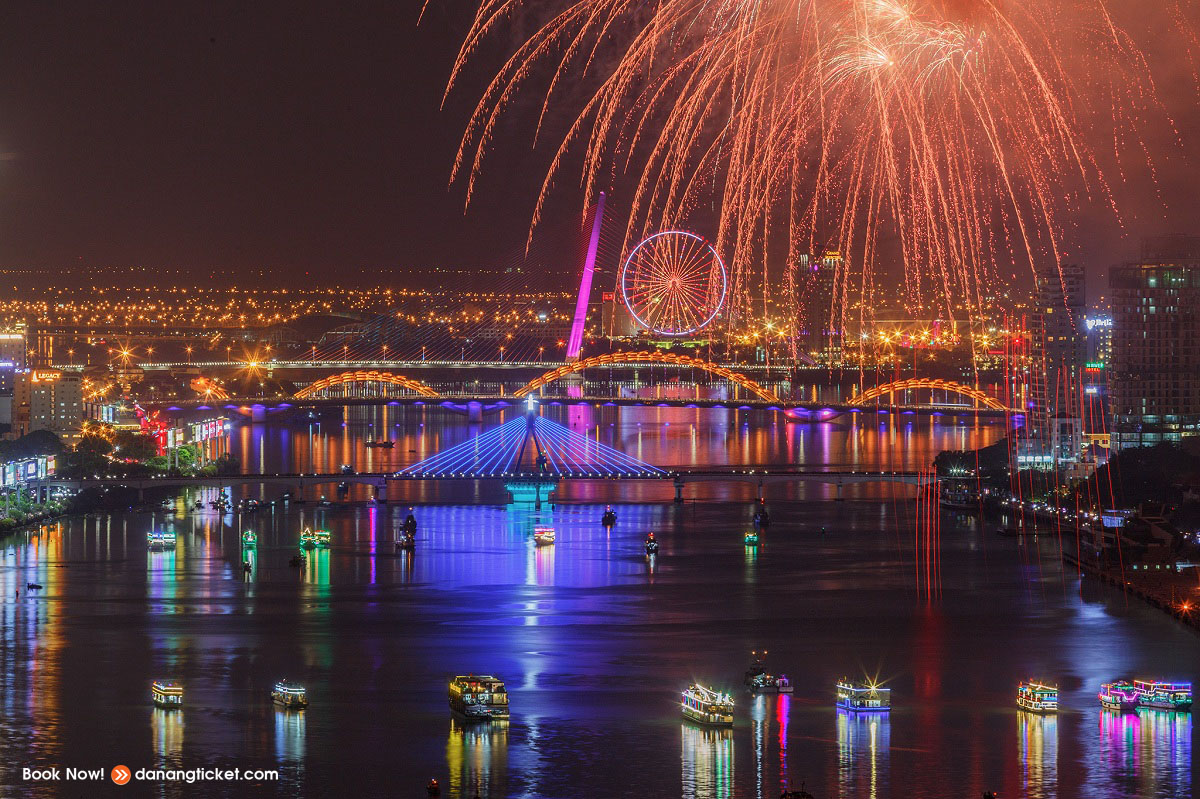 What is more awesome than a colorful beer festival at the coolest infinity pool in Danang and the best view to fireworks performances?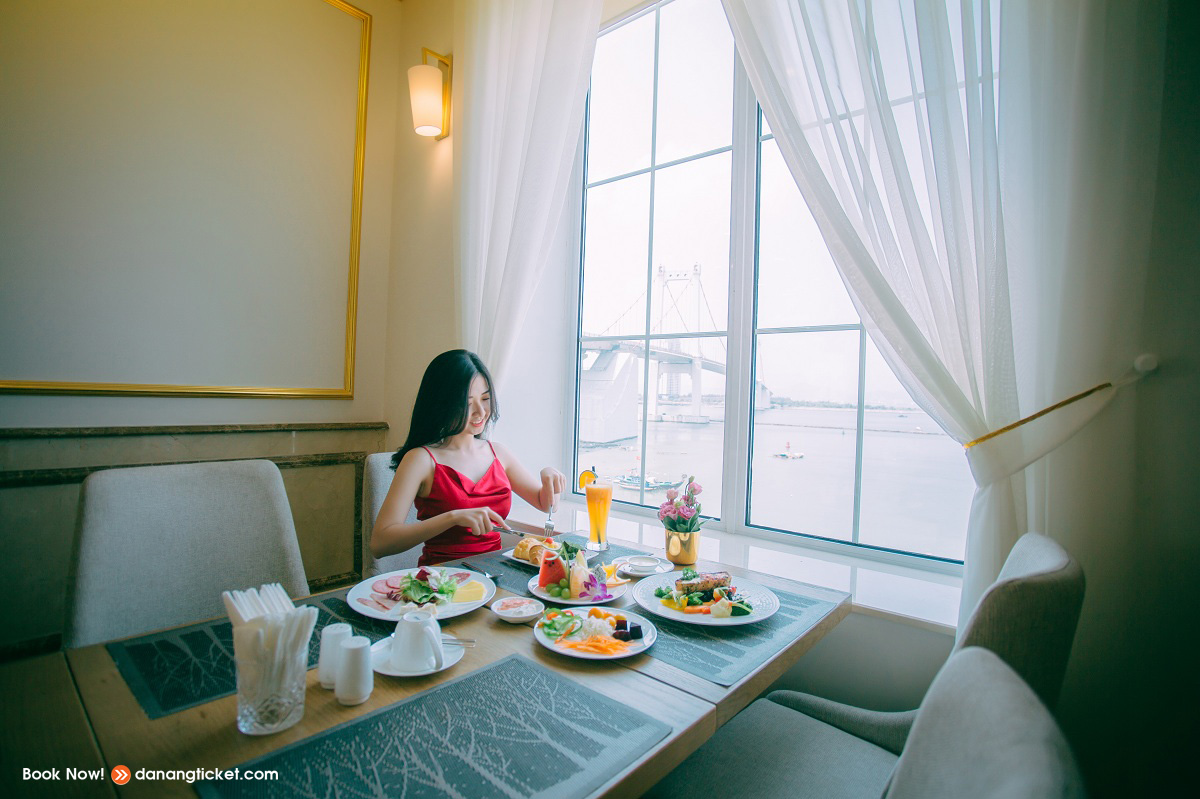 After an exciting day full of experience, let Danang Golden Bay suprise you with chef's signature dishes during breakfast buffet at Horizon restaurant at Floor 3, where you'll get to enjoy your meal over the view of Danang bay and Son Tra Peninsula.
All of these experiences are included in the "Full package at Danang Golden Bay in DIFF 2019" with only 4,000,000 VND per two nights at Deluxe (for 2 people) and 6,000,000 VND per two nights at Corner Suite (for 4 people) with super hot extras:
Free entrance to beer festival with talented DJ, enjoying the fireworks at Beer Pool Party from 18:00 to 22:00 during fireworks time (child's entrance not included)
01 free set of afternoon tea at the restaurant and check in at the inlaid models of world's wonders in Wonder Park
Free upgrade to Deluxe Golden Bay (based on availability)
Free for 2 kids under 12 years of age to share beds with parents
Explore Danang by shuttle bus
Price has included tax and service charge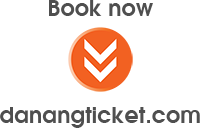 Hotline: 0901 990 691 (Ms. Ngân Hà)
All wonderful moments at Danang Golden Bay are waiting for you to come and fall in love with the high-class paradise in Danang.
Binh Phan – Enjoy 5-star service and enjoy the best firework performances at Danang Golden Bay
Latest Posts