Foreigners praise Da Nang for its active support amid COVID-19 crisis
Police in My An Ward, Ngu Hanh Son District, Da Nang, on August 19, suddenly received a thank you letter from the Argentine ambassador in Viet Nam and thank-you messages from many foreigners. All of them expressed their sincere gratitude to Da Nang police for their active support given to them during their stay in the city.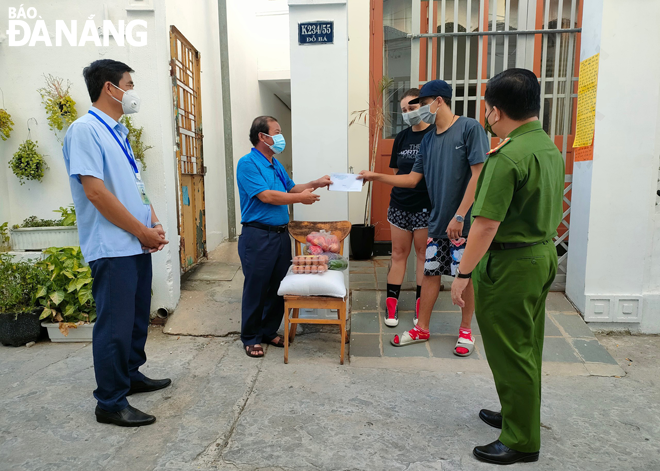 In his thank you letter,  the Argentine ambassador expressed his sincere appreciation to the police in My An Ward, and in Da Nang as a whole, for all their kind assistance to Mr Catriel Barretto, an Argentine national, in an effort to faciliate him to leave Da Nang for his country. Mr Catriel Barretto also expressed his thanks to Da Nang police and Vietnamese competent agencies for their timely support given to him to help him get back home safely.
Mr Hoang Thanh Thien, the Head of the My An Ward Police Station, said that the  "Legal Advisory for Forgeiners – Free Legal Aid for Foreigners" programme has been introduced in the ward in the past more than 2 months with active involvement of 143 people who are police officers, university lecturers and legal experts. The programme aims to keep expats in the ward informed on the changes to Vietnamese laws along with the guidance and advice for infection prevention and control from national and municipal governments in a bid to help them follow the regulations to protect themselves and others from coronavirus
Ngu Hanh Son District Party Committee Secretary Nguyen Thi Anh Thi said that  My An Ward is home to a large number of foreigners, and police officers win the trust and respect of local residents, especially foreigners, for having a strong sense of responsibility, professional capacity and foreign language proficiency.
Since early July 2021, a large number of foreigners have come to the headquarters of the My An Ward People's Committee and local police station to ask for support. Till date, there have been 145 foreigners who regularly keep in touch with the My An Ward Police Stattion via Zalo group of the 'Legal Advisory for Forgeiners' programme to ask for help when they need it.
By late August 2021, the programme had translated 147 documents of local authorities on COVID-19 control measures in order to help foreigners comply with these regulations in addition to receiving 325 questions related to Vietnamese laws from foreigners.
Besides, officers in My An Ward transported 115 foreigners from My An Ward to the bypass in South of Hai Van Pass to take the bus to Ha Noi or Ho Chi Minh City to fly back home amid COVID-19 crisis.
Moreover, officers have provided cash and food support for foreigners, helped 207 foreigners with food shopping, returned lost property to two foreign owners in addition to conducting COVID-19 testing for nearly 1,000 foreigners.
The kind acts of officers in My An ward have left a deep impression on foreigners, contributing to successfully control the spread of the virus in their local area.
Reporting by TRONG HUY – translating by H.L
Latest Posts