The Da Nang Department of Health has recently made proposals to the municipal Steering Committee for COVID-19 Prevention and Control on the application of some certain safety measures against the current coronavirus wave after September 5 when the 10-day extension of the 'stay-at-home' order applied to the entire population expires.
These recommendations have been based on a large-scale assessment of the mass COVID-19 testing implemented by the Da Nang Centre for Disease Control (CDC) from August 16.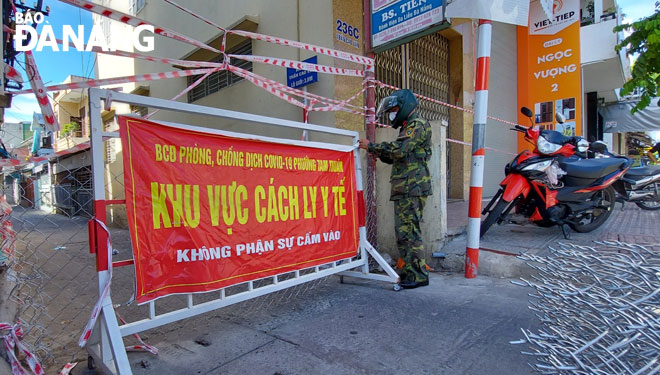 The Da Nang authorities will continue to strictly control red zones which are at a severe risk of transmission in a bid to ensure no at-risk cases are missed in the community. Photo: PHAN CHUNG
Continue to tighten the control of red zones
In order to continue to effectively implement pandemic prevention and control in the coming time, the Department of Health has proposed a must-do to continue to strictly control red zones which are at a severe risk of transmission in a bid to ensure no at-risk cases are missed in the community.
Under the rules, all people in red zones must stay at home at all times, limit gatherings and contact among family's members. Focus is on ensuring around-the-clock supervision, and prohibiting people and goods carrying vehicles from entering or leaving the red zone.
Taskforces allowed to operate in red zones must wear full protective overalls, keep a distance of at least 2 metres from others whilst contacting and receiving goods, disinfect hands before and after entering and leaving the red zone and make daily medical declarations.
Mass COVID-19 testing is conducted every 3 days until the red zone is lifted.
Also, residents are highly recommended  to make payment for the purchase of goods by bank transfer. In case of using cash, it must be disinfected before and after the transaction.
All vehicles and goods passing through checkpoints must be disinfected right here before entering /leaving blockaded areas.
Trash bins with foot pedals and yellow-painted garbage bags are used to store hazardous waste capable of infecting SARS-CoV-2. Also, garbage collectors must be equipped with protective equipment in accordance with the issued regulations.
The principle of each family isolating itself from other families must remain in place. Accordingly, people must 'shelter in place', and neither contact others outside their homes nor let anyone come into their homes.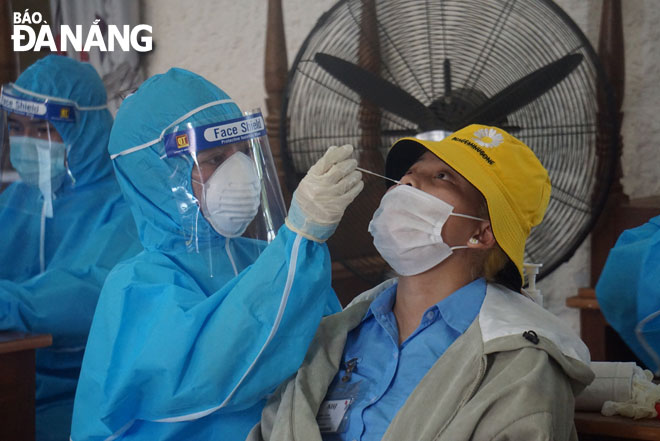 Mass COVID-19 testing will be carried out with the frequency and rate of testing depending on the risk level of each area. Photo: PHAN CHUNG
Reopen some activities and services
As yellow and green areas, the local healthcare sector has recommended to continue strictly implementing COVID-19 prevention measures stipulated in Decision No. 2860/QD-UBND dated August 25 by the municipal People's Committee.
Some industries, sectors and necessary services may resume their operations provided certain rules must be obeyed. In detail, their employees have received at least one dose of COVID-19 vaccine. Also, they are required to test for the virus via either RT-PCR or rapid antigen tests every 3 days and comply with the pandemic prevention and control measures as prescribed, especially the 5K recommendations adopted by the Health Ministry and wear anti-droplet face shields.
With regard to apartment buildings, it is necessary to request all residents to ensure the strict compliance with compulsory safety regulations against the deadly virus. In fact, the risk of cross-infection in apartment buildings is high. If a positive case is detected, the virus is highly likely to spread onto the whole apartment floor. Therefore, residents living there must avoid coming into contact with others to avoid cross- infection within apartment buildings.
Anyone who displays suspicious symptoms of the highly contagious disease must immediately contact medical facilities for medical interventions.
Last, but not least, it is necessary to increase the monitoring of the public compliance with the COVID-19 health and safety precautions in alleys. In reality, some alleys which are so much narrow. If residents of two separate houses talking at the doorsteps to each other without wearing face masks may increase the risk of transmissions because the safe distance as requested is not guaranteed.
Danang Today
Express Your Reaction
You have reacted on

"Da Nang to tighten control of red zones; possib..."
A few seconds ago
Latest Posts