Da Nang People's Council Chairman Luong Nguyen Minh Triet on Monday afternoon met with members of the municipal COVID-19 Monitoring Committee to discuss next moves for the transition to the new normal.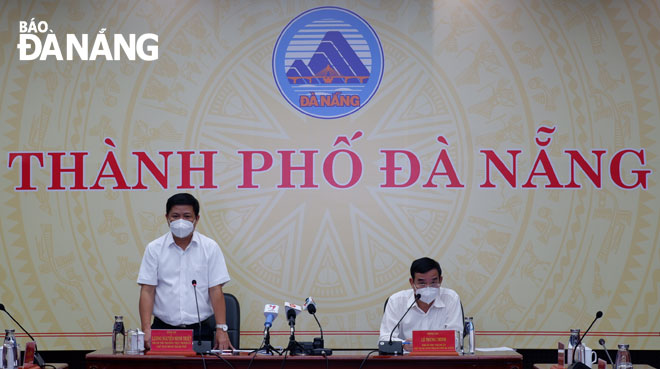 Chairman Triet said that the city is mapping out economic recovery plan following its transitioning to the new normal. High priority must be given to providing active support for micro, small and medium enterprises as they are an important source of employment, a source of innovation and increased productivity, and one of the key pillars for development, he emphasized.
Mr Triet remarked that many citizens expressed their opinions on three options for the city's transition to a new normal. They raised concerns about the first and third normalization options which will see additional restrictions to be dropped and deploy COVID-19 pass scheme respectively, causing difficulties for Da Nang to apply.
He stressed the need to conduct a thorough discussion on the city's normalization schemes in order to determine how best to transition to the new normal.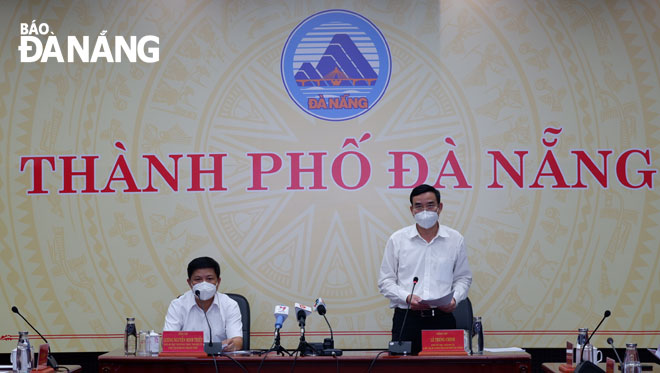 Municipal People's Committee Chairman Le Trung Chinh (right) addressing the meeting. Photo: PHAN CHUNG
Mr Triet stated that daily COVID-19 infections in Da Nang show significant drop but a new cluster of cases was identified in Hoa Khanh Industrial Park, Lien Chieu District on Monday. He is, therefore, calling on officials and each individual across the city to remain vigilant, responsible, wise and aware, as well as continue to follow the recommended preventive measures in line with the current direction in a bid to prevent the spread of the virus.
Mr Triet highlighted need to beef up tracing, testing and isolating all contacts of new cases in an attempt to break the chains of transmission.
Municipal People's Committee Chairman Le Trung Chinh directed the taskforce to continue to tighten controls at entry points with a focus on active surveillance for the early detection and isolation of cases as recent new cases were confirmed in arrivals from COVID-19 affected areas.
The city leader also said that the city's normalization schemes are under discussion, The Da Nang government will look at recommendations from relevant agencies to choose the right plan for transitioning to the new normal. The city will consider continuing to apply COVID-19 control measures in line with the current direction from municipal and national governments, and replacing current travel permits and market entry cards with COVID-19 vaccination certificates, Mr Chinh remarked.
Theo baodanang.vn
Express Your Reaction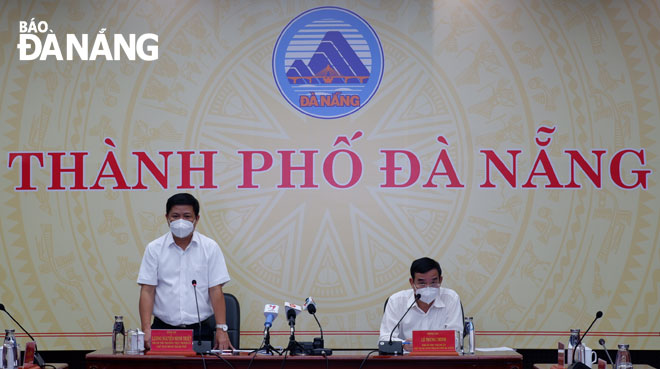 You have reacted on

"Da Nang maps out next moves in COVID recovery plan"
A few seconds ago
Latest Posts