At least 87 per cent of residents hope to engage in local tourism if the coronavirus is put under control by the central city later this year. Only 6.7 per cent said they would not travel due to the pandemic and a shortage of money.
Đà Nẵng City's tourism promotion centre has released a survey of 3,000 people living in Đà Nẵng from June 20 to July 10, stating that friend groups and family tours were a favourite option of 62 per cent of people, and travelling by personal motorbike was favoured by 48 per cent.
Đà Nẵng, which has been hit by the fourth wave of the coronavirus since last April, witnessed more than 1,000 infection cases in A one-week lockdown between August 16-23.
However, the city hoped it would put the pandemic under control after a three-day extension from August 23-26.
According to the survey, 58 per cent of people would book a four-star hotel, villa or resort for a short family vacation to recover mental health after the long tiredness from social distancing and lockdown orders over the past 18 months.
A total of 51 per cent of people would choose tour services with prices from VNĐ500,000 to VNĐ2 million, while 25 per cent expect a tour package from VNĐ2 million and VNĐ5 million.
Half of the people said they would book tours at local destinations with the aim of promoting local travel agencies suffering losses after the pandemic.
About 46 per cent said they still hesitated travelling away from home as a pandemic outbreak could disrupt their plans or leave them stranded at far away destinations.
Two new emerging destinations – the Đà Nẵng-Mikazuki Japanese Spa and Resort project, the first five-star resort and entertainment centre in Đà Nẵng Bay, and the riverside Yên Retreat in rural Hòa Bắc Commune – were given the thumbs up from 72 per cent of those surveyed.
Meanwhile Bà Nà Hills, Thần Tài mountain hot spring and Sơn Trà nature reserve were an option for 30 per cent of people.
Vice director of the city's tourism department Nguyễn Xuân Bình said Đà Nẵng had planned post-coronavirus recovery scenarios and online promotion for the future.
He said the city would recover with a series of agreements on tourism promotion with localities and the Japanese market, and the city's 'green' industry would still look to expand to new tourism markets in the future.
Bình said the city expected growth of tourists from neighbouring localities in the central and Central Highland regions as well as in Hà Nội, HCM City, Cần Thơ, Hải Phòng and Quảng Ninh when flights and traffic resume after the coronavirus period.
He said the city's tourism promotion centre last year signed an agreement supporting Japanese tourists and promotion programmes for Đà Nẵng in Japan through social networks in all cities in Japan as a pandemic recovery plan.
Chairman of the city's tourism association, Cao Trí Dũng said digital transformation was a positive solution in setting up stable tourism growth for the city in the future.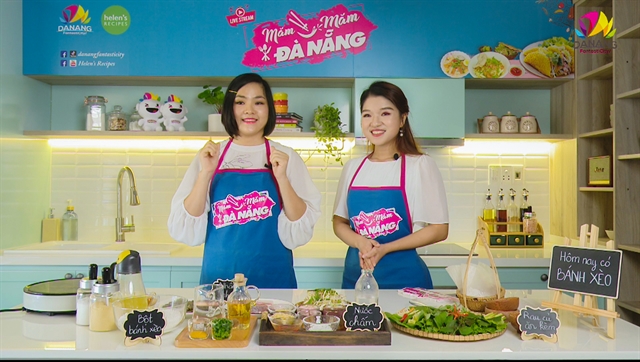 He said technological applications in tourism were not yet a strong point in the city's travel agencies, and only a few hotels and resorts had built up themselves through online bookings and marketing as well as Virtual Reality (VR).
Dũng said e-tourism should be promoted in supporting a damaged tourism industry  by hosting online travel marts, webinars, destination and cultural live stream promotions as well as surveys on post pandemic travel trends.
He said the smart tourism project, or VR360, had been included in the 'smart city' master plan in 2030-45.
Đà Nẵng, which was hit by four waves of COVID-19, only saw 600,000 tourists in the first quarter of 2021 – a 60 per cent decrease with the same last year, while the second quarter was largely blocked by coronavirus outbreaks from late April.
According to the latest report from the association, at least 1,600 tourism businesses (82.6 per cent) in Đà Nẵng were shut down, and 3,800 labourers made unemployed.
The city's tourism department only expects those on 'vaccinated passports,' foreign experts and the possible resumption of domestic flights to kick-start any kind of tourism in the fourth quarter. VNS
Vietnam News
Latest Posts