Brilliant Hotel: Flamenco night with " Flambe Steak "
First time in Da Nang …
EAT "FLAMBLE STEAK" – ENJOY FLAMENCO NIGHT
In the cool air of a seaside city, in a private space of Brilliant Top Bar with a magnificent view of beautiful Danang city, a vibrant Mediterranean-style evening is surely a great experience, which cannot be easily forgotten in your entire life. Come to Brilliant Top Bar for a FLAMENCO night on WEDNESDAY 13th Sep 2017, you will find yourself lost in Barcelona on the liveliest street in Europe "La Rambla" and enjoy an Europe of "a Moveable Feast".
SPECIAL OFFERS
REDUCE 30% for "Flamble Steak" – Signature dish of Brilliant Top Bar
FREE a glass of wine
Time: 19h-22h Wednesday, 13th September 2017
Location: Brilliant Top Bar, 17th Floor, Brilliant Da Nang Hotel, 162 Bach Dang Street
Hotline: +84 236 3 222 999 / +84 905 984 888
Express Your Reaction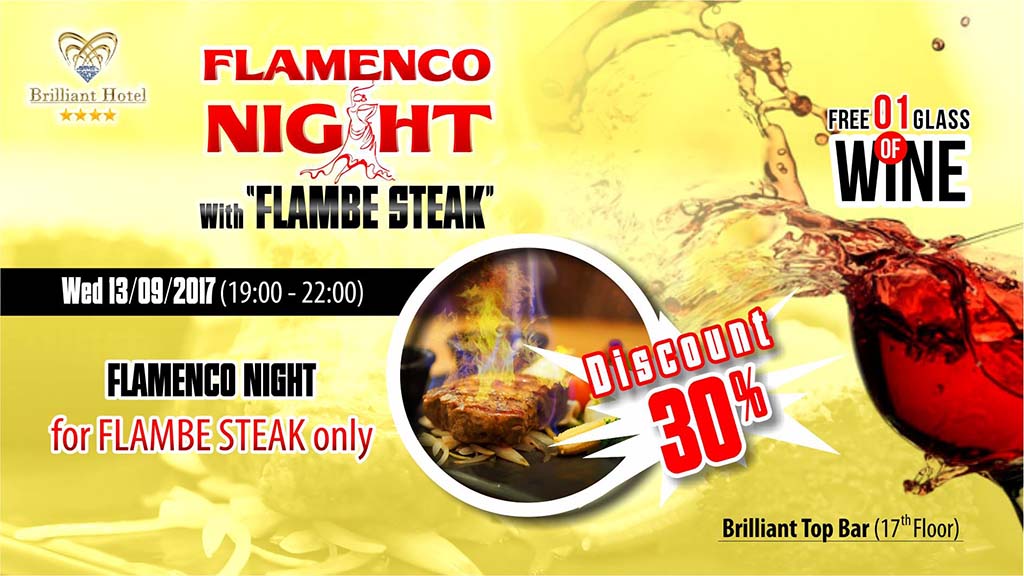 You have reacted on

"Brilliant Hotel: Flamenco night with " Flambe S..."
A few seconds ago
Latest Posts