Summary of famous food markets in Danang
Summary of famous food markets in Danang
Enjoying Danang cuisine is always one of the must-try experiences for tourists and local people. In particular, tourists should not miss local markets where they can find not only delicious and cheap specialities but also a place that fully reflects the culture of Danang people.
Let's have a look at all must-see food markets in Danang:
1. HELIO NIGHT MARKET – THE BIGGEST FOOD HEAVEN IN DANANG
As a famous night market located on the central road 2/9 Da Nang, Helio Night Market is a place you must go. It boasts hundreds of delicious dishes from snacks, seafood buffet, beer, barbeque, milk tea, juices …. which for sure suits all your tastes.
Open every day from 17:30 to 22:30, with more than 150 food stalls, classified  into 3 main zones, cuisine at Helio Night Market is a unique selling point that sets Helio different from other places.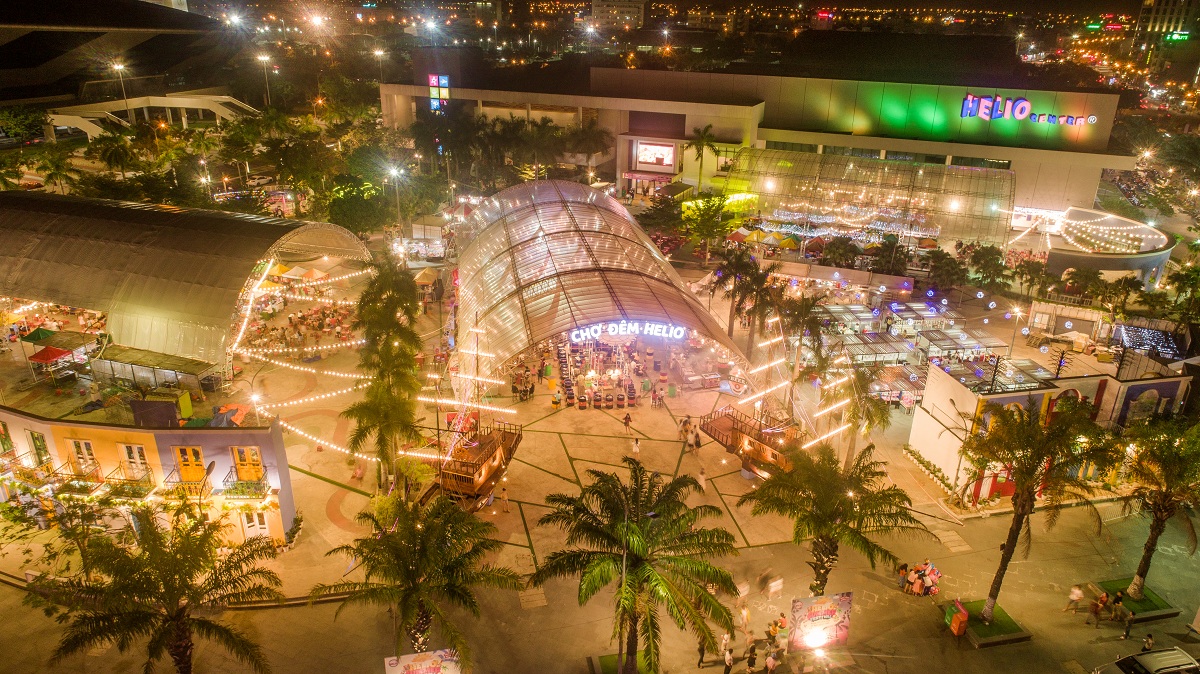 Area 1: Food zone with street food and full-course dinner
The first zone at Helio Night Market must be the sub-zone of street food specializing in food snacks, full-course dinner with countless classic snacks such as mixed rice paper, grilled rice paper, sandwiches, snails, stir-fried snails, grilled eggs, fried skewers, … or lots of full-course dishes such as Quang noodles, Vietnamese pancake, Bun Mam, rice noodle with grilled pork, chicken rice, stir-fried noodles, soup, mixed rice, hotpot. Specifically, all dishes are prepared in-house to ensure that all dishes are served hot, safe and super attracitve.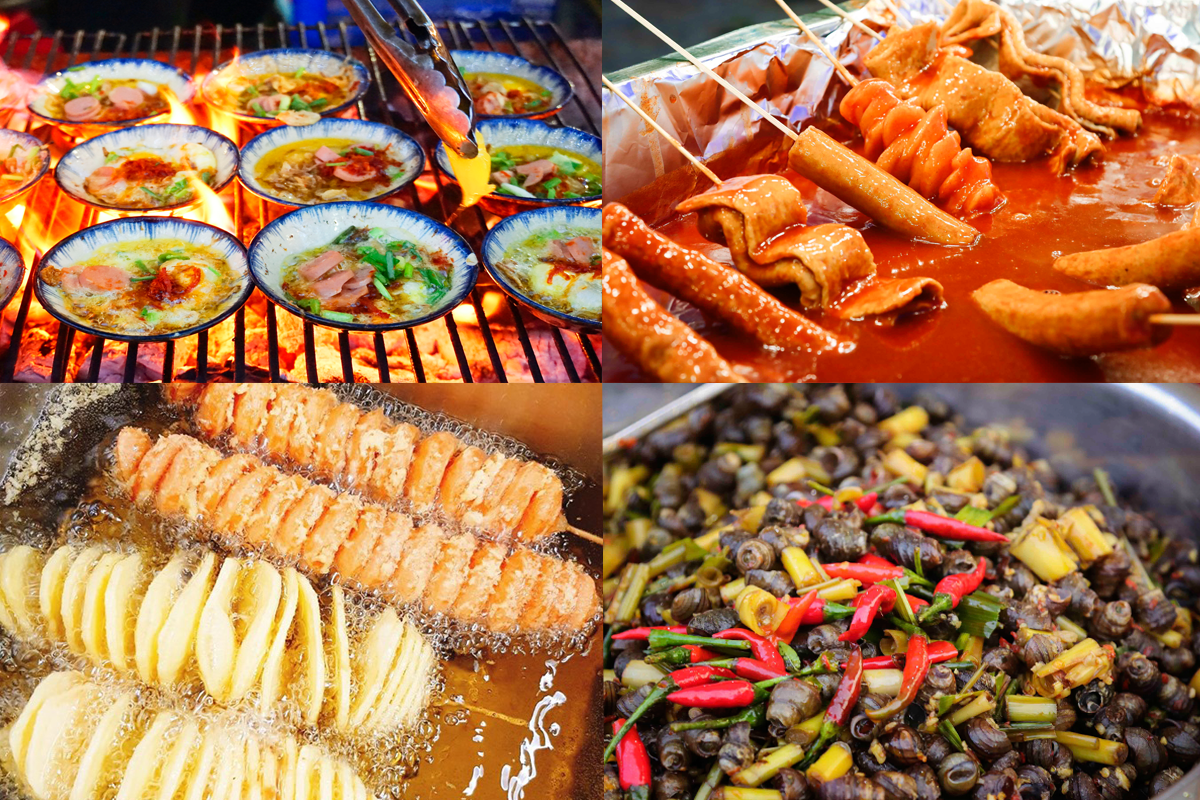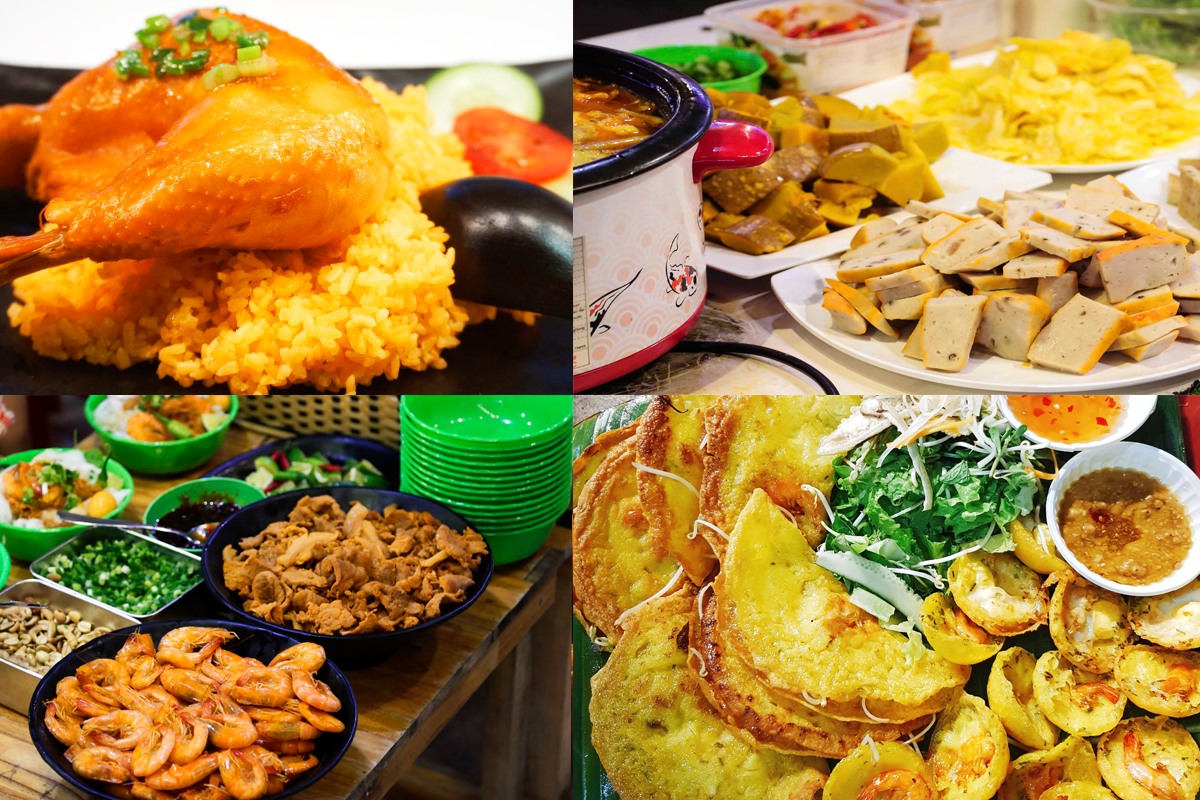 In addition to street food, full-course meals, at this subzone, there are also many drink counters, milk tea, ice cream, soda, lemon tea, fruit shake, that meet all your need with low price, ranging from 35.000 VND/each.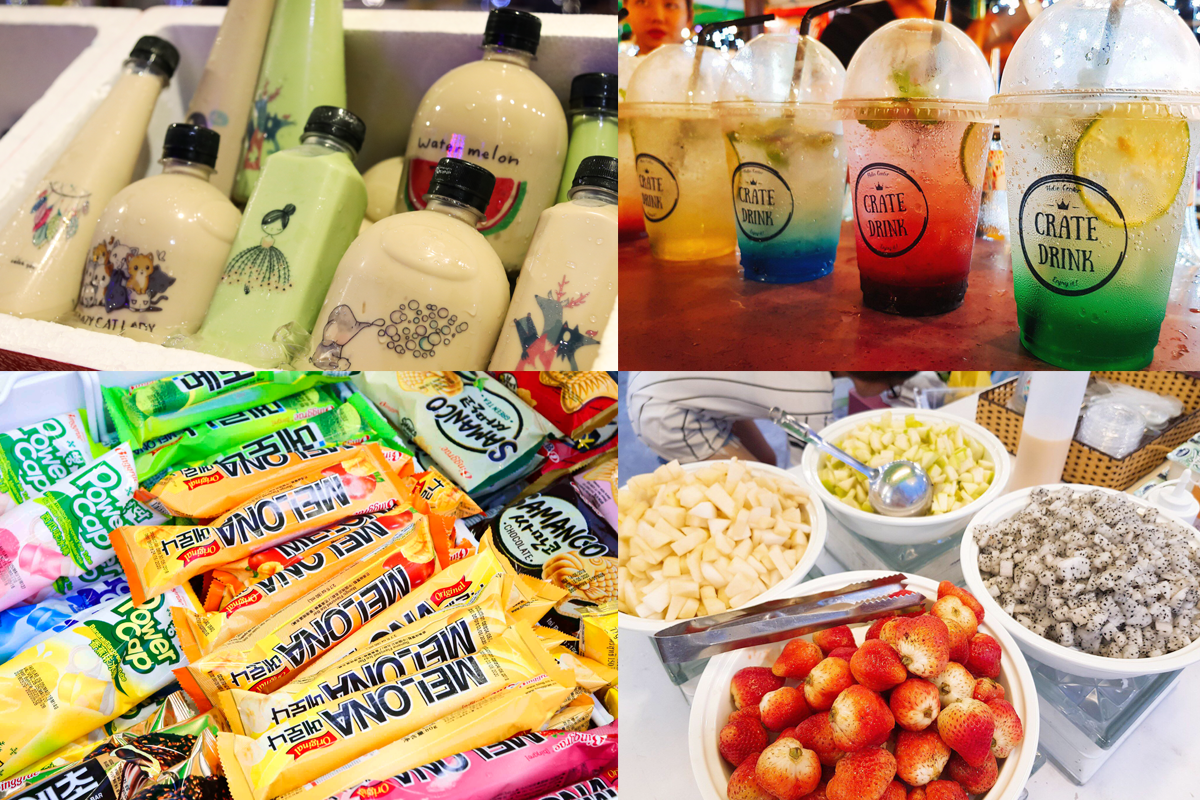 Zone 2: Fresh seafood
Seafood buffet is one of mian points for tourists when visiting Da Nang, and there is no need to go anywhere far away, right at Helio Night Market, you can also experience premium seafood buffet.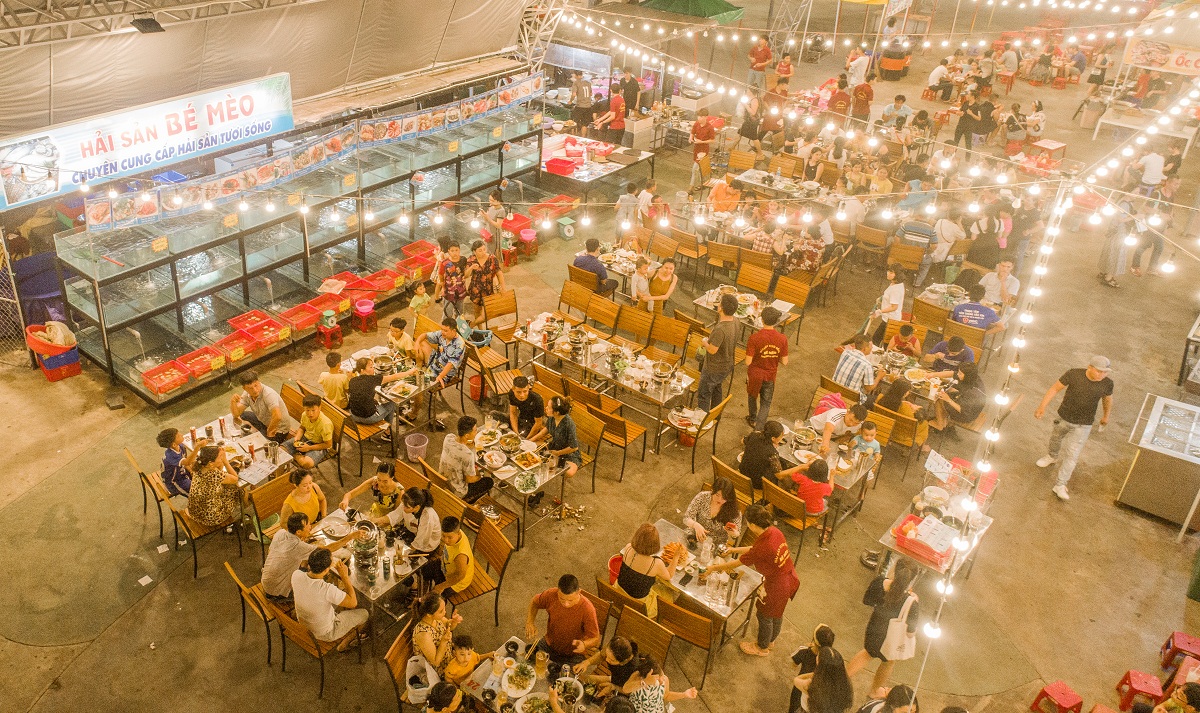 At high-invested fresh seafood zone, you can observe and choose the freshest seafood on set and cooked on the spot.
In addition to the common dishes such as shrimp with garlic butter, steamed lobster, spicy snail, panned snail, steamed mackerel, grilled stingray, you can also try new dishes such as cajun, grilled oysters with 15 flavours … which can impress all diners from the first try.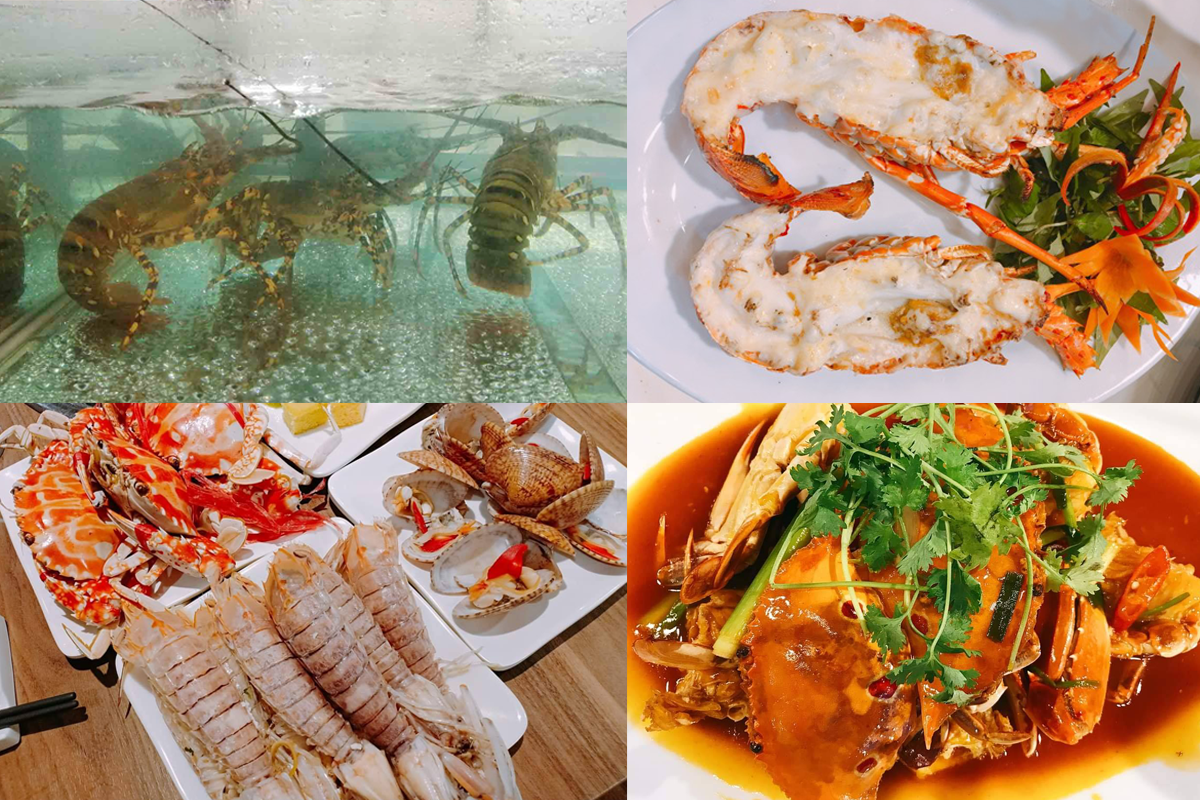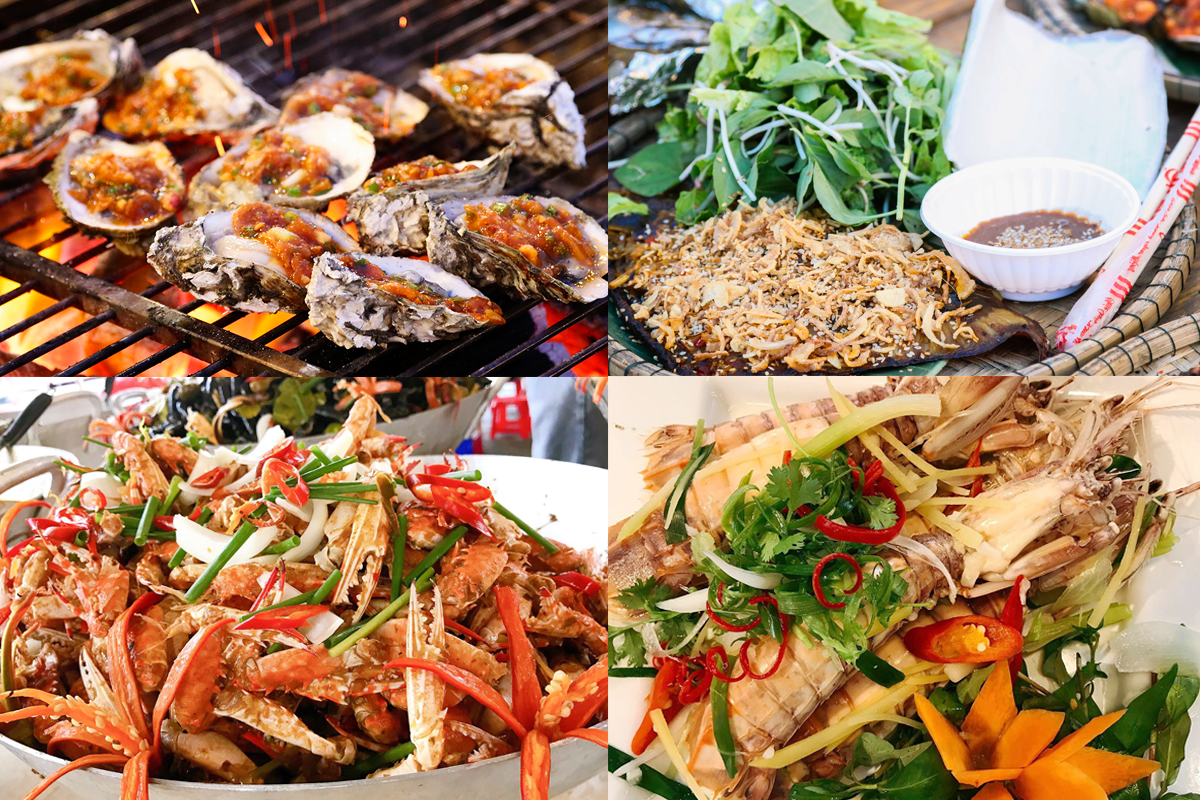 Zone 3: Beer and Barbeque
The difference of Helio Night Market is the interesting and unique zone of barbecue and beer. After eating and drinking, you can choose a brand-new beer, then visiting the scented barbecue area to choose a few grilled dishes and listening to live music right at the stage.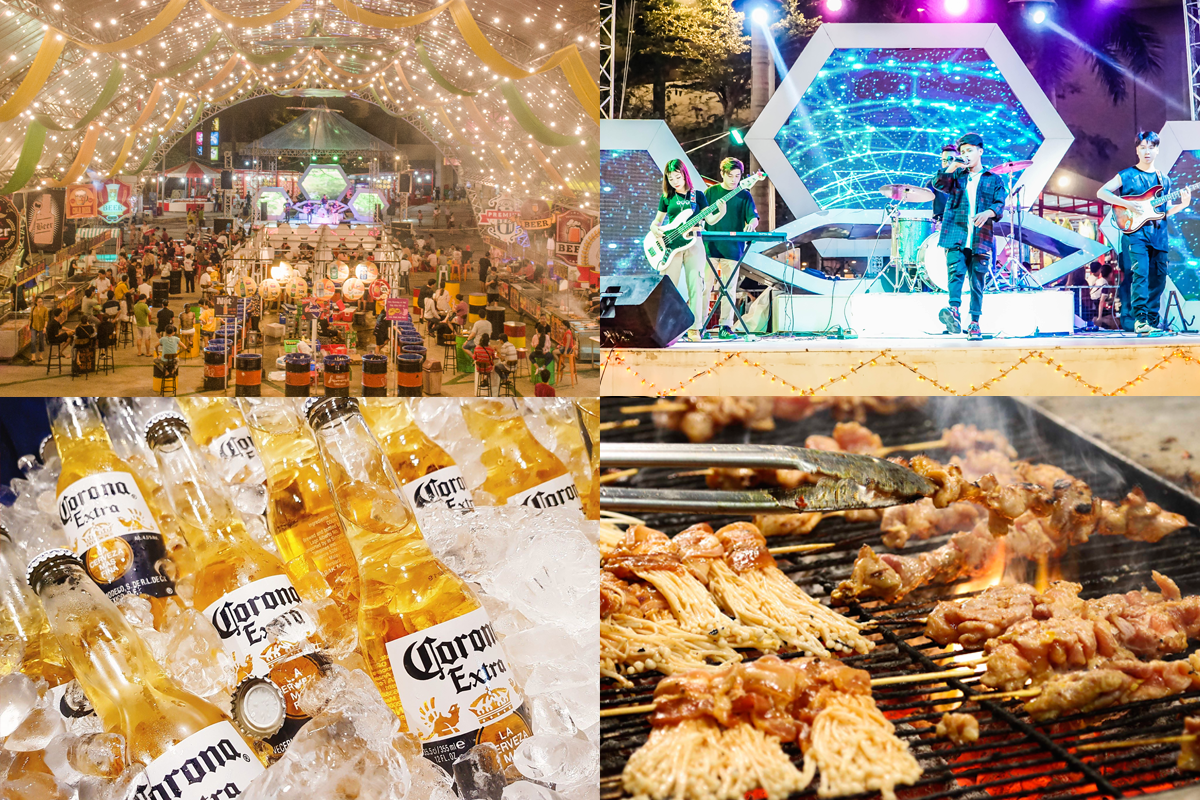 There is free live music every night for guests performed by the famous bands in Da Nang. There is a hundreds types of beer and barbecue. The combo of beer, barbeque and music is perfect, right? So, don't forget to visit the super cool Helio Night Market.
Add: 2/9 Street, Hai Chau, Danang
Opening time: 17h00 – 22h3 every day, free entry.
2. CON MARKET – THE GATHERING POINT OF ALL STREET FOOD IN DANANG
It's such a pity to miss Con Market once visiting Danang. Located at the inrtersection Hung Vuong – Ong Ich Khiem, right at city center, it's so easy to find Con market, the destiation of all beautiful dishes you  must try.
There are two eating areas inside and outside Con Market from 7am to 3pm every afternoon. The area for street food opens from 3pm.
In the indoor area, there are two lines of food booths, one side of sweet soup, smoothies and juice (i.e. tamarind juice, toad fruit juice…). Another side is lots of street food such as bun mam, vermicelli with grilled pork, Quang Noodle, Rice, spring rolls, snails, Filtered rice cake, Vietnamese pancake, …The price is listed right at the food booth, ranging from 15.000 – 50.000 VND.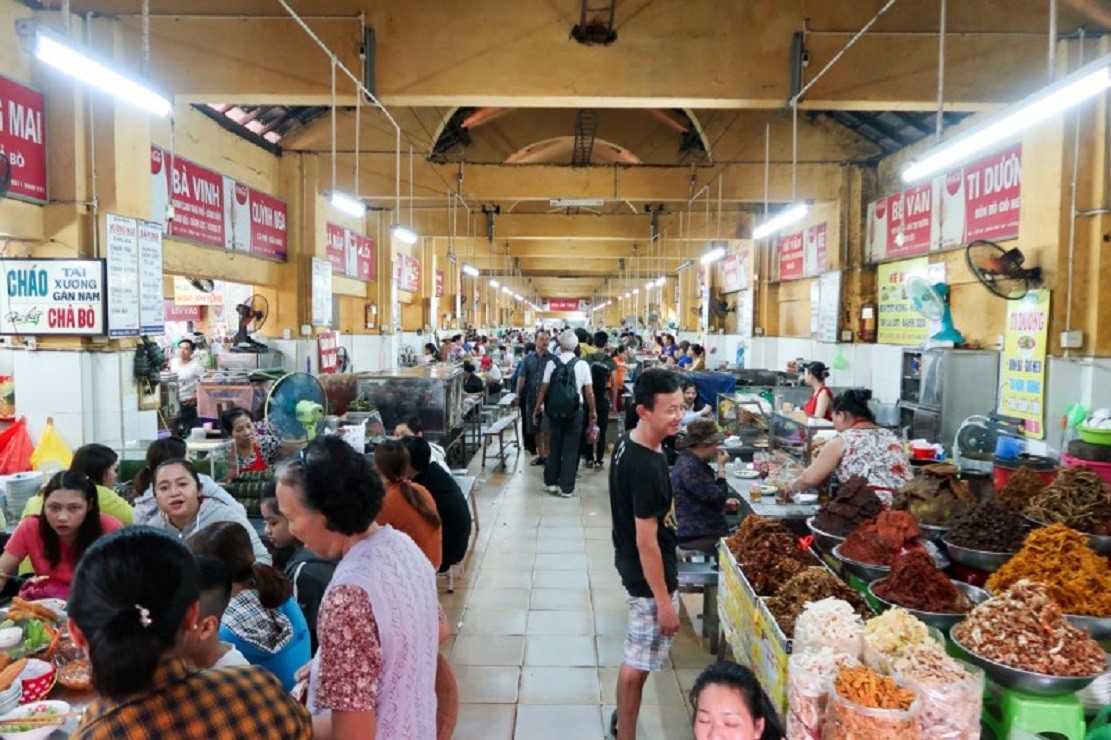 The outdoor area specializes in snacks. Almost all snacks in Danang are sold here, such as spring rolls, noodles, banh canh, Quang noodle, dried beef salad, fluffy duck eggs, filtered rice cake, banana sweet soup, pomegranate sweet soup…
Just a few baby chairs and a small tray, the saleswoman uses this small corner to serve all diners. Still, eating here is a little bit crowded and it is not a really plae for slow eaters. Thus, diners should eat quickly to give seats to the next person. Even so, it is always crowded and the seller still has to keep up the hand to serve.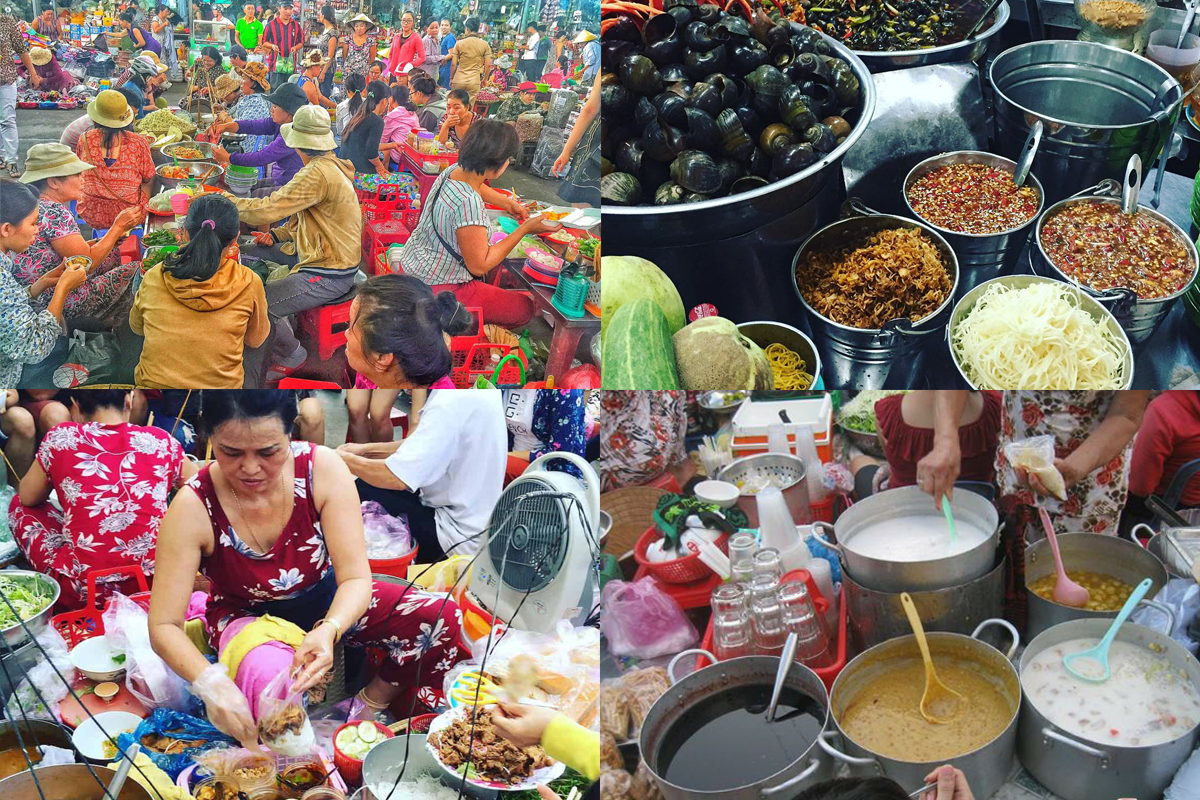 Con Market has existed there for a long time as an indispensable symbol of Da Nang city. Arrive in Hanoi, stop at Dong Xuan market. Go to Hue to visit Dong Ba market. Visit Saigon, you will not miss Ben Thanh market. Similarly, Da Nang Con market is a must-visit place in Da Nang.
Add: 269 Ong Ich Khiem. Hai chau 2, Hai Chau, Danang
Opening time: 9:00 – 18:00 every day.
3. BAC MY AN MARKET – THE CHEAP EAT DESTINATION
When it comes to paradise of delicious dishes that are cheap and surprising, we can just say it is Bac My An Market. This market in Ngu Hanh Son district is highly rated by the "indigenous" with lots of delicious and 'strange' dishes, but the price is way so cheap.
As soon as entering the market, you will be overwhelmed by many food items, from Bun Mam, Vietnamese pancake, banh canh, …The most special thing in this market is the Ms Luyen's snail shop and the avocado ice cream by Ms. Van.
The snail here is cheap and so delicious. One plate is only 8.000VND. Small snails, and big snails of all kinds are served with a spicy ginger sauce. The food is sold very fast. Occasionally, not even until 5pm, all food has been sold out.
Ms. Van's brand of avocado ice cream has been very famous for ages as a home-made ice cream. Avocado is usually blended in a large bowl. When the guests order, the owner will put scoops of avocado into the cup, add a thick layer of ice cream and top with fresh coconut and dried coconut.
A glass of green avocado, yellow coconut and white ice cream are intertwined  to create a cool and eye-catching color. Avocado ice cream is creamy, sweet and fragrant with coconut milk and peanut flavor. It can be said that avocado ice cream is a unique specialty of Bac My An area.
Add: 25 Nguyen Ba Lan, My An, Ngu Hanh Son
Opening time: 8h00 – 19h00 every day.
4. HUYNH THUC KHANG – BREAKFAST VENUE 
Huynh Thuc Khang – one of the famous food streets in Danang is often called the "BREAKFAST VENUE". Along this road are dozens of breakfast bars of all kinds, close to each other. There is no need to think about what to have for breakfast. Just drop by, you will have a multitude of options for a delicious and tasty breakfast.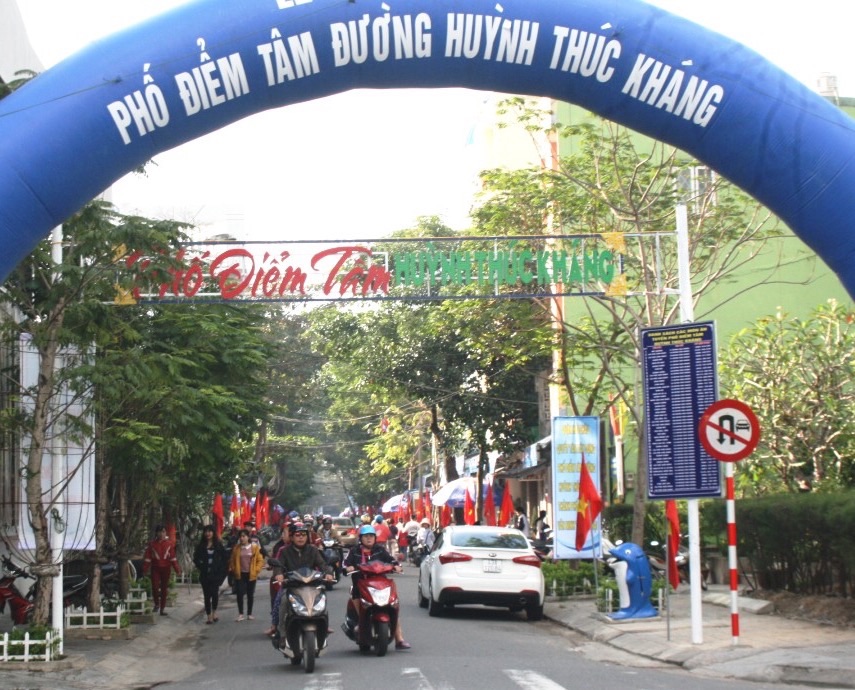 Recognized at the end of 2014, with 45 booths, Huynh Thuc Khang serves customers from rustic dishes to specialties such as sticky rice, banh canh, rolled rice cake, banh beo, pancake, Quang noodle, Cao Lau, beef, omelette, sticky rice, duck porridge, white porridge – stir-fried anchovies, delicious banh canh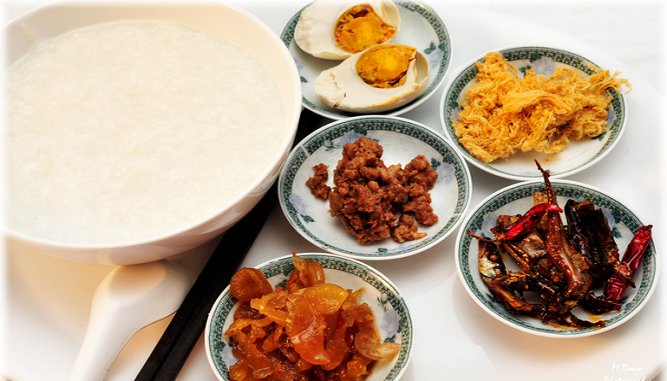 At affordable price ranging from 20.000 – 40.000, this breakfast venue has long been a first and foremost choice of many Da Nang people every morning.
Add: Huynh Thuc Khang, Danang
Opening time: 6h00 – 12h00 every day
5. PHAM HONG THAI STREET
Pham Hong Thai Street, less than 800m long, is a Da Nang food corner with diverse dishes, serving diners from around 5 pm to 11 pm, which is very convenient for late eaters or those who prefer lots of choices in the same dining place.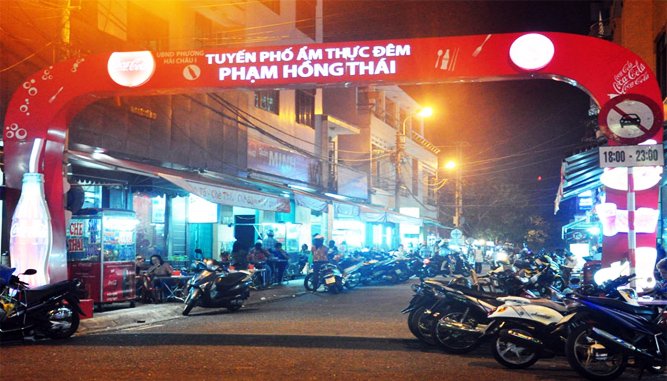 Recognized from the beginning of April 2015, with various culinary culture and specialties of Da Nang such as Quang noodles, vermicelli with grilled pork, spring rolls, spring rolls with corn, snails, smoothie, tea, and ginseng. In addition, there are also bars of popular seafood, a place for diners to sip while viewing the streets of Da Nang at night.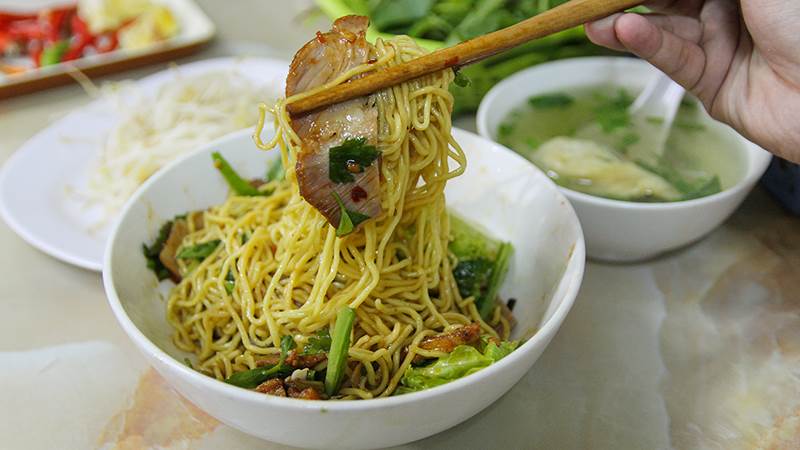 Add: Pham Hong Thai, Danang
Opening time: 17h00 – 23h00 every day.
6. PHAN TU STREET
Phan Tu has long been a bustling entertainment venue for students and visitors to Danang. The street stretches for just over 1km, but exists a wide range of food shops. In the afternoon and at night, this place is crowded and unusual.
Besides a wide range of cuisine, reasonable price has contributed to creating a unique brand for Phan Tu street food. You can seek most of the famous specialties in Vietnam there, from Quang noodles, spring rolls with cabbage, Hanoi spring rolls, porridge, beef rolled with wild betal leaf, Quang Ngai fried corn, Hue sweet soup, smoothies, vermicelli with grilled pork, spring rolls, until seafood shops serving frogs with chilli, grilled stingrays, seafood hotpot, … Especially, the price is affordable for any students, workers or employees. Once passing this road, your stomach will surely 'urge' for food.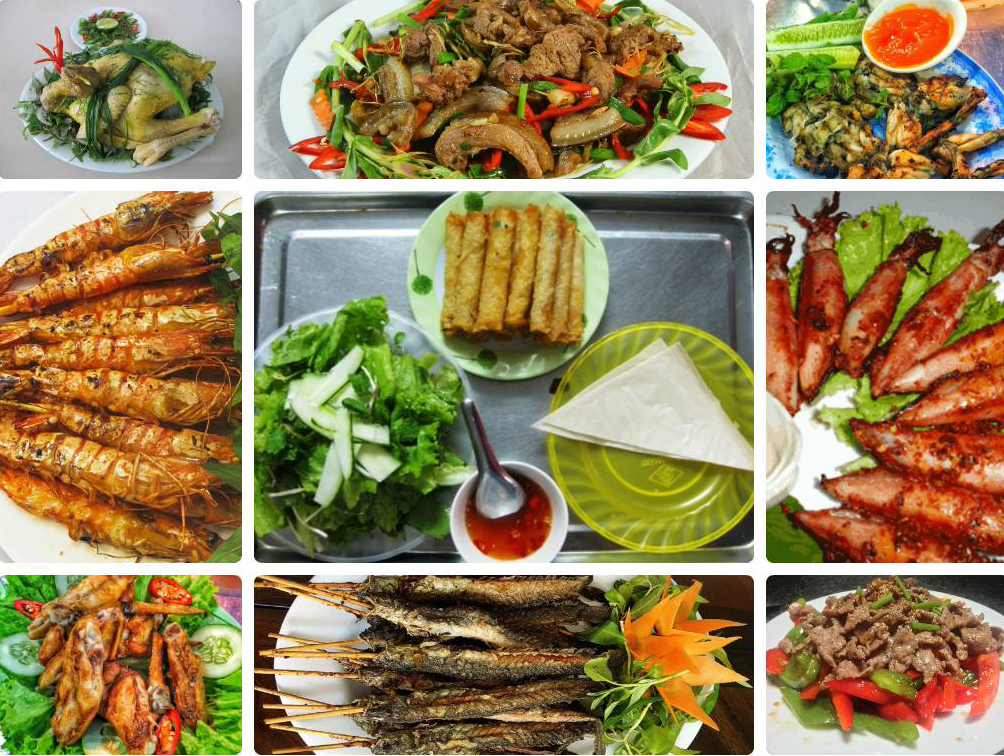 Besides, Phan Tu street is near the beach so it is so cool to sit down, eat, view the street and the sea.
Add: Phan Tu, Ngu Hanh Son, Danang
Opening time: 17h00 – 24h00 every day
If you get the chance to visit Danang, you should not miss the above-mentioned food markets, for sure the food there are amazing. Particularly, don't forget to pay a visit to Helio Night Market, a modern and brandnew markets but offer tourists the cool experience of various cuisine at low cost.
Lương Vy – Summary of famous food markets in Danang
Latest Posts