The 2016 Beach-Leisure & MICE Travel Mart (BMTM Da Nang 2016) will take place at Da Nang's Tien Son Sports Arena from 24 – 26 June.
The international event, the first of its kind to be held in the city, aims to stimulate both the domestic and international tourism markets in order to attract more visitors to Viet Nam, and to Da Nang in particular.  In addition, it will help to further the development of local high-class beach-leisure and MICE tourism for which the city has great advantages and potential.
The event will also help to affirm the city's tourism brand name and its position as a large tourism hub in the central coast region.  Thanks to this, local tourism businesses can gain access to potential new customers, which in turn will help to create more job opportunities for local residents involved in the tourism sector.
Chairman of the city's Travel Association Cao Tri Dung, said "BMTM Da Nang 2016 will be a great opportunity for the city to advertise its attractions to international friends.  In addition, this will help Vietnamese businesses to boost bilateral trading cooperation with foreign partners, and expand their markets into other potential countries, especially those with direct international flights into Da Nang".
Chairman Dung remarked, "It can be said that the event is Da Nang's first important step in making a difference to its tourism development strategies in order to create even more attractive tourism products and services, and bring more benefits to local businesses and residents".
Deputy Director of the municipal Department of Tourism Tran Chi Cuong noted, "The event is also considered as a forum at which domestic and foreign tourism businesses can share their mutual information and experiences in order to create a premise for their tourism development cooperation in a sustainable manner.  In addition, it will provide the opportunity for domestic customers to access tourism stimulus and promotion programmes for numerous attractive tours both at home and abroad".
Mr Cuong added, "To date, a total of over 60 domestic and foreign tourism businesses have already registered to take part in the event.  In addition, over 120 foreign visitors and reporters from China, South Korea, Japan, Western Europe, and Southeast Asia have confirmed their attendance".
In addition, he said "The organising board is making every effort to hold the event in a professional manner and ensure the highest efficiency of creating links between the participating businesses and visitors.  The purpose is to create a premise for making this event a biennial one in the city in the future".
Deputy General Director of the Viet Nam National Administration of Tourism Ha Van Sieu, remarked "BMTM Da Nang 2016 is an important event for Viet Nam's tourism sector, and it is also being considered the country's first step in introducing its new tourism products with that special combination of Beach-Leisure and MICE tourism.  The event will help to create new progress in promoting the country's tourism development in the context of global integration".
(Source:ĐTĐN)
Express Your Reaction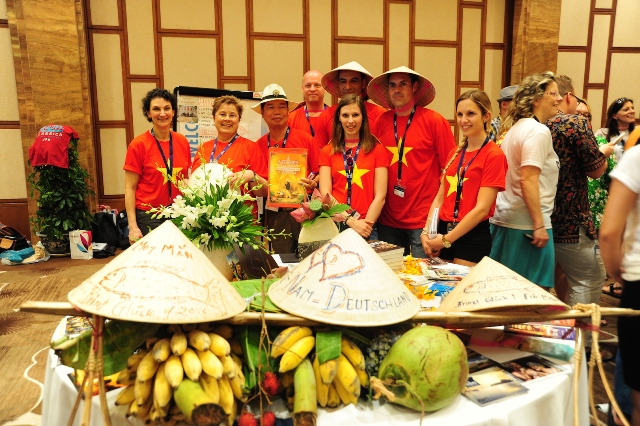 You have reacted on

"Travel Mart to bring great benefits to tourism"
A few seconds ago
Latest Posts