Pullman Danang Beach Resort is excited to reopen our doors and welcome you starting from Thursday, 9 December 2021. Our team has been effortfully working behind the scenes in preparation for our re-opening to once again provide exceptional experiences for our dearest guests.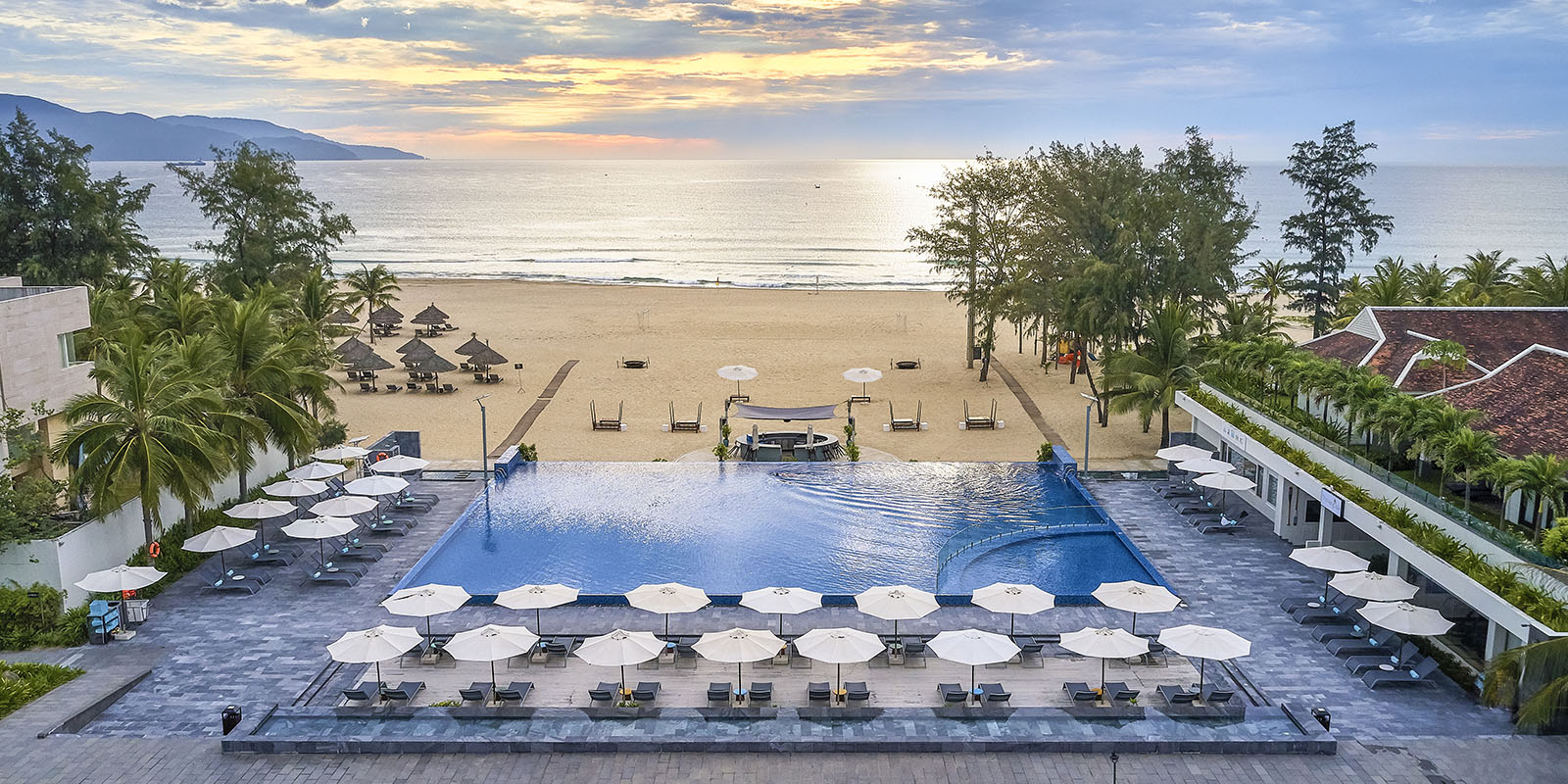 With the valuable offers, Pullman Danang Beach Resort looks forward to welcoming you soon!
SPECIAL ROOM PACKAGES / DAYCATION PACKAGE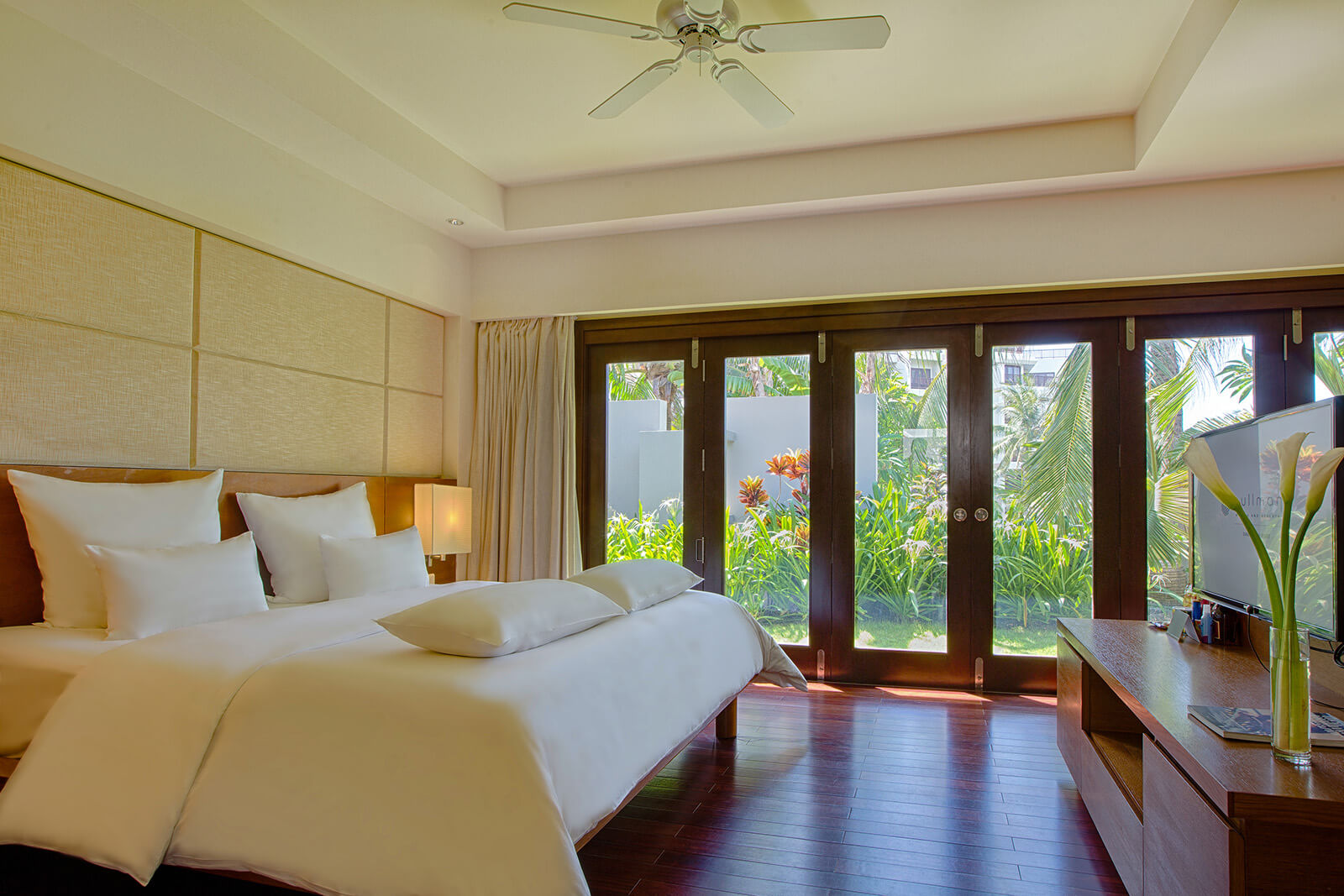 We can't wait to share with you our most valuable offer this season. Experience a delightful DAYCATION at Pullman Danang Beach Resort at only VND 1,299,000/night/room. Leave aside all the stress, it is the high time for family to gather and experience at the tranquil yet luxury Pullman Danang Beach Resort.
The package includes:
Luxury cottage 1 bed room for maximum 2 Adult and 2 Children under 16 year old
Complimentary 02 Pizza, 02 local beer, 02 coke for family
Complimentary pool use, beach area, sunbed, kid Playground, kid pool
Time: 9:00 – 21:00 on the same day
 (Booking is required at least 24 hours in advance prior to arrival date. Book from now until 19 December, 2021 for valid staying date until 31 December, 2021)
WEEKEND GETAWAY PACKAGE
A Weekend Getaway Package is well spent at Pullman Danang Beach Resort with exclusive benefits designed just for you. Recharge with an exclusive 01-bedroom cottage and wake up to a delectable spread at our breakfast. Book your much needed getaway at an incredible price VND 1,900,000 net/cottage/night for booking from Friday until Sunday!
The package includes complimentary breakfast and 01 time lunch (or dinner) for 02 adults and 02 children under 6 years old. Complimentary pool use, sunbed and beach area.
Surcharge VND 225,000 net/child for children from 6-11 Year old, surcharge VND 450,000net/pax for children from 12 or third person
(Booking is required at least 24 hours in advance prior to arrival date. Book from now until 19 December, 2021 for valid staying date until 31 December, 2021)
DAILY SPECIAL DISHES at AZURE BEACH LOUNGE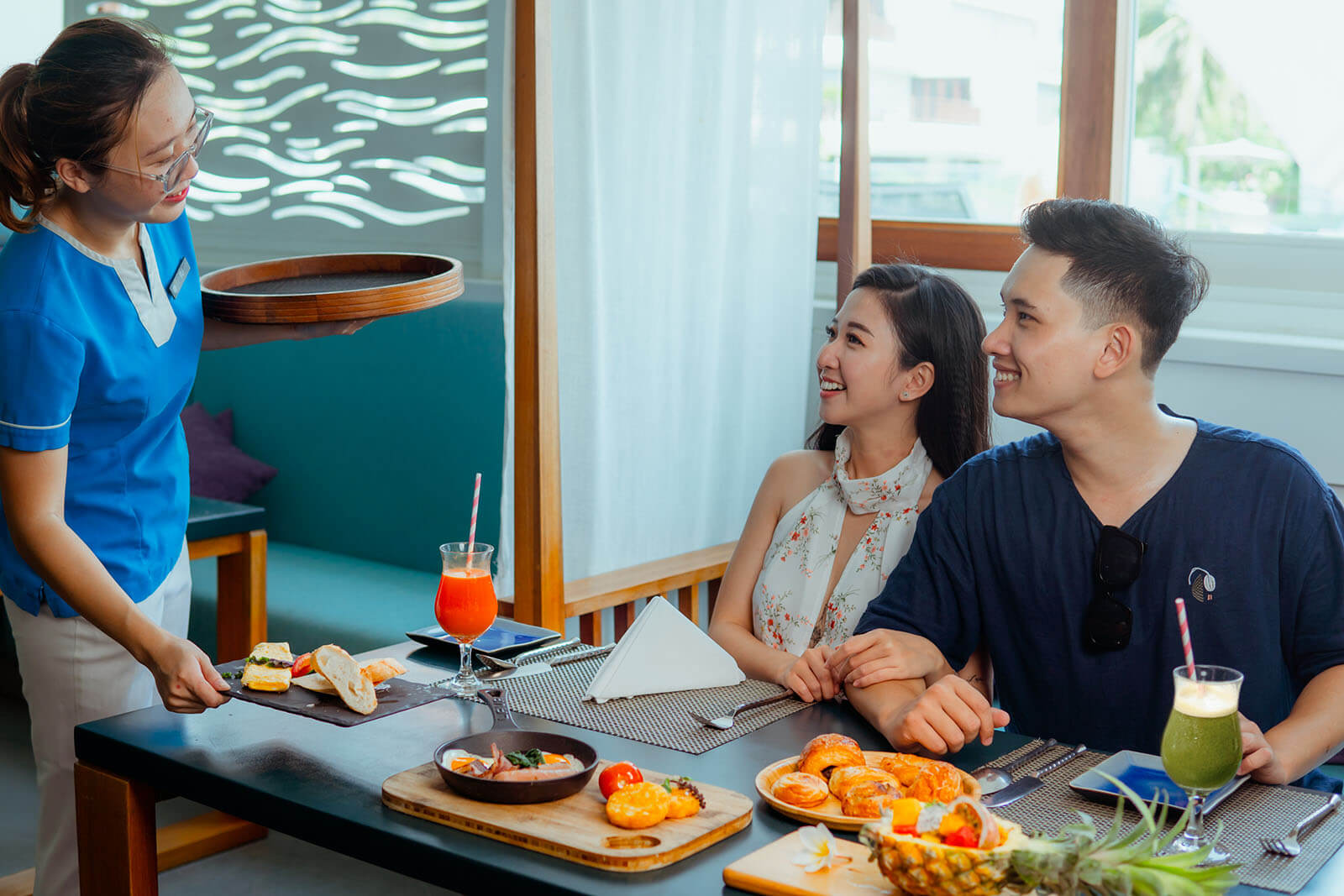 Monday & Tuesday: Buy 1 starter & 1 main course, get 15% OFF
Kick off your meal with exquisite appetizers and enjoy a five-star chef's elaborate main course. Save 15% when ordering on the first 2 days of the week.
(*) Non combine with Accor Plus member discount
Wednesday and Thursday: BBQ pork mini burger, cheddar cheese, coleslaw, onion ring (3pcs) 
Our BBQ pork mini Burger is positively layered with flavor. The melty cheese in the center of the ground pork burger is perfectly complimented by the flavors from the condiments, making this your new favorite go-to burger.
Friday: Grilled jumbo shrimp with crab, grilled asparagus, garden salad, dressing
Plump, juicy shrimp are stuffed with crab meat and baked to perfection.
Saturday and Sunday: Buy 1 Prawn & Porn deep fried spring rolls, get a complimentary a local beer/soft drink
One of the most well-known Vietnamese dishes – spring rolls with crispy outside and meaty inside, perfectly combined with local beer to give a cheery weekend vibe
Special DEAL: Save 10% discount on total bill when book a table for dining 24 hours in advance, from 9 – 16 Dec 2021 (non-combine with Accor Plus member discount)
SEAFOOD TOWER NIGHT at AZURE Beach Lounge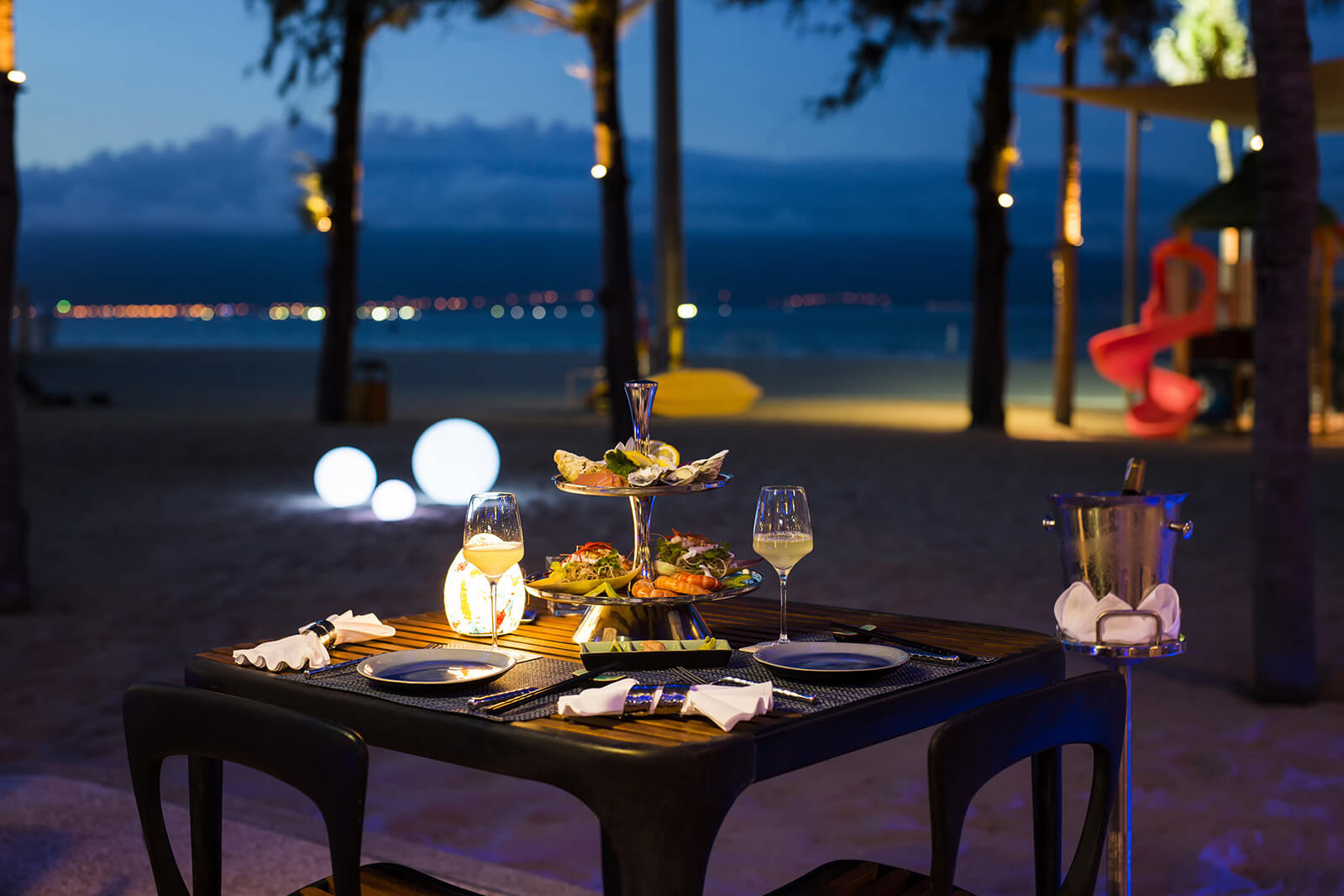 It's about time you treat yourself to one. Pullman Danang Beach Resort invites you to join happiest dining experiences you'll ever have – Fresh Seafood Tower on Saturday night.
Enjoy fresh-caught seafood meticulously arranged by our chef. Starting with salmon sashimi, fresh oysters and delicate lotus root salad, diners will be even more attracted by a variety of prawns, mussels and crabs included in the Seafood Tower.
Special offer for Seafood tower valued 999,000VND => now only 760,000VND/tower using for 2 people, Complimentary 2 bottles of local beer/soft drink.
Special price 590,000VND/2 people (applied for Accor Plus members).
*Time: from 5:00 pm on December 18, 2021
CHRISTMAS EVE INTERNATIONAL BUFFET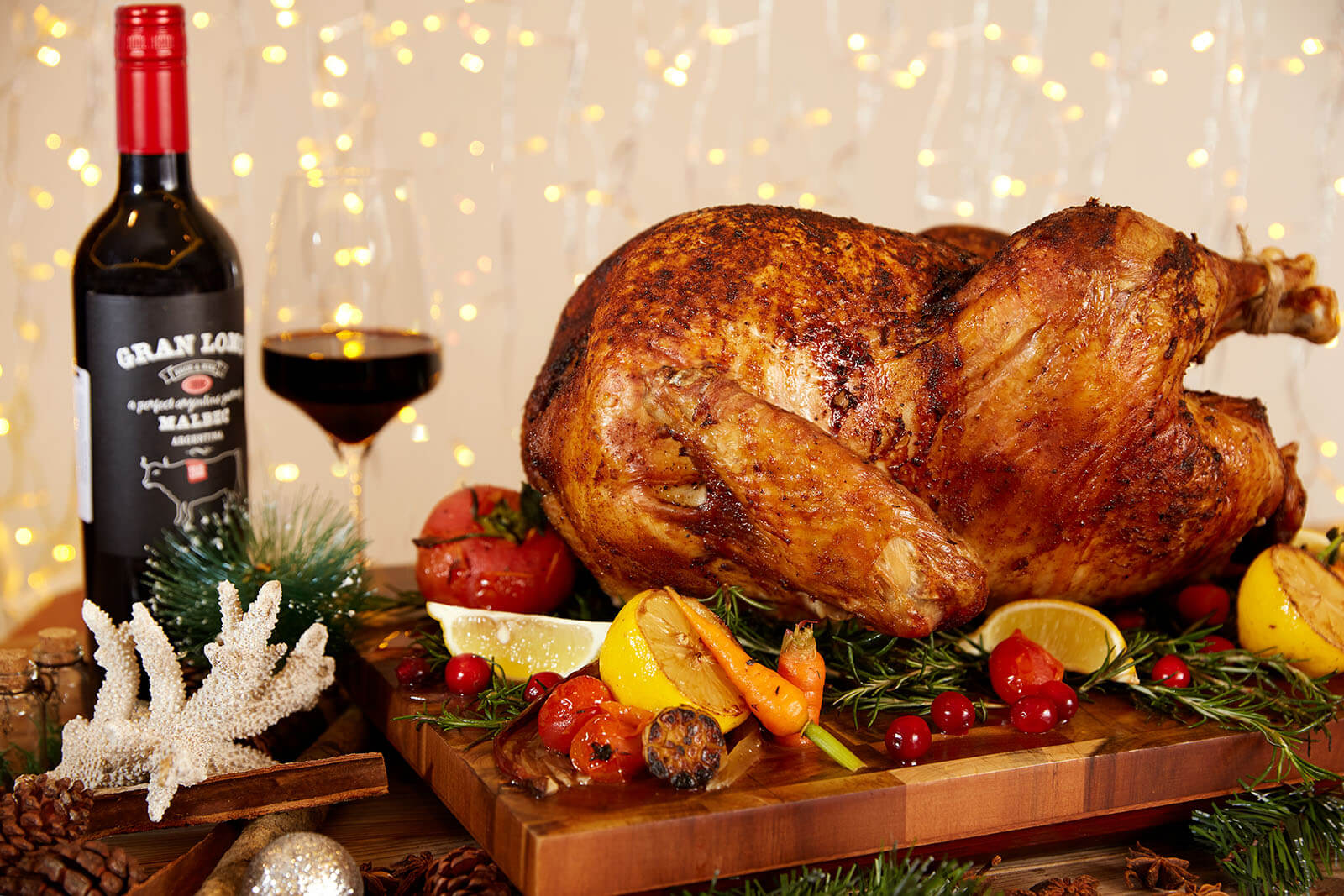 Festive Season is a wonder celebration when families reconnect with each other, exchange gifts and fill the air with joy, love and laughter. The night before Christmas is one of the most exciting times of the year! Across the world, families gather together and enjoy fun-filled festive feasts. At Epice, the vibrant restaurant at Pullman Danang Beach Resort, we're celebrating Christmas Eve Dinner with an international buffet dinner featuring fantastic food, children's games, lucky draws, and much more!
Savor a sumptuous selection of Christmas favorites, including roasted turkey, and honey ham, plus succulent seafood and a wonderland of desserts. Young guests will be kept fully entertained with plenty of activities and the chance to meet Santa Claus!
VND 980,000 nett/person including free- flow soft drinks, juice
VND 1,180,000 nett/person including free-flow of cocktail, wine, beer, juice
Time: 17:30 – 21:30 on 24th December 2021
Special offer:
15% Discount for Early Bird booking by 15th December (pre-payment for all members of the table is required)
15% Discount for Accor Plus member (can be combined with Early Bird)
(Some promotion is not applied for Accor Plus member or any other promotions. Per promotion will be applied specific term and conditions on reservation, upgrade or change rooms, early check-in and late check-out, surcharge, cancellation, refund policies that following resort operating produce. Pullman Danang Beach Resort is delight to assist any inquiry via hotline: +84 236 3958 888 or email: h8838@accor.com)
Huân Nguyễn
Latest Posts