Address: 101 Vo Nguyen Giap Street, Khue My Ward, Ngu Hanh Son District, 550000 Danang city, Vietnam
Tel: +84 (0) 236 395 8888 | Fax: +84 (0) 236 395 1898 | Email: h8838@accor.com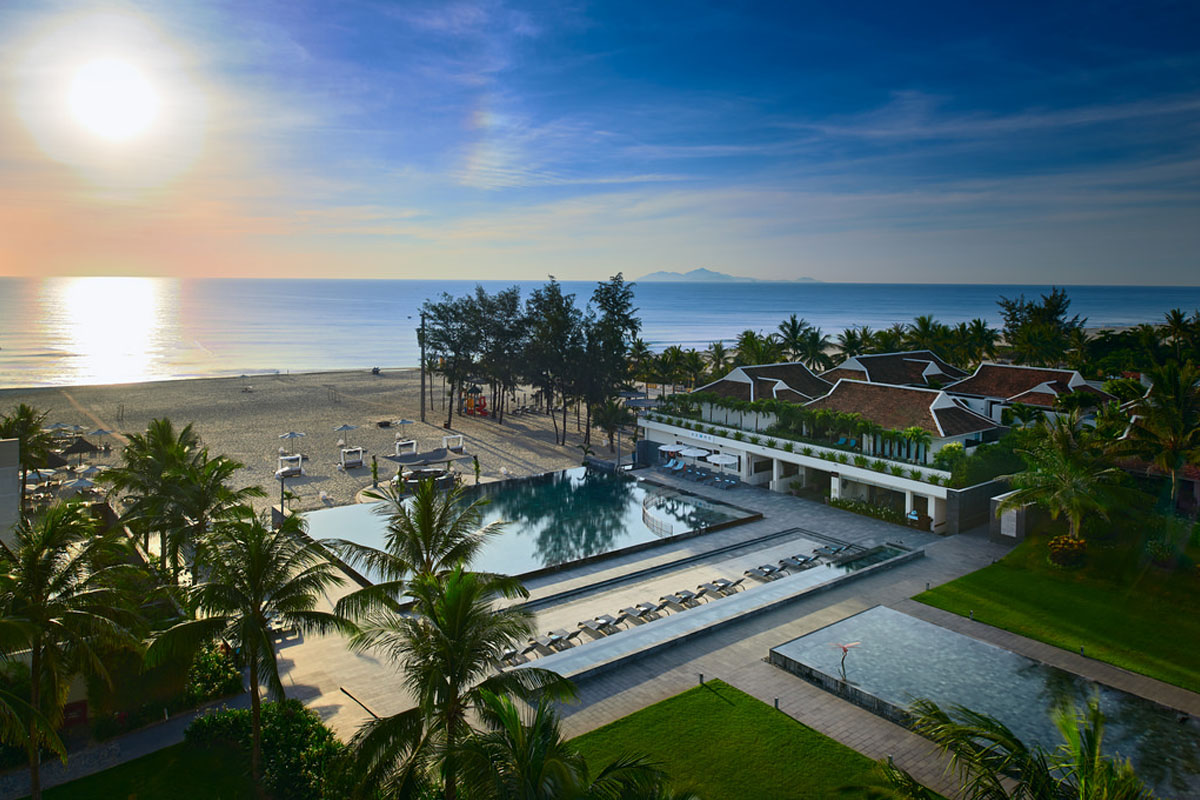 THE RESORT
Pullman hotels are found in some of the world's most outstanding locations. On the stunning white sands of Bac My An Beach, Pullman Danang Beach Resort is a vibrant oasis of activity and relaxation.
ROOM
Stylish rooms, suites and cottages invite guests to unwind and enjoy tropical views. With exceptional amenities and high-tech fittings, Pullman takes accommodations in Vietnam to new levels of luxury.  
SUPERIOR ROOM
SUPERIOR ROOM, 1 Queen-Size Bed


SUPERIOR ROOM, 2 Single Beds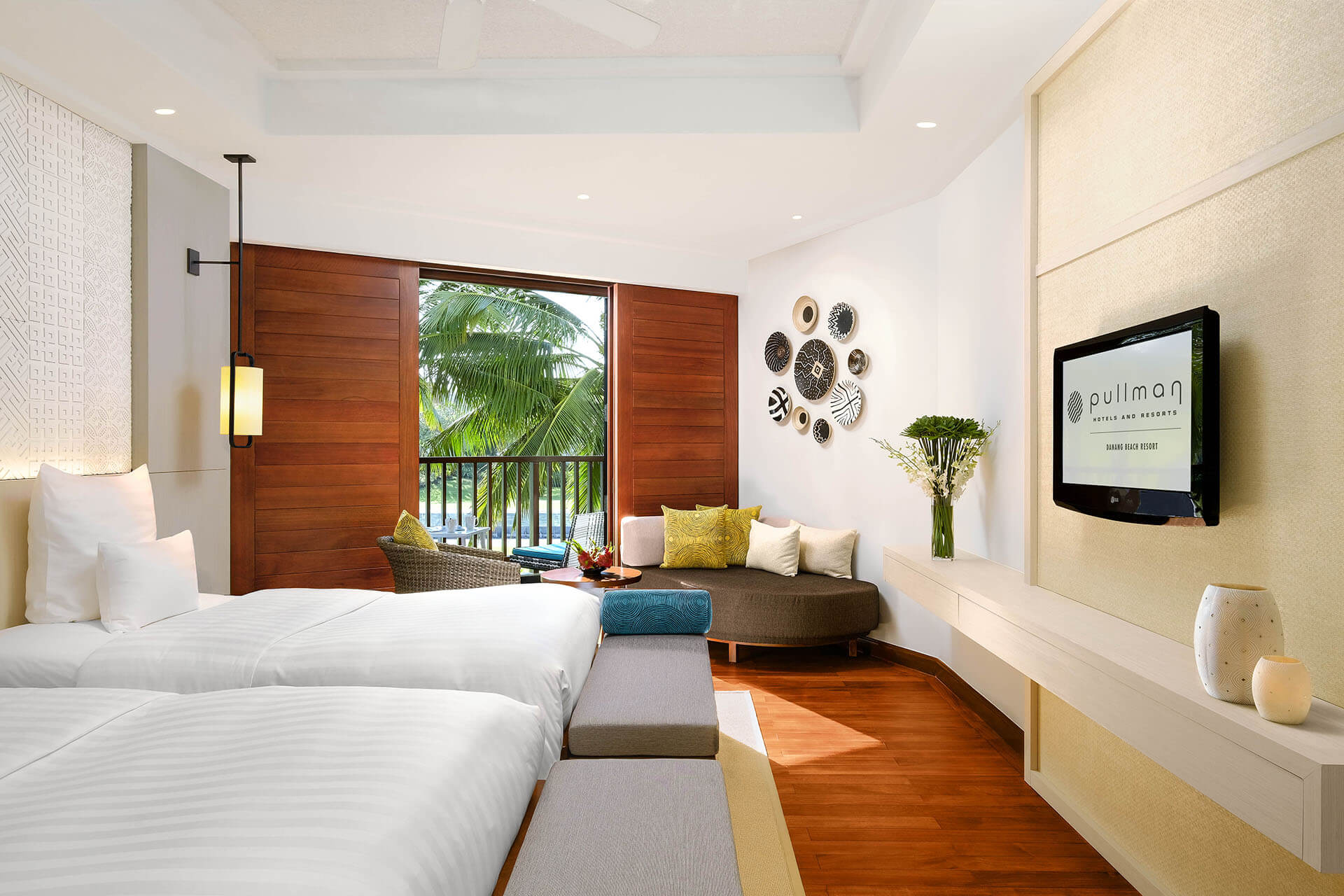 Located on the lower floors of the main resort building, Superior rooms offer engaging garden views. Shady palm trees and plush furniture turn your private balcony or terrace into a verdant oasis of tranquillity – perfect for chilling out under sunny Vietnamese skies.
Crisp white bed linens, wood panelling and beautifully crafted furniture add a touch of colonial French elegance to the decor. Ceiling fans keep the room comfortably cool and the sea breeze circulating.
Spacious and functional, the lounge area has room for a sofa. Bathrooms come equipped with bathtubs, separate showers and C.O. Bigelow toiletries for your indulgence.
Room size: 42 sq m/452 sq ft
DELUXE ROOM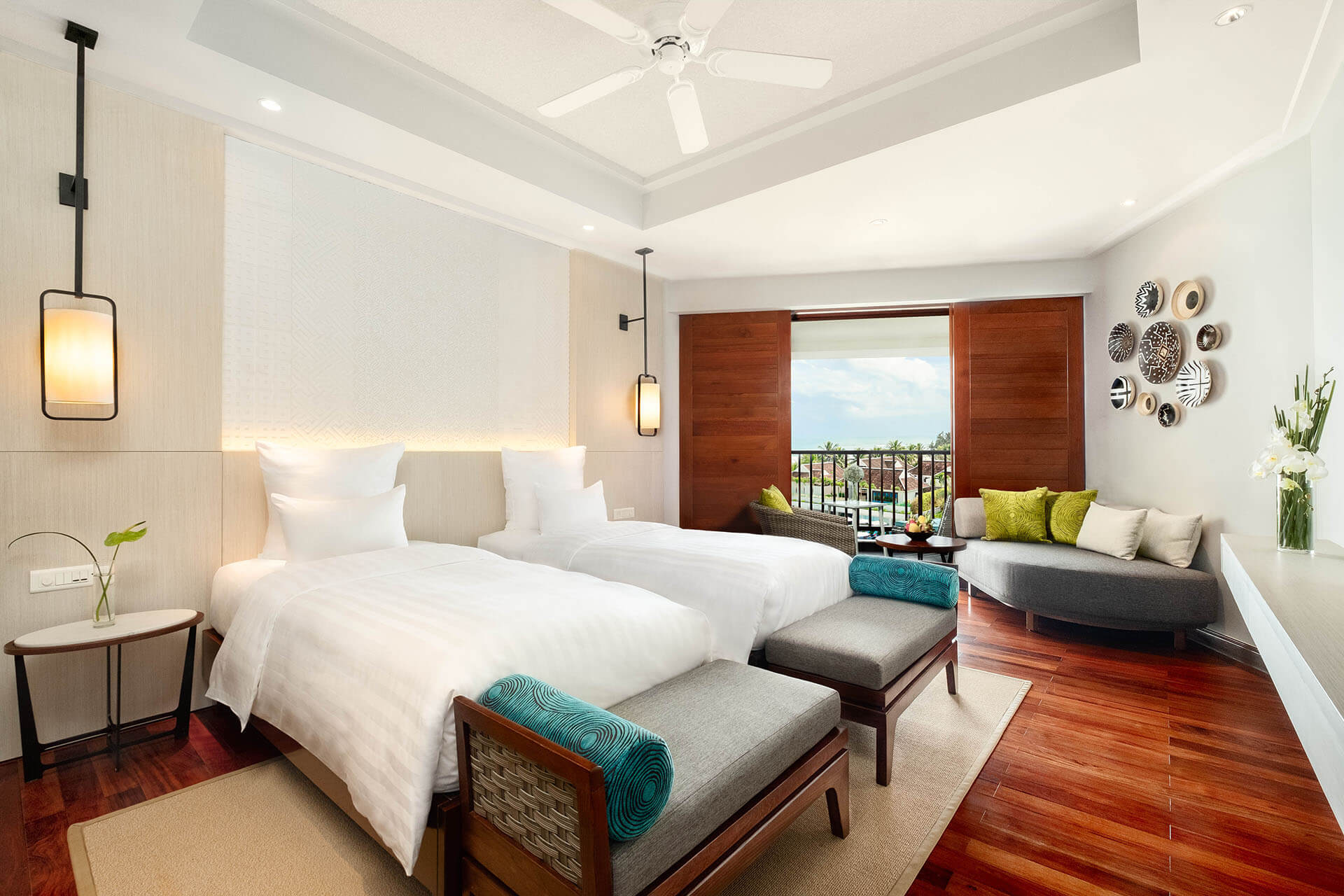 With spectacular views of the East Vietnam Sea or tropical gardens and ponds,
Deluxe rooms occupy the higher floors of the resort's main wing. Guests can take in their surroundings from above while revelling in the high standards of comfort that are synonymous with Pullman hotels.Sofas invite busy travellers to settle for a while. Flat screen TVs provide satellite entertainment. Beds are fitted with luxurious Pullman bed linens for extreme comfort.To make the very most of such idyllic accommodations, minibars and round-the-clock room service keep hunger at bay so that you can stay in and chill out.
Room size: 42 sq m/452 sq ft
JUNIOR SUITE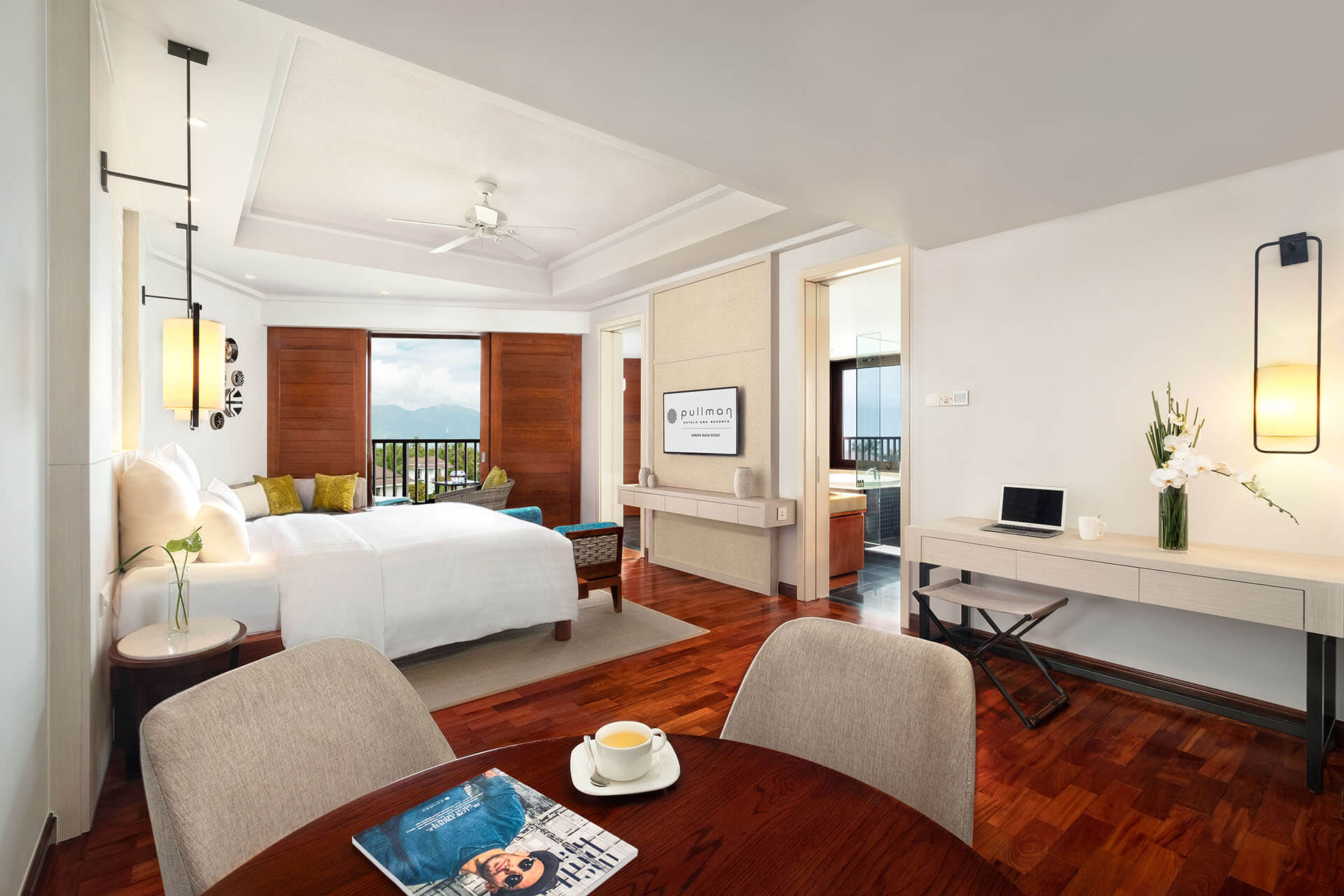 These vast Junior suites are the ideal option for modern travellers seeking extra space and luxury. Each combines stylish decor, first-class amenities and high-performance technology for utmost comfort and convenience.
Like individual studio apartments, they are a home-away-from-home – only better. French doors open out onto private terraces or balconies and soothing landscaped views. Bathrooms offer a walk-in shower and a Zen-inducing Jacuzzi.
At the end of a rewarding day, guests retire to a freshly turned-down king-size bed and a little gift on the pillow. Because Pullman knows the importance of bedtime rituals.
Room size: 72 sq m/775 sq ft
FAMILY SUITE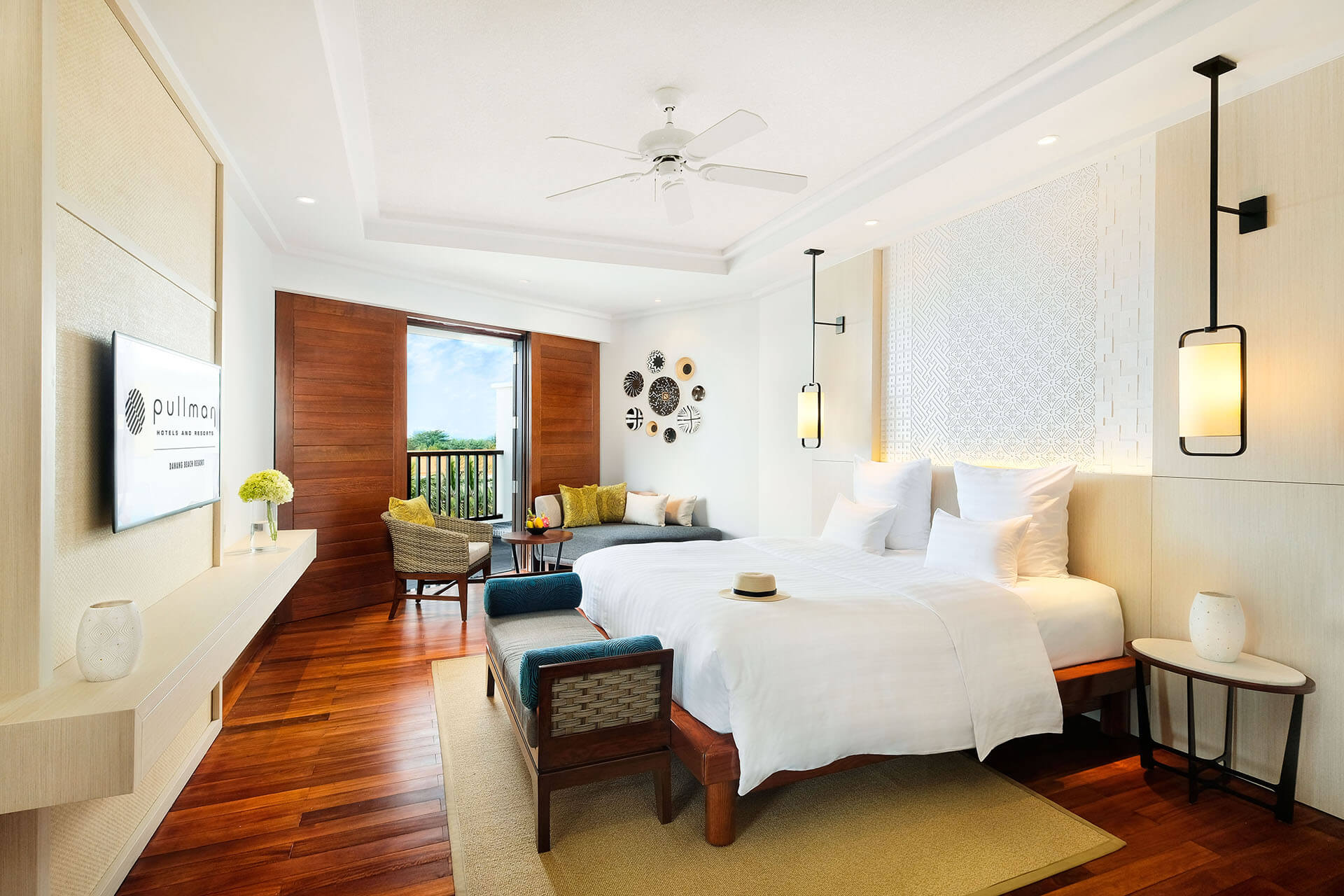 For sumptuous beachfront accommodations in Da Nang, look no further than a Grand suite. With large private balconies, majestic views across the sea or landscaped ponds, Jacuzzi bathtubs and 122 square metres (1,313 sq ft) of flowing space, grand is an understatement.
A king-size bed sits centre stage in the separate bedroom. The spacious lounge area, with its sofa and executive desk, is a great place to work, watch TV or write postcards. And a self-contained kitchenette provides the added luxury of autonomy.
The large bathroom, with its Jacuzzi and walk-in rain shower, is perfect for unwinding with C.O. Bigelow toiletries.
PENTHOUSE SUITE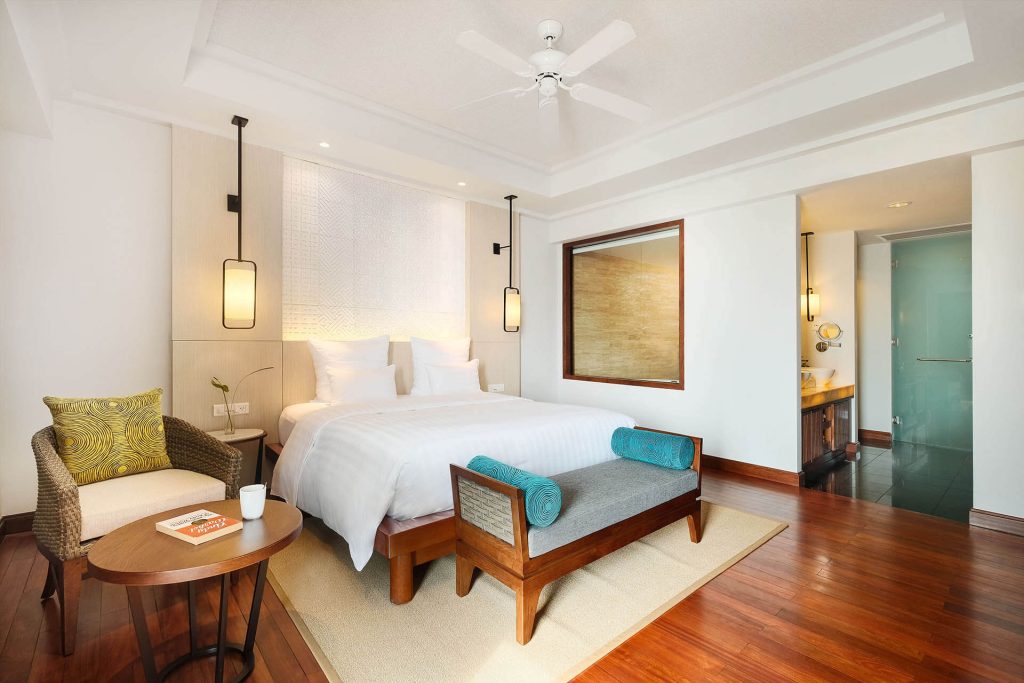 The Penthouse suite is the crowning jewel of the main resort building. Its top-floor terrace affords endless sea vistas and a bird's eye view of the infinity pool. Spacious and elegant, it epitomizes Vietnamese luxury in pure Pullman style.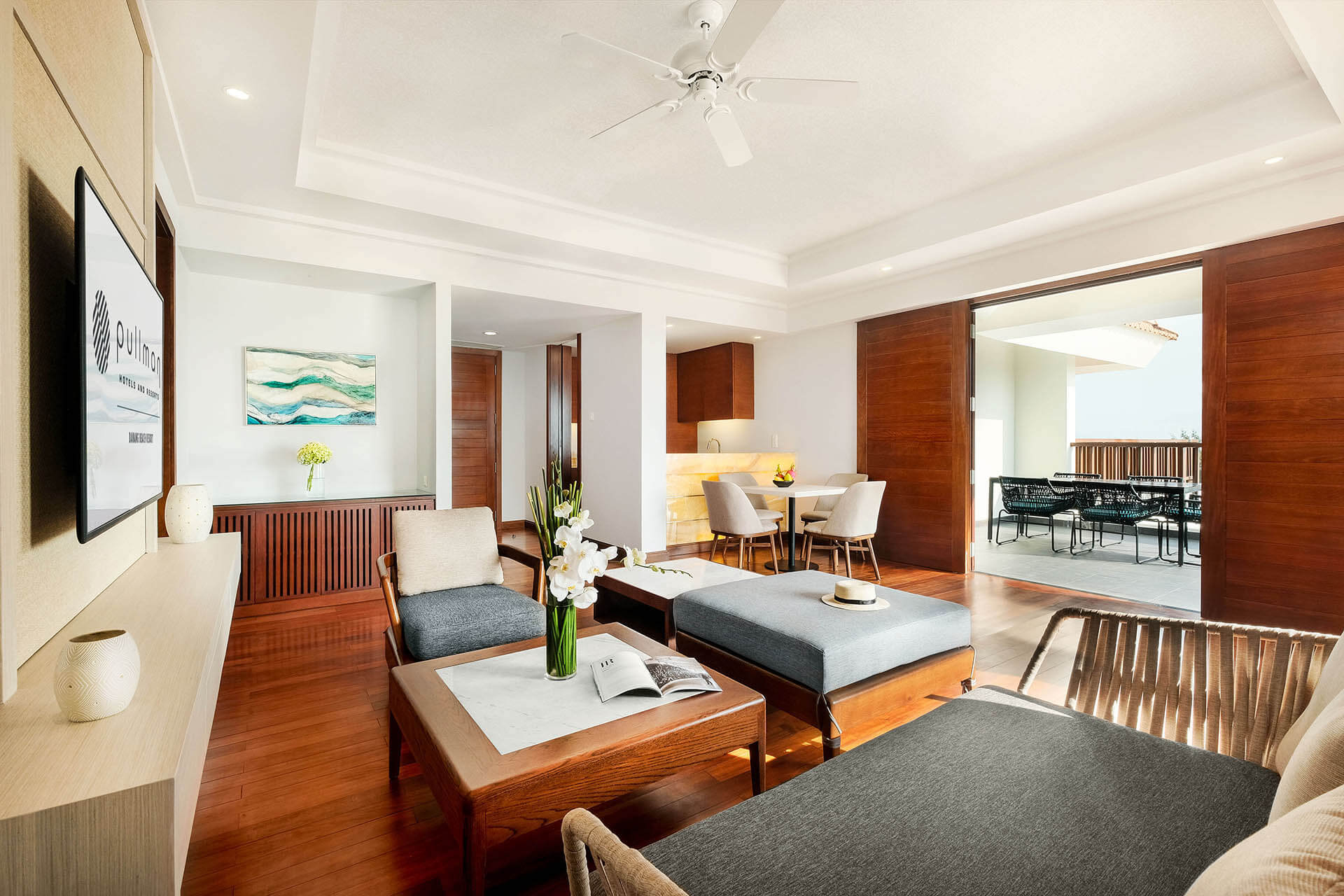 A favourite with families, this apartment provides plenty of room to spread out and relax. The large living area has more than enough sofas and armchairs for everybody. And a dining room, along with a kitchenette, means home-cooked meals – or gourmet dishes from the room service menu – in the privacy of your suite.
Room size: 130 sq m/1,400 sq ft
ONE-BEDROOM COTTAGE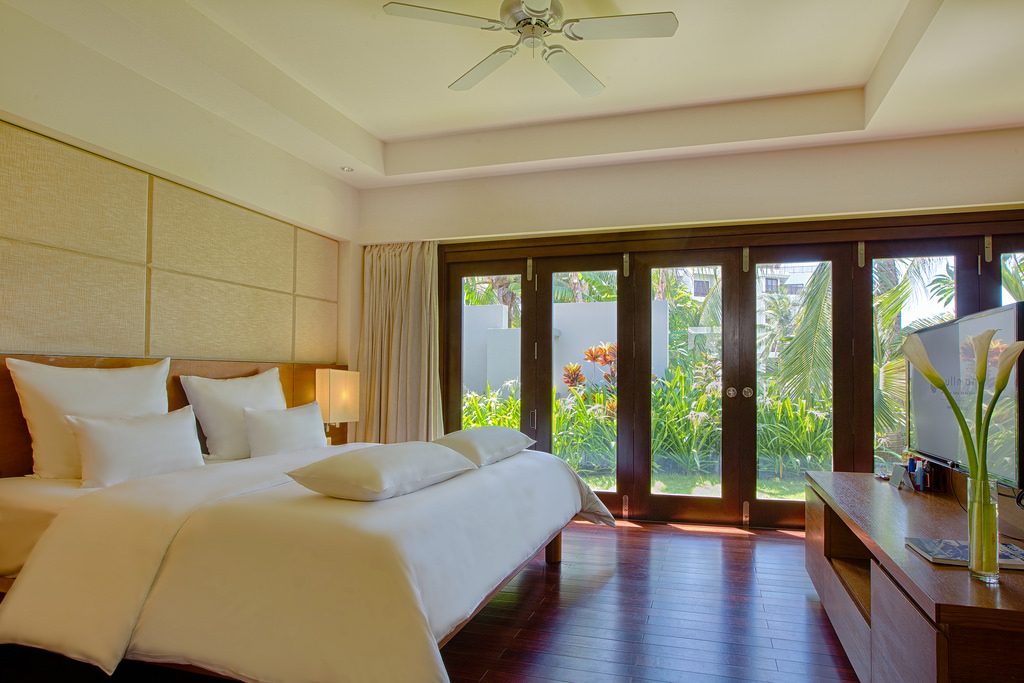 Designers found inspiration in tradition when creating Pullman's one-bedroom cottages. Set apart from the main resort building, what appears to be a picturesque Balinese village is in fact a cluster of luxury beachfront condos.
Each space flows into the next in the open-plan living area. Walls of glass and sparkling mirrors bring the outdoors in – filling the cottage with sunshine and offering idyllic views of the beach or lush greenery.
To get a true feel for their tropical surroundings, guests can bathe, shower and dine al fresco. All in the comfort and seclusion of the cottage's landscaped garden.
Size of cottage: 130 sq m/1,400 sq ft
TWO-BEDROOM COTTAGE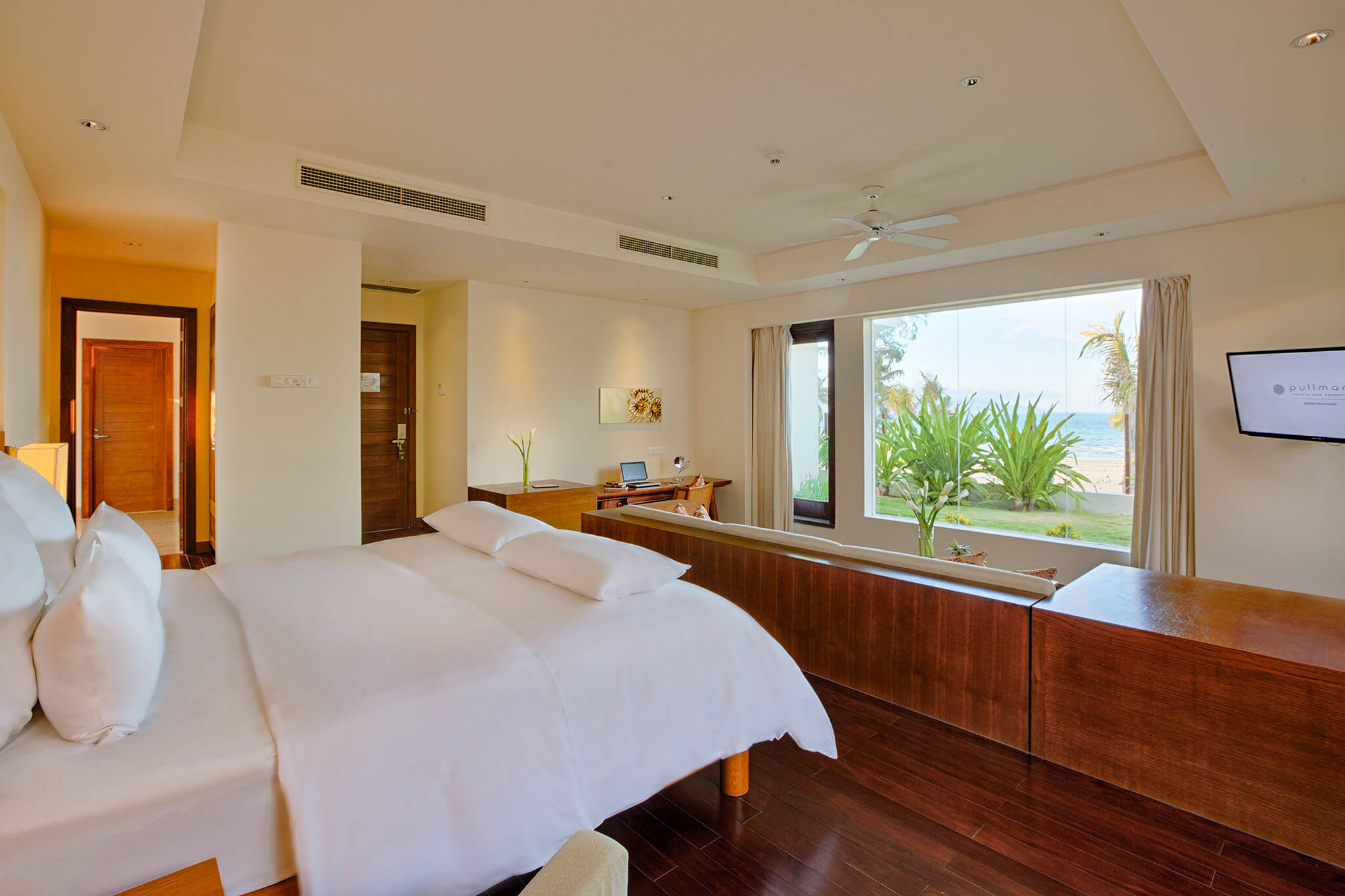 Pullman's two-bedroom cottage was designed to give families the luxury of space during a holiday in Vietnam. Guests can relax, entertain, dine, chill out and sunbathe in the privacy of this palatial beachfront villa.
A spacious outdoor dining area overlooks Danang Beach. A lounge, with a magnificent executive desk, provides ample space for work and play. For luxuriating under Vietnamese skies, the bathroom has a large outdoor shower and a natural stone bathtub. And two separate bedrooms allow the whole family to experience the comforts of a Pullman bed.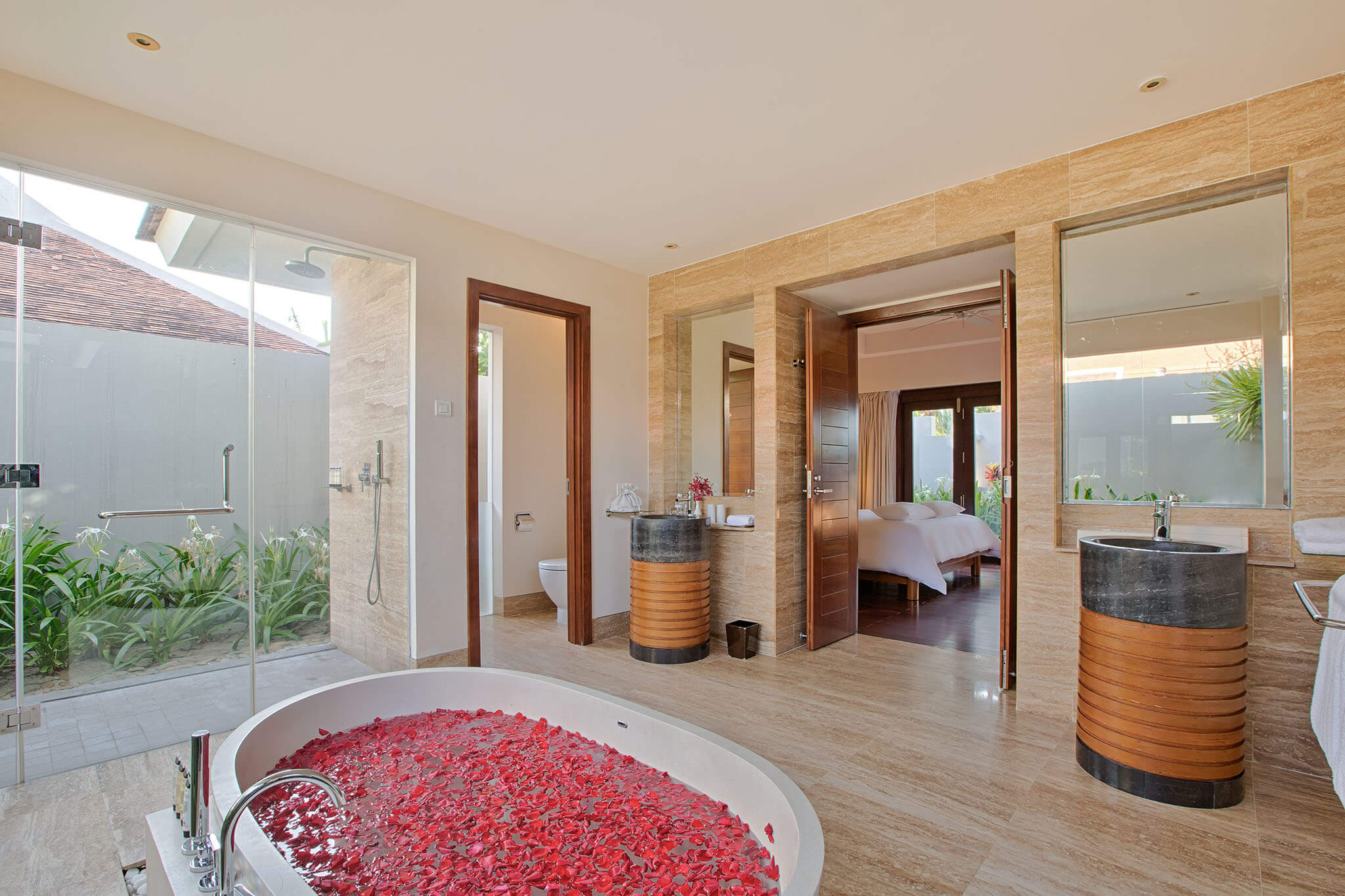 There is no better way to experience indulgent al fresco life in Danang, than with Pullman.
Size of cottage: 160 sq m/1,722 sq ft
RESTAURANT & BAR
Distinctive cuisine and creative beverage concepts are Pullman hallmarks. Pullman Danang showcases Vietnam's epicurean expertise and service excellence in each restaurant and bar.
 EPICE RESTAURANT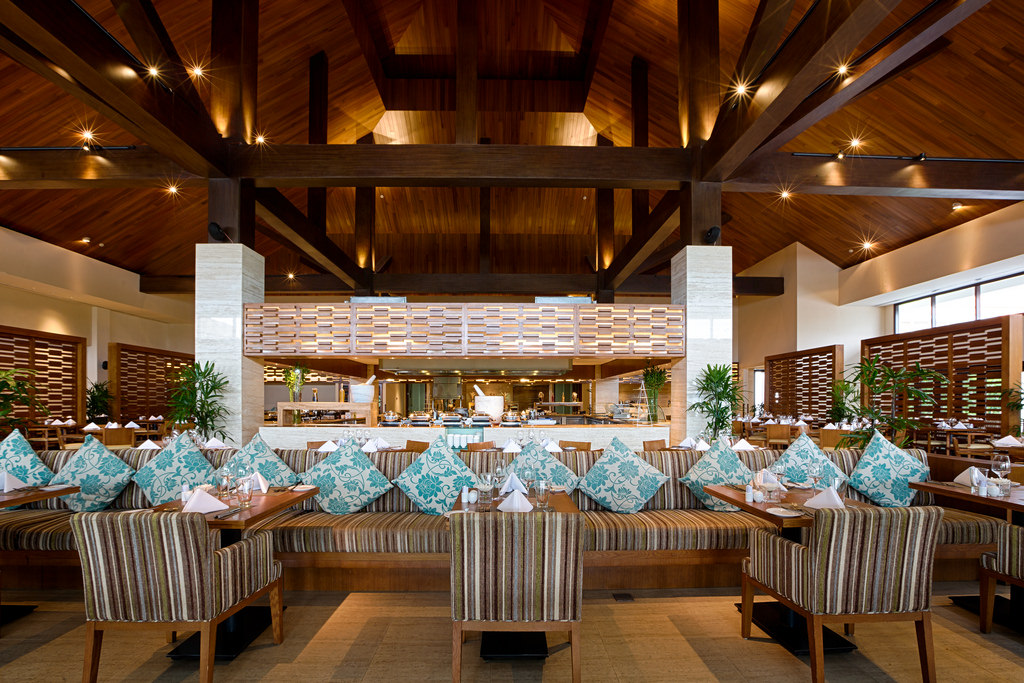 Epice is the spot in Danang for discovering local delicacies and gourmet Vietnamese cuisine. Pullman Danang Beach Resort's signature restaurant – open everyday from 6:30am to 10:30am – showcases revolutionary food concepts that fuse urban style with 5-star finesse.At Epice, fascinating presentation and scrupulous preparation go hand in hand.The wide outdoor terrace overlooks tropical gardens, infinity ponds and the sparkling sea beyond.
Indoors, talented chefs show off their skills at open kitchens as guests pick and choose from an enticing array of hot and cold dishes.The cool decor creates a welcoming atmosphere, ideal for conducting business or relaxing in the fully air-conditioned space. For gourmet chills, the Liquid Nitrogen ice cream – made directly at your table – is a must try.
A bountiful buffet breakfast, renowned throughout Da Nang, is served daily from 6:30am to 11:00am.
AZURE BEACH LOUNGE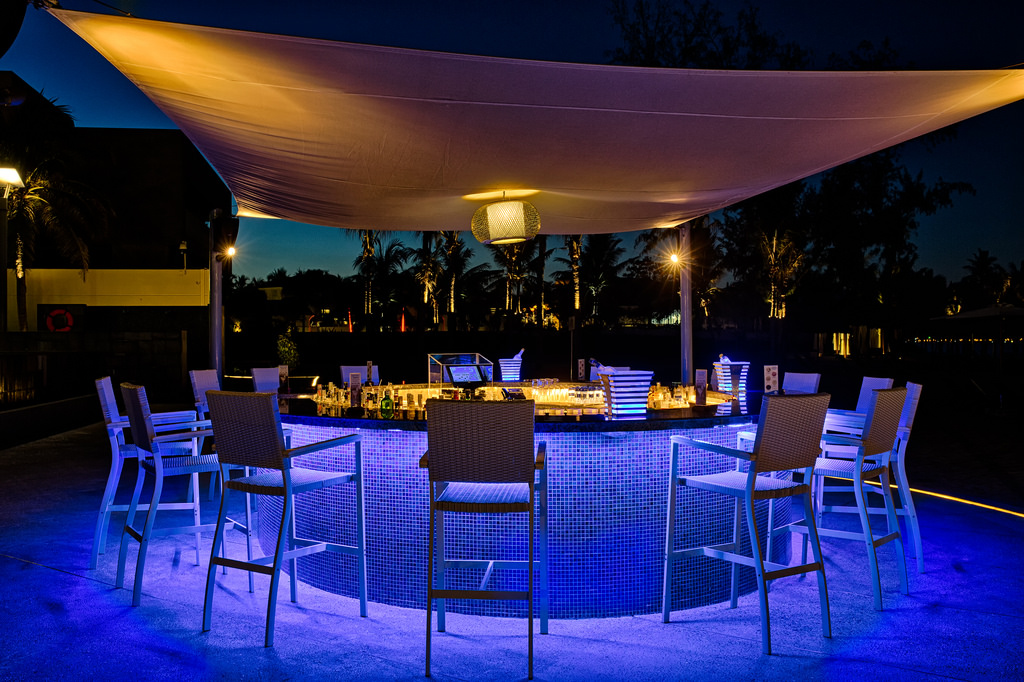 The revamped Azure Beach Lounge sits directly on the soft white sands of Danang's shores. Three distinct areas welcome guests for casual dining – indoors and out – or chilled drinks, smoothies and barbecues on the beach. No suits, ties or shoes required.
There is no better place to unwind and enjoy the tropical beachfront atmosphere. An al fresco terrace with stunning sea views. A beach bar for chilling out, toes in the sand. An air-conditioned indoor area with light, contemporary decor… Every inch of space takes advantage of the resort's beautiful surroundings.
The menu includes an eclectic array of light and healthy options. Fresh salads and sandwiches are served alongside succulent seafood and Asian favourites. Desserts are to die for, and the selection of signature cocktails quenches any thirst.
Open everyday from 11am to 10pm.
INFINITY BAR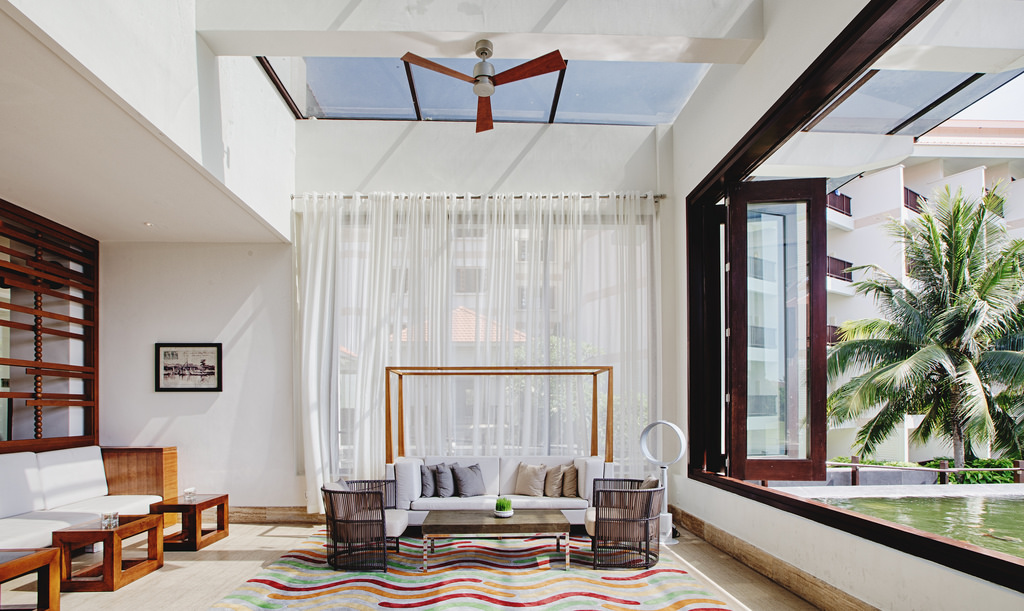 Endless views are what give the Infinity Bar its name. This elegant lobby lounge overlooks Zen-inducing ponds and, beyond that, the turquoise waters of the East Vietnam Sea. The ideal setting for business or social gatherings.
Open throughout the day, from 8am to 11pm, for drinks and casual bites.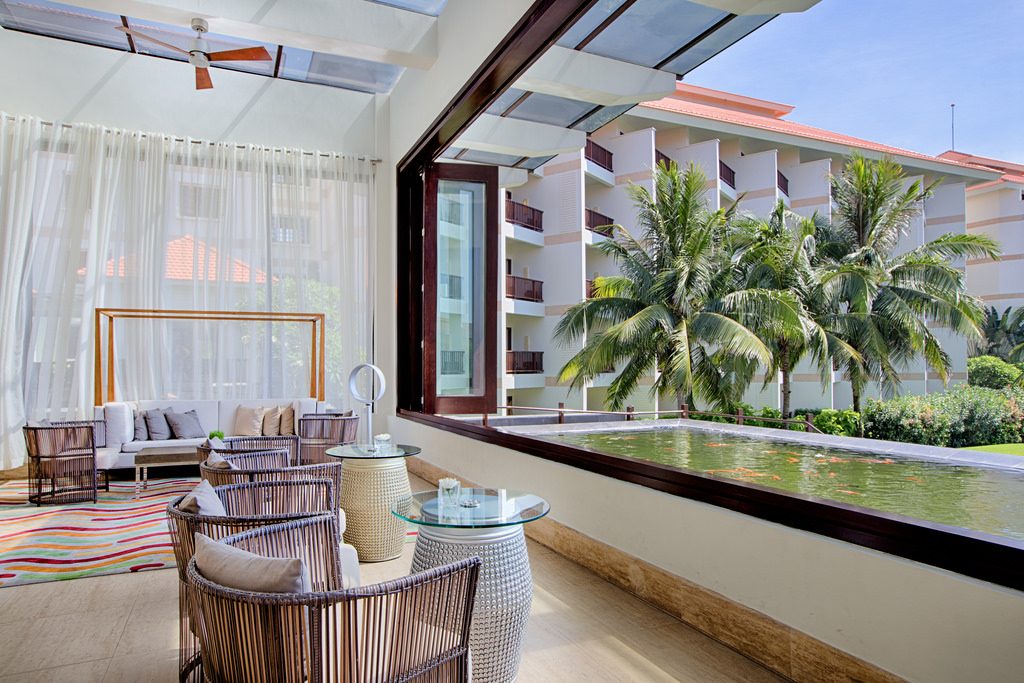 Guests can stop by for an express takeaway breakfast in the morning, or relax over a Pullman tea moment and an à la carte menu. In the afternoons and evenings, the appetizing aromas of brick-oven pizzas attract a faithful following.
Bartenders concoct icy cocktails made with smoky liquid nitrogen – Vietnam's exciting beverage concept. Every night, musicians entertain guests with live performances.
Happy hour every evening means special offers on beer or cocktails.
MEETING AND EVENT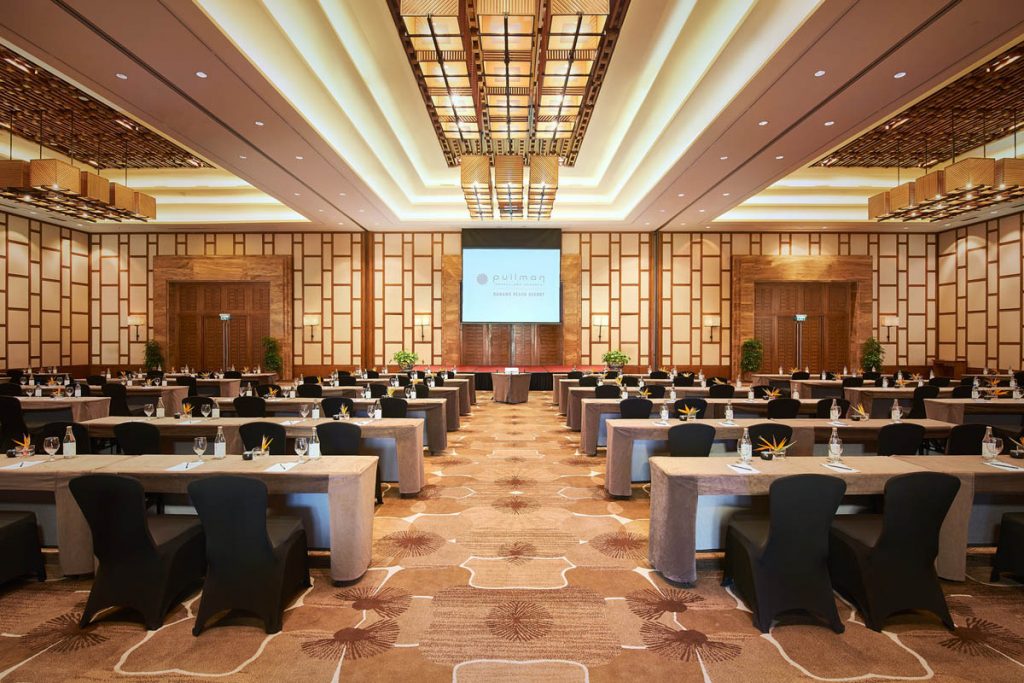 The resort's exceptional facilities provide function space for up to 900 attendees. Corporate meetings, themed evenings, beachfront weddings, banquets, cocktail parties… Pullman Danang caters to all your event needs.
INDOOR VENUES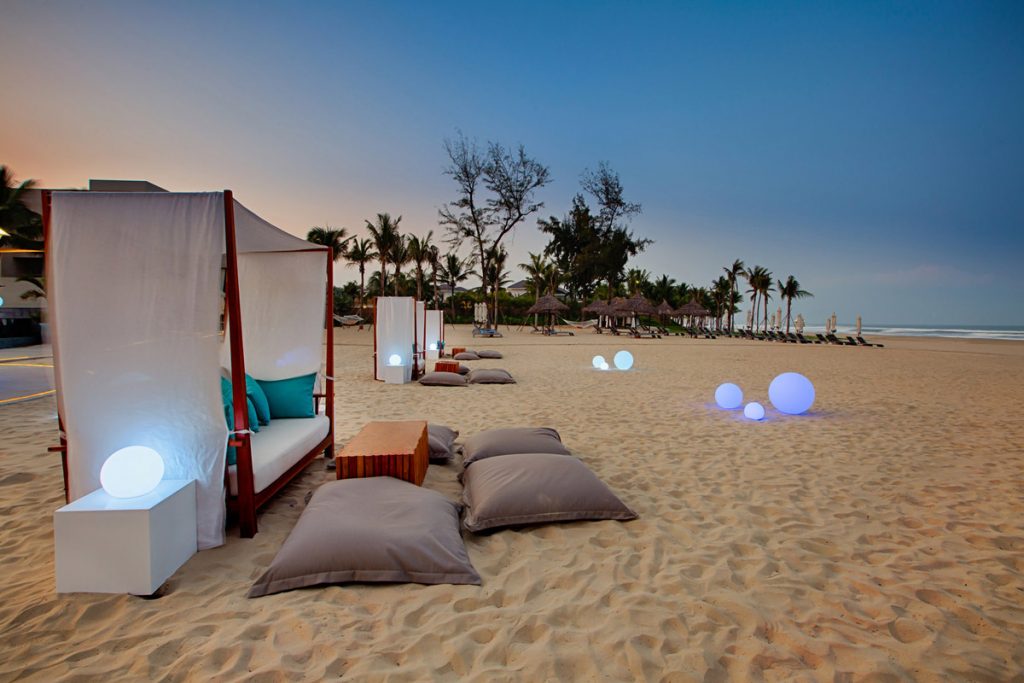 Five sophisticated indoor function rooms for a 5-star resort. High tech and versatile, all designed with streamlined performance in mind. Elegant design and furnishings provide a serene backdrop for business or socializing. Because Pullman makes your event its top priority.
The brand's Co-Meeting concept ensures you have an expert team of one-stop contacts on call at all times. The dedicated IT Solutions Manager takes care of the technical side of things. Expert chefs see to the catering. Pullman's Event Manager takes care of everything else so that your occasion runs seamlessly.
Orchid… Hibiscus… Jasmine… Magnolia… The fragrant flowers of Vietnam lend their names to the meeting rooms. The smallest measures 48 sq m (516 sq ft) and can accommodate up to 48 people. The grand Lotus Ballroom hosts up to 650 privileged guests in its impressive 720 sq m (7,750 sq ft) of stylish space. It can also be divided into three separate meeting rooms for even more versatility.
For fine dining in a more intimate setting, Epice restaurant has two private dining rooms that can seat up to 20 guests each.
OUTDOOR VENUES
Pullman Danang takes advantage of the resort's beachfront location to offer a unique selection of open-air venues for as many as 1,000 people. With Vietnam's stunning scenery in the background and Pullman event expertise, special occasions are purely sensational in Da Nang.
Art expos by the pool overlooking the East Sea. Product launches on a vast expanse of pristine lawn amid tropical gardens and infinity ponds. Cocktail parties on the 6th floor terrace with breathtaking views of Vietnam's coastline. Even sportive events on the private beach – a great option for incentive getaways. Pullman orchestrates all kinds of festive celebrations with style and finesse.
Each idyllic venue offers creative solutions for audio and setup requirements, with a large range of equipment available for hire. Wi-Fi connectivity is guaranteed both indoors and out. A knowledgeable Event Manager and tech-savvy IT Solutions Manager make sure every aspect of your special event exceeds expectations.
To boost productivity, Pullman is excited to provide additional marketing value for your upcoming event at the resort. A personalized event page on the hotel website provides participants with regular updates while allowing for direct booking.
WEDDINGS
White sands, turquoise waters, lush tropics… Da Nang's spectacular coastline is a fairytale setting for a dream destination wedding. The resort's landscaped gardens, private beach, majestic ballroom and variety of open-air venues make Pullman the natural choice when organizing your extra-special day under Vietnamese skies.
Because it takes more than just exquisite surroundings to plan a successful wedding, Pullman provides a team of dedicated event organizers. Specialists in romance, they handle all the details – from the floral arrangements to the food, and from start to finish.
To inspire and enchant, Pullman has designed three magical wedding packages that can be tailored to meet your expectations. Couples can choose from a romantic escapade for two, an intimate celebration with all the trimmings or a traditional Vietnamese ceremony.
The psychedelic sunsets and tropical surroundings are provided by Mother Nature herself. The impeccable service and peace of mind are courtesy of Pullman.
For the wedding of your dreams.
SPA AND FITNESS
Holidays to Vietnam offer an array of opportunities for health and fitness. Pullman Danang Beach Resort has extensive facilities for those seeking to soothe their soul and recharge their body.
THE NẮNG SPA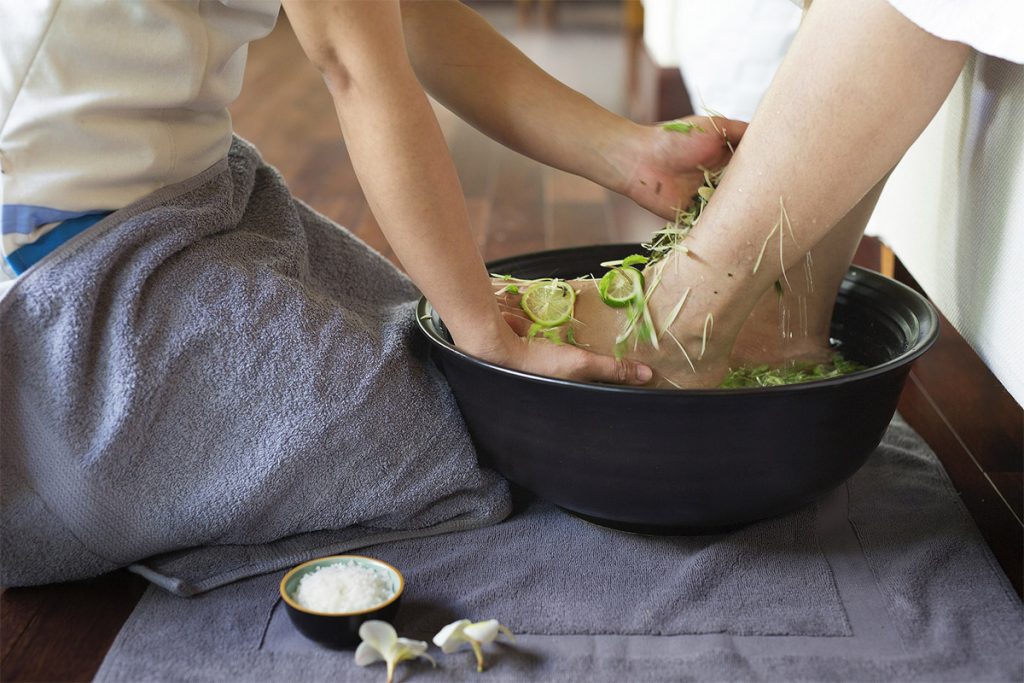 Pullman takes care of you – head to toe, body and mind. The Nang Spa is a haven of well-being and serenity that offers a wide range of massages, bathing rituals, facials and body treatments.
Methods are based on both traditional and modern holistic practices. Reflexology and massages promote inner peace and harmony. Wraps pamper the body, and scrubs reveal the skin's radiance.
On top of luxurious treatments, guests of Pullman Danang Beach Resort get free access to the steam room, sauna and plunge pool. Retreat, unwind, revitalize… This is your time-out zone.
Opening time: 9am – 10pm
Features:
Sauna
Steam room
Plunge pool
Foot massage zone
Beauty treatment rooms in spa institute
Cabana massage hut by the beach
Massages for kids aged 4-12
Massages for pregnant women
HARMONY OF ENERGY MASSAGE
This signature treatment invites guests to enter into a world of bliss and energy. Inspired by ancient massage rituals, it combines the holistic healing effects of seven different techniques for profound results. The session opens the energy channels and stimulates nerve endings and muscles – releasing stress and improving flexibility. The body is relaxed, revitalized and ready for more holiday fun in Danang.
In a peaceful Nang Spa treatment room (60 or 90 minutes) or directly on the beach (90 minutes).
AROMATIC BLISS MASSAGE
Whatever the desired effect, this signature Nang Spa treatment provides it. Relaxation, revitalization, rejuvenation… A choice of three aromatic oil blends, combined with healing massage techniques from the East and West, helps spa goers find peace and balance.
In a tranquil Nang Spa treatment room (60 or 90 minutes) or directly on the beach (90 minutes).
FIT LOUNGE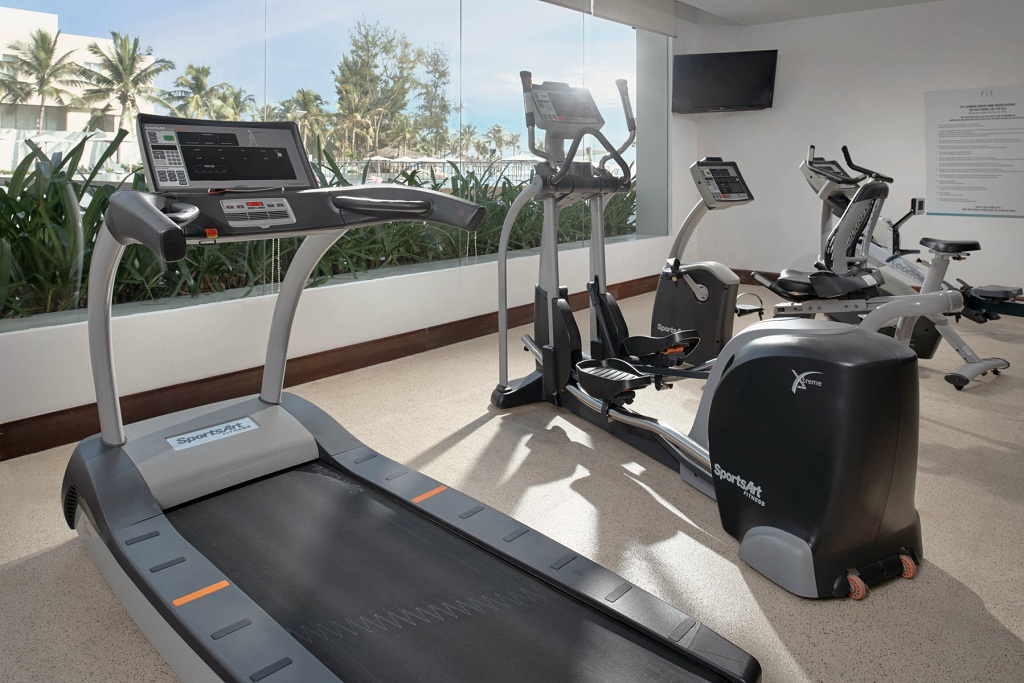 Active travellers can stay in shape at Pullman's Fit Lounge. Next-generation fitnessmachines get the heart rate going. Yoga mats and balance balls are standardequipment for increasing flexibility and muscle tone.
Guests can tread, row, climb and stretch with full views of the resort's pool and gardens. Physical trainers are on hand to boost exercise routines and help reach new levels of fitness.
A daily activities schedule includes aerobics classes, yoga sessions and other sports activities – for an energizing and fun workout.
Improving vitality and performance is made easy at Pullman hotels.
ACTIVITIES
Pullman Danang Beach is perhaps the best-equipped 5-star resort in Vietnam for sports and activity lovers. Boating, golf, cooking classes, kite flying… The list of activities is as long as it is diverse.
PRIVATE TRANSFER
For private tours, please email Guest Services team at H8838-GR2@accor.com for more information and reservation.
LEISURE ACTIVITIES
Because Pullman believes in having fun, activities abound at this beachfront resort. Sports, exploration, culture, discovery… On the beach, in the city or on the golf greens. Whatever your definition of play, Pullman Danang has just the thing.
In and around Da Nang, global nomads can cycle through the countryside, discover the region by car or get creative with a variety of leisure activities for all ages.
English-speaking tour guides take explorers on tours of the Marble Mountains and Danang City. Or further out to visit holy sanctuaries and the ancient city of Hoi An.
The region is also an excellent destination for sports enthusiasts. Guests can tee off at three nearby international golf courses. The resort has courts for tennis, badminton, petanque and basketball. The outdoor pool is ideal for chilling out.
Kids love the beachfront playground and Kids' Club. A number of fun and interesting activities aim at keeping them happy and entertained.
And because Pullman puts playtime first, all beach activities at the resort are complimentary for in-house guests.
WATERSPORTS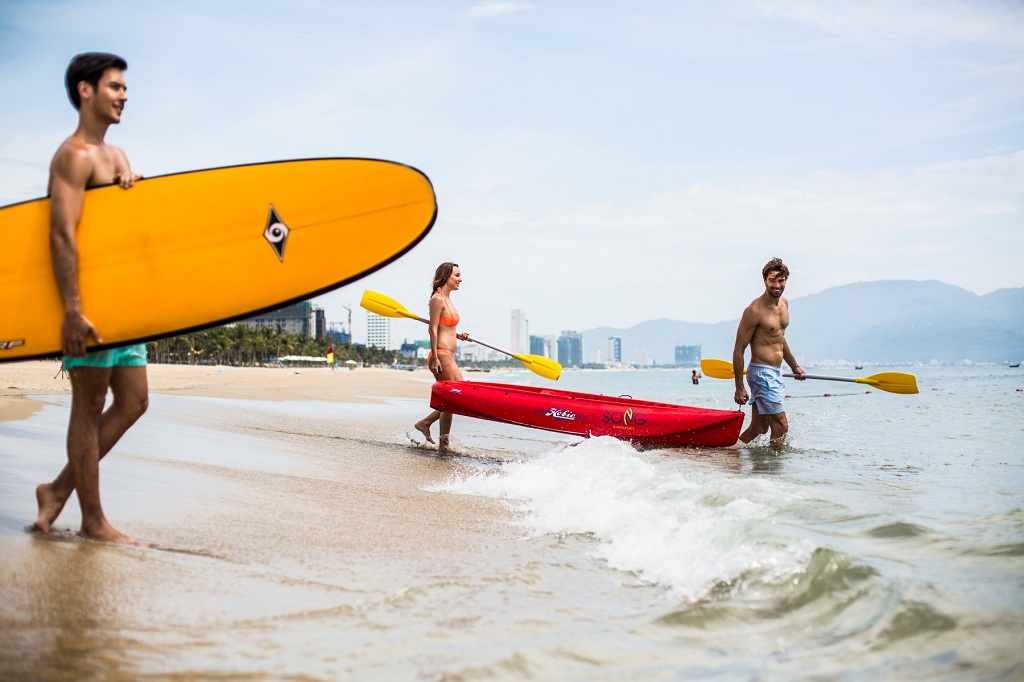 Blue skies and gentle surf make it hard to ignore the call of the sea at Pullman Danang. The resort makes it easy for guests of all ages to take advantage of its idyllic beachfront location. Adrenaline-fueled or laid-back, you set the pace while Pullman provides the fun.
Sóng Watersports is the resort's watersports club, located on the private beach. Guests seeking action out on the waves can try their hand at a variety of activities, using the very latest equipment.
Jet skis, available for hire, reach high-octane speeds. Surfing, bodyboarding, wind-surfing, paddleboarding or kayaking across white-crested waves… Pullman Danang is a seaside playground
COOKING CLASS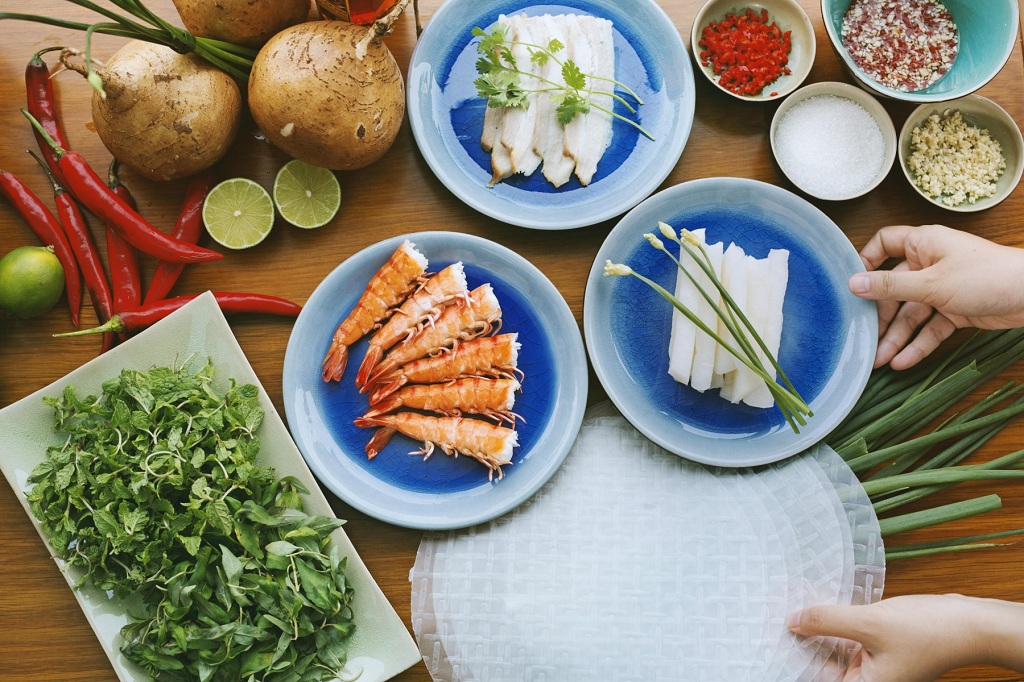 What better souvenir to take home after a holiday in Vietnam than the secrets to one of the region's traditional recipes? A trip to the market and in-depth instruction from experienced chefs teach guests about local cooking style and ingredients.
Everyday from 2pm on, the chefs at Epice, the resort's signature restaurant, reveal their secrets to fellow food lovers. The local market is the first stop, with instructors describing each ingredient before purchase. Back at the resort, guests learn to cook like locals. The class concludes with everyone feasting on their culinary efforts.
The expert instruction is casual, easy-going – bestowing skills that make a trip to Vietnam last a lifetime.
Danangfantasticity
Express Your Reaction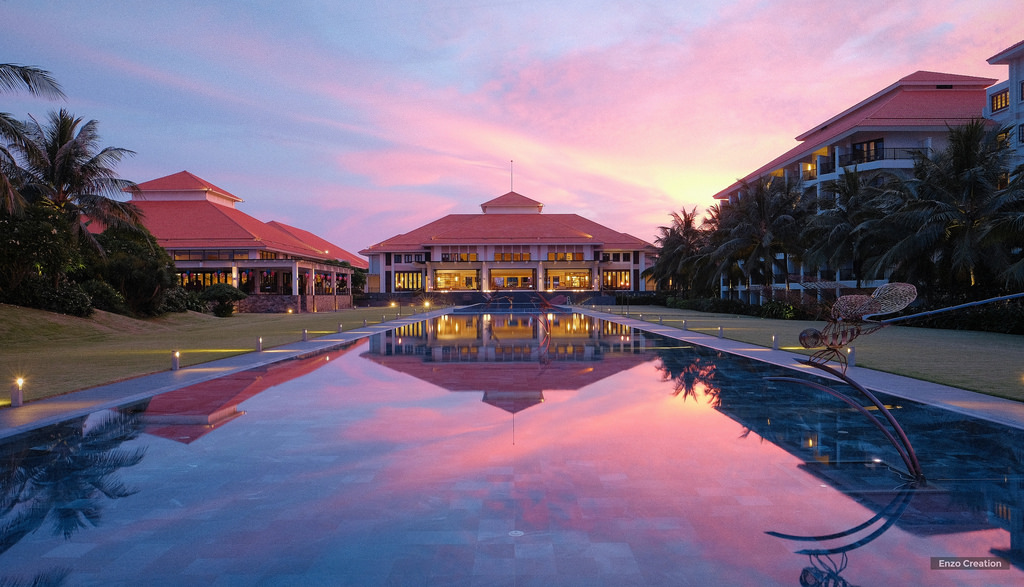 You have reacted on

"Pullman Danang Beach Resort"
A few seconds ago
Latest Posts