New World Hoiana Beach Resort is situated within Hoiana Resort & Golf, Vietnam's pre-eminent luxurious integrated resort, nestled along the pristine coastline near the UNESCO World Heritage Site of Hoi An, Vietnam.
1. NEW WORLD HOIANA BEACH RESORT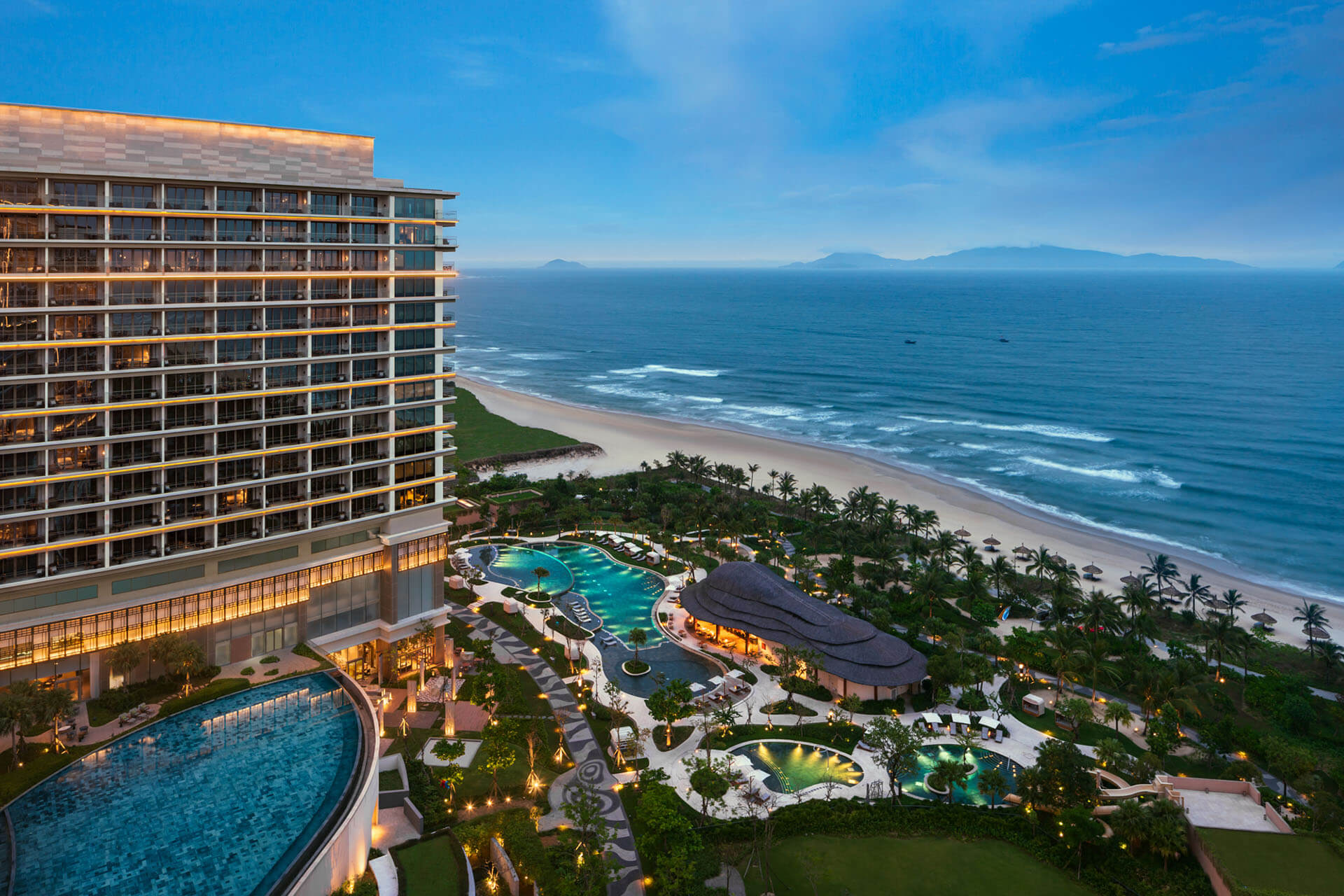 This stunning 4-kilometer beachfront complex encompasses four luxury hotels – including the New World Hoiana Hotel, offering 476 guestrooms, and the New World Hoiana Beach Resort, which presents 330 elegantly and sustainably designed rooms and suites. Additionally, the integrated resort boasts more than 10 world-class restaurants, serving over 12 types of cuisine, and features a magnificent 18-hole golf course meticulously designed by Robert Trent Jones Jr.
New World Hoiana Beach Resort features 330 modern guestrooms and suites, a dynamic kids' club, a tantalizing array of dining choices, a plethora of recreational activities, and a new conceptof Spa, inspired by Asian bathing culture. Situated conveniently near UNESCO World Heritage sites, Hoi An ancient town and My Son sanctuary, the resort promises extraordinary and unforgettable experiences suitable for all age.
2. ACCOMMODATION
GUESTROOM
Our guestrooms are spacious and stylish, making them an excellent choice for unwinding. At 50 square meters in size, the Superior Ocean View, Deluxe Ocean View, and Premier Ocean View rooms feature a king or twin bed, an en-suite bathroom with a walk-in rain shower, and a private balcony or terrace with a spectacular view of the garden or ocean.  You can immerse yourself in a refined environment with all the comforts of cities. A more expansive option is the Grand Deluxe Ocean View, boasting a generous 67 square meters in size.
Superior – Ocean View: 50 square meters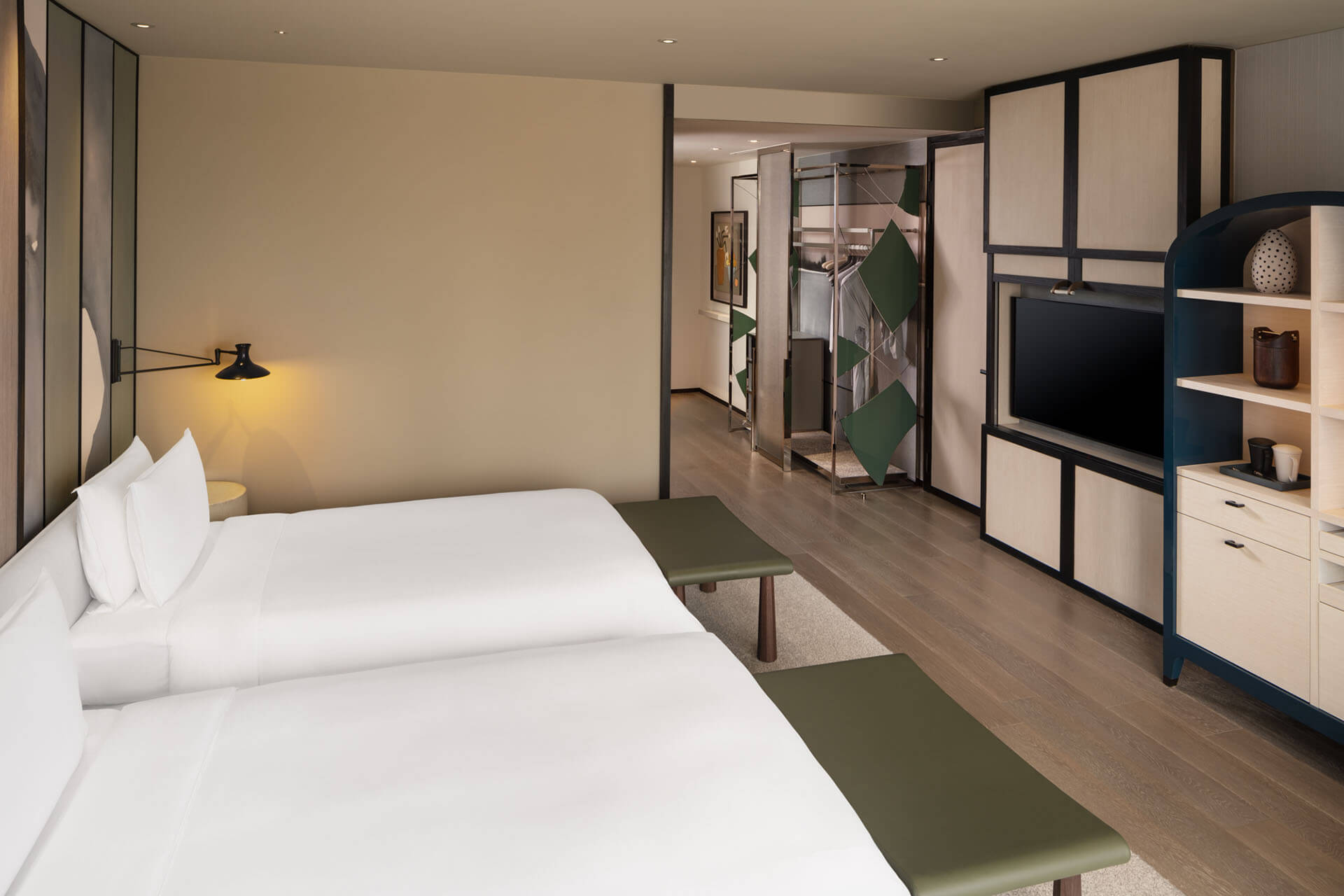 Deluxe – Ocean View: 50 square meters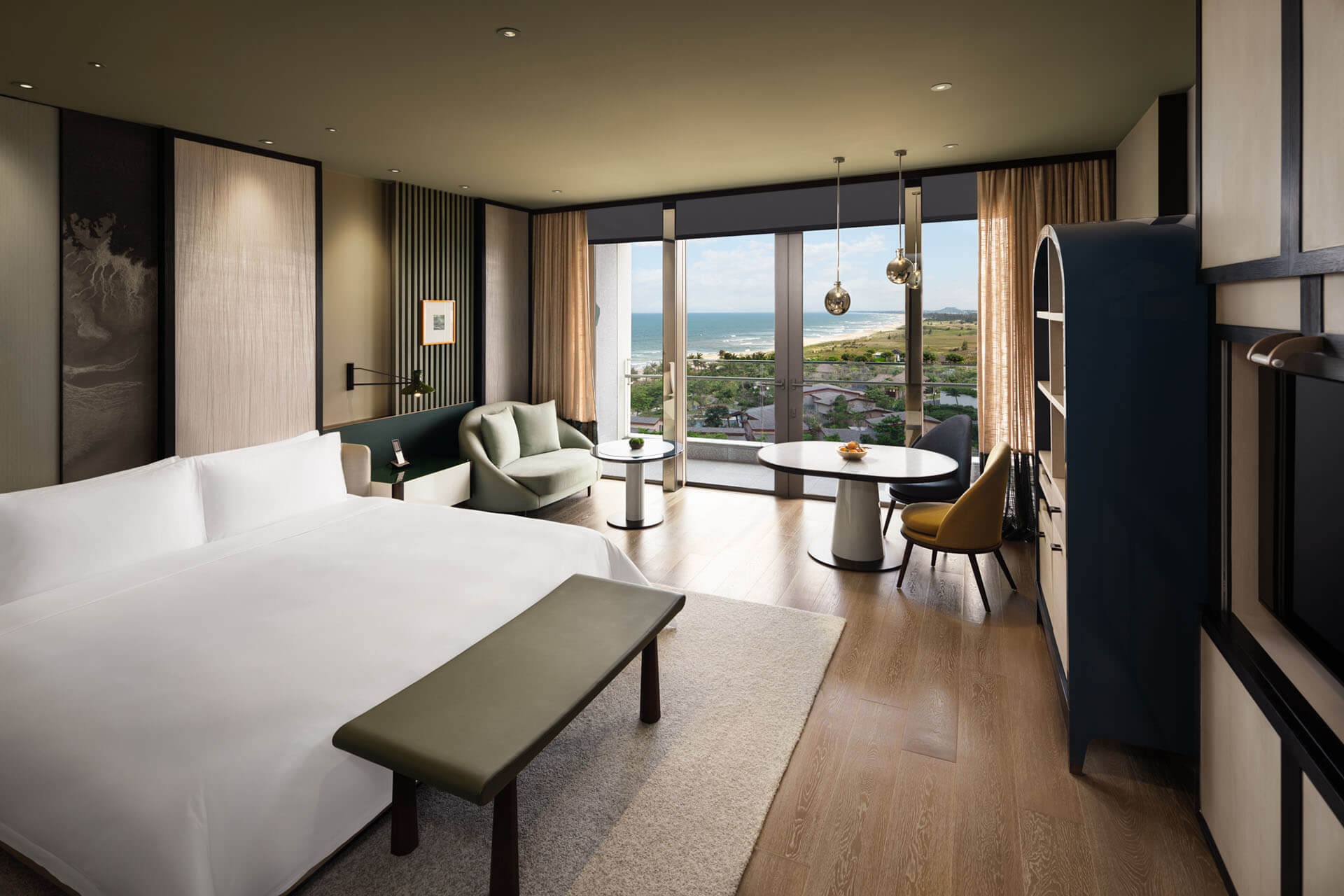 Premier – Ocean View: 50 square meters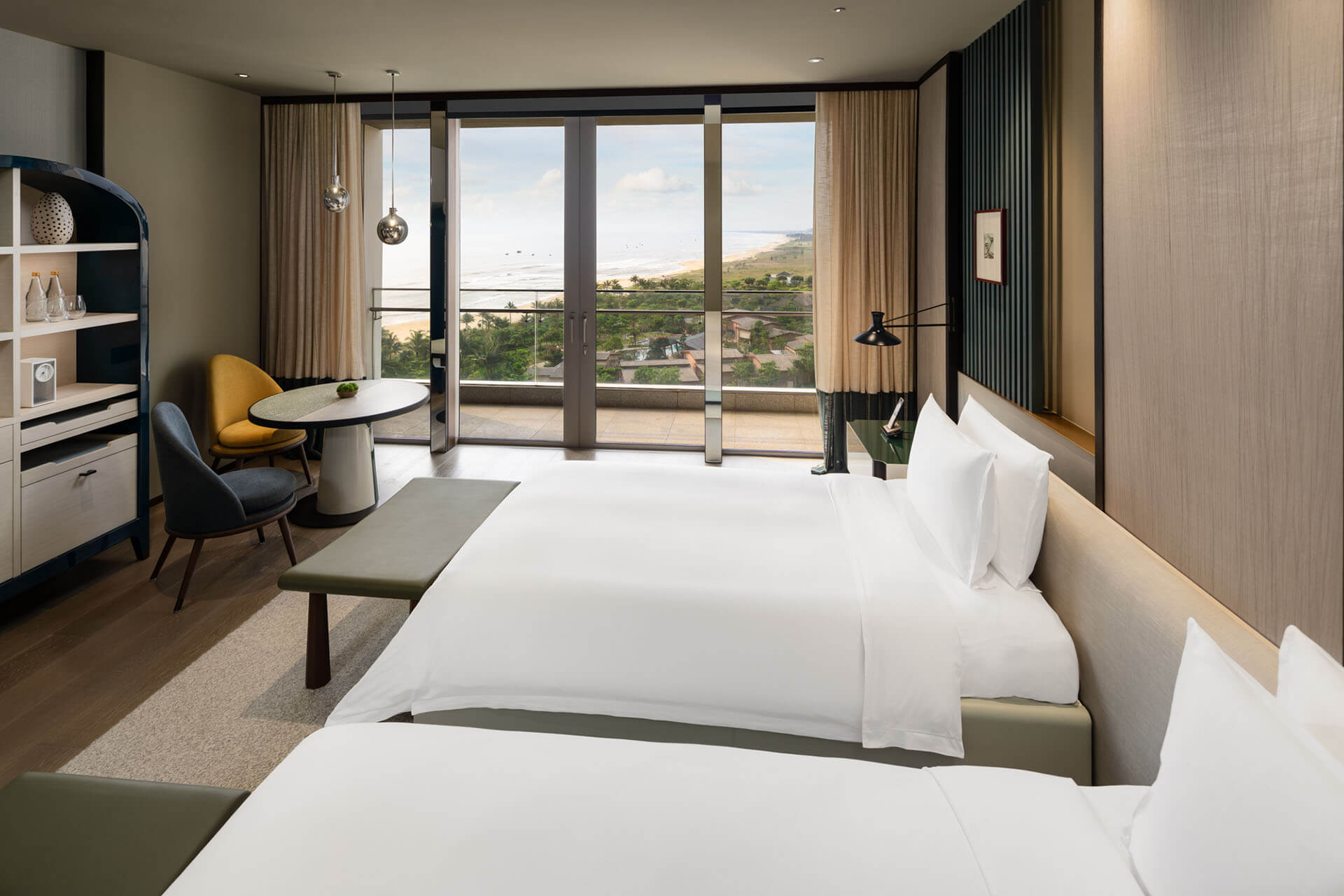 Grand Deluxe – Ocean view: 67 square meters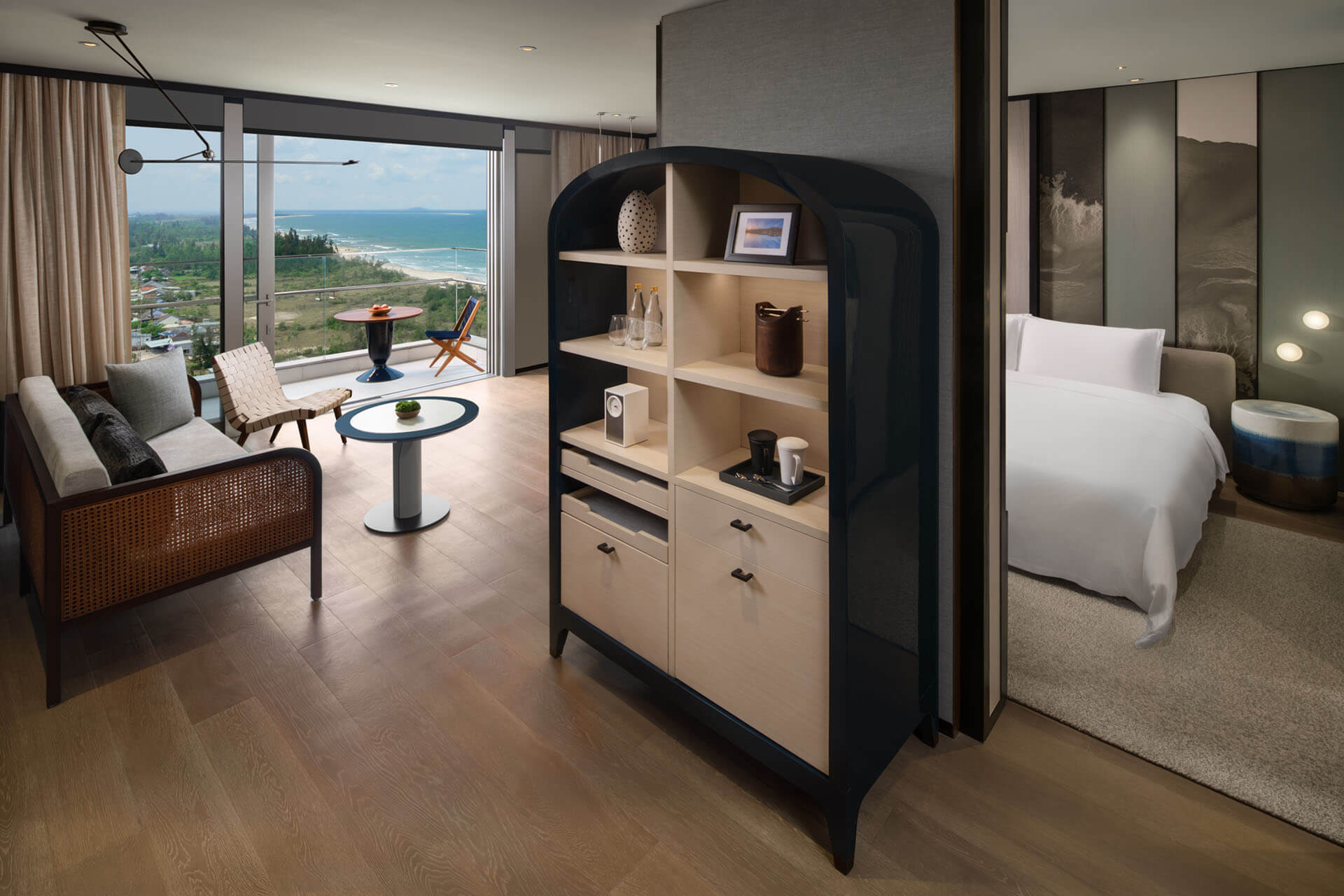 SUITES
The 97 square meters luxurious calming space with beautiful woodwork showcases an impeccably tasteful design with thoughtful details and a warm and welcoming ambiance. Conceived to let the outdoors in, each guestroom and suite will be a haven of stillness; serene hues of blue and green will blend with the panoramas of sea and sky, enlivened by splashes of vivid yellow.  When you stay in a suite, you are entitled to the exclusive elegance of Quang Nam House Lounge & Bar – a premium communal space featuring unparalleled bar and lounge experience on top of the personalized touches of a refined lifestyle.
Deluxe Suite – Panoramic Ocean View: 97 square meters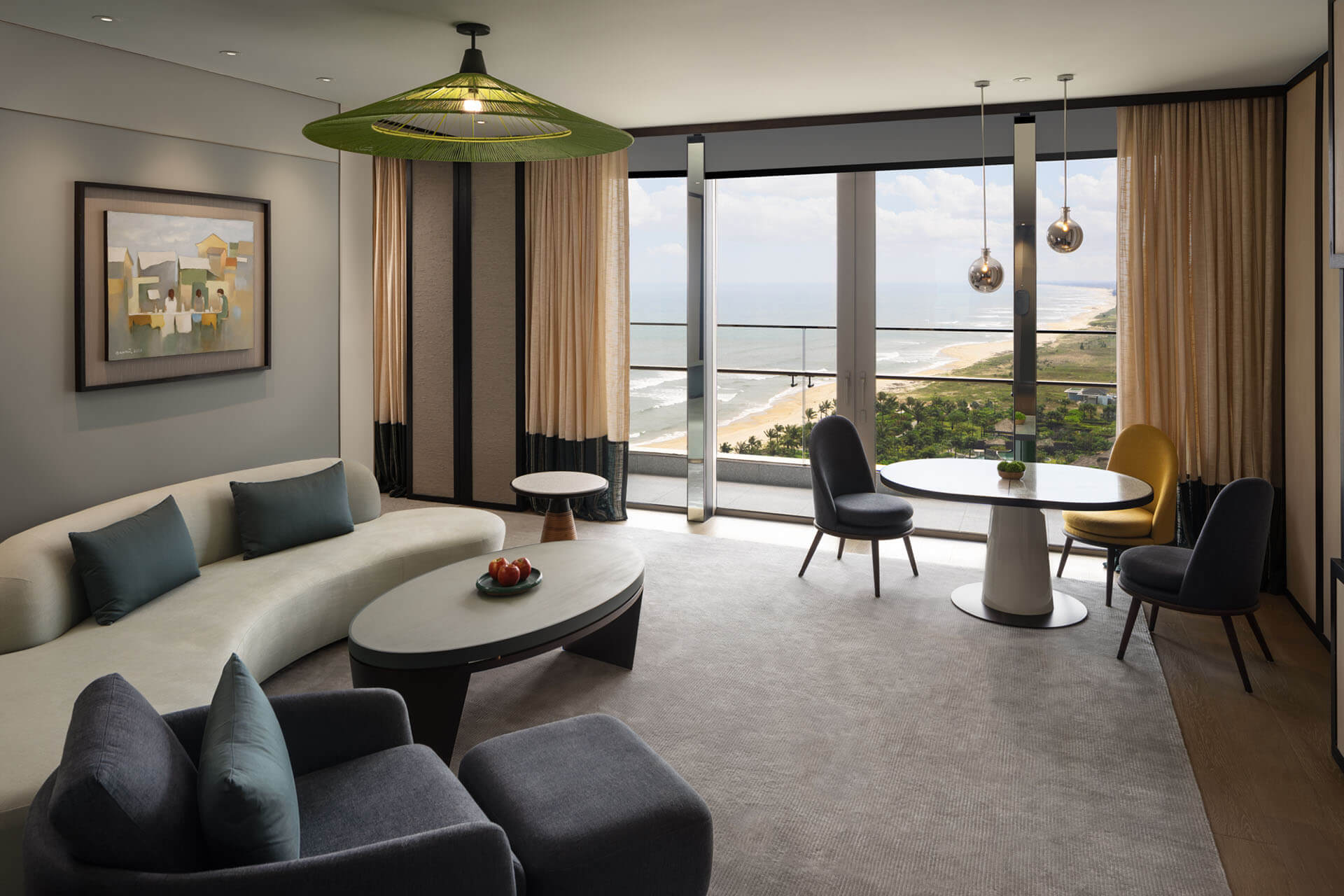 Premier Suite – Panoramic Ocean View: 97 square meters
3. DINNING 
Food plays an indispensable role in Vietnamese culture, as well as at New World Hoiana Beach Resort. Inspired by Hoi An's past as an important seaport and its resulting historical tapestry of Portuguese, Dutch, Japanese, Chinese, French, and Indian influences, New World Hoiana Beach Resort brings together a melting pot of flavors and ingredients from across the world for an innovative take on the rich cuisine of central Vietnam that both engages the senses and nourishes the body and soul. From cozy to casual and contemporary, guests can indulge in a range of dining options at New World Hoiana Beach Resort. Head to Blend for beachfront dining inspired by the bustling street markets of Asia; or a welcome poolside retreat at Cove Bar & Grill for guests who choose to sunbathe or swim, with light refreshments and cold treats available throughout the day.
THE COMMONS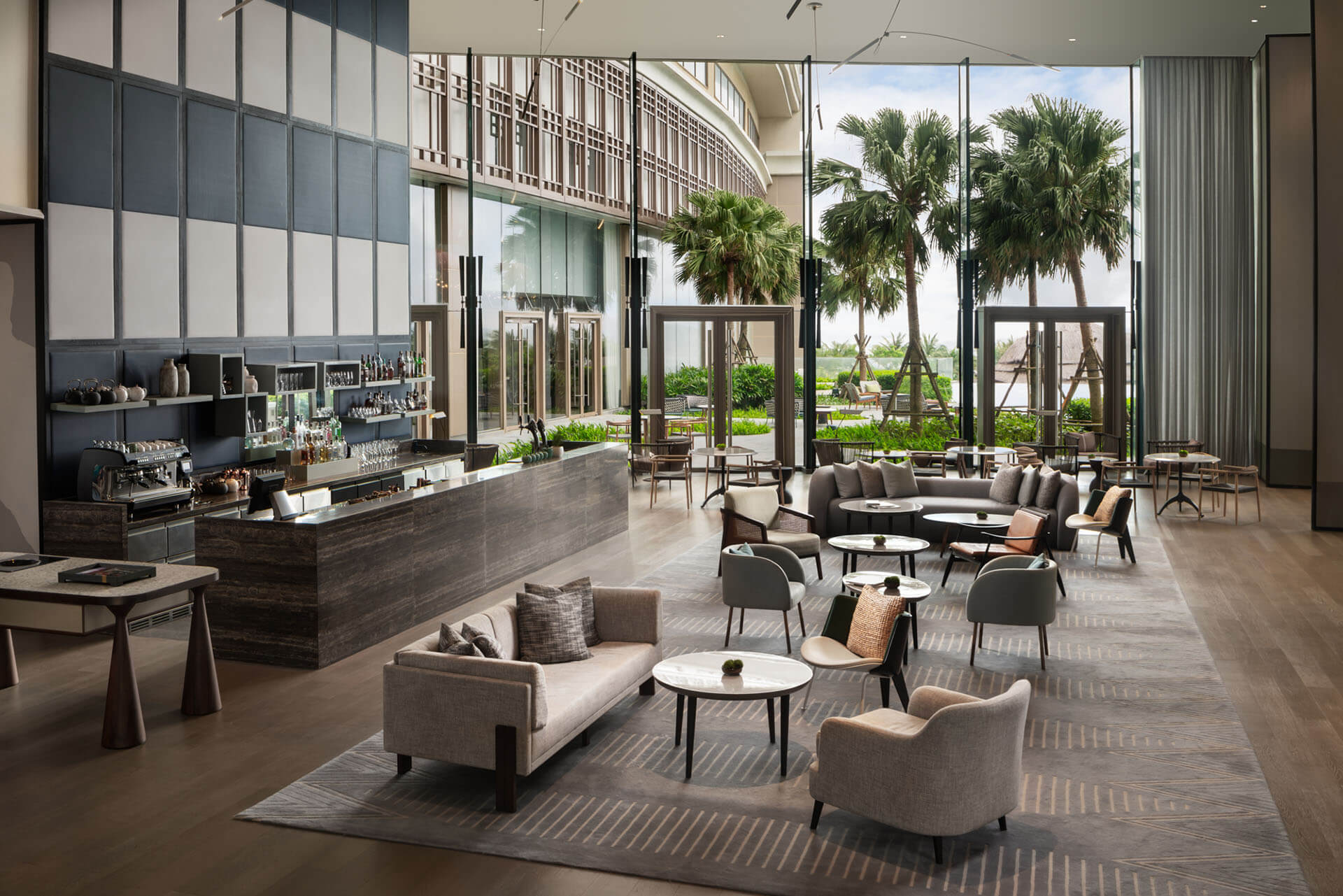 Designed to inspire and engage, the vibrant and interactive space called The Commons is an all-day social hub. The bar serves as the focal point as guests enter, with its unique nut-roasting counter and beverages served from dawn till dusk.
BLEND
Blend is the bustling culinary heart of the hotel, with open kitchens featuring regional Vietnamese, Chinese and Southeast Asian dishes available all day. Indoor and outdoor seating are available, with direct access to the beachfront.
COVE BAR & GRILL
Cove Bar & Grill is a welcome poolside retreat for guests who want to sunbathe or swim, with light refreshments and cold treats available throughout the day.
QUANG NAM HOUSE LOUNGE & BAR
Quang Nam House is a paragon of refined resort lifestyle, offering an unparalleled bar and lounge experience. An iconic destination for those seeking a sophisticated ambiance and exquisite cocktails. Whether you are seeking a sanctuary to unwind after a hectic day or a venue to commemorate a special occasion, Quang Nam House guarantees an alluring experience that will transcend your expectations.
4. DOWNTIME RENEW

Beyond being simply a spa, Renew unveils an innovative spa concept that reimagines the essence of communal bathing, drawing inspiration from traditional Asian bathing culture. It presents holistic body scrubs and massages, incorporating the invigorating essence of Vietnamese coffee, meticulously crafted to revitalize both body and mind. A sanctuary for gueststo indulge and invigorate during their stay. This is a space where the healing properties of water are allowed to truly flow.
Renew harnesses the healing and detoxifying properties of heated water to stimulate circulation, relax the muscles and combat fatigue providing a renewed scene of well-being. Consists of temperature-controlled pools, steam rooms, and a relaxation area for guests and members, this is a place to let go of the hustle and bustle of the daily undertakings.
5. DOWNTIME RECHARGE

Tap into the natural inspiration and sense of balance in Downtime Recharge in order to strengthen your well-being.
6. OUTDOOR SWIMMING POOL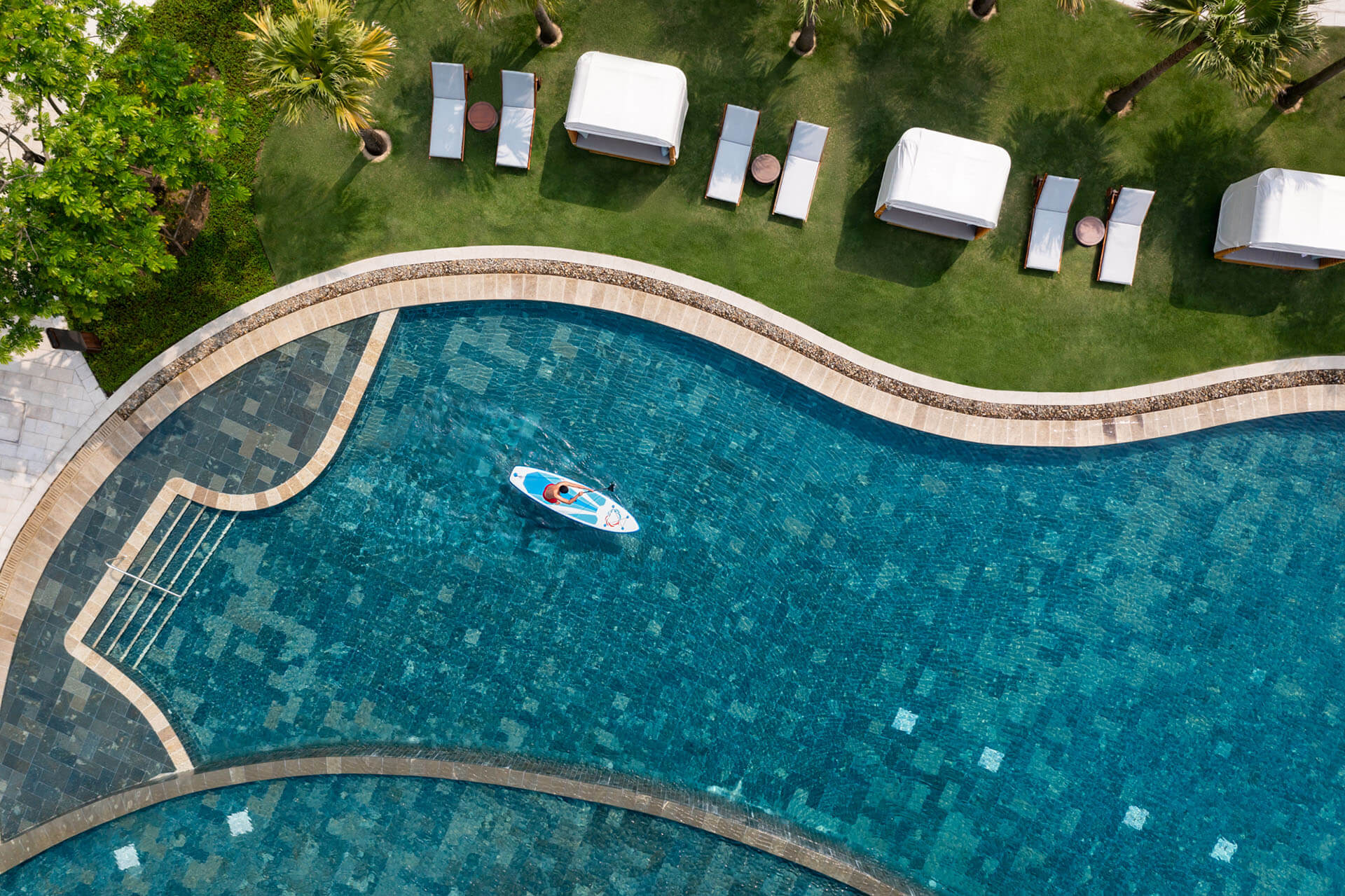 Our outdoor family pool is the best place to swim a few laps, relax in our private cabana with a signature cocktail, or take in the view of the endlessly blue sea. All ages of visitors adore the pool, and Cove Bar and Grill restaurant and bar offer the ideal refreshments.
7. PLAY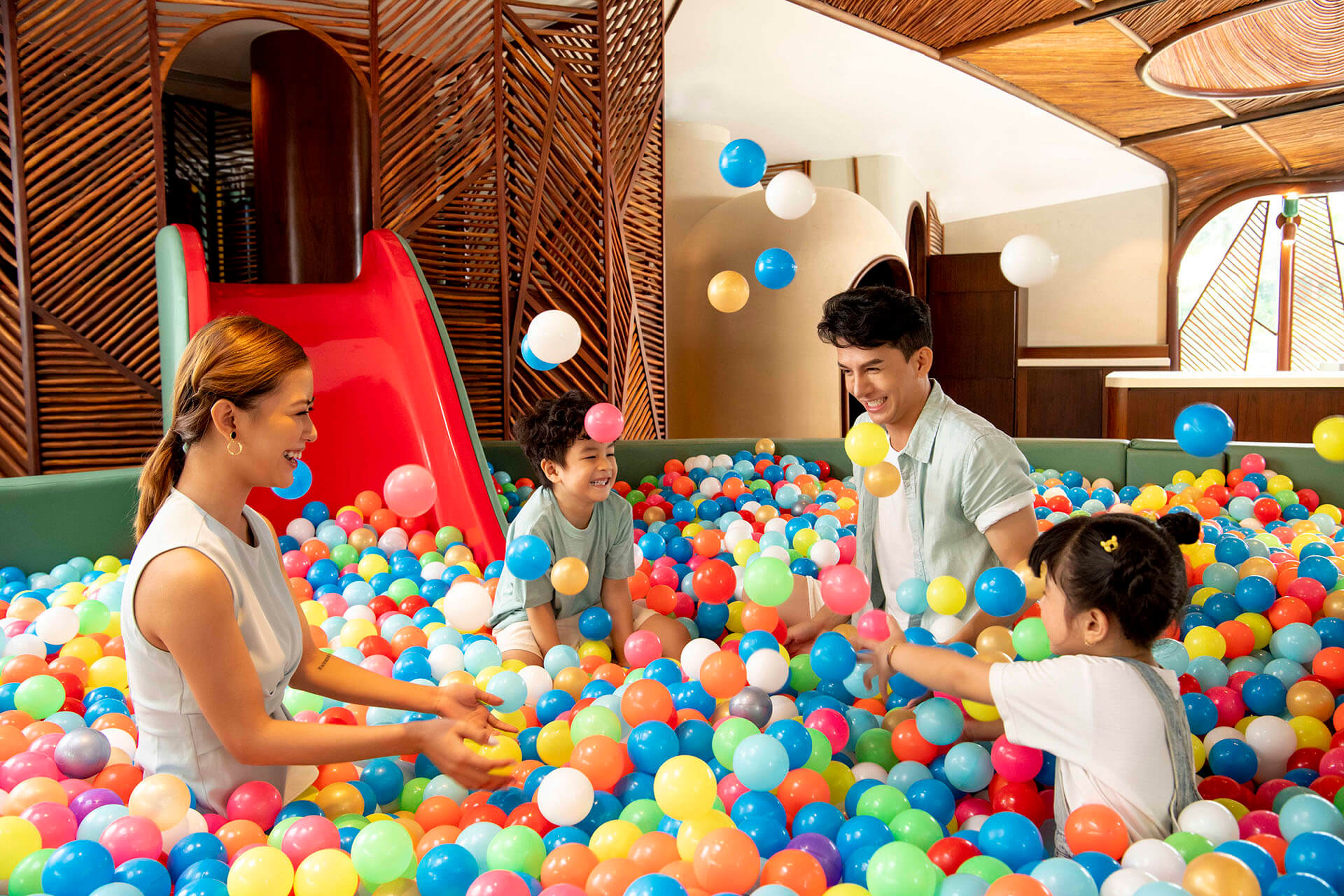 Kids will have to Play all on their own. Designed for children to indulge in their natural curiosity in a safe, fun, and interactive environment, Play structures its indoor and outdoor spaces and hands-on activities around the ideas of adventure, independence, and positive self-image. Three separate play areas take advantage of the hotel's stunning natural surroundings.
8. SURROUNDING ATTRACTIONS
The resort enjoys a strategic location in close proximity to an array of captivating destinations. The historic ancient town of Hoian is a mere 15-minute drive away, while Tra Que village beckons just 20 minutes from our doorstep. In only 40 minutes, you can immerse yourself in the protected marine biodiversity of Cu Lao Cham island, while the remnants of the Champa King's palatial constructs in My Son are a 1-hour and 30-minute drive away. Just 5 minutes from the resort, the Cẩm Thanh Nipa Palm Site awaits, covering 57.68 hectares and offering an exciting outdoor activity destination that families shouldn't miss. Embark on a visit and enjoy both fun and the chance to learn traditional Vietnamese basket boat control techniques and fishing skills in this engaging experience.
9. MEETINGS & WEDDINGS
Our flexible meeting venues and function spaces are equipped with intuitive design touches and supported by expert event planning services to inspire collaboration and productivity. Picturesque outdoor surroundings make each unique venue worthy of celebrating life's great occasions.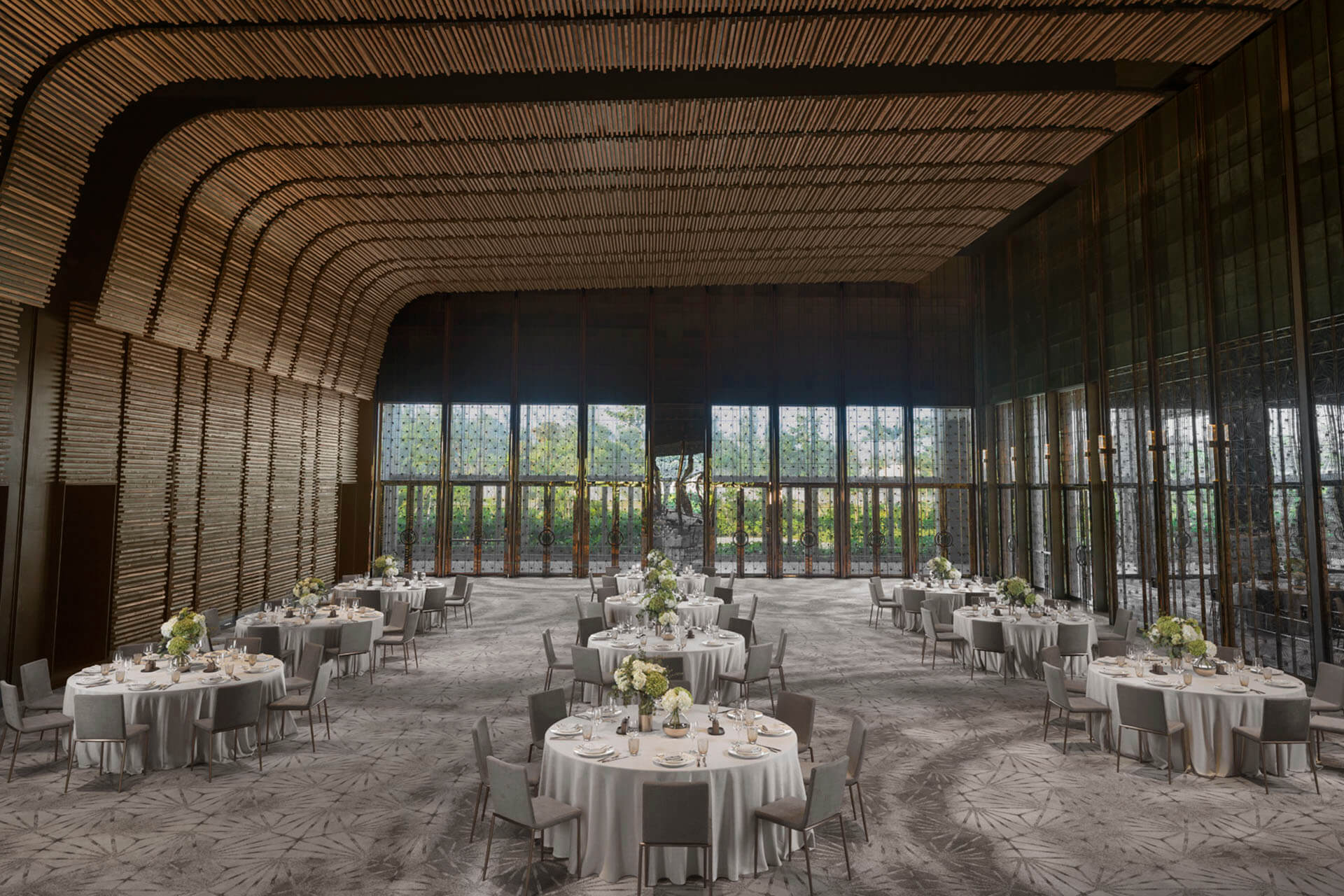 Ballroom is the largest functional area, which can be split into two separate sections and includes a lawn and surrounding terrace, with a purpose-built bar.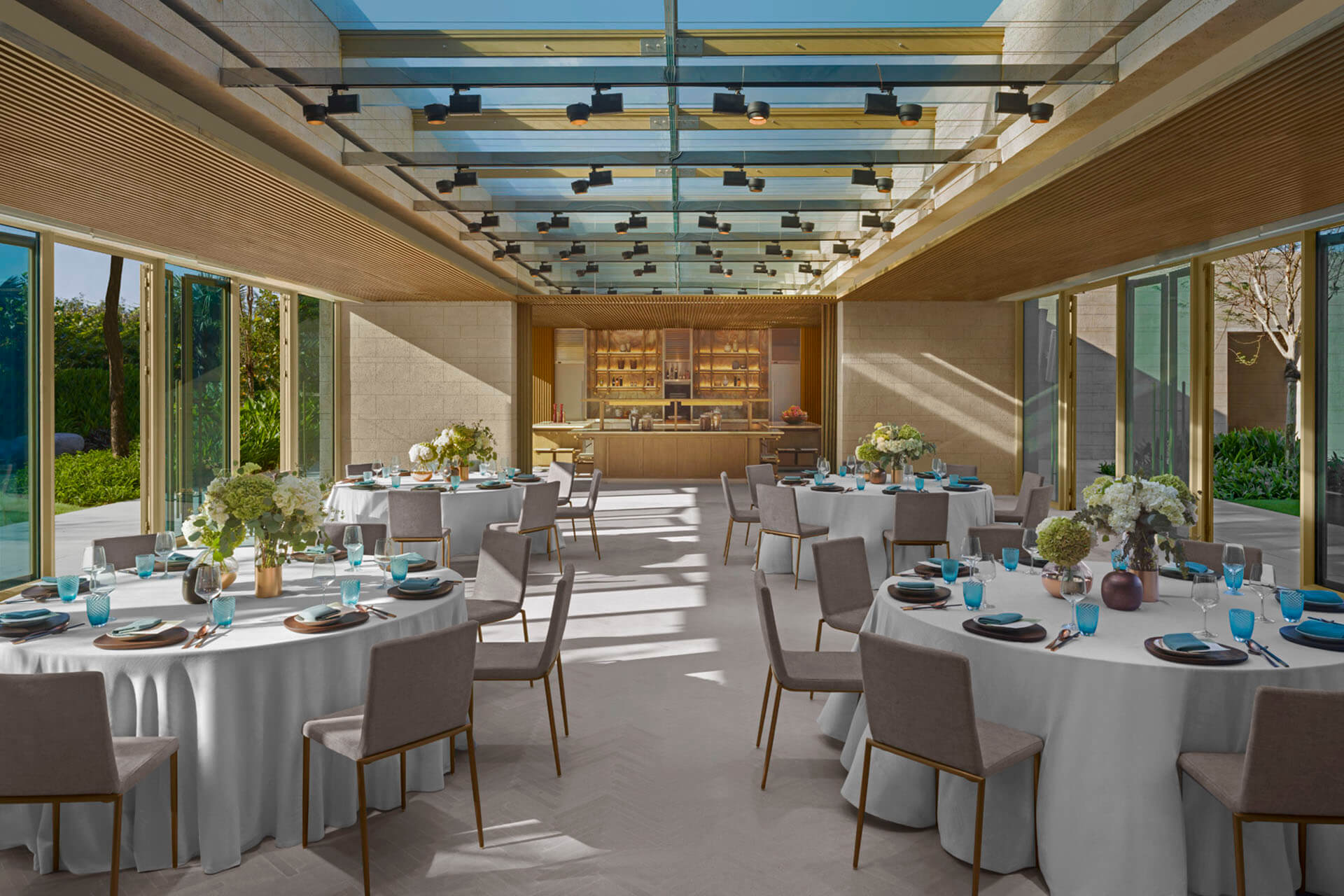 Green House is a more intimate open pavilion space situated next to the lawn, and The Loft is an event space located on top of the ballroom with an adjoining terrace overlooking the lawn, offering stunning views of the beach.

NEW WORLD HOIANA BEACH RESORT
Address: Hoiana Resort & Golf, Tay Son Tay, Duy Hai, Duy Xuyen, Hoi An, Quang Nam Province, Vietnam
T: (+84) 235 858 6999 | E: reservation.hoianabeach@newworldhotels.com
W: https://hoianabeachresort.newworldhotels.com