Meliá Danang Beach Resort: Welcome to the place where everything has Soul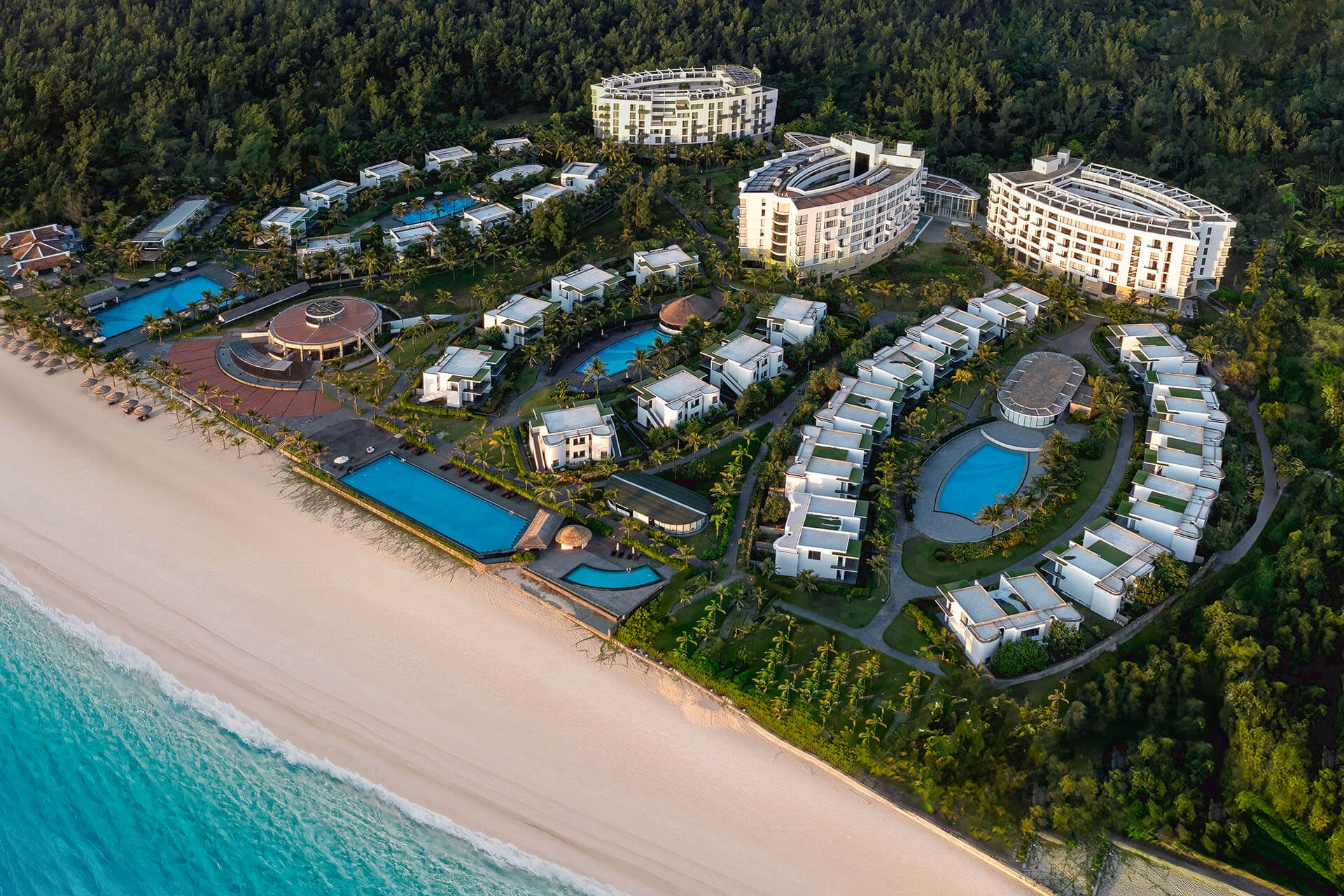 CONVENIENT LOCATION
Located alongside the popular Non Nuoc Beach, this resort has a peaceful, unspoiled coastline, the perfect destination for escaping the hectic pace of the city. Modern facilities and a privileged location make it an ideal hotel for discovering the Central Region of Vietnam.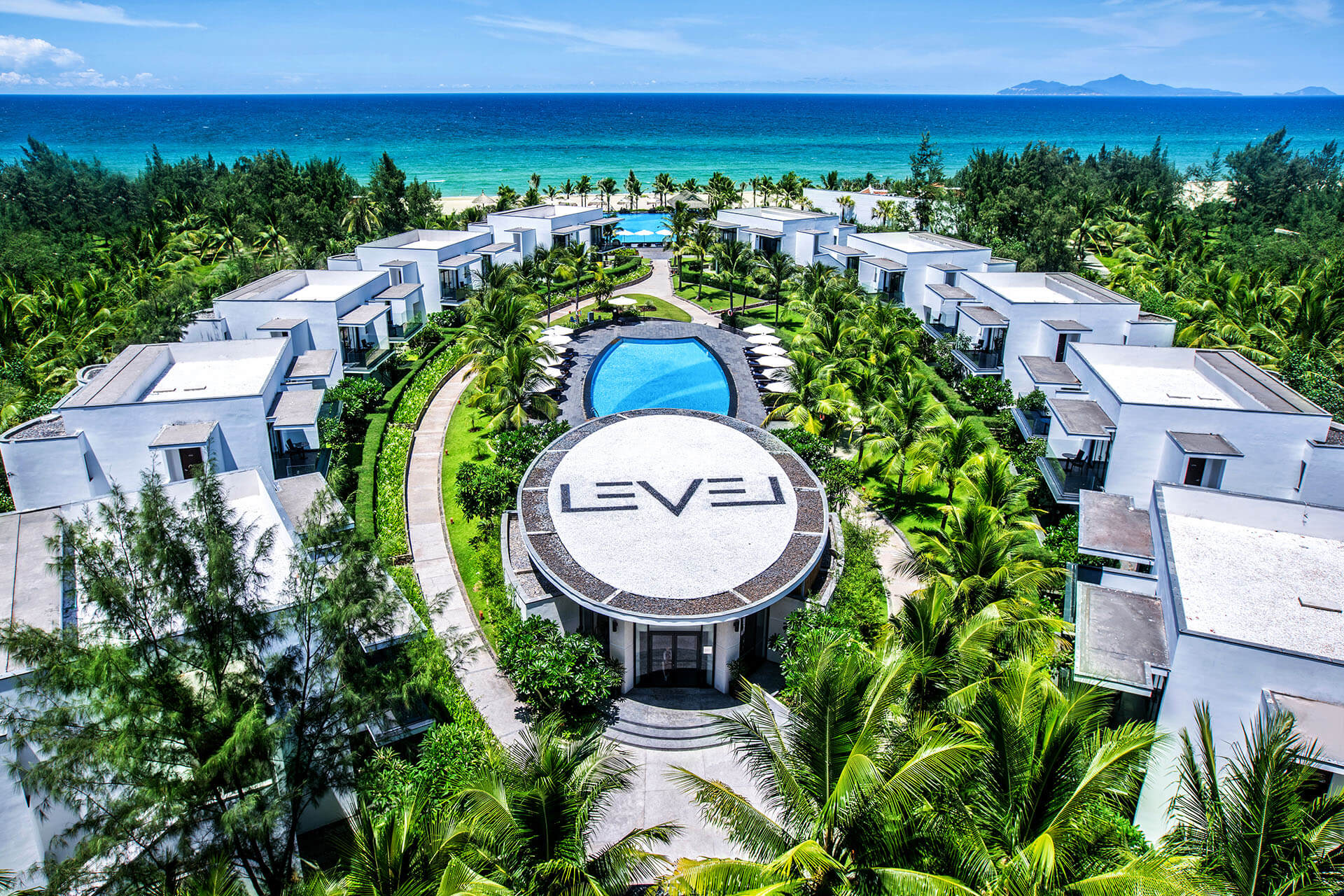 ACCOMMODATION
Meliá Danang Beach Resort not only boasts a great location but also takes pride in its unique architecture and modern amenities. The spacious rooms are designed with meticulous attention to detail, providing guests with a comfortable and elegant experience. With 408 accommodations, Meliá Danang Beach Resort is an ideal choice for all resort needs: family vacations, couples, business trips,…
Meliá Guest Room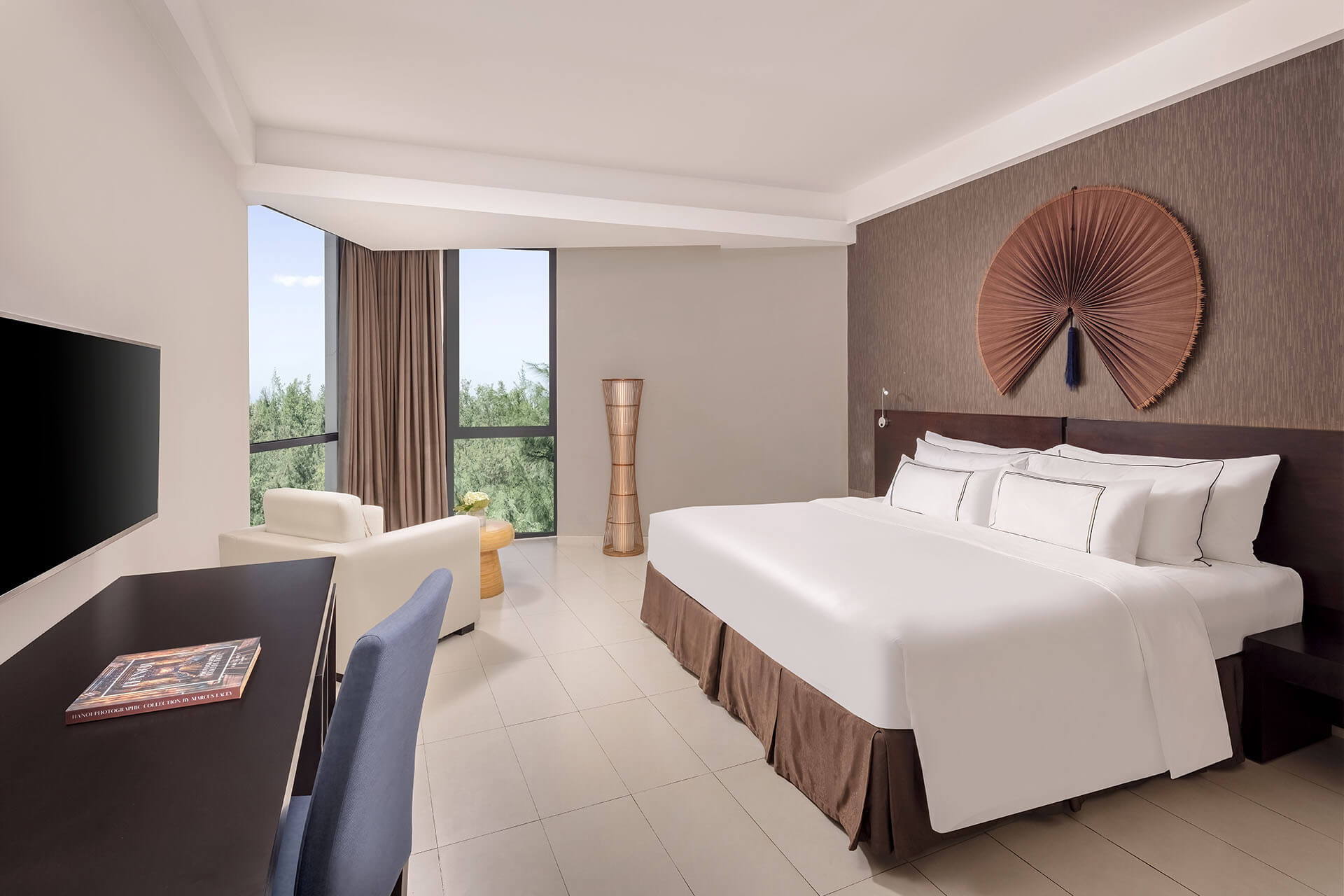 A modern room with contemporary design, rest after a day exploring the city in a comfortable bed, watch the TV or freshen up with a hot shower. You are finally in Vietnam!
Room size: 28 sqm.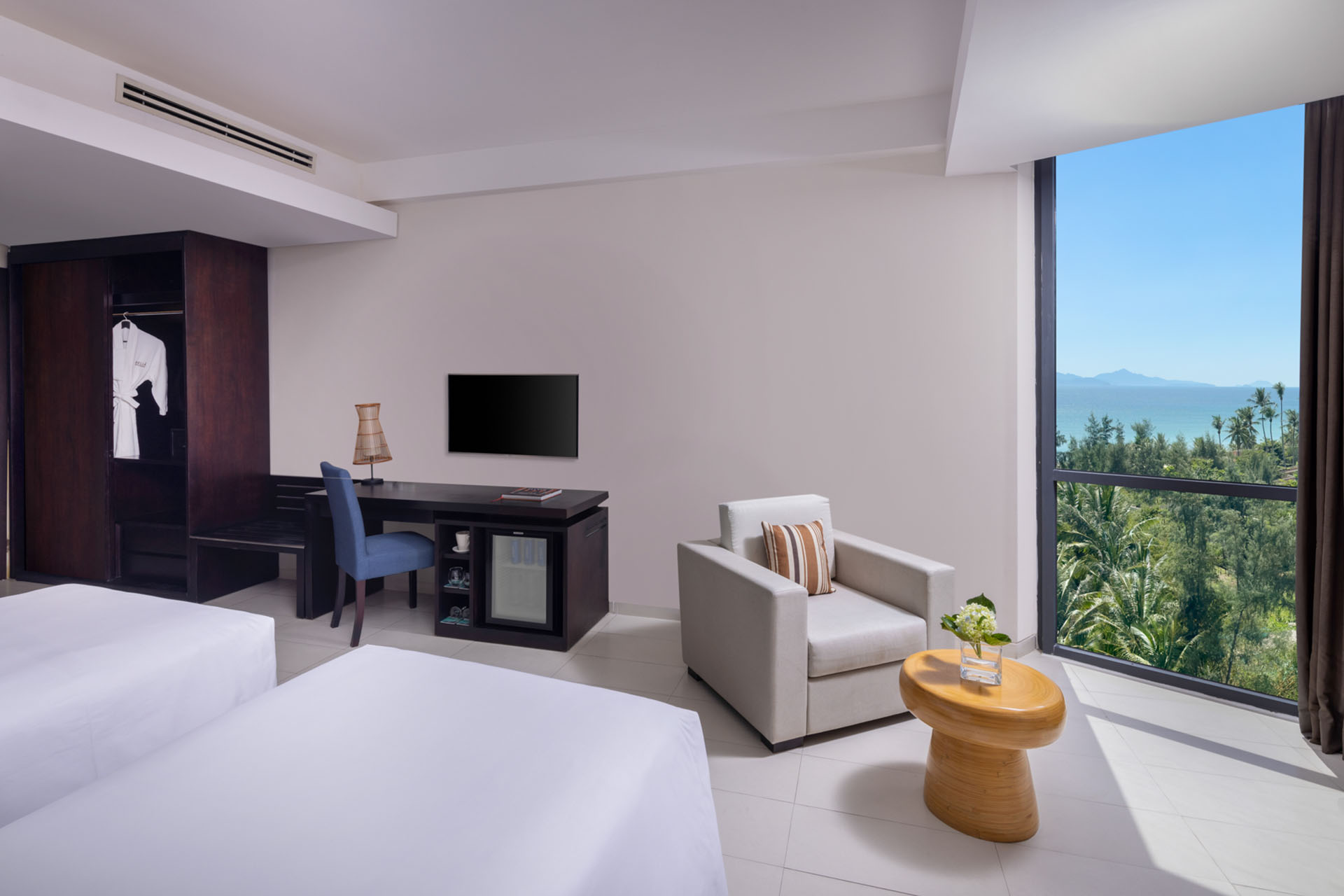 Family Room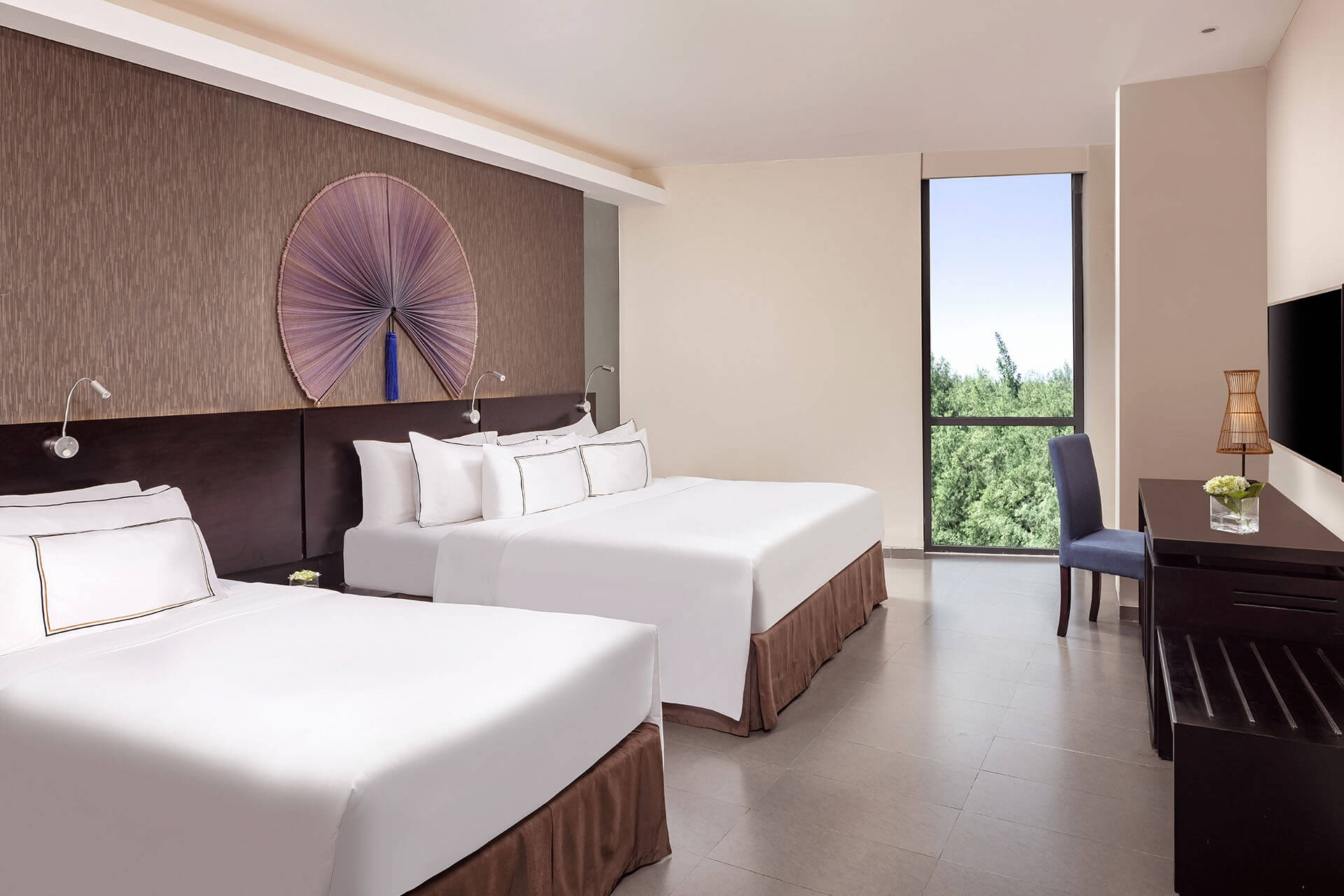 With a view of the resort gardens and the part of the sea, this room is ideal for a family holiday in Da Nang. It provides a bedroom, a lounge with a sofa and TV, and a full bathroom with a bathtub and shower.
Room size: 40 sqm.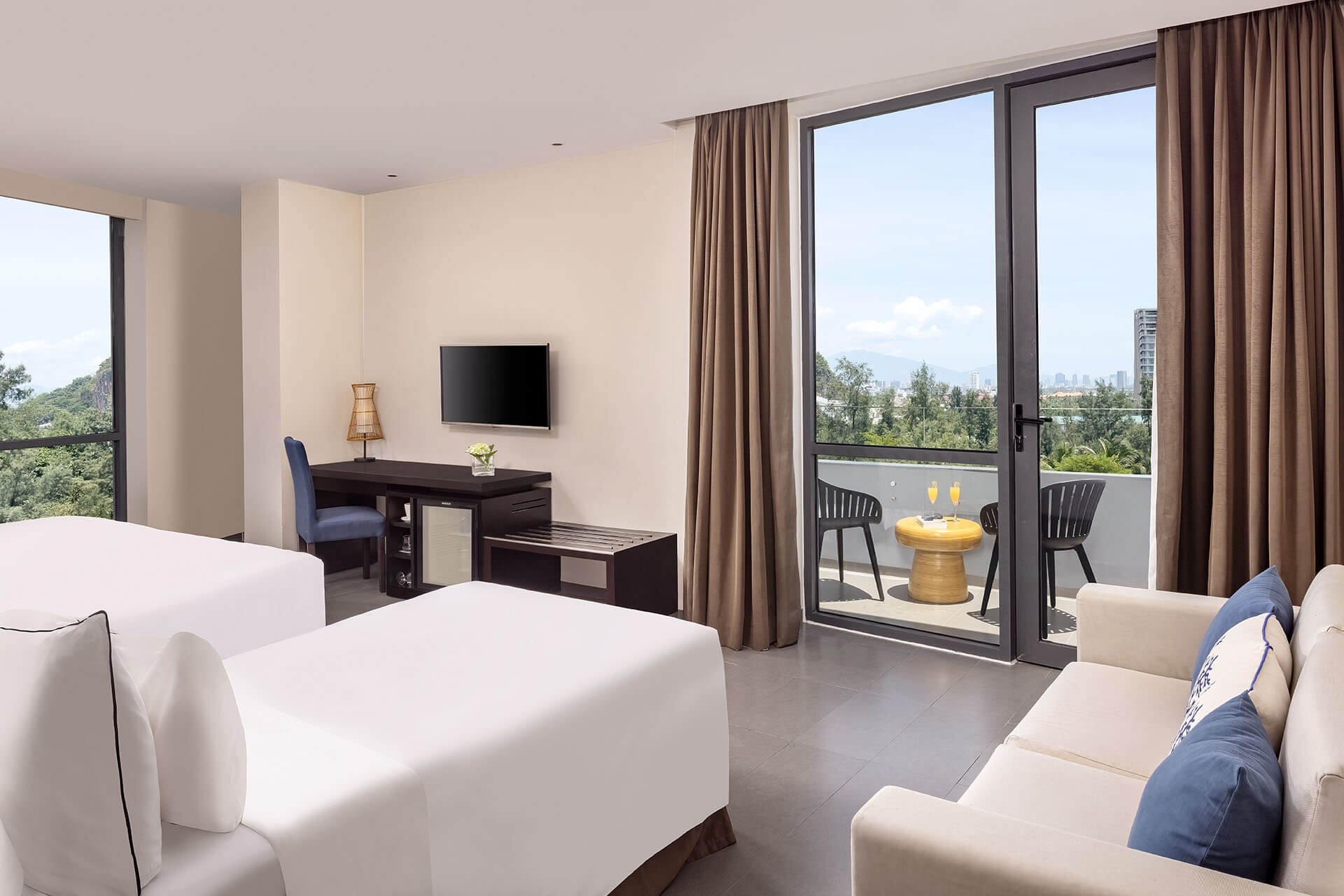 Deluxe Room
Explore Da Nang from your base in a room and a huge window which provides fantastic views over the city. With furnished furniture, TV, bathtub, shower,…this room guarantees your maximum well-being.
Room size: 38 sqm.
Premium Partial Sea View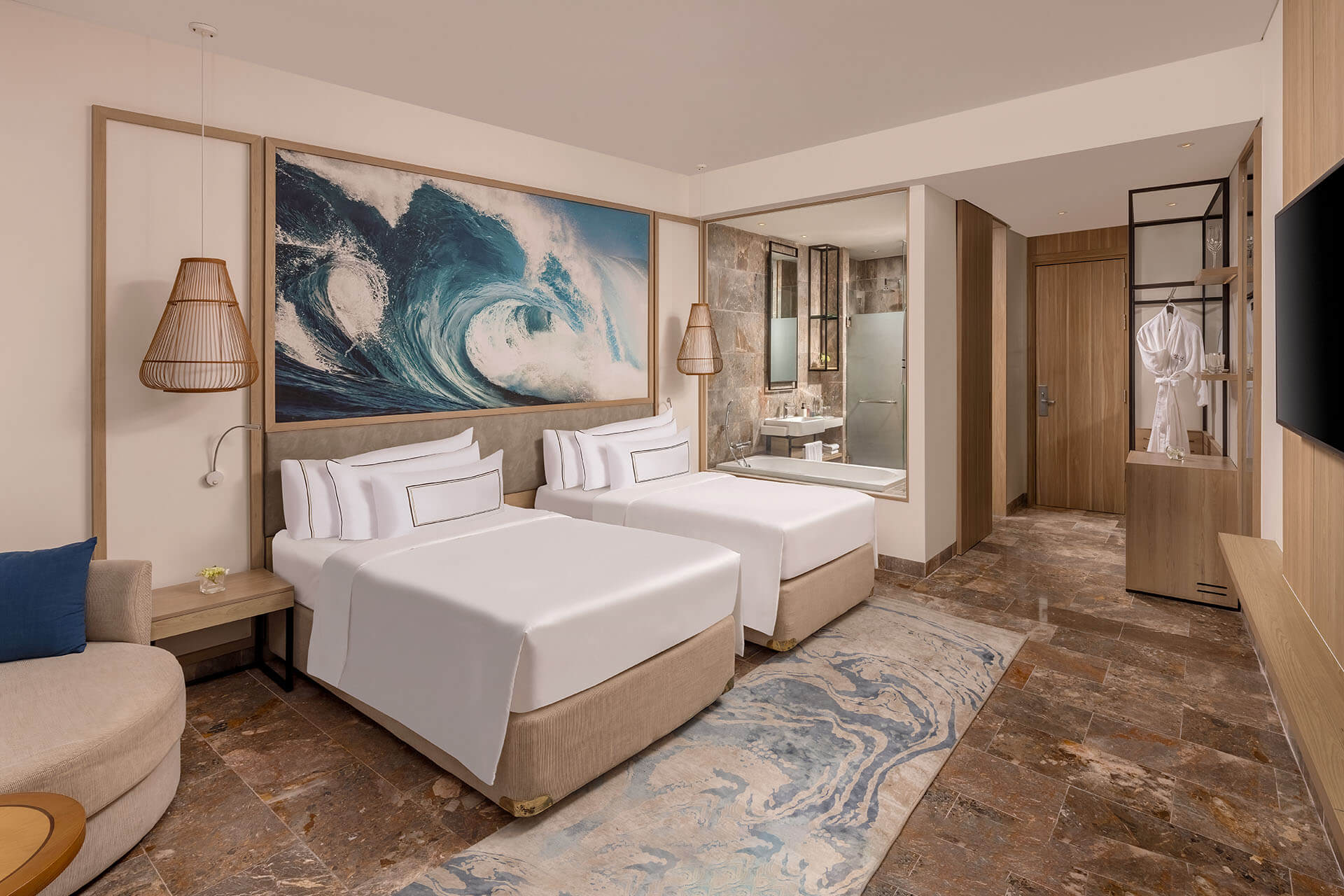 A paradise with a partial view of the sea from the balcony and comforts designed to provide all the relaxation you need. A room equipped with a bedroom, a lounge and a beautiful bathroom with a bathtub.
Room size: 42 sqm.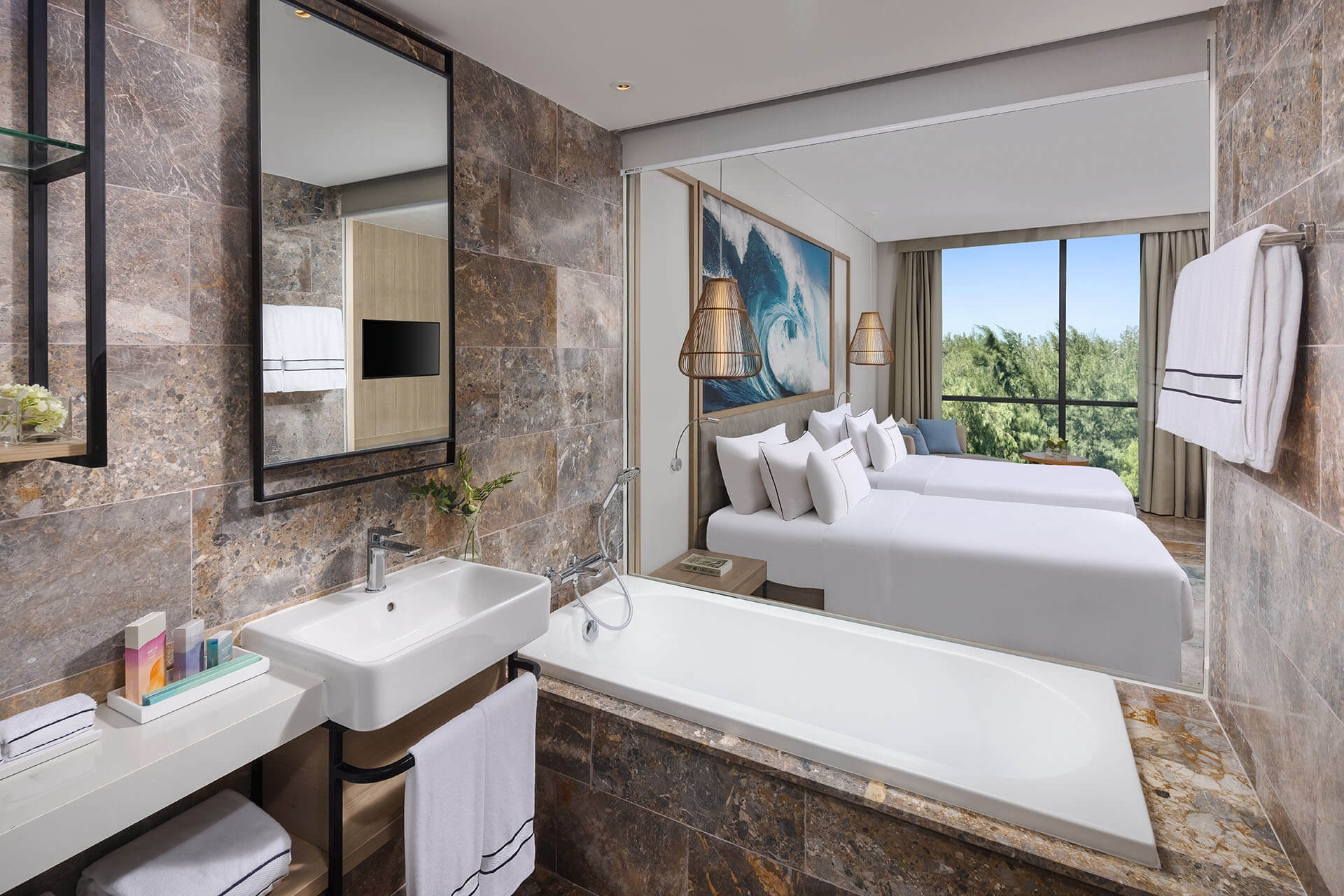 Grand Premium Room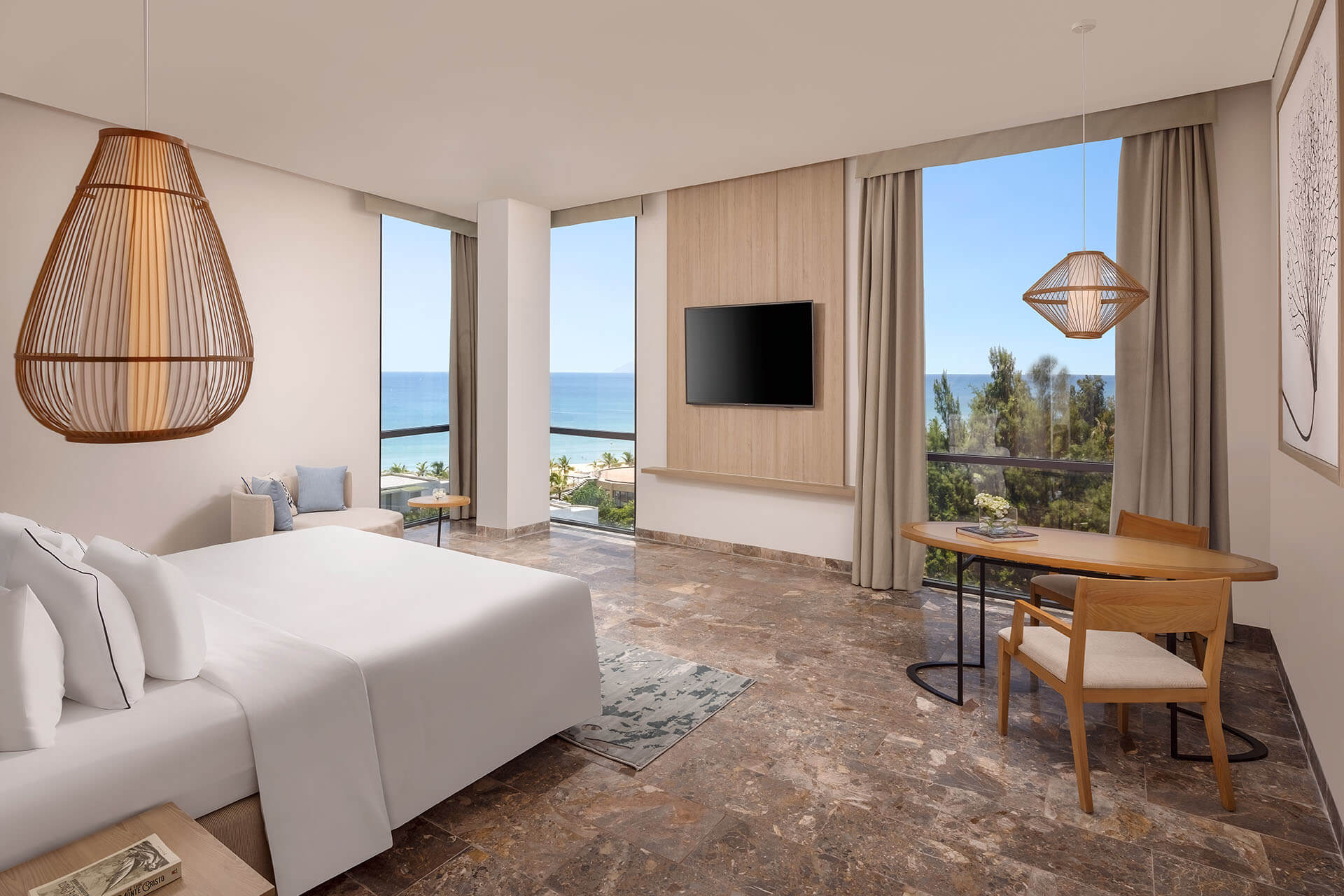 Enjoy a stunning panoramic of Non Nuoc sea view or Marble mountains view. This spacious space is an ideal choice for a family tour, which provides a large bed, a sofa, a working desk, a mini bar and 49-inch TV.
Room size: 58 sqm.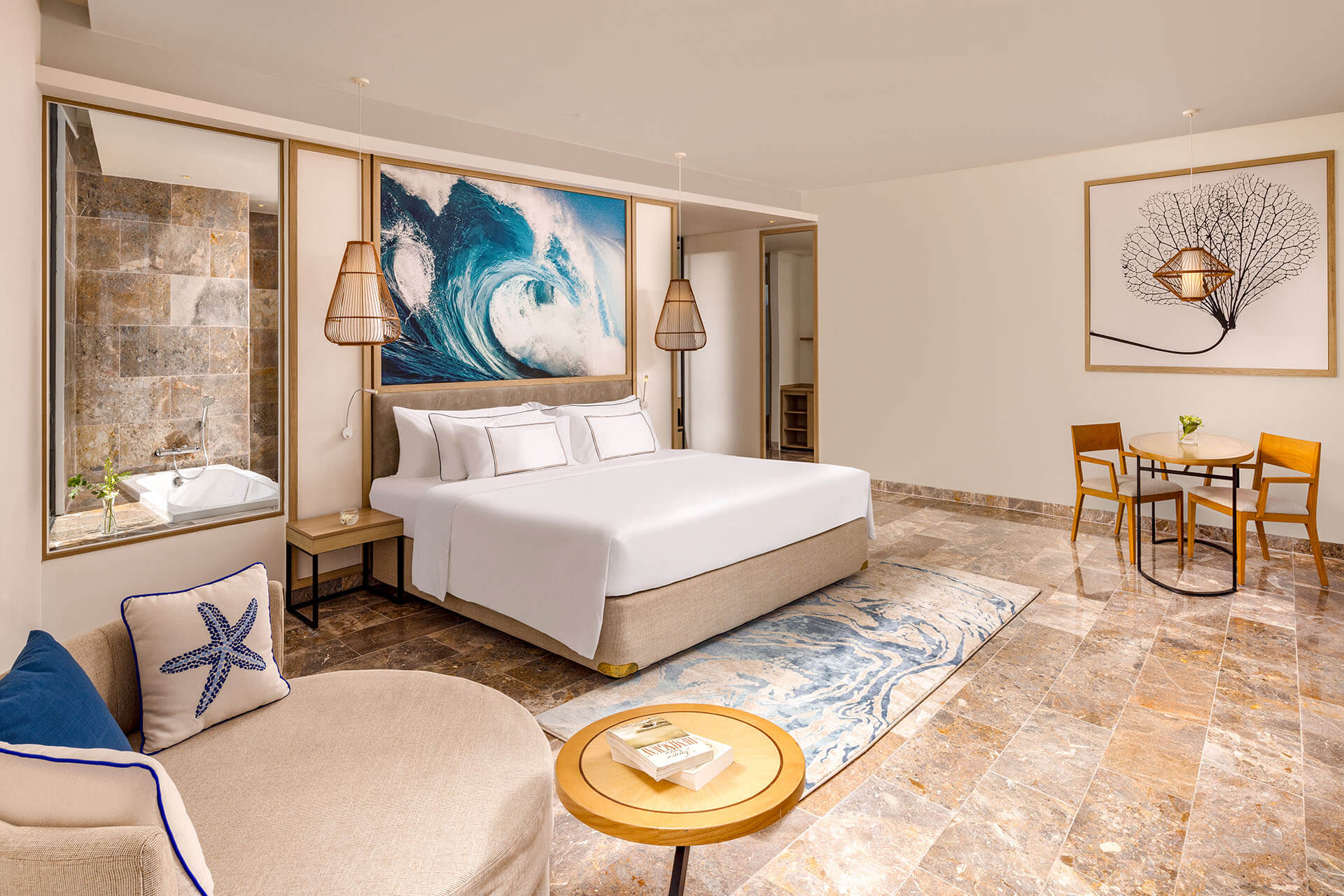 Prestige Suite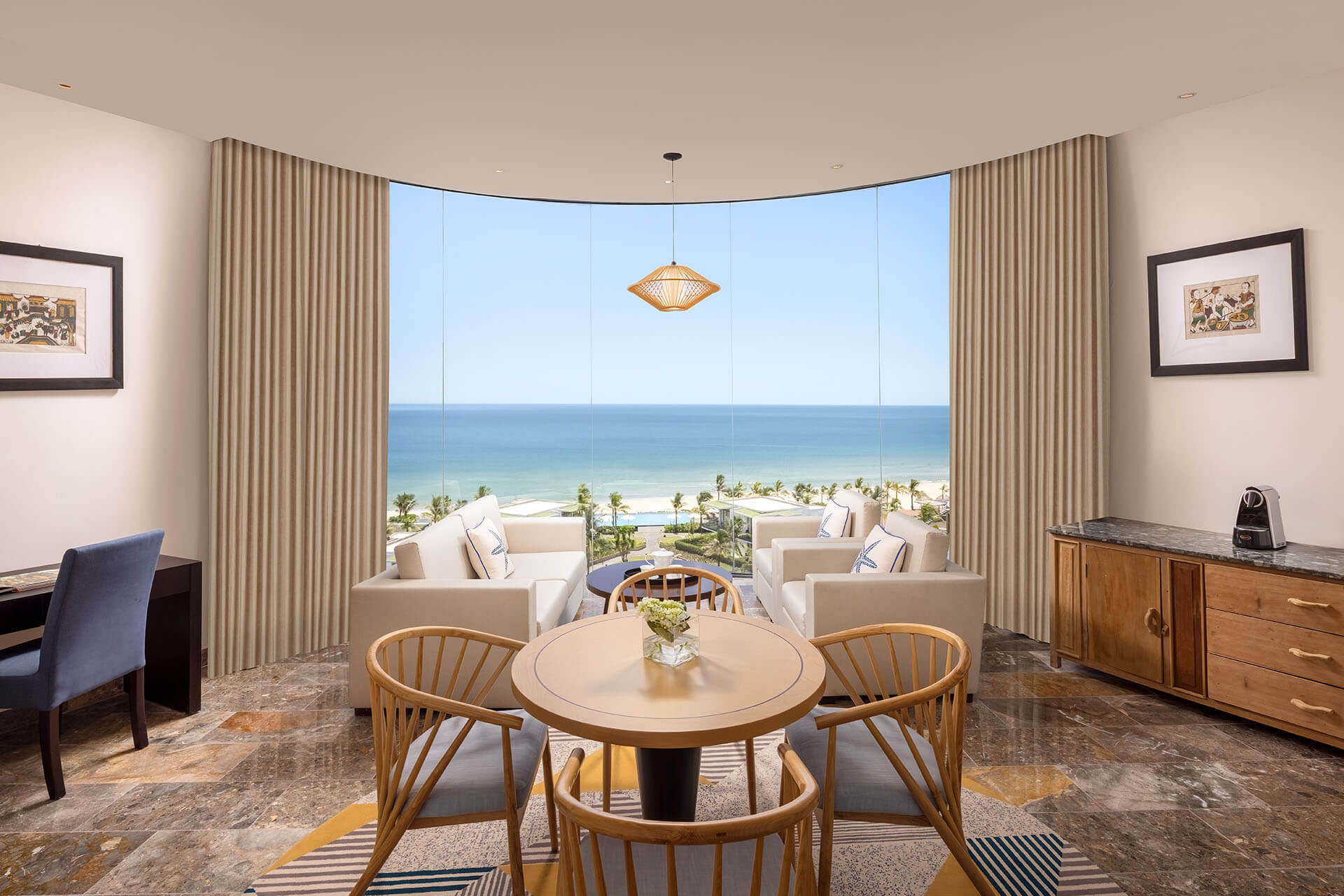 Indulge in the generous space of our Prestige Suite. Experience the epitome of luxury in our Suite Room. This expansive setting includes a spacious bed, a table for work or dining, a plush sofa for relaxation, a flat-screen TV and all essential amenities to ensure your utmost comfort and convenience.
Room size: 100 sqm.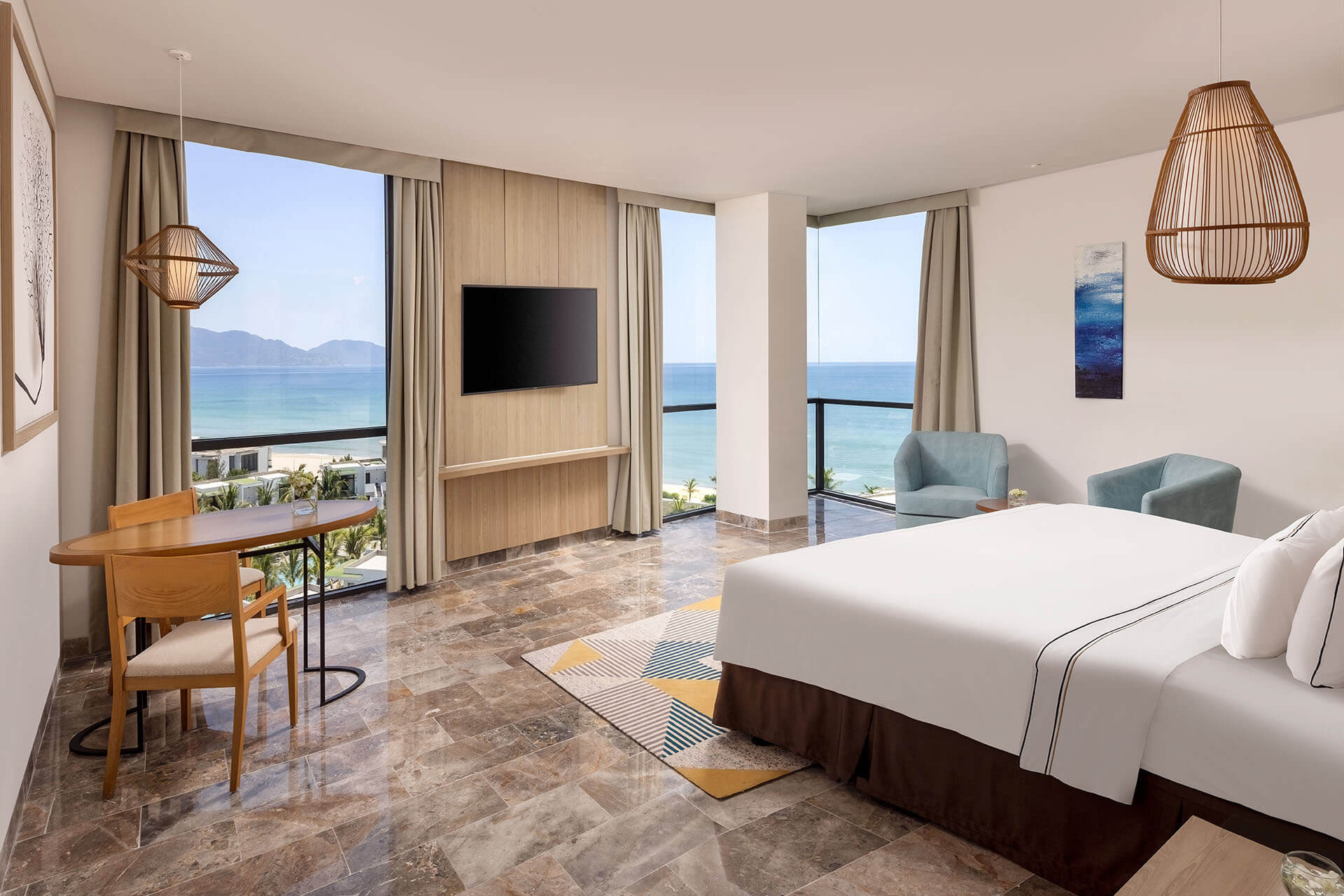 The open-concept reception area is bathed in natural light and adorned with lush greenery. The new and spacious reception area ensures guests won't have to wait long and provides a relaxing space during the check-in process. Don't forget to enjoy a cocktail at our Elyxr Bar nearby.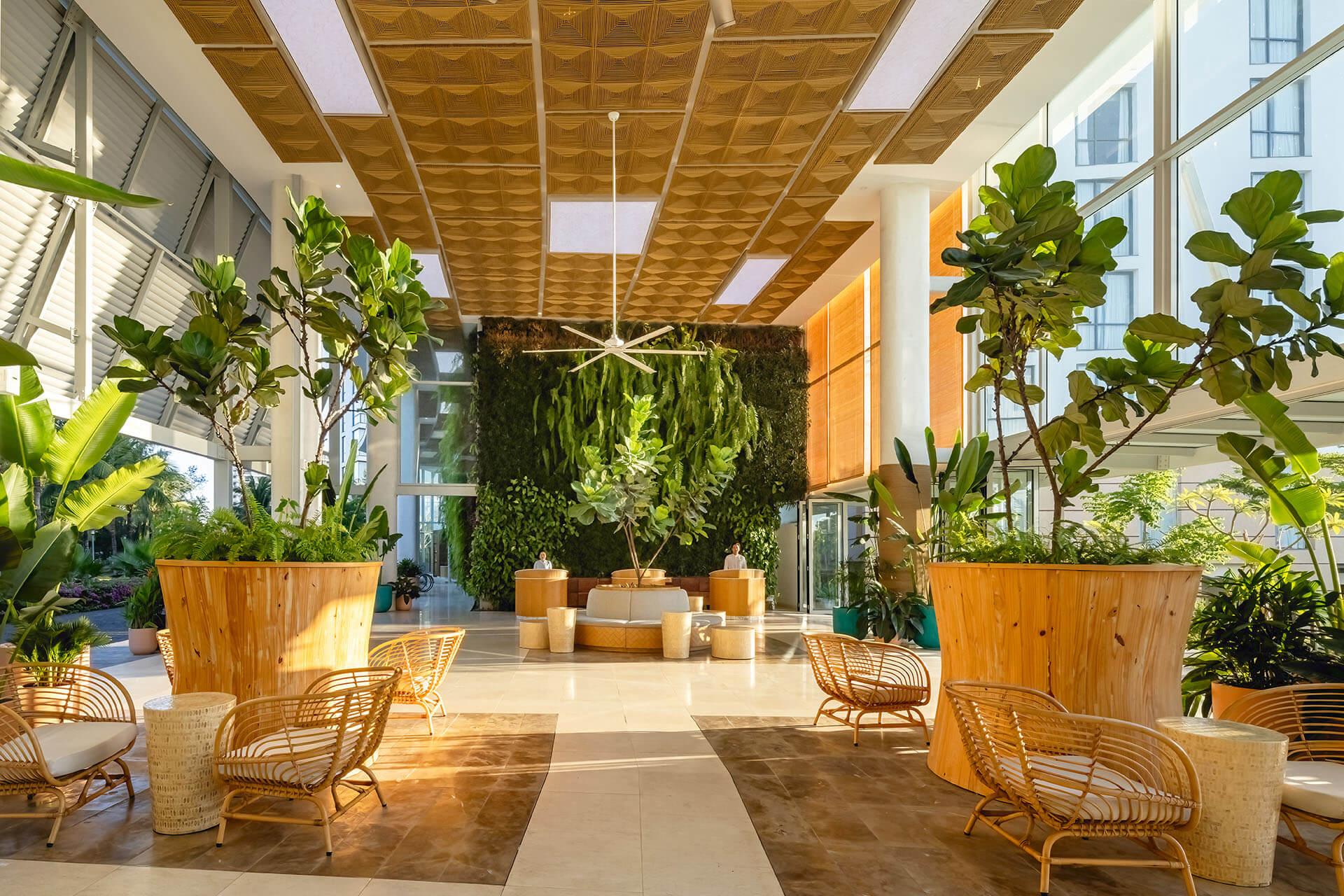 A space where the resort harmonizes with local culture. You'll have access to a private, stunning beach and 7 pools. Additionally, you could admire the majestic Marble Mountains right next door.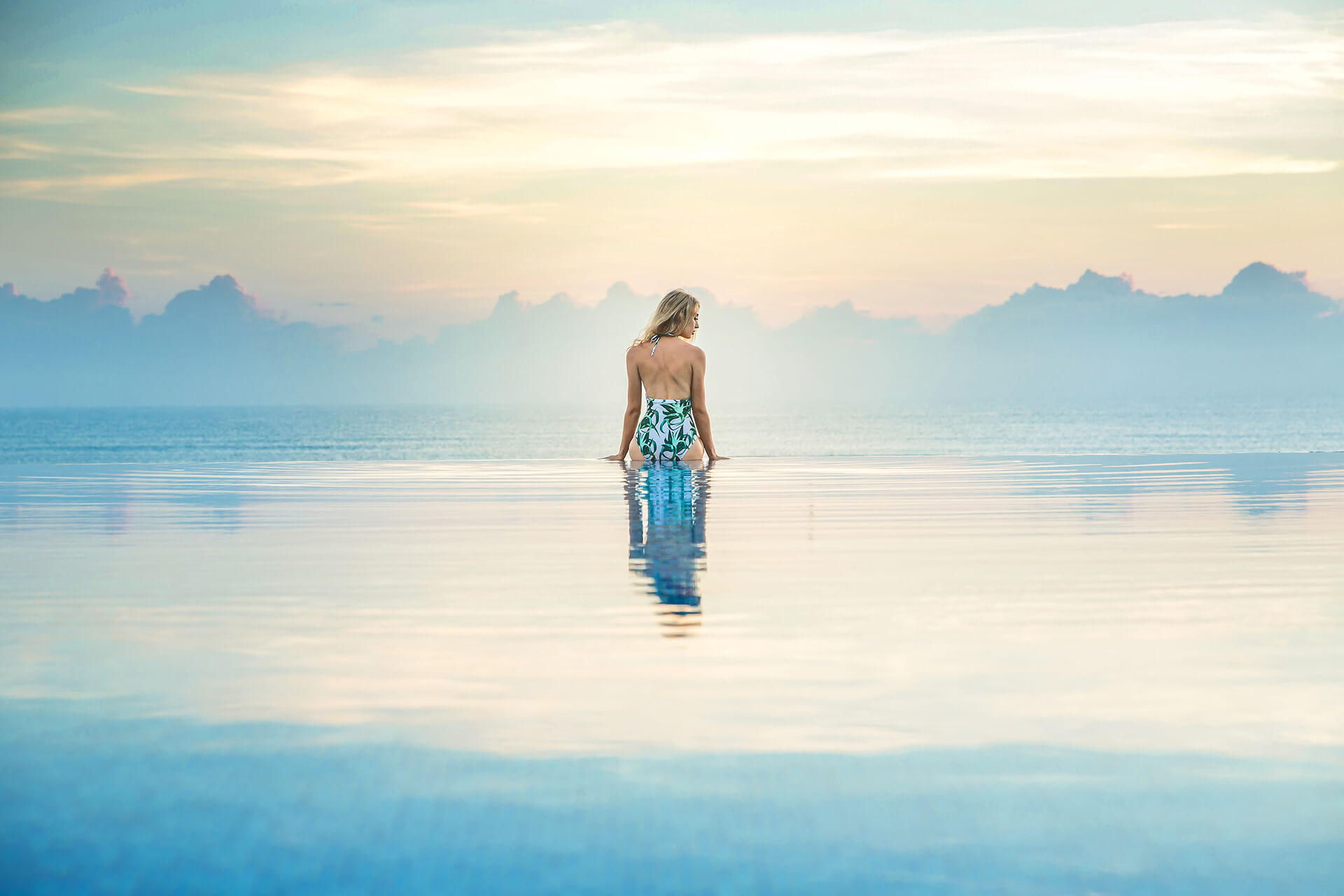 THE LEVEL ROOM
When you stay at Meliá Danang Beach Resort, don't miss the chance to experience our exclusive The Level rooms. These villa-style accommodations offer views of a private pool and a private beach.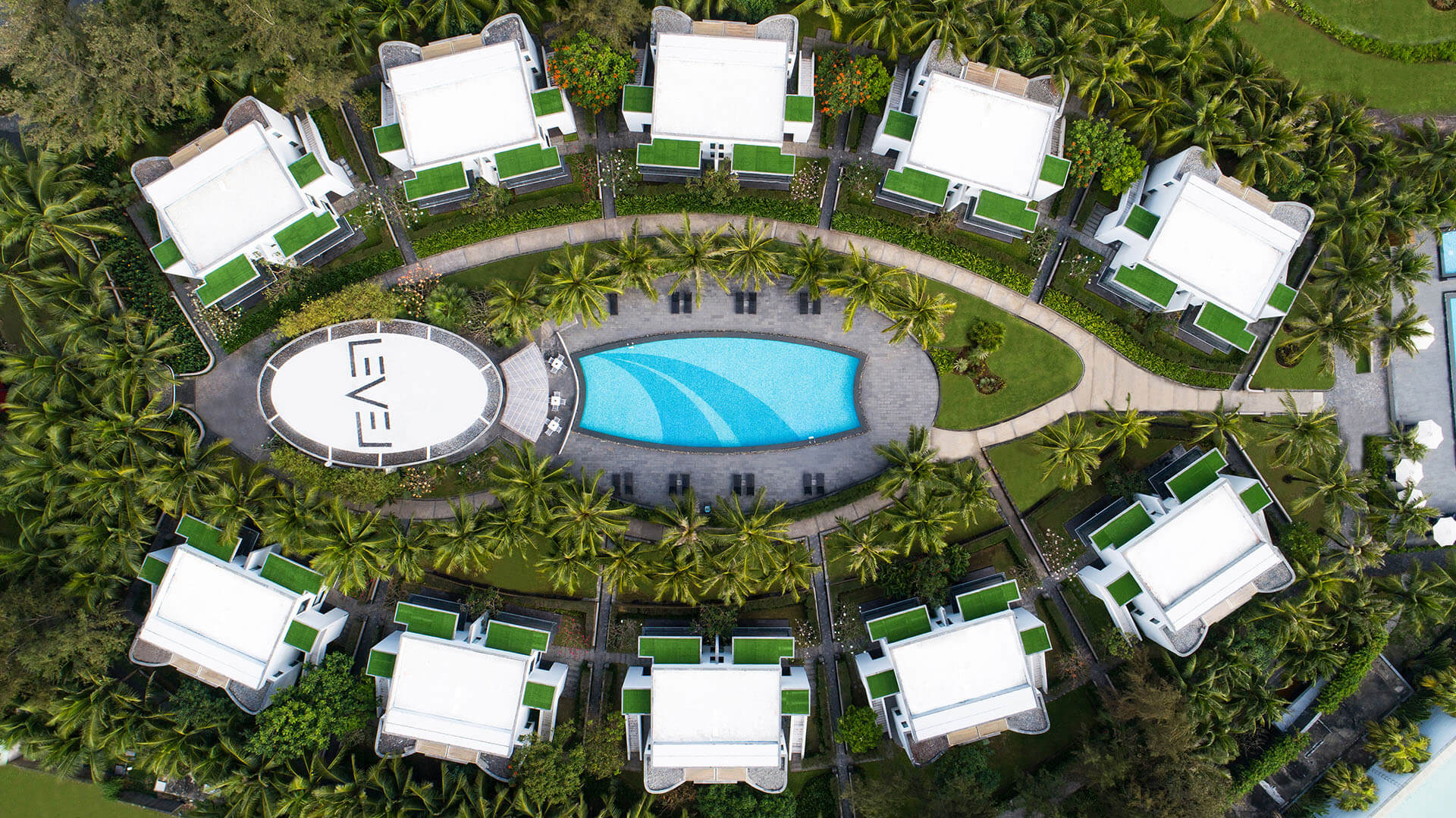 The Level Room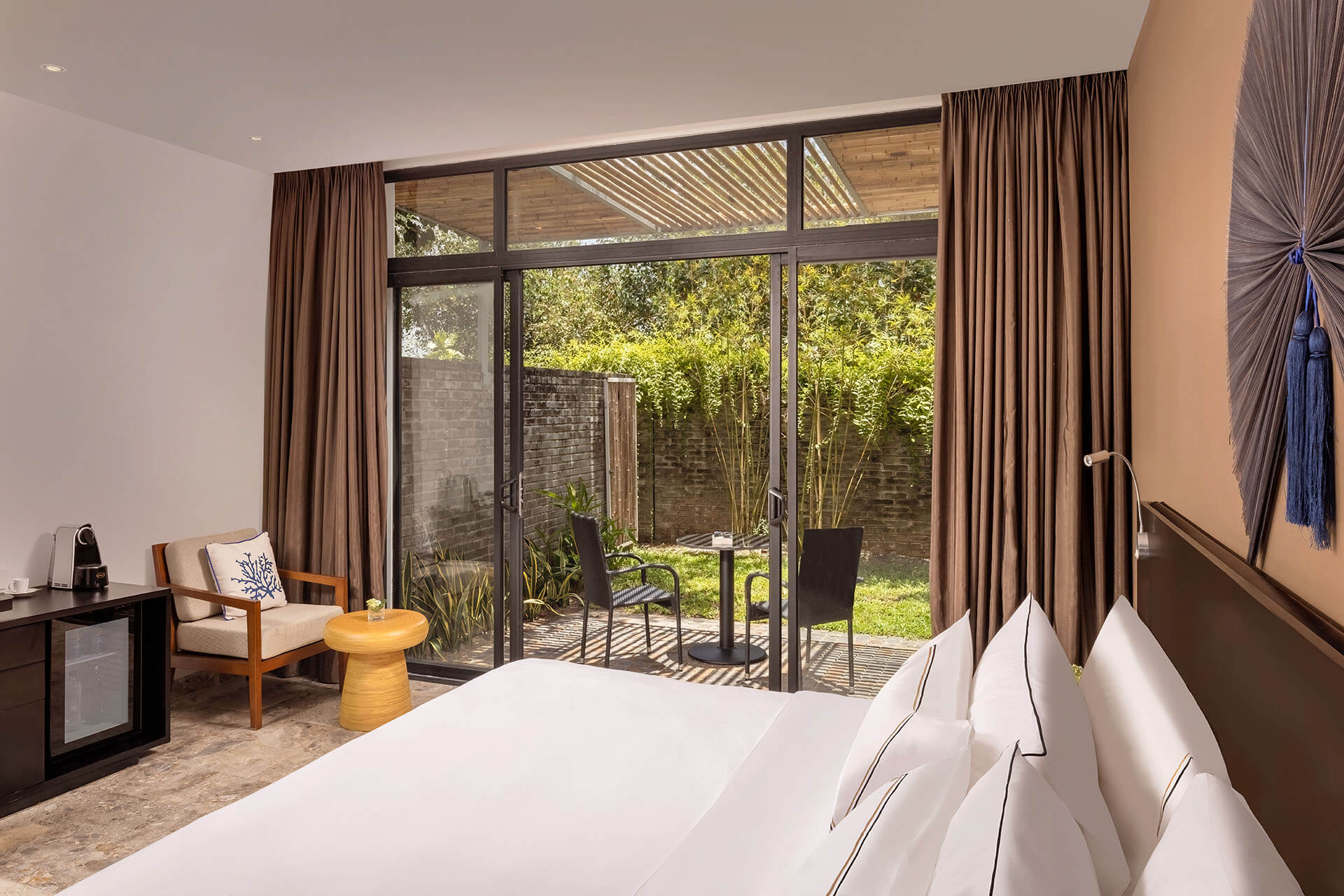 Enjoy the most restful sleep in a king-size bed (or two single beds). Freshen up in the bathroom or take a break with an aromatic coffee made on your espresso capsule coffee maker. Meliá Danang Beach Resort offers a very special atmosphere for you during your stay. And discover a world of sophistication with all the premium The Level services.
Room size: 35 sqm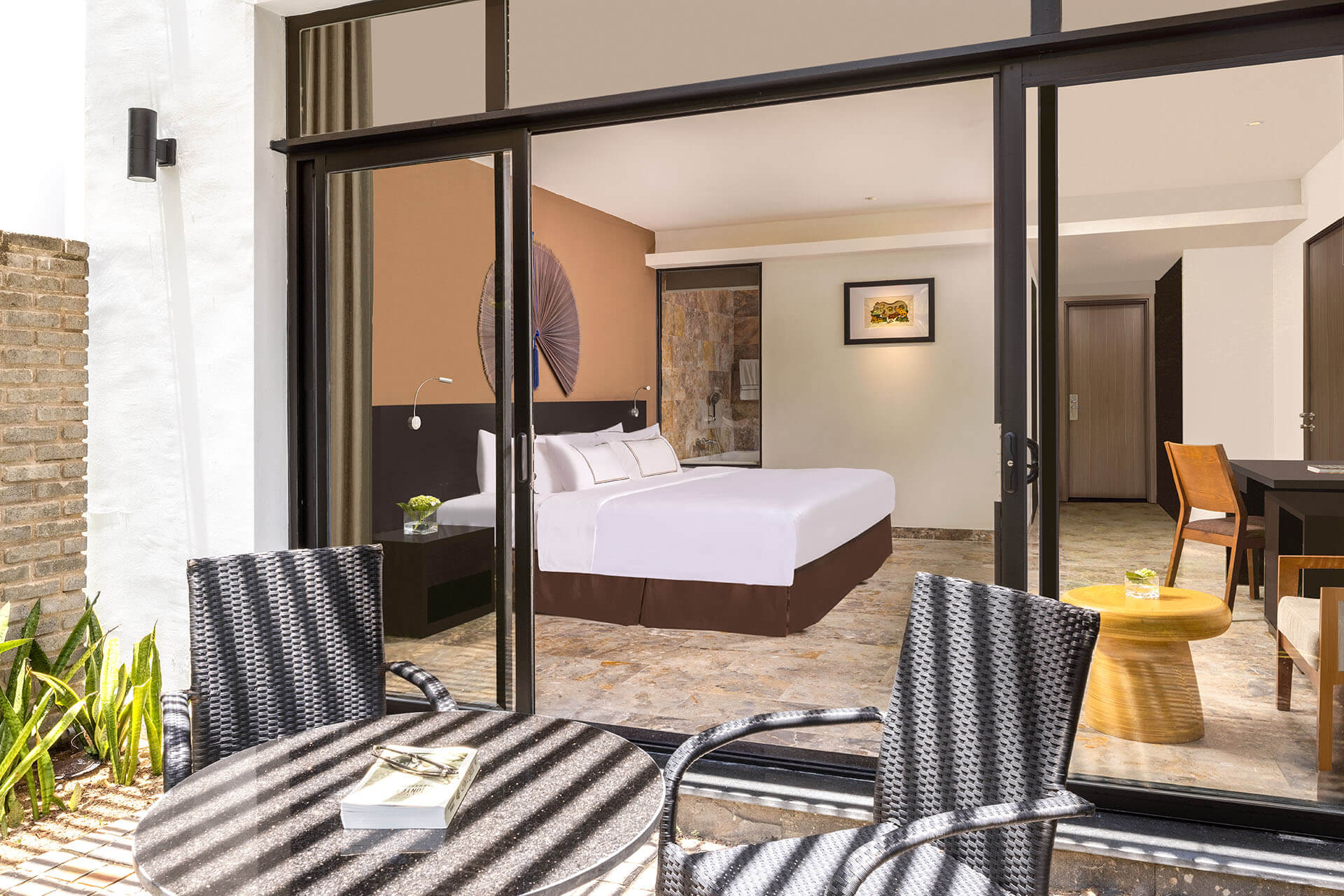 The Level Premium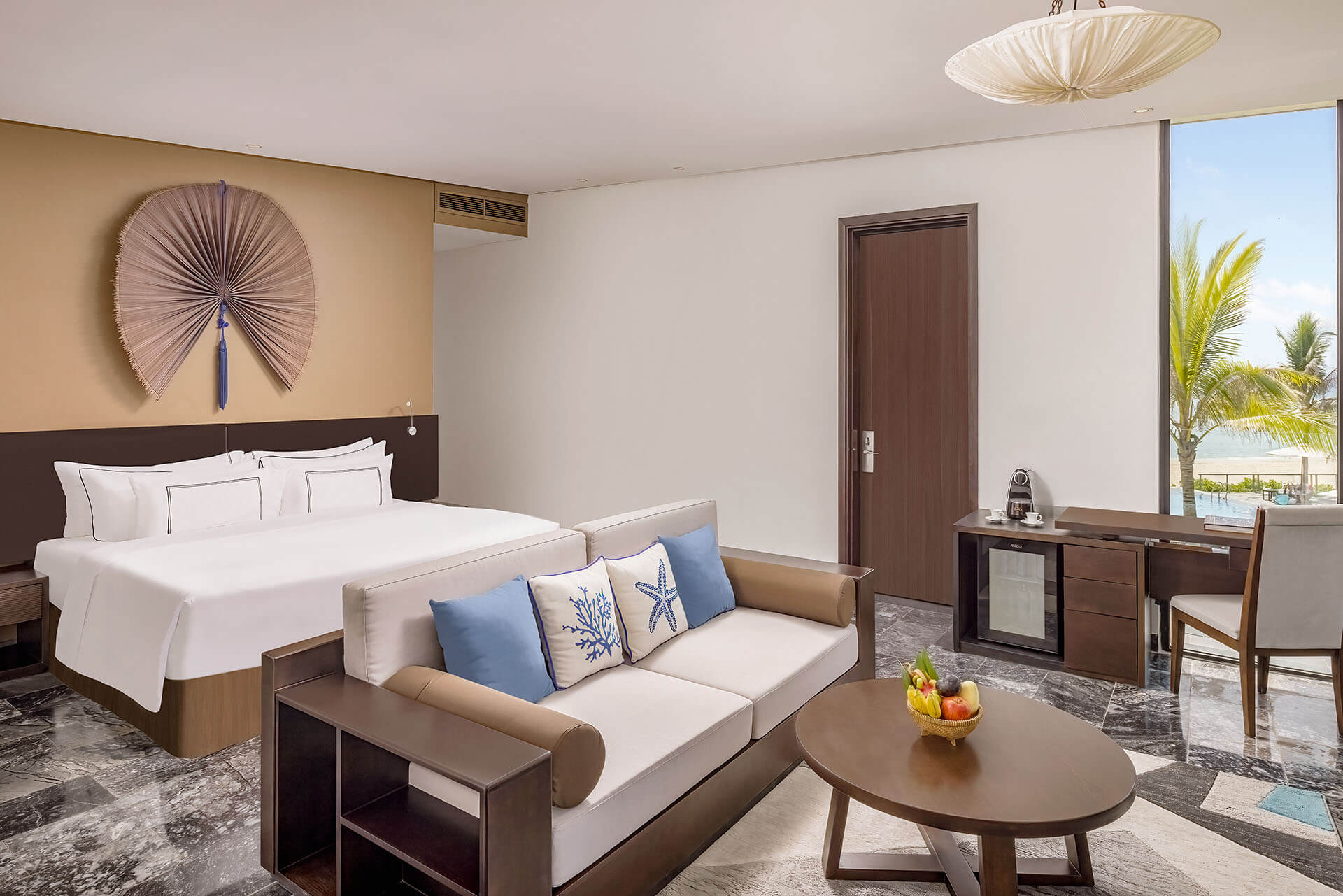 Your dream refuge is here. A spacious room with a modern design with a bedroom, a lounge, a desk, and a bathroom with a large bathtub. The outdoor shower will help you find the total relaxation you need and desire in a beautiful natural environment.
Room size: 55 sqm
The Level Premium Connecting Room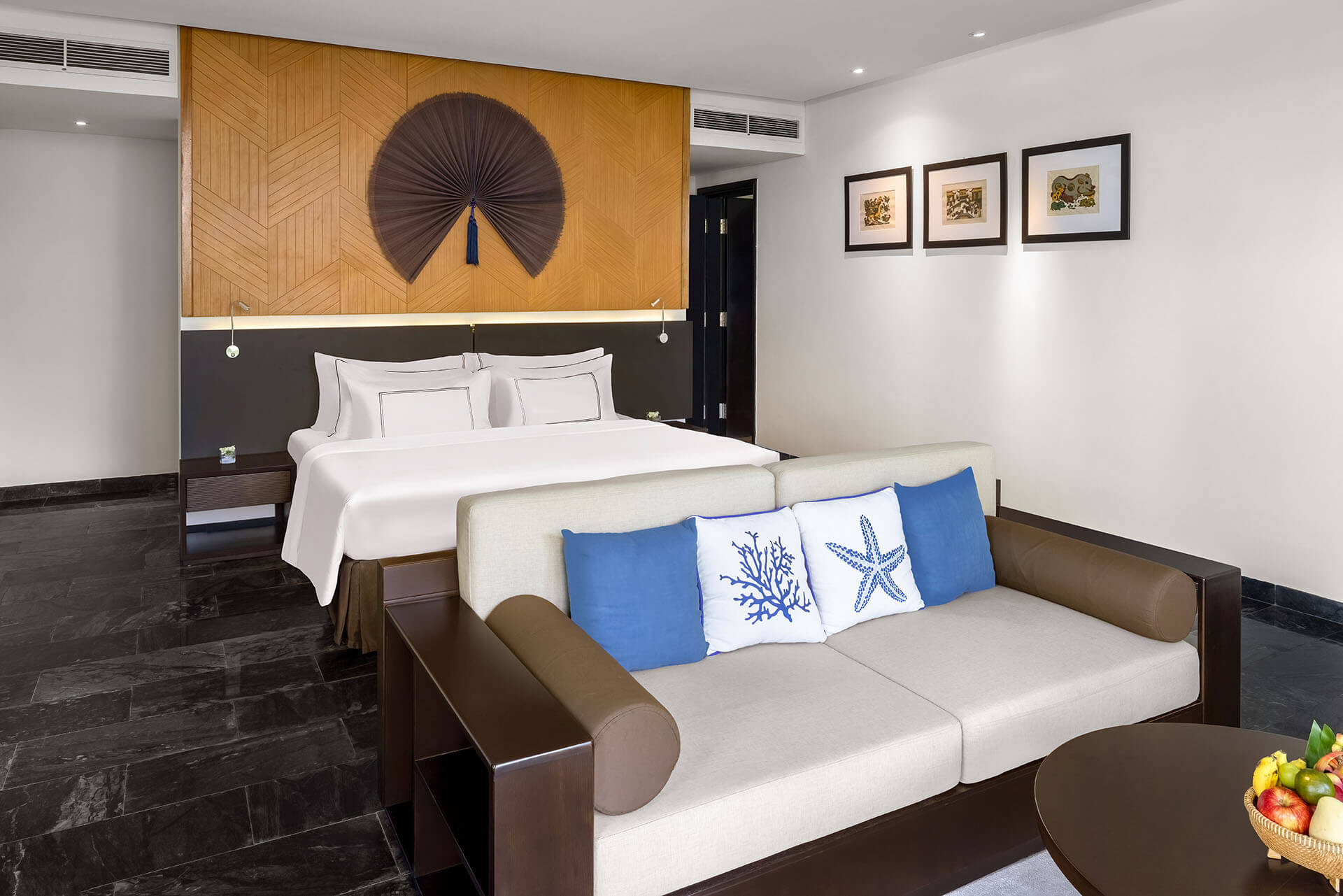 Enjoy a spectacular trip to Vietnam with your family. You will find enough space for everyone in this double room. Two modern connecting rooms, both equipped with a king-size bed, lounge area with sofa and desk, a bathroom with a large bathtub and a spectacular outdoor rain shower, overlooking the gardens.
Room size: 110 sqm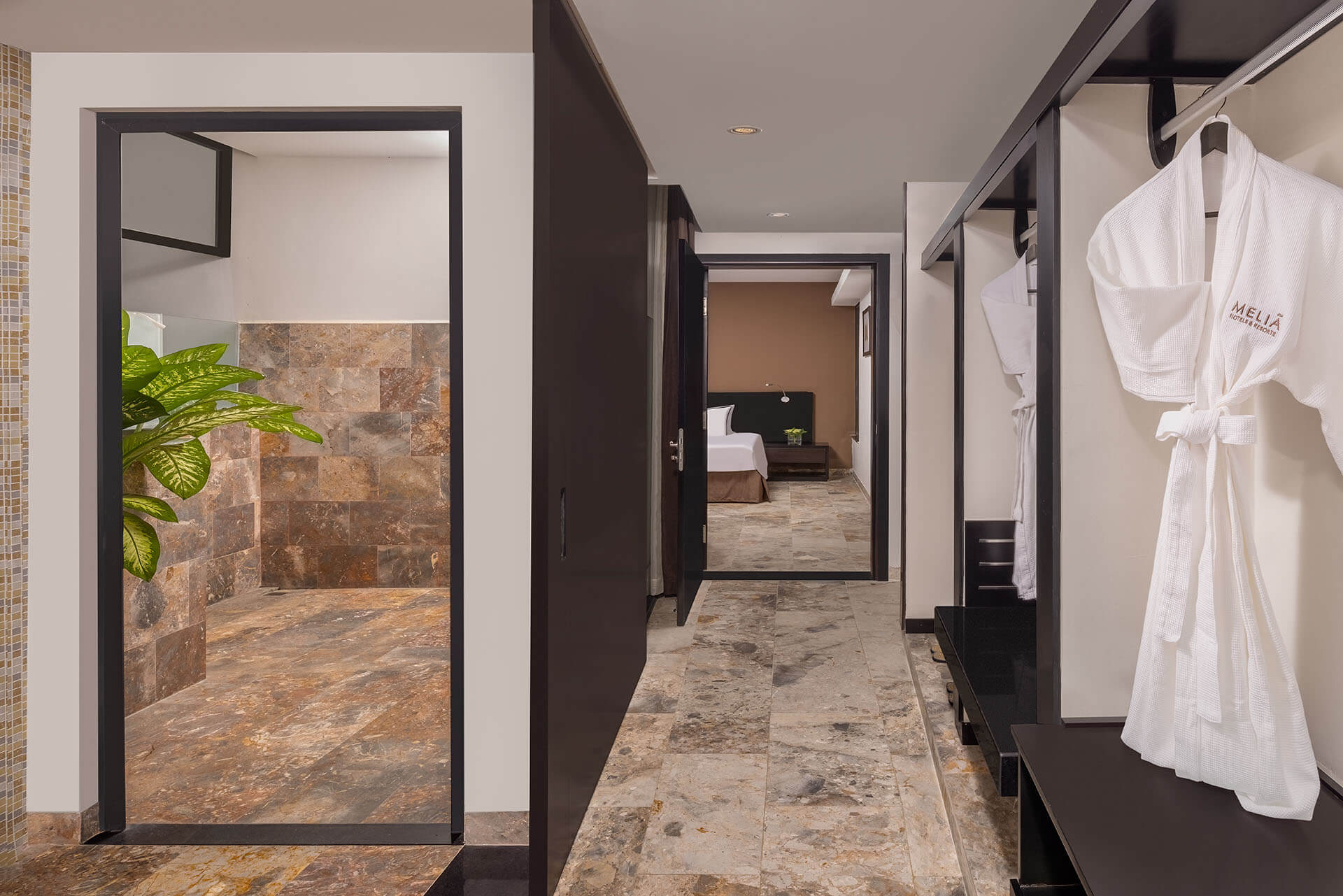 As a The Level guest, you'll have the opportunity to enjoy impeccable resort services and elevate your experience with numerous privileges.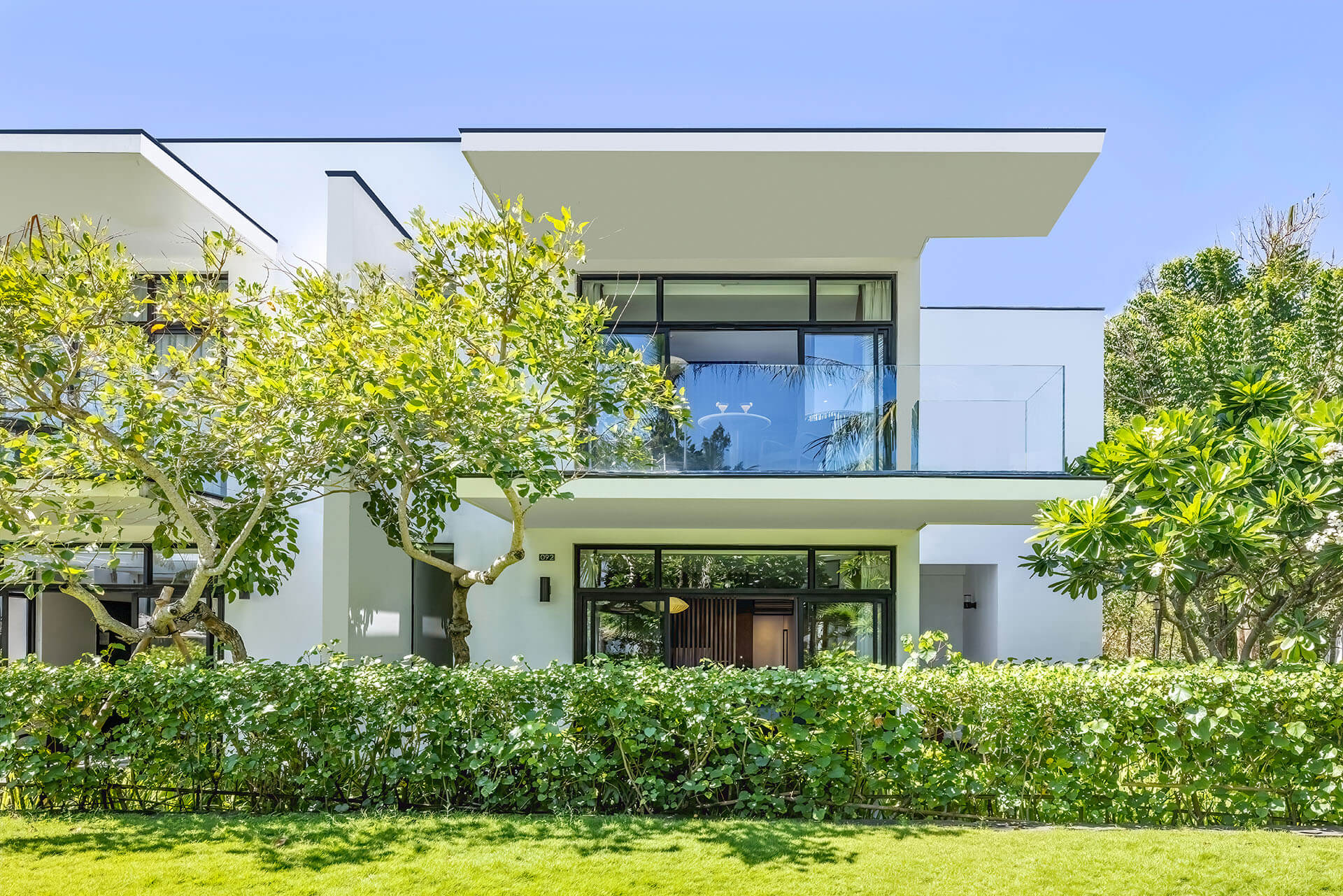 Check-in procedure is swift with priority check-in counters. Enjoy breakfast in the VIP area with a specially breakfast menu. Take advantage of the private pool. Afternoon tea at The Level Lounge, serving tea, coffee, snacks, cocktails, and wine from 14:00 – 16:00 daily. Flexible check-out time until 16:00 (subject to availability). Rooms are equipped with a capsule coffee maker.
GASTRONOMY
The restaurants here are not just places to savor cuisine but also places to enjoy the art of gastronomy. The professional chefs at Sasa Restaurant prepare each dish as a work of art, where unique flavors blend with exquisite food decoration. Here, we serve a breakfast buffet, à la carte lunch and dinner.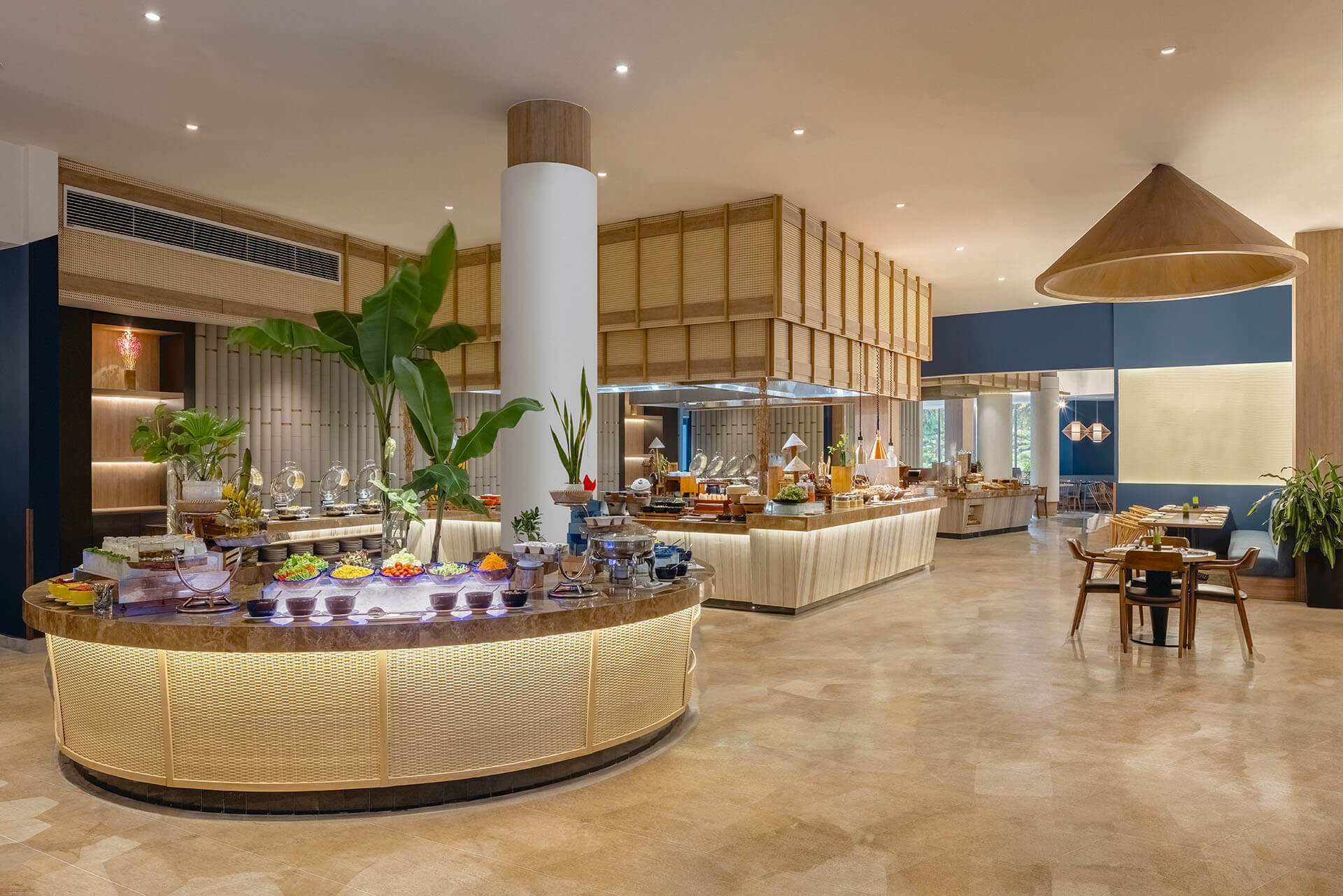 If you would like to experience Mediterranean cuisine, join us at Cape Nao Beach Club. With themed spaces and signature dishes, it's sure to provide you a memorable culinary experience.
Relaxing in the infinity pool and savoring tropical cocktails with light foods at our Pool Bar is also a worthy experience for you.
MEETING
M.I.C.E organizers could explore our world-class event spaces at Meliá Danang Beach Resort, with a total event area of up to 1,700 square meters, including the 620 square meter Vistar Ballroom with a capacity of up to 500 guests, 3 large meeting rooms, and 6 functional rooms all equipped with modern audio-visual systems.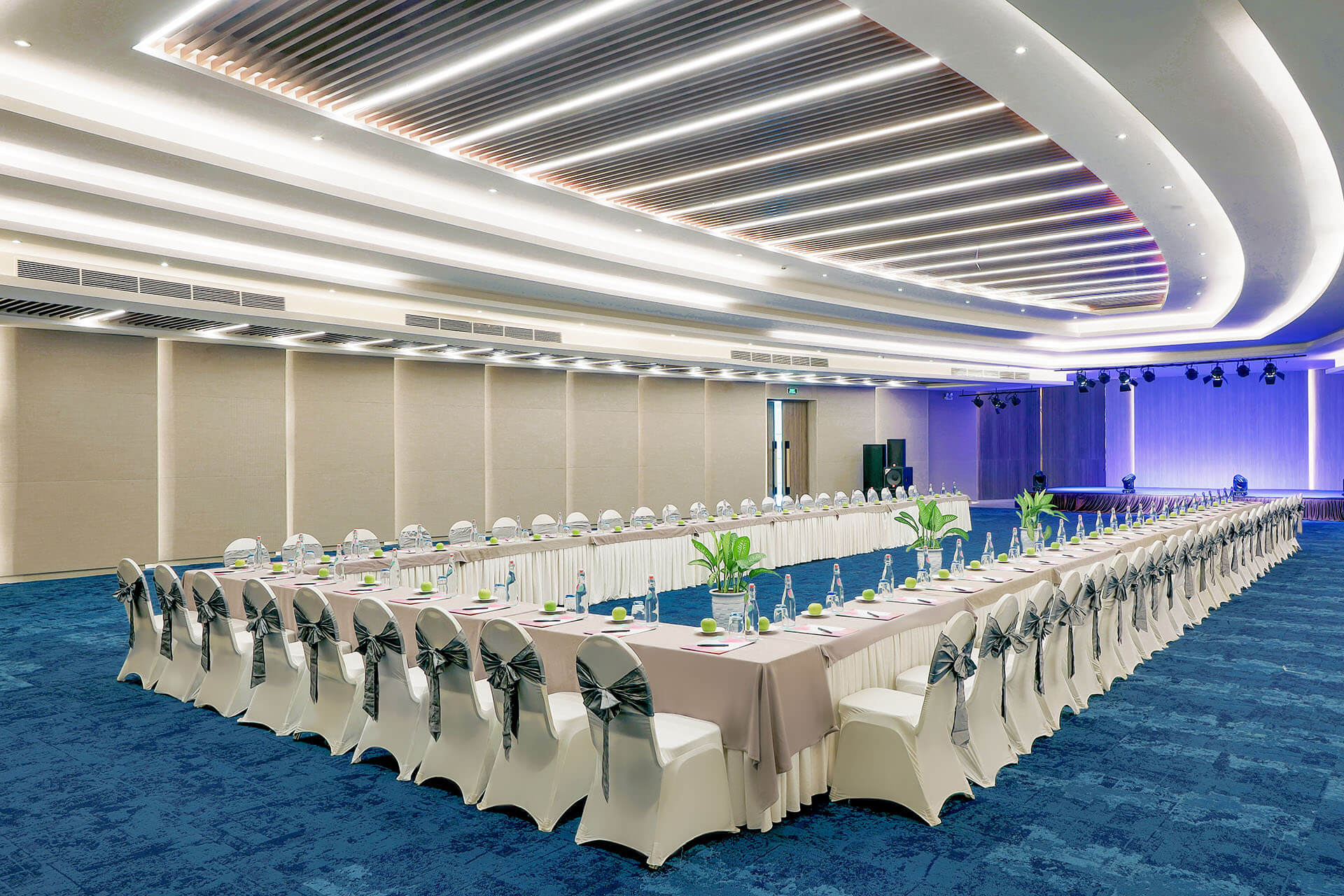 WEDDING
With lush garden spaces, romantic white sandy beaches, and a stunning coastline, this is also an ideal place to host your wedding. Let Meliá Danang Beach Resort create unforgettable memories on your special day.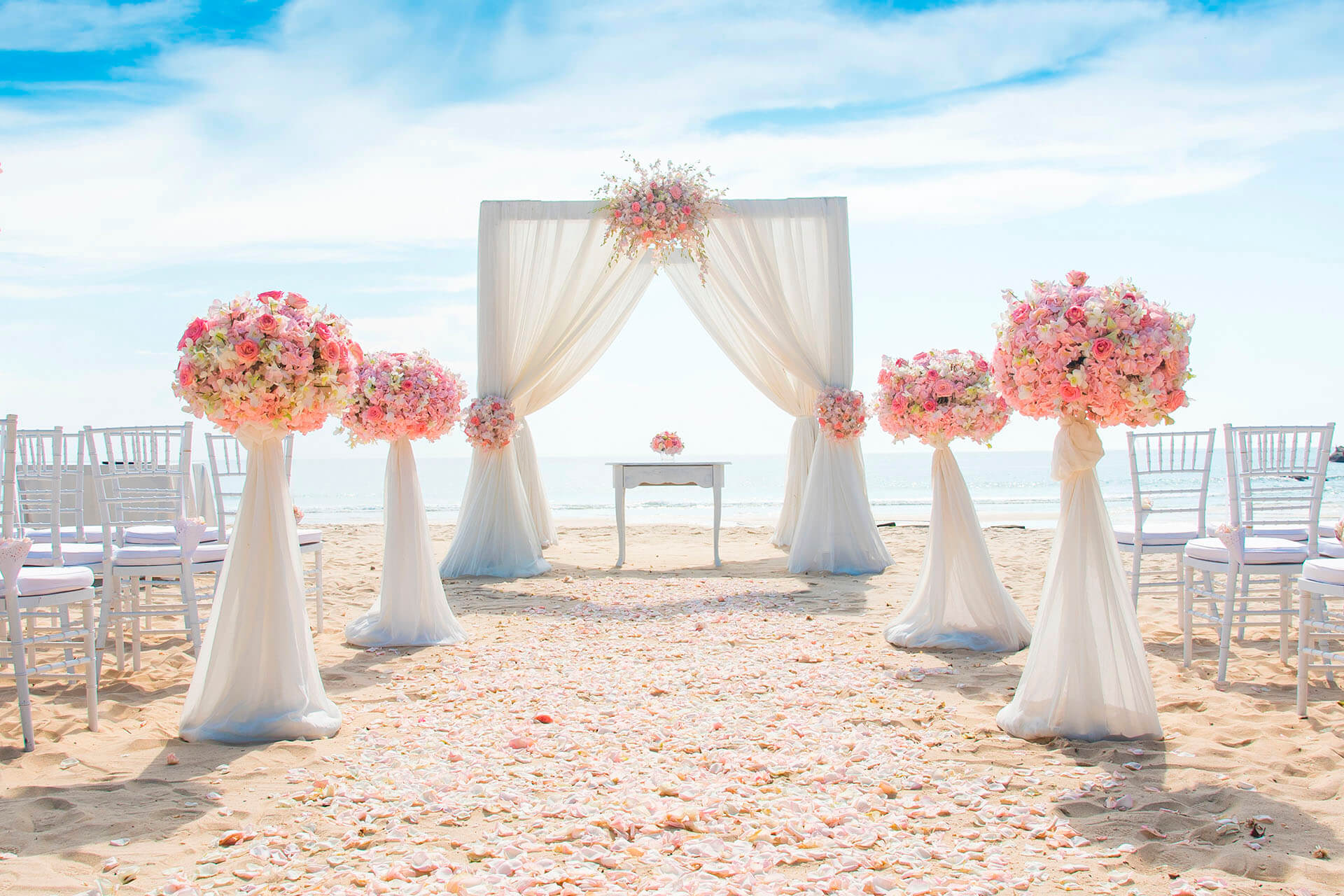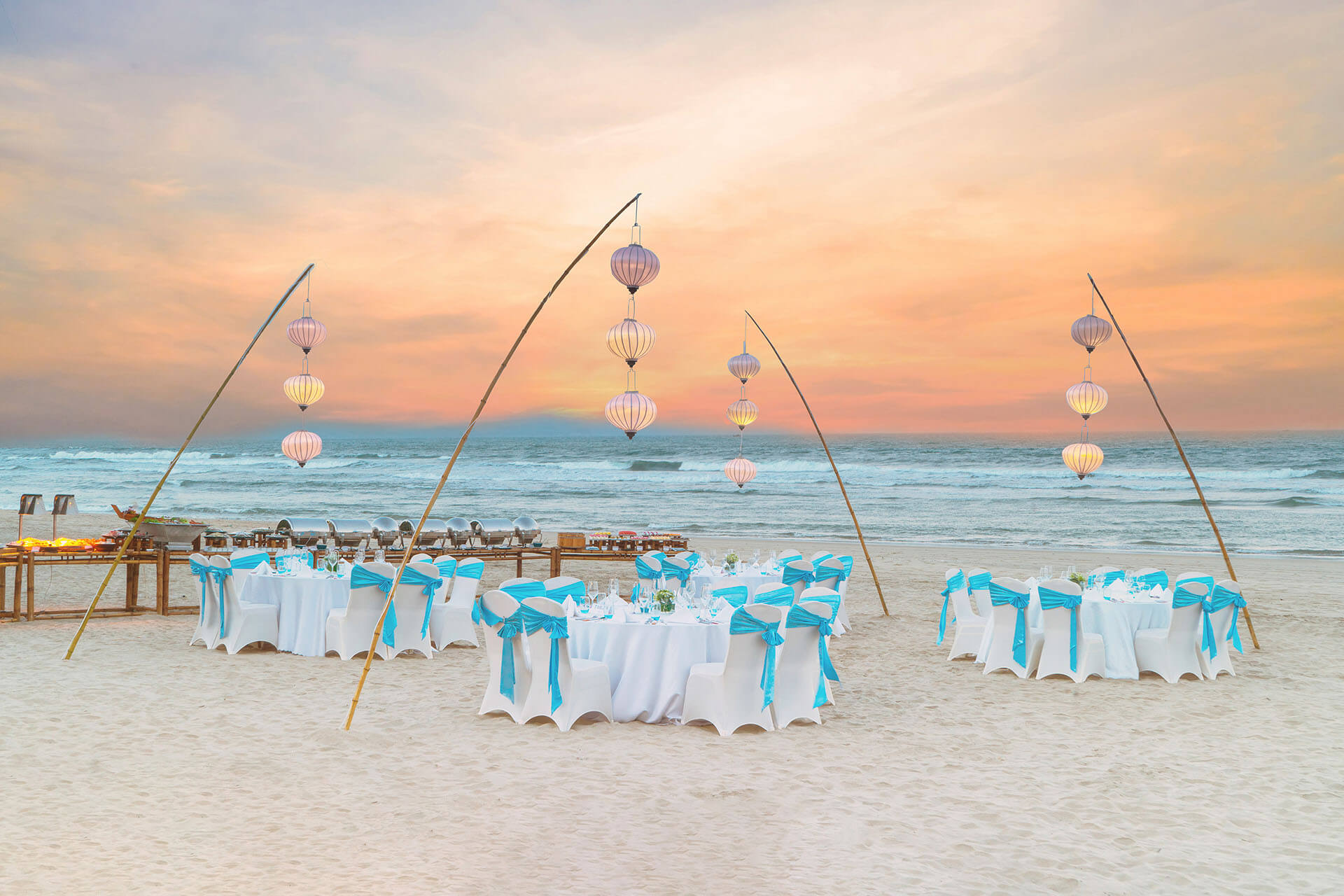 YHI SPA
Set aside the hustle and bustle of work and recharge your energy at YHI Spa. Immerse yourself in a space of relaxation with essential oils, gentle music, and services such as massages, steam bath, sauna, and jacuzzi… making it a suitable choice for the whole family every weekend.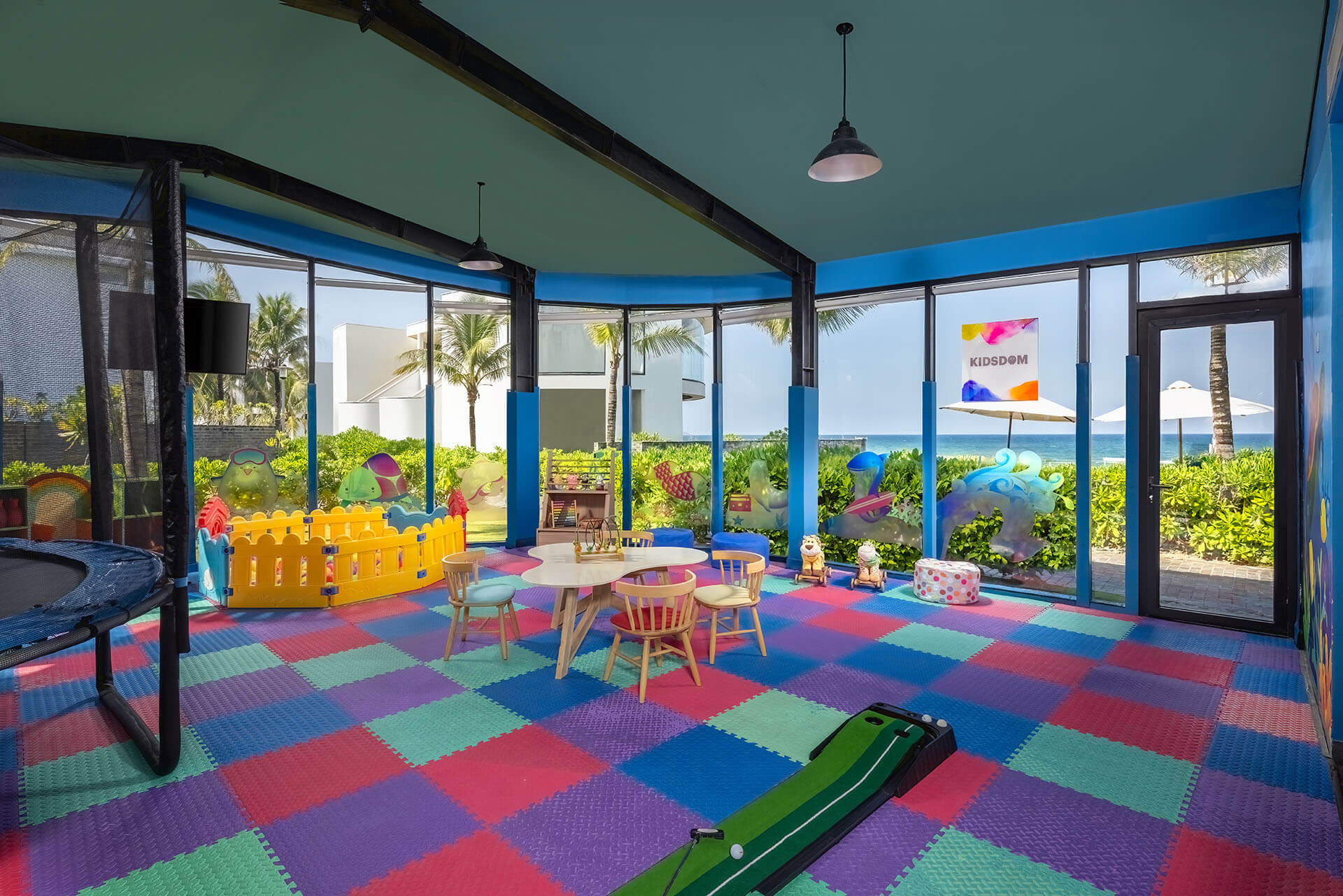 PHYSICAL ACTIVITIES
Don't let time be a barrier to your work-out. Our 24-hour gym provides convenience and flexibility. With modern equipment and a professional coaching team, you could engage in your favorite exercises at any time.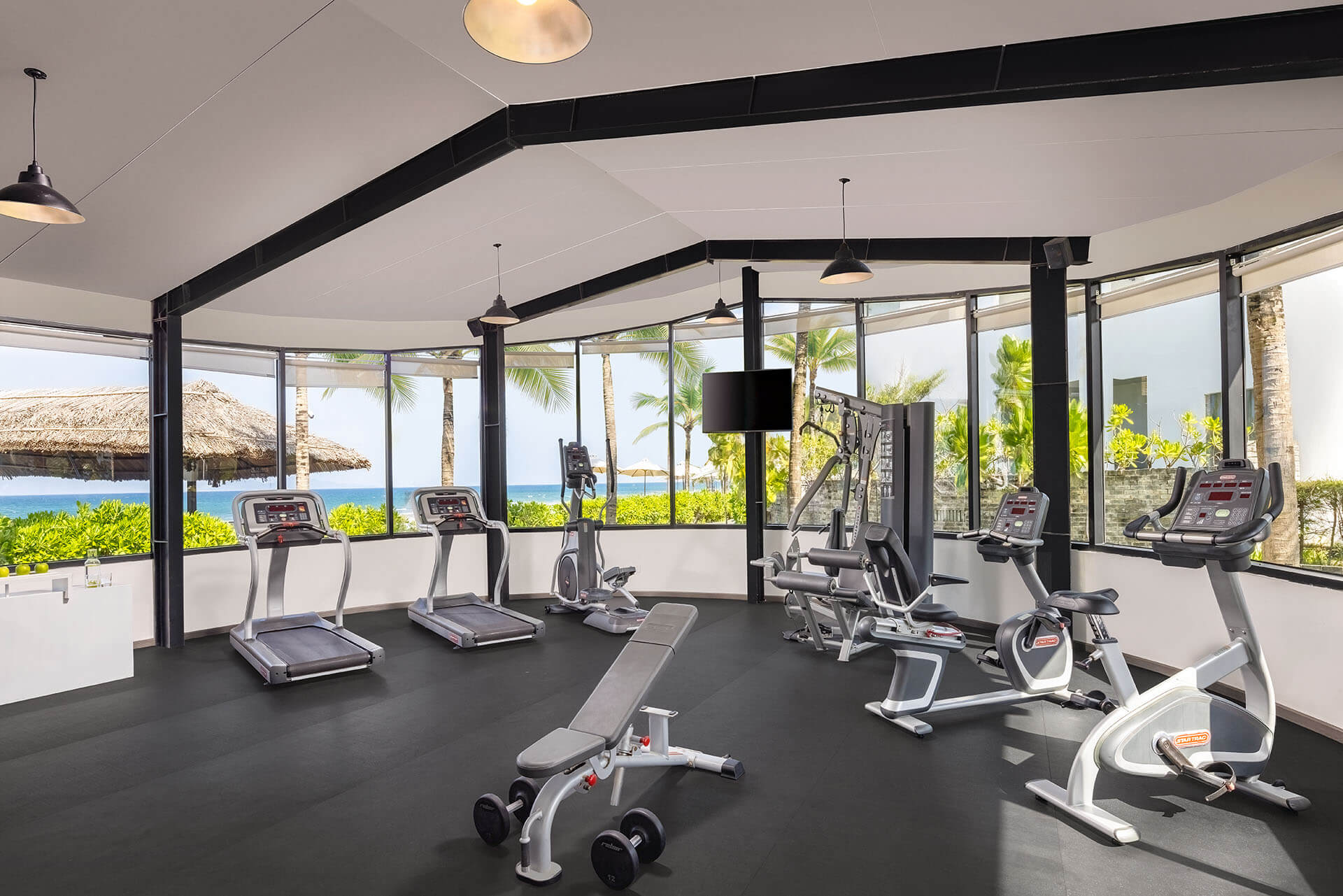 KIDSDOM – KIDS CLUB
There is no greater joy than seeing your child happy. All activities at the Kidsdom (Kids Club) are designed to help children develop comprehensive social, physical, emotional, environmental, and intellectual skills.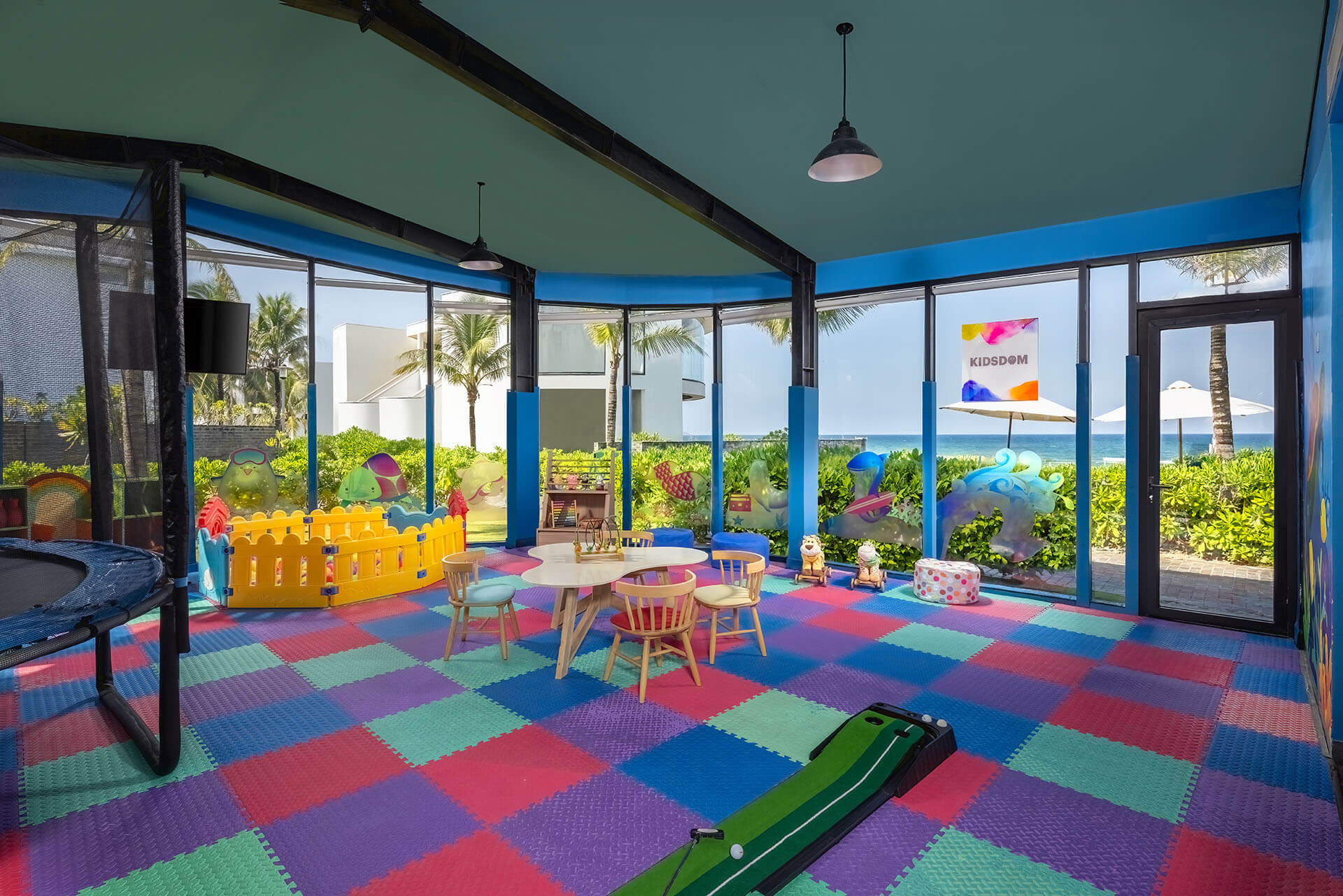 Address: 19 Truong Sa Street, Hoa Hai Ward, Ngu Hanh Son District, 550000 Da Nang City, Viet Nam
Tel: +84 (0) 236 392 9888 | Fax: +84 (0) 236 392 9889
Email: reservations@meliadanang.com
RESORT SERVICES & FACILITIES
24 hours reception and room services
Fully-equipped gym
Free high speed Wifi
Free outdoor parking
7 outdoor pools  (including pools for LEVEL guests)
Various dining venues (Sasa Restaurant , Cape Nao Beach Club, Pool Bar)
Private beach
Babysitting
Business center
Family room
Meeting facilities
Currency exchange
Facilities for disabled guests
Safety deposit boxes
Tours
Concierge
All day coffee bar
Laundry and ironing services
Gift shop
Shuttle bus services
Airport transfer
ACTIVITIES AND RECREATION
Outdoor cinema
Fitness center
Golf course (nearby)
Kidsdom (Kids club)
YHI Spa
Water sports (non-motorized)
Morning Yoga
Stretching
Vietnamese class
Beach Football
Badminton
Pingpong
Beach Volleyball
Mini Golf
Chess
Jenga
Board games
Kite flying
Seahorses Chess
Lego
Build sand castle
Paper Painting
Mini Chef
Conical hat Painting
Statue Painting
Swimming class
INTERNET
Free Wi-Fi in all rooms
Wi-Fi in public areas
LANGUAGES SPOKEN