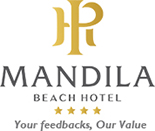 Add: 218 Vo Nguyen Giap, Son Tra, Da Nang
Tel: (84) – 0236 730 6666
Email: info@mandilabeachhotel.com
Website: http://mandilabeachhotel.com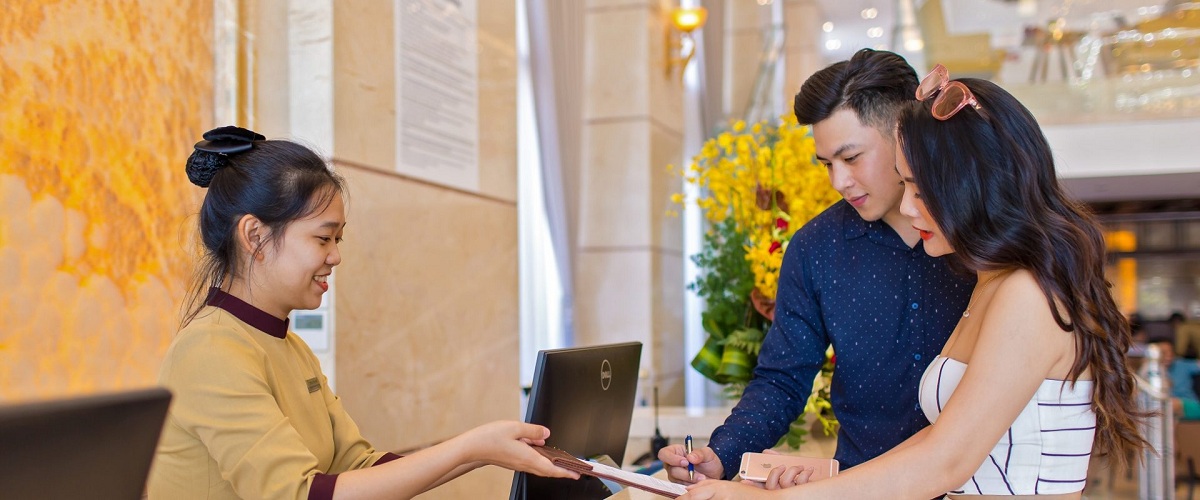 Enveloping yourself in a refreshing luxury with the stunning ocean view and the beach is just at your doorstep. Indulging a breathtaking oceanfront views, elegant accommodations, and the nearby world most fascinating beach chosen by Forbes Magazine. Let's start an enchanting departure from Mandila Beach Hotel, lead yourself to the land of your ocean dream.
DESCRIBE
Located in Vo Nguyen Giap street, Mandila Beach Hotel captures a panoramic view of My Khe – one of the most fascinating beaches in the world with white sand beach, glistening waters and distinctive beauty of tropical nature.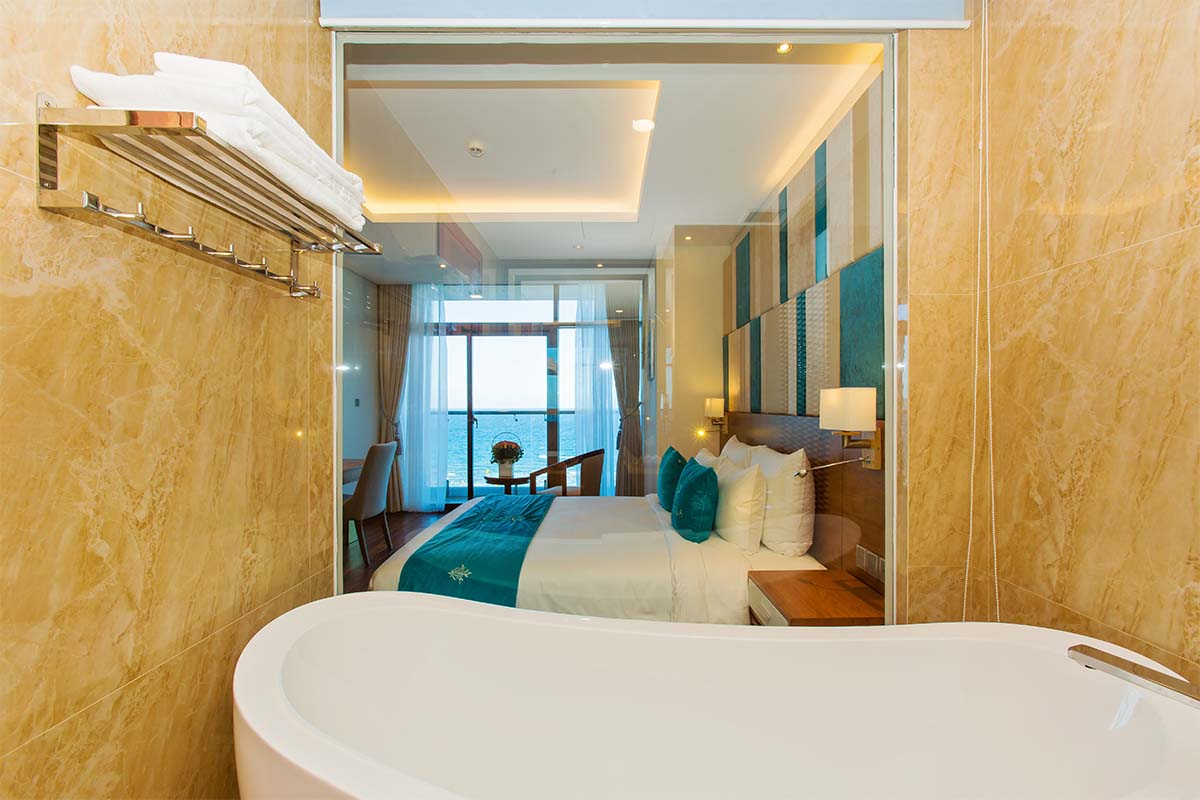 Recently built in 2017, this super contemporary and minimalist concept designed hotel offers guests the highest levels of luxury and comfort. The hotel boasts 128 rooms which included suites rooms and 02 luxury apartments most of which have beautiful panoramic ocean view.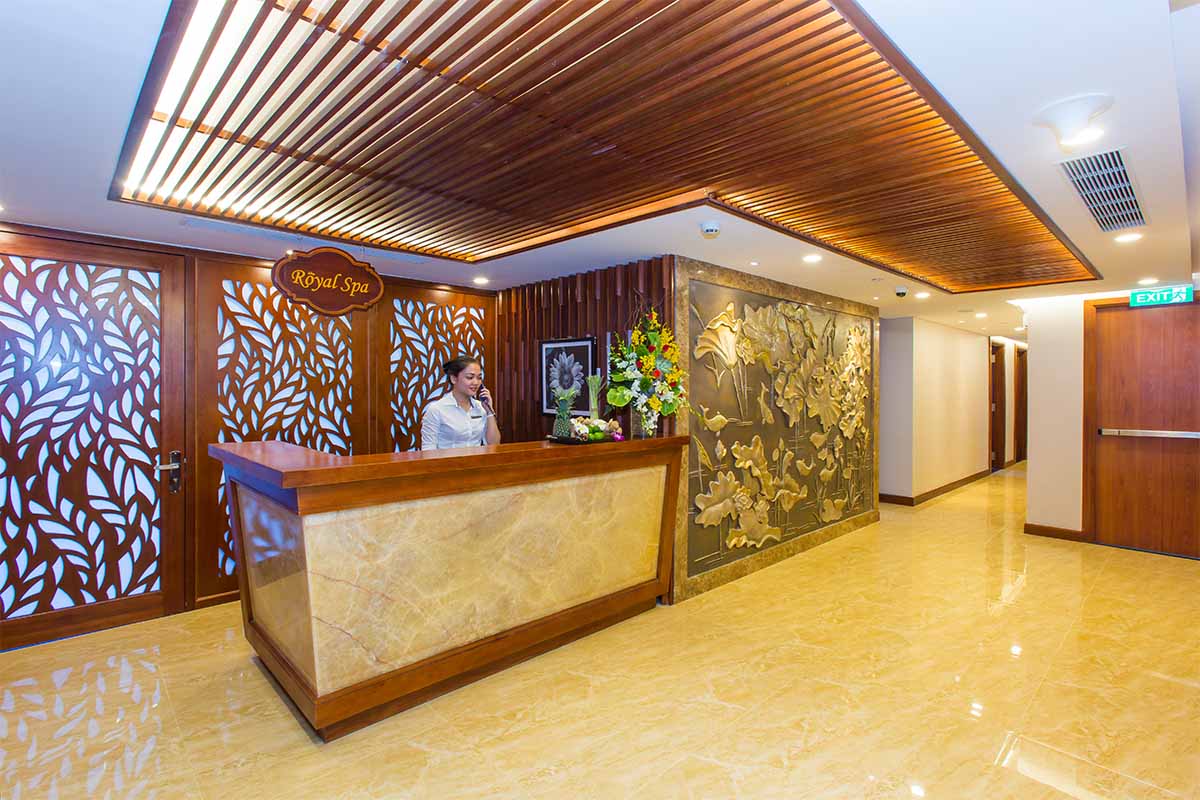 Our leisure facilities include well-equipped gym, infinity swimming pool, rooftop bar as well as healthy spa.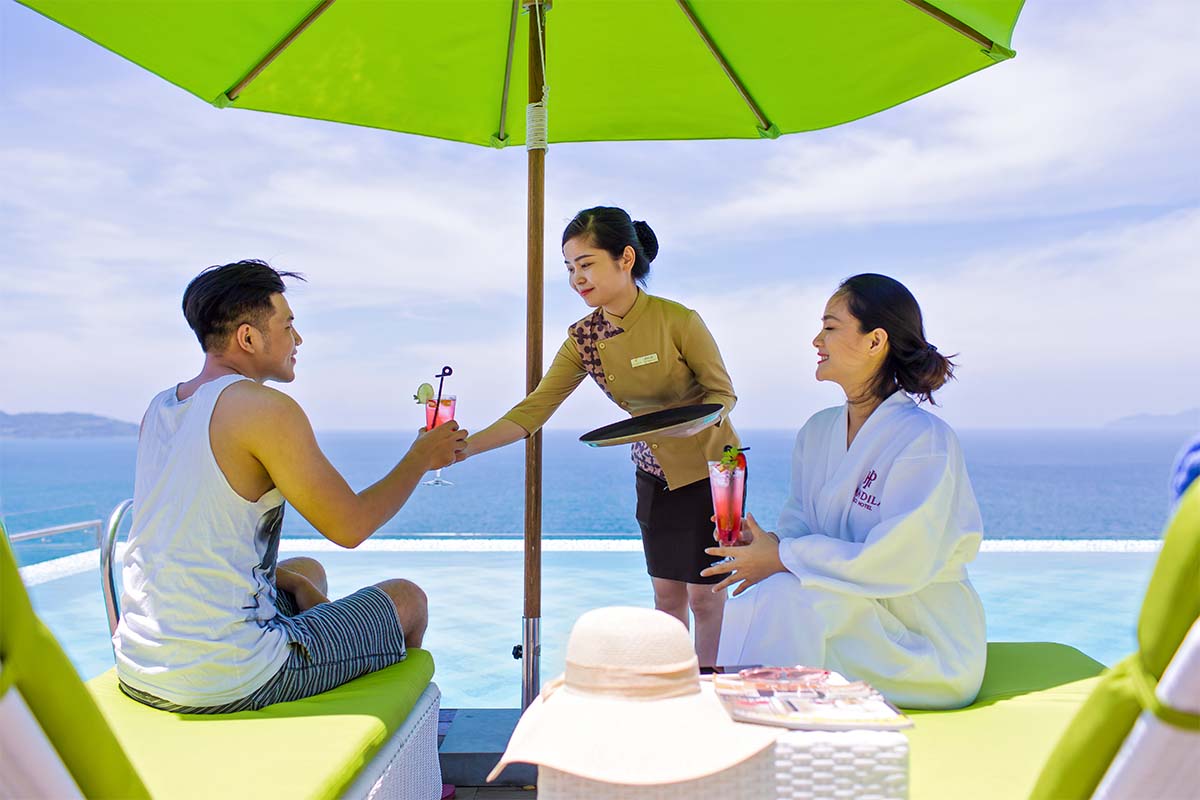 The Mandila Beach Hotel is your ocean dream land with sea breeze hosting style. Let's visit our Sports Center to prepare for a day of exciting. Enjoying an energetic breakfast at the Wooden House to start a day full of high spirit. Drift to chilling out under the warm sunshine at our Infinity Pool with seamless view to the beach.
If you can bear to leave our oceanfront Mandila Beach Hotel, spend a day exploring our nearby fascinating destination such as Hoi An Ancient Town, Son Tra Peninsula, Linh Ung Pagoda, Ba Na Hills… or just take a bus to explore the Da Nang city tour.
Resides in a prime location, Mandila Beach Hotel offers extremely convenient access as well as offers the good transportation service to tourist attractions.
From – To (back) the Airport: 5.3 km (15 minutes)
Rail Station: 5.1 km (14 minutes)
Hoi An Ancient Town: 25.7 km (37 minutes)
Son Tra Peninsula: 5.9km (9 minutes)
Linh Ung Pagoda: 8.2 km (12 minutes)
Ba Na Hills: 28.8km (40 minutes)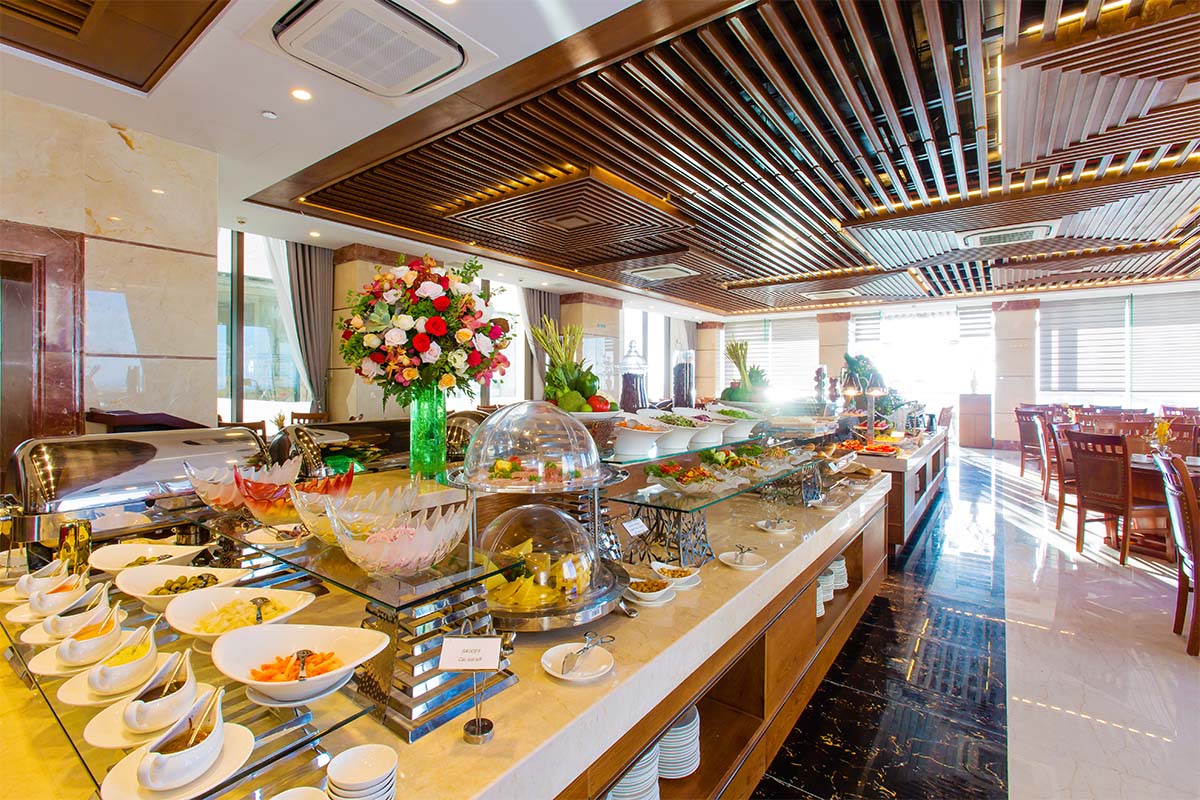 When evening falls, indulge a variety of sizzling, fresh dishes at our The Wooden House Restaurant or rooftop Halo bar nightclub. At the end of your day, pampering yourself at our Royal Spa, get relaxed for a next day full of exciting adventures.
Whether you're looking for a romantic getaway, relaxing retreat, convention accommodation, a family escape, or are travelling on business, Our Mandia Beach Hotel will help you make the most out fabulous experience  of your stay in Da Nang.
 ACCOMMODATION
Be inspired by the acclaimed design of contemporary and minimalist concept, Mandila Beach Hotel brings a new breeze to the beach city by offering 128 elegantly appointed rooms and 02 luxury  apartments with premium bar and restaurant. It is a perfect choice for all city escapes or business stay.
Deluxe King/Twin Room
The Deluxe room with a modern style is a perfect choice for a family holiday, business traveller or romantic beach getaway. The beautiful space is adorned with luxurious furniture including air conditioning, large smart flat screen TV to enhance guests' participation in our hotel's activities for their best comfort and convenience.
Deluxe Partial Ocean View King/Twin Room
Premium facilities, elegant decorations, exquisite bedrooms are only some of the special points that we have to enhance the guests' experience. The room offers engaging partial ocean views. These rooms are available with king or twin beds for flexible accommodation. This is an ideal choice to enjoy the unparalleled comfort in our Deluxe Partial Ocean View.
Deluxe Ocean Front King/Twin Room
Waking up in the Deluxe Oceanfront and catch the first morning sunlight from the balcony along with stunning sea views of My Khe Beach is what this room offers. All these rooms are a striking amalgamation of city modern and sea breeze hosting style. They also equipped luxurious furniture, modern facilities and large bathtub in room.
 Mandila Ocean Suite King Room 
With unique designed style, Mandila Ocean Suites are equipped with luxurious and modern facilities such as premium luxury bathtub, shower, large Smart TVs, cozy space with separate bedroom and living room. The Suite is where you can experience being immersed in wonderful views of Danang city and panoramic views of beachfront. The endless natural beauty just lies in front of you.
Junior Family Ocean Apartment – 2 Bed Rooms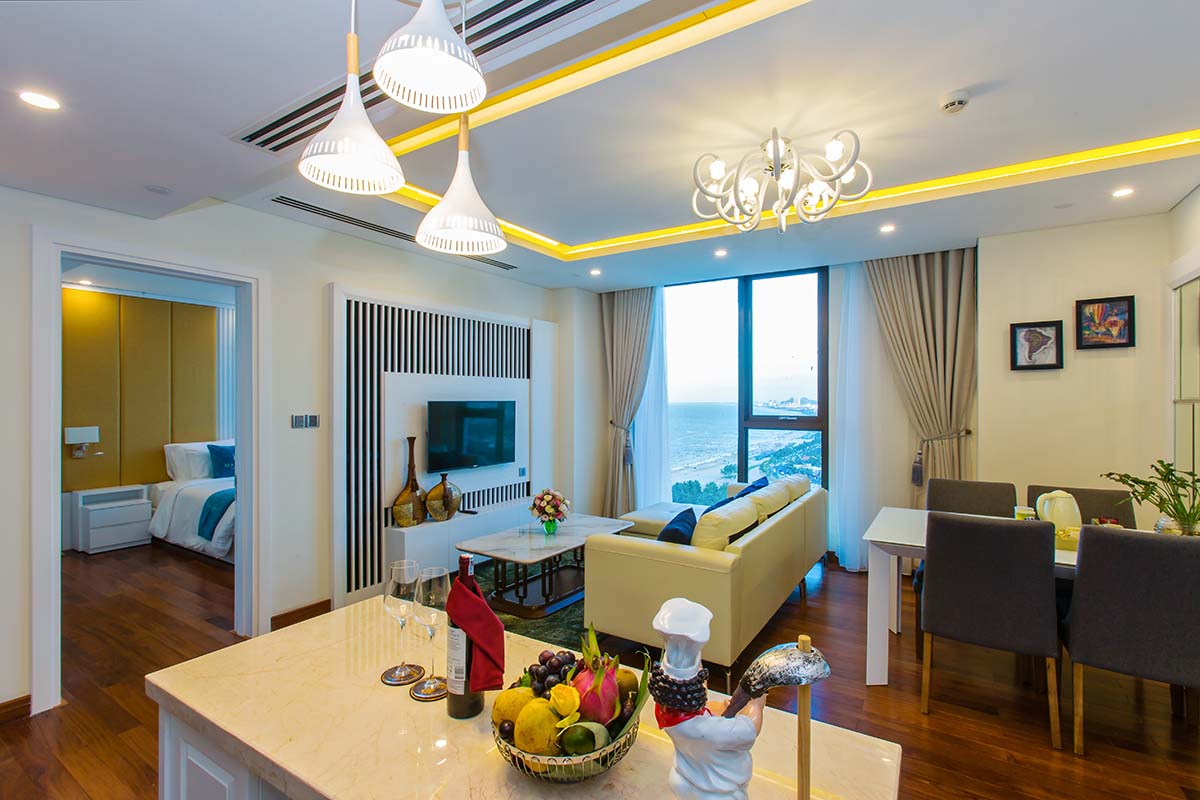 Overlooking the stunning white sands of My Khe beach, Junior Family Ocean Apartment is an idea choice for family holidays. The apartment is not only giving you a good access to the first class facilities, high standard services but also provide a relaxing moment for your family. Located on the 17th floor, Junior Family Ocean Apartment provides 2 large luxurious bedrooms, cozy space, bar, kitchen area with modern furniture, this family suite offers everything that you need to feel like home far away home.
Mandila Family Ocean Apartment – 3 Bed Rooms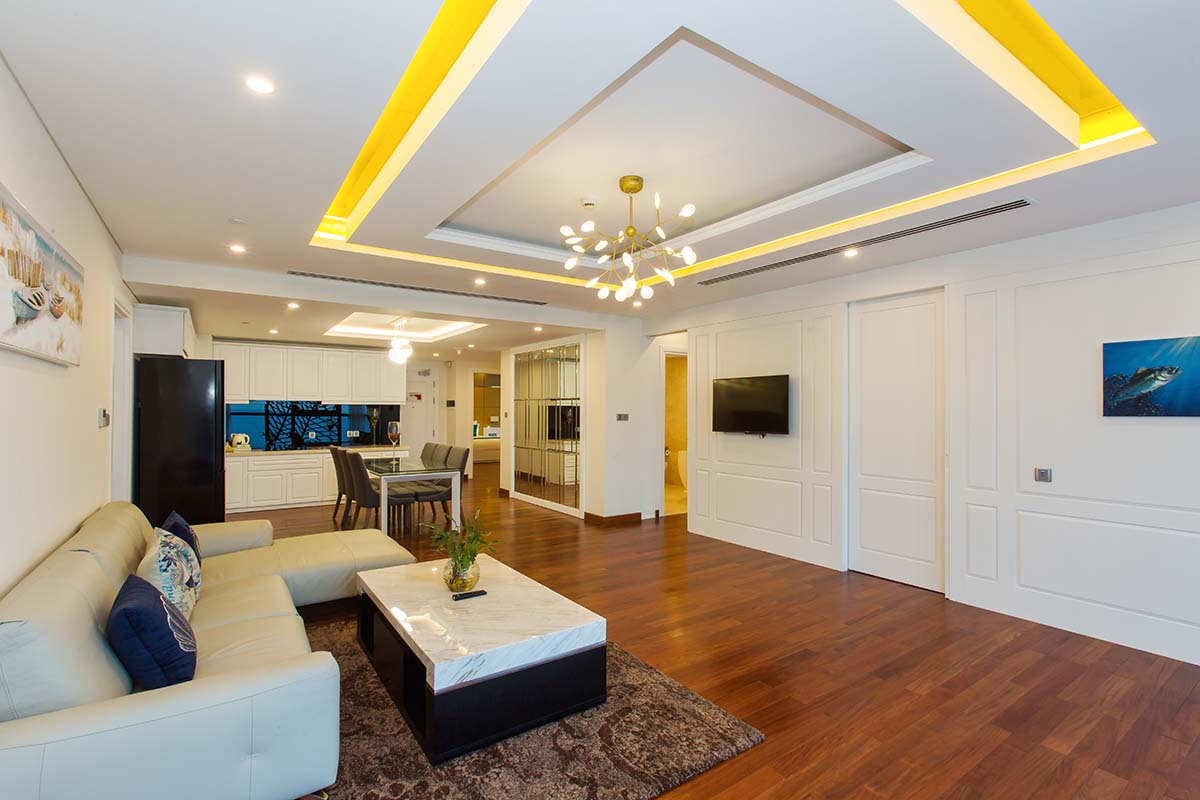 The only one premier apartment of Mandila Beach Hotel designed with largest room which is distinguished by three separate bedrooms, a spacious guest room, kitchen, elegant artwork display and the quality of the antiques. At Mandila Family Ocean Apartment, guests can enjoy sweeping view of the famous sunrise from My Khe pristine coastline which promises to go beyond your expectations.
RESTAURANTS AND BARS
In addition to the modern and comfortable accommodation, Mandila Beach Hotel also provides guests excellent Food and Beverage service which brings you a day full of energy. Regardless if you are travelling or just popping in nearby for breakfast, brunch, lunch or dinner at our The Wooden House Restaurant, we make sure that each and every meals to be a culinary experience. Hanging out with friends at our Halo bar should be fun and easy, or simply relaxing.
The Wooden House Restaurant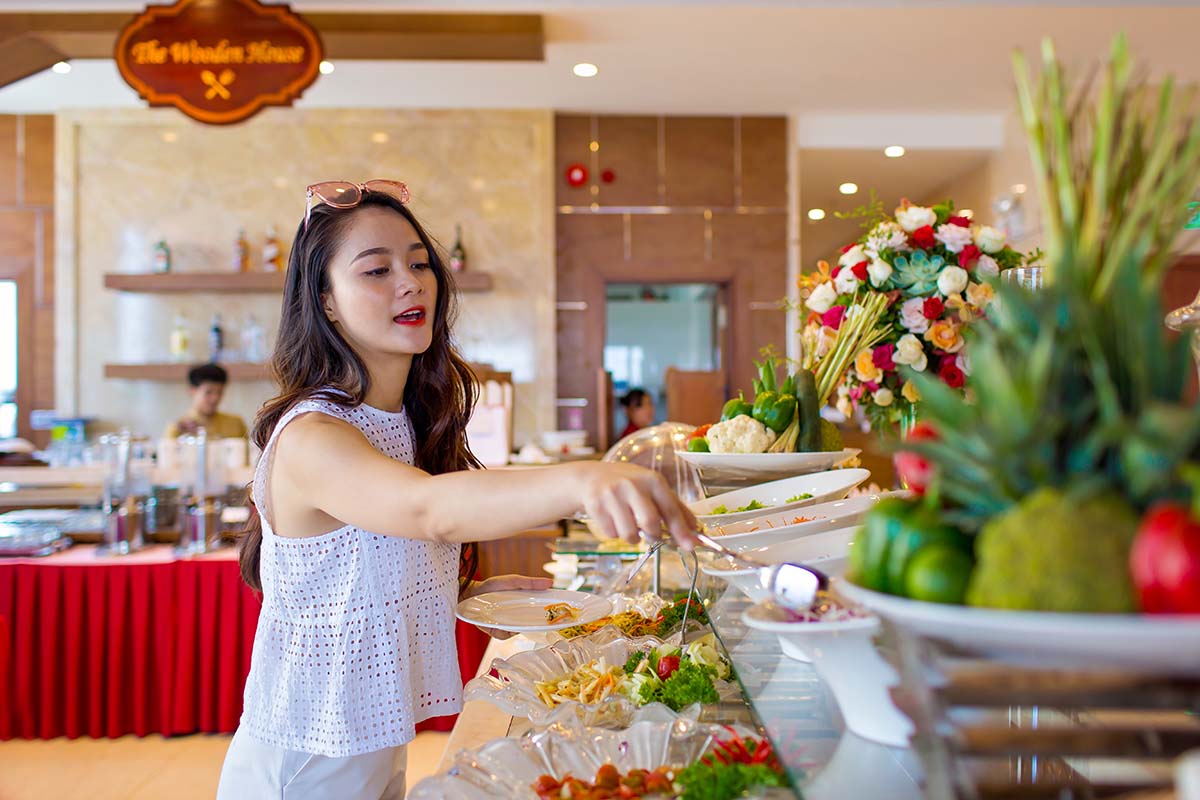 Life is too short to eat poorly, let's start your day with our full energy breakfast. At Mandila Beach hotel, we believe that breakfast is the most needed daily meal. So just open up your eyes and wake up in the morning with sea breeze nearby and indulge wide range of choice buffet breakfast at The Wooden House Restaurant.
Located on the third floor of the building, which can accommodate up to 130 guests. Luxurious but not less cozy, here guests will be served breakfast, lunch and dinner with a variety of Eurasian dishes. The restaurant also has outdoor space overlooking the sea is suitable for warm dinner with friends and relatives.
Location: 3rd Floor
Capacity: 180 guests.
Opening hours: 6:00 – 22:00
Lobby Bar
Taking off all the tired of a long day traveling, here you are a fresh welcome drink from hotel Lobby bar. Located on the ground floor of hotel building, the Bar serves fast food, snack, soft drink, cocktails & mock tails, cuisine: Drink & Snack.
Opening hours: 6:00 – 22:00
Capacity: 30 pax
Halo Bar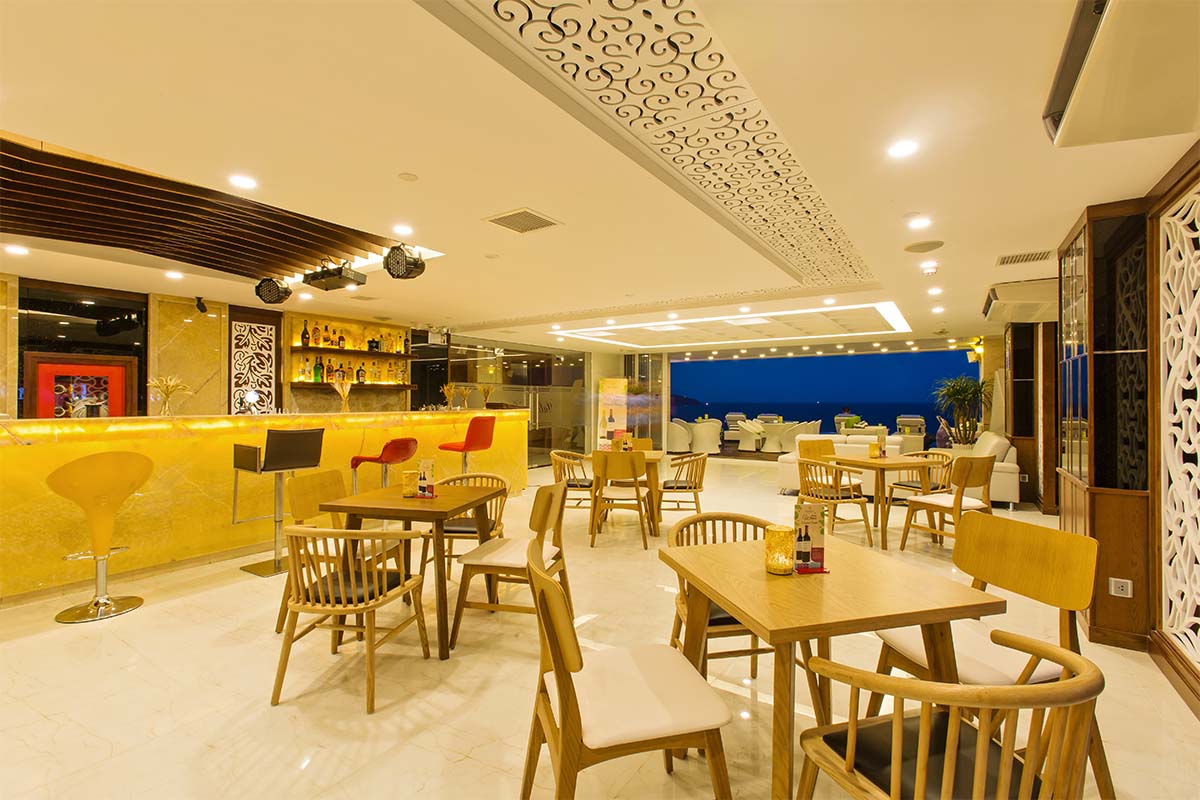 Located on the 19th floor of the building, the Halo Bar is one of the top-floor bars created as an exciting entertainment venue. Possessing ideal space, beside the main swimming pool of the hotel, overlooking the romantic sea view.  Where you can choose selections kind of drinks, or simply the cocktail is blended excellent, sip wine glasses and snacks rich … Its location couldn't be more perfect for that special celebration or reunion with your friends regardless if you are in-house guests or just stop by for a rest. Our bartenders are passionate about creating seasonal cocktails and know exactly how to delight your palate.
Location: 19th floor
Capacity: 80 guests
Opening hours: 10:00 – 23:00
 MEETINGS AND EVENTS
With modern, flexible, well-equipped spaces and state-of-the-art facilities, Malinda Beach Hotel is your venue of choice for special event, convention, exhibition, launching event… The main Conference room as well as the 02 function rooms promises to cater for events in all shapes and sizes.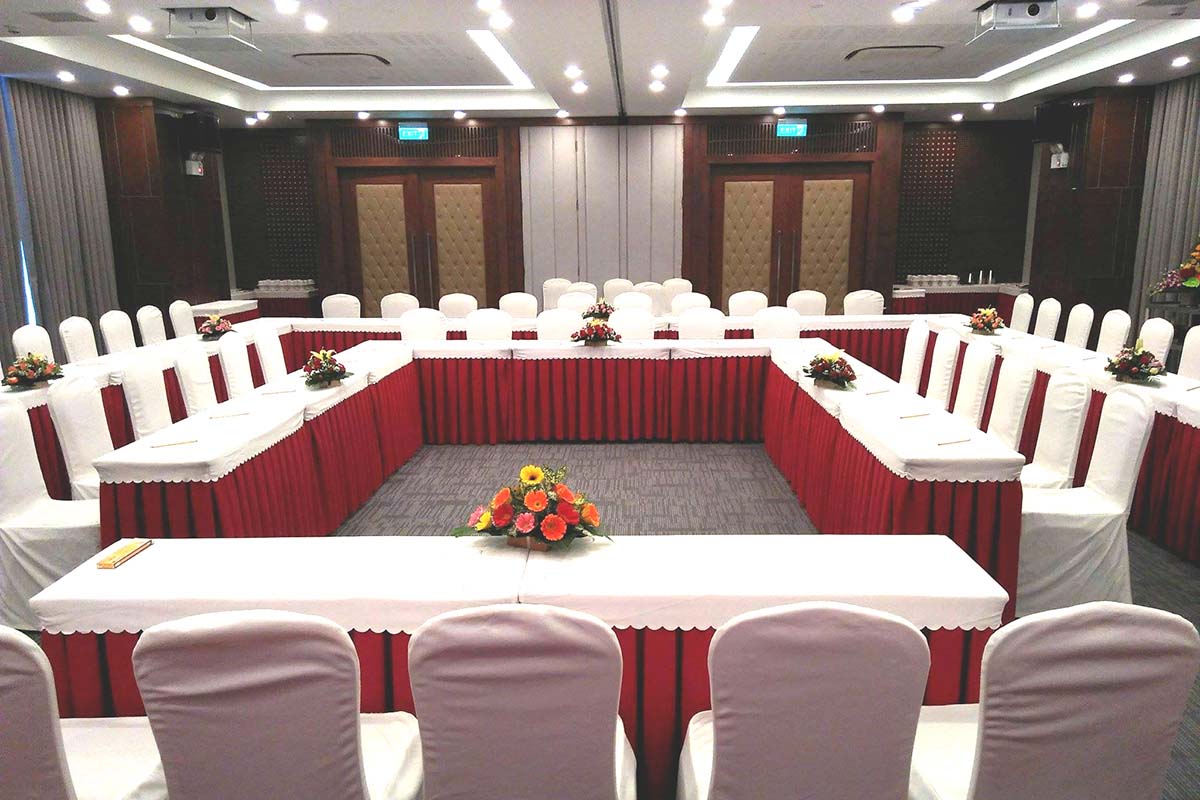 JASMINE
Area:   187m2
Banquet Style: 100 pax
Classroom Style: 90 pax
U-shape single Style: 36 pax
U-shape double Style: 55 pax
Theatre Style: 160 pax
LOTUS
Area: 27m2
Classroom Style: 18 pax
U-shape Style: 14 pax
Theatre Style:  20 pax
The venue offers a wide range of complementary modern facilities and services delivered by professional and highly well trained staffs.
– Projector, Screen
– Air conditioner
– Flipcharts
– Microphone
– Sound system
– Internet ADSL, WIFI
WELLNESS
Staying at Mandila Beach hotel, guests will also gain access to a premier recreational experience. Be it Royal Spa with special massages and beauty treatments, the modern Fitness Centre or the perfect Rooftop Pool that beckon guests to relax.
SWIMMING POOL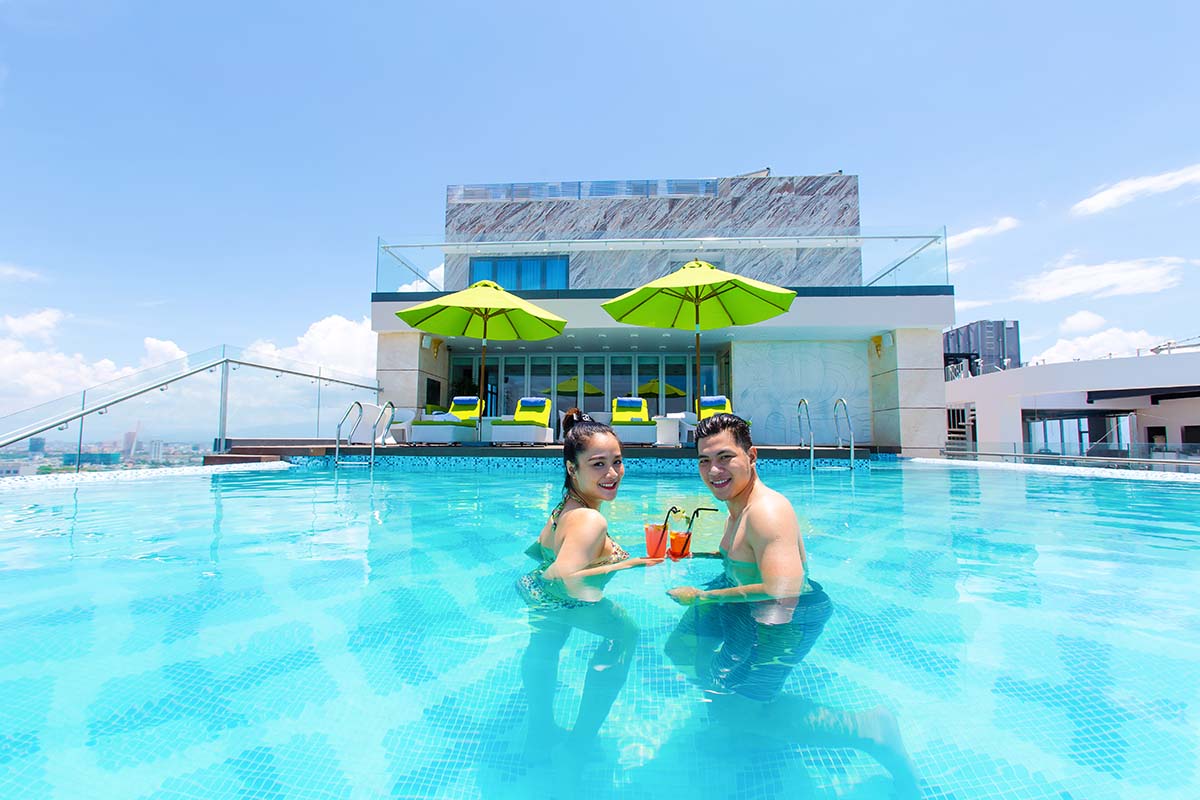 For those who love the beach and the pool, the Mandila Beach swimming pool offers both. An amazing outdoor swimming pool lies on the roof top enabling the panorama view of My Khe Beach and Son Tra Peninsula, this wonderful infinity pool offers guest an elevated oasis from the bustling streets below.  A lively bar is waiting to serve you poolside so you can enjoy a glass wine or one of our famous cocktails which is made by our experienced bartenders. Take some time to relaxing on our unique sun chairs– designed only for our hotel. It is a magnificent venue for sun-soaked days. It is perfect for that relaxing time at your own leisure.
Opening hour: 6:00 – 21:00
Location: 19th floor
ROYAL SPA 
With a variety of choice at the standard of 4-star Beach hotel, Royal Spa offers you a chain of services combining the healing techniques and ingredient of Italian products. Located on 18th floor, Royal Spa includes 05 indoor treatment rooms, Sauna, Himalaya Salt, and Jacuzzi. Let's come and indulge our service!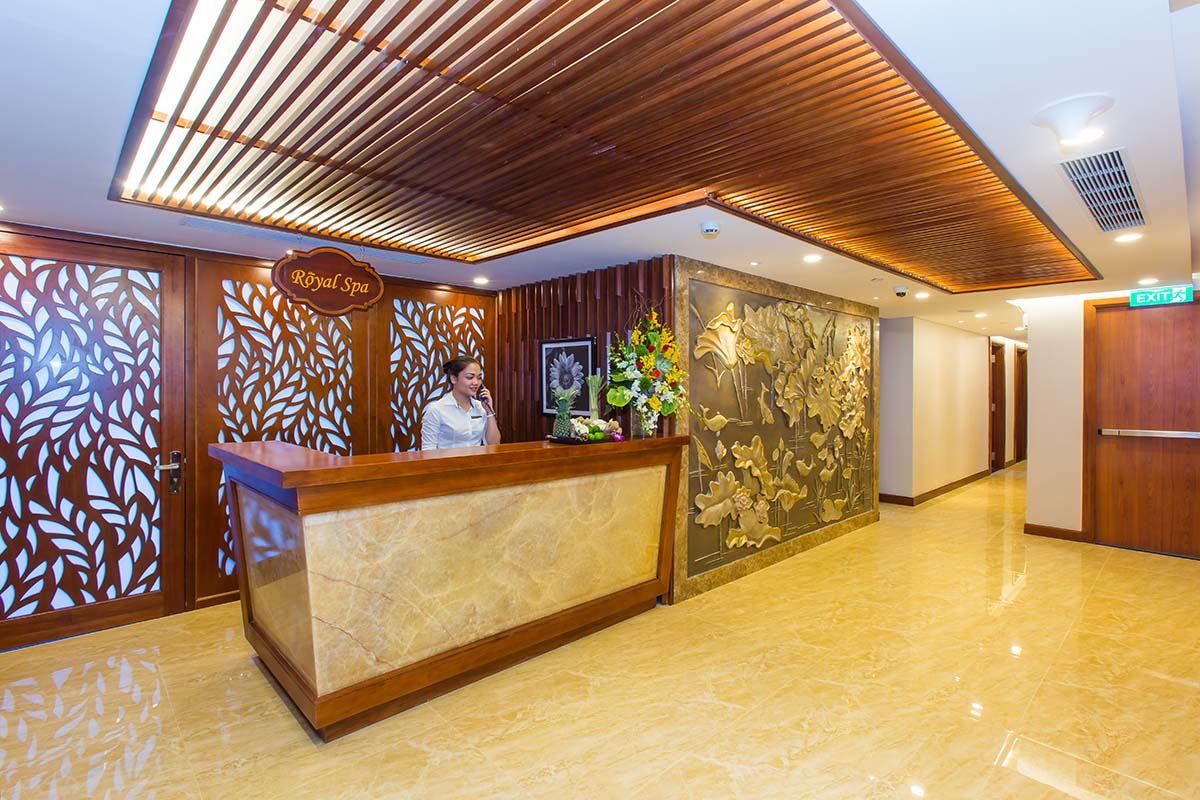 Opening hour: 9:00 – 22:00
Location: 18th floor
FITNESS CENTER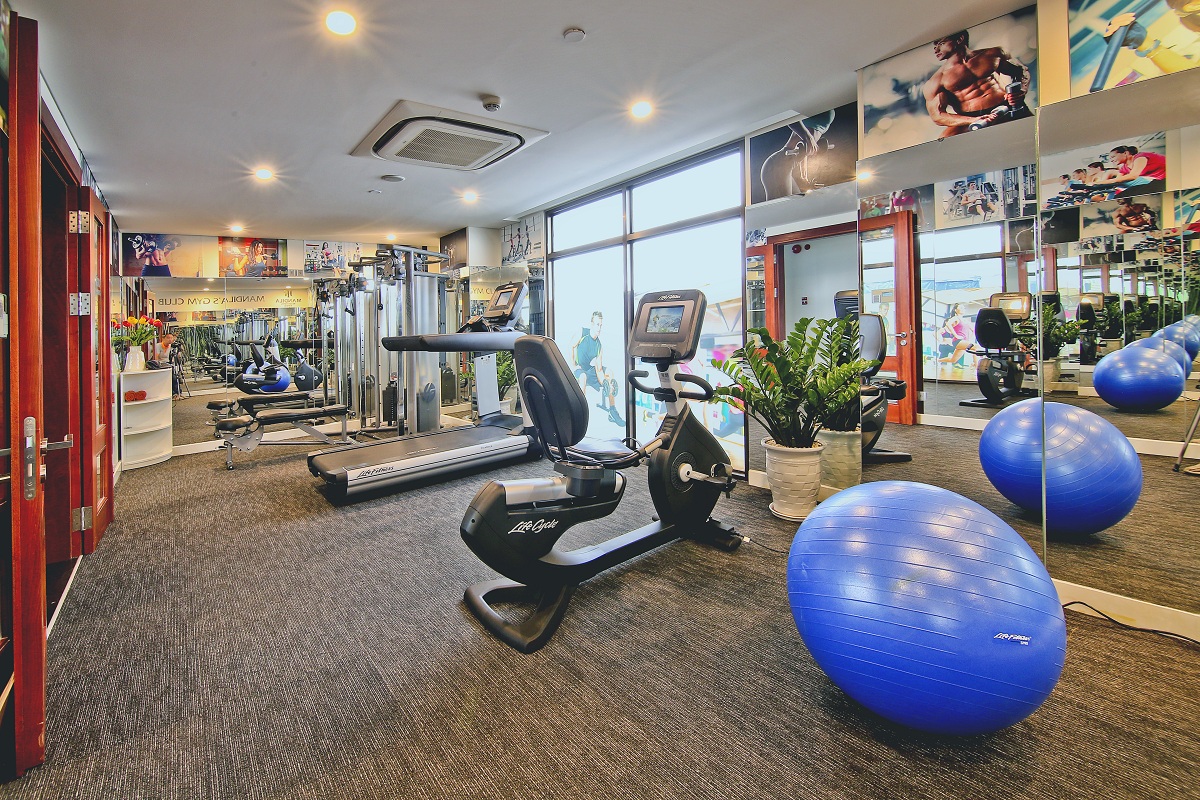 Besides the relaxation area, the Fitness Center is another option for you to start a new day or practice yourself as a daily routine. Equipped with modern training equipment, we will accompany you to have a healthy body and spirit to enjoy life.
 Contact us for Reservation:
Address: 218 Vo Nguyen Giap street, Son Tra Dist., Danang
Tel: (84)- 0236 730 6666
Email: info@mandilabeachhotel.com
Website: http://mandilabeachhotel.com
Huan Nguyen (Mandila Beach Hotel – An enchanting Journey exploring your Ocean dream!)
Express Your Reaction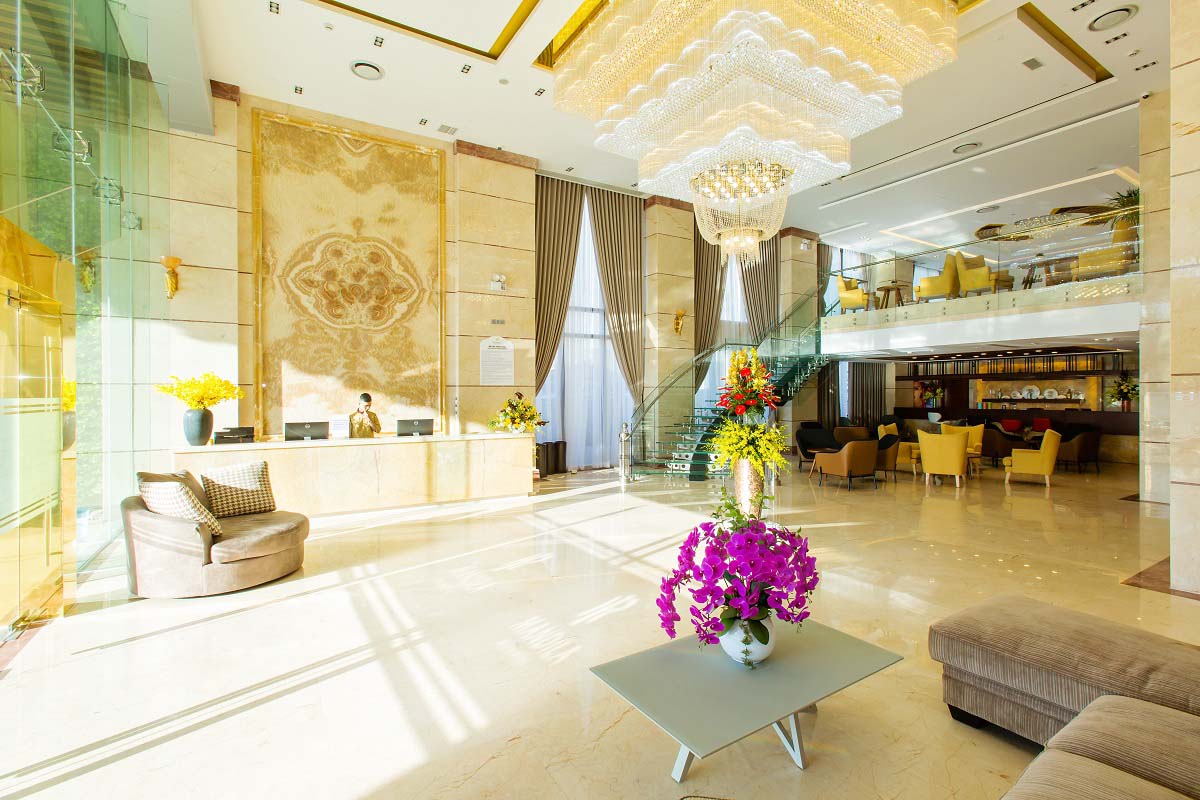 You have reacted on

"Mandila Beach Hotel – An enchanting Journ..."
A few seconds ago
Latest Posts