What do you know about a Food YouTuber?
By Lee Dang
Ms. Helen Le guides foreigners to cook dishes through YouTube and Facebook, helping them understand the Vietnamese culture and people. Currently, her YouTube channel "Helen's Recipes", which shows how to cook Vietnamese dishes in English, has more than 500,000 followers and has been voted by Feedspot Blog Reader as one of the top 15 YouTube channels in Vietnam for you in 2020.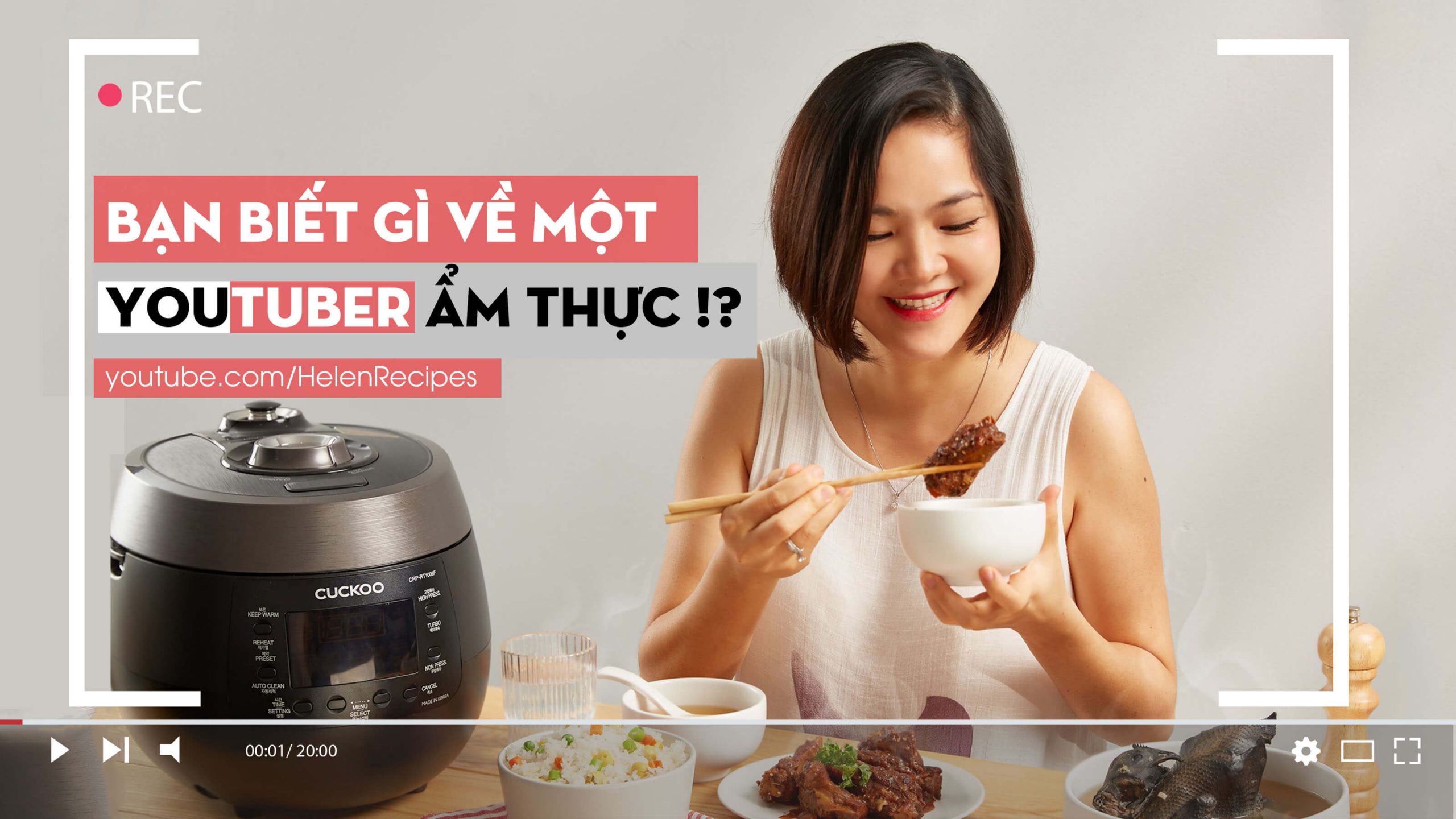 What message does Ms. Helen send through her videos?
Ms. Le Ha Huyen is often known to her international audience as Helen Le. She was born and raised in Da Nang, studied abroad and has lived for over 10 years in Singapore and Germany. Around that time, in order to help ease homesickness, Ms. Helen often watched online instructional cooking videos and played around with it. "I saw YouTubers from other countries have great ways to introduce local culture through cooking, helping viewers cook new dishes, and promoting cultural beauty. So I dreamt of creating a YouTube channel about Vietnamese cuisine," Ms. Helen said.
As she was thinking about it, in 2011, Ms. Helen Le started making videos to share the most basic Vietnamese cooking methods. The first dish she tried was clear shrimp and pork dumpling, which she had made many times during her years studying abroad to help remember the taste of home. After each dish, she posted pictures on her personal page and received the attention of many international friends. Everyone was curious so she decided to make instructional videos. It took Helen Le a month to complete because she didn't have a camera at that time  and she had to borrow an old camcorder, then recorded the narration by phone, and dubbed it into the video.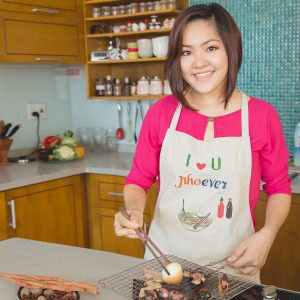 This Da Nang girl kept figuring out and persistently pursuing the creation of such videos with her thought: "If 100 videos are made and no one is interested in them, I will reconsider." But by the 20th video, Helen's channel had a considerable number of viewers, and that has been the motivation for her to continue until today.
According to Ms. Helen, in order to effectively promote cuisine, in addition to using the language, it is also necessary to understand about cuisine and cultural differences. Her video subscribers are 70% foreigners, mainly from the US, and the rest from some other countries. Many of them are tourists to Vietnam or have Vietnamese spouses and friends, so they feel close to Vietnamese cuisine. There are also many Vietnamese living abroad watching her channel. Ms. Helen always tries to convey the taste of her homeland to overseas Vietnamese as well as bring traditional Vietnamese cuisine to international friends in the purest way.
Through videos introducing traditional Vietnamese cuisine, Ms. Helen also wishes to bring the image of the Vietnamese people, country, and culture closer to viewers around the world. Helen took international guests around Da Nang to explore specialties of the Central Region as well as local dishes. She came to villages in Quang Nam where the rice paper was made and even went to Tra Que vegetable village to learn more about how to grow fresh organic vegetables. She also went to Hanoi to enjoy the original taste of grilled pork with vermicelli and crab noodle soup; travelled to Can Tho floating market to enjoy a bowl of famous vermicelli or found her way to Hue's famous rectangular dumpling and clear dumpling to experience first-hand the taste of home. With each video, Helen often shares more pictures of that dish in Vietnamese life. Because she wishes not only to guide foreigners to cook dishes, but also help them better understand Vietnamese culinary culture.
Ms. Helen still remembers the story of a "fan" from New Zealand. Since 2014, he has sent pictures showing the Vietnamese dishes he cooked according to the recipes she instructed. One day, he texted to show off that he went to eat at a Vietnamese restaurant and showed the food he cooked to the owner, who was very surprised and impressed. Ms. Helen was very curious and befriended him to talk. "I can't believe someone who has no friends or relatives from Vietnam can cook such authentic Vietnamese food. He is simply a person who likes Vietnamese food and cooks every day. In 2019, he went to Vietnam and ate with me. I am really happy to have such friends," she excitedly shared.
In 2014, Ms. Helen returned to Da Nang to live and continue to develop her YouTube channel. Currently, she has released over 400 videos. According to her, the biggest gifts from the channel are getting to do her favorite thing every day and the love from the international audience. She often receives a lot of affectionate letters and messages from Vietnamese people inside and outside the country, foreigners with Vietnamese partners, friends who are Vietnamese, or even those who have no relationship with Vietnam, because Helen's recipes help them connect with the Vietnamese culture, soul, and identity in the simplest and easiest way.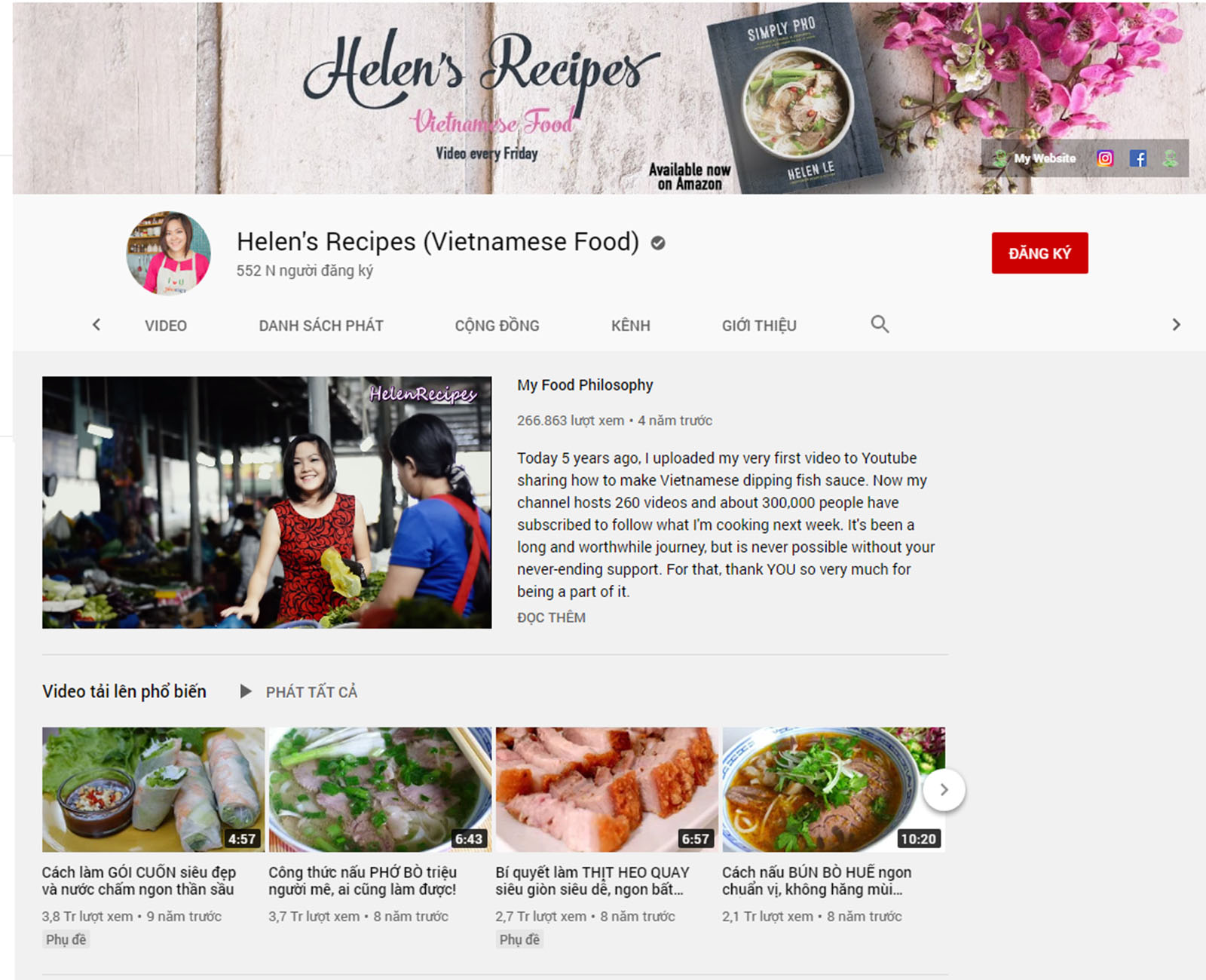 Is it difficult to be a content creator?
No job is perfect and without difficulties, especially those involving many people in the social networking environment, which literally means "having to please everyone". Being able to do the work you love doesn't mean everything is "pink". As an online content creator, Ms. Helen Le has pressure to consistently deliver content without duplication and always presents her inherent "character", in addition to meeting the needs and interests of viewers from time to time.
One of the things that makes her think a lot is that sometimes she gets stuck and feels "burnt out" – mentally exhausted and emotionally drained with what she is doing. This is a common phenomenon in all industries, but with content creation, the lack of emotion and exhaustion of ideas is very common and is one of the great difficulties to overcome without backing down.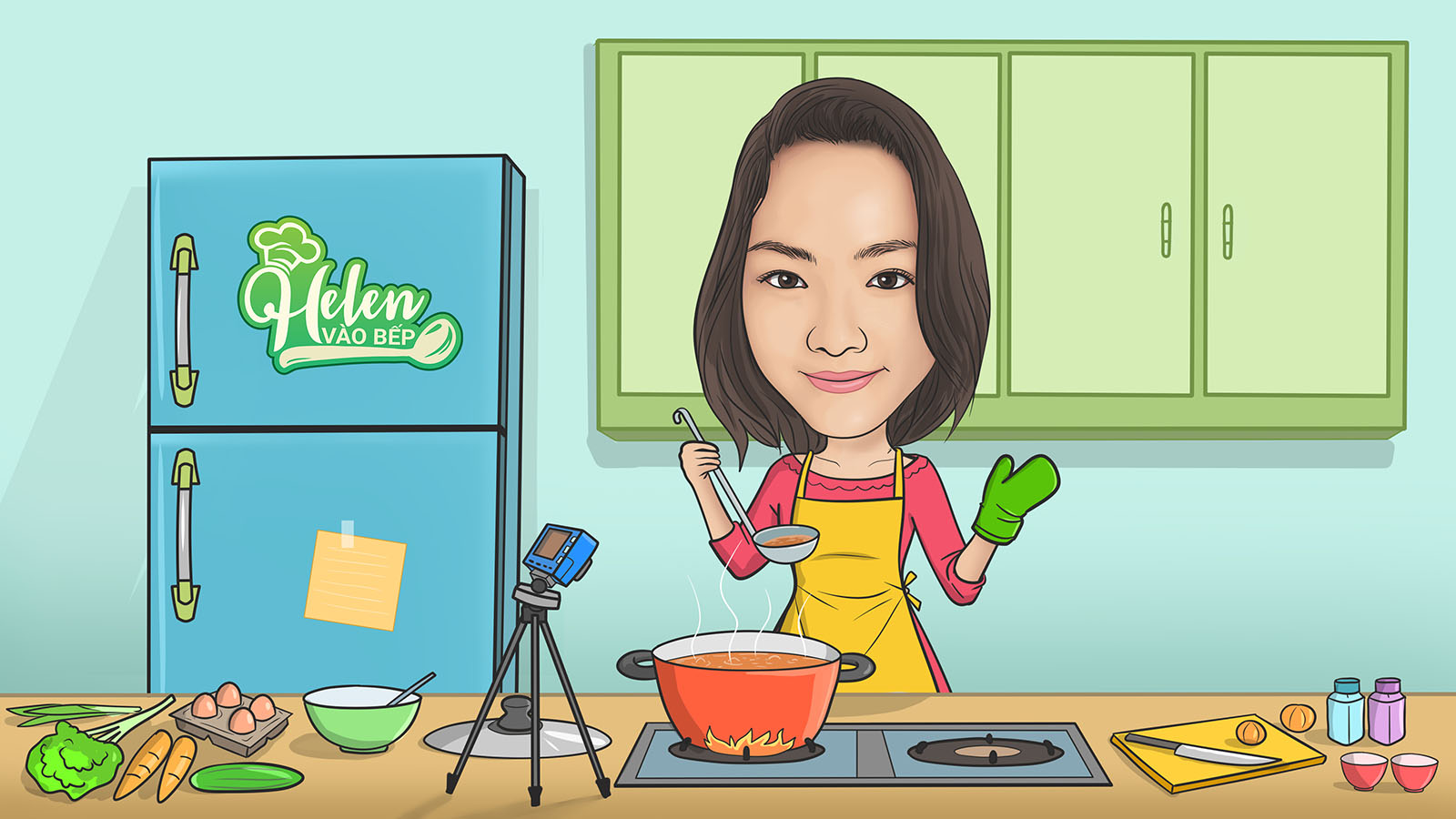 Another difficulty with creating online content is the development of social media. With so many competing channels such as YouTube, Facebook, Instagram, Tiktok, etc. and users spread across these sites, interacting with followers alone has taken a lot of energy. "Helen is fortunate to be loved so much by everyone, however, sometimes just an unconstructive comment has a very big impact on my mentality and overcoming such obstacles isn't easy. I'm just sharing a little about the difficulties of the job, but please rest assured because I still have a lot of energy and still love this job."
"With successful YouTubers, they always have a very clear goal and define the values they can bring to their audience. For me, that value is to make my viewers feel happy, learn new things from cuisine, and thereby help them better understand the culture and history of a land and place. If I were to start from scratch, I still want to be a Food YouTuber," Ms. Helen Le expressed.
"For someone who takes a passion for cooking as a career like Ms. Helen, the love for food and for their homeland are the two most important factors for me to continue. Travelling is also an indispensable part of my life. Going to new lands with new experiences helps me understand more about life and gain more emotions and motivation to pursue my passion."
Address: 28th Floor, Danang Administration Center, 24 Tran Phu Street, Hai Chau District, Danang City
Email: tapchidulichdanang@gmail.com
Contact: 0236.3840.019 (meet Mrs Que or Mrs Thao)
Service pack information on Magazines
Latest Posts