Top cafes you HAVE TO try in Danang
With such list of lovely cafes, no more worries where to check-in for great photos or to have great coffee when you visit Danang!
1. Horizon Bar
Address: Level 36, Four Points by Sheraton Danang, 118 – 120 Vo Nguyen Giap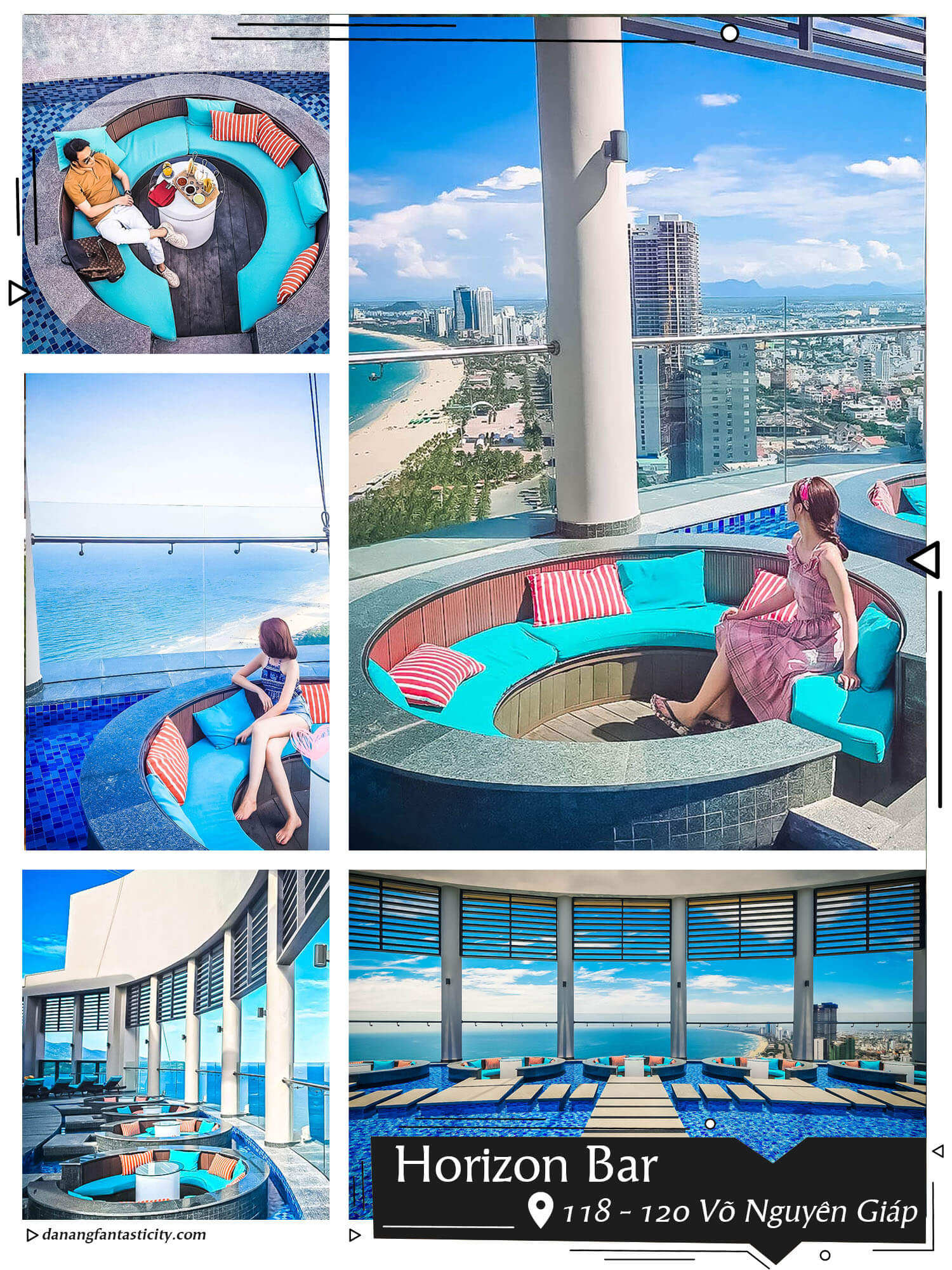 Horizon Bar is located on level 36 of the 5-star Four Points by Sheraton Danang. With a view of the whole city and Danang beach, you will not be disappointed with the awesomest photos and video clips with the blue background from here.
2. ADOR Coffee
Address: 17 Phan Thanh Tai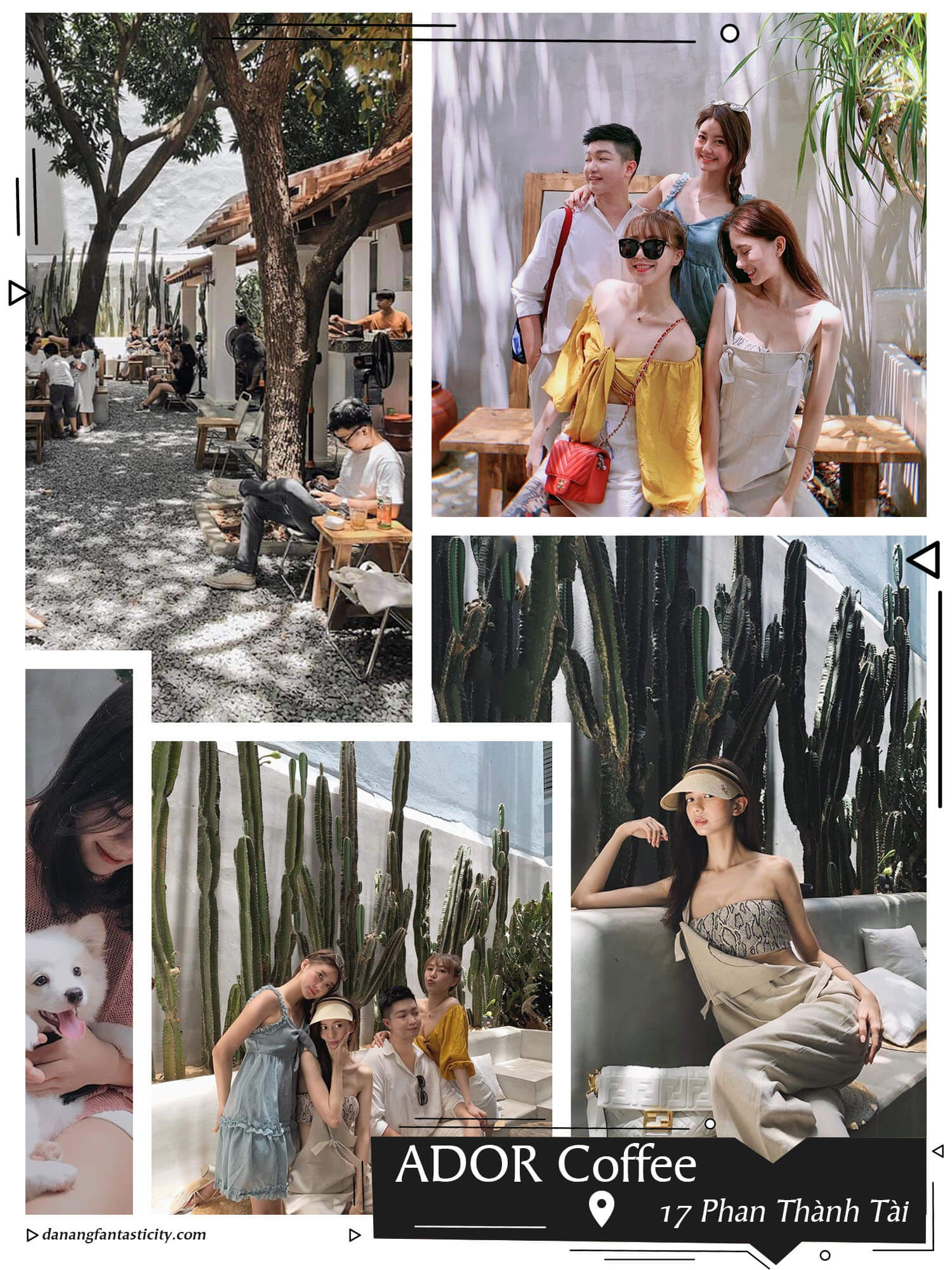 ADOR Coffee lies in a small terrace covered by the shadows of two big trees. No air-con needed, the afternoon is still fresh and cool in the café.
The lovely corners of the café with the cactus trees and the white walls filled with sunshines will fill your photos with a summer mood. Order some lemonade and banh trang and enjoy long chats with your friends.
3. Trangcasa – Premier Café & Lounge
Address: 186 Phan Chau Trinh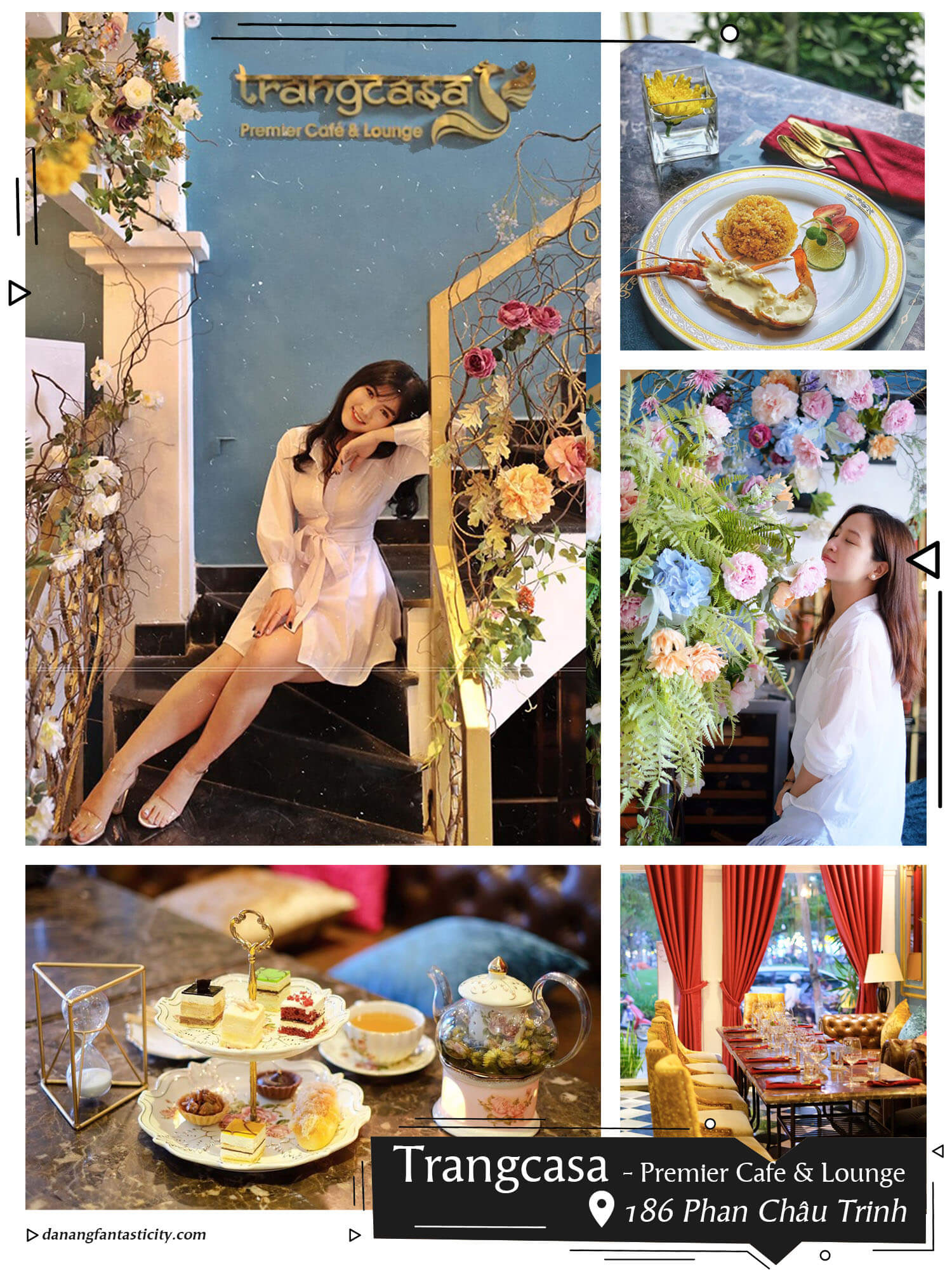 Recently open in July 2019, Trangcasa – Premier Café & Lounge has fascinated all youngsters with its beauty.
Decorated with a prominent blue, Trangcasa represents a harmonious beauty with a European architecture. With the size of total 600m2 and 6 different spaces, every corner of Trangcasa is elegant, unique, subtle but lovely.
4. Dâu Ngọt Café 'N' Souvenir
Address: 92 Duong Dinh Nghe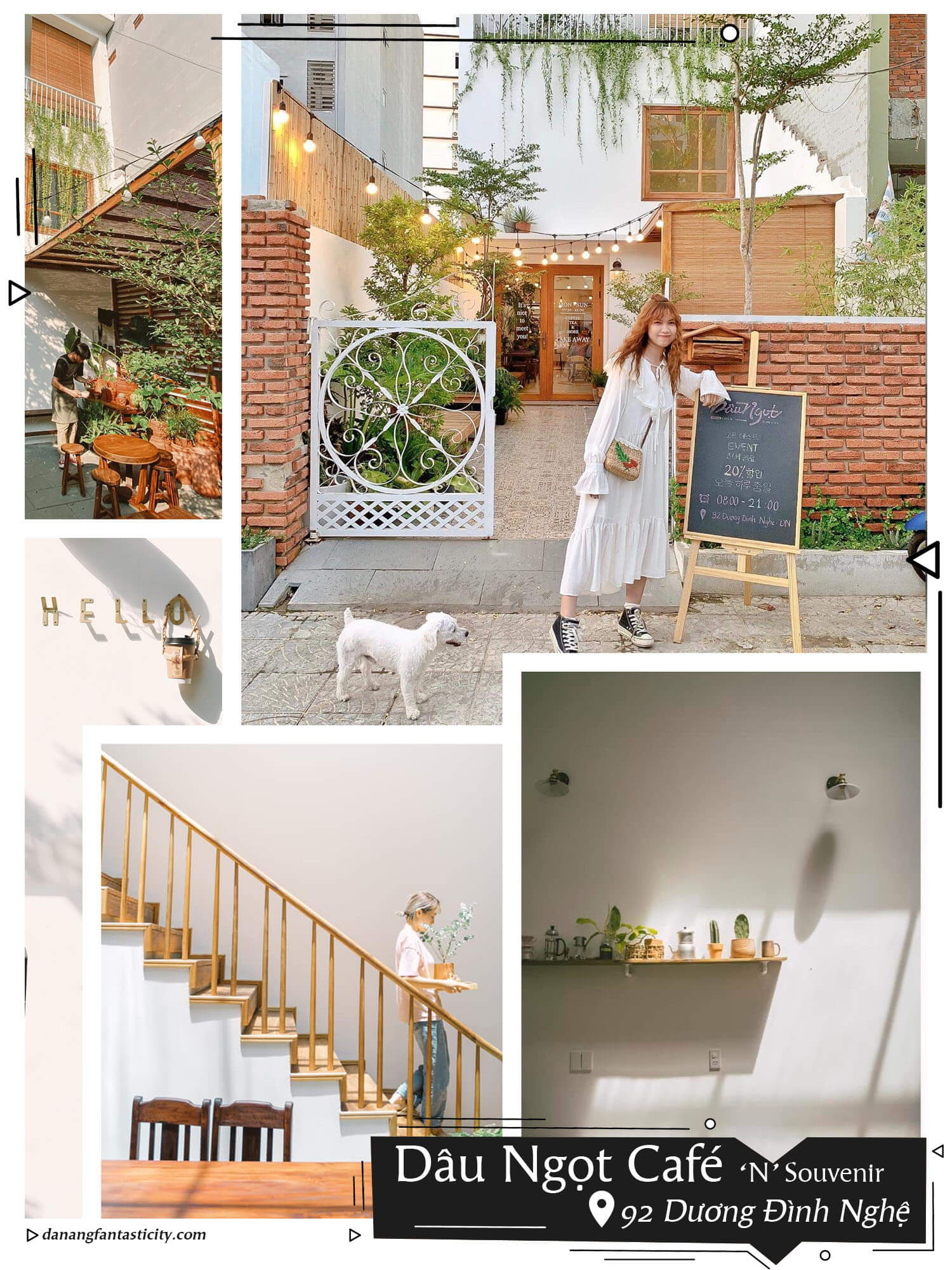 The two dominant colors white and brown, Dâu Ngọt Café 'N' Souvenir brings about a simple, elegant beauty and comfort. Here you can enjoy lovely desserts with drinks like coffee, tea and juice. The café is decorated to the details for you to pick 1001 corners to take photos and check in, to the Korean vibe.
5. Ibasho Hostel & Coffee
Address: 65 An Trung Dong 7, Son Tra, Danang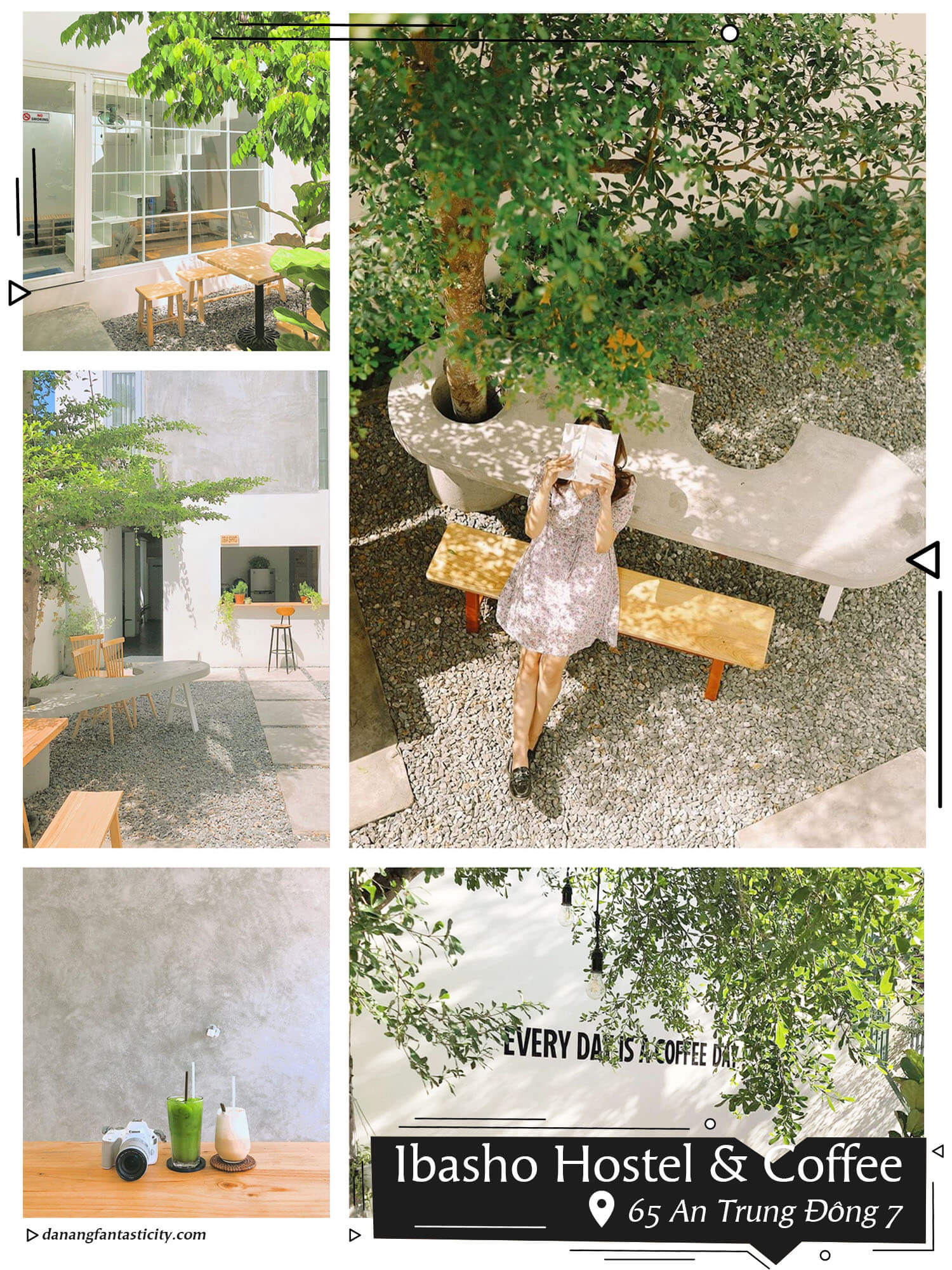 Ibasho Hostel & Coffee is a café and homestay designed with a minimalistic style. Ibasho is decorated with white walls, the use of windows and natural light. It is so easy to chill and lose yourself in the nature.
The space of Ibasho coffee & hostel is friendly and comfortable, suitable for workers with simple and neat chairs. The drinks here are also very different.
6. I'm Here Coffee
Address: 20 Tong Phuoc Pho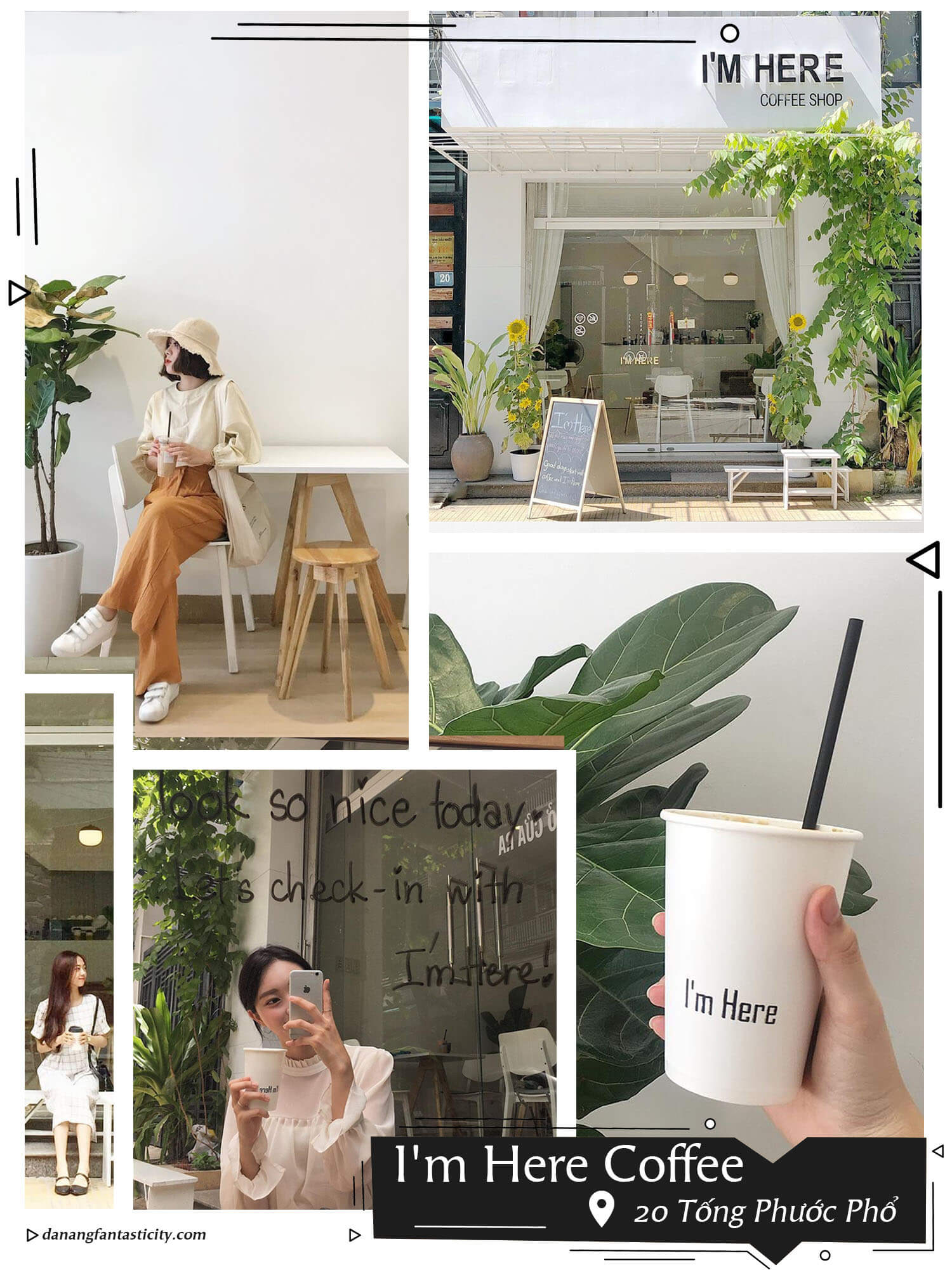 I'm Here Coffee is an all-white coffee that is easy to create amazing photos. Located on 20 Tong Phuoc Pho – a small, quiet street, it is a great hideout for you to get away from the busy street life. The tables are well-arranged so that you can always find a corner for your own.
The two "must-have" check-in corners are in front of the café and the selfie mirror. Besides, the simple paper cup is loved by the minimalism fans!
7. KAKAO KAFE
Address: 31 Nguyen Cong Sau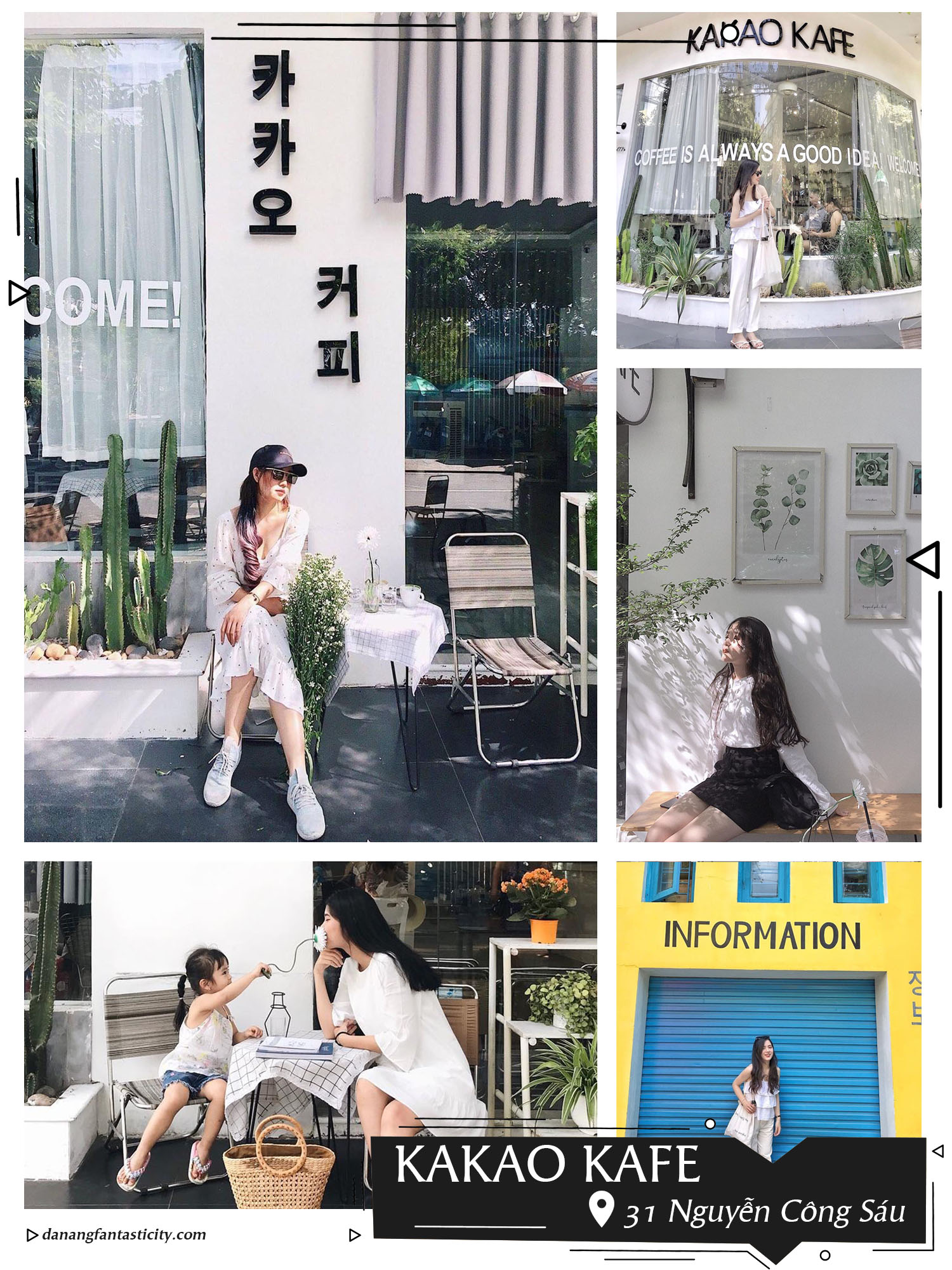 KAKAO KAFE is designed with main colors white and brown and furnished with simple, modern decorations to create an elegant atmosphere. Stopping right outside the café, you can already have many nice photos. Inside is ideal to have girls' date or couples' date.
The yellow wall is the holy grail here for all Instagram-photo fans out there.
8. Danang Souvenirs
Address: 34 Bach Danang | 68 Tran Quoc Toan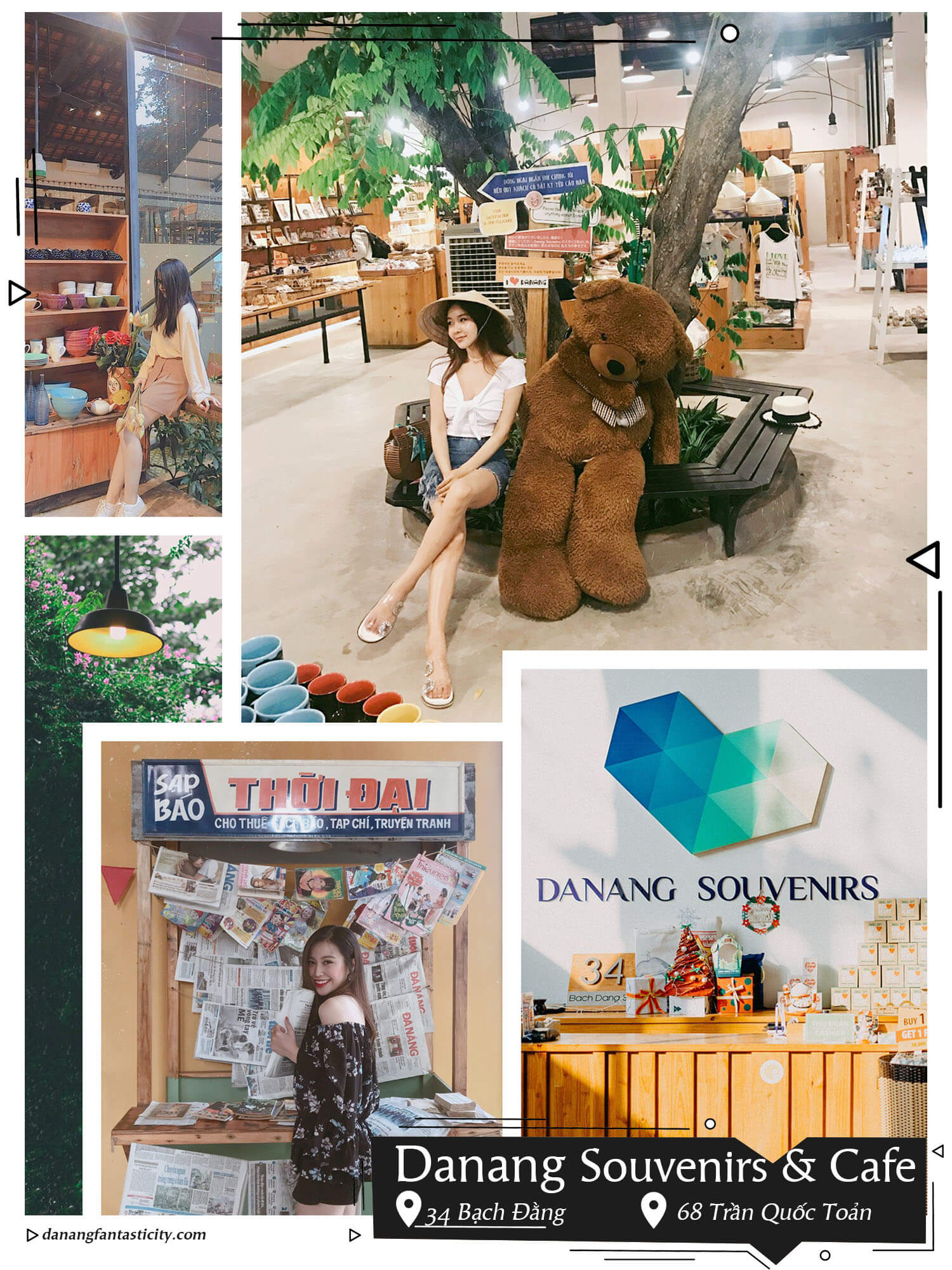 Danang Souvenirs & Cafe (34 Bach Dang) is ideal to take a rest, to visit or shop for your favourite souvenirs from Danang with its best location on the most beautiful street of Danang.
The shop has a simple, friendly and cosy atmosphere. Especially, there are tropical trees right inside of the café.
Danang Souvenirs & Caffe also has another store at 68 Tran Quoc Toan.
9. Retro Kitchen and Bar
Address: 85-87 Tran Phu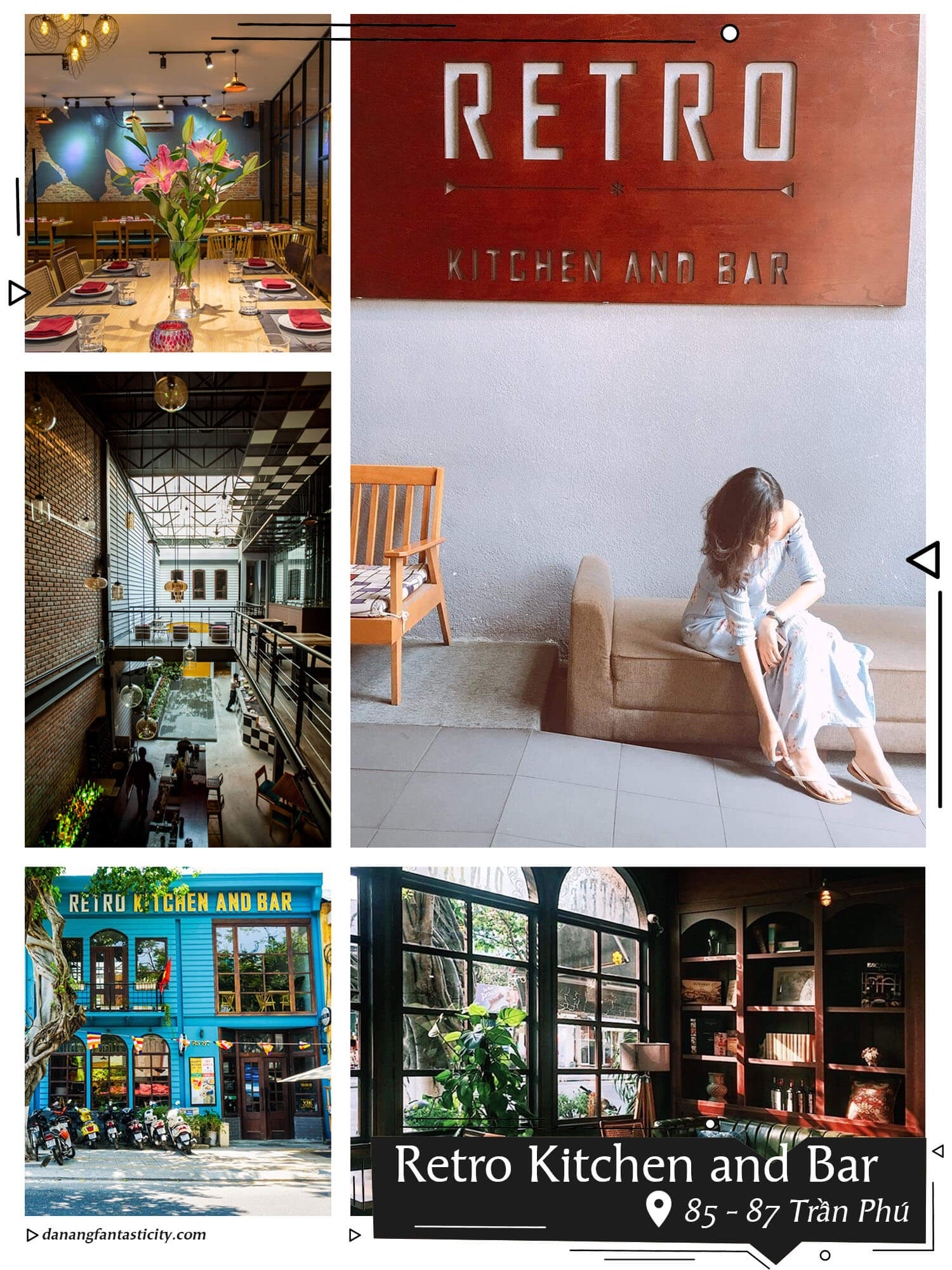 Designed to a retro style just like its name, Retro Kitchen and Bar has 2 open levels, simple and elegant. This is why you can always see the bar and kitchen, and even the life outside. Stepping into the door of Retro Kitchen & Bar from Tran Phu street, the atmosphere will become quieter, the relaxing music will put you at ease and forget all the stress of life. Such atmosphere helps you enjoy the dining experience more.
This is an ideal place to come and enjoy freshly-brewed coffee, a lovely lunch or a cosy, modern-Asian dinner with top wines. Especially, don't miss the chance to see the whole process of preparing the meals from the open kitchen!
10. Cong Cafe
Address: 96-98 Bach Dang | 39-41 Nguyen Thai Hoc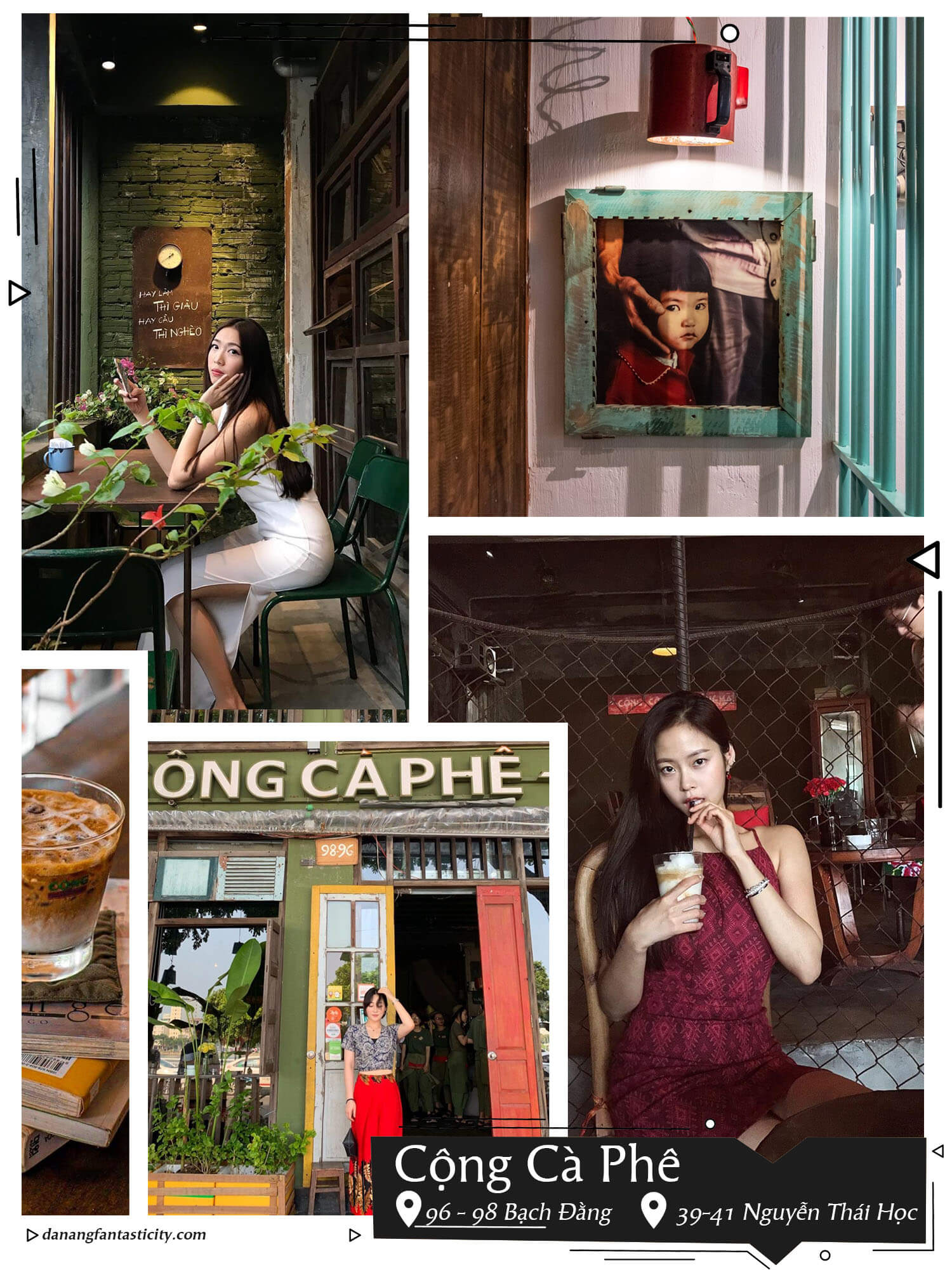 Cong Café is located ideally at 36 -38 Bach Dang with views to the romantic Han River. The space of Cong Café is decorated with a retro style, reminding visitors of a special historical period.
Cong is one of the favourite destinations of Korean tourists. Their menu is diverse, with coconut coffee one of the "must-try" specialties if you come to Cong Café Danang.
Cong also has another location at 39-41 Nguyen Thai Hoc.
11. Wonderlust Danang
Address: 96 Tran Phu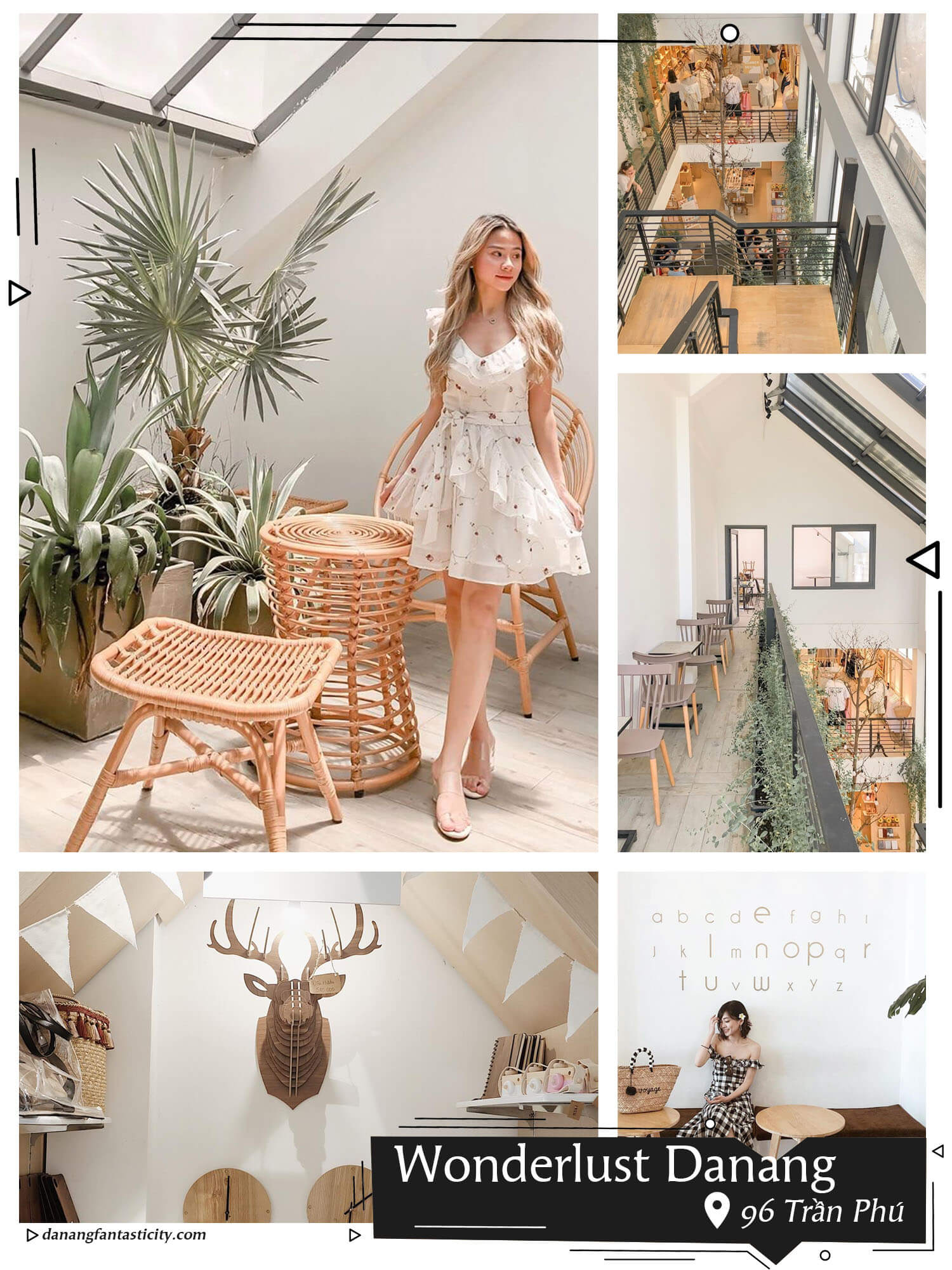 Wonderlust Danang has a minimalistic style with elegant use of white and black, intertwined with brown of interior design.
The arrangement of lights together with green nature makes Wonderlust Danang more spacy but not boring! The light and space of the café are perfect for Instagram-worthy photos!
12. Tea house: Goc nha tui minh (The corner of our house)
Address: K36/36 Le Duan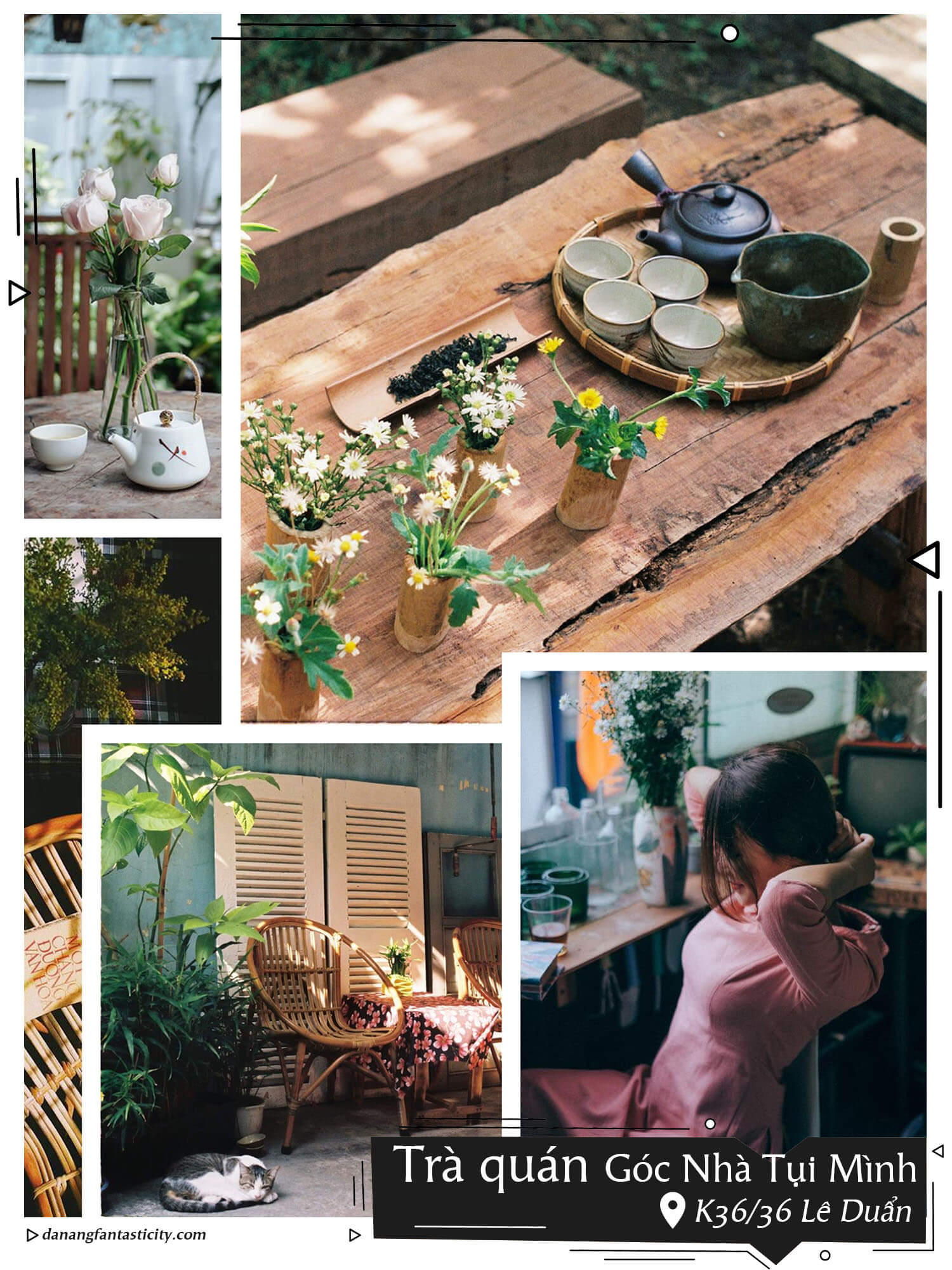 Tea house: Goc nha tui minh is located in a small street in the middle of the city center, ideally for those who prefer a slower lifestyle and look for a place to read a book and enjoy a hot cup of tea. The tea house place is named "The corner of our house", for you to feel comfortable and cozy like home.
All special tea from Vietnam can be found here, at very reasonable price from 15,000 to 35,000 vnd.
13. The Garden Da Nang Restaurant
Address: Lot 14, Restaurant Area 2, Vo Nguyen Giap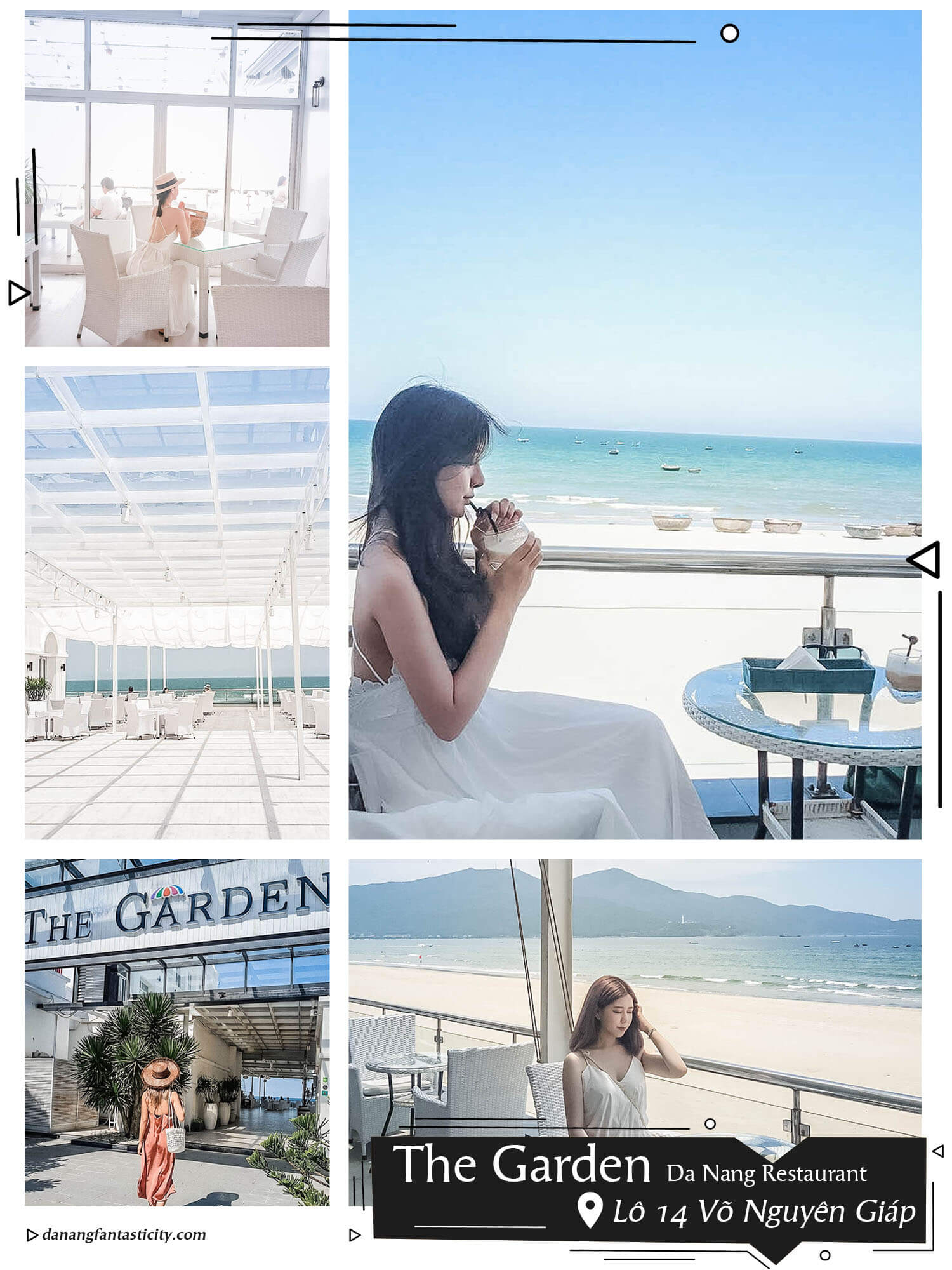 Located on Vo Nguyen Giap street, looking out to the sea, Son Tra Peninsula and Linh Ung Pagoda, The Garden has an excellent view of Danang beach.
The café has an impressive Mediterranean style with white tone from the chairs and curtains. The sunshines are knitting into the beautiful white and blue from the ocean, ensuring many chances for good photos here.
14. NAM House
Address: 15/1 Le Hong Phong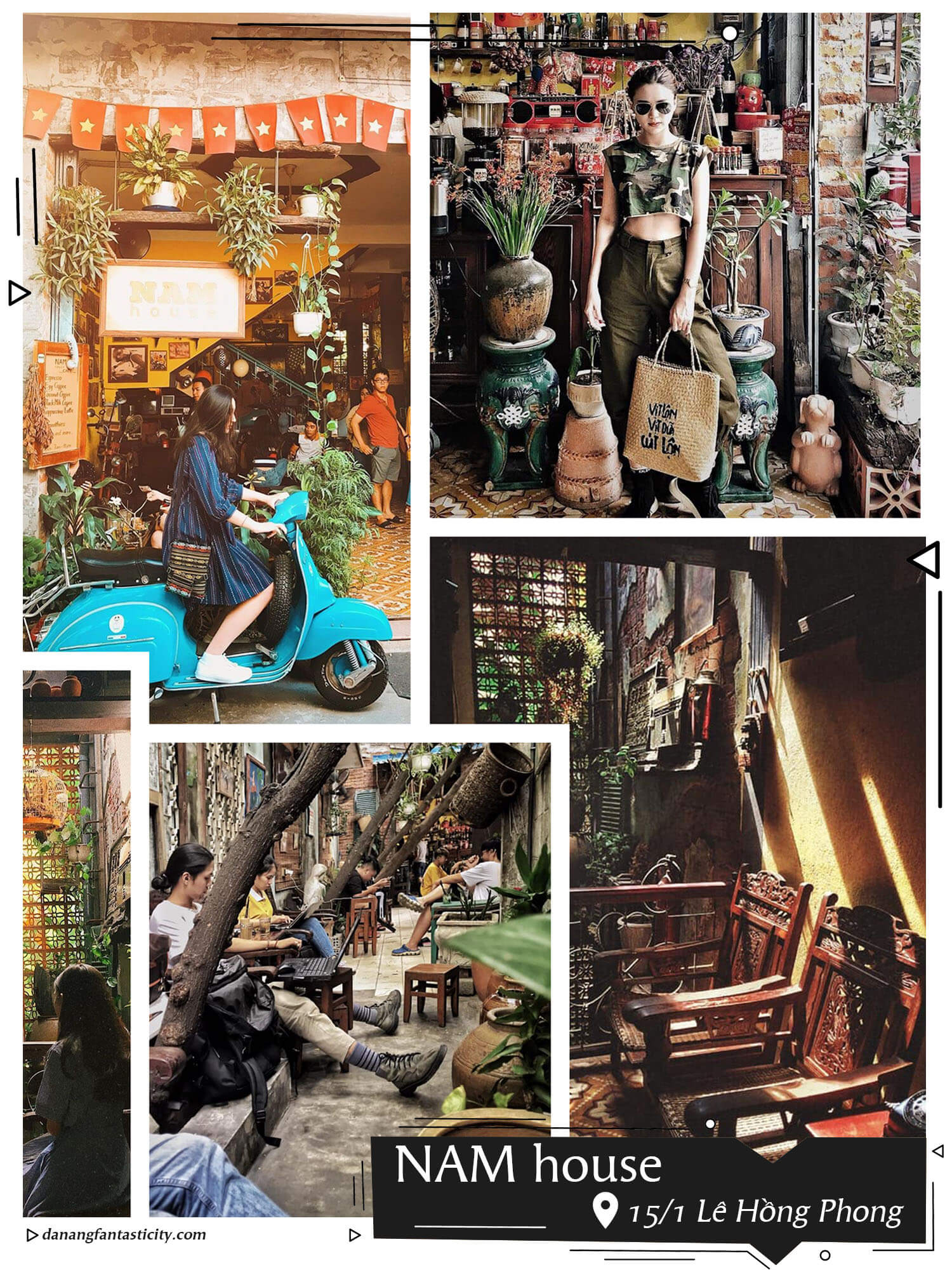 Nam House has its idea from residential houses from many years ago, with daily tools and equipments used as decorations.
Indulge in a retro atmosphere with old cassettes, radios, black and white TV…to the photos on the wall, old furniture. Come to Nam House for a feeling of nostalgia and a craving of the old days.
15. PAVILION GARDEN Restaurant Coffee
Address: 122 Quang Trung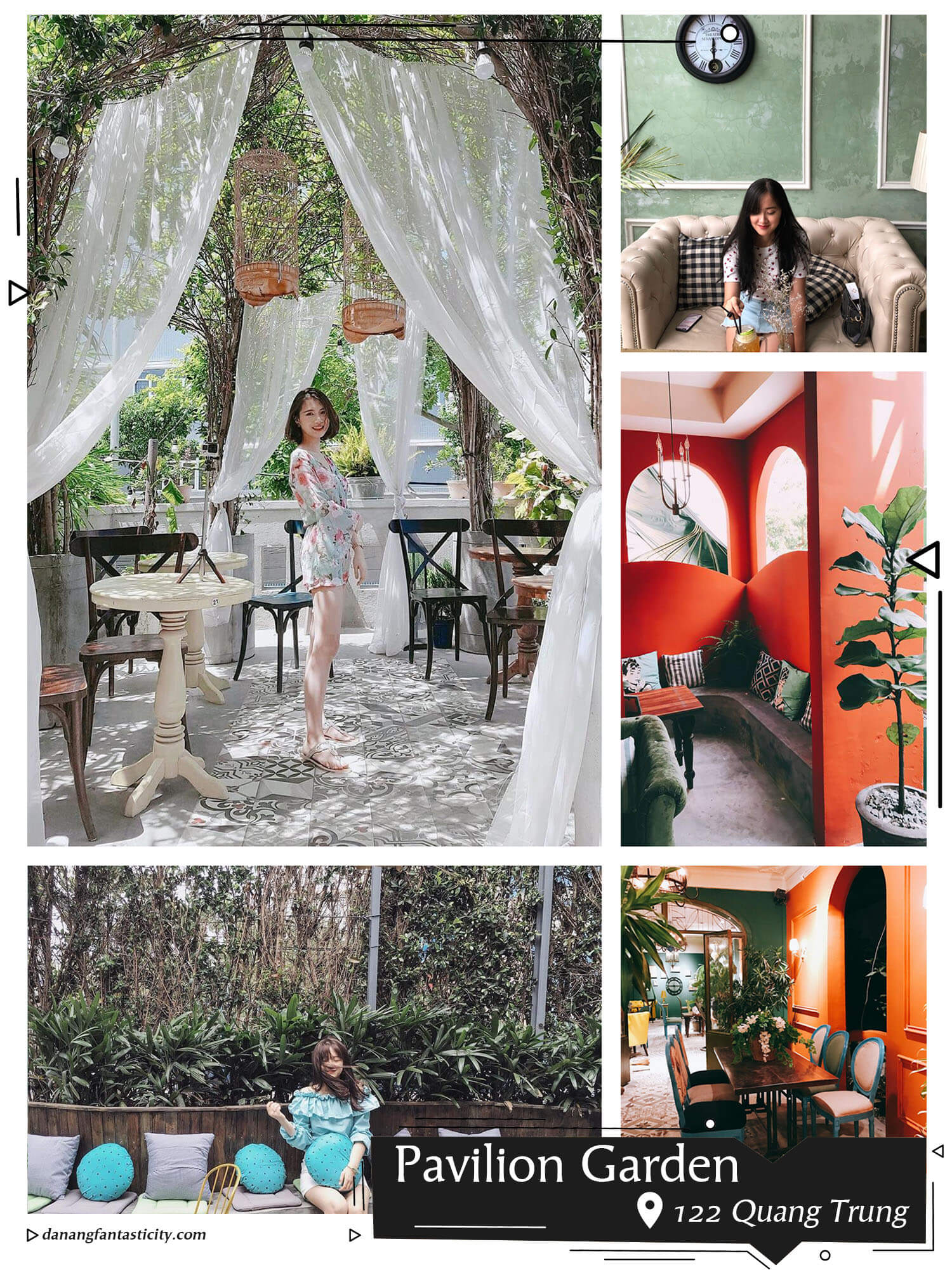 PAVILION GARDEN Restaurant Coffee is spacious with 3 levels and balconies on each level. Each floor is decorated differently.
The balconies are the highlights here where you can enjoy the views from the street, the traffic and city life…
16. Goblin Coffee & Dessert
Address: 18 – 20 Le Hong Phong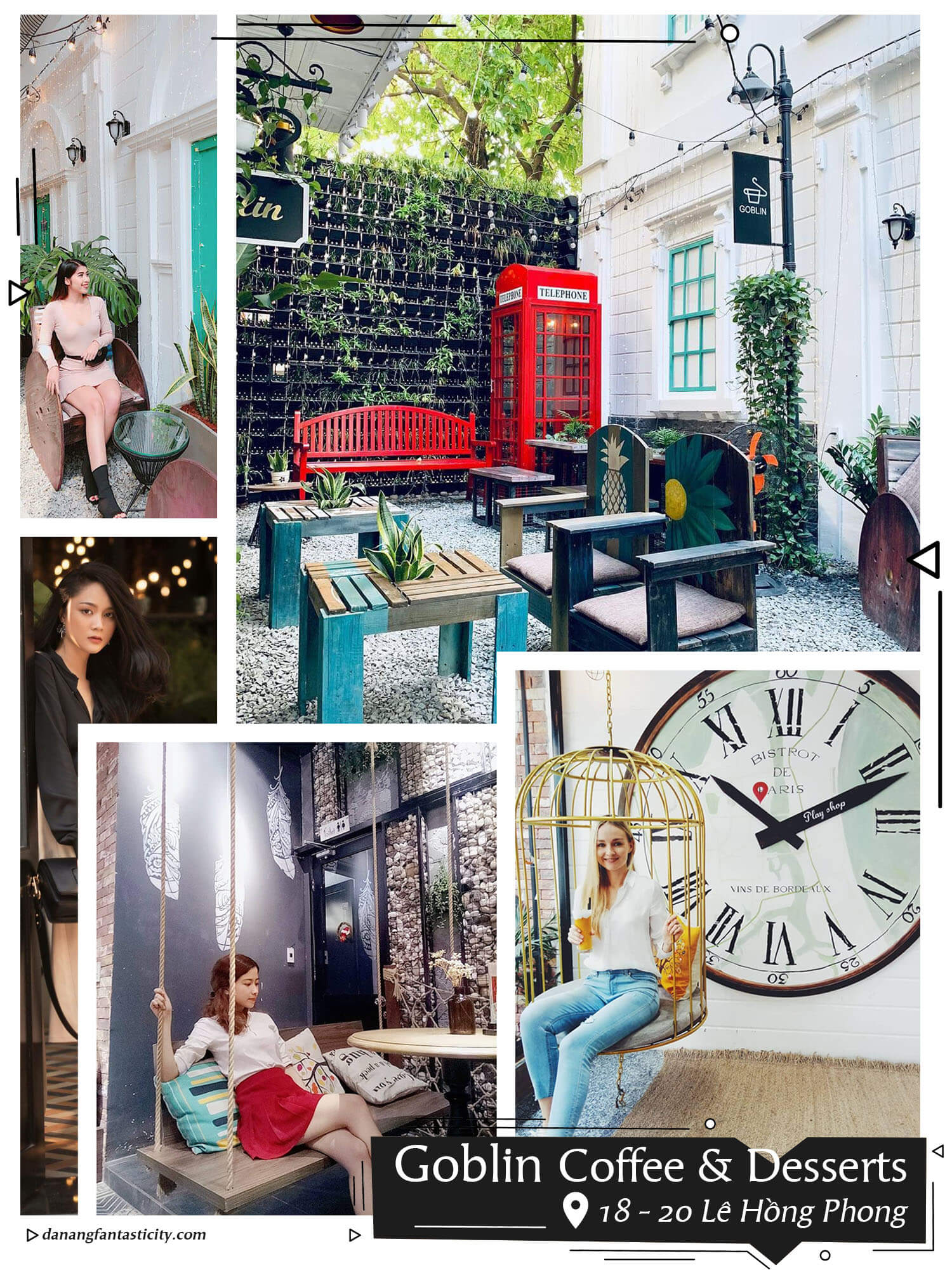 Inspired by the Korean movie Goblin, Goblin Coffee & Dessert will bring you to a dreamy atmosphere just like a love movie.
At every corner in Goblin Coffee & Dessert, only simple poses will be needed for a fancy background, bringing your Instagram up to the next level with those influencers.
17. La Pensée Café & Librairie
Address: K27/202 Yen Bai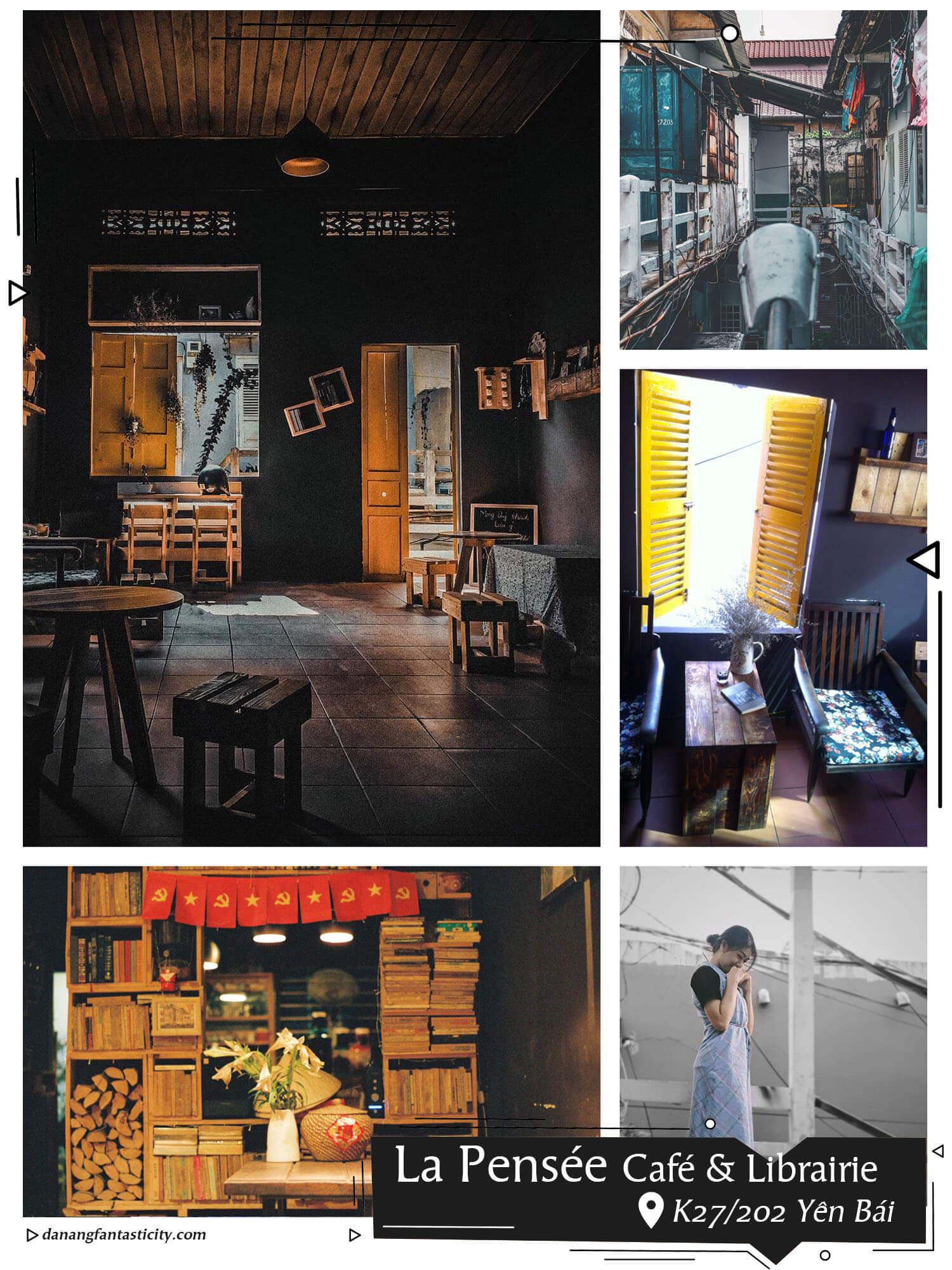 Located in a small alley at K27/202 Yen Bai street, La Pensée Café & Librairie brings visitors a quiet are to work, read, relax or do team projects. This is the first café in Danang to use a small room in the apartment area to develop a book café.
Besides, at La Pensée Café & Librairie, customers can buy the books they like. With a lovely corner, the café serves tropical drinks such as mulberry juice, apricot juice, different kinds of tea, coffee, fruit juice and sodas…
Binh Phan – Top cafes you HAVE TO try in Danang
Latest Posts