Pullman Danang Beach Resort – Immerse yourself in endless nature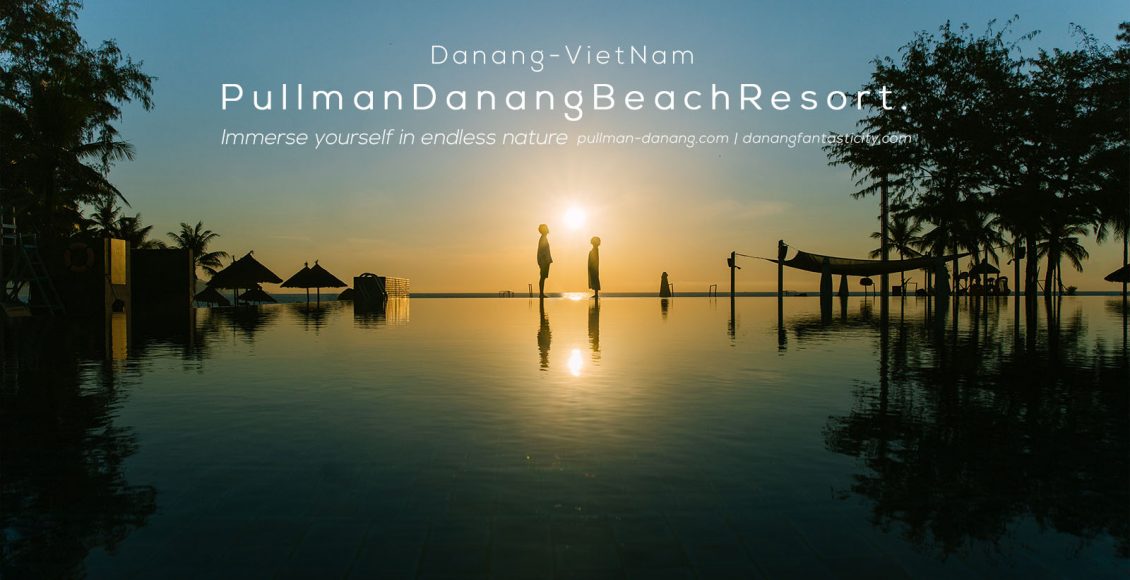 Every summer, we both prefer going to the beach. As we love nature, we have chosen Pullman Danang Beach Resort for this trip.
This resort has offered us not only the sophistication in the hotel design or the inherent comfort but also the relaxation and joy just for us two.

We were unsure to stay at resort as it might be quite far from the city center. However, Pullman Da Nang Beach Resort is super convenient as it is located right at Bac My An beach which is really accessible with any kinds of public transport.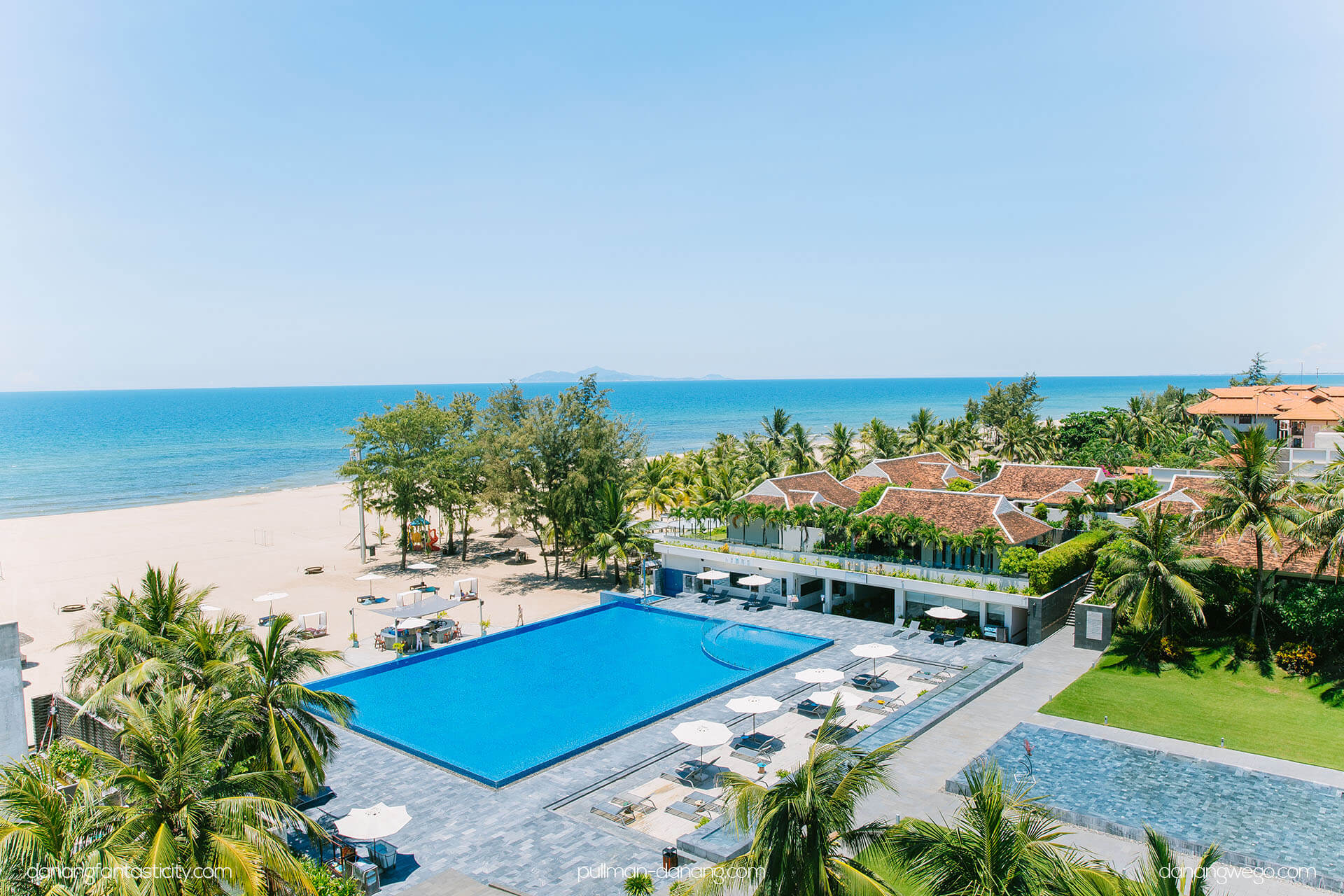 Address: 101 Vo Nguyen Giap street, Ngu Hanh Son, Da Nang.
Website: https://www.pullman-danang.com/
Phone: +84 (0) 236 395 8888
Email : H8838@accor.com

I was really impressed with the design of the ventilation windows and natural light at Pullman Danang Beach Resort. There is no stifling or constrain there, but you will always inhale the cool sea breeze, or walk along the open and sunshine-flooding corridors.
The area in front of the elevator is also decorated with colorful boats, you can take lots of lovely photos here and there.

I was very impressed with the dragonflies perched on the lake, directing my eyes to the vast sea right in front of me. A very soft Asian touch that makes me unable to take my eyes off.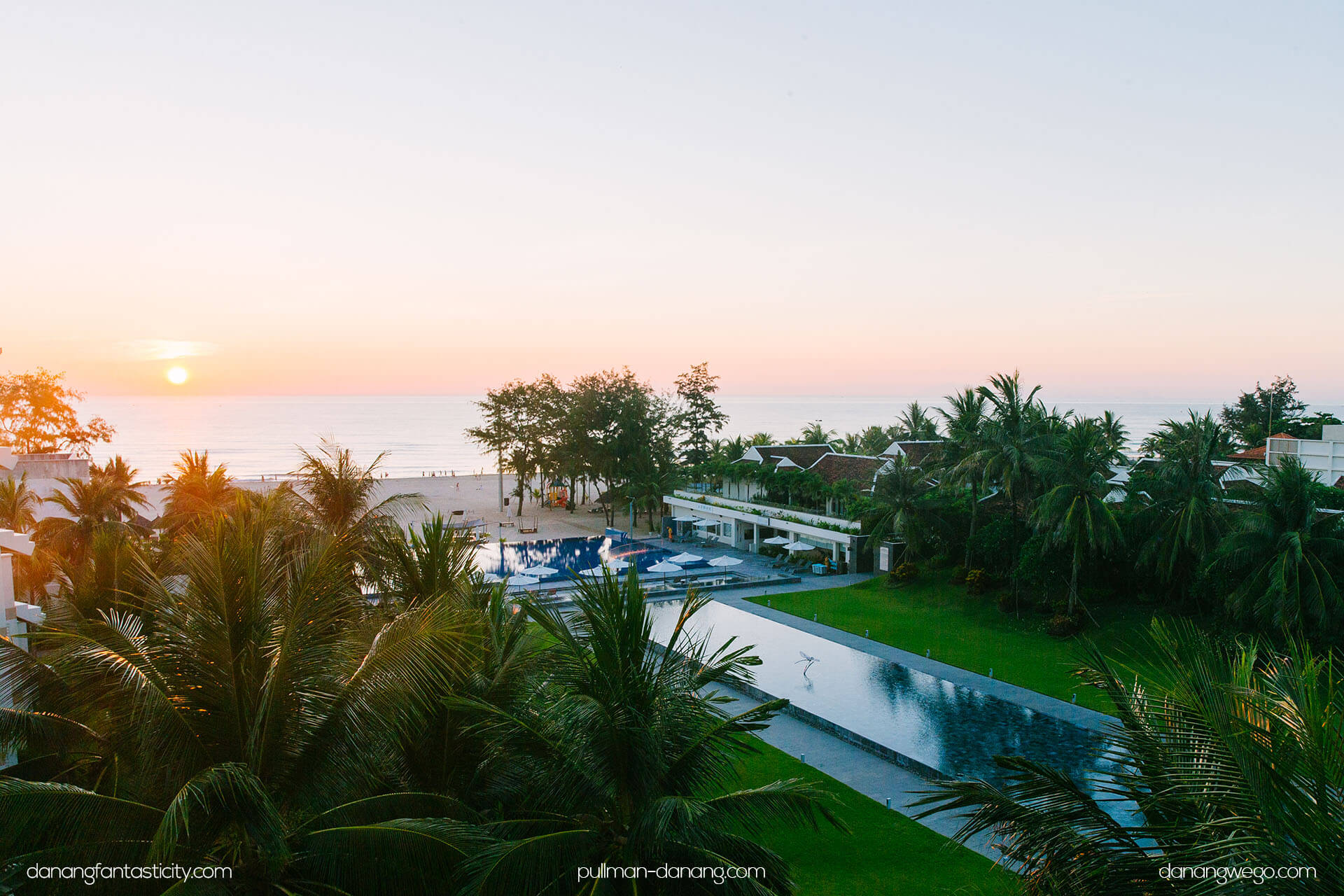 In my view, this is the very first photo spot you need to check out at this resort.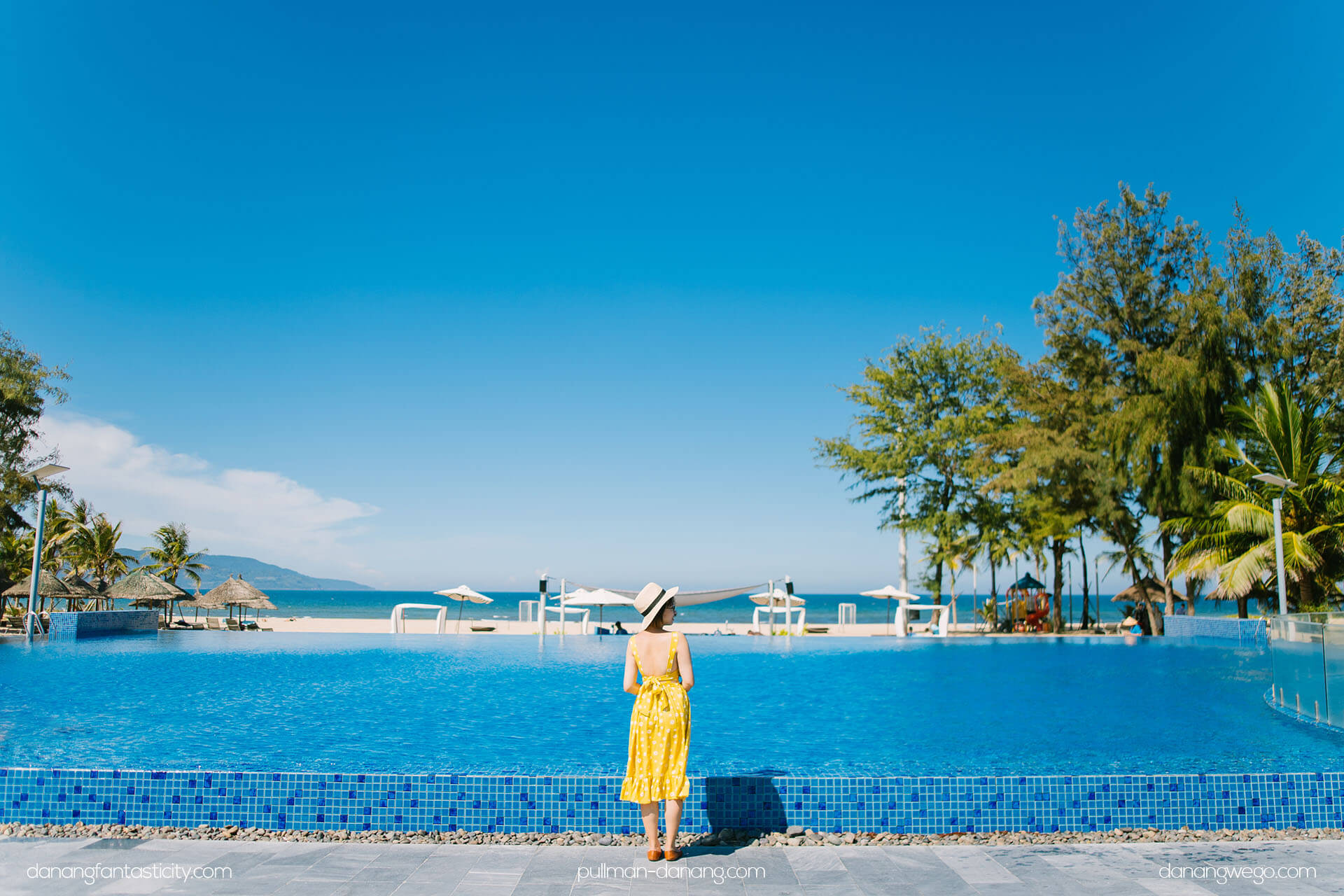 If you could get up a little early, you can observe the beautiful natural gift of a bright golden sunrise on the extremely gorgeous swimming pool.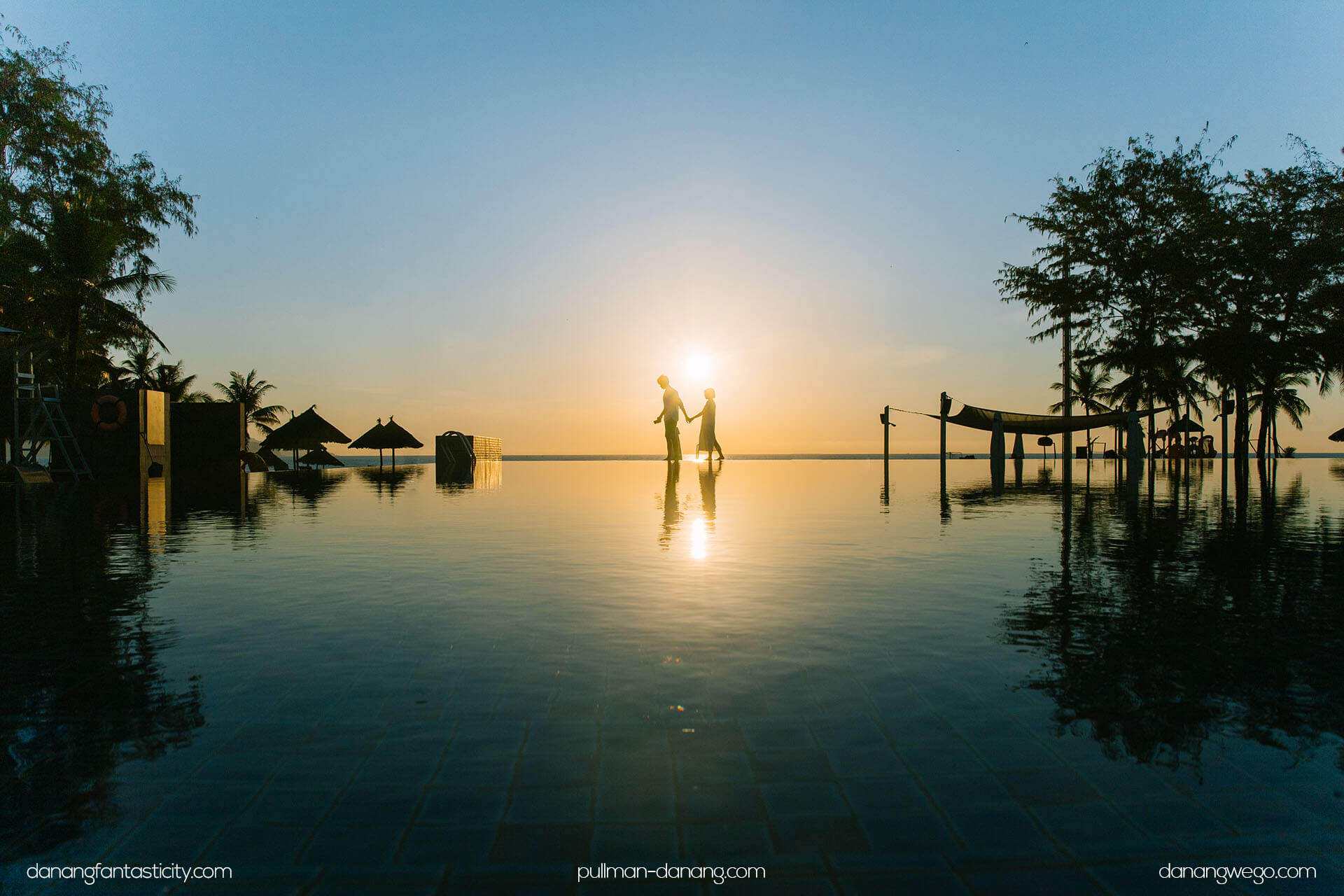 The two of us ambled along the pool, took photos in the early morning for us two, and felt super happy looking at these pictures for a while.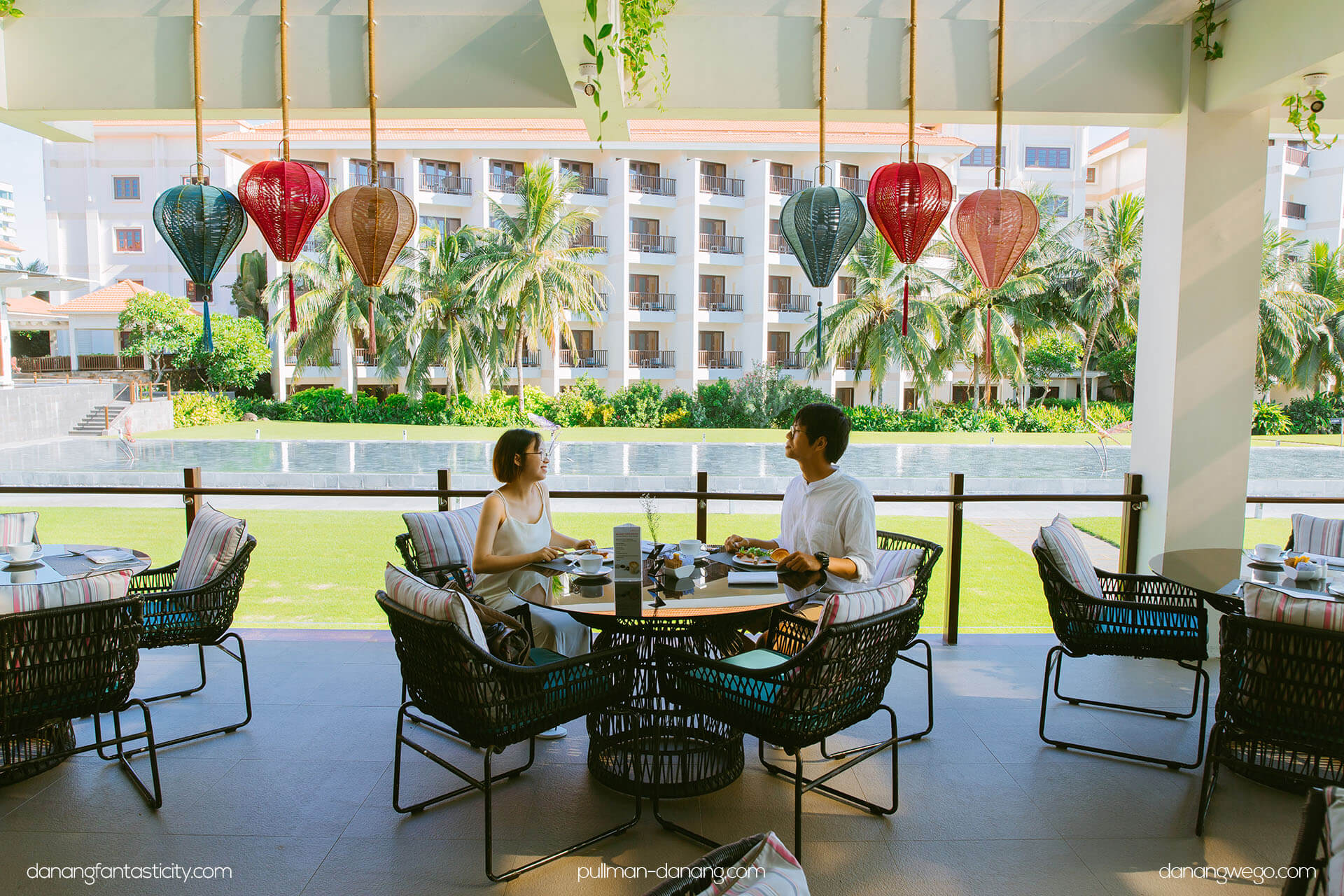 Epice Restaurant is the place for breakfast buffet. The restaurant is designed with the "Hoi An" lanterns and boasts the view overlooking the pool and cool grass. It is a great choice for meals to kick off your day.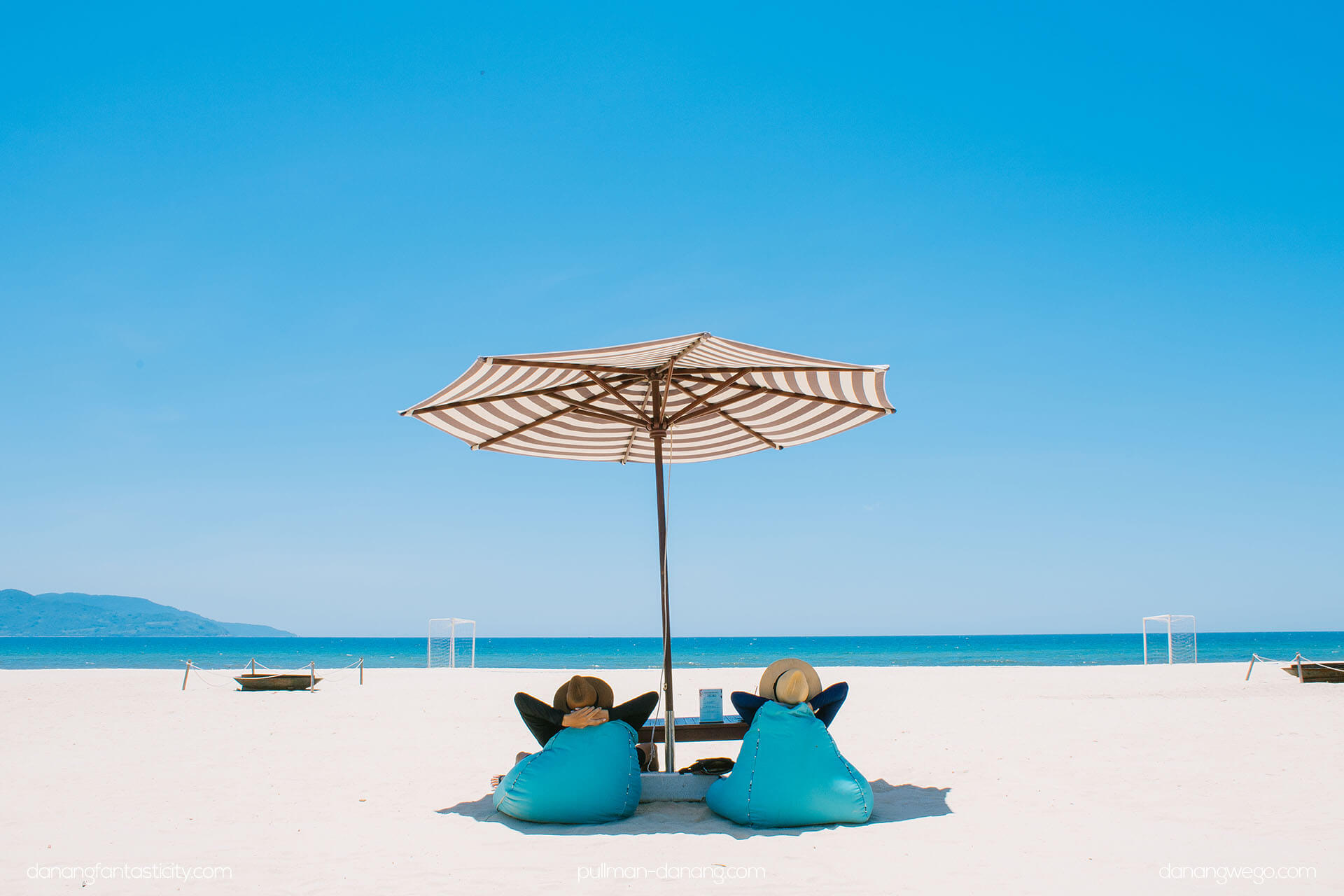 Azure Beach Lounge Restaurant is located on the right of the pool, divided into 3 spaces (indoor, outdoor, setup chairs along the beach).
We love the sunlit view and the blue sea, so I choose to sit outside. The staff here are so cute, they always ask if we need anything else to drink, and are interested in setting up seats for us too. I will share the most interesting experience there later.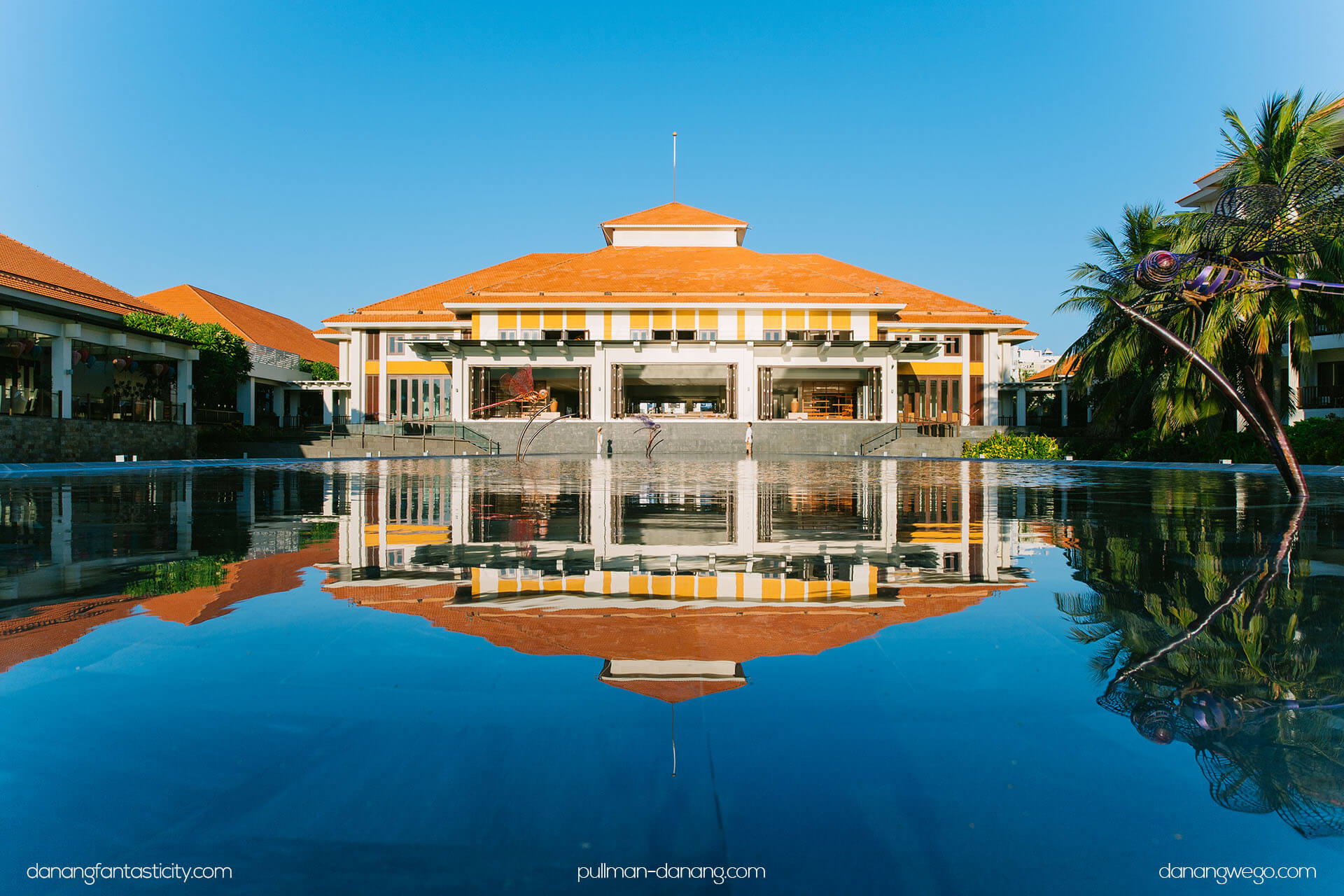 Infinity Bar: From the bar, you will have a view stretching along the lake with the highlight of the dragonflies, through the infinity pool and to the deep blue horizon, just like the name "Infinity".
I really like a quote in the menu of 'Infinity Bar':
'Your greatest awakening comes, when you are aware about your infinite nature.'

Wherever you go within this resort, you will admire the greenery. Right after I entered the room, I saw the first greeting from Pullman Danang Beach Resort "Enjoy your stay" on the table with leaves and flowers which were so lovely and impressive.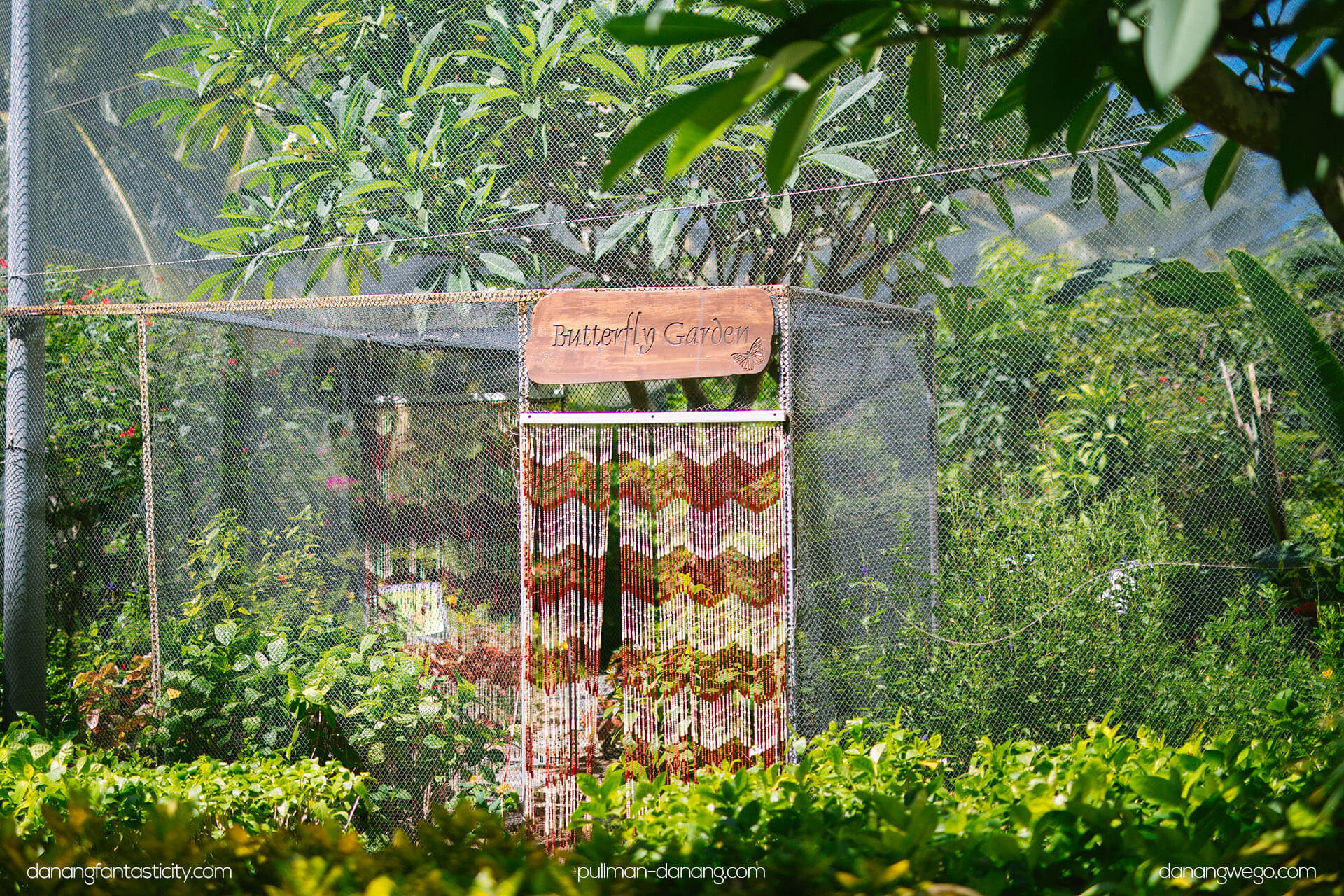 There is also a Butterfly Garden housing a variety of butterflies. We were there at midday so it was kind of sunny and hard to watch butterflies. In return I see many species of beautiful plants and flowers. So if you have time, let's drop by to find all sorts of butterflies in the garden, and soak up the green space dedicated to nature lovers.

A criterion for satisfying a couple's travel, like us, is that we can both take time to relax and have memories to bring back. Pullman Danang Beach Resort has given us both these important things, making our trip really fascinating as all we expected:

The day we went was the first Sunday of the month, so it was fortunate to have had the opportunity to experience "Bubbles, Beats & Brunch" at Azure Beach Lounge.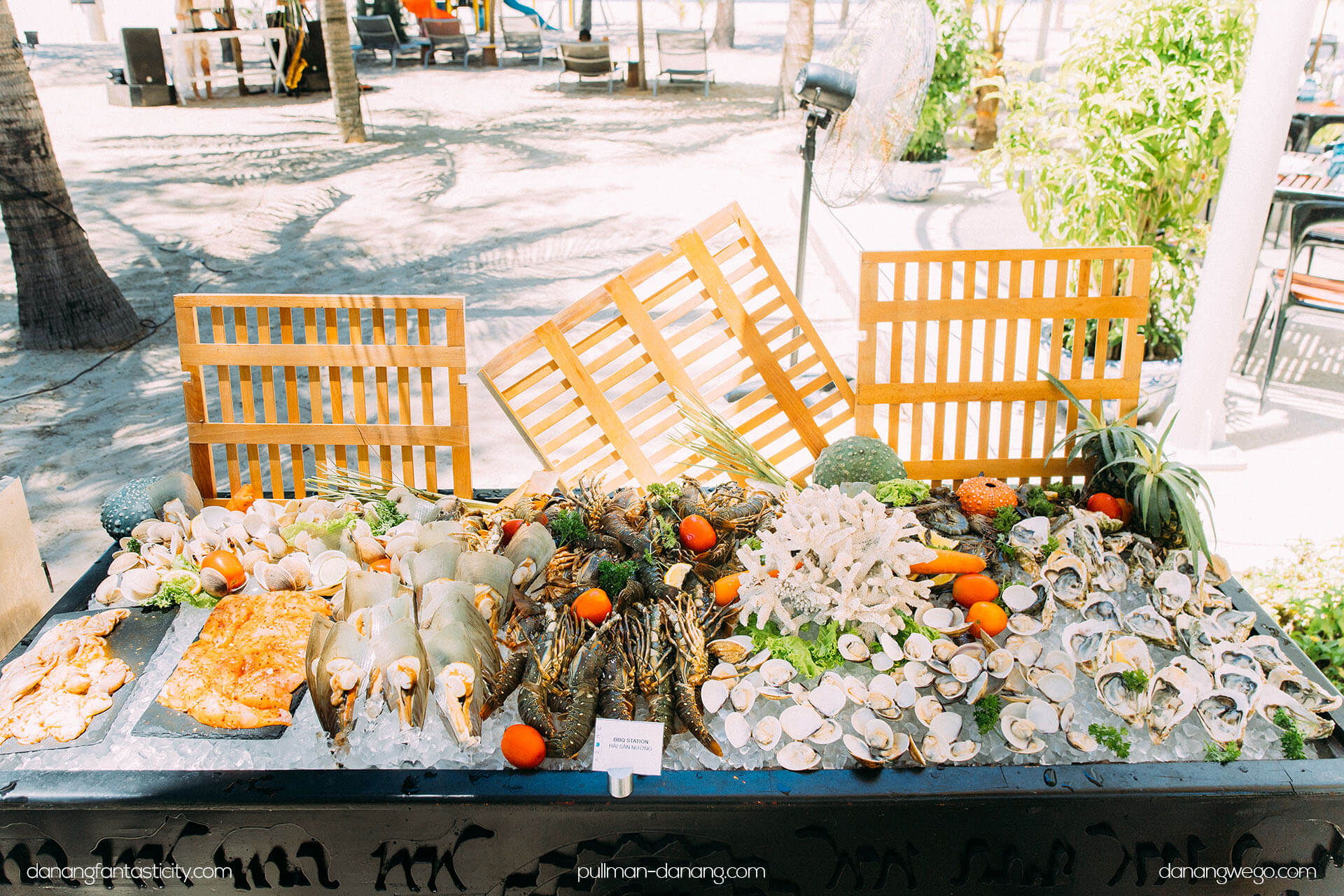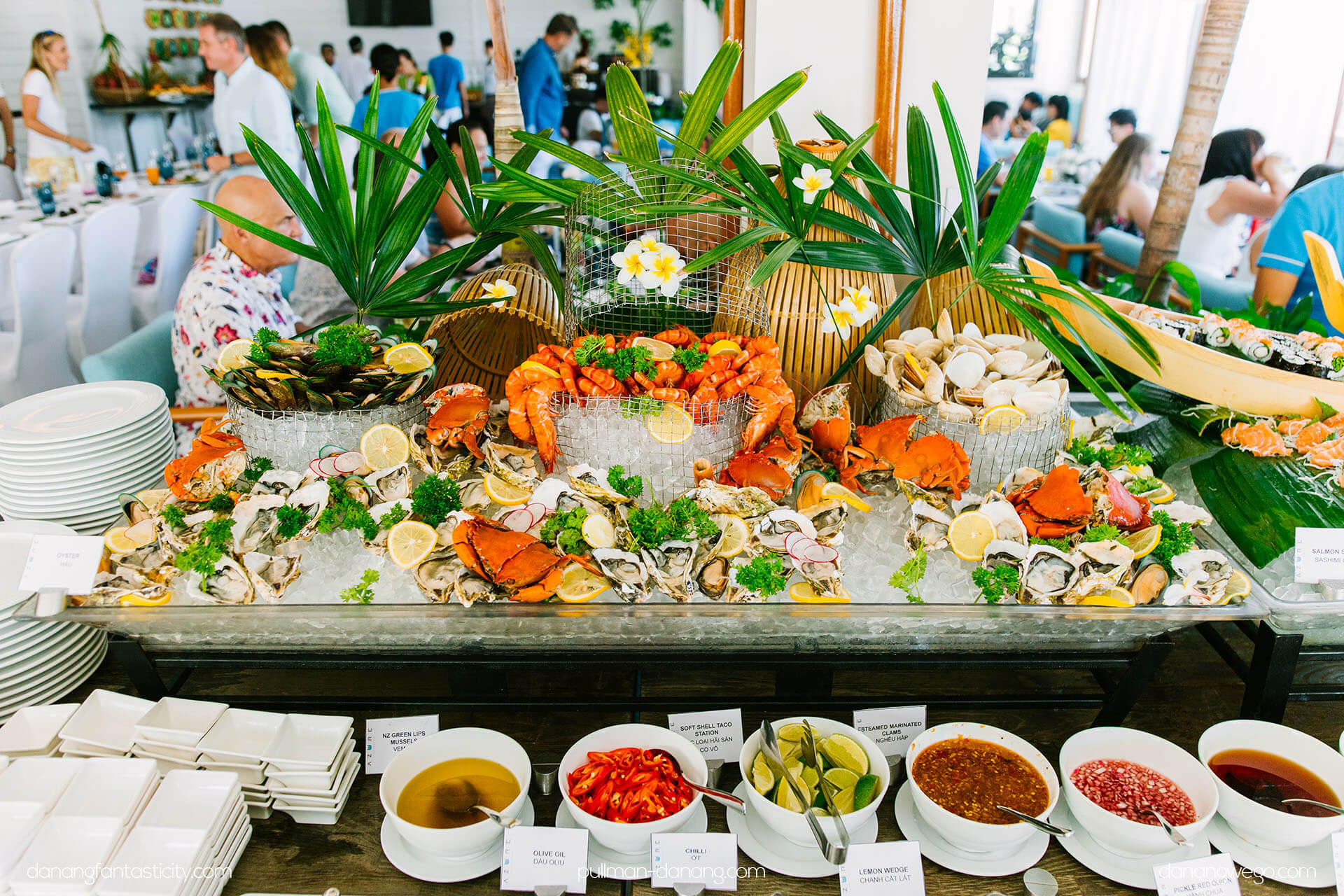 For those who love seafood, this is a "rare hard to find" opportunity when you can enjoy fresh seafood (lobster, crab, oysters, salmon, …) and lots of steaming dishes (pork chops, monolithic cows, …), as well as the beautiful sea view. Besides, there are many desserts, drinks or cocktails to cool down in the sunny afternoon.
Especially for couples, do not miss this occasion, it will be really wonderful to have meals in the joyful live music of the summer, and listen to the ocean waves patting your ears.
For those of you who can't schedule on the first Sunday of the month, don't worry as the seafood & barbecue buffet is still available every Saturday (from 5:30 pm to 9:30 pm at Epice restaurant).
Details are as below:
✅ 980,000 VND NETT / person including 1 unit of drinking water.
✅ 1,180,000 VND NETT / person including unlimited drinks, beer, wine and soft drinks.
Discount 50% for children from 6-12 years old and free for children under 6 years old.
Apply for Accor Plus members.
You can book a table at: https://www.pullman-danang.com/offers/seafood-buffet-dinner/
☎ (+84) 236 395 8888
📩 dine@pullman-danang.com

We are impressed by Pullman Danang Beach Resort because of the recreational activities that guests can get during their staycation. This time in Da Nang, there is a very popular SUP activity and we are looking forward to sailing in the sea once.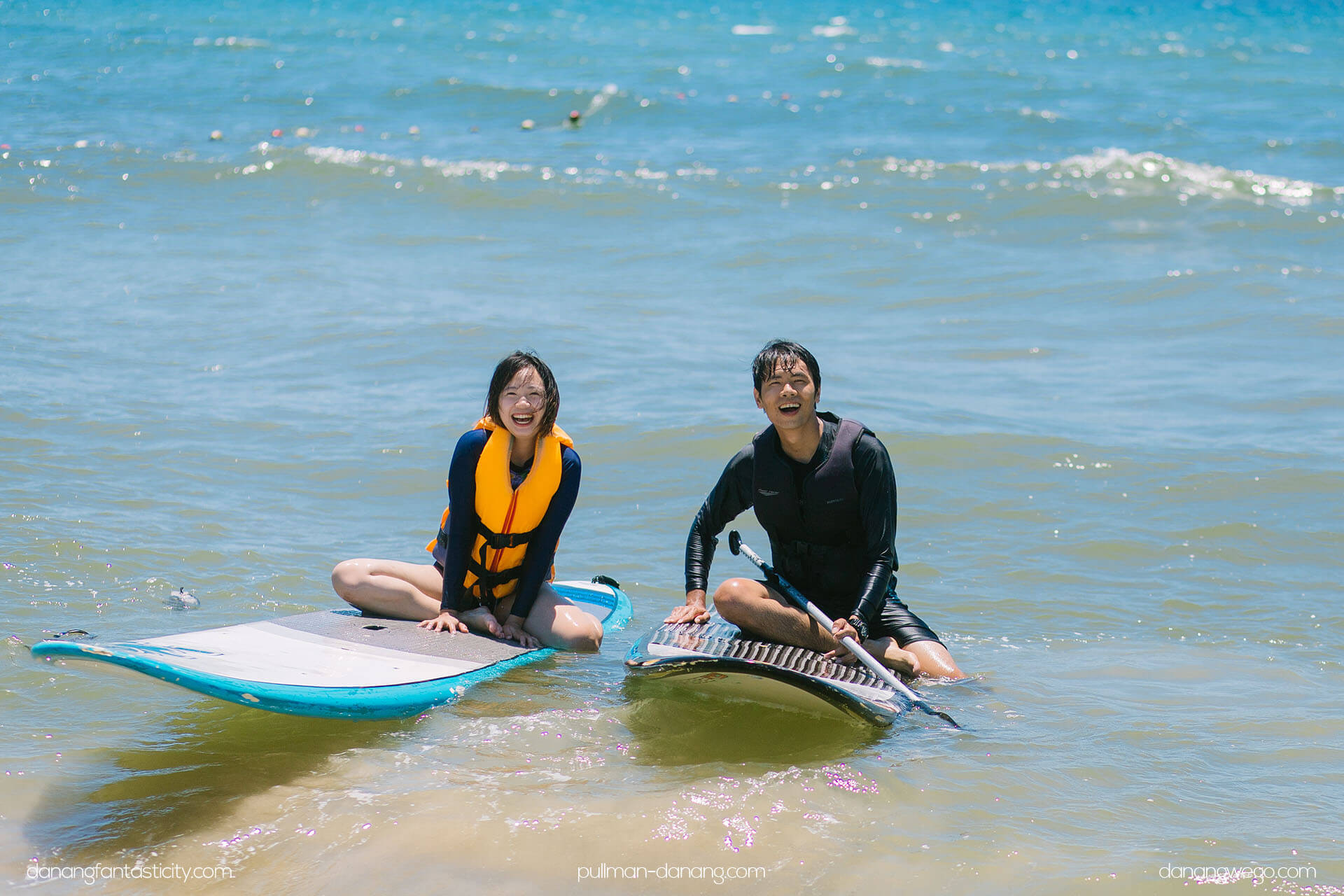 All you have to prepare is a sea-loving soul that (even if you fell of the board, it is still fun), and if you want to take photos, please bring a waterproof bag to take the quality pictures of Kayak or SUP. Especially, this is a free activity for Pullman guests, so you only need to book 1 day in advance.
We were guided and explained in details about Kayak rowing techniques, as well as how to stand SUP. Still, in reality, it was challenging and we were kind of clumsy as we have never tried it out. Kayak seems to be quite simple, but SUP is difficult. At first, both of us fell into the water loads, but once we conquered the SUP, it was super fun.
If I would vote for the "must try" thing at Pullman Danang Beach Resort, this activity first must come on my top list. It's worth-trying!

From my room looking over the balcony, I saw the sea in every state. The sea in the morning turned bright red, the sea in the afternoon was blue by the white sand and I was really fortunate to see the full moon.
The USP of Pullman Danang Beach Resort is the sea view, I believe. When we have time, we turn our eyes to the waves, let our souls rest for a while, to be together softer and more harmonious. For the people in love, everyone needs such a space and freeze time for himself, and with his partner.
Reward yourself such moments at Pullman Danang Beach Resort, since life and love need such the peace and serenity. A trip is enough for the sea to take away the exhaustion at work, and keep the pure human part without any worries, to regain balance before entering the rhythm of normal daily life.
Thanks to the review of Travel Bloggers: Vu Kim Ngan & Nguyen Tu Thang
Latest Posts