Museum value in cultural and historical flows
Visiting the museum is the shortest way in understanding the culture and history of each nation and peoples. Museums in localities not only preserve the long-standing cultural values ​​of the land but also create values ​​for the economy, catching the attention of the community and society …
Your feelings, our motivation
That is the affirmation of Mr. Huynh Dinh Quoc Thien, Director of Da Nang Museum when sharing about the feelings of visitors kept in the memorial book placed at the reception desk at the museum. No matter short or long, each comment are treasured and read over and over again by museum staff like him. He is content with the compliment while the criticism encourages him to improvise museum images in the hearts of visitors.
The memorial books at the Da Nang Museum are written in many different languages ​​such as English, Australian, French, Russian, Korean, Chinese … indicating the diversity of visitors coming to this museum. In particular, it is easy to spot the sincere comments of tourists from everywhere such as: "The visit was very interesting, thank you Danang Museum" by Mr. Noie Normand from Thailand; "The museum is really interesting. I am super excited to learn about the history of Vietnam and Da Nang "by traveler Katie Vincic from America.
Meanwhile, Son Hao, a student of class BT 33, Department of Cultural Heritage, Hanoi University of Culture wrote in a memorial book: "Da Nang Museum is really a red address to research the local history and development ". Tourist Tran Ngoc Bao Khanh shared: "Visiting the museum is one of my best experiences. There is a gathering of cultural and historical beauty that has brought me knowledge about the country "…
According to Mr. Huynh Dinh Quoc Thien, the comments  and gratitude from visitors are really spiritual gifts, a great motivation for museum staff to put greater efforts in their professional job, exhibition and description of artifacts.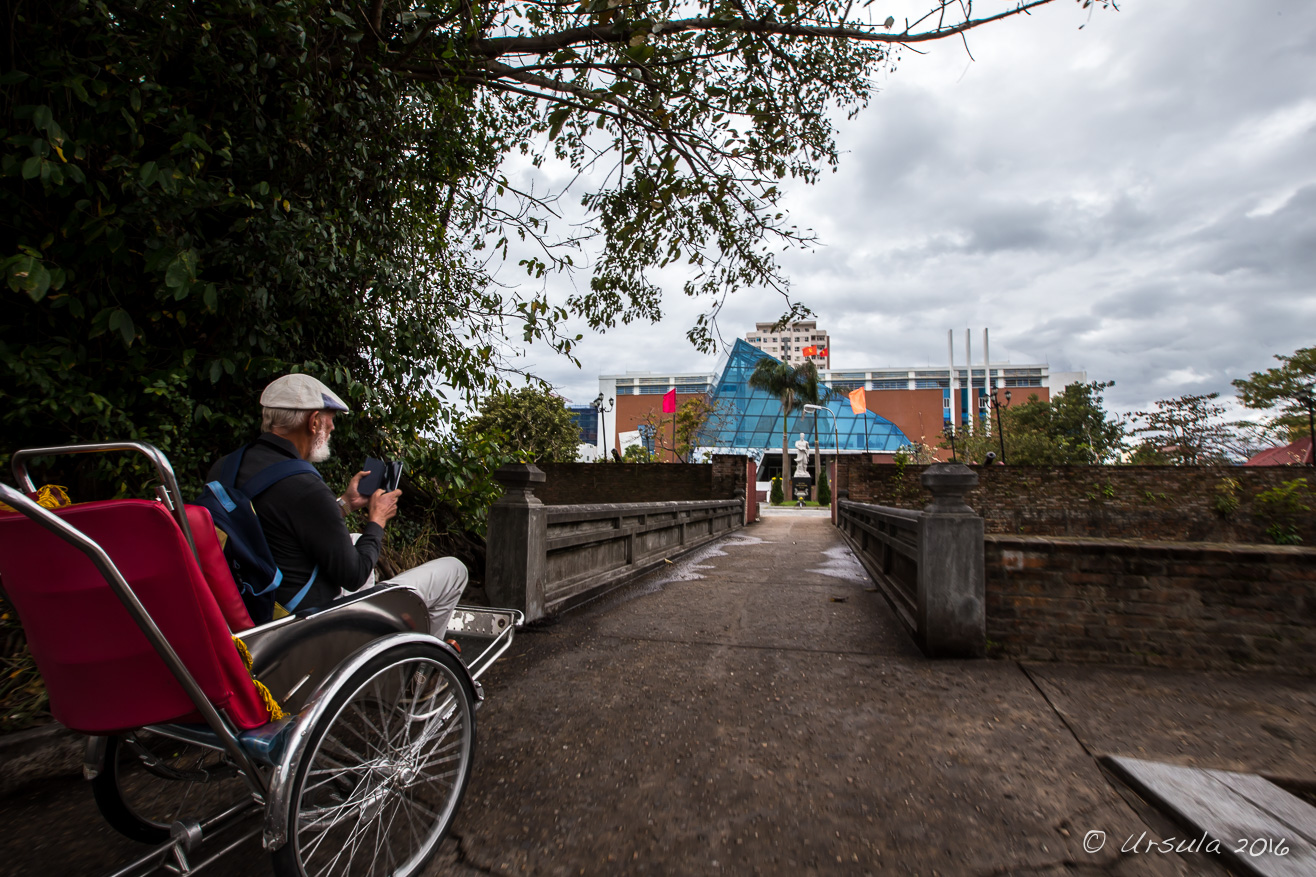 And, among the comments visitors leave at the museum, Mr. Thien pays special attention to the feelings of the students as they let the museum understand what the younger generation needs, what they feel after seeing historical and cultural artifacts of the nation and the country on display and preservation here.
In a memorial book located at the Da Nang Fine Arts Museum, we read an fascinating line by an anonymous guest: "Yesterday, I and a friend of mine came and discovered this cool place. There displays numerous works of art with different genres, from painting to wood carving, from graphics to sculpture. Visitors includes local, expats and foreign visitors. In particular, the space on the 3rd floor is very beautiful displayed."
Turn to another page, there was quite long sharing of a foreign tourists: "Great contemporary Vietnamese art. The museum is quite diverse on the subject of displays. You can learn many things from ancient Vietnamese art to the modern one, as well as partly understanding Vietnamese history. There are occasional thematic exhibitions too… "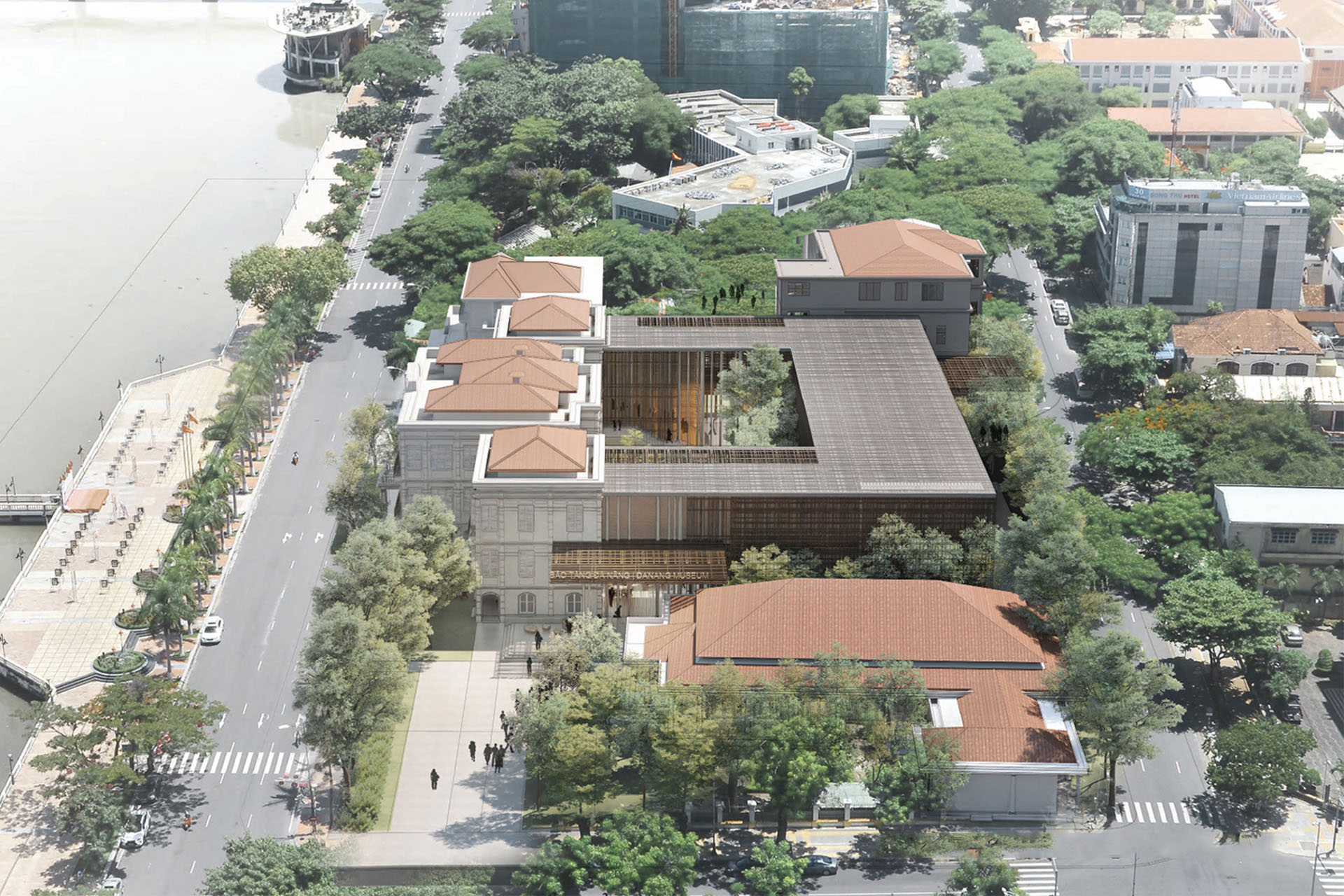 In 2020, the City People's Committee approved the investment project to build and renovate 42 Bach Dang facility to build the Da Nang Museum with a total investment of 504 billion VND from the city budget.
In partnership with tourism
On the tourist map of the Han River, the Da Nang – Thanh Dien Hai Museum is attracting more and more attention. In 2017, the number of people visiting the Danang Museum was 198,923, in 2019, the museum welcomed 333,087 visitors, an increase of 67.4%.
It can be said that, after nearly 10 years of opening for visitors, the Da Nang Museum has far surpassed the original purpose of being an important cultural institution of the city, gradually becoming an attractive tourist destination and receiving plenty of positive feedback.
Mr. Huynh Dinh Quoc Thien said that many travel companies have trusted and included Da Nang Museum on a fixed tour program to serve foreign tourists from Korea, China, Japan, Europe – USA, Southeast Asia … on their trip to Da Nang city.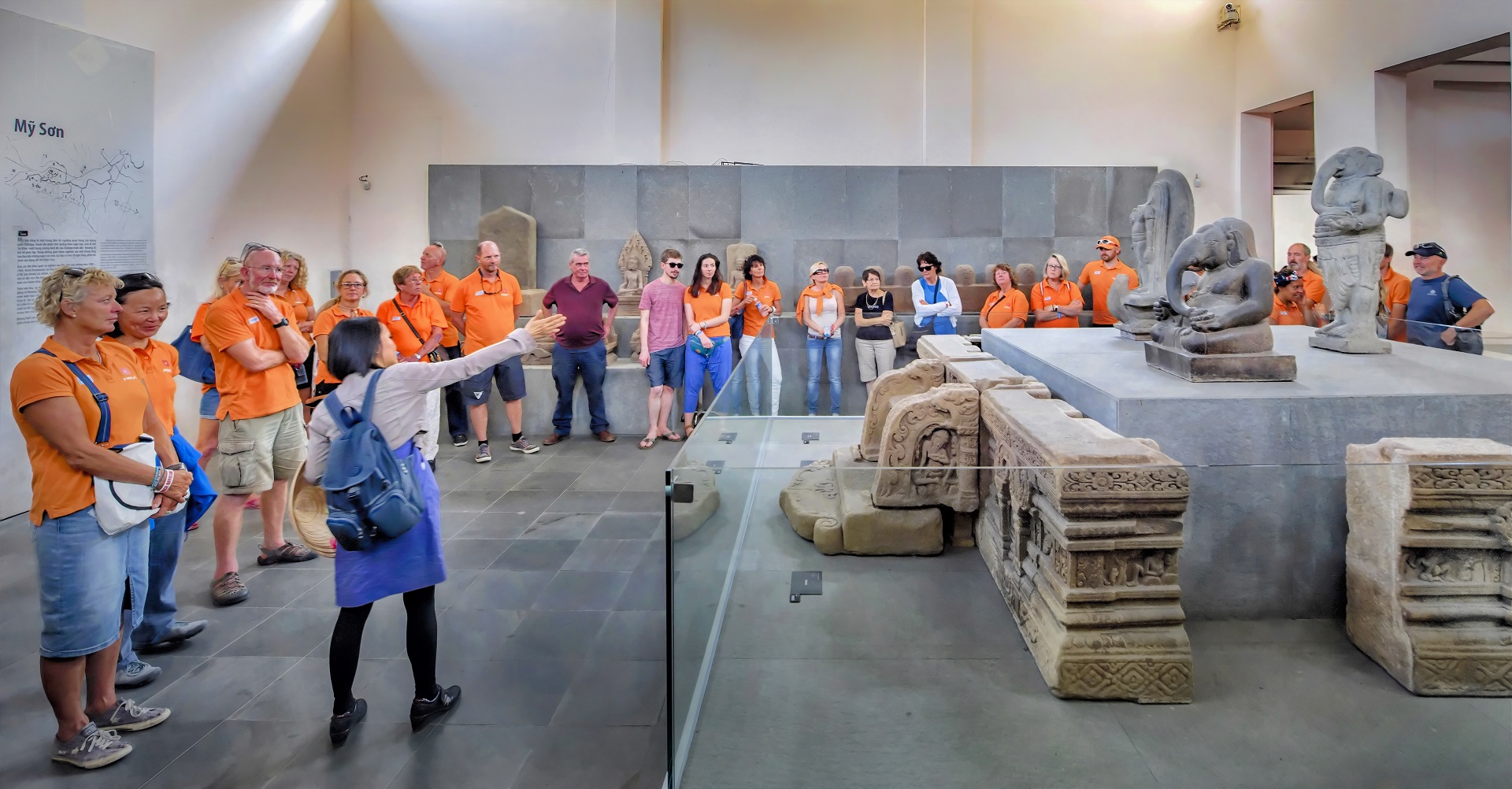 At the Da Nang Museum of Cham Sculpture, from the initial space of about 600m2, displaying 270 artefacts, now it has been expanding to nearly 4,500m2 and exhibited more than 300 artefacts and more scientific decorations.
Mr. Nguyen Van My, a tourist from Hoan Kiem District (Hanoi) said it was surprising to have exposure to many different exhibition spaces at this museum, such as My Son Gallery, Sa Huynh Gallery, Tra Kieu gallery …
Each location possesses different cultural values, creating the richness of Cham Pa culture. "Once visiting the museum, the old artefacts widen the tourists' knowledge of national history and culture while there are many interesting secrets that need further exploring," Mr. My said.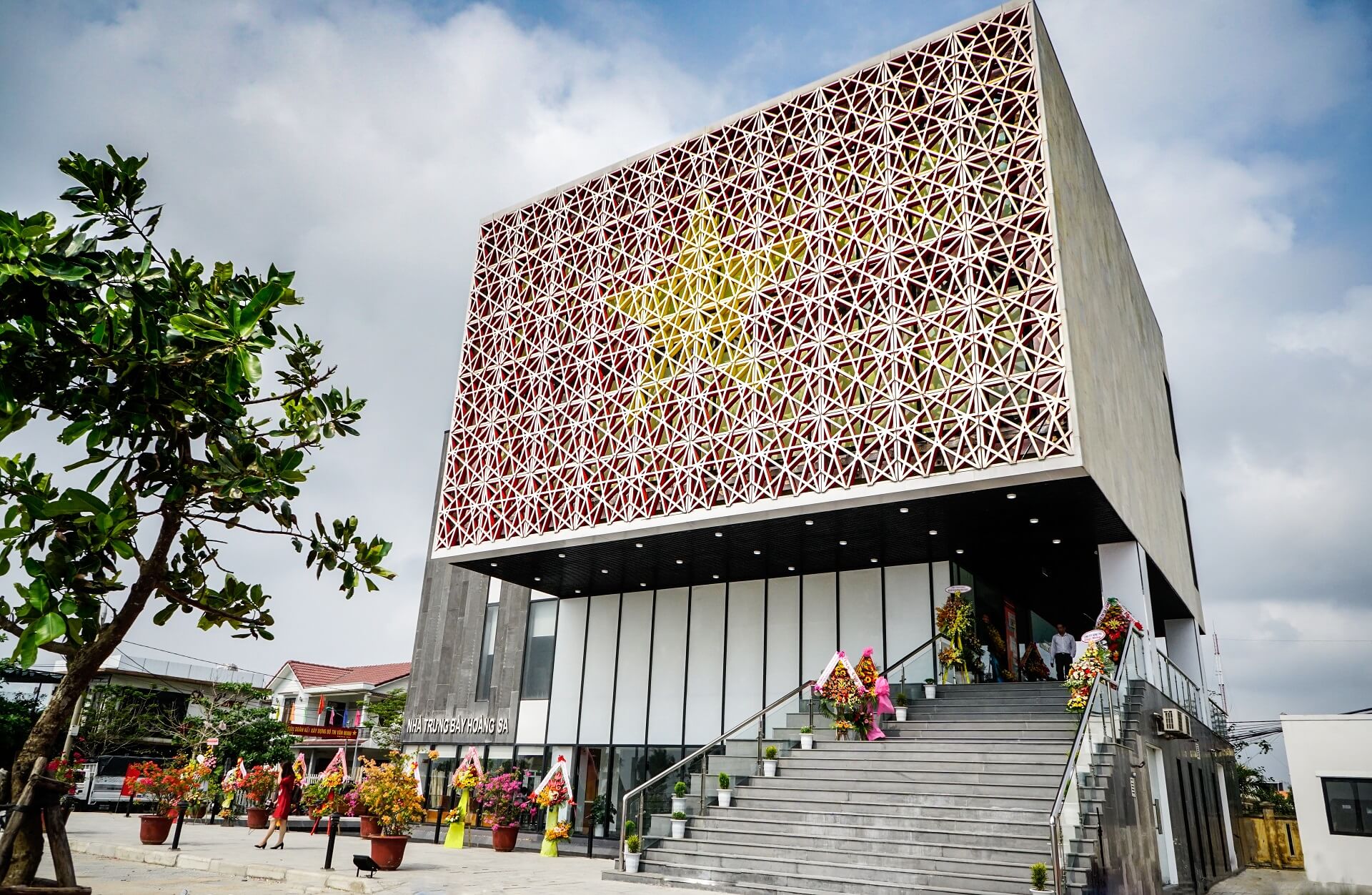 As one of the earliest tourism companies to take initiative in bringing Da Nang Museum, Cham Sculpture Museum, Hoang Sa Gallery to tours, Mr. Truong Minh Huy, Head of Domestic Tourism Department, Saigontourist company – Da Nang branch stated:
"Compared to domestic visitors, foreign visitors are keener on museum, mainly the Museum of Cham Sculpture and Da Nang Museum. I realize that putting museums on tours has a certain significance. Via museums, we can convey various messages to international friends about the history of formation and development of Da Nang in particular and of the Vietnamese people in general. "
Recently, the Museum of Cham Sculpture actively built its brand through artefacts and marketing communication; in which the museum actively cooperates with the Department of Tourism in introducing the museum, periodically organizing professional training courses for tour guides; regularly providing information and publications, promoting the museum image to visitors through the Da Nang Centre for Tourism Promotion, the Da Nang Tourist Support Centre, hotels, resorts and taxi companies such as well as city tourism promotional activities.
Mr. Tan Van Vuong, Deputy Director of Da Nang Tourism Department said that the promotion of cultural and historical values, including the activities of museums, has been closely coordinated by the cultural and tourism industry. Recently, the city tourism industry has paid attention to building and integrating the activities of museums into tourism projects and promotion schemes…
In addition, tourism businesses in the city also have introduced the museums in promotional programs, tour packages and famtrip … continue to coordinate and propose solutions to effectively exploit the potential and value of the museums to better serve the needs of visiting and learning about the land and people of Da Nang", Mr. Tan Van Vuong affirmed.
According to baodanang.vn
Latest Posts