Where should we go in Da Nang at night ? It is a common question for tourists visiting Da Nang to ask about the best places to go at night. The Vietnam Ministry of Culture, Sports, and Tourism has a night tourism development project for 2025, which identifies Da Nang as one of three localities that must create a separate night entertainment complex. Da Nang has made significant progress towards offering a variety of night services for visitors to choose from.
Let's take a look at some experiences with Danang FantastiCity:

Da Nang is famously referred to as the "city of bridges". Tourists can stroll at night while enjoying the city's breathtaking views on the various bridges that serve as the city's symbol. These include the Dragon Bridge, the Han River Bridge, the Tran Thi Ly Bridge, and the Love Bridge. The Merdragon statue is located near the Love Bridge.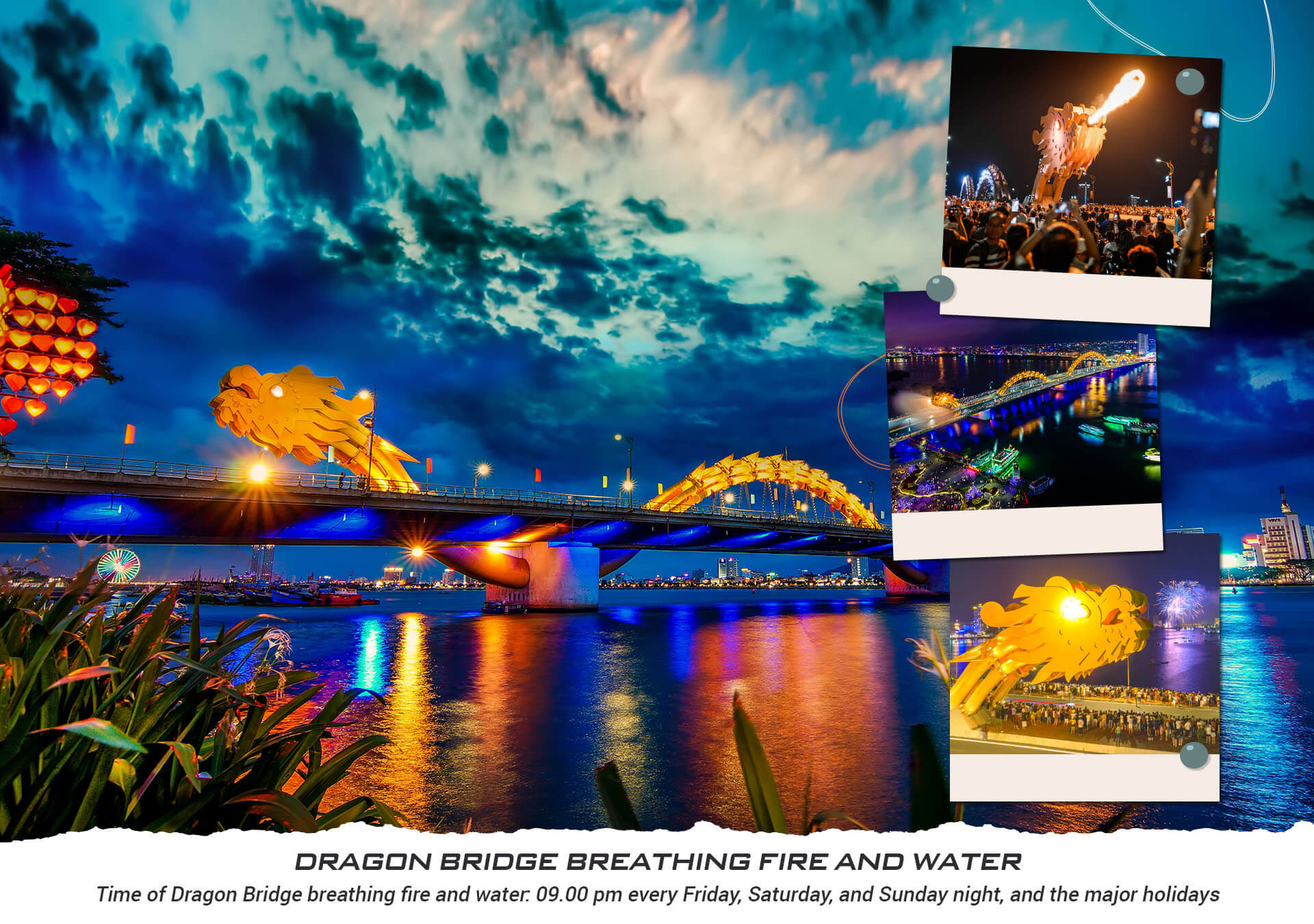 Visitors gather at Dragon Bridge to watch the fire and water spray performances on weekends. The show starts at 08:00 pm, and many tourists and residents gather on the bridge, on both sides of the Han River or nearby high buildings. Traffic is stopped at both ends of the bridge for 15 minutes during the show. To enjoy the water spray show, visitors are advised to choose a suitable standing direction, wear a raincoat, and bring an umbrella to avoid getting wet. It is recommended to arrive early, from 07:30 to 08:00 pm, to choose an excellent spot to watch the bridge.
Time of Dragon Bridge breathing fire and water: 09.00 pm every Friday, Saturday, and Sunday night, and the major holidays

Han River Bridge is the country's first rotary bridge, inaugurated in 2000. The bridge is 487.7m. The bridge is 12.9m wide and features 11 spans connecting Hai Chau and Son Tra districts via Le Duan and Pham Van Dong streets.
Rotary bridge time for tourists: From 23h00 to 00h00 on Saturdays and Sundays
Turning the Han River bridge aims to facilitate waterway transport and allow ships to pass through. Every day, around 11:00 pm, the middle section of the bridge rotates 90 degrees around its axis, aligning with the river's flow, thus creating a passage for large ships. By around midnight, the bridge returns to its original position.

The Love Bridge in Da Nang has gained worldwide recognition, inspired by the famous love bridges. The bridge has an arc-shaped design with bright red heart-shaped light pillars lining its walls, illuminating the entire sky.
The "Carp turns dragon" symbol or Merdragon is a 7.5-meter-high sculpture, weighing almost 200 tons, crafted from five white marble blocks. It is currently installed on the Marina, facing the Han River in Da Nang. The carp's body is carved out of solid scales, while the dragon head is inspired by the Li Dynasty dragon and is designed to spray water. The fish's stylized tail symbolizes peace, prosperity, and solidarity. When you visit Da Nang, you should not miss the chance to take photos of the statue as it changes continuously into nine different colors, which is highly attractive.

The Tran Thi Ly Bridge is an architectural marvel that connects Hai Chau District, Son Tra District, and Ngu Hanh Son District, enhancing traffic capacity at the eastern gateway of Da Nang.

The Thuan Phuoc Bridge is located at the mouth of Da Nang Bay, where the Han River meets the sea. It connects two coastal roads, Nguyen Tat Thanh and Hoang Sa-Spratly.
The Han River Bridge was the first bridge to mark the development milestone of the city. It witnessed the transformation of the area east of the Han River. The Dragon Bridge and Tran Thi Ly Bridge, shaped like a dragon and a sail reaching out to the sea, respectively, represent the dynamic and continuous development of Da Nang. The Thuan Phuoc Bridge towers at the sea end, attracting people with its luxurious beauty and outstanding design, complemented by shimmering lights illuminating the vast water.

The Vietnam-Japan Friendship Pedestrian Bridge is a unique architectural masterpiece celebrating the 50th anniversary of diplomatic relations between Vietnam and Japan. Mikazuki Group built the pedestrian bridge connecting Nguyen Tat Thanh Street to Xuan Thieu Beach. The bridge recently became operational and has been attracting tourists because of its unique night lighting technology.
The bridge's beauty is not limited to its architectural details but also stands out in the lighting technology used at night. According to the investor, the bridge uses facade lighting, also known as façade lighting, every night.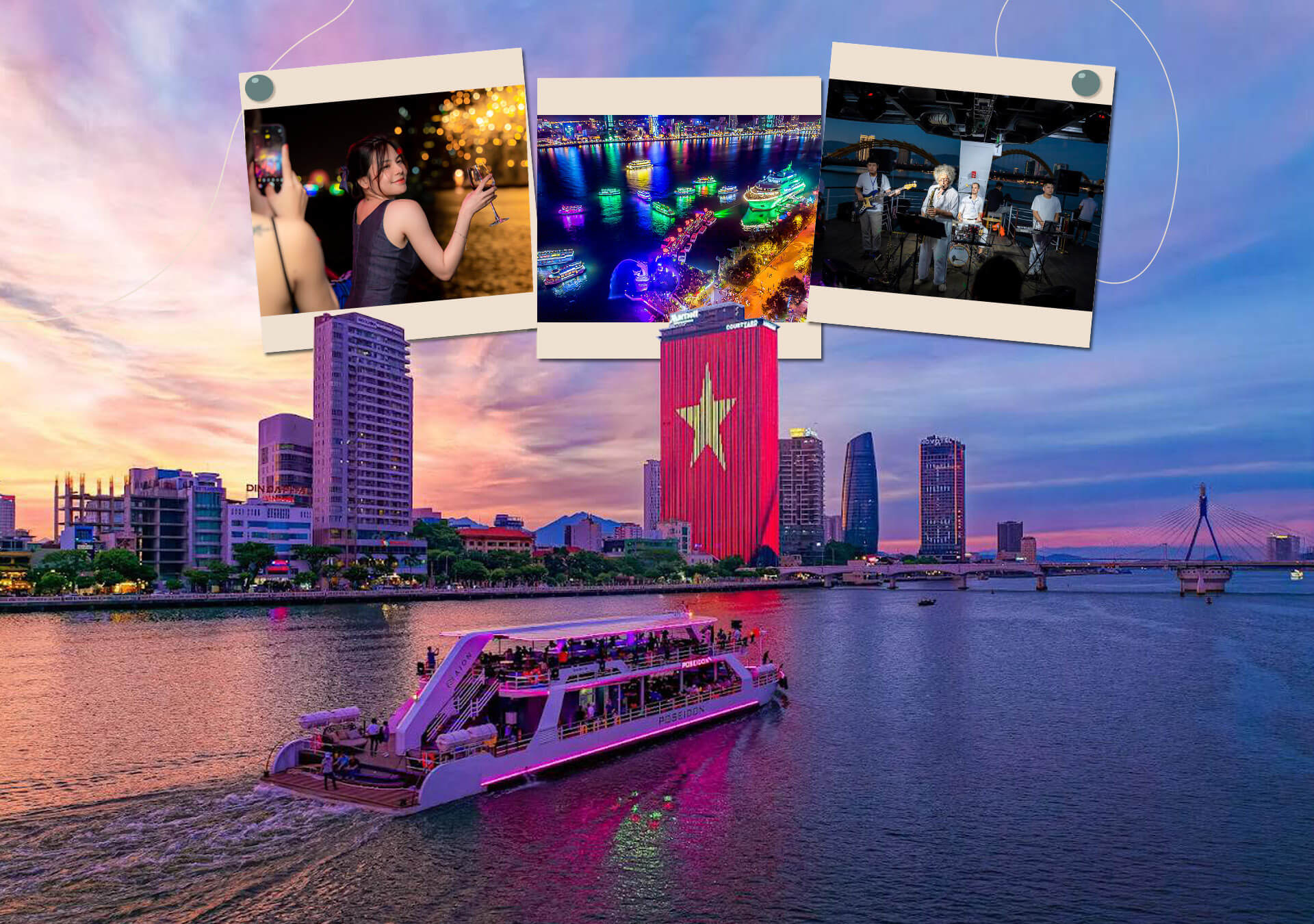 In Da Nang Marina, Bach Dang Street, more than 15 licensed cruise ships operate to transport passengers for nightly Han River excursions. The cruises usually depart at 6:00 PM, and the latest departure is at 9:00 PM.
There are two types of boat tours, including river cruises and dinner combination tours. There are four departures for the sightseeing tour every evening, starting from 6:00 pm until 9:00 pm. Each trip has a one-hour gap and takes 45 minutes on the river. The ticket price is 150,000 VND per person. If you want dinner to be included in the tour, two daily trips are available from 6:00 pm to 9:00 pm, with a ticket price of 500,000 VND per person. These tours last one and a half hours on the river.
You can buy tickets for the tour at the pier or online. During weekends, when there are many visitors, booking tickets a week in advance is advisable to secure a beautiful location. If you have already booked tickets but need to cancel, you can do so and receive a refund with 1-2 days' notice.

Sky bar is one of the "nightlife specialties" in Da Nang. Bars are usually located on the upper floor of a building or hotel. Some locations such as Altitude Pool Bar at 33rd floor Altara Suites Danang – 120 Vo Nguyen Giap, Son Tra, Da Nang; Brilliant Top Bar at 17th floor Brilliant Danang Hotel – 162 Bach Dang, Hai Chau, Da Nang; Top View Bar at 19th floor Vanda Hotel Danang – 03 Nguyen Van Linh, Hai Chau, Da Nang; Chicland Lounge at 21st floor Chicland Hotel Danang – 210 Vo Nguyen Giap, Son Tra, Da Nang… familiar to Da Nang tourists. Bars are usually open until 11.00 pm or later until they run out of customers.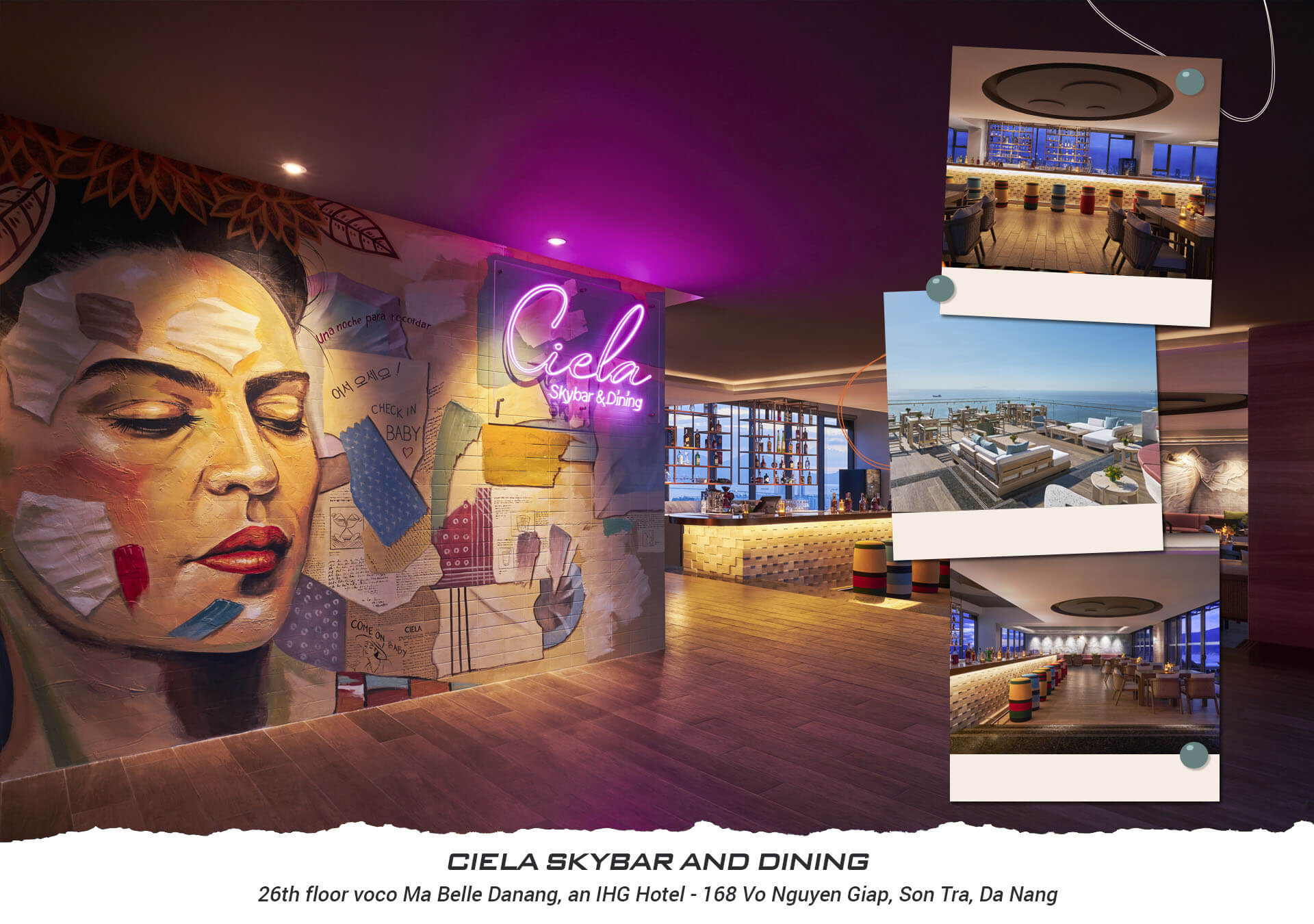 Ciela Skybar and Dining at Voco Ma Belle Danang, an IHG Hotel (168 Vo Nguyen Giap, Son Tra, Da Nang), is an excellent option for travelers seeking new experiences. This is the first bar in Da Nang to serve South American cuisine. The bar is situated on the 26th floor of the hotel, providing visitors with panoramic views of the coastline and the city. Ciela Skybar and Dining is quickly becoming a must-visit destination for food enthusiasts.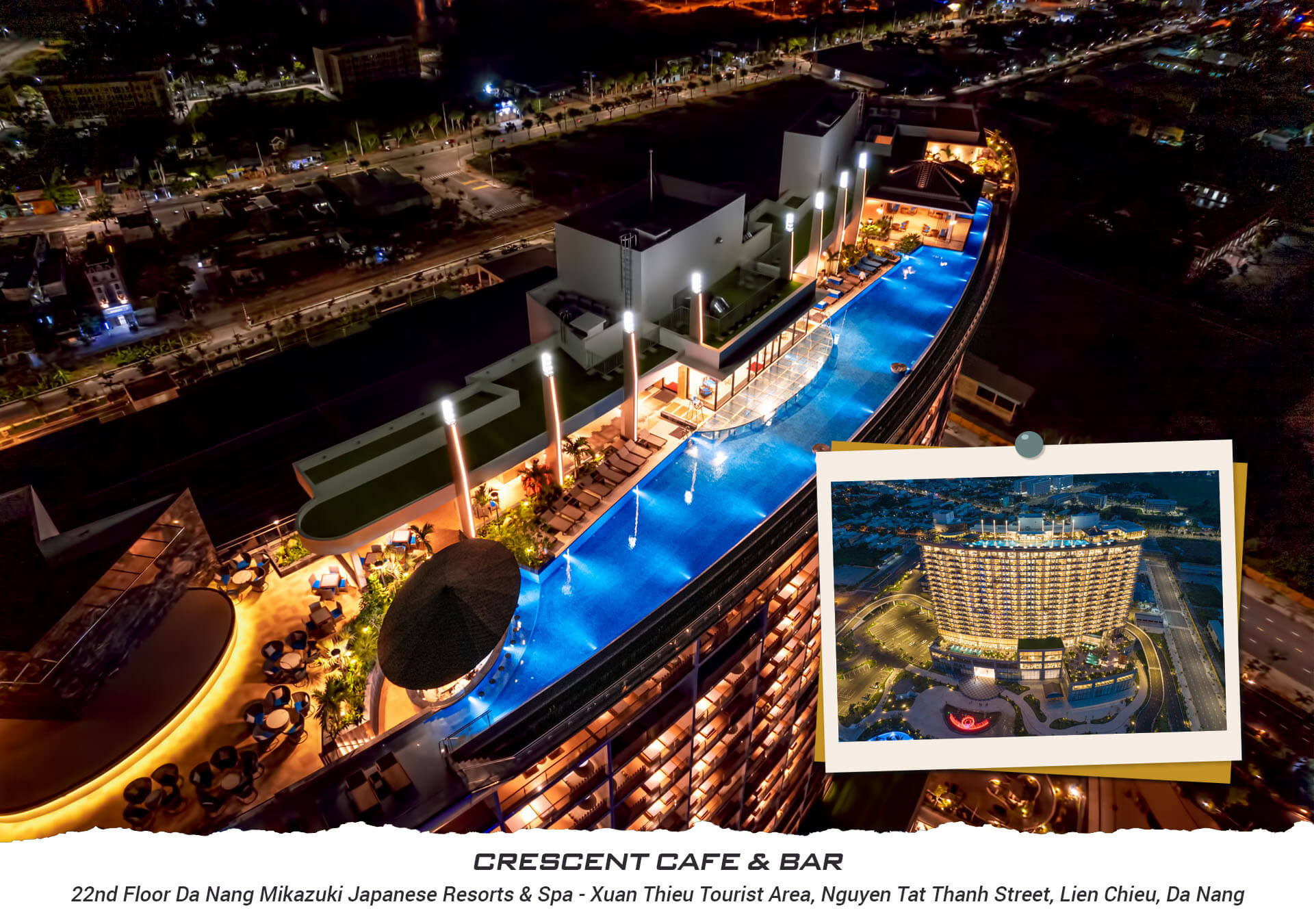 On the 22nd floor – the top floor of Da Nang Mikazuki Japanese Resorts & Spa, Crescent Cafe & Bar offers guests beautiful views of Danang Bay at night. Named and inspired by the crescent moon, Crescent Cafe & Bar will bring exciting and surprising experiences.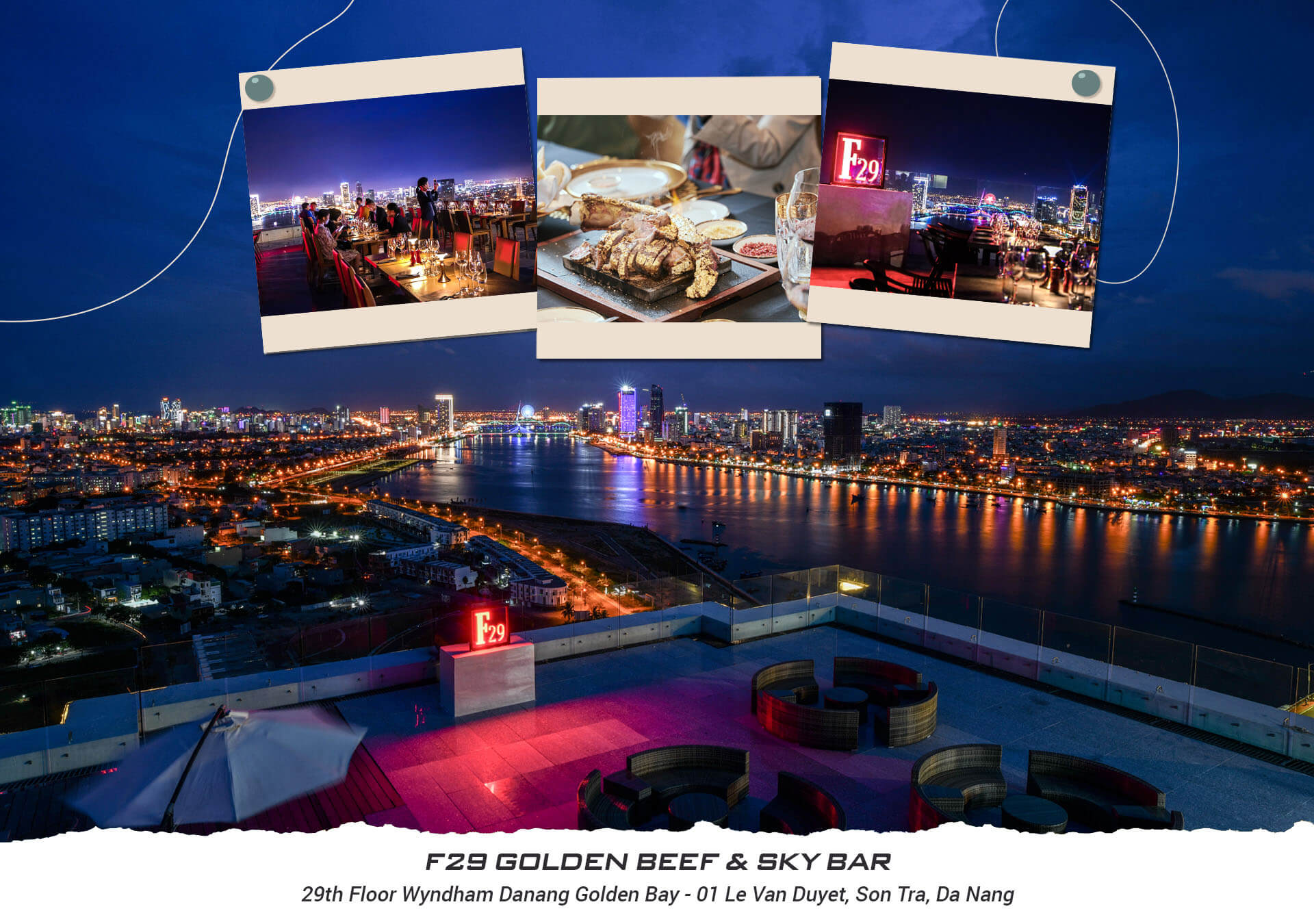 F29 Golden Beef & Sky Bar boasts a diverse and innovative menu featuring dishes prepared and presented with subtlety and uniqueness. You can expect a culinary experience as talented chefs utilize breakthrough processing and decoration techniques. The restaurant's renowned gold-plated beef is a crowd favorite and exclusive to this establishment. If you're looking for something extraordinary, F29 Golden Beef & Sky Bar is the perfect place to indulge in a memorable dining experience.
Each piece of Wagyu Tomahawk beef and premium Rib-eye beef tenderloin is carefully prepared by skilled chefs and plated with 24k gold. This dish requires the chef to have high-level technique, 100% imported ingredients, and a certain amount of time to process each piece of beef to perfection. The taste experience is further enhanced with premium truffle and pepper sauce and an attractive European menu. All these elements come together to promise diners an unforgettable, luxurious experience they will cherish for a long time.
Positioned atop the Novotel Danang Premier Han River, SKY36 is a must-visit place for tourists looking to explore Danang. SKY36 offers visitors a chance to create unforgettable memories while taking in the stunning views of Danang City at night.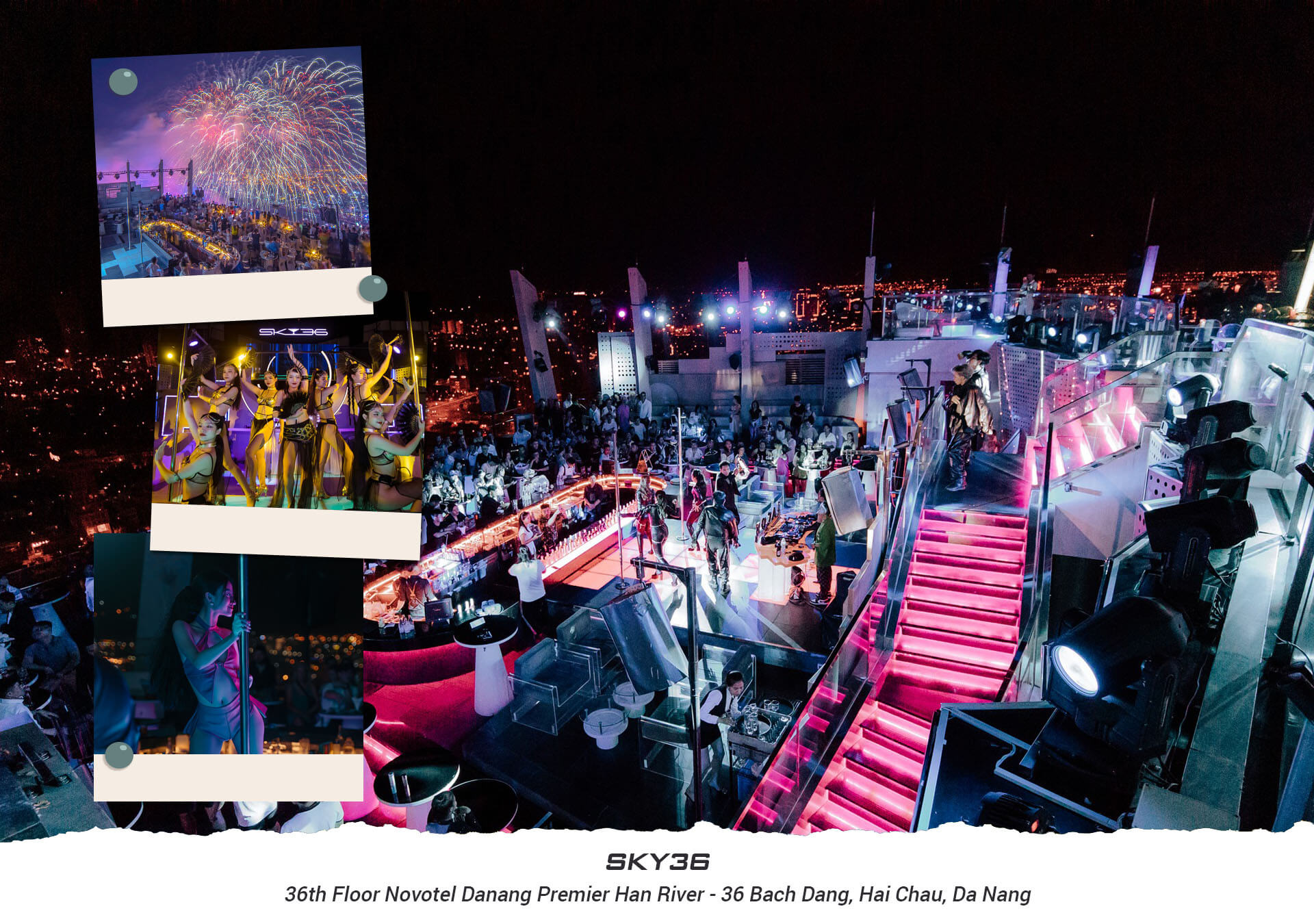 With its high-end entertainment model, SKY36 blends a lively dance floor with a luxurious lounge space, making it the perfect venue for organizing intimate and private parties. This unique design is ideal for those seeking a stylish and trendy experience. Additionally, SKY36 offers a one-of-a-kind way to watch the Danang International Fireworks Festival (DIFF) fireworks.

Da Nang is a city that never sleeps and has a thriving night scene. Many shops stay open till midnight, giving visitors many choices to explore. The cuisine of Da Nang at night is diverse and includes seafood, banh soup, banh mi, noodle mama, durian tea, pork rice paper rolls, pancakes, and much more. Those who love seafood can enjoy it in the Vo Nguyen Giap Street area, where several restaurants offer fresh and delicious dishes. Guests can hand-pick and choose their preferred seafood, which the restaurant will cook at night.
In addition, several nocturnal places remain open until midnight, such as Cho Lon restaurant in Ong Ich Khiem Street in Hai Chau district, Ba Be soup cake in Con market, and Pham Hong Thai night food street in Pham Hong Thai Street in Hai Chau district.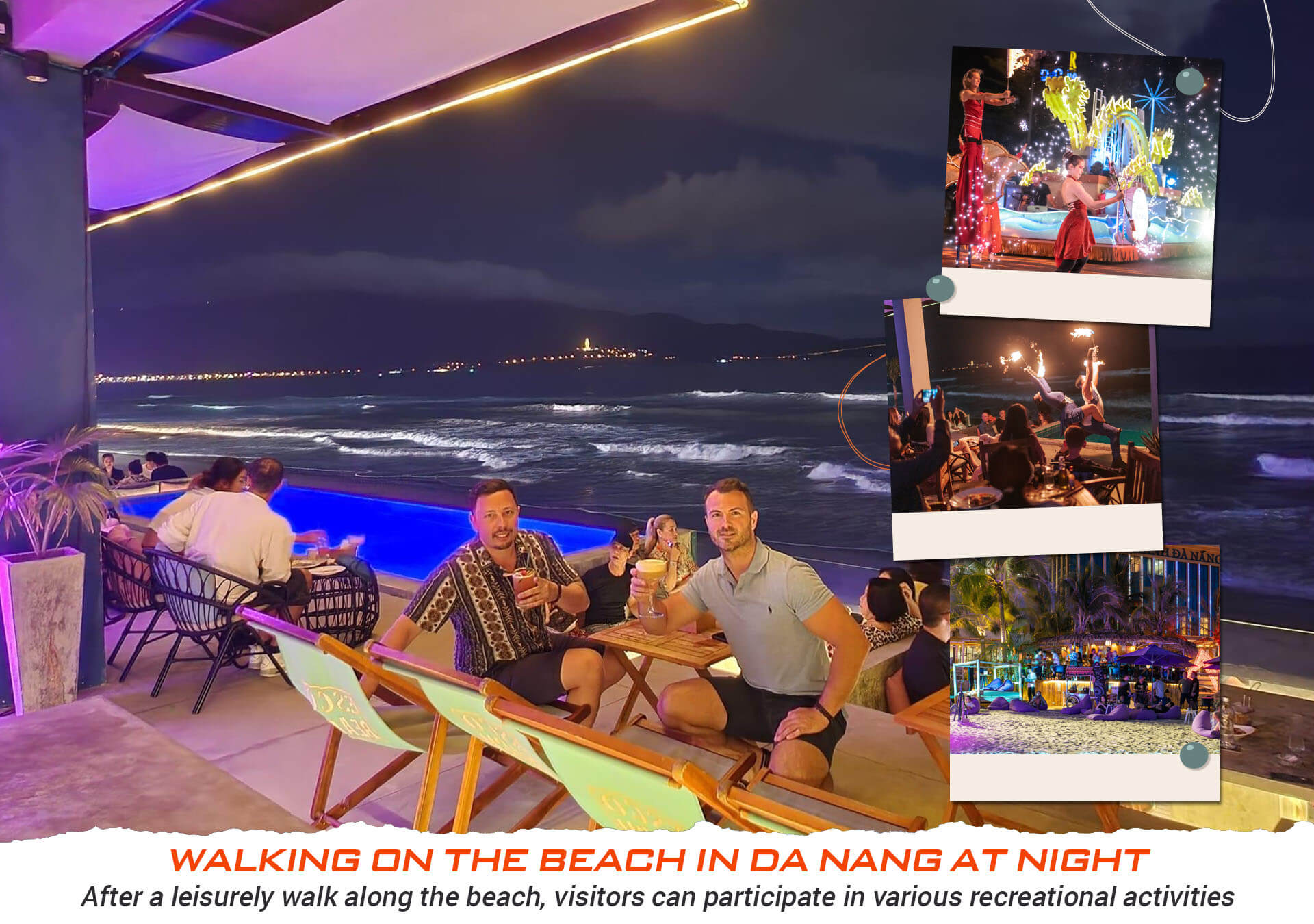 Four public beaches in Da Nang offer visitors the opportunity to enjoy the night view while strolling: My Khe Beach (located on Vo Nguyen Giap Street, Son Tra District), Non-Nuoc Beach (in Hoa Hai Ward, Ngu Hanh Son District), Pham Van Dong Beach (on Pham Van Dong Street, Son Tra District), and My An Beach (in My An Ward, Marble Mountains). After a leisurely walk along the beach, visitors can participate in various recreational activities such as watching movies on big screens, eating local food, enjoying street art performances, and appreciating beach art installations.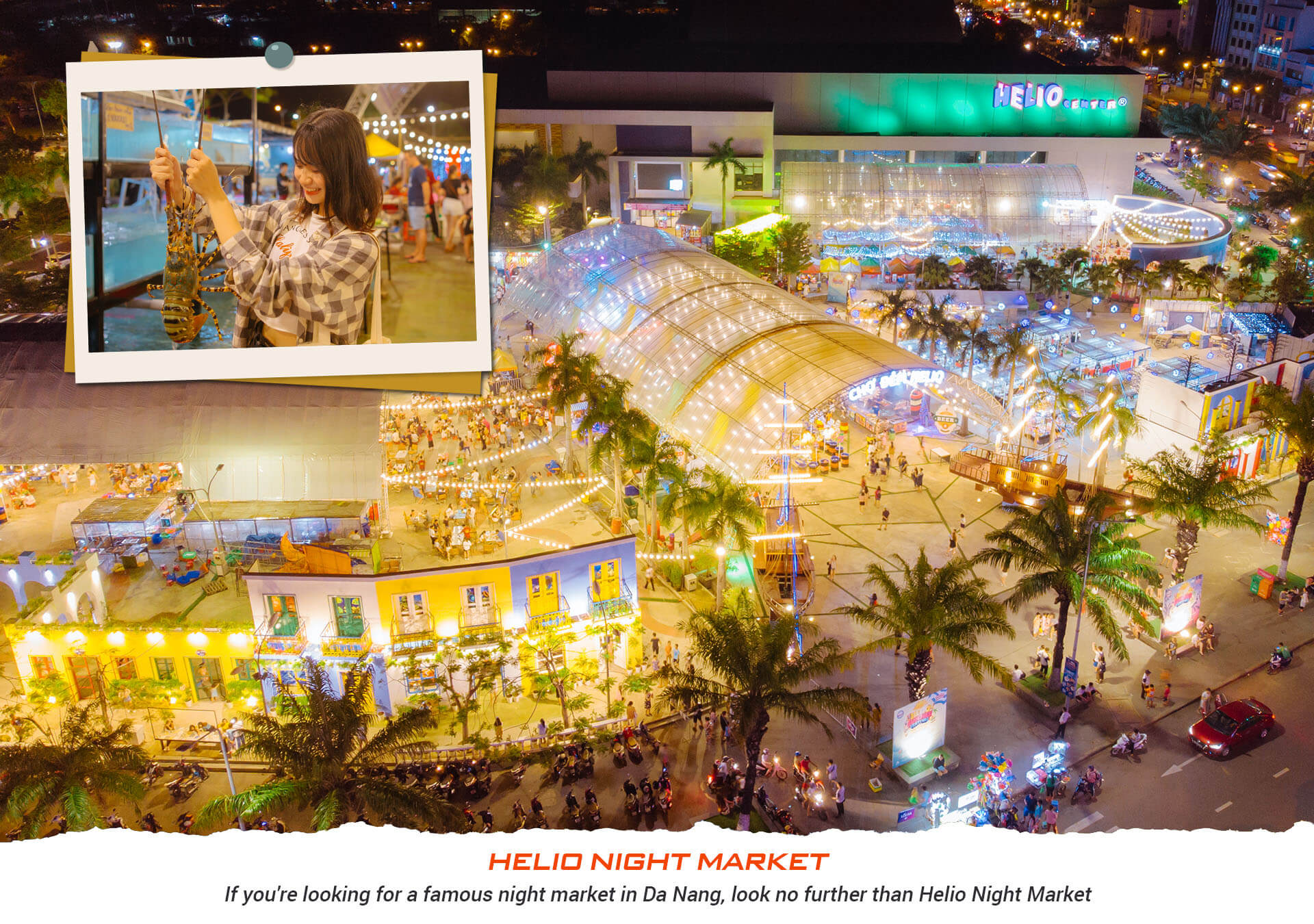 If you're looking for a famous night market in Da Nang, look no further than Helio Night Market. Located on 2/9 Street, this market is a popular spot for locals and tourists. With over 150 food stalls offering a variety of delicacies such as snacks, seafood buffets, baked goods, milk tea, juices, and more, Helio Night Market is the perfect place for food lovers.
The market operates daily from 05:00 pm to 10:30 pm and is divided into three subdivisions. The cuisine at Helio Night Market sets it apart from other night markets in Da Nang.
You can also check out other busy night markets in Da Nang, such as Son Tra Night Market and An Thuong Night Market. These night markets offer a vibrant shopping and dining experience for tourists and locals alike.
Collected by Huan Nguyen