With 68 strokes and 4 under par, the Thailand golfer took the lead after round 1 with one stroke difference.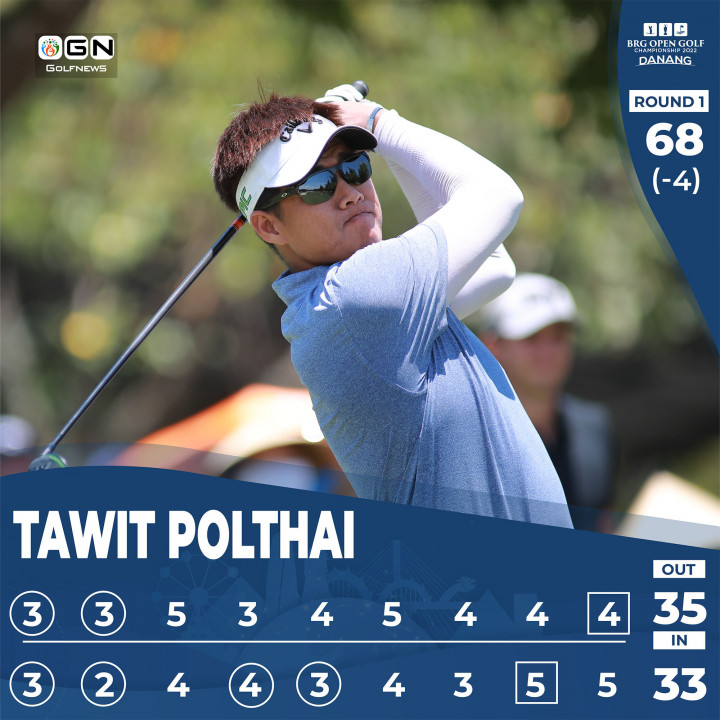 Nicklaus Course of BRG Danang Golf Resort kept it's promise to bring many challenges to 115 golfers on the course, only 15 athletes have under par after 18 holes. The extremely tricky flag positions close to the edge of the green prevent players from getting the best approach shot.
The Thailand golfer – Tawit Polthai is one of the few golfers who has had an amazing performance.
Tee-off at hole 1, Tawit Polthai had a very favorable start when he scored 2 consecutive birdies on the first 2 holes, before finishing the front-nine with a bogey. Polthai then had 4 birdies from holes 10 to 14 to take the lead with a total score of 5 under par. However on the 17th hole, the ball fell into the water in the second shot cost the Thailand golfer 1 more bogey, thereby ending the match with 4 under par.
Tawit Polthai is currently ranked 1376th in the world and 15th in ADT's Order of Merit this season. This year, Polthai finished 3rd at Laguna Phuket Cup in mid-May and was in the T10 at Indonesia Masters Golf Invitational Presented by TNE at the end of June.
Meanwhile, up to 6 golfers are tied for 2nd place with 3 under par, including championship candidate Chen Guxin. The Chinese golfer's 69-stroke round featured 4 birdies and only 1 bogey. Currently, Guxin is ranked 2nd on ADT's 2022 Order of Merit.
At the end of the first round, the best Vietnamese golfer was Truong Chi Quan in T8 with a total score of 2 under par. He has had quite a stable run with 3 birdies and 1 bogey.
Truong Chi Quan is the only Vietnamese golfer to have under par score after round 1.
Doan Uy is the second best golfer with a total score of 1 over par and is temporarily in T21.
The number 1 amateur golfer in Vietnam, Nguyen Anh Minh had a bad start when he reached 11 over par and temporarily in T89. The golfer born in 2007 needs to quickly improve his performance if he wants to make the cut after round 2.
After 36 holes, 50 golfers with the best performance or a tie will win the right to compete in the final round. Currently, there are 6/40 Vietnamese golfers in the Top 50, including: Truong Chi Quan, Doan Uy, Do Hong Giang (+2), Nguyen Thanh Hai (+3), Nguyen Nhat Long (+3) and Nguyen Thanh Hai (+3). Do Quang Khanh (+4).
DanangFantasticity