THE GUARDIANS
Dong Duong, Thang Binh, Quang Nam | Late 9th – Early 10th centuries | Sandstone | [BTC 174] and [BTC 175]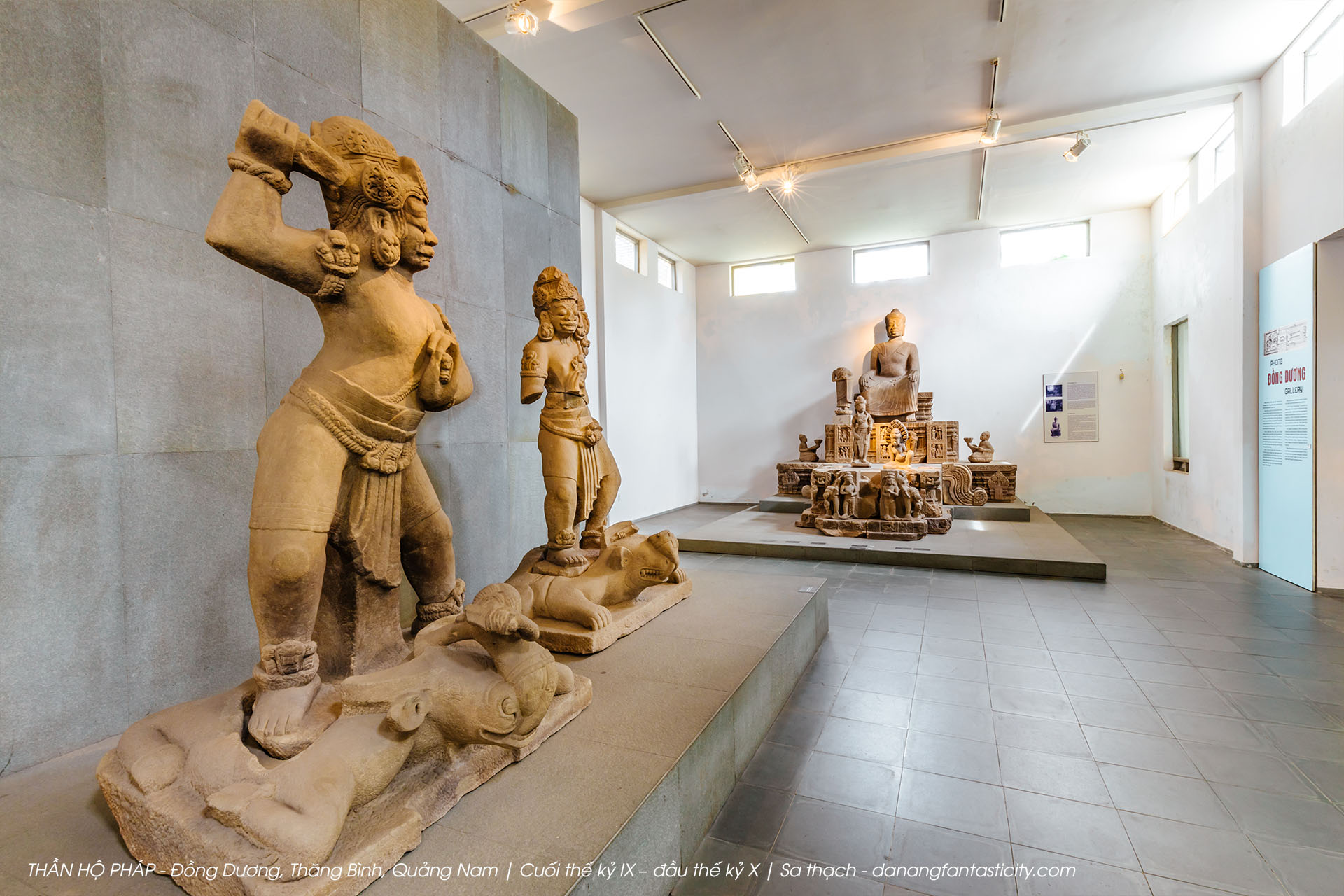 Typically placed as a pair in front of the entrance to a rampart, these are the largest sized sculptures and are also considered to be the most impressive both technically and artistic round statues in the Champa collection of round sculpture.
The pair is identical in proportions, with similar postures and outfits. The God stood with legs apart, stepped on the animals lying flat below, one hand held a weapon to reach the height of his head, the other hand was curled up in front of his chest, his hand followed the form of the Buddha's fighting tactics. The statue shows a strong and heavy body with a ferocious face.
On the wrists and ankles are jewels of the three-headed Naga snake. Under the feet, from the animals that the god is stepping on are small characters with weapons in hand looking up at the giant god, raising the majesty of the gods. This may be a metaphorical image: the tiny characters are mortals while monsters symbolizing temptations in life, and the Guardian suppresses those temptations to orient people towards the Compassion.
The shape and posture of the Dong Duong Guardians are quite foreign with the sculpture tradition in Southeast Asia but bear the influence of the contemporary Chinese sculpture.
References
Official website of Da Nang Museum of Cham Sculpture: chammuseum.vn
Information points and annotations of artifacts at Danang Museum of Cham Sculpture.
"Vibrancy in Stone – Masterpieces of the Da Nang Museum of Cham Sculpture"
Information guidebook introducing 20 characteristic artifacts at Da Nang Museum of Cham Sculpture.
Presentation of tourist destinations in Da Nang.
Web portal of Da Nang city
DANANG CENTER FOR TOURISM PROMOTION
Latest Posts