GANESHA
Tower E5, My Son, Quang Nam | 7th centuries | Sandstone | [BTC 5]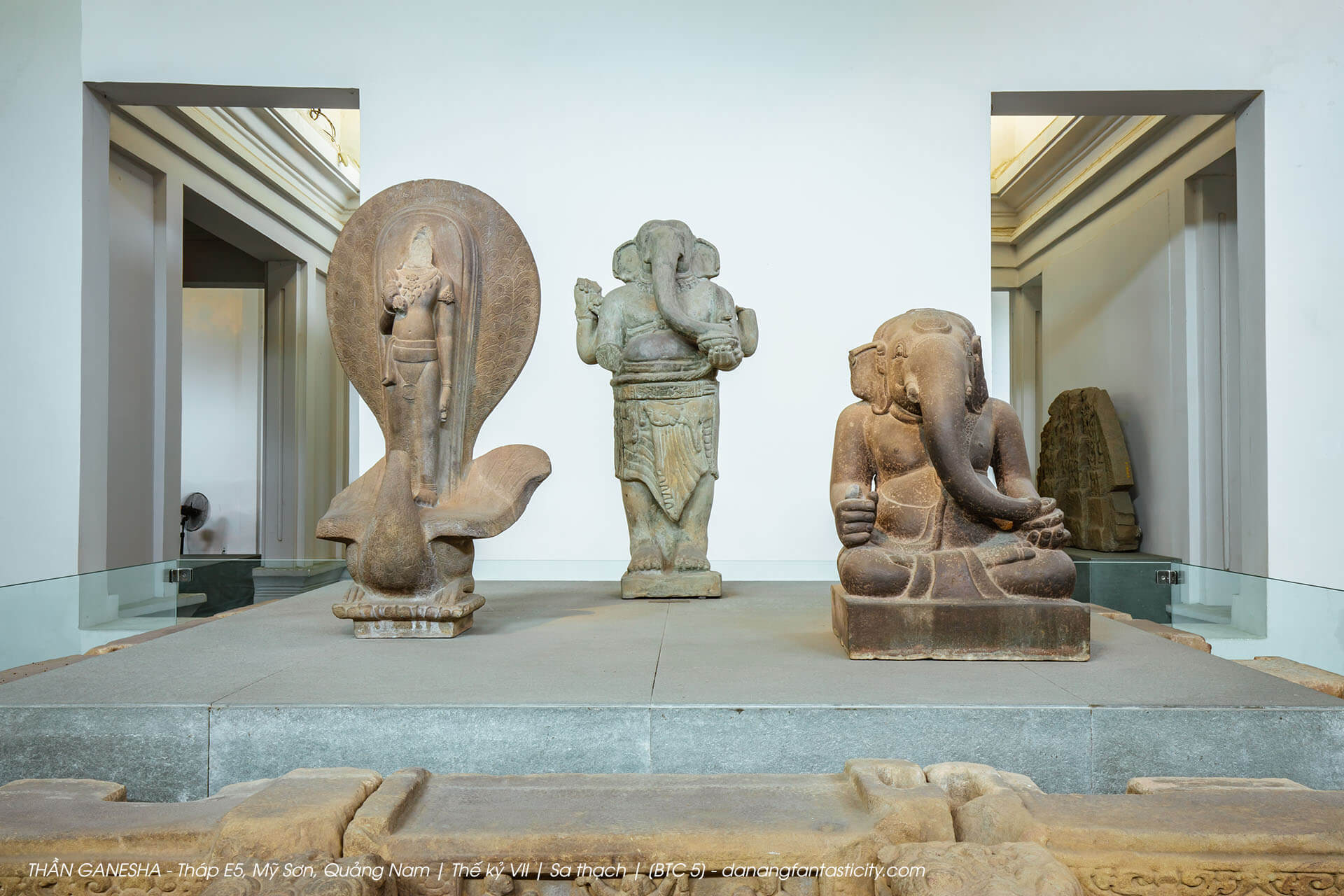 In the Hindu mythology, Ganesha, the son of Lord Shiva and Goddess Parvati is the God of Fortune, Knowledge and Literature and. He is among the most ancient deities of Hindu temples and also the most popular one as his capacity to remove all difficulties and hurdles in life. Lord Ganesha has been worshipped by Hinduism communities till today.
In religious sculpture, Lord Ganesha is commonly depicted in the shape of a short and plump man with a round belly, elephant's head with two, four arms or more. This antique displays the Lord standing with four arms. When the statue was discovered at E5 tower, the hand of his upper-left arm holds a battle-ax while in his lower-right hand grasps a cone-shaped object (or radish). Later on, the upper-left and the lower-right hands were both lost. Therefore, up to now, it is unclear what Lord Ganesha holds in those two hands.
Described as a glutton in ancient documents, Ganesha always holds a bowl full of sweets. Ganesha's fourth handpiece in this work is a rosary, although the artifact has been partially broken. Among the outstanding metaphysical features of this work is the tiger's skin (vyaghracarman) wrapped around the hips of the god (perhaps that is an image inspired by the metaphysical traits of Shiva), and the third eye just above the tip of the trunk (which is also found in other deities).
Other jewels include bracelets, belts, and Brahma belt made of snake, which are practically and skillfully created. In addition to tiger's skin, Ganesha's outfit is a sophisticated cape. The hem of the skirt falls forward and the fabric edge is held at the hips by the belt forming a pocket that opens on the left leg.
The other end of the fabric is wrapped between the legs and held tightly by a belt below the hips, the edge of the fabric hangs down into small pleats. This costume is quite similar to the costumes of the characters shown on the first level of the My Son E1 Altar.
The theme of Lord Ganesha is not commonly presented in the Champa sculptures still preserved to this day. This is one of the exceptional works that is relatively intact and boasts many unique features of the early Champa sculpture art.
References
Official website of Da Nang Museum of Cham Sculpture: chammuseum.vn
Information points and annotations of artifacts at Danang Museum of Cham Sculpture.
"Vibrancy in Stone – Masterpieces of the Da Nang Museum of Cham Sculpture"
Information guidebook introducing 20 characteristic artifacts at Da Nang Museum of Cham Sculpture.
Presentation of tourist destinations in Da Nang.
Web portal of Da Nang city
DANANG CENTER FOR TOURISM PROMOTION
Latest Posts