Standardized food providers in Danang city
Pursuant to Section IV of the 2017 Tourism Law on state management of tourism service facilities meeting standards for tourists, provincial-level tourism agencies (Department of Tourism)  announce the list of accredited food provider establishments.
1. Com nieu Truc Lam Vien Restaurant
Address: 25 Yen Bai, Hai Chau District, Danang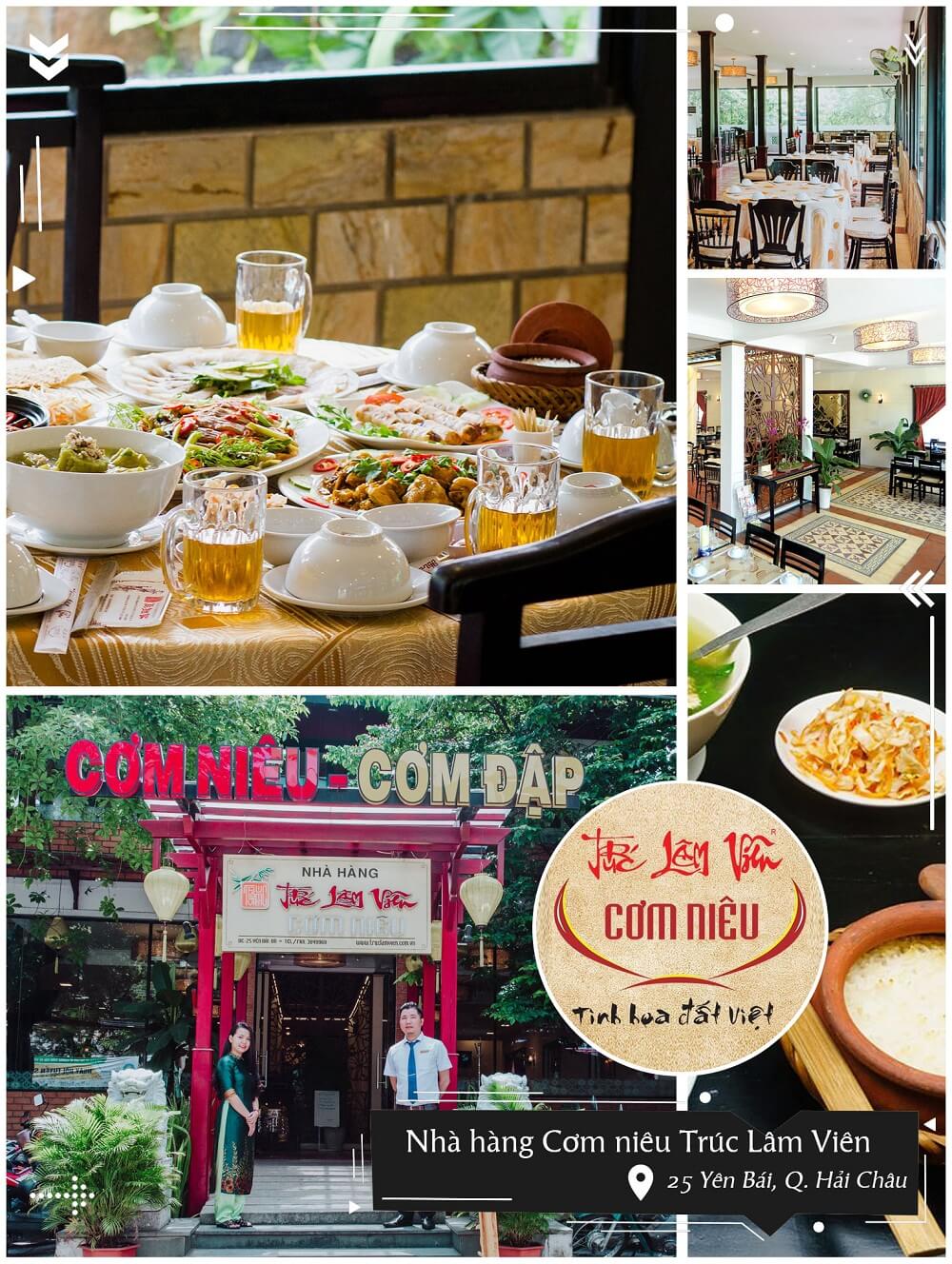 The restaurant is founded with the desire to bring the image of Truc Lam Vien to all visitors when coming to Da Nang, contributing to creating a good image and impression in the hearts of tourists about service style, improving quality and promoting competitiveness in developing culinary specialties for tourism in Central Vietnam when tourists come to Danang.
Truc Lam Vien Restaurant is proud to bring diners the most perfect service with a team of enthusiastic, thoughtful, diverse menus. Coming to Truc Lam Vien, diners not only enjoy the perfect quality of the dish by talented chefs but also indulge in a spacious space that is modern and mixed with the local colours of the land of Da Thanh.
Truc Lam Vien Restaurant is definitely an ideal destination for diners.
2. Madame Lan Restaurant
Address: 04 Bach Đang, Hai Chau District, Danang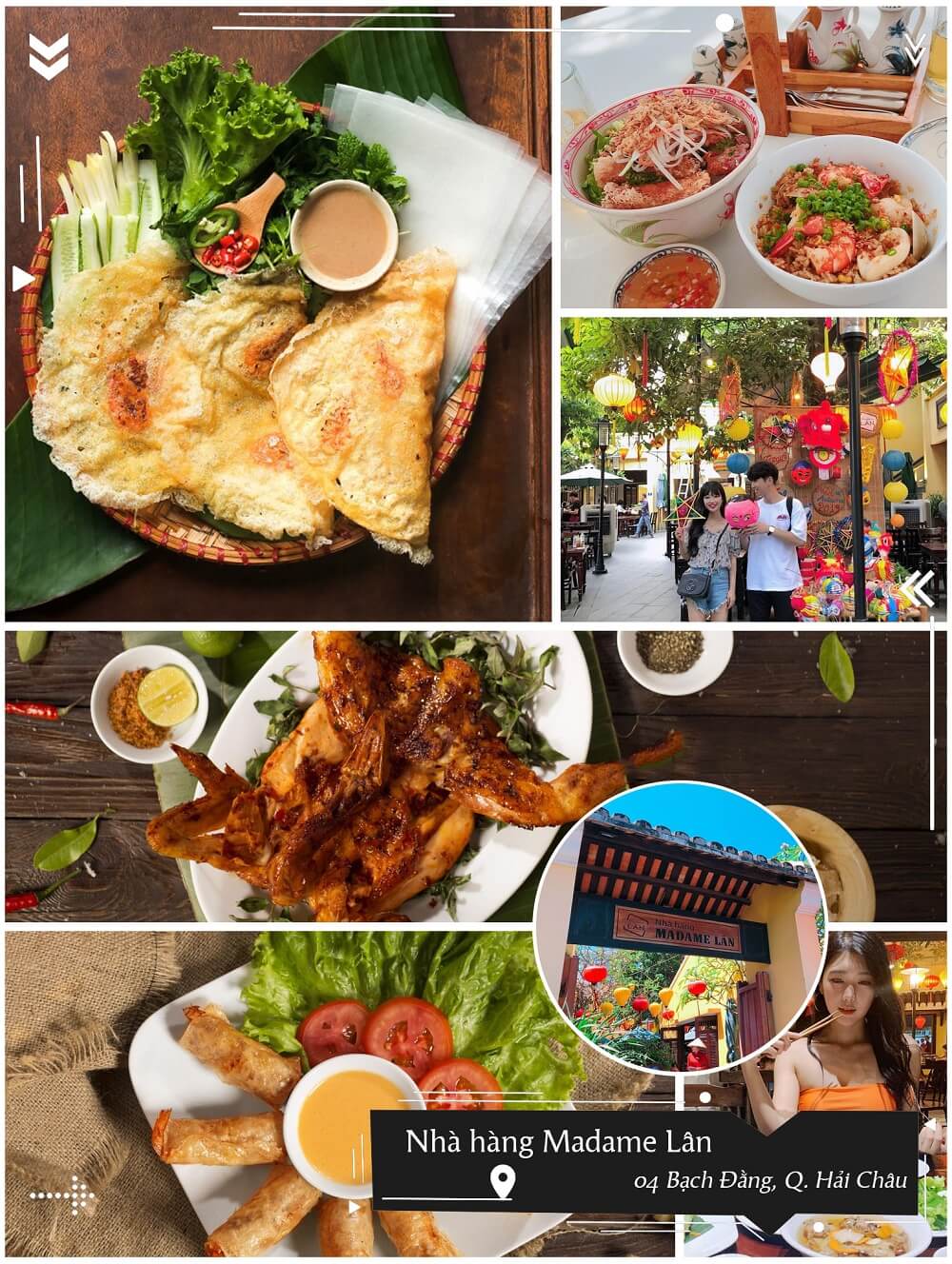 Located on the romantic Han River, Madame Lan Restaurant is known as a "mini Hoi An" in the heart of Danang. With the unique architecture, the ancient and poetic atmosphere lulls the customers into the gentle, nostalgic emotions when coming to Madame Lan.
Madame Lan cleverly arranges the "gastronomic streets" , leading diners to peaceful, warm but luxurious and historic streets to enjoy dishes prepared by talented hands of dedicated chefs.
With the mission of bringing the quintessential culinary delights of three regions' traditional dishes to customers, nearly 300 dishes on the menu at Madame Lan restaurant represent the unique and diverse colors of Vietnamese cuisine.
Each dish is carefully selected in terms of ingredients, exquisite spices, skillful in each stage of processing and displaying. For Madame Lan, the culinary experience is the harmony between product quality, service quality and enjoying space.
Coming to Madame Lan, visitors will have the most wonderful moments in a "mini Hoi An on the banks of the Han River".
3. Khong Gian Xua Restaurant & Cafe       
Địa chỉ: 402-404 Dien Bien Phu, Thanh Khe District, Danang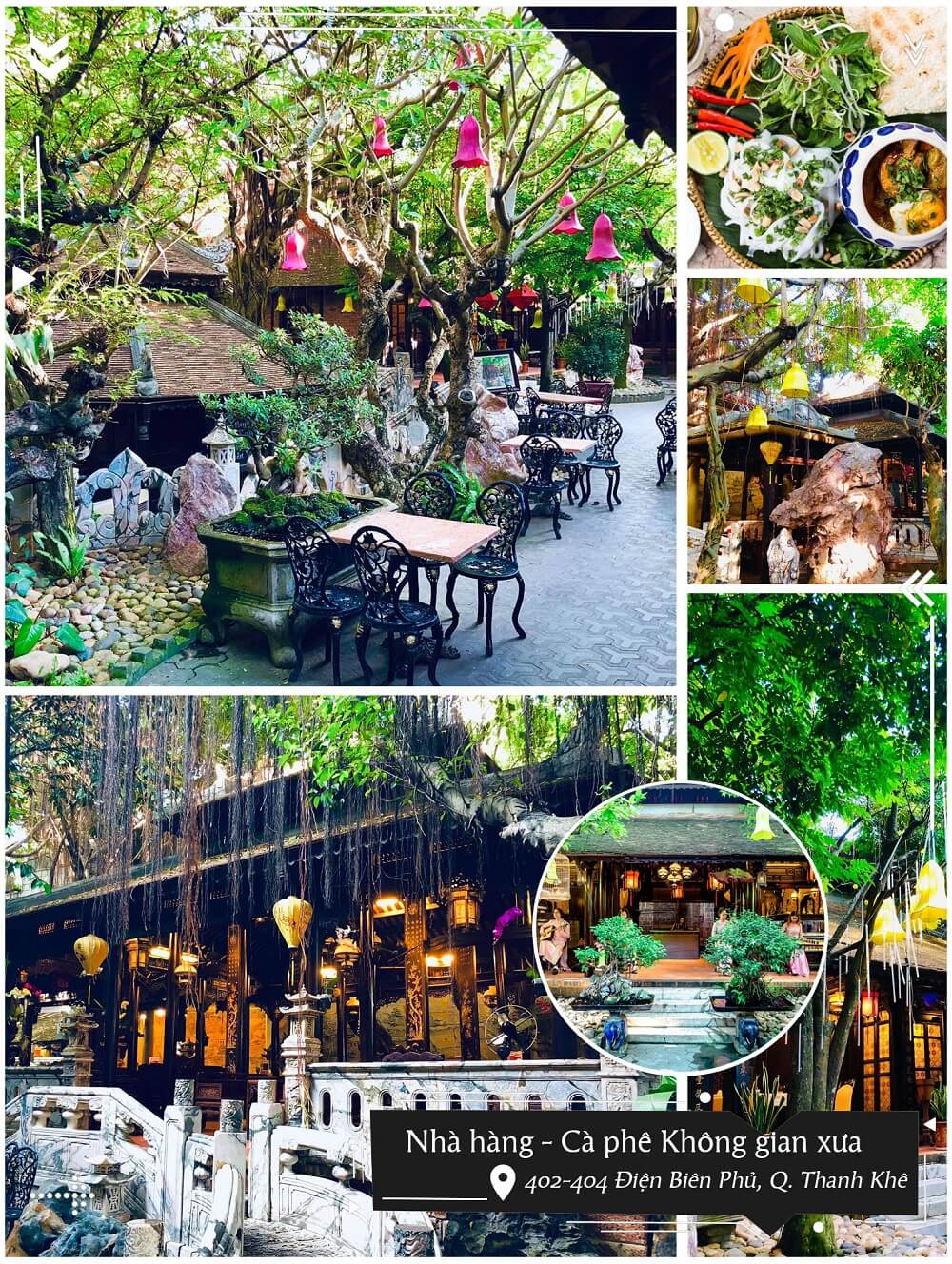 Designed mostly of precious wood and stones with old architecture, the "Khong Gian Xua" cafe with an area of ​​nearly 5,000 square meters is invested with nearly VND 500 billion, shimmering when the sun goes down.
The characteristics of the restaurant lay in many beautiful miniatures, cool, quiet spaces. Inside, there are many banyan trees, wells, communal yards, areca trees, small paths, thatched roofs and earthen walls. There are canal systems, monkey bridges all designed with stone, wood …
The shop is designed with the idea of ​​combining the cultural space of the three regions. The whole area was built in an L-shape meaning "Long" (Dragon). The gate is designed by a very vivid picture of "Banyan tree, wharf, and communal yard".
There is a ceremony in the ancient communal house system of Khong Gian Xua, most notably the ancient house with 3 compartments and 2 wings that were once the residence of a mandarin of the Nguyen Dynasty. The old house is full of household items and decorations, from screens, ancestor's altars, chaise longues… to wardrobe, mirrors, and cups, plates, antique ceramic pots, lime pot.
4. Truc Lam Vien Café & Restaurant            
Address: 8 Tran Qui Cap, Hai Chau District, Danang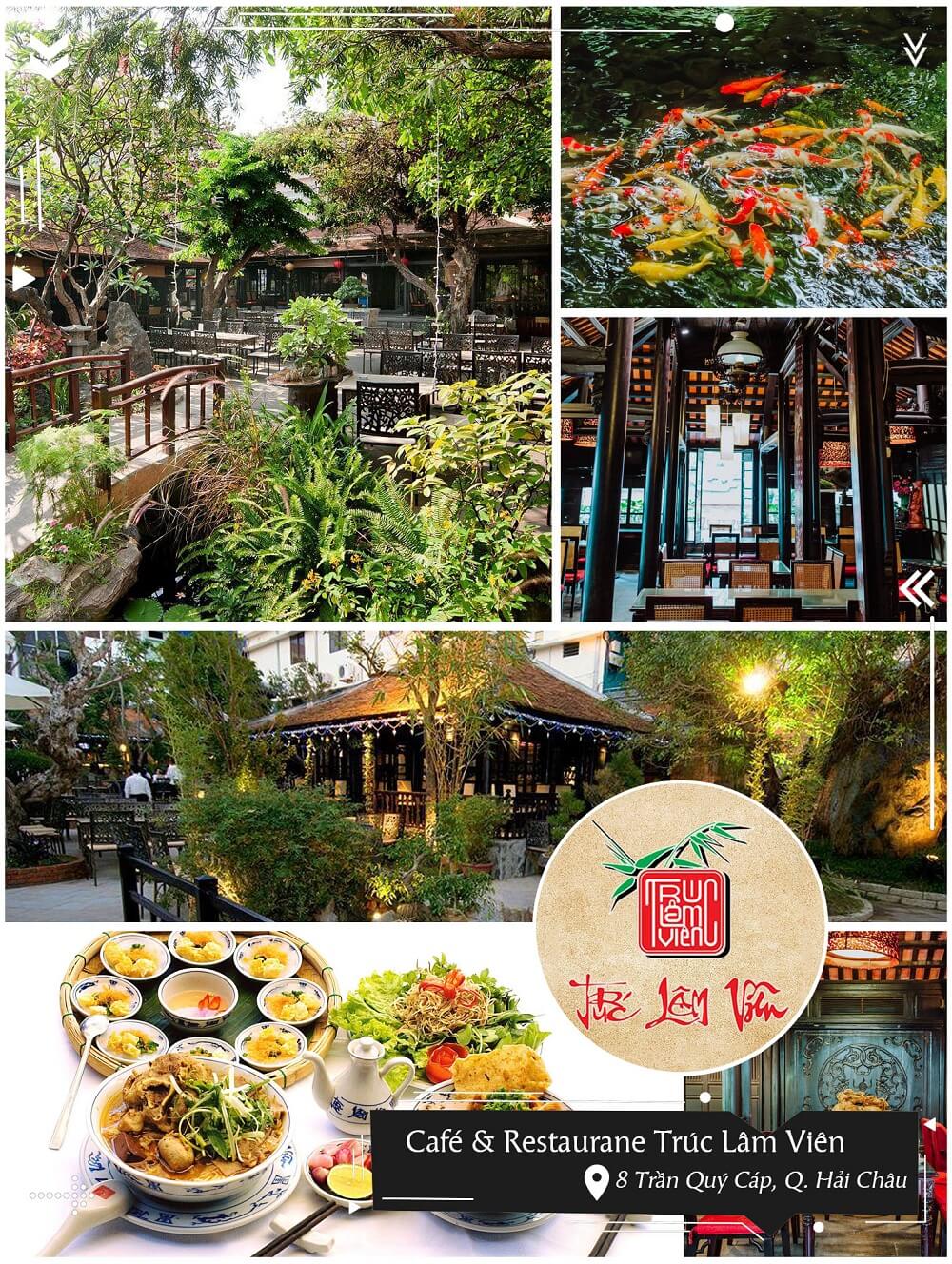 Truc Lam Vien Café & Restaurant is located in the heart of Da Nang city, close to Cham Museum and Han River. Truc Lam Vien is designed in the special style of Hue royal court with an area of ​​more than 1000 m2, spacious and airy garden combined with Ruong houses with the age of 100 – 120 years transported from Hue ancient capital, which brought Truc Lam Vien an ancient, cozy and intimate atmosphere. Truc Lam Vien is always the ideal place to relax spiritually.
Coming to Truc Lam Vien, you will feel like you are living in a Hue space in the heart of the bustling city and enjoy soothing, deep music mixed with melodious birds.
Truc Lam Vien has all kinds of drinks: coffe, cocktail … In addition, Truc Lam Vien also serves snacks with specialties of Quang and Hue land: My Quang, Banh Nam, Banh Ram, Banh Goi, Banh Beo…
With a staff of enthusiastic, courteous and thoughtful service, the restaurant will definitely satisfy every visitor.
5. Pho Bien Restaurant             
Address: 1st location : 229-231 Nguyễn Tat Thaành, Hai Chau District, Danang
2nd location: Lot A01 A3-5, Bac Tuong Dai Park, Hải Châu District, Danang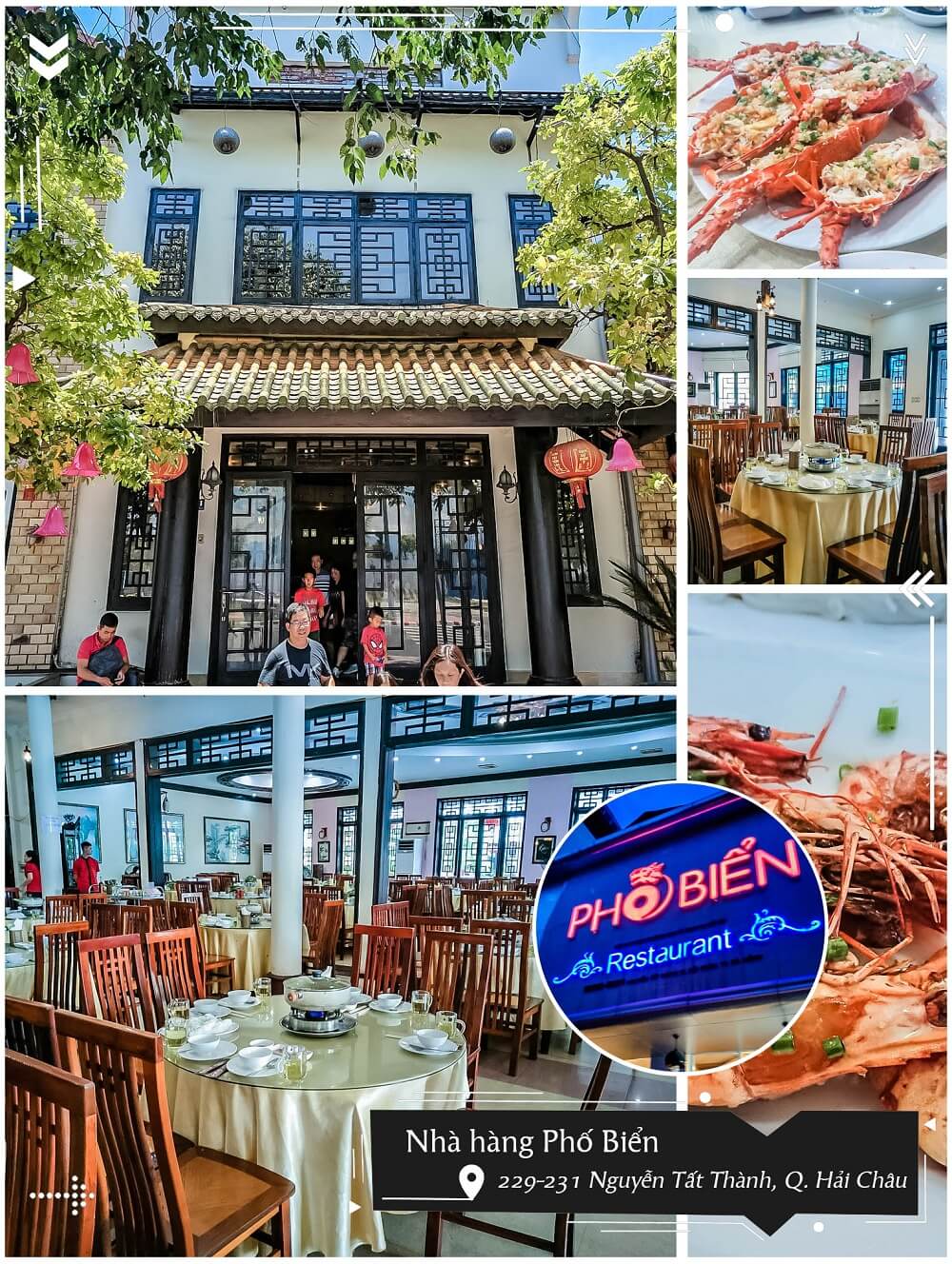 The unique and diverse menu of Pho Bien restaurant will delight every customer who visits.
Each dish is carefully taken care of from the selection of ingredients to processing by the hands of chefs with more than 15 years of experience in the industry, always aiming to bring fresh, appetizing and good dishes for diners' health.
Diners not only can admire the beautiful and classy architectural style, but also can watch the life of the city, especially sparkling and lively at night. Inside, the restaurant owns an extremely spacious, youthful and modern space suitable for receptions, family parties … with bright colors intertwined harmoniously under the light of warm lamp.
The restaurant has another branch at Lot A01 A3-5 Bac Tuong dai Park, Hải Châu District, Danang City.
6. Xèo Restaurant            
Address: 1st location: Lot 19A Võ Văn Kiệt,  Sơn Trà District
2nd location: 75 Hoàng Văn Thụ, Hải Châu District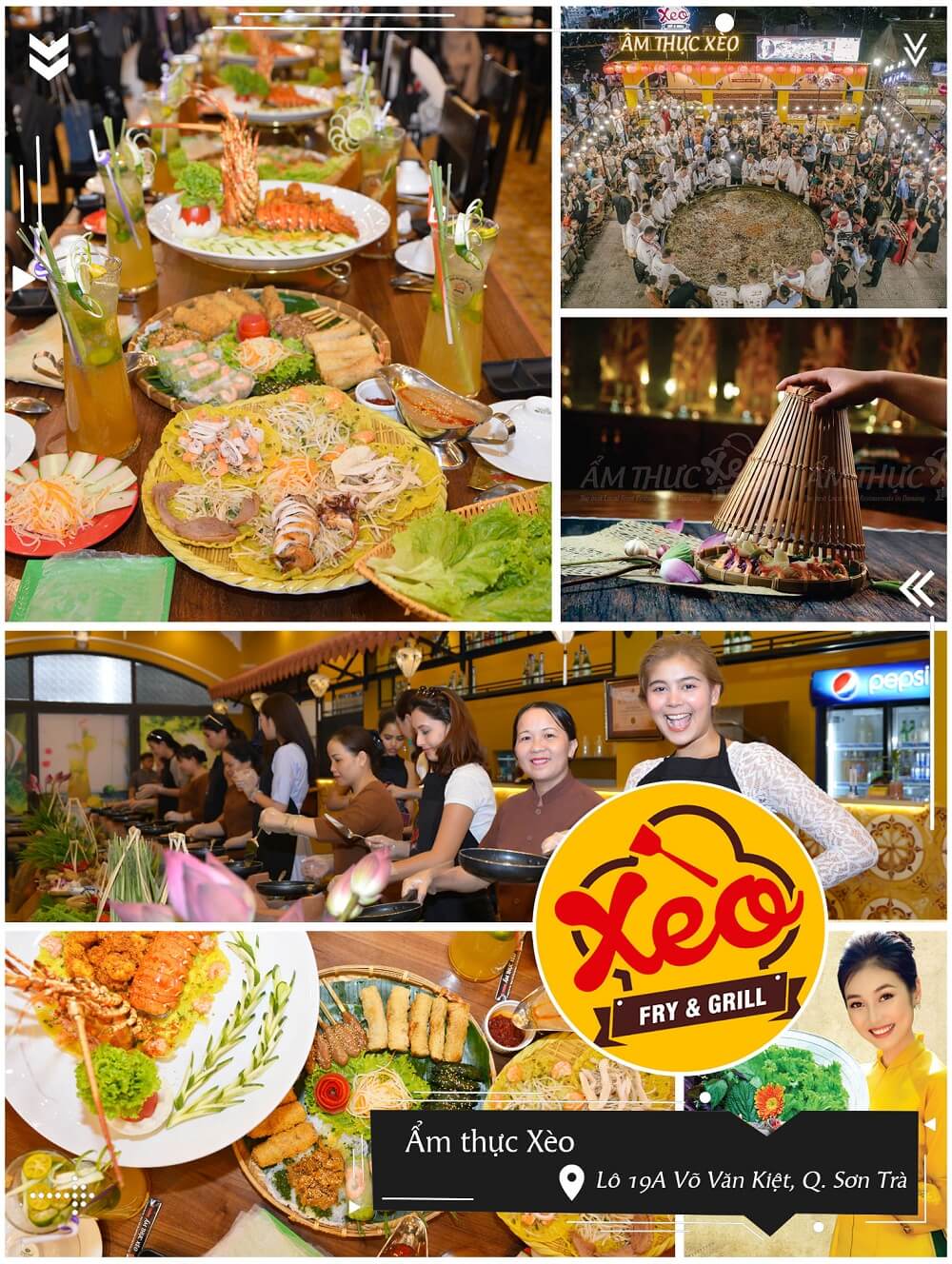 As one of the Vietnamese specialty restaurants with regional characteristics, Xèo Restaurant makes everyone surprised by its standard taste. Going to Xèo Restaurant, tourists cannot help but enjoy pancakes from meat and shrimp pancakes to beef pancakes, seafood pancakes, chicken pancakes, mixed pancakes, lobster pancakes, prawn pancakes, ...
Xèo Restaurant pays special attention to and carefully chooses clean raw materials from the long-standing traditional trade villages of Quang such as: Fresh vegetables from Tra Que vegetable village, Phong Thu rice, Cu Lao Cham seafood, Dai Loc rice paper. … to bring quality to one pancake.
7. Hoang Tin Specialty Restaurant        
Address: 12 Le Hong Phong,  Hai Chau District, Danang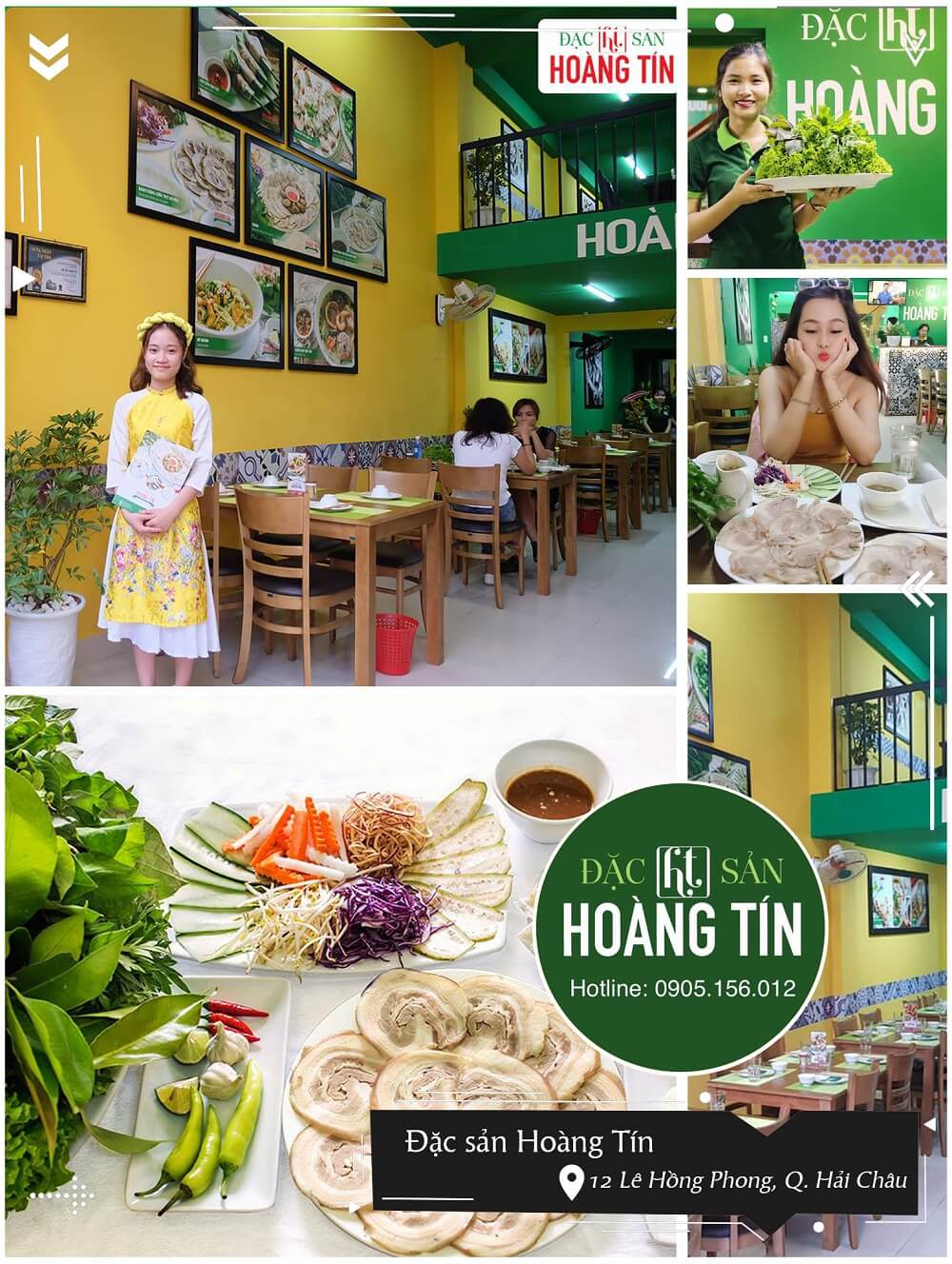 Hoang Tin is known for the famous Trang Bang rice paper, Vietnamese salads and pork bun, vermicelli noodles with anchovy sauce, grilled spring rolls … in a cozy space with affordable price.
With the motto "Bring authentic specialties to diners", it is not surprising that Hoang Tin is chosen by a large number of diners as a destination for culinary experience in Da Nang.
8. Retro Kitchen & Bar      
Địa chỉ: 85-87 Tran Phu, Hai Chau District, Danang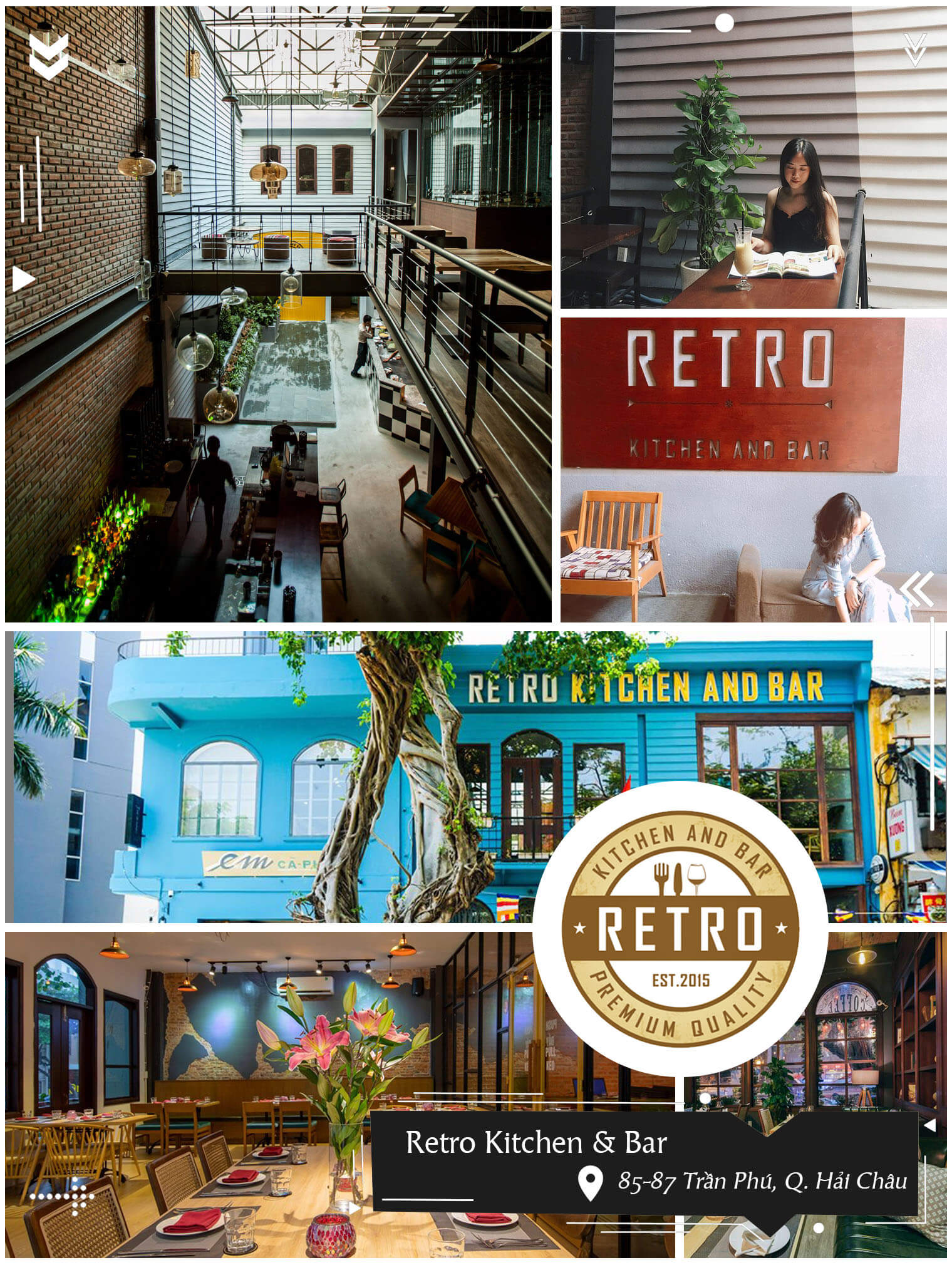 Retro Kitchen & Bar Danang is a harmony between Asian and Western cuisines. With an extensive menu, this super quality restaurant is an interesting place for you!
Retro Kitchen & Bar is a luxurious restaurant & bar located at the center of Da Thanh. This is the right place for family, friends, meeting partners – where we spend time for a delicious meal. Enjoy food, coffee break and entertainment with the most reasonable price here.
9. Namas Seafood & Restaurant    
Address: 57 Ly Tu Trong, Hai Chau District, Danang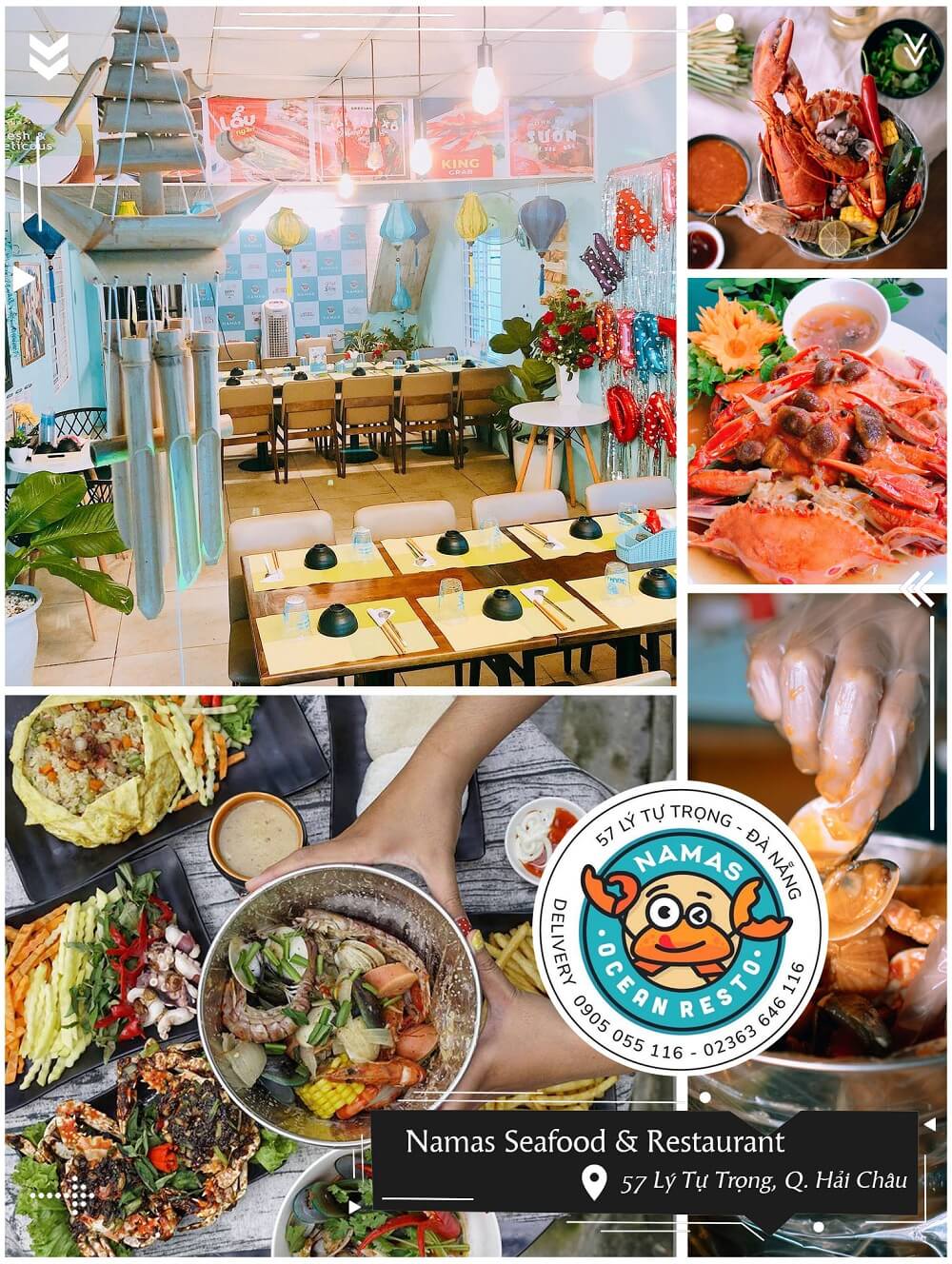 Namas Seafood Restaurant & Bar serves mainly daily fresh seafood dishes, some of which are raised at restaurants. The special processing keeps the freshness and nutritional content of the dish, with eye-catching decoration.
Possessing a unique style from food to space, Namas Seafood Restaurant & Bar on Ly Tu Trong Street, Hai Chau District offers diners a variety of attractive variations from fresh seafood. Fresh materials are mainly imported daily, some are raised directly at the restaurant such as lobster, Canadian crab, crab, octopus, shrimp, … cleverly processed to keep the freshness. Delicious seafood combined with the creative presentation is something diners cannot hold back.
Cozy space, eye-catching interior invite you to Namas Seafood Restaurant & Bar to have a great experience with relatives and friends!
10. The Lob Seafood Bar  
Address: 48 Nguyen Chi Thanh, Hai Chau District, Danang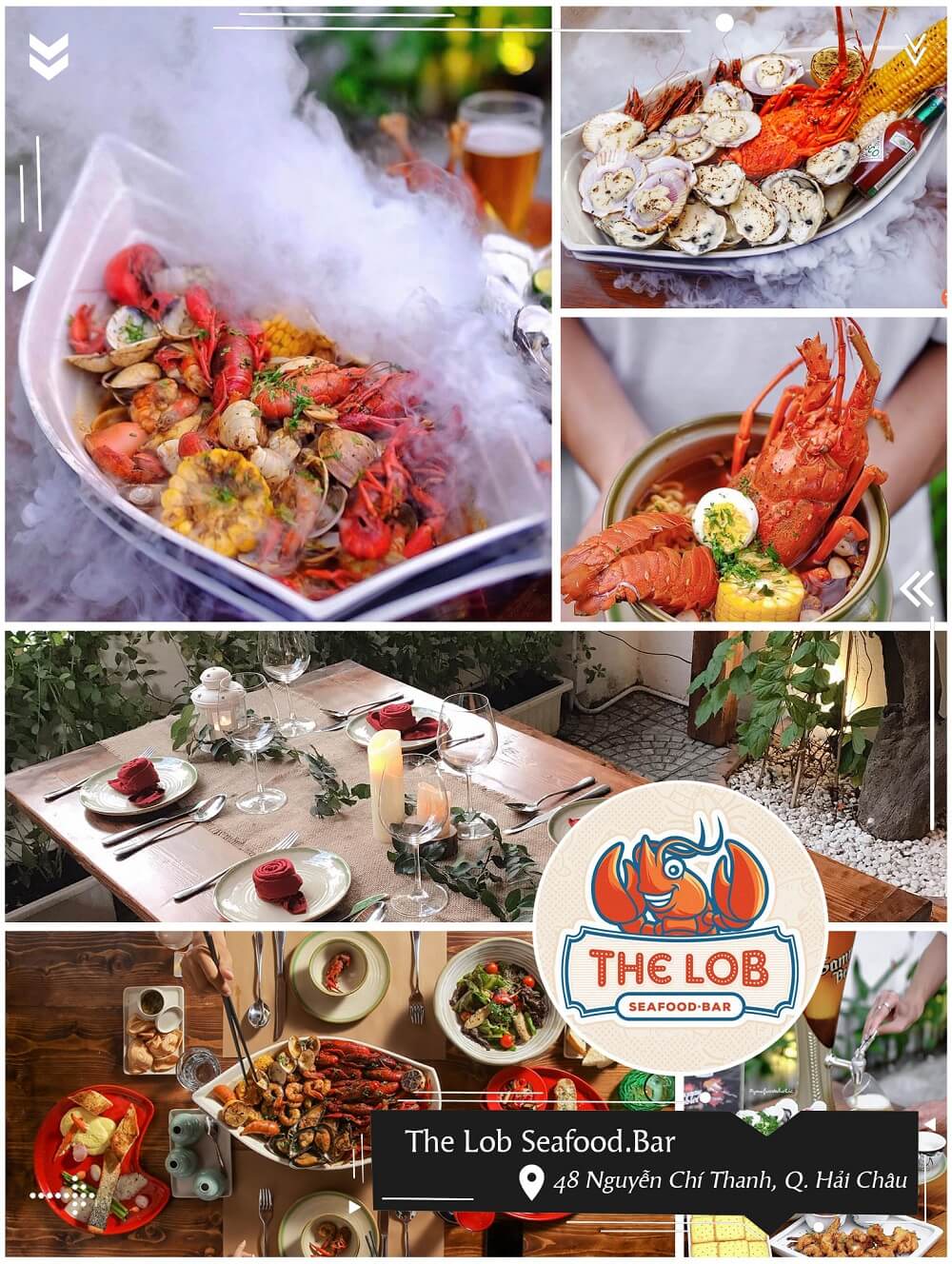 The Lob Seafood.Bar – a place for seafood lovers in Da Nang, is a new meeting place to fully enjoy and satisfy the needs of Food – Entertainment – Dating for local diners or travelers coming to the coastal city!
Come to The Lob to "rock" with a menu built on the "specialties" of the coastal city combined with modern cooking skills, conquering the taste and vibrant music space and exquisite drinks. Satisfy every cell in your body!
Save our address for your trip  or gathering soon!
11. My Hanh Restaurant
Address: Lot 17-18 Vo Nguyen Giap, Son Tra District, Danang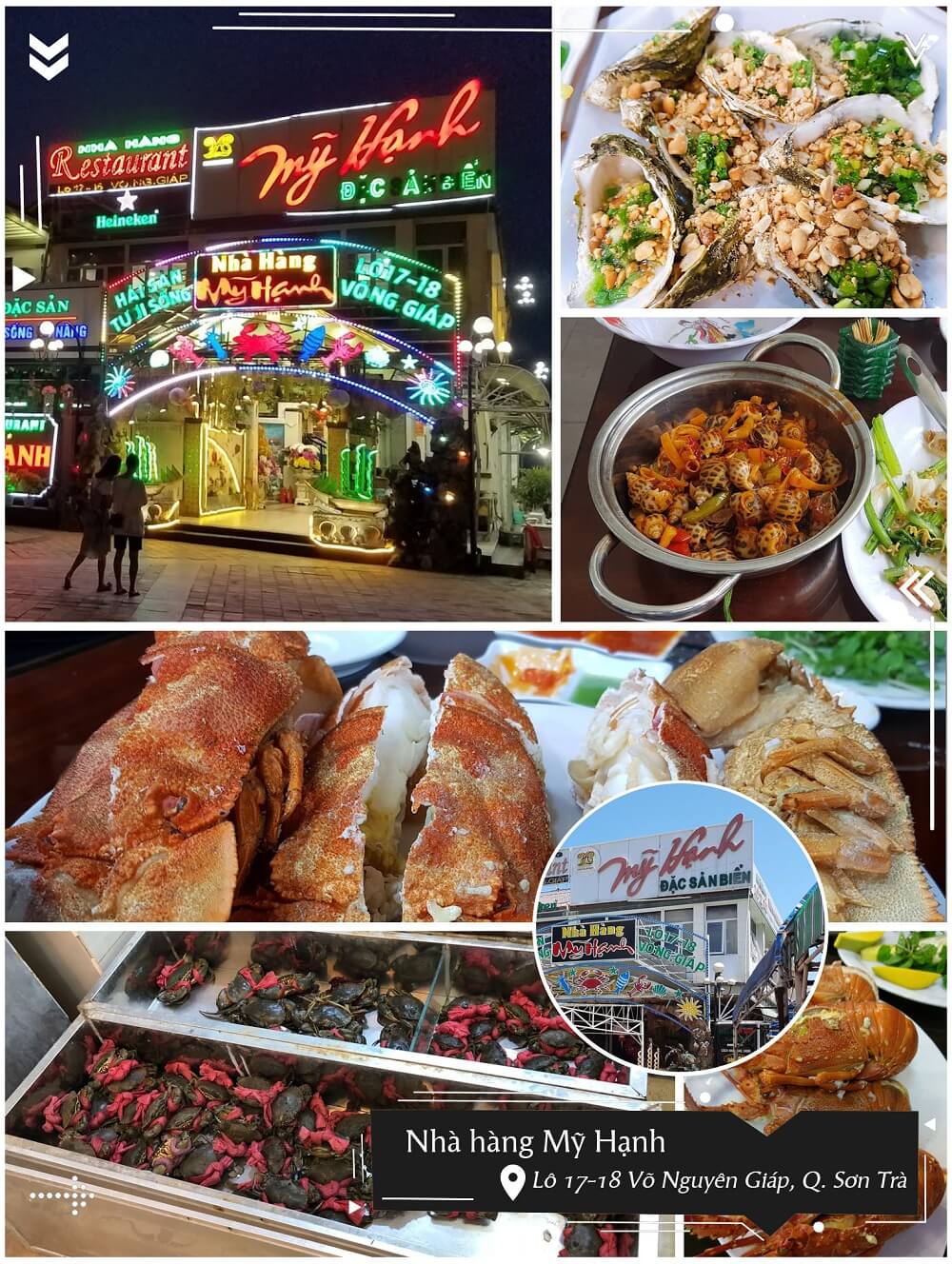 My Hanh Restaurant is one of the famous restaurants in Da Nang because of its suitability in terms of price, space, service style and food tastes.
The first impression when coming here is an open space facing the sea, catching sunlight and sea breeze in the most natural way. With a large area, designed in a both modern, luxurious and close to nature way, you will easily find yourself an appropriate space between the air-conditioned room and the garden when traveling with a small group of people or those crowded parties.
With the desire to bring visitors a sense of comfort when coming to the restaurant, with staff who are enthusiastic, fun, thoughtful and polite, My Hanh Restaurant always refreshes itself with the fresh seafood specialties prepared from the skillful hands of dedicated chefs with many years of experience.
12. For You Beach Restaurant
Address: Lot 9.10, Vo Nguyen Giap Street, Son Tra District, Danang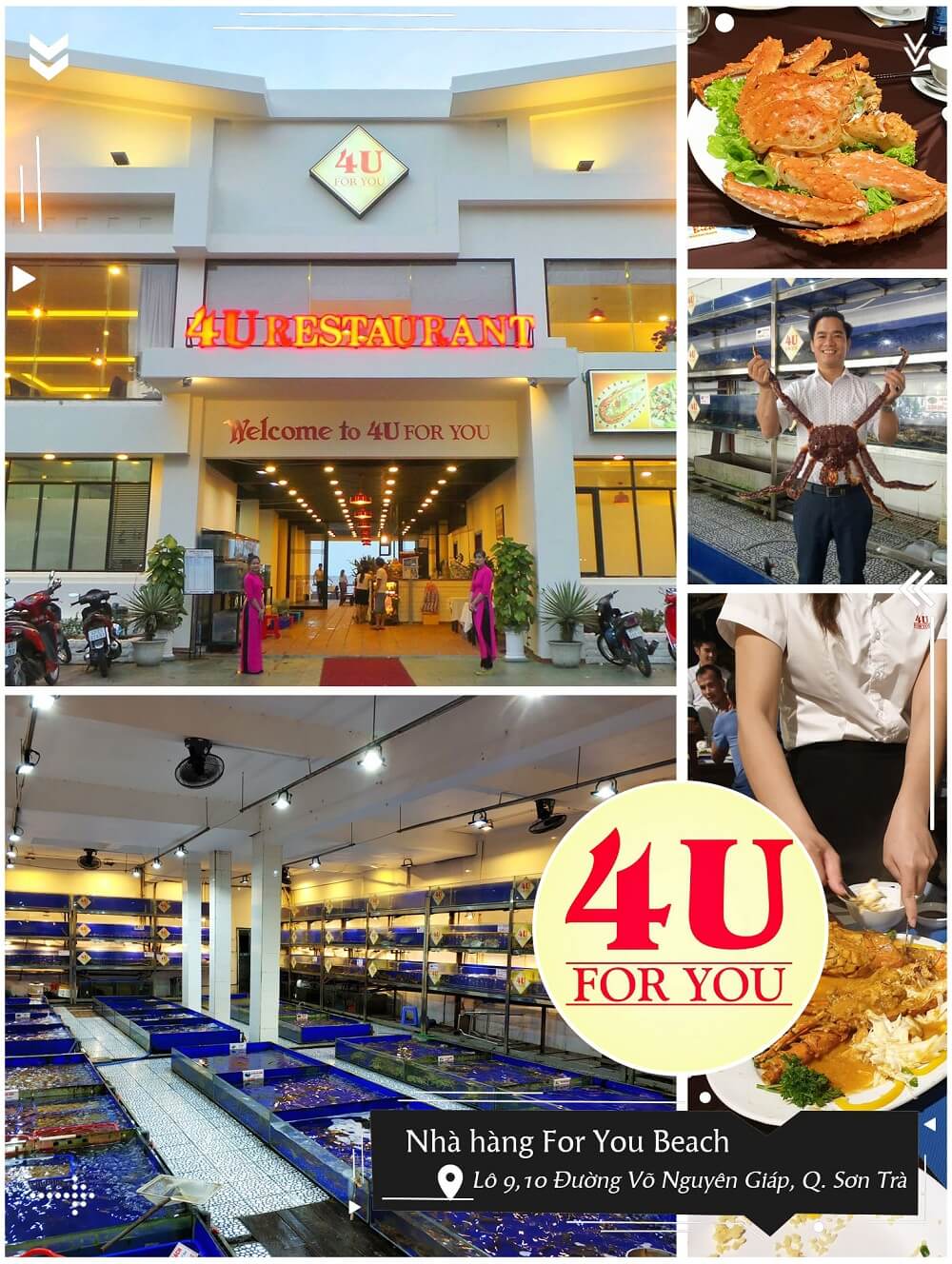 With the desire to bring the best seafood from the ocean to For You Beach Restaurant, the restaurant has been constantly learning and searching for seafood from many countries around the world such as King Crab, Canadian Oysters, Alaska Lobster, Japanese Scallops, Korean Abalone, Korean Flounder, Arctic Crab, Japanese Tsubugai Snail …. to serve diners with many typical cooking styles which have made a deep impression on domestic and foreign tourists.
Modern space, professional service, fresh seafood – For You Beach Restaurant will bring you comfortable moments with relatives and friends when coming to Da Nang.
13. Hoa Lua Vegetarian Restaurant
Address: Lot 1-A2, Green Island Villas, Hai Chau District, Danang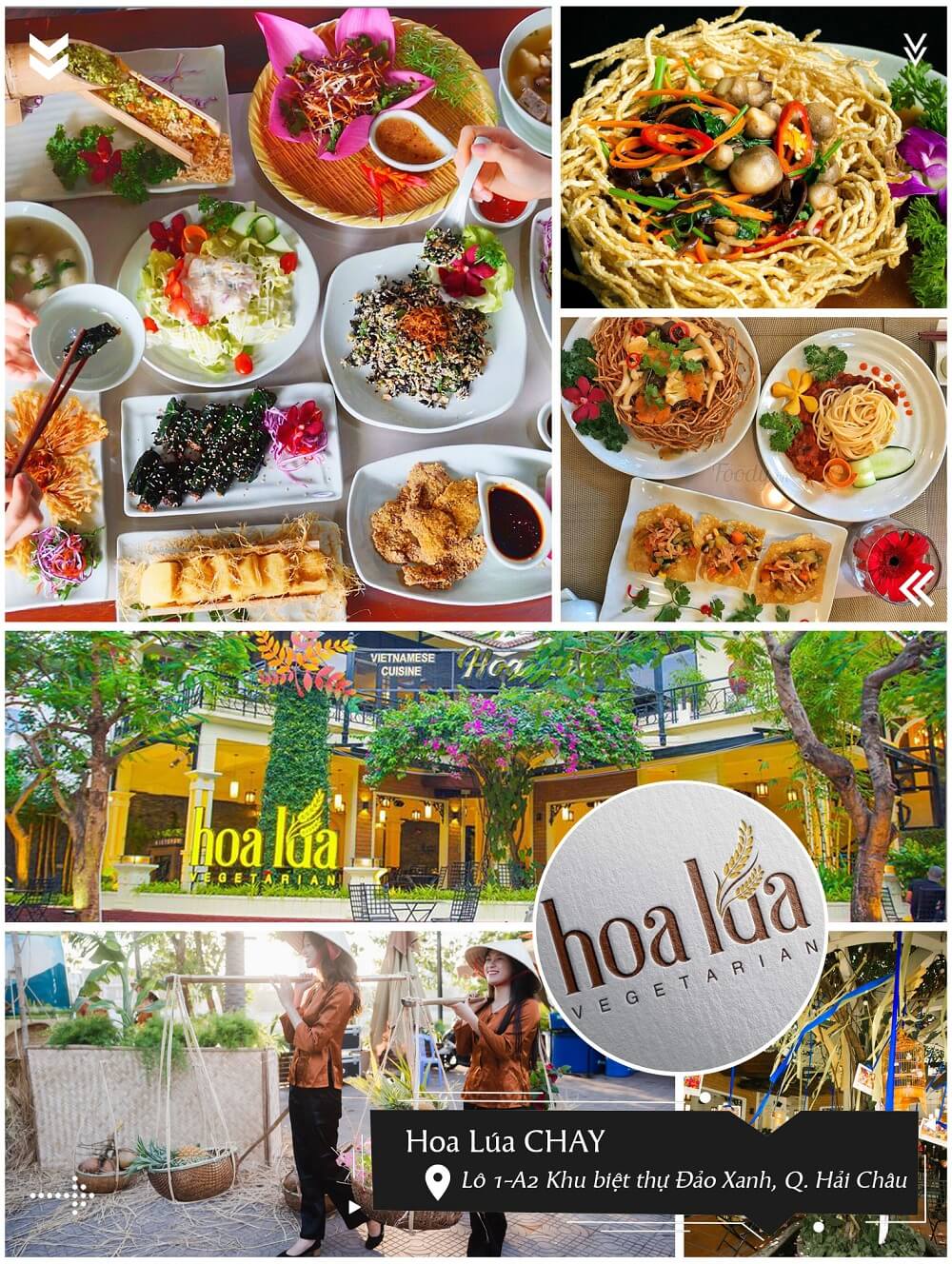 Located in the Green Island Villa Area of ​​the peaceful and beautiful coastal city of Da Nang, Hoa Lua is proud to be a vegetarian restaurant loved by numerous diners.
Hoa Lua is one of the brand new vegetarian restaurants in Da Nang city with the space of Co Thien style architecture like a Mai village with capacity up to 200 guests, the largest in Da Nang. Diners come to Hoa Lua to enjoy vegetarian food in meditative melodious music with song of birds and gentle scent from nature.
Hoa Lua deserves the title Top Vegetarian Restaurant Da Nang,  loved by the most beloved customers in Da Nang today through real reviews. Hoa Lua Vegetarian Restaurant is worthy to be the perfect choice for nature lovers.
14. Tam Chau Vegetarian Restaurant
Địa chỉ: Dong Kinh Nghia Thuc Street, Son Tra District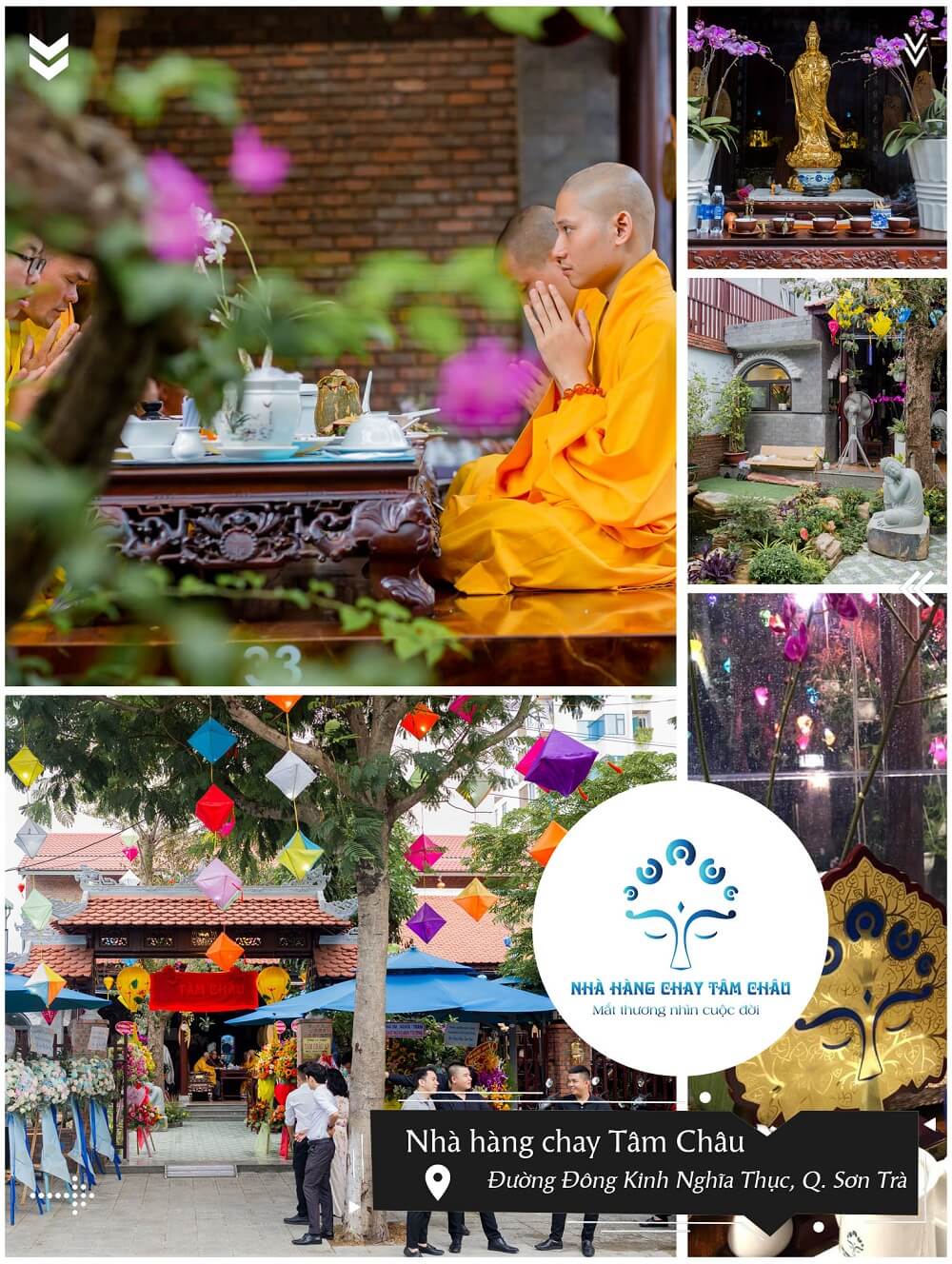 TAM CHAU vegetarian restaurant is always a peaceful corner for diners to find a little peace of rest and delicious meals full of nutrients.
Different from other vegetarian locations in Danang, tourists visiting Da Nang when eating at Tam Chau vegetarian restaurant will enjoy attractive vegetarian Danang cuisine, and discover a Buddhist space  in solemnity and serenity.
Tam Chau vegetarian restaurant with airy space, garden, rockery with the sound of flowing water falls in rhythm with time, ornamental plants dotted with leaves, sparkling lanterns, dominant yellow light, Meditation gentle music tracks … all intertwined together, diners will feel completely relaxed, full of harmony with nature, intimacy and peace, interspersed with images of innocent children, verses, creating a nostalgic feeling in all of us.
– Binh Phan – Standardized food providers in Danang city
Latest Posts