Irion Chef Buffet at Novotel Danang
What's your plan for Hung King holiday?
If you stay in Danang, definitely can't miss the chance to see the one of a kind battle of all celebrity chef only at Novotel Danang!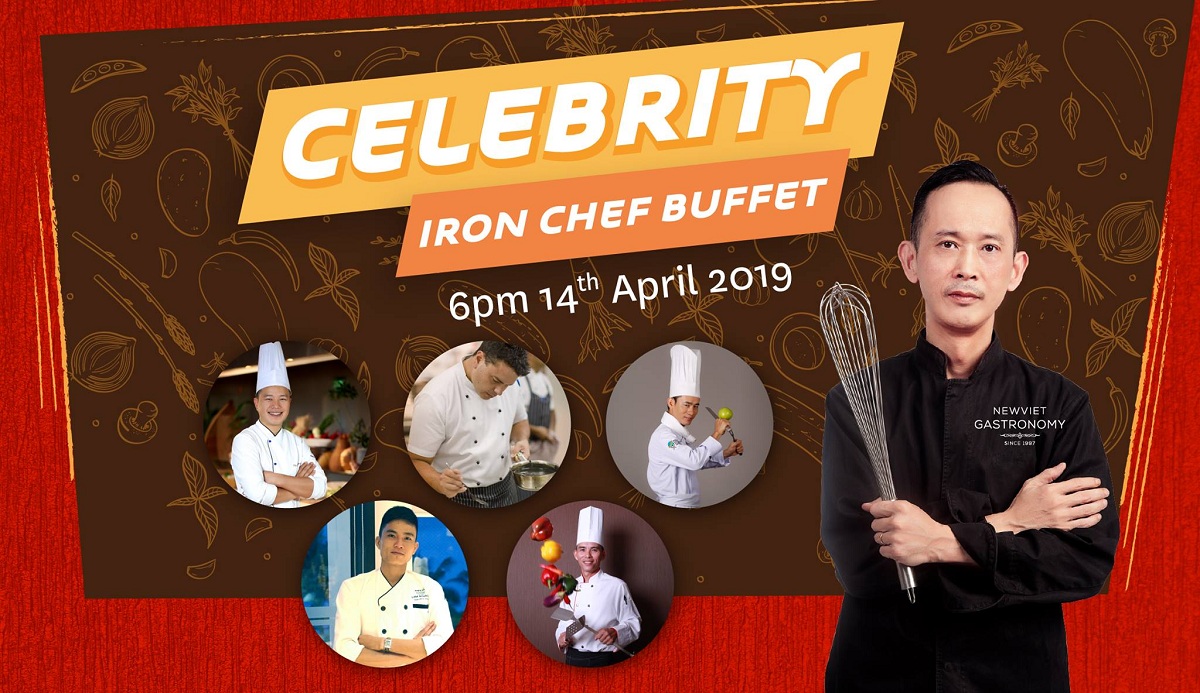 Time to enjoy the unique live show of Iron chef Vietnam and all executive chefs from 5-star hotel/resort in Danang.
Date: Sunday, April 14, 2019
Time: 6pm – 10pm
Location: The Square Restaurant
Price: From VND 780,000/person (*)
IRON CHEF BUFFET MENU
APERTIZER
Salmon gravlax/ cucumber cup and tzatziki sauce
Baby Mozzarella and tomato salad skewer/ balsamic cream and basil pesto
Crab meat and leek jelly
LIVE SALAD COUNTER
Mixing in Parmesan cheese wheel Caesar salad/ tossed with grilled shrimp
Cobb salad/ chicken breast/egg/ tomato/ cucumber/avocado/corn and honey mustard dress
Pumpkin and quinoa salad Beetroot and lentil salad/ goat cheese and vinaigrette dressing
Fulsini salad/ Salami, olives/ baby tomato/ basil and Italian dressing
Cheese Brie- Camembert- Cheddar- Roquetfort- goat cheese
Condiment: Strawberry jam, cashewnut, Raisin, Pistachio, dried banana, fig and crackers
Cold Cuts Parma ham, Salami, Country ham, Country Pate, smoked duck breast
COUNTER 1 – Chef Phuoc from Novotel Danang
Seared scallop / salted duck egg sauce, cauliflower and chorizo crisp
COUNTER 2- Chef David Thai from Iron Chef Vietnam
Duck liver /pan fried served with steamed asparagus baby carrot,Hollandaise sauce ,white balsamic caviar
Sauteed baby mussel in lime garlic butter sauce
COUNTER 3- Chef Philip Phuong form Iron Chef Vietnam
Seared duck breast/ pumpkin puree, plum sauce, baby carrot and pumpkin seed
COUNTER 4- Iron Chef Lập from Á- Âu Culinary school
Veal's Osso bucco in Bo Kho style, carrot, potato, lemongrass and star anise
COUNTER 5- Chef Adam Robert from Pullman
Sole fillet /with baby vegetables, pea pure and bure blanc
COUNTER 6- Chef Lâm from Melia Resort
Beef stroganoff Pie Pene/ asparagus/ button mushroom and yogurt sauce
Soup Curry lentil soup breads, rolls and butter
SIDE DISHES
Sauteed baby potato with garlic butter
Baked Mac & Cheese
Lamb and chick pea ragout
Seafood Paella
DESSERT
Mango Mille Fuille
Green tea tiramisu
Violet yam cheese mousse
Passion fruit tart/ meringue topping
Warm chocolate Lava cake
Strawberry panna cotta
Caramel flan cake
Tropical fruit baba ruhm
Modern Choux cream
White chocolate éclair
Chocolate fountain
Mashmallow/ diced fruit skewer
ACTION STATION
Nitrogen Ice cream counter Coconut- Strawberry- Vanilla
BOOK NOW: +84 (0) 941 298 599 OR [email protected]
(*) The price is subject to 10% VAT and 5% service charge
Irion Chef Buffet at Novotel Danang