Christmas & New Year party at New Orient Hotel Danang 
Christmas & New Year party at New Orient Hotel Danang 
"Christmas is the day that holds all time together. – Alexander Smith"
When the autumn weather suddenly got colder, and it is time for people to hurry to finish year-end tasks,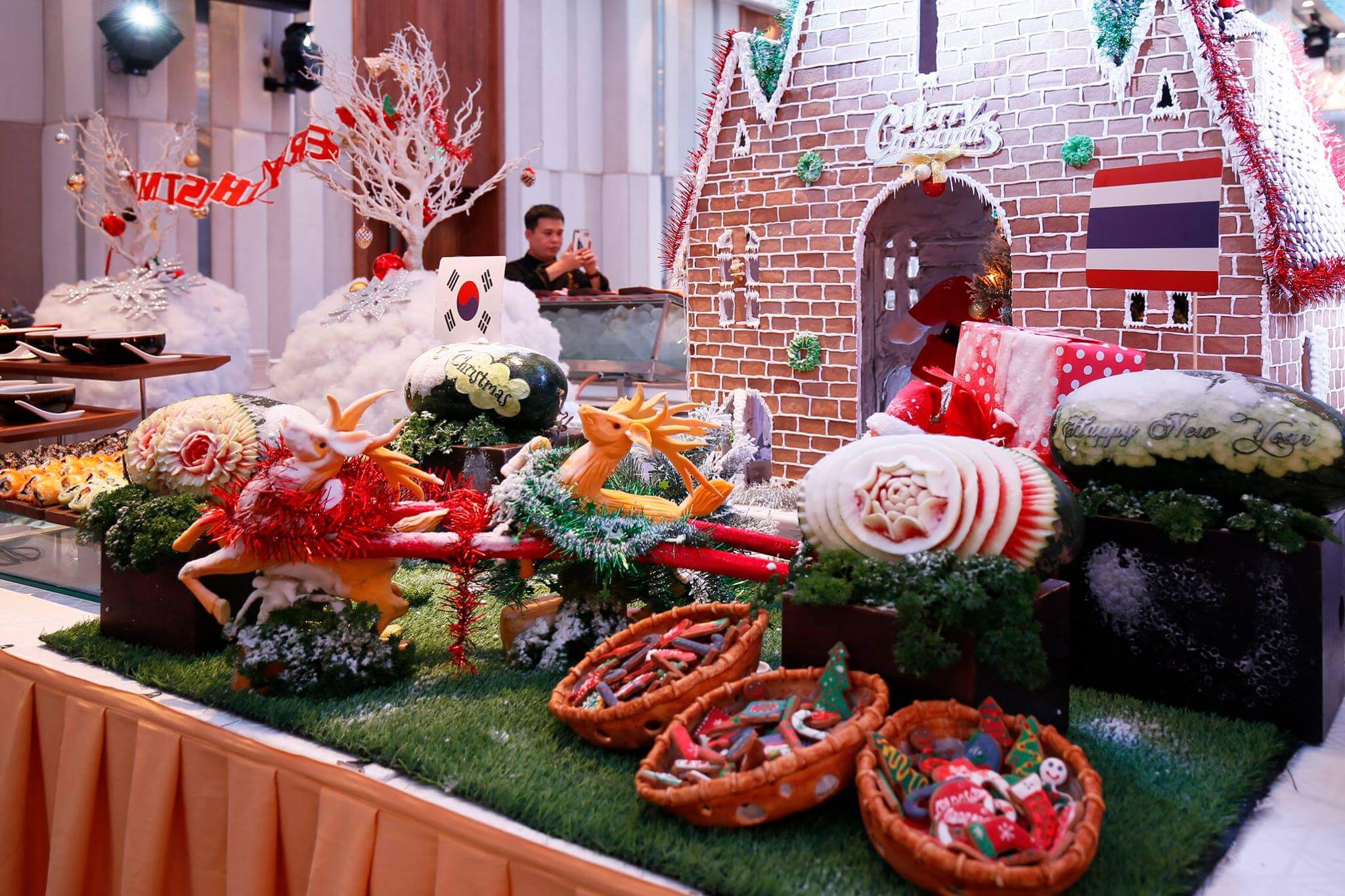 At New Orient Hotel Danang , preparations for the Christmas & New Year party have begun, from the decoration, entertainment program, to menu selection. We would love to make your experience moments become truly memorable moments with relatives and friends in this year's biggest festival.
Celebrate your Festive season, welcome Christmas & a New Year coming ahead, join us with many activities: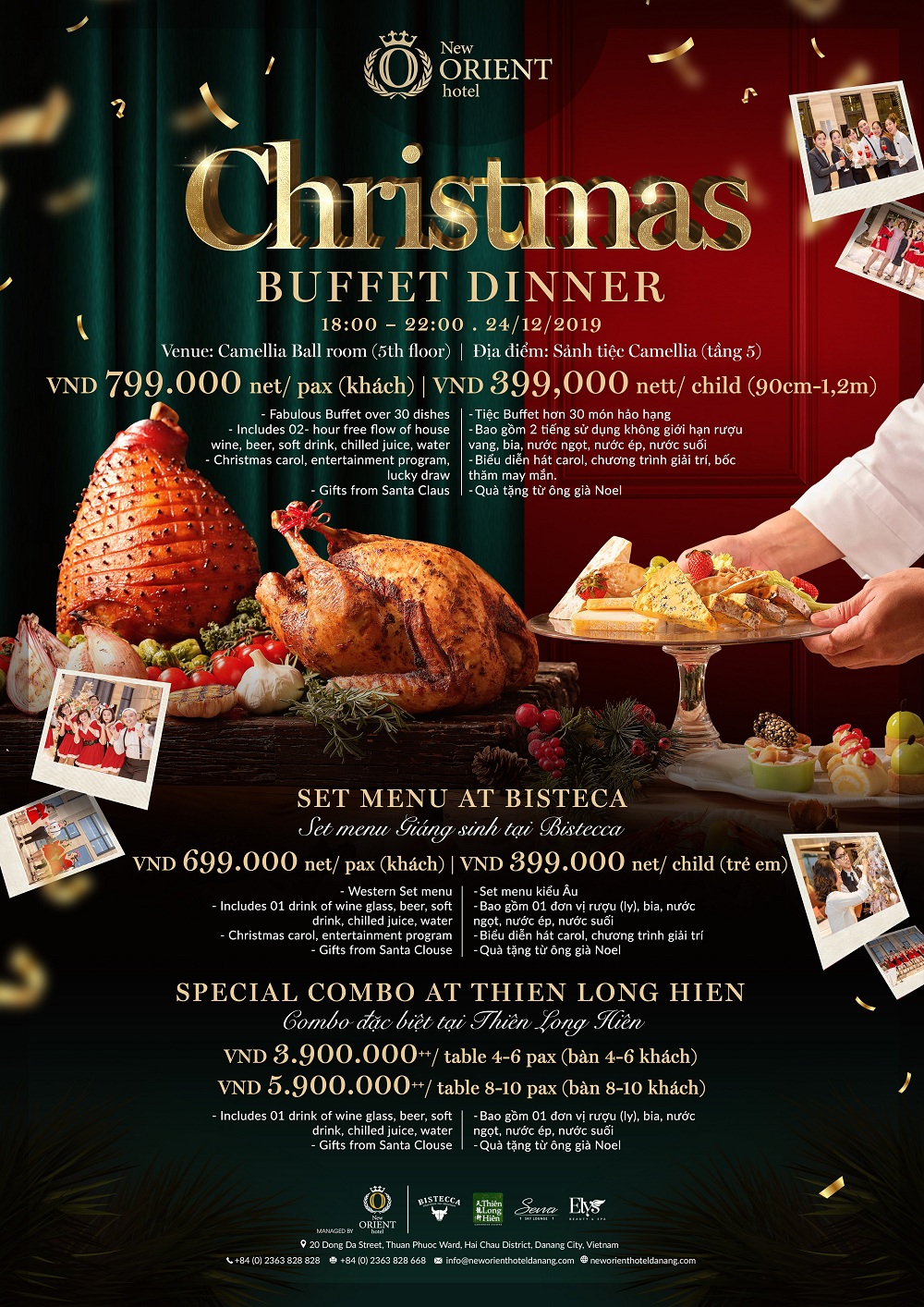 A. CHRISTMAS PARTY
Date & time: 18:00-22:00, 24/12/2019
On this Christmas, we have 03 selections at 03 venues for you to join:
Christmas buffet dinner
Venue: Camellia Ball room (5th floor)

Price: VND799.000nett/pax

VND 399,000 nett/Child, 90cm-1,2m
FREE for kid under 90cm.
Fabulous Buffet over 30 dishes
 Includes 02- hour free flow of house wine, beer, soft drink, chilled juice, water
Christmas carol, entertainment program, lucky draw
Gifts from Santa Clouse
Christmas Dinner Set menu at Bistecca
Venue: Bistecca restaurant (7th floor)
Price: VND 699.000nett/pax
VND 399,000 nett/Child, 90cm-1,2m
Western Set menu
Includes 01 drink of wine glass, beer, soft drink, chilled juice, water
Christmas carol, entertainment program
Gifts from Santa Clouse
Christmas Special Combo at Thien Long Hien
Venue: Thien Long Hien restaurant (10th floor)
Combo VND 3,900,000++/ table 4-6 pax
Combo VND 5,900,000++/ table 8-10 pax
Includes 01 drink of wine glass, beer, soft drink, chilled juice, water
Gifts from Santa Clouse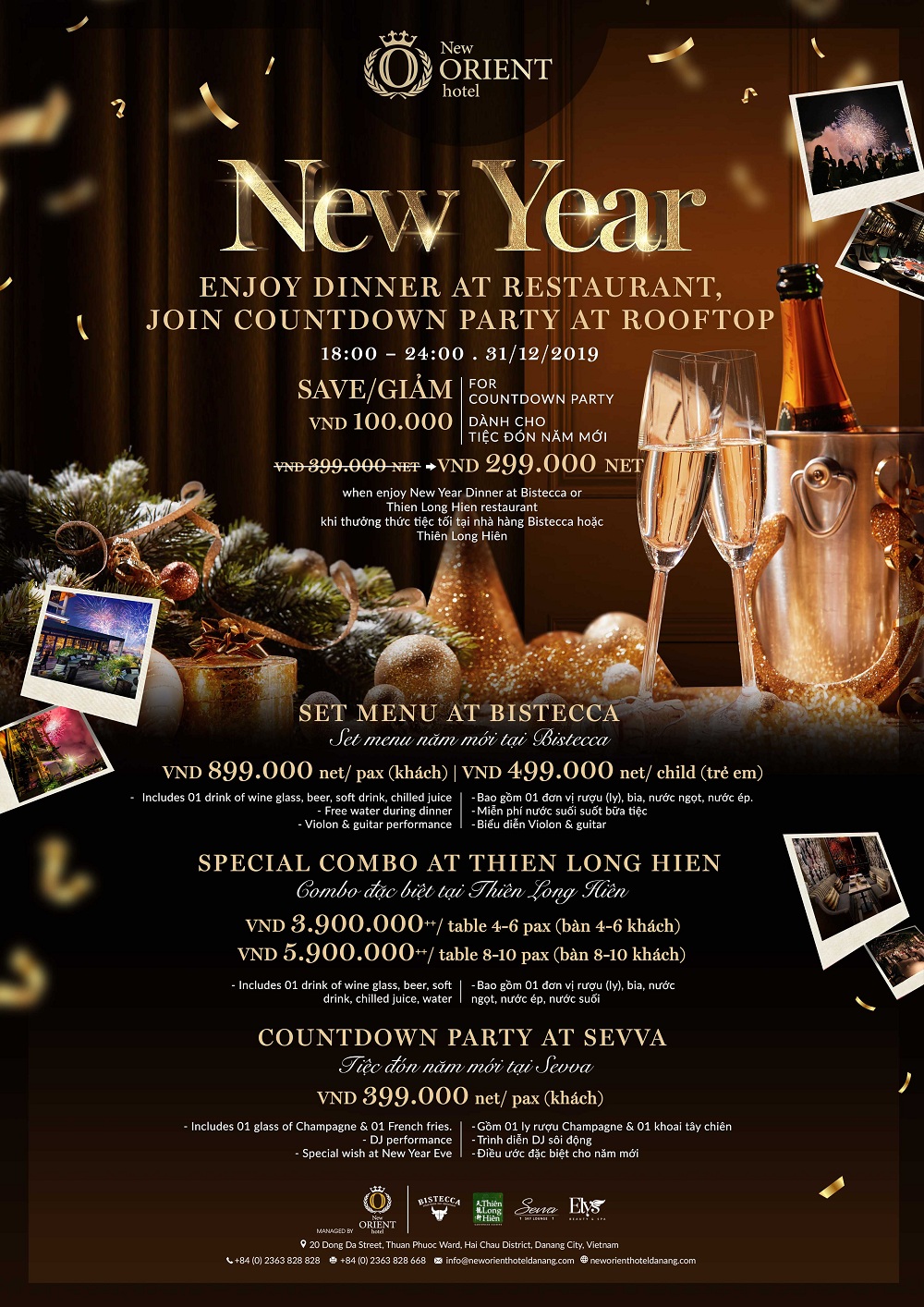 B. NEW YEAR PARTY & COUNTDOWN
Date & Time: 18.00 – 24.00, Tuesday, 31th Dec 2019
18:00-22:00: Dinner at Bistecca or Thien Long Hien
22:00- late: Countdown party at Sevva Sky Lounge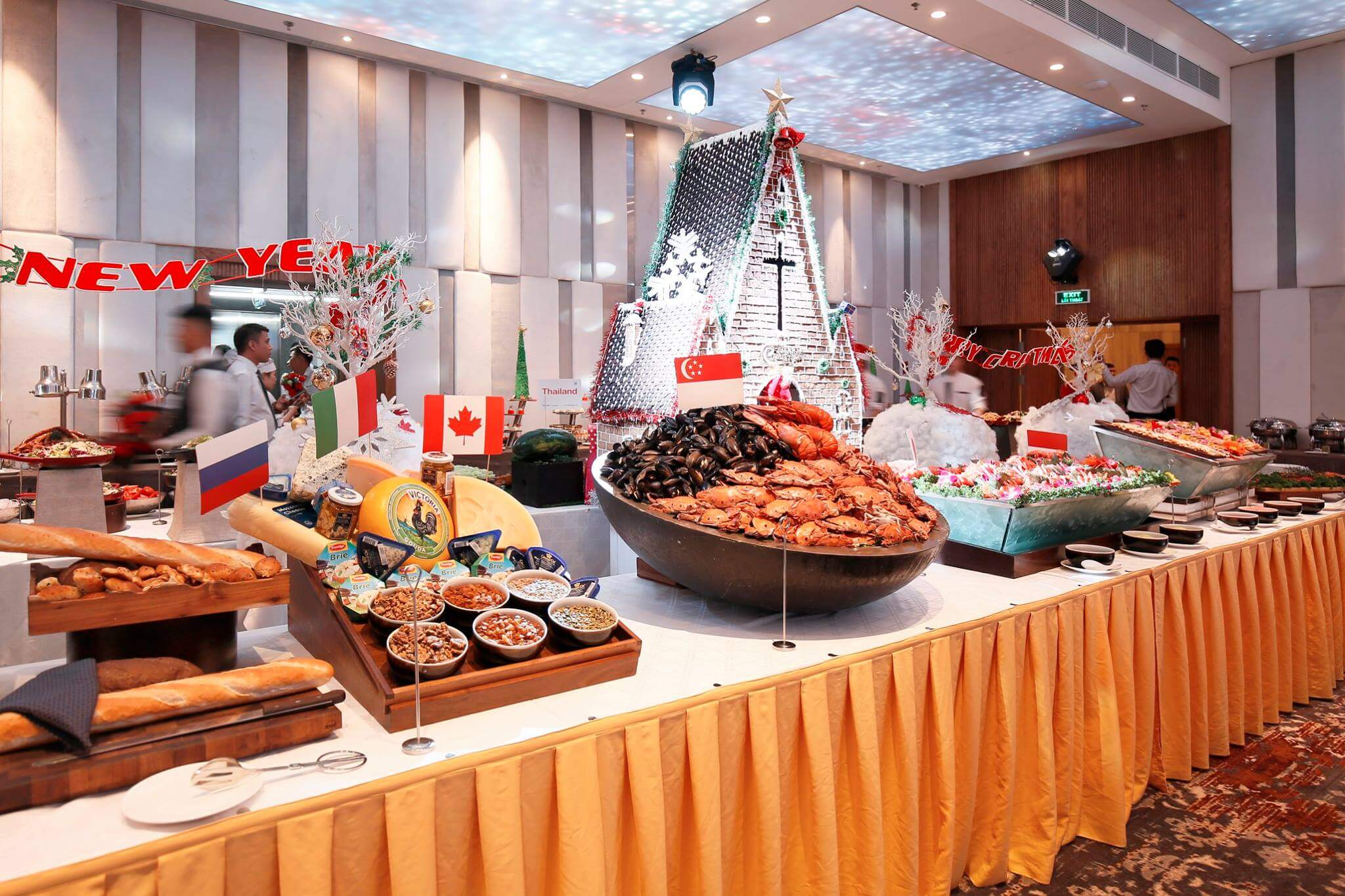 1. New Year Dinner set menu at Bistecca
International Set Menu: VND 899.000nett/pax
Set menu for Kid: VND 499,000 nett/child
Includes 01 drink of wine glass, beer, soft drink, chilled juice
Free water during dinner
Violon & guitar performance
2. New Year combo at Thien Long Hien
Combo VND 3,900,000++/ table 4-6 pax

Combo VND 5,900,000++/ table 8-10 pax
Includes 01 drink of wine glass, beer, soft drink, chilled juice, water
3. Countdown party at Sevva
VND399.000nett/pax.
Includes 01 glass of Champagne & 01 French fries
DJ performance
Special wish at New Year Eve
Save 100,000đ for Countdown party V̶N̶D̶3̶9̶9̶.̶0̶0̶0̶n̶e̶t̶t̶ ̶>> VND299.000nett when enjoy New Year Dinner at Bistecca or Thien Long Hien restaurant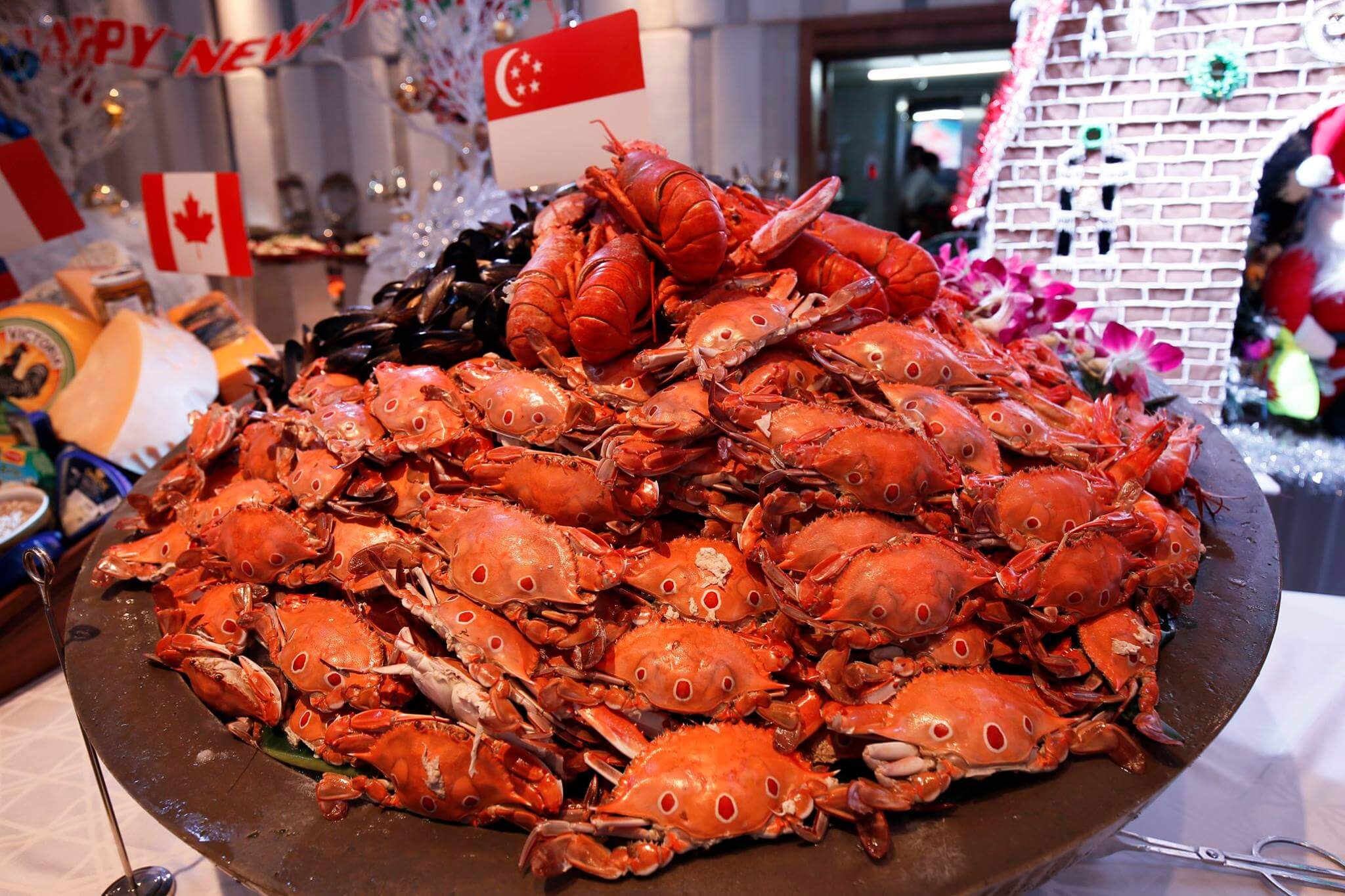 Contact us:
Hotline: 0901154245 – 0905761769
Email: sales@neworienthoteldanang.com
Huân Nguyễn – Christmas & New Year party at New Orient Hotel Danang
Latest Posts